This week, environmentalists called on the State Department to reopen the Keystone XL tar sands pipeline environmental review process. New information from the Department of Energy, the International Energy Agency, industry analysts and refining executives offers new evidence that Keystone XL will, in fact, directly contribute to increased tar sands development, U.S. greenhouse gas emissions and pollution at U.S. refineries, calling into question the original State Department findings.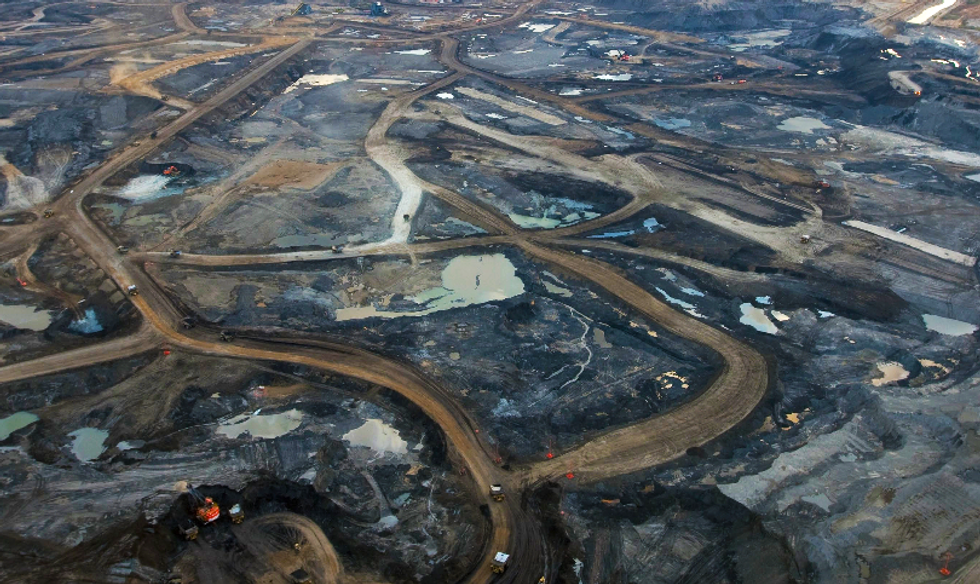 "Since the close of the comment period, evidence of inaccuracies and bias in the State Department's review of Keystone XL has been steadily mounting," says Doug Hayes, Sierra Club attorney. "This new information demonstrates that the review relies on an overly-simplistic, outdated view of a rapidly-changing oil market."
The new data contradicts three primary conclusions by the State Department:
Increased rail shipments of crude oil have the potential to completely replace the capacity of Keystone XL if the pipeline were rejected.
Increasing domestic production of oil will not affect the demand for heavy Canadian crude oil in Gulf Coast refineries.
Canadian crude will not be exported from the Gulf Coast if the pipeline is built.
"The State Department is alone in its conclusion that the Keystone XL pipeline is not fundamental to the prospects of the dirty tar sands industry," says Lorne Stockman, research director at Oil Change International and coauthor of the letter. "State needs to take a careful look at the new evidence that we've compiled in the past several weeks and they will reach the same conclusion that we do: that the Keystone XL pipeline is crucial to the expansion of the tar sands, and that expansion is not in the public interest."
President Obama said his administration will weigh the pipeline's impact on the climate and it will be approved only if "this project does not significantly exacerbate the problem of carbon pollution." Evidence that Keystone XL is the lynchpin for tar sands development detailed in the letter includes:
A Goldman Sachs report that says that rail shipments of tar sands could not replace the proposed pipeline logistically and economically.
Royal Bank of Canada's estimate that denial of Keystone XL would jeopardize $9.4 billion in tar sand development.
U.S. EPA estimates that Keystone XL will add 18.7 million metric tons of carbon pollution per year. And a new U.S. government report increases the estimated social cost of this pollution—related to human health, sea level rise and other natural disasters—by as much as double.
"This recent information paints a clear picture," said Anthony Swift, Natural Resources Defense Council attorney. "The Keystone XL tar sands export pipeline would significantly increase climate emissions while providing few benefits to the United States—it really is an all risk and no reward proposition for the American people."
According to the groups, the State Department is obliged by federal law to analyze and respond to this new data.
Groups who have signed on to the letter include Bold Nebraska, Center for Biological Diversity, National Wildlife Federation, Natural Resources Defense Council, Oil Change International and the Sierra Club.
Visit EcoWatch's KEYSTONE XL page for more related news on this topic.
——-
EcoWatch Daily Newsletter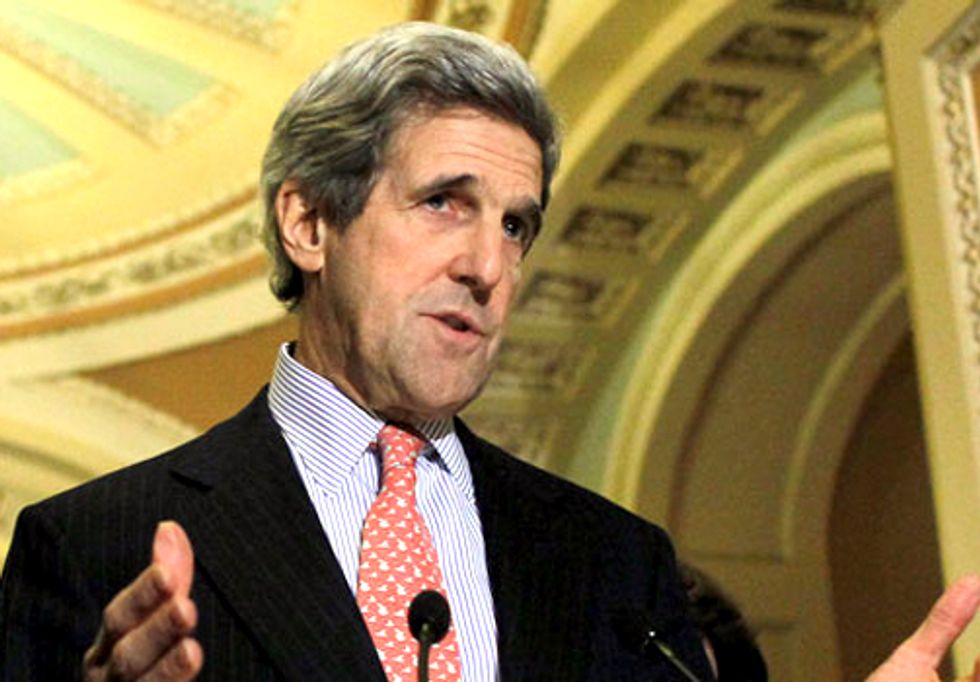 Environmental leaders hosted a press call today to call for a State Department Investigator General investigation of the State Department's flawed Keystone XL review process and to call on Secretary Kerry to halt the review process until that investigation is complete.
The Sierra Club also announced that it had filed a lawsuit in federal court yesterday under the Freedom of Information Act asserting that the State Department is withholding key documents related to the latest Keystone XL Environmental Impact Statement (EIS) and potential conflicts of interest with Environmental Resources Management.
When Secretary Kerry was confirmed as Secretary of State, he inherited a flawed Keystone XL review process. To move forward with the flawed process would contradict Secretary Kerry's long history as a proponent of good government and transparency.
"For decades John Kerry has been a strong defender of good governance," said 350.org Executive Director May Boeve. "We know that as he learns more about how the Keystone environmental analysis was written, he will step in and put a stop to this corrupted process."
Nearly 73,000 people signed petitions asking Secretary Kerry to postpone the final EIS until the Investigator General completes a thorough review of conflict of interest in the State Department's environmental review process of the proposed pipeline. Sierra Club, Friends of the Earth, Oil Change International and Bold Nebraska all contributed signatures to the petition total.
"For the State Department to let Big Oil consultants tell us Keystone XL is safe is like the Surgeon General letting Big Tobacco tell us cigarettes are safe," said Robin Mann, past president of the Sierra Club. "Secretary Kerry can continue to live up to his legacy as a climate champion by demanding a fair report on Keystone XL and urging the President to reject this dirty and dangerous project."
"The State Department should be an honest broker on Keystone XL, not a cheerleader for TransCanada," said Friends of the Earth President Erich Pica. "Secretary Kerry needs to halt the review process and find out how a paid member of the American Petroleum Institute was allowed to write such a critical report and why State Department employees have tried to cover up this company's ties with the oil industry."
"The only way the State Department could produce even a remotely favorable review of this dirty and flawed pipeline is by getting Big Oil's friends to write it for them," said Steve Kretzmann, Oil Change International executive director and founder. "The tens of thousands of people who have joined this campaign are making it clear that we won't stand for this. Secretary Kerry has a key opportunity to reject bad process, to reject Big Oil influence and to reject this dirty pipeline."
ERM, the company contracted by Department of State and paid by TransCanada to draft the EIS, is a member of the American Petroleum Institute and has worked for the oil industry which should have precluded it from getting hired.
"The United States must help lead the world in combating global warming and reducing greenhouse gas emissions," said Sen. Bernie Sanders (I-VT). "It would be incomprehensible to give approval to a tar sands oil project when producing tar sands oil creates more carbon emissions than conventional oil, and when it poses the risk of extremely damaging oil spills."
Visit EcoWatch's KEYSTONE XL page for more related news on this topic.
——-
waterlust.com / @tulasendlesssummer_sierra .
Each product featured here has been independently selected by the writer. If you make a purchase using the links included, we may earn commission.
The bright patterns and recognizable designs of Waterlust's activewear aren't just for show. In fact, they're meant to promote the conversation around sustainability and give back to the ocean science and conservation community.
Each design is paired with a research lab, nonprofit, or education organization that has high intellectual merit and the potential to move the needle in its respective field. For each product sold, Waterlust donates 10% of profits to these conservation partners.
Eye-Catching Designs Made from Recycled Plastic Bottles
waterlust.com / @abamabam
The company sells a range of eco-friendly items like leggings, rash guards, and board shorts that are made using recycled post-consumer plastic bottles. There are currently 16 causes represented by distinct marine-life patterns, from whale shark research and invasive lionfish removal to sockeye salmon monitoring and abalone restoration.

One such organization is Get Inspired, a nonprofit that specializes in ocean restoration and environmental education. Get Inspired founder, marine biologist Nancy Caruso, says supporting on-the-ground efforts is one thing that sets Waterlust apart, like their apparel line that supports Get Inspired abalone restoration programs.
"All of us [conservation partners] are doing something," Caruso said. "We're not putting up exhibits and talking about it — although that is important — we're in the field."
Waterlust not only helps its conservation partners financially so they can continue their important work. It also helps them get the word out about what they're doing, whether that's through social media spotlights, photo and video projects, or the informative note card that comes with each piece of apparel.
"They're doing their part for sure, pushing the information out across all of their channels, and I think that's what makes them so interesting," Caruso said.
And then there are the clothes, which speak for themselves.
Advocate Apparel to Start Conversations About Conservation
waterlust.com / @oceanraysphotography
Waterlust's concept of "advocate apparel" encourages people to see getting dressed every day as an opportunity to not only express their individuality and style, but also to advance the conversation around marine science. By infusing science into clothing, people can visually represent species and ecosystems in need of advocacy — something that, more often than not, leads to a teaching moment.

"When people wear Waterlust gear, it's just a matter of time before somebody asks them about the bright, funky designs," said Waterlust's CEO, Patrick Rynne. "That moment is incredibly special, because it creates an intimate opportunity for the wearer to share what they've learned with another."
The idea for the company came to Rynne when he was a Ph.D. student in marine science.
"I was surrounded by incredible people that were discovering fascinating things but noticed that often their work wasn't reaching the general public in creative and engaging ways," he said. "That seemed like a missed opportunity with big implications."
Waterlust initially focused on conventional media, like film and photography, to promote ocean science, but the team quickly realized engagement on social media didn't translate to action or even knowledge sharing offscreen.
Rynne also saw the "in one ear, out the other" issue in the classroom — if students didn't repeatedly engage with the topics they learned, they'd quickly forget them.
"We decided that if we truly wanted to achieve our goal of bringing science into people's lives and have it stick, it would need to be through a process that is frequently repeated, fun, and functional," Rynne said. "That's when we thought about clothing."
Support Marine Research and Sustainability in Style
To date, Waterlust has sold tens of thousands of pieces of apparel in over 100 countries, and the interactions its products have sparked have had clear implications for furthering science communication.
For Caruso alone, it's led to opportunities to share her abalone restoration methods with communities far and wide.
"It moves my small little world of what I'm doing here in Orange County, California, across the entire globe," she said. "That's one of the beautiful things about our partnership."
Check out all of the different eco-conscious apparel options available from Waterlust to help promote ocean conservation.
Melissa Smith is an avid writer, scuba diver, backpacker, and all-around outdoor enthusiast. She graduated from the University of Florida with degrees in journalism and sustainable studies. Before joining EcoWatch, Melissa worked as the managing editor of Scuba Diving magazine and the communications manager of The Ocean Agency, a non-profit that's featured in the Emmy award-winning documentary Chasing Coral.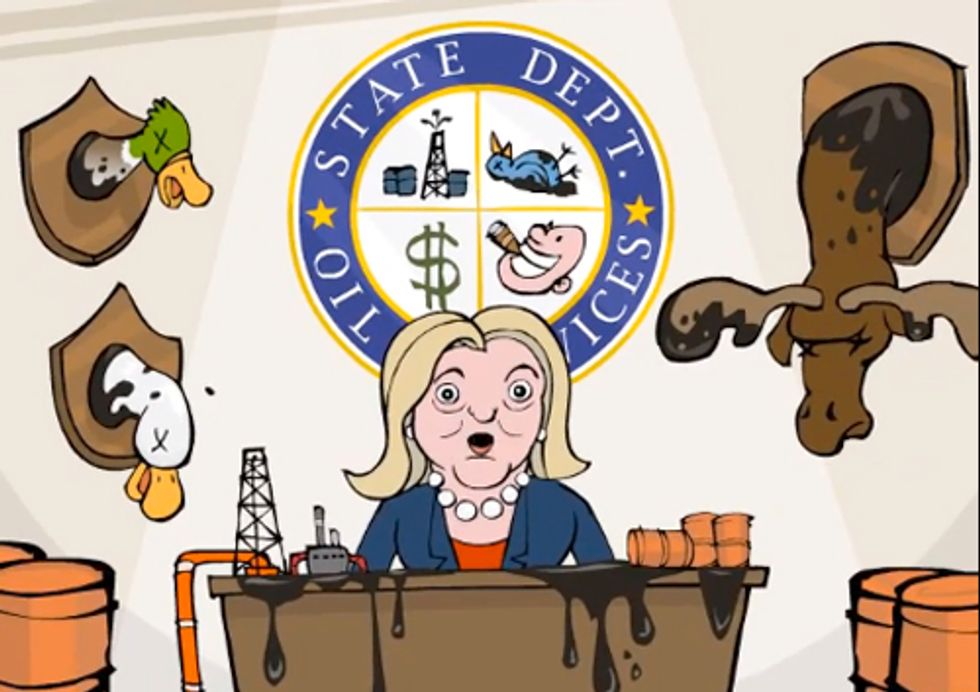 Environmental group Friends of the Earth sued the State Department on Feb. 23 to gain access to communications between the department and a broad web of lobbyists promoting the Keystone XL tar sands pipeline.
Friends of the Earth, represented by Earthjustice, filed a Freedom of Information Act (FOIA) request in October 2011, asking the State Department to release communications between the department and employees of TransCanada, the Canadian oil company seeking to build the Keystone XL pipeline, or between the department and employees of pro-pipeline lobbying firms McKenna Long & Aldridge, Bryan Cave LLP and DLA Piper.
Two of the lobbyists named on this FOIA request, Gordon Giffin with McKenna, Long & Aldridge and James Blanchard with DLA Piper, were fundraising bundlers for Secretary of State Hillary Clinton's 2008 presidential bid. DLA Piper was also the largest single corporate source of employee and PAC contributions to Hillary Clinton's campaign. The campaign connections also extend to President Obama. Jeff Berman, a lobbyist listed on Bryan Cave's Keystone XL lobbying account, was director of delegate selection in Obama's primary campaign and was called the "unsung hero" of his victory.
"Despite the administration's recent rejection of the Keystone XL permit, TransCanada is forging full-speed ahead on a new permit application, and pro-pipeline lobbyists are keeping the pressure on the State Department to approve this controversial and misguided pipeline," said Damon Moglen, climate and energy project director at Friends of the Earth. "The communications we seek are key to ensuring that the State Department isn't letting lobbyists' personal connections to Secretary Clinton or President Obama bias its decision-making."
Friends of the Earth filed a previous lawsuit against the State Department for failure to respond to a December 2010 FOIA request, leading to the release of correspondence between State Department officials and Paul Elliott, TransCanada's lead Washington, D.C. lobbyist, who was formerly one of Hillary Clinton's presidential campaign managers. Revelations about other lobbyists with close ties to Secretary of State Hillary Clinton and their potential influence on the review process for the Keystone XL permit led the environmental groups to file this FOIA request for those additional lobbyists' communications. The State Department has ignored that request.
"Emails released in response to our first Keystone XL FOIA request revealed an inappropriately cozy and accommodating relationship between TransCanada and State Department officials," said Moglen. "From conflicts of interest, to insider advice, to outright cheerleading from within the department, those FOIA documents revealed a corrupted and broken process. With TransCanada continuing to push for a permit for this controversial project, the public deserves to know the full details of oil lobbyist relationships fueling this project. The State Department must not hide documents from the public that could shed further light on serious problems in the initial review of the Keystone XL pipeline—problems that contributed to the biased and incomplete environmental review of the pipeline the first time around."
"The billions of oil dollars backing this pipeline should not interfere with government transparency. The public has a right to know how our government is making decisions that have potentially grave consequences for our environment," said Earthjustice attorney Abby Rubinson.
The complaint filed on Feb. 23 against the State Department is available by clicking here.
For more information, click here.
The Army Corps announced $16.86 million for Delaware River deepening project using a "slush" fund created to circumvent the ban on earmarks passed last year.  Environmental and community advocates cried foul—pointing out that the Army Corps chose this path to fund the deepening because it cannot honestly demonstrate the project meets minimum guidelines generally used to make taxpayer funding decisions.
"This is the ugliest example of political manipulation we have ever seen regarding this project—facts, law and good policy have been thrown out the window to serve the political whims of Sens. Casey and Toomey," said Maya van Rossum, the Delaware Riverkeeper. "This project is an economic loser, is unnecessary for the ports, and inflicts major environmental and community harm. The project is still hundreds of millions of dollars shy of what is needed to complete it. In short, the project is an embarrassment and waste of money, and we will continue to work to stop it now," van Rossum said.
"If this were a project worth $16.9 million, the private sector would find the $16.9 million to make it happen. In an era when the country is in major deficit, we should not be spending any taxpayer funds on projects that are known to be a loser, not a project that will choke the Delaware Estuary," said Brady Russell, Eastern Pa. director, Clean Water Action.
"This is blood money. They are taking money from the tax payers to try to destroy our river and estuary. The Delaware deepening will cause irreparable harm to the Delaware River, the aquifer, and the people of South Jersey. Instead of using this money to protect our drinking water and the environment it is being used to destroy it," said Jeff Tittel, director of the New Jersey Sierra Club. "This is an outrageous abuse of governmental process."
"The Delaware River deepening is a major threat to the Delaware River, including the fish, shellfish and wildlife that today are needed to provide healthy food and hundreds of millions of dollars a year supporting income and jobs. The Army Corps' own documents, when investigated by experts, demonstrate that the Delaware River deepening is not needed to support the ports of the region, will not result in increased goods coming to the region, does not meet basic criteria used to guide taxpayer funding decisions, and will likely lose money for every dollar invested in the project. It is stunning that in today's economic climate an unsubstantiated claim for port jobs is allowed to justify a $300 million dollar expenditure in a project that will harm family supporting river jobs in existence today," said Delaware Riverkeeper van Rossum. "It is disturbing that false and undocumented claims of jobs are allowed to rob families who depend upon a healthy river and bay for their livelihood, like fishermen and oystermen, simply because they don't have the same political sway as the industry groups, the army corps and the ports pushing this wasteful and environmentally harmful project forward."
For more information, click here.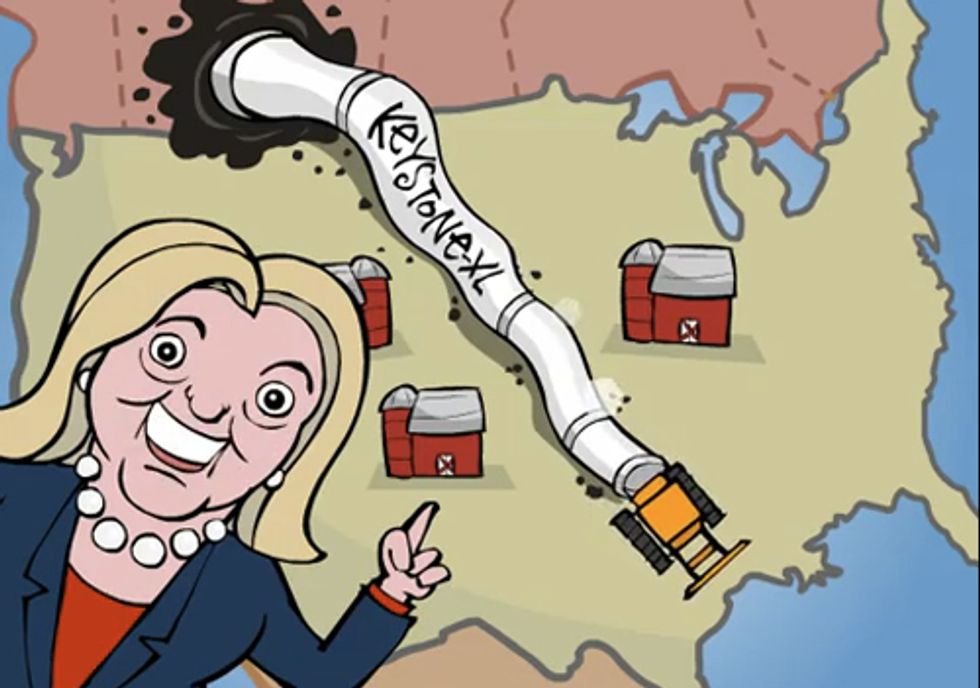 In a move sure to turn up the heat on a conflict-of-interest scandal that has been simmering for months, the State Department told Friends of the Earth this week that it will reject a Freedom of Information Act (FOIA) request for contracts involving the firm Cardno Entrix's work on the review of the Keystone XL tar sands oil pipeline.
Prior to President Obama's rejection of the pipeline last month, the State Department had run an environmental review process that was widely criticized as being rife with bias, lobbyist influence and conflicts of interest. The role played by Cardno Entrix, the contractor chosen by the State Department at TransCanada's behest to oversee drafting of the environmental impacts review as well as the public comment process, has been especially controversial. Cardno Entrix's long history of involvement with the oil and gas industry and with TransCanada in particular—which it listed as a major client—raised significant conflict of interest concerns. An October 7 New York Times expose revealed that the State Department "flout[ed] the intent of a federal law" aimed at ensuring impartiality when it hired Cardno Entrix, and numerous members of Congress subsequently called for investigations.
Yet now, in apparent violation of federal law, the State Department has indicated it will reject Friends of the Earth's Freedom of Information Act request for the State Department's contract or contracts with Cardno Entrix or TransCanada.
State Department program analyst Tangie Ellis acknowledged in a Dec. 14 email that the State Department has a list of "over six pages of contracts" consistent with Friends of the Earth's FOIA request and asked whether Friends of the Earth would be willing to pay to obtain them.
Yet by Jan. 24 the department's tune had changed. Ellis wrote in an email that "the Department of State has not issued any awards to either of the contractors Entrix and/or Cardno" and that "unfortunately the Department of State isn't one of the agency that handle this kind of request," [sic] advising Friends of the Earth to ask other federal agencies for the State Department's contracts.
"Simply put, the State Department's response to our Freedom of Information Act request has been bewildering, and it's unacceptable," said Marcie Keever, legal director at Friends of the Earth. "It's not clear whether gross incompetence or willful disregard for the law is at play, but either way, the result is the same—the public is being denied its right to see a document that could reveal serious problems in the review of the Keystone XL pipeline—problems that may have led the State Department to understate the damage to the environment that the pipeline would cause."
Friends of the Earth pledged to continue its pursuit of the documents.
"This matter is far from over," Keever said. "We will use all the legal tools at our disposal to force the State Department to comply with the law and release its contract with Cardno Entrix."
Friends of the Earth's correspondence with the State Department in regard to this Freedom of Information Act can be read by clicking here.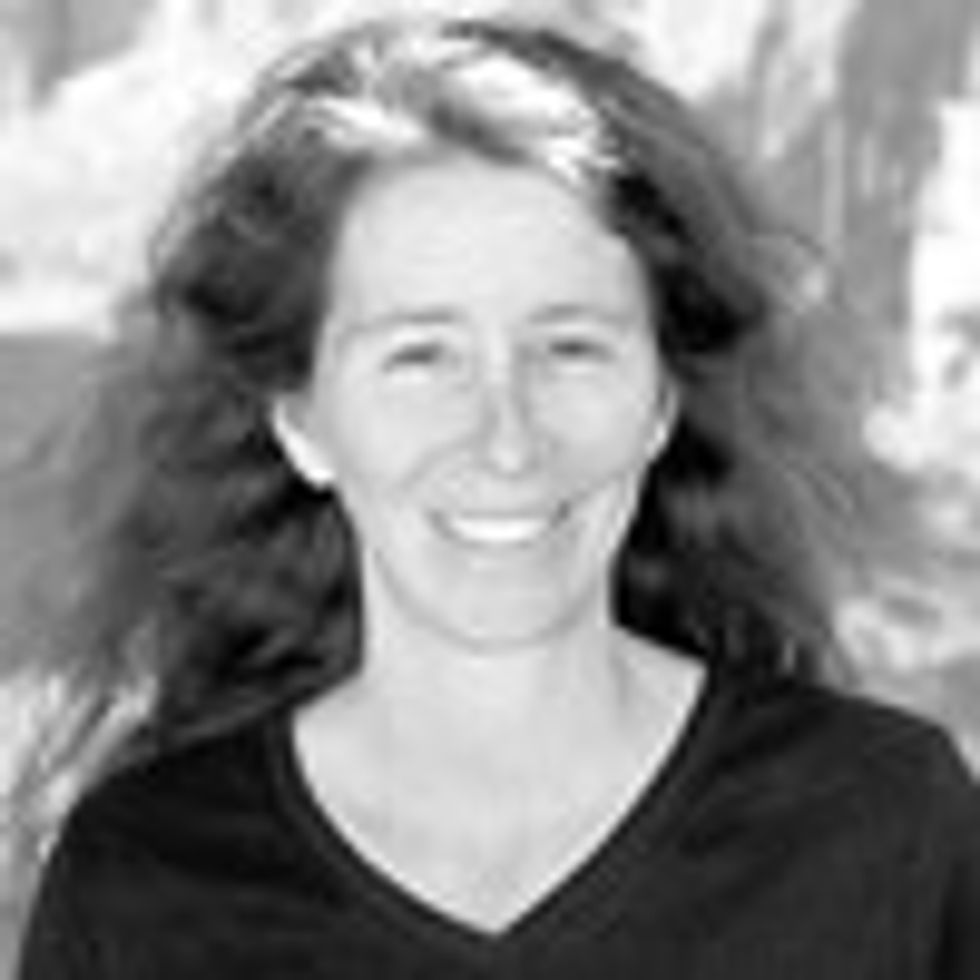 Between the Obama administration's announcement denying the permit for the Keystone XL pipeline and having lunch with U.S. Secretary of Energy Dr. Steven Chu at The City Club of Cleveland where he keynoted, discussions on energy certainly topped my agenda yesterday.
First the pipeline. The rejection of the tar sands pipeline is a huge victory. Despite strong threats from Big Oil and pressure from Republicans in Congress, who forced the issue by passing a 60-day time limit for a final decision on the project, Obama stood strong stating that the arbitrary nature of this deadline prevented the State Department from gathering the information necessary to approve the project and protect the American people. This landmark decision proves that power of the people can create change when individuals unite to protect human health and the environment in support of policies that promote energy efficiency, renewable energy and sustainable jobs.
Unfortunately, our work is just beginning. In his statement on the Keystone XL pipeline, Obama notes that he will continue to look for new ways to partner with the oil and gas industry to increase U.S. energy security—including the potential development of an oil pipeline from Cushing, Oklahoma to the Gulf of Mexico.
As Bill McKibben, founder of 350.org, said in his response to the announcement, Big Oil will do everything it can to overturn this decision and blocking one pipeline isn't enough to stop global warming. "We'll be fighting to prevent Keystone, but we'll also be fighting to shut off the flow of handouts to the oil, gas and coal industries, and to take away their right to use the atmosphere as an open sewer into which to dump their carbon for free."
The next step is an event on Tuesday, Jan. 24 at noon at the U.S. Capitol Building. Join 350.org and hundreds of other organizations and people who are working toward a sustainable energy future and "blow the whistle" on the corruption that passes for business as usual on Capitol Hill.
It was while I was sitting at a table with Secretary of Energy Chu that I received a text message from my neighbor telling me a decision on the pipeline would be announced that afternoon.
Chu is the head of the U.S. Department of Energy, a member of the President's Cabinet and fifteenth in the president line of succession. The Secretary of Energy position was formed on Oct. 1, 1977 with the creation of the Department of Energy when President Jimmy Carter signed the Department of Energy Organization Act. Originally the post focused on energy production and regulation. The emphasis soon shifted to developing technology for better, more efficient energy sources as well as energy education. After the end of the Cold War, the department's attention also turned toward radioactive waste disposal and maintenance of environmental quality.
During his 30 minute talk, Chu addressed the intellectual power of the U.S. and how clean energy innovation is a sweet spot for our country. From the most entrepreneurial people on the planet to the expertise and inventiveness of American universities, the U.S. could certainly be the world leader in the green tech industry. However, as Chu pointed out, the U.S. trails far behind other nations, including China, Korea and Germany, and will fall even further behind once investments made through the American Recovery and Reinvestment Act expire.
He talked about how government plays an important role as a first early adopter of new technologies and how policies are needed to guide private investments to get these products to market and to create a draw.
As Chu sees it, if the U.S. is to regain the lead, or even to prevent it from falling further behind, Congress needs to understand the importance of passing policies that unlock private investment to provide new technologies a chance to succeed in the competitive market place, thereby renewing the American spirit.
He pointed out that we have to get beyond sound bites and realize that energy issues are not political.
Chu mentioned a time when he was under fire from Congress on how long he thought renewable energy would need incentives to be cost-competitive with fossil fuels. His response was that renewable energy should be competitive in the marketplace without incentives within the next two decades, a much shorter time span than the 100 years of subsidies provided to the oil, gas and coal industries.
He discussed Obama's plan to reduce oil imports by one-third by 2025, modernize the electric grid, support fuel efficient cars, and invest in renewable energy and energy efficiency.
He finished by saying, "new coal is not very cheap anymore" and that yes, government policy drives investment.
I was hoping to ask a question during the traditional Q & A at the City Club, but with many hands up, I didn't get the opportunity.
I had written down 12 questions I wanted to ask him following his speech, but the one that topped my list was:  In addition to the subsidies the fossil fuel industry has enjoyed at the expense of taxpayers for more than a century, when will these industries be held accountable for the billions of dollars of externalized costs Americans have been footing the bill for?
It's time we get money out of politics and fight for the sustainable future we are capable of creating to support a healthy planet, economy and people.
The U.S. Department of State and President Obama, if only temporarily, handed out a big victory for human health and the environment this afternoon by rejecting the proposed permit for the Keystone XL pipeline.
In the tense moments leading to the Congressional Christmas recess, Republicans attached a rider to the payroll tax cut extension calling for a sped-up, 60-day review process of the pipeline to leverage President Obama into approving the project. By attaching the pipeline review to a politically charged piece of legislation designed to extend a two-percentage-point payroll tax cut in addition to providing a reduction in Medicare payments to doctors and desperately needed extensions for unemployment benefits, Republicans ostensibly had the perfect mechanism to force a decision on Keystone XL in the favor of Big Oil.
This afternoon, the Department of State recommended to President Obama that he reject the presidential permit based upon insufficient time for a proper review and insufficient evidence that the construction of the pipeline is in the national interest. President Obama agreed.
"Earlier today, I received the Secretary of State's recommendation on the pending application for the construction of the Keystone XL Pipeline," said President Obama. "As the State Department made clear last month, the rushed and arbitrary deadline insisted on by Congressional Republicans prevented a full assessment of the pipeline's impact, especially the health and safety of the American people, as well as our environment.  As a result, the Secretary of State has recommended that the application be denied. And after reviewing the State Department's report, I agree."
"Today is a significant day and I applaud the Obama administration for rejecting the Keystone XL pipeline," said Stefanie Penn Spear, executive director of EcoWatch. "It's time our policy makers take the proper steps forward and encourage investment in renewable energy, eliminate subsidies for the fossil fuel industry and hold them accountable for the externalized costs they impose upon the American people."
To read the official announcement from the U.S. Department of State, click here.
—————
EcoWatch, in partnership with Waterkeeper Alliance, works to unite the voice of the grassroots environmental movement and mobilize millions of people to engage in democracy to protect human health and the environment.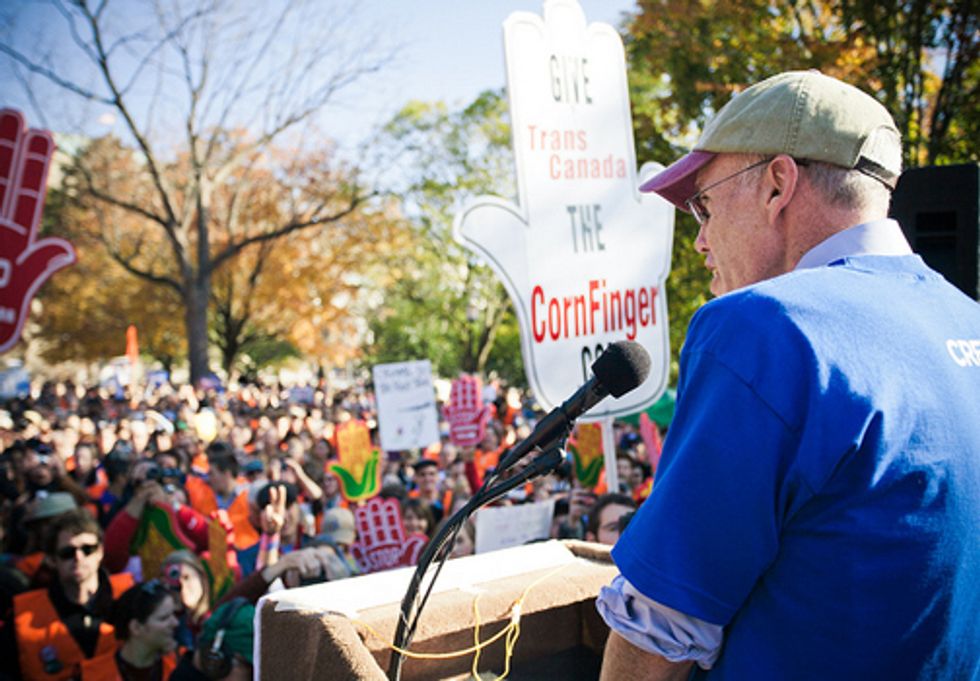 By Jamie Henn
350.org founder and Keystone XL protest leader, Bill McKibben, had the following reaction to the news that the State Department is expected to reject the permit for the Keystone XL pipeline later this afternoon:
"Assuming that what we're hearing is true, this isn't just the right call, it's the brave call. The knock on Barack Obama from many quarters has been that he's too conciliatory. But here, in the face of a naked political threat from Big Oil to exact 'huge political consequences,' he's stood up strong. This is a victory for Americans who testified in record numbers, and who demanded that science get the hearing usually reserved for big money.
"We're well aware that the fossil fuel lobby won't give up easily. They have control of Congress. But as the year goes on, we'll try to break some of that hammerlock, both so that environmental review can go forward, and so that we can stop wasting taxpayer money on subsidies and handouts to the industry. The action starts mid-day Tuesday on Capitol Hill, when 500 referees will blow the whistle on Big Oil's attempts to corrupt the Congress."
For more information, click here.