This website uses cookies to ensure you get the best experience while browsing it. By clicking 'Got It' you're accepting these terms.


The best of EcoWatch, right in your inbox. Sign up for our email newsletter!
Hurricane Irma with its eye completely encompassing the island of Barbuda on Sept. 6. University of Wisconsin / CIMMS
By Susan Glickman
As a native Floridian, I chose to ride out Hurricane Irma in my hometown of Tampa—just a few miles north of where the Tampa Bay Buccaneers play football. Like millions of other Floridians who evacuated low-lying beach communities for higher ground, I had the obvious safety concerns and worries about whether I would even have a home to return to. But as a public interest advocate who has worked on climate and energy issues every day for almost two decades, I also have intense concerns about the growing climate change/hurricane nexus.
So when EPA Administrator Scott Pruitt says it's insensitive to Floridians and Texans to talk about climate change during hurricane emergencies, I say he missed the boat as to what's truly insensitive.
The Saint Petersburg City Council formally approved on Monday the city's commitment to transitioning to 100 percent clean, renewable energy. Saint Petersburg represents the first city in Florida and the 20th city in the country to make such a commitment.
In a unanimous vote, the City Council Committee of the Whole allocated $250K of BP Oil Spill settlement funds to an "Integrated Sustainability Action Plan," which will chart a roadmap to 100 percent clean, renewable energy in Saint Petersburg. In addition, the plan also incorporates components of a climate action plan, a resiliency plan and strategies for Saint Petersburg to achieve a 5 STAR Community rating. The 100 percent clean energy roadmap builds on Mayor Rick Kriseman's executive order establishing a net-zero energy goal for the city earlier in 2016.
"The movement for clean energy in cities and towns across the country is now more important than ever," Sierra Club Executive Director Michael Brune said.
"Saint Petersburg joins 19 other cities from San Diego, California to Greensburg, Kansas that will lead the way to support equitable and inclusive communities built on 100 percent clean, renewable energy for all. Whether you're from a red state or blue state, clean energy works for everyone and local leaders will continue to move forward to create more jobs, stronger communities, and cleaner air and water."
Mayor Kriesman will share more information on the Integrated Sustainability Action Plan at a press conference on Dec. 9 on the steps of City Hall. The chancellor of the University of South Florida St. Petersburg will also make an announcement about the university's recently-completed climate action plan.
"The Integrated Sustainability Action Plan builds on my executive order on sustainability by creating a roadmap to achieve the city's long-term sustainability goals," Mayor Kriseman said. "Working towards 100 percent clean energy and zero waste will help ensure that St. Pete remains a 'city of opportunity where the sun shines on all who come to live, work and play."
Organizations that support the Ready for 100% St. Pete campaign include Oceana, Environment Florida, Southern Alliance for Clean Energy, Sunshine State Interfaith Power & Light, Keep Pinellas Beautiful, LocalShops1, Center for Biological Diversity, Chart 411, Craftsman House, The Burg Bar & Grill and St. Peace House.
"This is a historic moment for St. Pete," Emily Gorman, campaign manager for Suncoast Sierra Club's Ready for 100% St. Pete, said. "We envision a city where families can raise their kids in communities free from toxic pollution, where everyone has the opportunity for a good job and access to healthy, affordable energy. The transition to 100 percent clean, renewable energy will ensure a more resilient, sustainable and equitable future for all our residents."
EcoWatch Daily Newsletter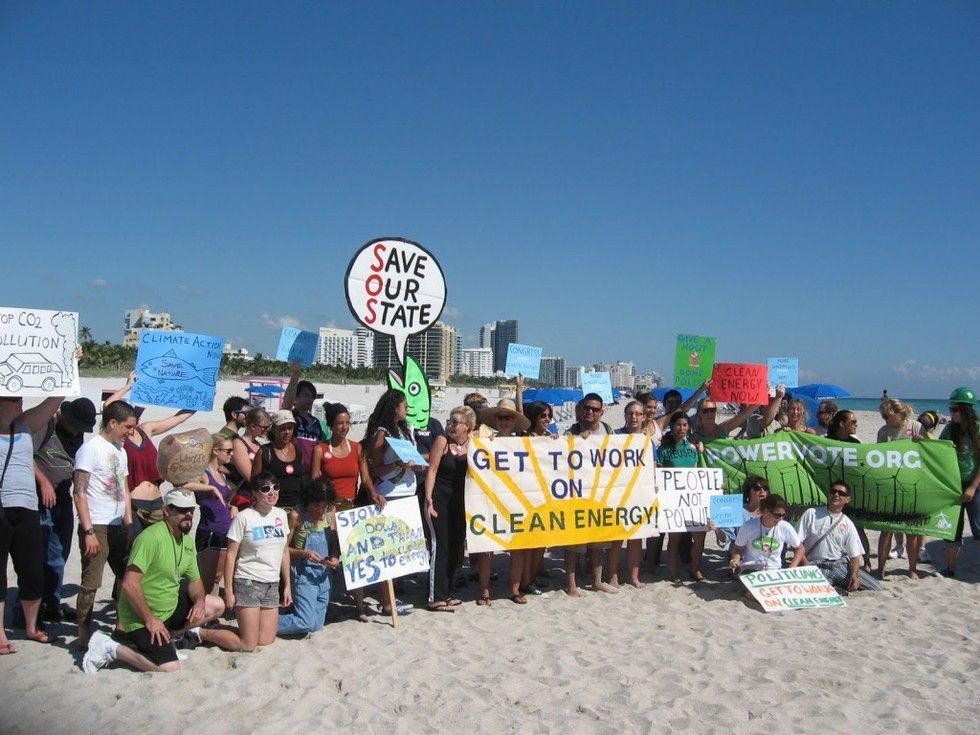 Every five years, the federal government is required by law to update its leasing program for offshore oil and natural gas development. On Nov. 8, Secretary of the Interior, Ken Salazar, announced the government's proposed plan for offshore oil drilling for the next five years (2012-2017). The new plan can be summed up pretty easily—Let the oil flow. By and far, the most oil (and thus oil drilling) that exists off our coasts is off Texas and Louisiana, and most of that is in federal waters. Most coastal states have jurisdiction over offshore areas from zero to three miles from the shore. The zone between 3-200 miles is all the fed's responsibility to regulate, permit and collect revenues from offshore oil drilling for the good of the country. This newly proposed plan would open up all the areas currently unleased in the Western and Central Gulf of Mexico between 2012-2017 for oil leasing. The Deepwater Horizon drilling disaster in the Gulf of Mexico last year put the kibosh on President Barack Obama's initially proposed 5-year plan, but this new plan appears to be business as usual for Gulf oil production.
While it appears the Bureau of Ocean Energy Management (BOEM) will be opening much of the Gulf for oil and gas development, BOEM is going to painstaking lengths to carve up the Atlantic into tiny bit-sized pieces for offshore wind farms through its Smart from the Start program. BOEM has identified some 798 square miles of ocean that might qualify for expedited offshore wind development off of Virginia, Maryland, Delaware and New Jersey—so long as no more areas are cut. By comparison, approximately 1,000 square miles of ocean off the west coast of Florida, and another 49,000 square miles in the Gulf are already leased for offshore oil and gas development.
More than 50,000 square miles of our oceans are already leased for oil and gas development—yet offshore wind farms are having to fight for an area less than 1/50th that size. Clearly, our nation's energy plan is off track.
BOEM is hosting public forums through December and taking public comments on the newly proposed 5-year plan until Jan. 9—be sure to get involved and let BOEM know how unfair this proposed offshore energy plan is and how offshore wind energy is a much better investment for our nation's future.
For more information, click here.