This website uses cookies to ensure you get the best experience while browsing it. By clicking 'Got It' you're accepting these terms.


The best of EcoWatch, right in your inbox. Sign up for our email newsletter!
American bison roaming Badlands National park, South Dakota. Prisma / Dukas / Universal Images Group / Getty Images
By Clay Bolt
On Oct. 11 people around the world celebrated the release of four plains bison onto a snow-covered butte in Badlands National Park, South Dakota.
Becky Bond / NoKXL / Flickr / CC BY 2.0
Officials from a South Dakota county secured more jail cells to prepare for potential protests of the controversial Keystone XL (KXL) pipeline, the Black Hills Pioneer reported.
Last month, the Butte County Commission in South Dakota approved an agreement to use Faulk County jails for $85 per day per detainee, should the demonstrations go ahead and if protestors are arrested. Faulk County is roughly 270 miles east of Butte County.
EcoWatch Daily Newsletter
An activist adjusts his hat while protesting the Keystone XL Pipeline during the Native Nations Rise protest on March 10, 2017 in Washington, DC. The KXL has been at the center of a contentious fight for a decade. Brendan Smialowski / AFP / Getty Images
Construction on the long-delayed Keystone XL (KXL) pipeline is planned for 2019, developer TransCanada said Monday.
"Keystone XL has undergone years of extensive environmental review by federal and state regulators," TransCanada spokesman Matthew John told Omaha World-Herald. "All of these evaluations show that Keystone XL can be built safely and with minimal impact to the environment."
Wind power in rural Iowa, one of four states that gets 30 to 37 percent of its electricity from wind power.
Voice of America
Four U.S. states generated 30 to 37 percent of their energy from wind power in 2017. That's just one of the findings of the Department of Energy (DOE)'s annual Wind Technologies Market Report, released August 22.
Oklahoma, Iowa, Kansas and South Dakota were the leaders in terms of how much wind contributed to their state's overall electricity generation, but 14 states got more than 10 percent of their in-state energy from wind power last year. Texas took the lead in added wind capacity, installing 2,305 megawatts worth.
TransCanada's permit to operate its Keystone tar sands pipeline in South Dakota could be revoked if an investigation into last week's 210,000-gallon leak determines that the pipeline operator violated its license, Reuters reported.
State regulators expressed concern that the Nov. 16 spill in Marshall County was not the first from the controversial pipeline.
A piece of legislation in South Dakota is stirring concerns that school systems may soon be allowed to teach skepticism about science in the classroom.
Advocates say SB 55, which passed the state Senate last month and goes to a House Education Committee hearing today, would allow teachers to include "strengths and weaknesses" of scientific theories, like climate change and evolution, in their lesson plans.
A similar version of this bill has been introduced in the state for the past four years, but this is the first time it has passed the Senate. Three similar bills are before state legislatures in Oklahoma, Texas and Indiana, and science groups have expressed concerns that the Trump administration could encourage a new push towards science skepticism in statehouses nationwide.

For a deeper dive:
News: Washington Post, Argus Leader, Ars Technica
For more climate change and clean energy news, you can follow Climate Nexus on Twitter and Facebook, and sign up for daily Hot News.
By Lauren McCauley

A state ballot measure seeking to end political corruption has won the ire of the billionaire Koch Brothers, who have relied on secret donations to conservative interest groups to influence elections coast to coast.
The notorious Charles and David Koch own Koch Industries and are major benefactors for organizations and candidates involved in pushing radical Republican policies.Donkey Hotey / Flickr
South Dakota's Initiated Measure 22, dubbed the Government Accountability and Anti-Corruption Act, seeks to "ensur[e] that special interest lobbyists and their cronies aren't buying influence with our elected officials," according to proponents South Dakotans for Integrity.

Specifically, it calls for public disclosure of donors to campaigns and advocacy groups; lowers contribution amounts and imposes limits on political action committees, political parties and candidates; and it creates an ethics commission to enforce campaign finance and lobby rules. Further, it establishes a publicly funded campaign finance program for state and legislative candidates.
State residents will have the chance to vote on the measure in November and, apparently, the Koch-backed Americans for Prosperity (AFP) is hoping to quash this effort before it gains traction in South Dakota or anywhere else.
SA Today's Fredreka Schouten reported Wednesday that an AFP-founded coalition, Defeat 22, has launched an aggressive opposition campaign, which "already has run commercials on talk radio and country-music stations, contacted 50,000 voters through phone calls and door-knocking and distributed mailers denouncing the initiative as a money-grab by politicians."
The Defeat 22 campaign has not yet submitted a campaign finance report, but South Dakotans for Integrity has raised $20,000 from a single group called Represent Us, according to their filing with the South Dakota Secretary of State.
As the Yes on 22 campaign notes, South Dakota scored an F grade (ranking 47 out of 50 states) on the Center for Public Integrity's 2015 state report. The oil-rich state scored lowest on Political Financing, Lobbying Disclosure and Ethics Enforcement Agencies, among others, which makes it an ideal market for the tar sands giants to peddle their influence.
In a recent letter published in the Argus Leader, Yankton resident Chris Svarstad wrote, "the out-of-state oil and tar sand billionaires, Charles and David Koch, are trying to buy South Dakota's future."
Svarstad continued:
The Koch brothers have promised to spend $900 million to influence the 2016 election cycle and support Republican candidates who have sold out their political souls to advance the Koch brothers' radical agenda. But the Koch brothers aren't satisfied with simply buying government officials. They now want to dictate S.D.'s energy policy. [...]
This isn't the first time the Koch brothers have tried to buy S.D. They've used their deep pockets and shadowy organizations to try to upend the state's open primary process. They've tried to dissuade young South Dakotans with bribes to stay out of the state's health exchanges. They've fought attempts to expand Medicaid and used their Republican slaves in the Legislature to undermine labor unions.
The Koch brothers are committed to turning the Mount Rushmore State into a safe haven for their own corporate interests at the expense of all South Dakotans.

And South Dakotans are not alone in this fight against Dark Money. As Schouten reports, the Defeat 22 campaign "marks the latest in a string of battles the Koch network has waged around the country to block efforts to disclose contributors' identities. Last year, for instance, AFP and more than a dozen other groups opposed a bill in Georgia that would have required advocacy groups active in state politics to disclose the sources of their money. The measure died."
This article was reposted with permission from our media associate Common Dreams.
Though there's no true indication that the State Department is any closer to lifting its indefinite moratorium on a Keystone XL pipeline decision, recent developments have split some communities further apart on the issue.
TransCanada Corp.'s permit from the South Dakota Public Utilities Commission expired June 29, requiring the company to re-enter the application process. Meanwhile, in Montana—another state the pipeline would have to be constructed through to reach the existing southern leg—people are "praying" for its construction for an economic boost, NBC reported.
In Nebraska, landowners are still fuming over the aggressive land grabs TransCanada attempted. A judge there has since struck down an eminent domain law. 
MSNBC's The Ed Show puts all of this in perspective, showing how Montana, Nebraska and South Dakota are still divided on Keystone XL for different reasons. He was joined by Bold Nebraska's Jane Kleeb in the segment's footage from the spring and well as this week.
Early this morning, eight individuals blocked construction of a pump station for TransCanada's controversial Keystone XL tar sands pipeline on Seminole land-by-treaty in Oklahoma by locking on to equipment in the largest action yet by the Great Plains Tar Sands Resistance. Nine people have been arrested. They managed to shut down the site until a volunteer firefighter reportedly injured one of the lockdowners, who is now in an ambulance. Others participating in the action unlocked out of concerns for their safety.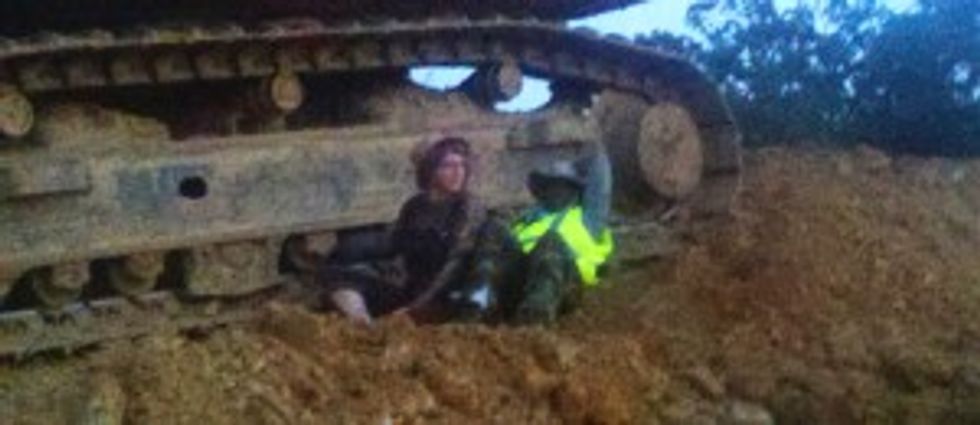 The group took action today, physically halting the construction process, as a part of an effort to prevent the Great Plains from being poisoned by inherently dangerous tar sands infrastructure, as well as to demonstrate the necessity for direct confrontation with industries that profit off of continued ecological devastation and the poisoning of countless communities from Alberta, Canada to the Gulf of Mexico. This action comes during the first day of a nationwide week of coordinated anti-extraction action under the banner of Fearless Summer.
"As a part of a direct action coalition working and living in an area that has been historically sacrificed for the benefit of petroleum infrastructure and industry, we believe that building a movement that can resist all infrastructure expansion at the point of construction is a necessity. In this country, over half of all pipeline spills happen in Texas, Louisiana and Oklahoma. Looking at the mainstream keystone opposition, this fact is invisible—just like the communities affected by toxic refining and toxic extraction," said Eric Whelan, spokesperson for Great Plains Tar Sands Resistance. "We're through with appealing to a broken political system that has consistently sacrificed human and nonhuman communities for the benefit of industry and capital."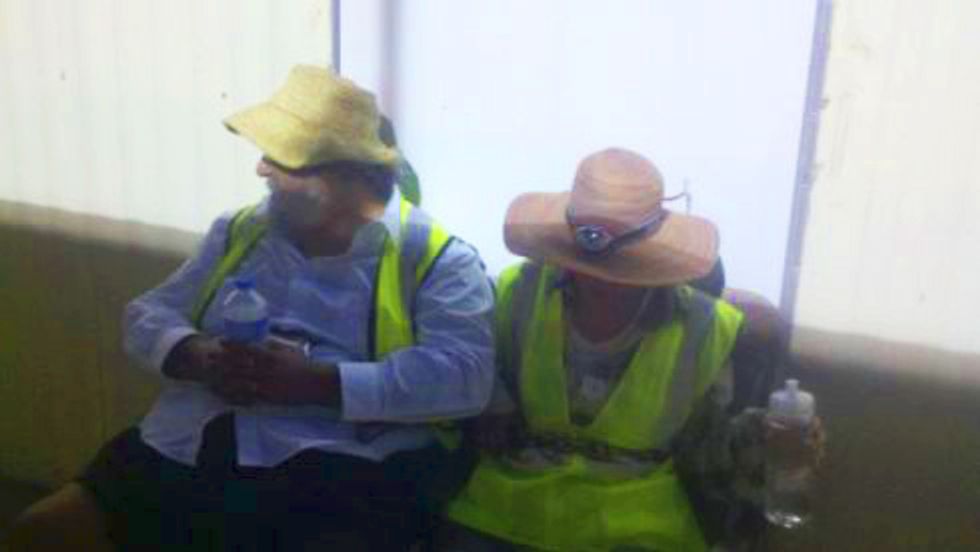 "The pipelines that poisoned the Kalamazoo River and Mayflower, Arkansas, were not the Keystone XL. Tar sands infrastructure is toxic regardless of the corporation or pipeline. For that reason we are opposed not only to the Keystone XL, but all tar sands infrastructure that threatens the land and her progeny," said Fitzgerald Scott, who was arrested in April for locking his arm inside a concrete-filled hole on the Keystone XL easement, and is locked to an excavator today. "While KXL [Keystone XL] opponents wait with baited breath for Obama's final decision regarding this particular pipeline, other corporations, including Enbridge, will be laying several tar sands pipelines across the continent. The Enbridge pipelines will carry the same volumes of the same noxious substance; therefore, Enbridge should get ready for the same resistance."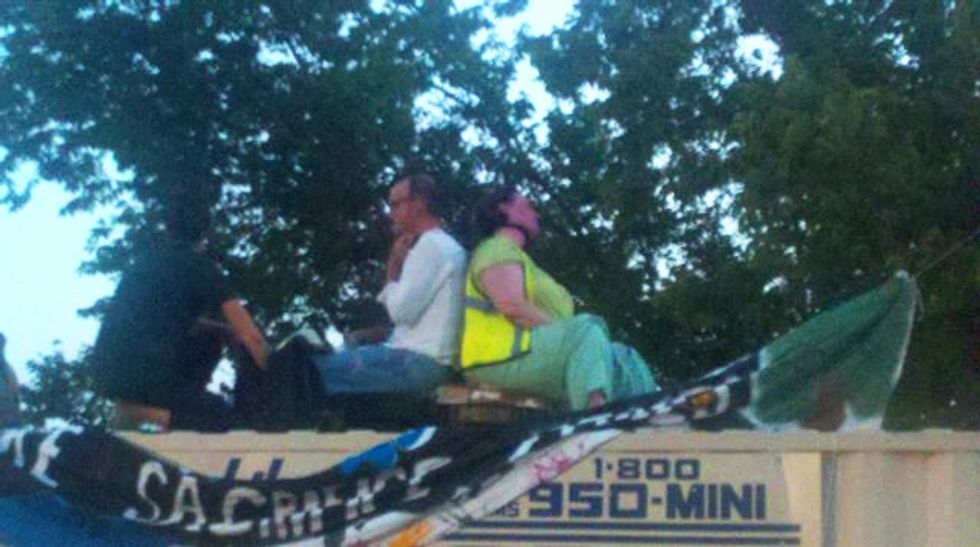 The Tar Sands megaproject is the largest industrial project in the history of humankind, destroying an area of pristine boreal forest which, if fully realized, will leave behind a toxic wasteland the size of Florida. The Tar Sands megaproject continues to endanger the health and way of life of the First Nations communities that live nearby by poisoning the waterways on which life in the area depends. This pipeline promises to deliver toxic diluted bitumen to the noxious Valero Refinery at the front door of the fence-line community of Manchester in Houston.
There is staunch resistance to the expansion of tar sands mining and infrastructure growing  across the heartland of North America, in areas long considered sacrifice zones. Currently activists are occupying an Enbridge pump station in Ontario, Canada to prevent the reversal of the Line 9 pipeline. The rise of Idle No More in defense of indigenous sovereignty across Turtle Island is in large part to protect lands and waters from toxic industries, and peoples of the Great Sioux Nation and tribal governments across South Dakota are avowing their opposition to the northern segment of the Keystone XL tar sands pipeline.
Visit EcoWatch's PIPELINES and KEYSTONE XL pages for more related news on this topic.
——-
By J. Matthew Roney
Even amid policy uncertainty in major wind power markets, wind developers still managed to set a new record for installations in 2012, with 44,000 megawatts of new wind capacity worldwide. With total capacity exceeding 280,000 megawatts, wind farms generate carbon-free electricity in more than 80 countries, 24 of which have at least 1,000 megawatts. At the European level of consumption, the world's operating wind turbines could satisfy the residential electricity needs of 450 million people.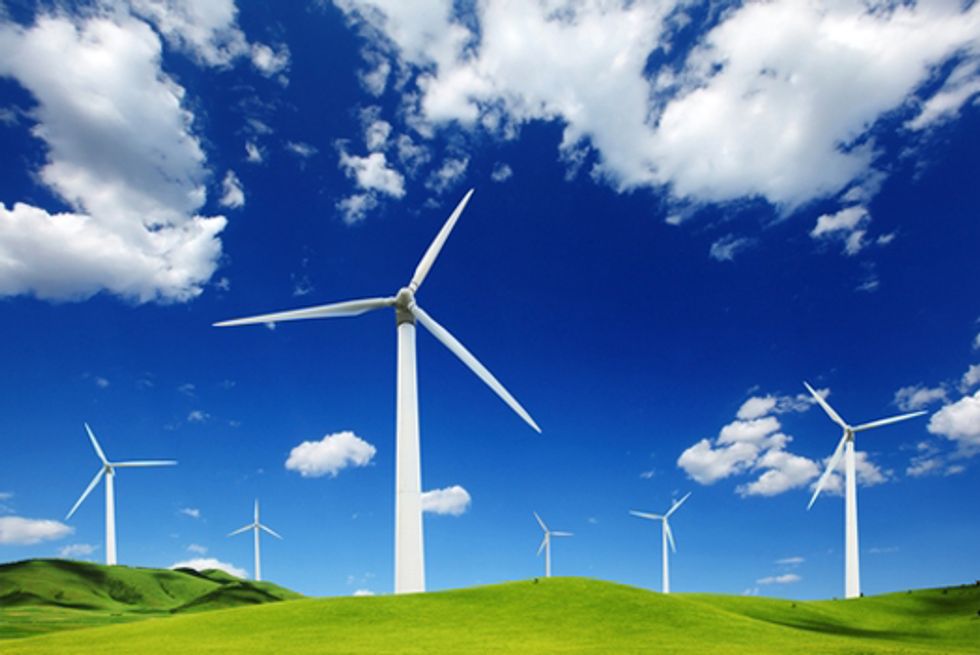 Photo courtesy of Shutterstock
China installed some 13,000 megawatts of wind in 2012, according to the Global Wind Energy Council (GWEC). This was a marked slowdown from the previous two years, when new installations averaged 18,000 megawatts annually. Reasons for the drop-off include concerns about project quality and inadequate electricity transmission and grid infrastructure, which prompted the government to approve fewer projects and to restrict lending. Still, all told, China leads the world with 75,000 megawatts of wind capacity: more than a quarter of the world total.
In a country more readily associated with coal-fired electricity and nuclear power ambitions, wind reached some impressive milestones in China's energy mix in 2012. Wind-generated electricity increased more than coal-fired electricity did for the first time. Even more remarkable, the electricity produced by wind farms over the course of the year exceeded that produced by nuclear power plants. And this is just the beginning: with massive wind projects under development across its northern and eastern provinces, and 19 ultra-high-voltage transmission projects connecting windy rural areas to population centers (all to be completed by 2014), more milestones lie ahead in China. Consulting firms GTM Research and Azure International project that China will reach 140,000 megawatts of wind by 2015 and nearly 250,000 megawatts by 2020.
The U.S. wind industry made headlines too. More new wind electricity generating capacity was added in 2012 than any other generation technology, including natural gas—a record 13,100 megawatts. An incredible 5,200 megawatts, spread among 59 wind farms, came online in December alone as developers raced to qualify for the federal production tax credit before it was set to expire at the end of the year. The U.S. remains second only to China, with 60,000 total megawatts of wind capacity—enough to power more than 14 million U.S. homes.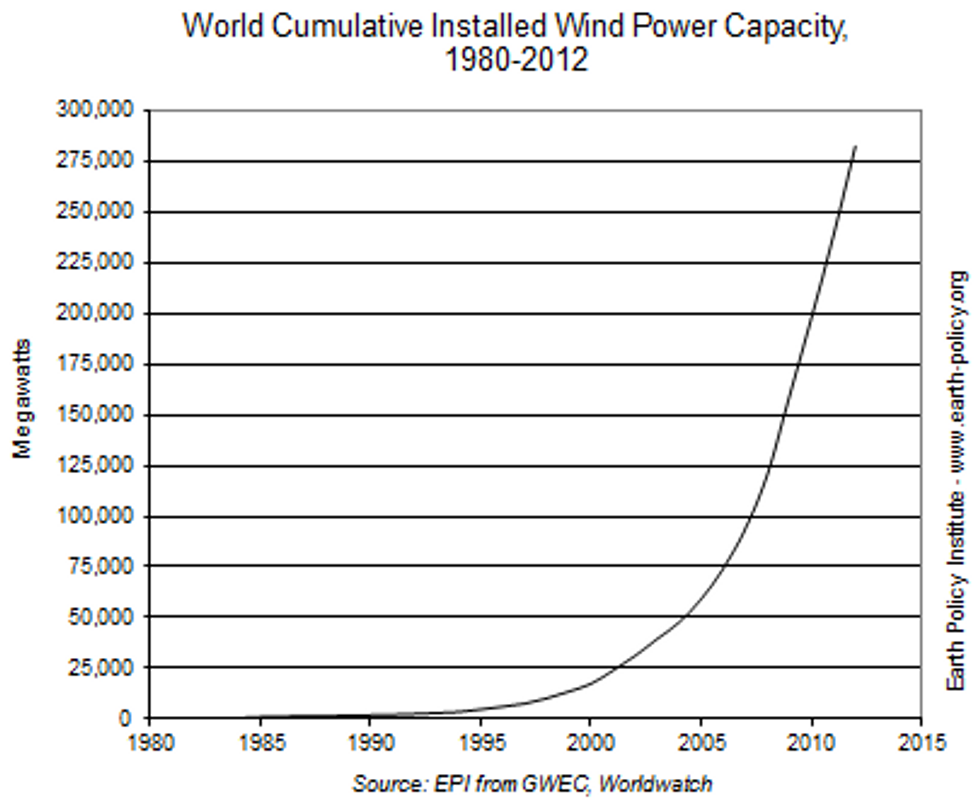 Several U.S. states have more installed wind capacity than most countries do. The 12,200 megawatts in Texas and the 5,500 megawatts in California, for example, would rank them sixth and eleventh, respectively, on the world wind power list. In Texas, a further 21,000 megawatts of wind projects are under consideration, much of which could be accommodated by the "Competitive Renewable Energy Zones" high-voltage transmission projects scheduled for completion by the end of 2013. These new lines will connect wind-rich West Texas and the panhandle with high-demand markets to the east. (See data).
Wind farms generated at least 10 percent of the electricity produced in nine states in 2012, up from five states the year before. Iowa and South Dakota got nearly a quarter of their electricity from wind. Oregon's 845-megawatt Shepherd's Flat wind farm, commissioned in 2012, is North America's largest. But in Carbon County, Wyoming, a project of up to 3,000 megawatts is under development.
To the north, Canada's 6,500 megawatts of wind power are sufficient to meet the electricity needs of nearly 2 million households. As Ontario, the country's most populous province, works to phase out coal-fired power by 2014, its wind generation is growing—in fact, Ontario's wires carried more electricity from wind than from coal for the first time in 2012.
The European Union (EU) added more megawatts of wind in 2012 than it did natural gas, coal, or nuclear, even as fiscal austerity measures cut renewable energy incentives. Several EU member states lead the world in the share of electricity they get from wind farms. Spain and Portugal typically have a 16 percent wind share. In Germany, whose 30,000 megawatts of wind capacity are the third highest in the world, the national wind share is 11 percent. Four of Germany's northern states now get roughly half of their electricity from wind.
But it is Denmark that sets the bar for wind's role in electricity production. The Danish Wind Industry Association reports that wind farms generated 30 percent of Denmark's electricity in 2012, up from 28 percent in 2011. The government pledged in late 2011 to boost this share to 50 percent by 2020.
Looking eastward, Romania and Poland each added roughly 900 megawatts of wind in 2012, reaching 2,500 and 1,900 megawatts, respectively. Turkey's goal is to reach 20,000 megawatts of wind in the next 10 years, nearly 10 times its current capacity.
Aside from China, India is the other big Asian wind market. With more than 18,000 megawatts installed, India ranks fifth worldwide in wind capacity. The government plans to spend roughly $8 billion on grid and transmission upgrades by 2017 through its "green energy corridors" plan. This is sorely needed in a country where nearly 300 million people do not have access to electricity.
Latin America, Africa, the Middle East and Oceania have enormous wind potential but little actual development thus far. Activity in each of these regions, however, indicates seriousness about harnessing the wind. In Latin America, Mexico more than doubled its wind capacity to almost 1,400 megawatts in 2012. Brazil, where wind installations grew 75 percent in 2012, could add another 1,500 megawatts in 2013 to reach 4,000 megawatts total.
Just 100 megawatts of wind were installed in all of Africa in 2012, split between Ethiopia and Tunisia. Kenya's long-awaited 310-megawatt Lake Turkana wind farm, which could generate more than 10 percent of national electricity, has suffered multiple setbacks but may begin construction in 2013. No new wind projects came online in the Middle East. Jordan is looking to grow its currently negligible wind power to 1,200 megawatts by 2020, however, and plans are also under way in Israel and Saudi Arabia.
In Australia, the goal is to get 20 percent of electricity from renewable sources by 2020. Half of the country's current 2,600 megawatts of wind is in the state of South Australia, where wind farms generated 24 percent of all electricity in 2012. The January 2013 commissioning of the 420-megawatt Macarthur wind farm in the state of Victoria gets the country halfway to its expected 30 percent wind growth for the year.
Most of the world's installed wind capacity is land-based; just 2 percent—roughly 5,400 megawatts—has been built offshore. Recently, however, offshore development has accelerated, more than tripling over the last five years. Ten of the 12 countries with offshore wind farms are European. The United Kingdom hosts more than half of the world's offshore capacity and aims for 18,000 megawatts of offshore wind by 2020; its offshore wind resources are actually estimated to be 16 times larger than its electricity consumption. In Denmark, some 15 percent of electricity is expected to come from offshore wind farms by 2014.
China and Japan are the only offshore wind producers outside of Europe, hosting 390 megawatts and 25 megawatts, respectively. With 130 megawatts installed in 2012 alone, China has quickly amassed the world's third largest offshore capacity figure; the country's near-term offshore targets are 5,000 megawatts by 2015 and 30,000 by 2020. In the wake of the 2011 disaster at the Fukushima nuclear power plant, Japan is looking to harness more of its offshore wind, a resource plentiful enough to meet national electricity needs nearly three times over. And in South Korea, numerous offshore projects are under way, as the country's wind industry aims to reach 23,000 megawatts of wind power by 2030.
According to Navigant Research, new wind installations worldwide will fall to some 40,000 megawatts in 2013. This would be the first instance in at least 17 years when annual additions did not increase year-to-year. Much of this deceleration will likely be the result of a slowdown in U.S. development. Still, the annual market is expected to rebound in 2014 as costs continue to fall, as major players recover, and as newcomers in Africa, the Middle East and the Baltic region begin to realize their wind ambitions. GWEC and Greenpeace International project at least 425,000 megawatts of wind capacity worldwide by 2015—enough to generate electricity for all of Central and South America. The world is starting to realize that wind's potential is almost without limit.
Visit EcoWatch's RENEWABLES page for more related news on this topic.
——–
Click here to tell Congress to Expedite Renewable Energy.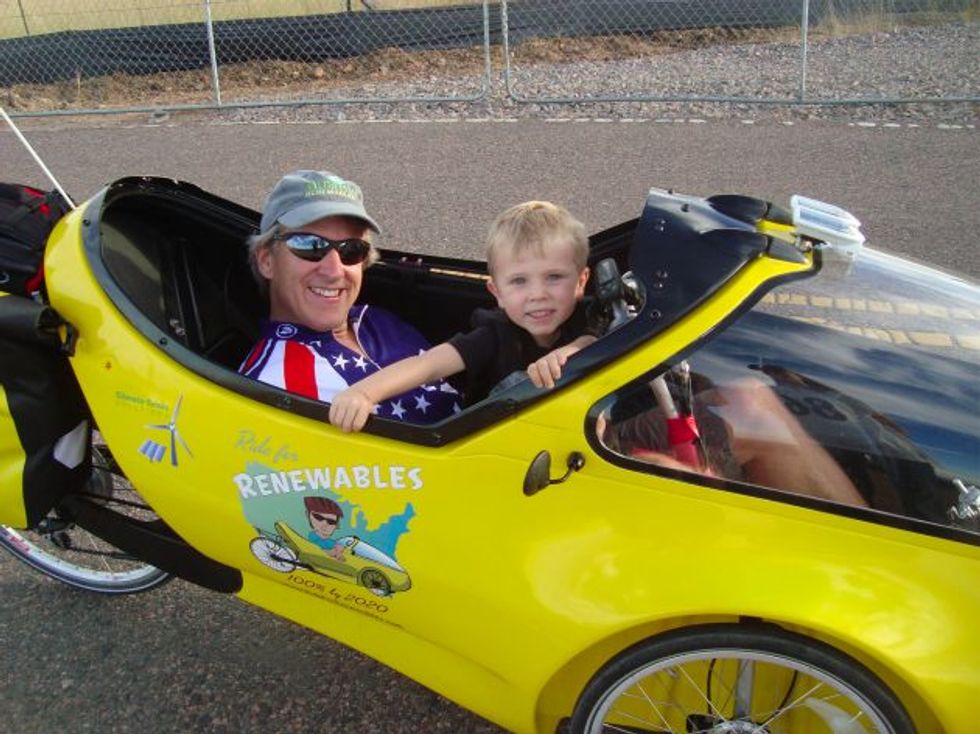 Renewable Rider Tom Weis concludes his 10-week, 2,150-mile, Keystone XL "Tour of Resistance" along the six-state path of the proposed route of TransCanada's Keystone XL pipeline. He has pedaled the entire U.S. route of the proposed pipeline in his "rocket trike" in support of landowners and communities fighting Keystone XL. Pipeline opponents will join him today in demanding that President Obama reject TransCanada's permit without delay. Weis will be joined by Goldman Prize winner Hilton Kelley in denouncing the pipeline.
The tour ends in Port Arthur, Texas, a Gulf Coast refinery town near the Louisana-Texas border, and the proposed end-point of the pipeline, which would start in Alberta, Canada, and travel through Montana, South Dakota, Nebraska, Kansas and Oklahoma to reach oil refineries in Texas before being exported to China, Latin America or Europe.
Keystone XL threatens to contaminate the Ogallala Aquifer—the fresh drinking water supply of nearly two million people and the source of one-third of America's farmland irrigation water—by pumping up to 830,000 barrels a day of tar sands sludge through the pipeline.
I know a lot of people working to educate American's about the issues concerning the Keystone XL pipeline and why building it will only continue our addiction to oil and head us and the climate down a path of no return, but few people are as dedicated as Weis. We all owe him a huge amount of gratitude for his work, which greatly impacts the future of our planet. I can't think of anything more important then the job he is doing.
I encourage you to visit the Ride For Renewables website and YouTube channel to get an amazing overview of this incredible adventure.
And, please join me today in support of Weis's efforts by signing his petition to prevent tar sands oil on American soil.
Here's Weis's post from last night that provides a flavor of the person behind this brave and inspiring journey.
Day 69: Pedaled the final real leg of the journey today, a flat and fairly quick 21 miles from Beaumont to Port Arthur. A few miles outside of Beaumont, a large hawk appeared seemingly out of nowhere and alighted on a utility wire not 20 feet away, wings spread wide and looking right down at me. Reminded me of the hawk in Boulder that suddenly appeared and helped inspire my ride last year. Very auspicious sign. A light rain was falling as I pedaled, which seemed to intensify the sulfur smell of the surrounding oil refineries. Made it to downtown West Port Arthur, with only a mile or two now left to go.
Today was dedicated to a group of West Port Arthur children who Goldman Prize winner Hilton Kelley had lined up to see the trike and learn about the Keystone XL pipeline. We met in a community room at the Prince Hall government housing project—overshadowed by the nation's largest cluster of oil refineries and chemical plants—where people have been suffering in silence for far too long. Where we met was right next door to the Carver Terrace housing project, where Hilton was born in a back bay room. We had about 20 local kids there, a group small enough that each one got to take a short ride in the trike. VERY fun. One of the big "kids" even took the trike for a spin. Look for a wonderful YouTube video of Hilton Kelley showing how it's done.
Afterwards, we went inside and did some Q & A with the children. Not surprisingly, most of the questions were about the rocket trike, but I think some of what Hilton and I said about why we don't want tar sands coming to their community also sunk in. One of the older kids, Jeremiah Williams, said he wanted to talk to me, so I pulled up a chair. With a look of disbelief on his face, he quietly asked me why I did it (that is, rode from Canada to West Port Arthur). He listened with rapt attention as I told him, then handed me a wrist bracelet that read "LAUGH." I'm wearing it now. Balances out well with the jail wrist bracelet I've been wearing since I was arrested outside the White House this summer, along with 1,252 others, protesting against Keystone XL.
Then Hilton and his wife, Marie, generously treated me to a wonderful Cajun-style dinner at one of their favorite restaurants, where we learned that we shared a mutual friend in common, one of my ride sponsors, Graham Hill, from Boulder. So of course we had to give him a call. The older I get, the smaller the world seems to get, and I really like that.
Am writing this around 1 a.m.—one last late night preparing for tomorrow's end of ride media event. I want to thank Bruce Walker and my amazing friend, Paul Alexander, for their herculean efforts to alert the media. Here's one more newspaper story on the ride that ran in Oklahoma: http://tinyurl.com/7my8nlu.