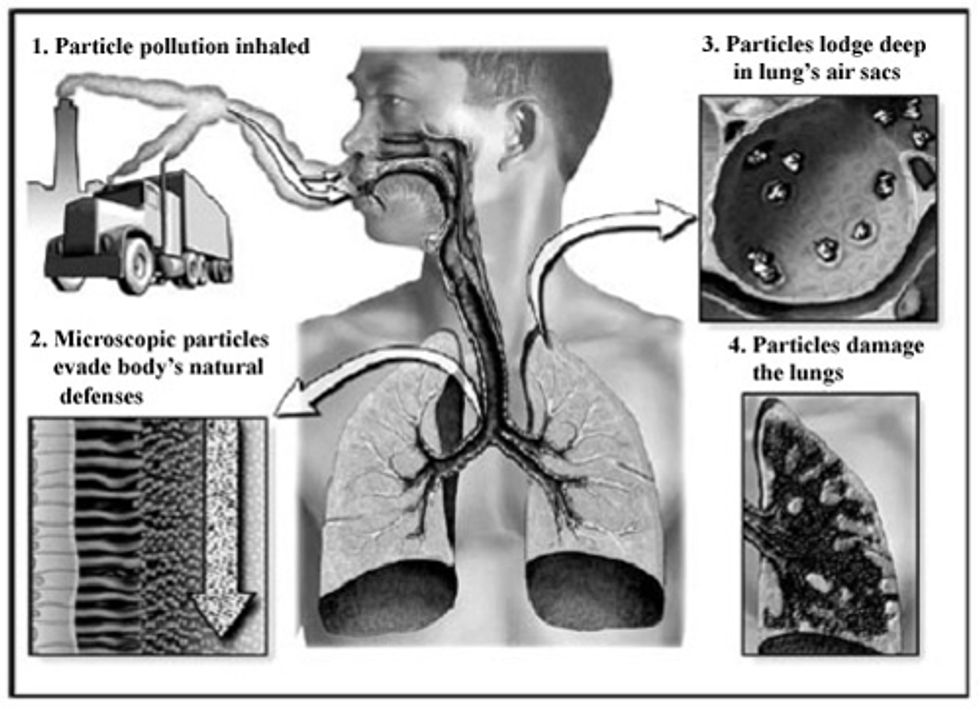 The American Lung Association and the National Parks Conservation Association filed a federal lawsuit on Feb. 14 to force the U.S. Environmental Protection Agency (EPA) to complete the required review of the need for stronger limits on the amount of soot, smoke and other airborne particles that endanger public health.
Airborne particulate matter is comprised of tiny particles of smoke, soot, metals and other chemical compounds emitted from sources like power plants, factories, and diesel trucks. Scientists say particulate matter, which can penetrate deep into our lungs, is one of the most toxic forms of air pollution.
The Clean Air Act requires EPA to review the science and update the National Ambient Air Quality standards every five years to ensure the public is protected by the best available science. The agency failed to meet the deadline in October 2011. EPA's failure to update these standards nationwide means that outdated limits remain in place even though they fail to protect public health. Those particularly hard hit by particulate pollution include children, seniors, people with lung disease, heart disease and diabetes, and low income communities. Without updated standards, millions of Americans will face continued risk from unhealthy levels of particle pollution. Stronger standards would drive cleanup measures nationwide that could prevent thousands of premature deaths annually, according to an analysis published in 2011.
The lawsuit, filed by the public interest law firm Earthjustice on behalf of both national, nonprofit organizations, asks the U.S. District Court for the District of Columbia to impose a deadline of October 2012 for EPA to complete its review of the National Ambient Air Quality Standards.
In a companion lawsuit filed last week, nearly a dozen state attorneys general also sued the EPA over this ongoing violation of the federal Clean Air Act.
"EPA let this deadline come and go but did nothing to address a growing health crisis," said Earthjustice attorney Paul Cort. "Meanwhile, thousands more Americans are getting sick and dying from the air they breathe. EPA needs to act now, do its job, and obey the law."
The health risks caused by breathing particulate matter are outlined in a recent study published by Earthjustice, the American Lung Association, and the Clean Air Task Force. The report, Sick of Soot, details how a reduction of soot in the air can prevent more than 35,000 premature deaths each year, decrease cases of aggravated asthma by more than one million, and save at least $280 billion in health care costs.
"Since the last review, we've learned a lot about how dangerous these particles are. It makes no sense to continue to base public health protections on outdated science," said Janice Nolen, assistant vice president of National Policy and Advocacy for the American Lung Association. "A stronger particulate matter standard would provide more protection to people across the nation from dangerous particles. Strengthening the standards drives the action we can take to prevent thousands of premature deaths and hundreds of thousands of asthma attacks each year. EPA needs to finish its job."
In 2006, EPA overruled its science advisors, who called for stronger pollution protections, and instead adopted the current weak particulate matter standards. In 2009, as a result of a separate legal challenge brought by these same health and environmental groups, a federal appeals court ruled that these standards were deficient and sent them back to EPA for corrective action. Since then, EPA has failed to propose new standards for particulate matter.
Airborne particulate matter is comprised of tiny particles of smoke, soot, metals and other chemical compounds emitted from sources like power plants, factories, and diesel trucks. Scientists say particulate matter, which can penetrate deep into our lungs, is one of the most toxic forms of air pollution. Particulate matter is also responsible for much of the haze that clouds many of our cities and parklands.
"These particles of pollution are a hazard not only to our health but to our environment as well," said Mark Wenzler, vice president of Climate & Air Quality Programs at the National Parks Conservation Association. "The same soot we breathe is also degrading the views, plants, and wildlife in our national parks. For the sake of our parks and their neighboring communities that depend on clean, clear air, it's time for EPA to get to work and clear the air."
For more information, click here.
EcoWatch Daily Newsletter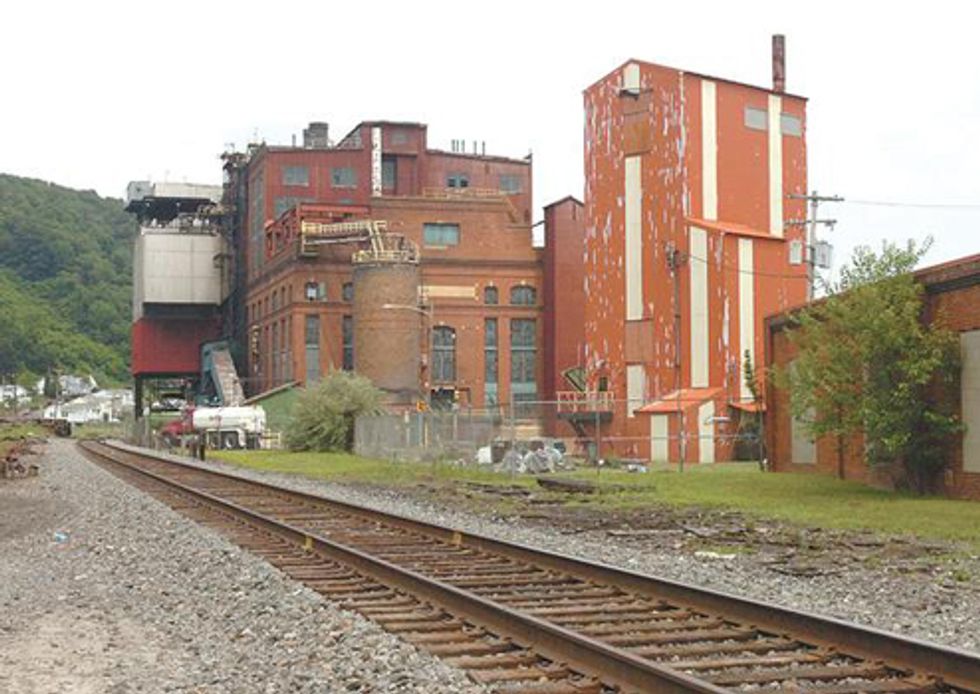 In a victory for clean air and local residents' health, Ohio-based First Energy Corp. announced the retirements of three of its coal-fired power plants in West Virginia. The plants are slated to close Sept. 1, 2012. The Feb. 8 news follows last month's retirements of six of First Energy's coal plants in Ohio, Pennsylvania and Maryland.
First Energy announced the retirements of three plants—Albright Power Station, Willow Island Power Station and Rivesville Power Station. In total, these closures will bring 660 megawatts of dirty, dangerous pollution to an end. The retirements represent a major improvement in the lives of local residents, who have been exposed to the pollution from these plants for decades.
Pollution from coal-fired power plants contributes to respiratory illnesses and asthma attacks, heart disease and cancer. Closure of these three plants will prevent approximately 40 premature deaths, 64 heart attacks and 620 asthma attacks, according to the Clean Air Task Force.
"This is good news for West Virginia, because those plants will no longer be polluting our air and water like they have been for sixty years. We want to ensure that the company has made a commitment to their workforce's welfare once these plants close," said Jim Sconyers, chair of the West Virginia Chapter of the Sierra Club.
In recent years West Virginia has made investments in clean energy, especially wind generation, allowing old plants like these to be retired while ensuring West Virginia's power is reliable. "These plants were outdated, did not even operate most of the time and lacked modern pollution controls. As we increase our share of renewable energy like wind and solar power, old and unsafe plants like these, which roar to life only at certain times, will be replaced by clean energy," said Sierra Club Beyond Coal Campaign director and West Virginia native Mary Anne Hitt. "This means affordable power you can count on during the hottest and coldest days and cleaner, safer air for our children and families."
Together, the plants employed about 105 workers. Rivesville's workforce had previously been transferred as that station ramped down operations, and First Energy has announced that many will be transferred to other facilities. First Energy has also recently begun an energy efficiency project which will result in local jobs and lower electricity bills. "Closing these old dirty plants is only the beginning of the responsibility that First Energy owes to the surrounding communities. Instead of using public health safeguards as an excuse for the closure of three old and unnecessary plants, they need to increase investments in energy efficiency and create new jobs to assist the workers and community with a smooth transition to a clean energy future," said Sierra Club environmental justice organizing representative Bill Price.
The Sierra Club's Beyond Coal campaign works in partnership with Bloomberg Philanthropies and a nationwide coalition of allies to retire one-third of the nation's aging coal plants by 2020, replacing them with clean energy like wind and solar by 2030.
"This is a great development for the Beyond Coal Campaign," said Michael R. Bloomberg, philanthropist and mayor of New York City. "We have been witnessing the end of our dependency on coal and the move toward a cleaner energy future for quite some time now. Ending coal power production is the right thing to do, because while it may seem to be an inexpensive energy source, the impact on our environment and the impact on public health outcomes are significant."  
Coal plants are the largest sources of climate disruption and toxic air pollution like mercury, soot and carbon pollution. These three plants bring the tally of coal plant retirements to 95 since the Sierra Club began its Beyond Coal campaign in 2002.
For more information on the Beyond Coal campaign, click here.
For more information, click here.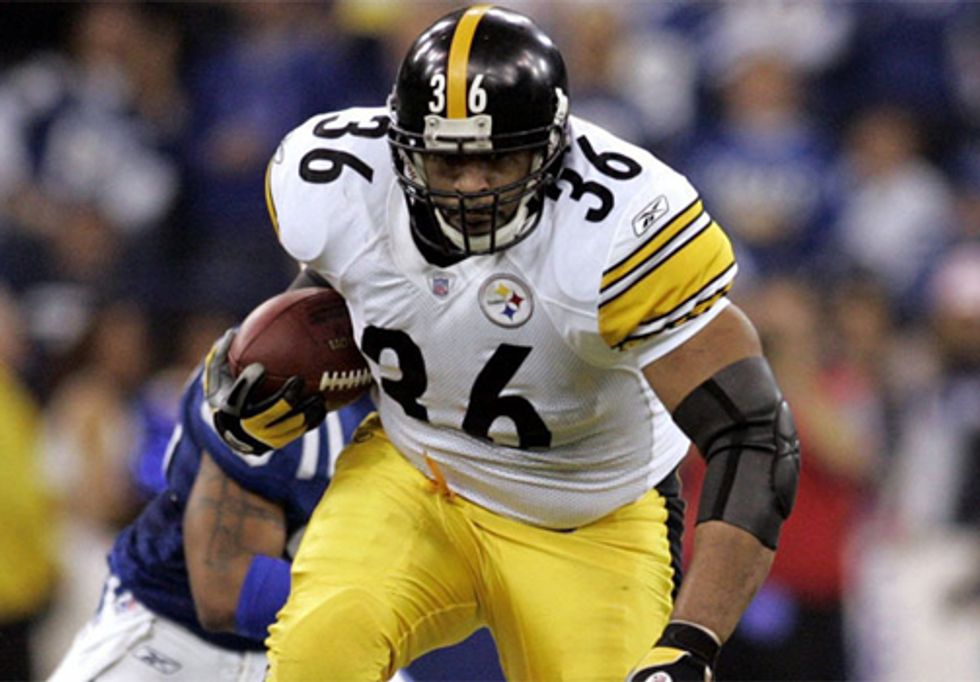 Retired National Football League (NFL) legend Jerome Bettis met with U.S. Environmental Protection Agency (EPA) Administrator Lisa P. Jackson Dec. 15, before meeting with members of Congress on behalf of the Clean Air Council (CAC) to advocate for the EPA's clean air rules. Bettis, an asthmatic, was joined by Katie Feeney, policy analyst at CAC, to discuss the health benefits of clean air in advance of the release of EPA's Utility MACT, or Mercury and Air Toxics Standards, expected to be issued in the next few days. The rule, which would require the first nationwide reductions of hazardous emissions of mercury, lead, arsenic and acid gases from coal-fired power plants, would save up to 17,000 lives and prevent 120,000 cases of aggravated asthma a year, according to the EPA.
Mr. Bettis, nicknamed "The Bus," urged that no delay or legislation be passed to prevent the lifesaving rule from going into effect. He will be meeting with:
EPA Administrator Lisa P. Jackson
Sen. Robert Casey (D-PA)
Congressman John Dingell (D-MI)
Congressman Mike Doyle (D-PA)
"I am excited to join the Clean Air Council, whose mission is to protect everyone's right to breathe clean air, in meeting with elected officials to talk about an issue that I am so personally connected to," said Jerome Bettis. "I've been involved with asthma education for a number of years. When I learned how vital the clean air rules are to people's health, and realized how polluted air exacerbates my asthma, I knew I had to speak out. The Toxics Rule will save thousands of lives, including the lives of children, across the country. I can't imagine a more worthy cause."
According to the EPA, the rule will also avoid 12,000 hospital visits, 4,500 cases of chronic bronchitis, 11,000 nonfatal heart attacks, 12,200 hospital and emergency room visits, 220,000 cases of respiratory symptoms and 850,000 days when people miss work annually. In Bettis' native Michigan, 1,056 pollution-related deaths, 487 hospital admissions and 1,097 heart attacks will be avoided through the implementation of EPA's clean air rules. In his adopted home state of Pennsylvania, the numbers are even more staggering, with 2,510 pollution-related deaths, 1,016 hospital admissions and 2,298 heart attacks being avoided.
Bettis was diagnosed with asthma at 15, and has struggled with it ever since, including suffering from a traumatic life-threatening attack during a nationally televised game in 1997. He was an active advocate for asthma awareness during his playing career and continues to speak out about the issue. In particular, he has focused on helping children who have asthma learn to cope with it.
Dirty air leads to severe medical issues, including hundreds of premature deaths annually caused by heart, respiratory and lung problems. For those with asthma and other respiratory problems—who already experience breathing difficulty—high ozone days can lead to further respiratory distress, and even hospitalization. On ozone action days the air can irritate the respiratory systems, causing symptoms such as coughing, throat irritation, and chest tightness. Lung function is reduced, air intake can feel strained, and breathing, especially outside, can become shallow, rapid and uncomfortable.
Despite the significant progress that has been made in reducing air emissions in the last 20 years, the American Lung Association says more than 175 million people—or nearly six out of 10 Americans—live in areas with unhealthy levels of air pollution.
"We're thrilled and honored that Jerome Bettis has agreed to join with the Clean Air Council to advocate for the timely implementation of the Utility MACT," said Joseph Otis Minott, Esq. of the Clean Air Council. "As an outspoken advocate for asthma awareness, he recognizes that this issue is important beyond the beltway—it is a living room issue that will benefit everyone, especially asthmatics."
"My goal is for the members of Congress we meet with to understand just how important these rules are to people's health, and that they need to be implemented as soon as possible," concluded Bettis.
Bettis was joined by Feeney and Dr. Sue Tierney, managing principal at the Analysis Group and former assistant secretary for policy at the U.S. Department of Energy, at a press conference.
For more information, click here.
—————
Clean Air Council is a member-supported, nonprofit environmental organization dedicated to protecting everyone's right to breathe clean air. The Council works through public education, community advocacy, and government oversight to ensure enforcement of environmental laws.
The Jerome Bettis "Bus Stops Here" Foundation is a non-profit 501 (c) (3) organization whose mission, is to improve the overall quality of life for troubled and underprivileged children by offering the opportunities to help them succeed in life. The Foundation believes that the first step towards self-sufficiency must consist of a strong moral foundation. On this foundation, self-esteem, responsibility, education and ultimately, employability are built. The Foundation's contribution to youth consists primarily of providing a climate where they feel wanted and accepted by peers and adults and where they are assisted in acquiring and applying the skills related to meeting their goals. Through the hard work of the Foundation, we are presenting possibilities and creating opportunities. We are trying to change old perceptions to create a "right here, right now attitude".