Today, grassroots leaders in Ohio called out state leaders for failing to protect Ohioans from solid radioactive waste from hydraulic fracturing (fracking). According to local citizens groups, Gov. Kasich's budget bill will provide inadequate protection from low-level radioactive waste (LLRW), and therefore constitutes a handout to the oil and gas industry. They are asking the state to require the oil and gas industry to properly dispose of LLRW.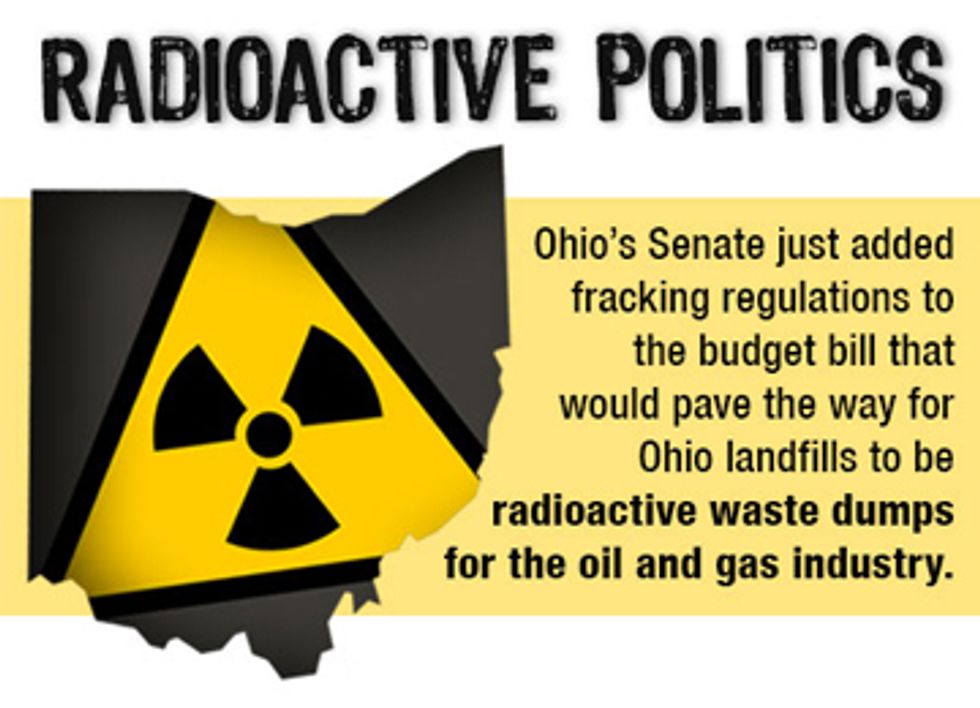 "The regulations represent yet another concession to the oil and gas industry at the expense of Ohioans' health and safety," says Alison Auciello, an organizer for Food & Water Watch. "Governor Kasich and our regulators are billing the proposal as a way to monitor and keep radioactive waste from landfills. But the legislation will indeed do the opposite of the claims made by the administration. Even worse, it gives a false sense of security that we are being protected. Disposal of radioactive waste should be considered a grave matter, not an ill-informed side note to the budget bill."
 
"The General Assembly is playing a word game to remake lethally radioactive waste into 'drilling cuttings' in order to allow drillers to dump their mountain of garbage on the cheap," said Terry Lodge, an attorney for the opposition working group. "They're replacing scientific fact with magical thinking and endangering public health, water, land and air—all for profit. By implementing these standards, they will violate federal standards. This will not stand."
 
"The radiation inherently present in shale gas drilling waste is a very serious concern. Whether disposed via injection wells, dumped into landfills or discharged into our Ohio surface waters from waste water plants, our state appears to be targeted as a regional radiation sacrifice zone," asserted Chris Borello, for Concerned Citizens of Stark County. "But once let out into our environment, this carcinogenic and long-lived toxin will leave Ohioans at risk forever. The proposal in the Ohio budget is an outdated, substandard criteria misleadingly contrary to what the National Academy of Science, the U.S. EPA [Environmental Protection Agency] and what 37 other states cite as the protective definition concerning this form of radiation. If enacted, Ohio will recklessly allow much of this radiation to be swept under the rug, posing an ongoing threat to the health of residents."
 
"Through the chosen definitions, this legislation exempts much radioactive and toxic material from any testing or tracking. Add oil-based substances, like benzene, to this concoction and the Governor and Ohio regulators think this waste can be used for 'any manner authorized as a beneficial use.' This is bad policy and endangers the health of Ohioans," said Vanessa Pesec, president of the Network for Oil and Gas Accountability and Protection.
 
"Ohio learned an important lesson in the 1990s when we were considering placing a low level radioactive waste landfill in the state for medical and research waste. We learned that if you take a small amount of radioactive waste and mix it with a large volume of regular wastes, you end up with a large volume of radioactive waste," said Julie Weatherington-Rice, senior scientist at Bennett & Williams Environmental. "Somehow, our legislature and our administration have forgotten this vital, basic radiological lesson. Water soluble wastes like radium, uranium and radon gas just leach out anyway, leaving behind the rest of the radioactive elements to contaminate wherever our current government chooses to put them. You either learn from history, or you repeat the mistakes again and again."
Visit EcoWatch's FRACKING page for more related news on this topic.
——–
Sign the petition today, telling President Obama to enact an immediate fracking moratorium:

EcoWatch Daily Newsletter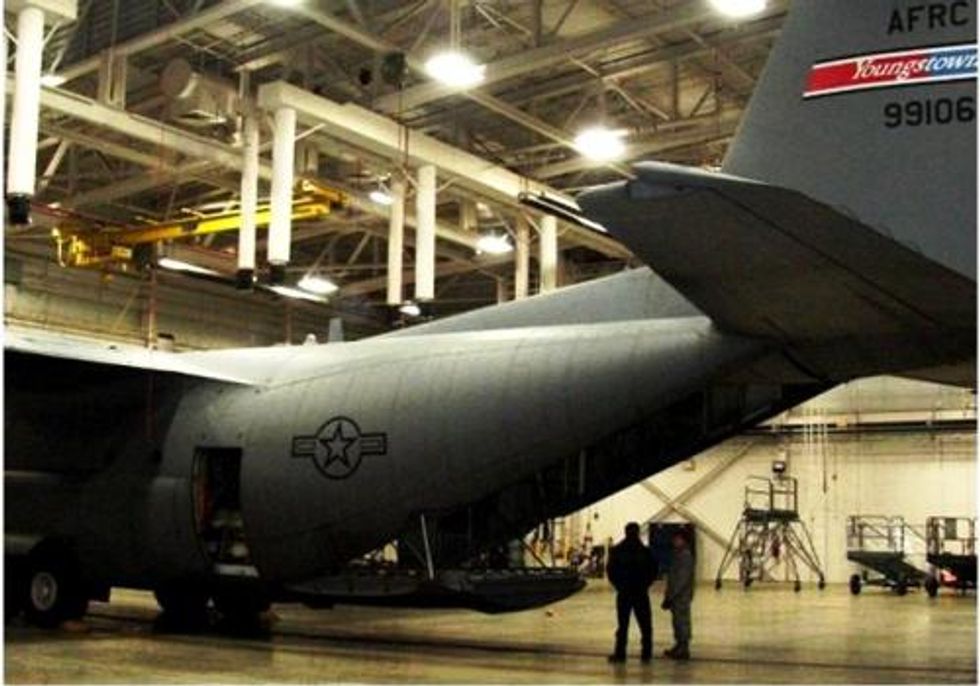 The Cleveland-based non-profit, MedWish International and G-Team, the philanthropic arm of Groupon, announced on Jan. 10 the launch of a fundraising campaign that will allow Northeast Ohio to save lives and improve the health of those in desperate need of medical care in Honduras. MedWish International is committed to repurposing medical supplies and equipment discarded by the healthcare industry to provide humanitarian aid in developing countries and reduce solid waste. The purpose of the new fundraising campaign is to send their largest shipment ever to support three clinics in Tegucigalpa, Honduras. All donations to fund this shipment will be matched dollar-for-dollar by the Sherwin-Williams Children's Health Fund, established through a generous grant by The Sherwin-Williams Company. 
"This shipment will improve health and save lives for thousands of people in Honduras," said Brian Smith, who arranged the shipment through the nonprofit Helping Hands for Honduras and works as director of strategic project development at the Cleveland Clinic. "The ultrasound machine will help improve maternal health, the mammography machine will allow faster detection and treatment of cancer and the 24 beds will make a huge difference in ensuring every patient is comfortable."
The online fundraising campaign will be available on Groupon Cleveland, Groupon Akron-Canton, and Groupon Youngstown's G-Team pages from Jan. 10 - Jan. 12. Utilizing G-Team's collective action model, Groupon followers can pledge support for the Honduras shipment in increments of $10 or more. Each $10 donation will provide approximately 150 pounds of donated medical supplies and equipment to Del Torax Hospital, a charitable hospital serving the poor in Tegucigalpa, as well as Santa Rosa Lima Clinic and The Cedros Clinic.
Moreover, because these supplies have been discarded by local hospitals, medical device companies and individuals, MedWish is conserving the environment by preventing them from ending up in Northeast Ohio landfills. Because of FDA regulations, insurance liability and the rapid advance of technology, American hospitals must discard still-useful supplies on a daily basis. Cleveland is one of just a handful of cities in the entire country that has an organization like MedWish to recycle and redistribute these supplies to countries in need. The MedWish warehouse consists of 40,000 square feet—almost an entire football field—of such supplies waiting to be sent overseas.
While MedWish sends over 200 shipments annually to over 60 countries around the world, this shipment is unique for two reasons. First, through the Denton Program, the United States military offers unused space aboard its cargo planes for free to humanitarian relief organizations. Through this program, the MedWish supplies will be sent from Youngstown Air Reserve Station to Honduras aboard a C-5 cargo plane on Jan. 20. Second, because of the free shipping and size of airplane, this will be the largest load in MedWish International's 19-year history. The shipment includes 144 items total, including 24 beds, 24 night stands, an ultrasound, three mobile x-ray machines, 4 exam tables, 24 Infusion Pumps, a Mammography Machine and 2 OR tables, among other items.
Honduras is one of the neediest countries in the Americas, with more than 35 percent of the population living on less than $2 a day, and roughly 80 percent of the population without access to quality healthcare. Hospital Del Torax is the only advanced-care facility of its kind in Honduras. Together with MedWish, Hospital Del Torax has continuously increased its effectiveness while lowering patient mortality.
100 percent of the G-Team campaign proceeds will be used to support the shipment of more than 20,000 pounds of life-saving medical supplies and equipment to Honduras through MedWish International.
For more information, click here.
--------
About MedWish International
Founded by Dr. Lee Ponsky, M.D., MedWish International is committed to repurposing medical supplies and equipment discarded by the healthcare industry with the objectives of providing humanitarian aid in developing countries to save lives and reducing solid waste to save our environment. MedWish has recovered 2.2 million pounds of medical surplus from over 50 hospitals in the United States over the past five years, and has shipped aid overseas to 90 countries since its inception in 1993. For more information, or to make a difference, visit www.medwish.org.
About G-Team
G-Team, launched in July 2010 in Chicago, features a weekly local campaign in more than 65 markets nationwide, enabling Groupon followers to do good, have fun and make a real impact in their communities. G-Team uses collective action to gather support for worthwhile causes and produce tangible results for local organizations. To learn more about G-Team and how to become a featured organization, visit http://www.groupon.com/g-team. To subscribe to Groupon, visit http://www.groupon.com.
stocknroll / Getty Images
More and more Americans are retrofitting their bathrooms with high-end bidets, allowing them to enjoy cleanliness and hygiene without creating as much paper waste. Not all bidets are created equal, however, and before deciding on a particular brand, it's important to do your homework. Take a look at our comprehensive Toto bidet review, and our reviews of Tushy and Omigo, to learn more about all of their options.

<h2>Toto overview</h2><p>Toto is a company that has been around for over 100 years. They aim to improve people's quality of life, and they do that specifically by focusing on bathrooms. To that end, Toto is known for high-quality products including toilets, faucets, showers, bathtubs, and bidets. </p><p>Toto has also expressed an admirable commitment to ecological stewardship. As <a href="https://www.totousa.com/about-toto/toto-way" target="_blank">their corporate website</a> notes, they strive to "protect the global environment by conserving finite natural resources and energy." One example of this is their donation of any imperfectly fired porcelain products for recycling and reuse as porcelain floor tile. Their <a href="https://www.totousa.com/about-toto/living-toto-library/smart-sustainable-packaging-solution" rel="noopener noreferrer" target="_blank">packaging</a> uses differing levels of recycled post-consumer paper products while their forklifts operate using <a href="https://www.totousa.com/about-toto/living-toto-library/plant-based-hydraulics" rel="noopener noreferrer" target="_blank">plant-based hydraulics</a> made from soybean oil instead of traditional hydraulic oil.</p><p>Toto is definitely a company with a superior reputation when it comes to bathroom accessories in general, and bidets in particular. Here are reviews of some of the specific products in the Toto line.</p><h2>Toto bidet reviews</h2><p>There are two different bidet product families available from Toto: standalone bidets and bidet seat attachments. Their standalone models include the Piedmont bidet, the Lloyd bidet, and the Clayton bidet, while their bidet toilet seat offerings include a wide selection in the popular Washlet line. Here are details on the three standalone options and three of the most popular bidet seat attachments.</p><p><em>Each product featured here has been independently selected by the writer. If you make a purchase using the links included, we may earn commission.</em></p><h3>Toto standalone bidets</h3><h4></h4>
<h3>Toto bidet seats</h3>