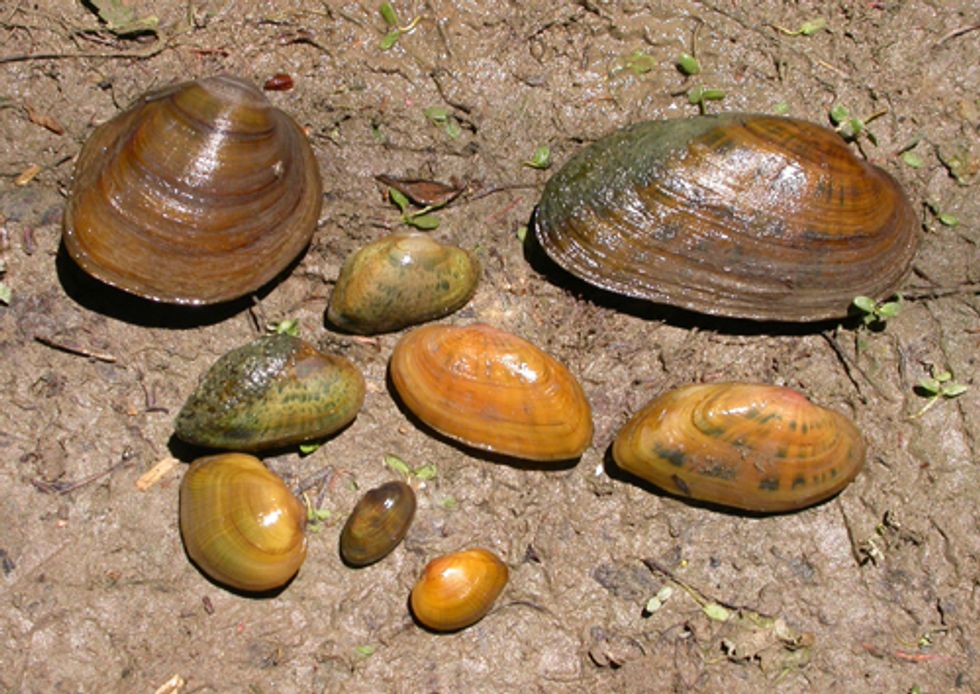 The U.S. Fish and Wildlife Service (FWS) has listed two freshwater mussels—the rayed bean and the snuffbox—as endangered under the federal Endangered Species Act (ESA). The two mussels are found in river systems in the eastern U.S.
The rayed bean is currently found in rivers in Indiana, Michigan, New York, Ohio, Pennsylvania, Tennessee and West Virginia, as well as Ontario, Canada. The snuffbox occurs in Alabama, Arkansas, Illinois, Indiana, Kentucky, Michigan, Minnesota, Missouri, Ohio, Pennsylvania, Tennessee, Virginia, West Virginia, Wisconsin and Ontario, Canada.
In its final rule listing the two species under the ESA, FWS pointed to dramatic declines in their populations. The rayed bean has been eliminated from 73 percent of its historical range, and the snuffbox has disappeared from 62 percent of the streams in which it was historically found. The final rule appears in the Feb. 14, 2012, Federal Register.
Threats to both the rayed bean and the snuffbox include loss and degradation of stream and river habitat due to impoundments, channelization, chemical contaminants, mining and sedimentation. Freshwater mussels require clean water—their decline often signals a decline in the water quality of the streams and rivers they inhabit.
FWS will now work cooperatively with partners to develop recovery plans for the two mussels and coordinate efforts to conserve their habitats.
Under the ESA, "endangered" means a species is in danger of becoming extinct throughout all or a significant portion of its range. It is illegal under the ESA to kill, harm or otherwise "take" a listed species, or to posses, import, export or conduct interstate or international commerce without authorization from FWS. The ESA also requires all federal agencies to ensure actions they authorize, fund or undertake do not jeopardize the existence of listed species.
More information on mussels and endangered wildlife can be found by clicking here.
For more information, click here.
—————
The mission of the U.S. Fish and Wildlife Service is working with others to conserve, protect and enhance fish, wildlife, plants and their habitats for the continuing benefit of the American people. We are both a leader and trusted partner in fish and wildlife conservation, known for our scientific excellence, stewardship of lands and natural resources, dedicated professionals and commitment to public service.
EcoWatch Daily Newsletter
Bringing your own reusable grocery bags when you go shopping is one of the easiest ways to cut down on your plastic consumption — according to the UN Environment Program, up to 5 trillion single-use plastic bags are used globally each year.
The most sustainable option is to use a bag you already have, whether it's an old tote or a laundry basket (
thank TikTok for that idea
). You can also
make your own
reusable grocery bags out of T-shirts. But if you'd rather purchase designated reusable grocery bags, here are our recommendations.
<div class="redactor-editor" dir="ltr" placeholder="Start writing..." spellcheck="false"><p><em>Each product featured here has been independently selected by the writer. If you make a purchase using the links included, we may earn commission.</em></p></div>