This website uses cookies to ensure you get the best experience while browsing it. By clicking 'Got It' you're accepting these terms.


The best of EcoWatch, right in your inbox. Sign up for our email newsletter!
By David Manthos
On Sunday, Dec. 4, 2016, the Army Corps of Engineers issued a decision which will again delay construction of the Dakota Access Pipeline. The ruling was cheered by water protectors entrenched in the path of the pipeline at the Standing Rock Sioux Reservation. These representatives of indigenous nations, environmental activists, veterans and many other groups have been resisting pressure from private security and law enforcement officers from at least 76 different state and federal agencies or departments, as well as enduring sub-zero blizzard conditions. However, the ruling does not definitively end the controversy, it only delays the decision until further environmental impact studies are conducted.
Researchers in Louisiana have found carbon from the BP Deepwater Horizon oil spill in the feathers and digestive tracts of seaside sparrows, proving for the first time that oil from the disastrous 2010 spill has entered the food chain.
Seaside sparrows show signs of BP Deepwater Horizon oil.
The study, published today in Environmental Research Letters, was conducted by scientists from Louisiana State University and Austin Peay State University in Tennessee. They found oil carbon signatures consistent with the Deepwater Horizon event in each of 10 birds tested.
These marsh-dwelling sparrows inhabit an area known to have been contaminated by the spill. Sediments from the site also tested positive for oil with the same fingerprints as that found in the tested birds.
The Deepwater Horizon accident followed the blowout of the wellhead at the Macondo oil rig and lasted for 87 days. Eleven workers died and 4.9 million barrels of oil flowed into the Gulf of Mexico. It became the largest oil spill in U.S. history and was called the "worst environmental disaster the U.S. has faced" by White House Energy Adviser Carol Browner.

Oil sheens continued to be seen as much as three years after the event. The source of many were never discovered, but the containment dome failed and had to be plugged in 2012.
The immediate effects of such major spills are readily apparent. Oiled birds, dead fish and beaches covered in crude-oil sludge are often the first, horrific results. Disasters like Exxon Valdez, Deepwater Horizon and the Santa Barbara oil spill damage critical wildlife habitat and destroy fisheries.
Longer-term, the pernicious oil enters the food chain.
The first signs of Deepwater Horizon oil were found in blue crab larvae in 2010. Oil likely entered the food chain through zooplankton. A 2012 study found traces of oil in zooplankton impacted by the BP oil spill.
BP oil spill led to baby dolphin deaths and diseases along the Gulf Coast.Truth Wire
By November 2010, nearly 7,000 dead animals had been collected. They included more than 6,100 birds along with 69 sea turtles, 100 dolphins and other mammals. A 2016 Oceana report concluded that 600,000 to 800,000 birds had died from the spill in the six years since.
In 2014, Dr. Paul Montagna of Texas A&M University-Corpus Christi examined the deep-sea effects of the BP accident. He found severe impacts to life over nine square miles.
"The things that live on the bottom are very important for different reasons," Montagna explained. "They serve as food for higher trophic (food chain) levels, particularly for fish and other organisms that come and feed on the bottom sediments."

"Fish can consume phytoplankton poisoned by oil, fish eat fish and carry on the absorption of toxins, marine mammals and birds eat fish and could potentially carry on toxic properties to other predators," wrote wildlife biologist Jenna Bardroff in One Green Planet.
Seaside sparrows mostly eat insects, but also consume small crabs and the seeds of cordgrass and saltbush. The small birds can be prey to larger shore birds, snakes or mammals. In previous research, this same population of seaside sparrows was shown to have suffered reproduction problems in the years immediately following the oil spill.
There have been 11,700 reported oil spills in the Gulf of Mexico since Deepwater Horizon. Gulf oil producers lose one gallon of oil for every 20,000 they produce—and they produce 20 billion gallons of crude in the Gulf each year.

A drilling platform owned by Taylor Energy was damaged in 2004 by Hurricane Ivan and has been leaking oil ever since.
In May, Shell leaked 90,000 gallons of oil into the Gulf. The spill was reported by a helicopter pilot who was flying in the area. Monitoring the leak, SkyTruth called the concept of oil spill cleanup "nothing more than a convenient fantasy." They found that oil spill response vessels often arrive late and fail to fully recover the lost oil.
"Our government is indulging in a troubling fantasy that is eagerly abetted by the oil industry and pro-drilling politicians, dressing up deepwater offshore drilling as a safe operation so they can continue to rubber-stamp permit applications that contain laughable oil-spill response plans," SkyTruth concluded.
EcoWatch Daily Newsletter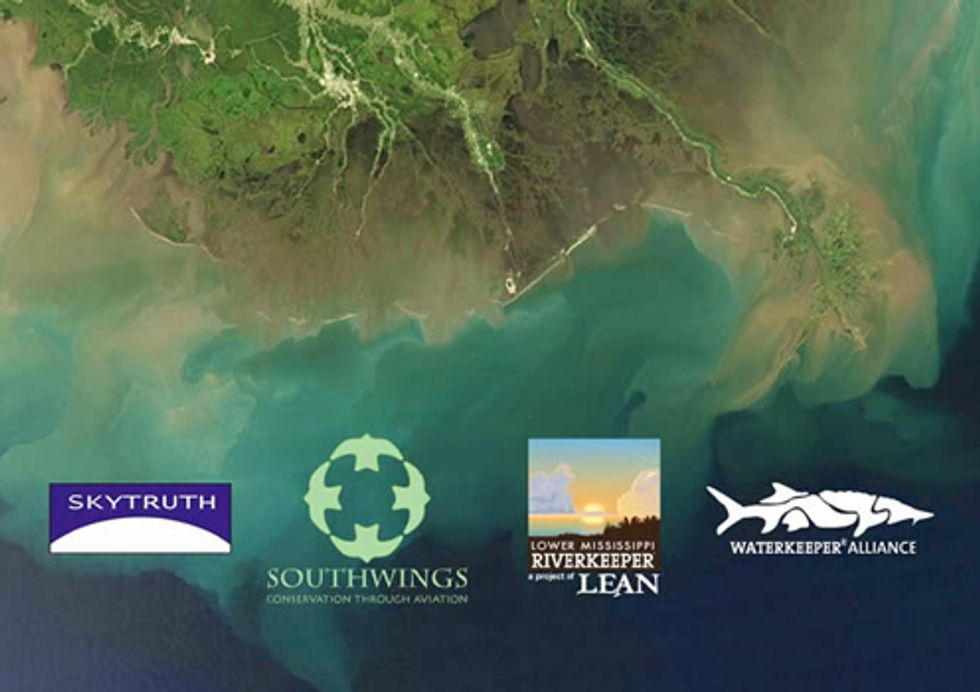 By Paul Woods
On Feb. 9, SkyTruth released its Site 23051 Cumulative Spill Report showing an estimation of the total cumulative amount of crude oil spilled into the Gulf of Mexico at the site of Taylor Energy's ongoing oil spill that began in 2004. In this report, we conclude:
Crude oil has been leaking continuously from this site for more than 7 years
Estimated cumulative volume of crude oil spilled is between 251,677 and 1,174,492 gallons
Read the full report to see how we came up with these numbers by clicking here.
We created this report using 950 pollution reports filed with the National Response Center (which we presume were filed by the polluter, Taylor Energy) covering 714 out of 2,662 days (just 27 percent) from the first report of oil at the site on Sept. 17, 2004 through the end of 2011. We filled in the substantial gaps in this official public reporting record with observations on satellite images, and then computed an Estimated Average Daily Slick Extent. From that we derived an Estimated Average Daily Flow Rate for each calendar year since the spill began. Multiply the daily flow rate by the number of days the site has been leaking, and you have an estimate of the cumulative volume of the spill.
There are two key assumptions we used to compute the average daily flow rate:
Average oil thickness in observable slicks
Average rate of degradation of an oil slick, expressed in terms of a half-life
For average thickness, we used our tried and true standard of 1 micron (1 millionth of a meter). We also computed everything using 0.5 microns to reflect the possibility that this slick is thinner than most. For degradation half life, we assumed that one half of a given amount of a thin slick of oil on the surface of the ocean will degrade in 3-7 days. We believe this range is a very conservative assumption, because the longer the assumed lifetime of oil on the surface of the water, the lower the implied daily flow rate will be.
Combining all our data on slick extent with the high and low values for each of the key assumptions, we get 4 values for estimated cumulative oil spilled (see the calculations):
Half Life (days)    Thickness (microns)    Estimate(gallons)    
            3                                   1.0                                       1,174,492
            3                                   0.5                                         587,246
            7                                   1.0                                         503,354
            7                                   0.5                                         251,677
Background
SkyTruth, the Gulf Monitoring Consortium and others have been actively monitoring this site for 21 months since May of 2010 (during what turned out to be the early days of the massive BP—Deepwater Horizon spill), when we noticed on our satellite images another much smaller slick about 11 miles off the tip of the Mississippi River Delta.
Since then, we have analyzed historic satellite imagery back to the beginning of the spill,  and we have waded through the spotty but extensive public record of official pollution reports filed with the National Response Center. Site 23051 also featured prominently in the recent Gulf Monitoring Consortium report, and earlier this month Waterkeeper Alliance announced a lawsuit against Taylor Energy over the ongoing spill.
Other Sources of Estimates
As far as we know, our report is the first comprehensive attempt to estimate the total amount of oil spilled at this site. However, the Coast Guard was recently quoted in an Associated Press news article as saying "a total of 12,720 gallons of oil have been reported from daily observations since the spill started in 2004."
We called the Coast Guard last week and asked them where that number came from, and they told us, "Approximately 12,720 gallons have been reported from daily observations (over flights) as of Feb. 2, 2012." We followed up on Feb. 9 and the Coast Guard told us that this number is the total of all the reports filed with them by Taylor Energy, who is conducting the regular overflights, but they could not say how many reports this represents.
We asked them to investigate and get us a breakdown of exactly what they added up to get this number, especially what days are actually covered in that total, but as of this writing we do not have an answer. However, if their reporting record is as spotty as the public NRC record, then this number likely only captures a fraction of the true amount.
More on this under-reporting problem coming soon, so stay tuned.
Parting Thought—Worst-Case Scenario?
The environmental and economic damage from this chronic spill may be relatively minor, although if you ask a biologist and tell her it's a 1.2 million gallon spill, you might get a different answer than if you tell her it's only a 12,000 gallons spill. But imagine that the same event that wiped out Taylor's platform just 11 miles off the coast, had instead happened at a deepwater platform 100 miles offshore.
More on that later
For more information, click here.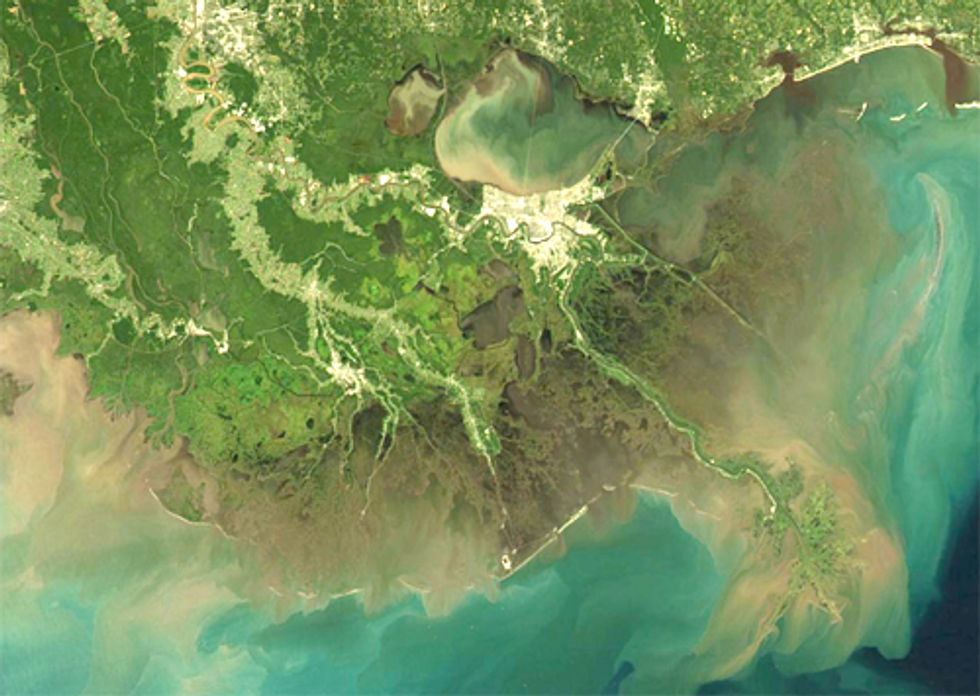 Waterkeeper Alliance and several Gulf Coast Waterkeeper organizations filed suit in Federal Court Feb. 2 against Taylor Energy Company LLC under the citizen suit provisions of the Clean Water Act and Resource Conservation Recovery Act, for ongoing violations stemming from an oil spill in the Gulf of Mexico that has continued to flow for more than seven years.
Aided by satellite imagery and research conducted by SkyTruth and aerial observation by SouthWings, the Waterkeeper Alliance and its local Waterkeeper organizations learned that the spill, located approximately 11 miles off the coast of Louisiana, started after an undersea landslide in the aftermath of Hurricane Ivan in 2004. An offshore platform and 28 wells were damaged, and since then, Taylor has yet to stop the daily flow of oil from the site. Waterkeeper estimates that hundreds of gallons of oil have leaked from the site each day for the last 7 years.
"The plaintiffs filed suit to stop the spill and lift the veil of secrecy surrounding Taylor Oil's seven-year long response and recovery operation," explained Marc Yaggi, executive director of Waterkeeper Alliance. "Neither the government nor Taylor will answer basic questions related to the spill response, citing privacy concerns." The public deserves to know how this spill happened and why it continues. Coastal communities should understand the risks involved in developing off-shore oil resources and what protections are in place to prevent damage from future spills.
"The Taylor Oil spill is emblematic of a broken system, where oil production is prioritized over concerns for human health and the environment," said Justin Bloom, eastern regional director of Waterkeeper Alliance. "Nearly two years after the BP Deepwater Horizon Spill, none of the comprehensive reforms recommended by the National Oil Spill Commission have been enacted and Congress has yet to pass a single law to better protect workers, the environment or coastal communities."
Meanwhile, President Obama, in his State of the Union, has called for a massive push to open up 38 million acres in the Gulf of Mexico to oil exploration and extraction. He also seeks to open up pristine Arctic waters to drilling. The Taylor spill is in relatively shallow and accessible waters compared to the deepwater, challenging environment where Big Oil has set its sights. Oil exploration and extraction technology has dramatically outpaced the development of safety and recovery technology and it appears that the current regulatory regime is incapable of protecting us from a runaway industry.
A report released this week by the Gulf Monitoring Consortium, a partnership between Waterkeeper Alliance, SkyTruth and SouthWings, investigates several spills in the Gulf (including the Taylor Spill) and highlights numerous deficiencies in the reporting and response process.
A copy of the report can be found by clicking here.
"Imagine an incident like the Taylor Spill in a deepwater, high-pressure environment, that could not be contained in 7 years," said Paul Orr, the Lower Mississippi Riverkeeper. "Do we really want to race to the bottom without a lifeline when it looks like Big Oil is still at the helm?"
A copy of the complaint can be found by clicking here.
Joining Waterkeeper Alliance in the lawsuit are—Atchfalaya Basinkeeper, Baton Rouge, La.; Galveston Baykeeper, Galveston, Texas; Lower Mississippi Riverkeeper, Baton Rouge, La.; Louisiana Bayoukeeper, Barataria, La.; and Louisiana Environmental Action Network, Baton Rouge, La. Plaintiffs are represented by the Tulane Environmental Law Clinic.
For more information, click here.
—————
Waterkeeper Alliance is a global environmental movement uniting more than 190 Waterkeeper organizations around the world and focusing citizen advocacy on the issues that affect our waterways, from pollution to climate change. Waterkeepers patrol more than 1.5 million square miles of rivers, streams and coastlines in the Americas, Europe, Australia, Asia and Africa.