This website uses cookies to ensure you get the best experience while browsing it. By clicking 'Got It' you're accepting these terms.


The best of EcoWatch, right in your inbox. Sign up for our email newsletter!
Pexels
Singapore will become the first country in the world to place a ban on advertisements for carbonated drinks and juices with high sugar contents, its health ministry announced last week. The law is intended to curb sugar consumption since the country has some of the world's highest diabetes rates per capita, as Reuters reported.
The Orchard Road shopping area in Singapore on Nov. 17, 2018. TkKurikawa / iStock Editorial / Getty Images Plus
By John Bryson
On Jan. 1, Singapore introduced a "no smoking zone" along a three kilometer (approximately 1.9 mile) stretch of Orchard Road—one of the city's busiest shopping districts. It sounds controversial—restricting people's right to smoke in public spaces, as a way of tackling air pollution and improving public health. But smoking is not actually banned down the length of Orchard Road: instead, smokers will be concentrated in 40 designated smoking areas, spaced 100 to 200 meters (approximately 330 to 660 feet) apart.
EcoWatch Daily Newsletter
Aaron Danner (right) and his student team, with the solar-powered drone. NUS
A team of student engineers from the National University of Singapore has built a quadcopter drone powered entirely by sunlight.
The prototype has flown above 10 meters (about 33 feet) in test flights with no onboard battery or any other storage system, according to a press release.
A whale shark at the Georgia Aquarium.
istolethetv / Flickr /
CC BY 2.0
Endangered whale shark fins were found smuggled into a shipment sent via Singapore Airlines to Hong Kong in May, activist group Sea Shepherd Global announced Wednesday.
The fins from the endangered species were hidden within legal fins in a 989 kilogram (approximately 2,180 pound) shipment that traveled from Colombo, Sri Lanka through Singapore to Hong Kong, which is one of the largest shark fin trading centers in the world, AFP reported.
By Mitch Jones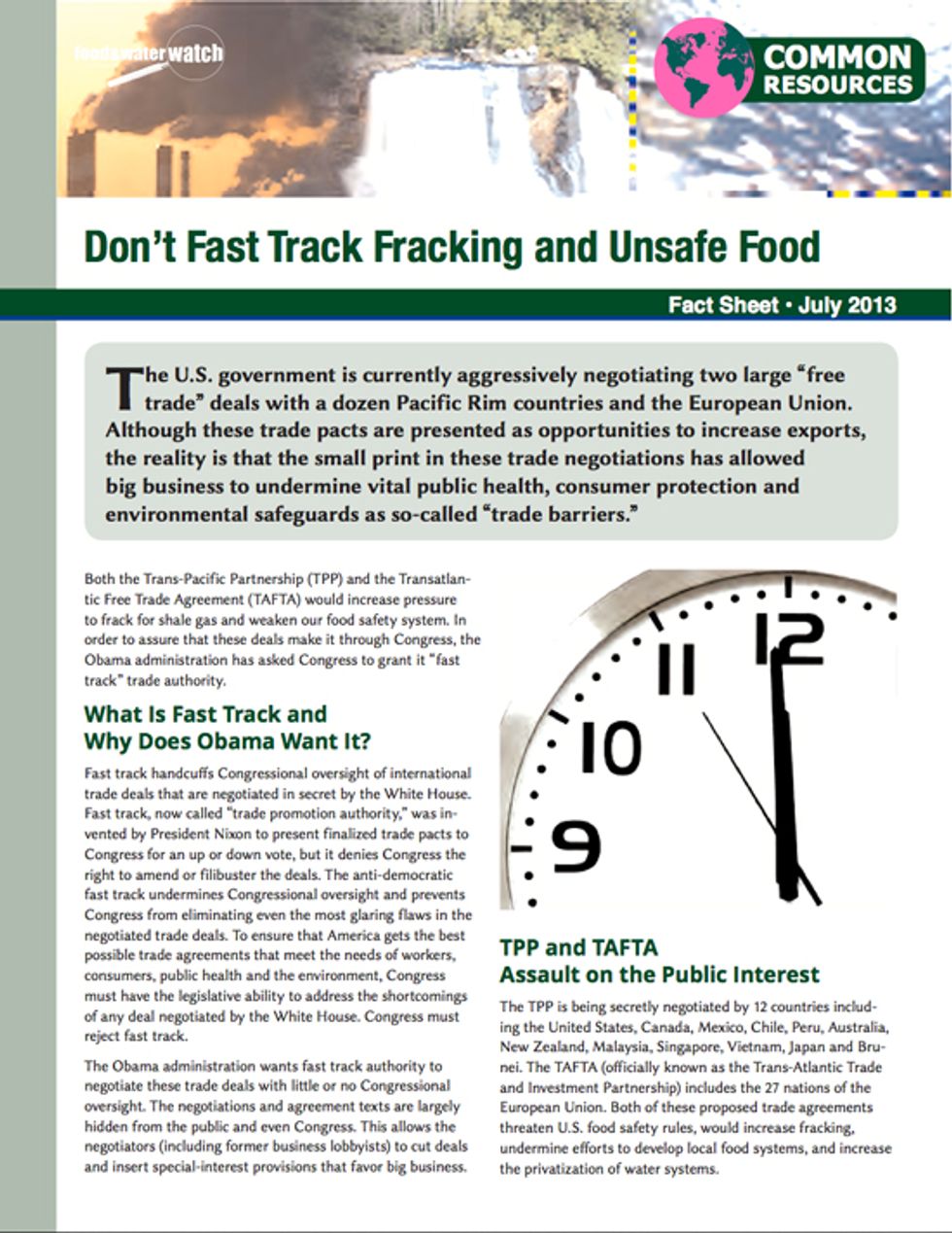 We've all seen the results in states across the country of the influence that the American Legislative Exchange Council and the Koch Brothers have amassed. And if you think the results of their agenda to hand more and more power to corporations at your expense are bad, you should really hate the new "trade" deals being negotiated to hand even more power to corporations at our expense.
The Transpacific Partnership (TPP) is being secretly negotiated by 12 countries, including the U.S., Canada, Mexico, Chile, Peru, Australia, New Zealand, Malaysia, Singapore, Vietnam, Japan and Brunei. The Trans Atlantic Free Trade Agreement (TAFTA) includes the 27 nations of the European Union. Both of these proposed trade agreements threaten U.S. food safety rules, infringe upon public and private land with an increased push for fracking, undermine efforts to develop local food systems and increase the privatization of water systems.
While its supporters talk about them as "trade" deals, in reality the TPP and TAFTA would be a permanent power grab by corporations and their financiers that would make it impossible for future generations to choose what laws and rules they want to live under. They would permanently enshrine the very economic system that has lead to greater imbalances in income and wealth and increasing economic crises. These deals would also allow foreign corporations to sue the federal, state and local governments over laws and policies that violate the "trade" deal, but protect us from unsafe food, dirty water and dangerous fracking. It's outrageous!
How do we know that these deals will give more power to corporations and leave our children, our air and water, and our food safety at greater risk? Because while the American people aren't being told what's in the deal, and while members of Congress are being shut out of the negotiations, representatives from more than 600 corporations and corporate interests are able not only to see the text of the agreement, but also are able to help influence what goes into it.
We need to stop these trade deals before they give even more power to corporations. Food & Water Watch just published a new fact sheet, Don't Fast Track Fracking and Unsafe Food, with extensive details on these trade agreements and provides information on how to contact your representatives to oppose these corporate giveaways.
Visit EcoWatch's FOOD and FRACKING pages for more related news on this topic.
——–
SHARE YOUR THOUGHTS BELOW: What do you think would be the result of these trade deals in the U.S.?

——–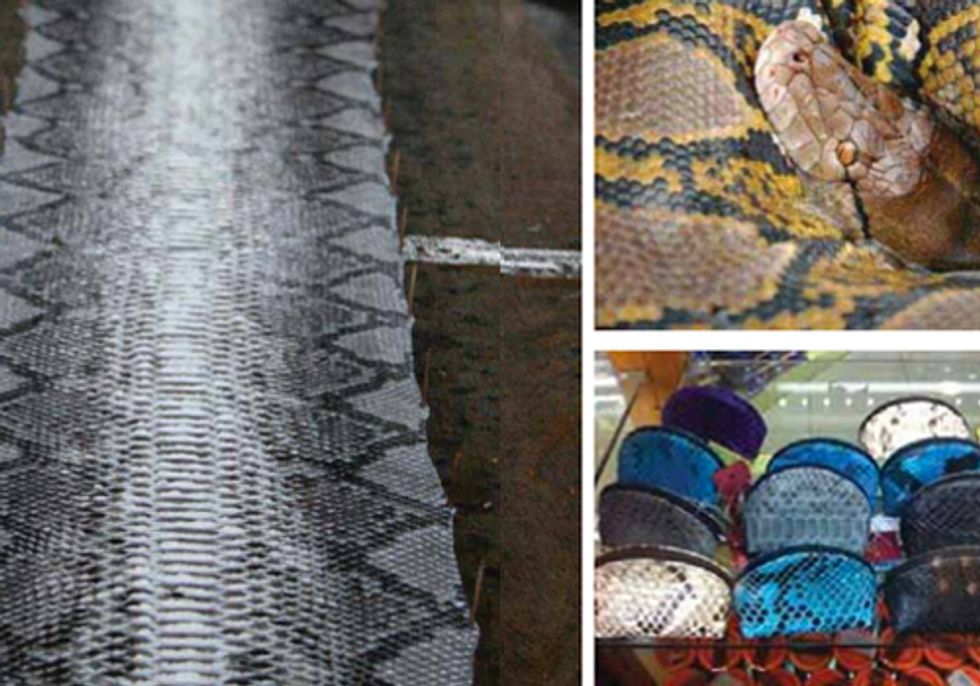 A new study finds that close to half a million python skins are reported as exported annually from Southeast Asia. The main importer is the European fashion and leather industry. The study raises concerns over the illegality in parts of the trade, animal welfare issues and the trade's impact on the conservation of python populations.
The report, Trade in South-East Asian Python Skins, was launched today by the International Trade Centre (ITC), in co-operation with TRAFFIC and the International Union for the Conservation of Nature (IUCN), and reveals that the trade in python skins is worth an estimated U.S. $1 billion annually.
Alexander Kasterine, head of ITC's Trade and Environment Program, said: "The report shows that problems of illegality persist in the trade in python skins and that this can threaten species' survival. The fashion and leather industry has a stronger role to play in supporting Convention on International Trade in Endangered Species of Wild Flora and Fauna (CITES) and developing countries to ensure supply is legal and sustainable."
Indonesia, Malaysia and Vietnam are the main sources of exports of python skins, with European Union countries–in particular Italy, Germany and France–the biggest importers. Around 70 percent of all python skins are re-exported via Singapore. The report notes that a lack of transparency concerning undisclosed stockpiles in Singapore could be facilitating the laundering of illegally sourced skins.
Tomas Waller, the chair of the Boa and Python Specialist Group (BPSG) of IUCN added that "it would appear a substantial proportion of the skins in trade are sourced illegally from wild animals, beyond agreed quotas and using false permits to launder the skins."
"With potentially large mark-ups along the supply chain, there is a strong financial incentive for illegal trade in python skins and considerable scope for traders to issue false permits," said Olivier Caillabet, program officer with TRAFFIC in Southeast Asia and a co-author of the report.
Although more than 20 percent of exports of reticulated python skins from Southeast Asia (mainly Vietnam and Lao PDR) are declared as captive-bred, the report argues that the "commercial case is not convincing and needs to be specifically assessed," noting that the cost of breeding, feeding and maintaining the snakes to reach slaughter size appears much higher than the market price.
The report recommends that the fashion industry implements a traceability system to demonstrate to consumers that its sourcing is legal and sustainable. The system would complement the existing CITES permitting system, to allow identification of skins along the length of the supply chain.
An additional concern regards the possible lack of sustainability of sourcing. Large numbers of wild pythons are slaughtered before they reach the reproductive stage, meaning harvest quotas may have been set at unsustainable levels. The report recommends a precautionary approach is applied to harvesting, with legally binding minimum skin size limits to ensure protection of immature snakes.
The report highlights previously unknown slaughter methods, yet argues that trade bans are not an effective or fair way to address illegality and animal welfare issues.
Visit EcoWatch's BIODIVERSITY pages for more related news on this topic.