This website uses cookies to ensure you get the best experience while browsing it. By clicking 'Got It' you're accepting these terms.


The best of EcoWatch, right in your inbox. Sign up for our email newsletter!
Classen / ullstein bild / Getty Images
Of all the genetic engineers who have renounced the technology—Arpad Pusztai, Belinda Martineau, Thierry Vrain and John Fagan, among others—because of its shortsighted approach and ability to produce unintended and potentially toxic consequences, Caius Rommens' story may be the most compelling.
Pixabay
By Dan Nosowitz
The agricultural company J.R. Simplot Company, one of the largest potato producers in the world, struck a deal with the developers of a specific gene editing technology. That tech will allow Simplot to precisely edit the genomes of crops for various reasons: longer shelf life, drought resistance, aesthetic changes like a potato that doesn't brown when it's cut and exposed to oxygen.
EcoWatch Daily Newsletter
By Genna Reed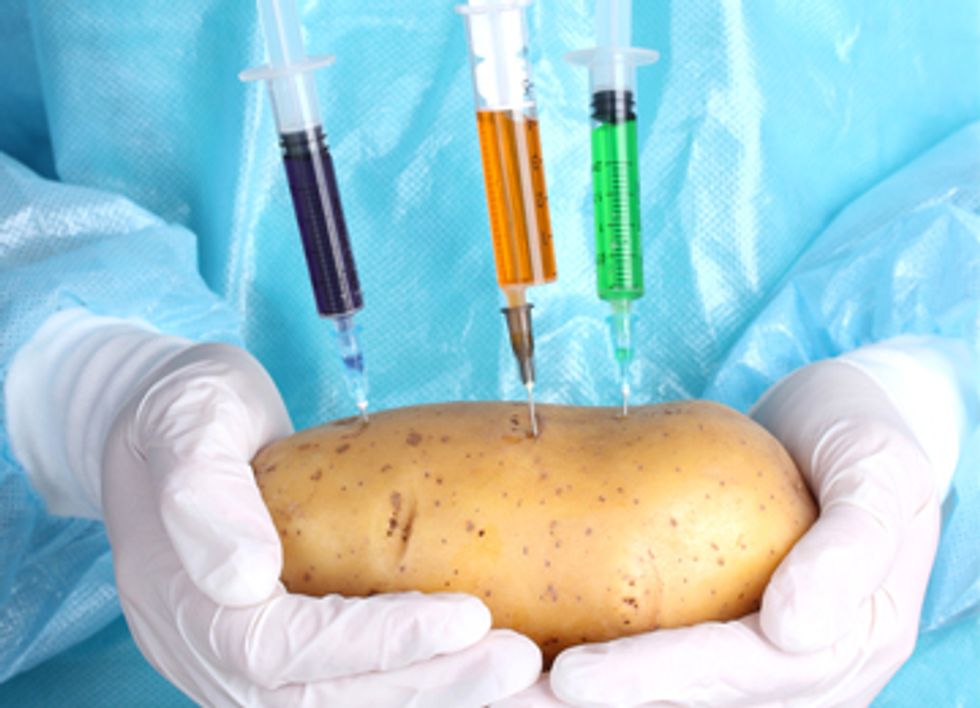 Photo courtesy of Shutterstock
The J.R. Simplot Company, giant potato supplier for McDonald's, has spent years working on the perfect potato. Its new genetically engineered (GE) traits—which will be offered in five different varieties of potatoes—up for approval by the U.S. Department of Agriculture (USDA) has lower levels of a carbohydrate called acrylamide, which may cause cancer, and also has reduced black spot bruising. These potatoes will be used as frozen fries, potato chips and shoestrings, which make up approximately 50 percent of the potato market in the U.S., according to Simplot.
Both of the desired traits are achieved through the reduced expression of enzymes, affecting the amino acid asparagine for the low acrylamide trait and the enzyme polyphenol oxidase (PPO) for reduced bruising (the same way GE apples have been engineered not to brown). The problem is that an alteration in just one enzyme can unintentionally affect other plant characteristics as well as the plant's health.
These GE potatoes will likely be fried using Monsanto's new-and-improved omega-3 soybean oil, which will probably be marketed to lead consumers to believe that the bio-engineered combination is "healthy" fried food. A low-acrylamide potato may reduce levels of just one of the harmful chemicals brought out by frying foods but there are other dangerous compounds that are produced when food is heated to very high temperatures, including advanced glycation endproducts, or AGEs, which can lead to "chronic inflammation and oxidative stress," (also linked to cancer). And of course this new fried "goodness" doesn't address the high-calorie and low-nutrient content that make fried potatoes unhealthy in the first place.
Historically, GE potatoes have not fared so well in the marketplace. Monsanto's NewLeaf GE potatoes were approved in 1995, but the company pulled its potatoes from the market in 2001. If approved, these potatoes may face the same fate and never make it into happy meals across America. But these potatoes could also be exported, since Simplot has submitted its petition for approval to Canada, Mexico, Japan and South Korea.
The USDA will be seeking comments until July 2 and we intend to tell them to further review the potential health effects of these GE potatoes.
Visit EcoWatch's GE FOOD page for more related news on this topic.