This website uses cookies to ensure you get the best experience while browsing it. By clicking 'Got It' you're accepting these terms.


The best of EcoWatch, right in your inbox. Sign up for our email newsletter!
haha21 / E+ / Getty Images
Anyone planning to serve shrimp with their champagne this New Year's Eve should check their receipts.
Starting next year, Google's shrimp dishes won't be made with actual shrimp. After tasting New Wave Foods's realistic faux shrimp, the tech giant's chef pledged to switch to the company's plant- and-algae-based product for the first few months of 2017, Wired reported.
EcoWatch featured the San Francisco sustainable seafood startup in December. The New Wave team consists of three women with a combined professional background in environmentalism to take on this ambitious task: Dominique Barnes is an oceanography graduate and former shark caretaker at Las Vegas's Golden Nugget Hotel, Michelle Wolf is a materials scientist and engineer, and Jennifer Kaehms has a bioengineering degree from the University of California San Diego.
We mentioned then how the company's lab-grown "shrimp" is as tasty and nutritious as the real deal. The shrimp even transitions from grey to pink during cooking.
Barnes told Munchies, "Right now, when we do demos, most people are really surprised that it's not real shrimp." She explained that the company has mostly replicated a real shrimp's exact texture and taste using red algae:
"We looked at the building blocks of real shrimp, what they consumed. They eat many things, but one of the things they eat regularly are micro algae, and a part of that is red algae. Certain compounds from red algae actually impart shrimp's color and flavor. So we looked at that and found it can actually be cultivated and used in a similar way in our shrimp. It's also a powerful anti-oxidant."
Shrimp is America's most popular seafood. The average American peels through roughly 4 pounds of shrimp a year, according to the National Marine Fisheries Service. About 6 million tons of shrimp are consumed worldwide per year.
However, the world's fondness for this crustacean has sent global populations plummeting from overfishing. For instance, Maine's Northern shrimp haul dropped from 12 million pounds in 2010 to just 563,313 pounds in 2013.

The World Wildlife Fund points out that production has also been known to rip out ecologically sensitive habitats such as mangroves. Shrimp farming also creates a steady stream of organic waste, chemicals and antibiotics that can pollute groundwater and coastal estuaries.

"Looking at land use, water use, transportation of the product—[our shrimp] is much less intensive" compared with shrimp farming, Barnes explained to Wired.
You might also want to avoid certain types of shrimp for health reasons. A startling Consumer Reports study tested 342 packages of frozen shrimp—284 raw and 58 cooked samples—purchased at Albertsons, Costco, Fry's Marketplace, Hy-Vee, Kroger, Sprouts Farmers Market and Walmart in 27 cities across the U.S. The results showed that 60 percent of raw shrimp tested positive for bacteria, including salmonella, E. coli and listeria. In seven raw shrimp samples, scientists detected the antibiotic-resistant superbug MRSA, or Methicillin-resistant Staphylococcus aureus, that could potentially lead to a dangerous infection.

If that doesn't ruin your taste for shrimp, most varieties you'll find in supermarkets or served in restaurants comes from small shrimp farms in Southeast Asia. Last December, a stunning investigation from the Associated Press revealed that the industry was rife with human trafficking and the shrimp you might be eating was peeled by slave labor.
New Waves's fake shrimp can thus be consumed without any guilt. Barnes, however, admitted to Wired that it will be an uphill climb to switch American taste buds off their favorite seafood for what amounts to "pond scum."

"One hurdle that I do see," Barnes said, "is in our perception of algae. When I talk to people, usually they're like, 'What are you talking about? This is pond scum.'" She also pointed out that you've likely eaten algae without even knowing it. "You probably already consumed something this week that has an algae ingredient," she said.
Besides Google, the fake shrimp has been served at pop-up events in San Francisco and the company is working for a mass-market release.

"We've been able to visit Google twice so far and [had our food] served in their cafeteria," Barnes told Digital Trends. "At the moment we're making everything in small batches because we're kind of an artisanal company. But to meet the kind of quantity they would like to order we need to focus on scaling our production. Right now that's our main focus."
EcoWatch Daily Newsletter
By Jill Richardson
Shrimp cocktail makes a great finger food for holiday parties. Right? Only if you have no idea how those crustaceans were produced. Because if you did,  you wouldn't want to eat shrimp again.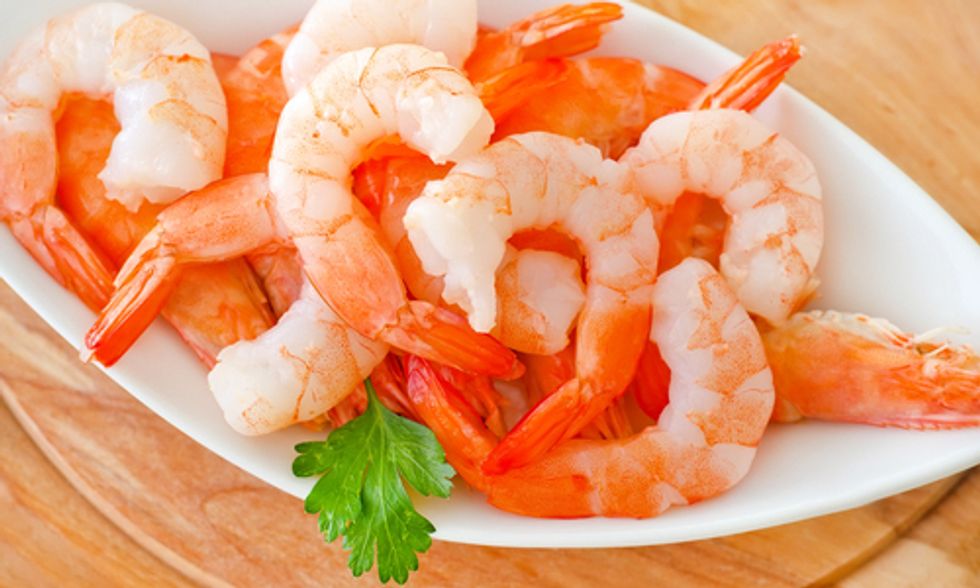 Before I go on, I'll say this: There is good shrimp out there. Monterey Bay Aquarium provides a  list of decent sources. The tricky part is knowing which is which.
Even in the best case, you know which country it's from and whether it's farmed or wild. But odds are you won't know how it was farmed or how it was caught, so you're basically no wiser than you were before you got those tidbits of information.
My rule of thumb is that retailers and restaurants will always tell you when food is extra-good because they'll want to charge you for it.
Why offer up organic fruit or wild Alaskan salmon or heritage turkey unless you can make an extra buck? When food isn't labeled, it's probably the cheapest stuff out there.
So back to the mystery coconut shrimp on that tray at the party this weekend. What's in it? Where did it come from?
By the numbers, shrimp is America's No. 1 seafood by a long shot, and a whopping 85 percent of the shrimp we eat is imported. Some is farmed, and some is wild. And when it arrives in the U.S., almost none of this food is ever inspected.
When it is inspected, some of the top reasons it's rejected are "filth," salmonella and residues of banned veterinary drugs. (Hungry yet?)
Overseas, shrimp is often farmed in ponds that are treated with a long list of chemicals: urea, superphosphate, diesel, piscicides (fish-killing chemicals like chlorine and rotenone), pesticides, antibiotics (including some that are banned in the U.S.), sodium tripolyphosphate (a suspected neurotoxin), borax and occasionally caustic soda.
The ponds are made near the ocean, relying on the tide to refresh the water and carry shrimp excrement out to sea. The area around the ponds turns into a dead zone.
A recently published paper on life in a shrimp-farming area in Bangladesh describes how shrimp farming wrecks the land and the economy, making life practically unlivable for the locals.
A more responsible way to farm shrimp is in closed, inland ponds. And there are responsibly caught wild shrimp too, like the pink shrimp caught in Oregon or spot prawns caught in the Canadian Pacific.
Thankfully, wild caught shrimp aren't treated with a long list of unspeakably gross chemicals like farmed shrimp can be.
But, far too often, wild shrimp are caught with methods that result in a lot of bycatch—the other species of marine life accidentally swept up and then tossed dead and dying over the side of the ship. For every pound of shrimp you eat, imagine five to 20 pounds of other species that died too.
When you pick up a cocktail shrimp off an hors d'oeuvre tray, of course you aren't wishing for the needless deaths of other sea creatures. Nor are you wishing for the devastation of villages in far away countries like Bangladesh. But that could be part of the story that brought the shrimp to the freezer section of your local store at such a great price.
And, honestly, given how disgusting shrimp farming methods can be, and how poorly inspected they are at our ports, I don't care how good they taste. I'm not going to risk it. Researchers tested imported ready-to-eat shrimp, and they found 162 separate species of bacteria with resistance to 10 different antibiotics. Yuck!
Visit EcoWatch's FOOD page for more related news on this topic.

Warming ocean waters in New England have caused shrimp populations to fall so low that shrimp fishing in the Gulf of Maine has been banned for the 2014 season.
That means the small Maine shrimp sold by stores and served by restaurants will get scarce or disappear entirely. Often called bay shrimp or pink shrimp, the small tails are typically used in salads. The shrimp are often sold frozen and are available across the U.S. and around the world.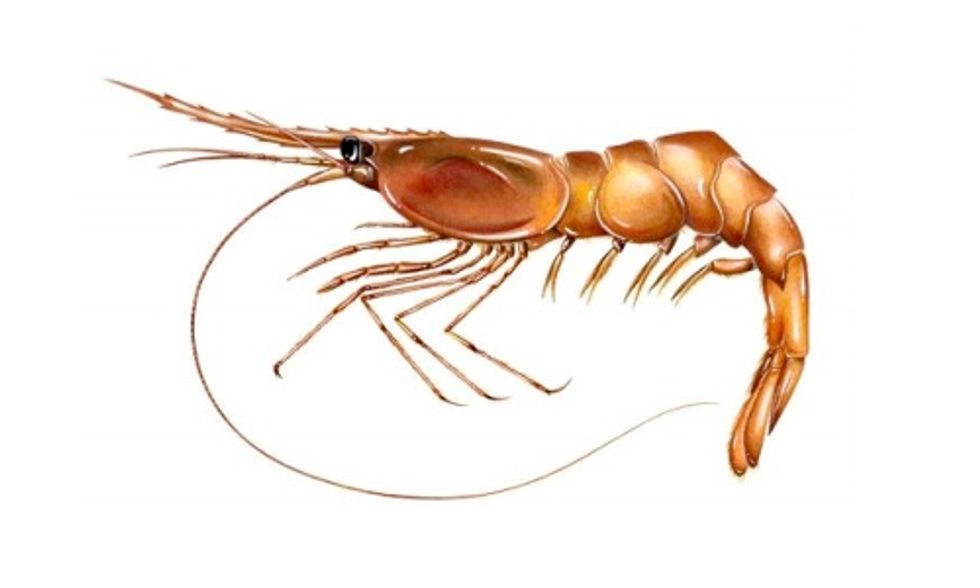 The Atlantic States Marine Fisheries Commission's Northern Shrimp Section, which represents Maine, New Hampshire and Massachusetts, last week approved the moratorium after an assessment showed the northern shrimp stock is overfished.
The situation is so dire that it's possible the ban could be extended for more than a year. The Section considers the stock to have completely collapsed with little prospect of recovery in the near future.
Many fish in the Gulf of Maine are not surviving long enough to mature—a process called recruitment—due to increasing water temperatures and a decline in phytoplankton, which comprises the shrimp's diet, the Section said.
"Given the overwhelming evidence of recruitment failure and stock collapse and continuing unfavorable environmental conditions, the Section felt it was necessary to close the 2014 fishery to protect the remaining spawning biomass and allow as much hatch to take place as possible," Terry Stockwell, the Northern Shrimp Section chairman, said.
"When environmental conditions are poor, the ability of the stock to withstand fishing pressure is reduced," Stockwell said. "With the stock at all time lows and only failed year classes to come, there is even greater loss of resilience for this stock."
Northern shrimp stocks in other areas of the world like Greenland, Flemish Cap and Grand Banks have also seen decreasing trends in abundance and recruitment, providing additional evidence that environmental conditions are impacting northern shrimp across their range.
Northern shrimp populations in the western Gulf of Maine has declined steadily since 2006 and stands at the lowest in recent history. Although the 2013 season was classified as a "do no harm" fishery, the fishing mortality rate was still above the target—even though only 49 percent of the total allowable catch was harvested.
The commission serves as a deliberative body of the Atlantic coastal states, coordinating the conservation and management of nearshore fishery resources.
Visit EcoWatch's FOOD page for more related news on this topic.