This website uses cookies to ensure you get the best experience while browsing it. By clicking 'Got It' you're accepting these terms.


The best of EcoWatch, right in your inbox. Sign up for our email newsletter!
Pexels
By Marlene Cimons
Nearly a century ago, German engineer Anton Flettner launched a ship into the ocean. "Without sails or steam, like a ghost ship, it moved mysteriously through the water with no apparent means of propulsion," according to a 1925 article that appeared in Popular Science Monthly. The ship cruised in silence, without spewing anything into the air. Curiously, two odd-looking, giant spinning cylinders rose from her deck as "the ship plowed its way through the rough waters of the Baltic, at nearly twice its former speed," the article said.
A Boeing 737-800 BCF (Boeing Converted Freighter) is marked "Prime Air" as part of Amazon Prime's freight aircraft during the 53rd International Paris Air Show at Le Bourget Airport near Paris, France on June 22. Mustafa Yalcin / Anadolu Agency / Getty Images
It's Prime Day! The day when thousands of increasingly absurd items are discounted so deeply that you suddenly need items you never knew existed. Yes, I do need a hotdog shaped toaster next to me while I watch this Fast & Furious seven movie box set! And I need it in my house today!
EcoWatch Daily Newsletter
Beata Zawrzel / NurPhoto / Getty Images
By Rajit Iftikhar
My parents moved to the U.S. from Bangladesh to try to have a better life and eventually settled in New York, where I was born and raised. During my childhood, I saw myself as just another American. Over time, however, I now see that being the child of Bangladeshi immigrants changes my perspective.
An Amazon package set out for recycling collection. Mike Kemp / In PIctures / Getty Images
More than 4,500 Amazon employees have signed a letter calling on the company to take concrete action on climate change, with demands including a complete transition away from fossil fuels.
A woman works at a distrubiton station at the 855,000-square-foot Amazon fulfillment center in Staten Island, one of the five boroughs of New York City, on Feb. 5. JOHANNES EISELE / AFP / Getty Images
Amazon will strive to cut carbon emissions from its shipments in half by 2030, the e-commerce giant said Monday. The retailer's plan calls for an increase in the use of electric delivery vehicles and renewable energy as well as pressuring suppliers to use less packaging.
Swen Pförtner / Getty Images
By Jessica Corbett
A small group of Amazon workers is receiving big praise for their efforts to force their employer to be a better steward of the planet.
Cap Sante, Anacortes, WA. -jon / Flickr
On Friday, the 170+ nations in the International Maritime Organization set the first-ever emissions target for the shipping industry and agreed to halve CO2 emissions by 2050, based on 2008 levels.
The unprecedented deal was welcomed by activists as a first step towards meeting the Paris agreement targets. The IMO nations also began a process to ban heavy fuel oil in Arctic waters.
A global map of commercial shipping density. B.S. Halpern (T. Hengl; D. Groll) / Wikimedia Commons / CC BY-SA 3.0
By Andy Rowell
When Donald Trump signalled earlier this year that the U.S. was going to pull out of the UN Paris climate agreement, there was global outrage at his actions.
The perceived wisdom is that the agreement is the best international mechanism we have to fight climate change and to keep global warming to below two degrees Celsius.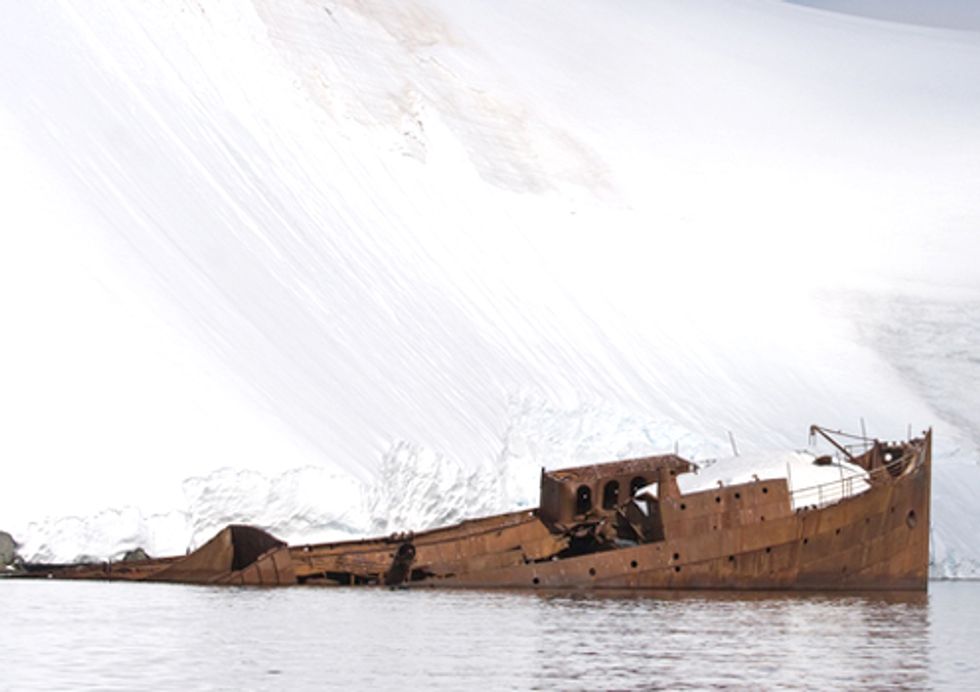 The polar waters of the Arctic and Antarctic are in jeopardy as a result of substantial delays to the development of environmental protection rules which will reduce the impact of shipping on these delicate regions. Last week the International Maritime Organization1 shelved the development of environmental protection rules until 2013.
This major setback for polar environmental protection came about as a result of procedural objections by flag states2 despite the efforts of most Arctic states and Antarctic treaty states to make progress on environmental protection. "As a result of this decision, the completion of a mandatory Polar shipping code covering both safety and environment protection will fall further behind schedule, and indeed, there is a very real chance that environmental protection could be scuttled altogether," said James Barnes, executive director of Antarctic and Southern Ocean Coalition (ASOC).
Both poles are extremely sensitive to environmental disruption and have an important role regulating the global climate. As the global climate changes, the poles are experiencing the most rapid warming of anywhere on earth and sea ice is retreating in most polar regions, making those waters more accessible to shipping than ever before in human history. The numbers of ships using the Northwest Passage and Northern Sea Route, to the north of Canada, the U.S., Norway and Russia, is increasing each year. The Arctic in particular is expected to experience a significant increase in resource exploitation and shipping volumes, which are likely to exacerbate climate-induced problems.
Environmental regulations for shipping are necessary to ensure that the volume of pollutants such as oils, chemicals and sewage being discharged by increased shipping into these pristine waters can be minimized. In addition, rules are needed to ensure that disturbance of wildlife and coastal communities is kept to a minimum and major oil and chemical spills are avoided.
"Last week's decision is badly flawed," said Mr. Barnes." Action is required sooner rather than later to ensure adequate environmental protection is in place as more and more ships use these remote, hazardous and vulnerable waters. Operational pollution from shipping and accidents could irreversibly damage these globally important sensitive ecosystems and polar wildlife is already under massive pressure from the changing climate."
"IMO member governments have an obligation to develop proactive environmental protections for our poles, and we hope that it won't take an Exxon Valdez or Costa Concordia-type disaster in polar waters before real regulatory action is achieved in these vulnerable regions," said John Kaltenstein, marine program manager at Friends of the Earth U.S.
"It is imperative that the IMO brings countries together to finish developing a mandatory Polar Code, which must include strong environmental protections," said Shawna Larson, Chickaloon Village Tribal Member and Alaska program director for Pacific Environment. "Indigenous Peoples who have lived in these Arctic coastal communities since time immemorial are highly dependent on a clean Arctic Environment for their traditional ways of life and their food sources. Without strong environmental protections in the Polar Code, Indigenous Peoples traditional ways will be at risk."
For more information, click here.
—————
1. The IMO is the UN body responsible for developing and adopting global shipping regulations addressing safety and environmental protection
2. Flag States are the countries which flag ships and are then expected to enforce the globally adopted shipping regulations relevant to the ships flying their flags.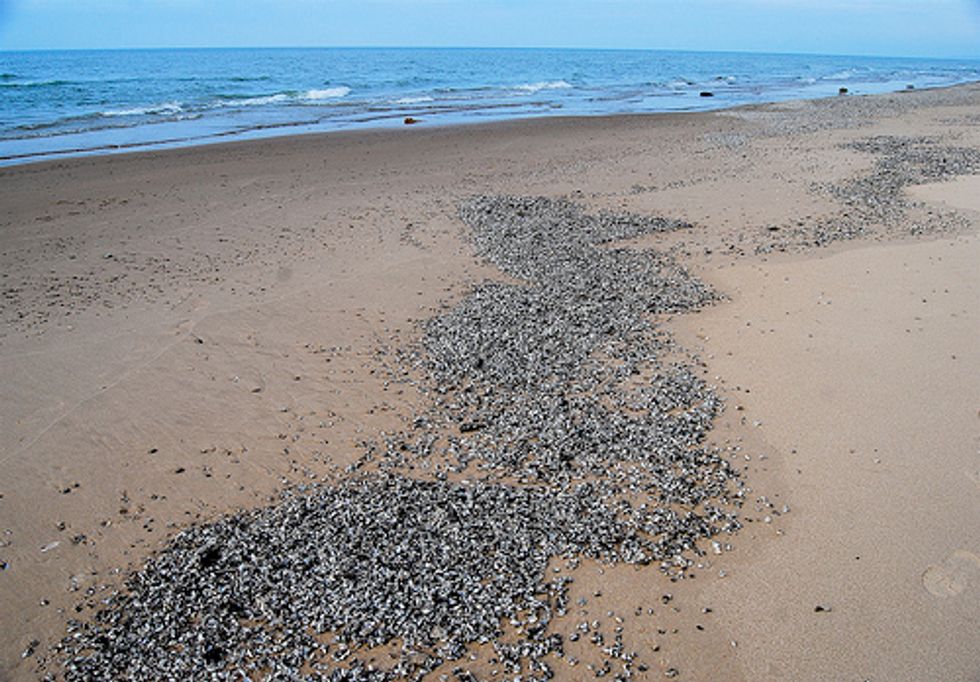 The U.S. Environmental Protection Agency (EPA) is failing to uphold its federal Clean Water Act duty to protect the Great Lakes and other U.S. waters from the introduction and spread of invasive species via ships' ballast water discharge, conservation groups said in comments to the agency on Feb. 21.
The organizations call on EPA to strengthen a proposed permit to regulate ballast water discharges from commercial vessels. The comment period on the permit ends Feb. 21.
"The Great Lakes have been global ground zero for invasions and ought to be a global leader in prevention," said Joel Brammeier, president and CEO of the Alliance for the Great Lakes. "We've waited long enough. EPA has the opportunity to apply the protections our waters sorely need. Let's get it right this time."
Invasive species introduced and spread via ballast water discharge are already wreaking havoc on the Great Lakes and other U.S. waters. A litany of non-native invaders—including zebra mussels, quagga mussels, spiny water fleas and round gobies—have turned the Great Lakes ecosystem on its head, altering the food web and threatening the health of native fish and wildlife. Non-native ballast water invaders cost Great Lakes citizens, utilities, cities and businesses at least $1 billion every five years in damages and control costs, according to research by the University of Notre Dame.
Despite the staggering costs associated with the damage caused by invasive species, the EPA has resisted taking action on the issue for decades. The proposed permit to regulate ballast water discharges comes after a long legal battle. Now, as the nation celebrates the 40th anniversary of the Clean Water Act, advocates are working to ensure the agency finally issues a permit that shuts the door on invasive species.
The proposed ballast water permit takes modest steps to reduce the risk of ballast-mediated introductions. The permit:
Requires ships to install technology that meets the International Maritime Organization's standard to treat ballast water
Requires ships entering the Great Lakes to employ the added protection of exchanging ballast water to flush out and kill non-native freshwater organisms
Conservation groups assert that the permit still leaves the Great Lakes and other U.S. waters vulnerable to the introduction and spread of invasive species—and does not adhere to the Clean Water Act. The groups are asking the EPA to make the following improvements to the permit:
Adopt a zero-discharge standard for invasive species
Adopt the most protective technology standards nationwide
Develop standards for lakers, ships that ply the Great Lakes
Develop a faster implementation timeline to implement new technology standards
Now the states must certify EPA's permit. The EPA must issue a final permit by Nov. 30.
To see the full comment letter to EPA, click here.
To see the abbreviated comments to EPA, click here.
To see the joint press release, click here.
For more information, click here.