This website uses cookies to ensure you get the best experience while browsing it. By clicking 'Got It' you're accepting these terms.

Cover all open wounds with waterproof bandages before swimming in the ocean. lzf / iStock / Getty Images Plus
By Brian Labus
Like humans, many bacteria like to spend time at the beach. The so-called flesh-eating bacteria, Vibrio vulnificus, don't just like the beach; they need it, and rely on sea salt for survival. And as with human beachgoers, the warmer the water, the more of them there are.
The 100-meter wide crater on Runit Island was deemed a good place to dump as much soil contaminated with plutonium as possible. Chunks of unexploded plutonium-239 were also disposed of in the hole. Google Earth

New research found high levels of radiation in giant clams near a 42-year old nuclear waste site in the Central Pacific. The findings have scientists concerned that pollution from the site is leaving the enclosed structure and leaking into the ocean and the food chain, according to the Los Angeles Times.

EcoWatch Daily Newsletter
By Amy McDermott
Food is expensive. Not just for pocketbooks, but for the planet. Worldwide, more than 25 percent of greenhouse gas emissions come from food production. That's methane belched from cows and nitrous oxide escaping from soils, as well as fossil fuels burned by tractors, fishing boats and rumbling transport vehicles. Some foods cost more than others.
Seafood has a smaller carbon footprint than other animal proteins, on average, because fishing doesn't require farmland or care of livestock. But even among seafoods, fish and shellfish can have varying impacts.
iStock
By Kevin Mathews
If you like to eat shellfish, you may want to start reconsidering your dietary choices in light of our changing environment. As NPR reports, researchers are linking climate change with an increase in potentially lethal neurotoxins found in shellfish.
Published in the Proceedings of the National Academy of Sciences, a new study demonstrated that when oceans get warmer (a direct consequence of the rising atmospheric temperatures,) production of these neurotoxins, known as domoic acid, is boosted.
To find the source of domoic acid, you have to go straight to the bottom of the food chain: algae. When shellfish like clams, mussels and crabs consume tainted algae, the poison doesn't affect them directly, but they carry the neurotoxins in their body, which subsequently have consequences in the people who eat them.

(Not all creatures are impacted equally, however. While clams may hold on to the toxins for as long as a year, mussels can cleanse themselves of the dangerous acids within a matter of weeks).
Humans who wind up consuming shellfish containing domoic acid can develop respiratory problems, experience memory loss and in some cases death. In acute cases, the victims generally suffer from stomach problems like diarrhea and vomiting.
Even animal lovers who don't include shellfish in their diets should be alarmed by this news. Other creatures like birds and seals that eat life with the toxins can suffer just like a human would. Last year, the Marine Mammal Center reported that 75 percent of its sea lion patients were the victims of domoic acid toxicity.
The good news is that health officials are able to test seafood samples to identify whether a toxin outbreak is present in the waters, but it's not practical to verify whether all mussels, clams and crabs can be tested on an individual basis. Besides, these tests can't help spare the sea lions and birds that will continue to unwittingly eat tainted shellfish.
In 2015, lofty ocean temperatures ushered in so much domoic acid that the Dungeness crab industry on the U.S.'s Pacific coast had to stop fishing because the crabs were too risky to eat. Scientists believe that that blockage is a sign of what's to come.
As Scientific American points out, the seafood industry is already putting this research to use by starting to track ocean temperatures to determine when shellfish are most susceptible to domoic acid. This knowledge could help companies to plan around impending economic hardship, not to mention prevent a public health crisis.
Sadly, domoic acid is just one consequence of rising ocean temperatures. Other devastating examples include:
Reposted with permission from our media associate Care2.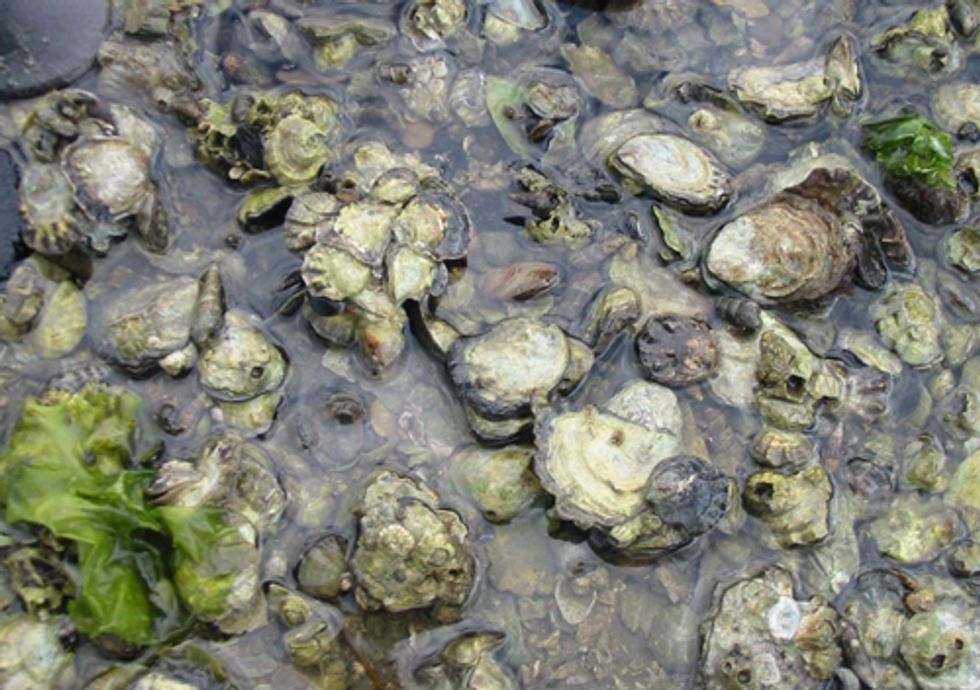 In its water-quality report to the U.S. Environmental Protection Agency (EPA), the state of Washington classified the entire Puget Sound as "waters of concern" because of ocean acidification's threat to local shellfish and fish resources. This means the data show that ocean acidification is threatening the region's ability to support fish and shellfish. It also makes the area a priority for more monitoring and assessment.
"Ocean acidification is putting the whole Puget Sound ecosystem at risk," said Miyoko Sakashita, oceans director at the Center for Biological Diversity. "Focusing on the entire Sound as a 'water of concern' because of ocean acidification is a key step toward monitoring the effects of this sea change and curbing those effects."
The Pacific Northwest is particularly vulnerable to the impacts of ocean acidification. For many of the past six years, the region's baby oysters have been unable to survive, in part due to acidifying waters. Scientists have documented waters affected by ocean acidification upwelling along the Pacific Coast during certain seasons and exposing marine life to corrosive waters.
"The science is in, and it says the Northwest's stretch of ocean, and all the marine life it supports, is in trouble," said Sakashita. "Washington may also be a warning beacon for the future of our oceans. But it isn't enough to simply recognize the problem. We have to act, and that means cutting carbon pollution."
In 2009, the Center for Biological Diversity filed a lawsuit challenging Washington's prior water-quality assessment for failing to declare coastal waters impaired by ocean acidification. As a result of a settlement of that lawsuit, the EPA directed all states to consider ocean acidification as a threat to water quality under the Clean Water Act.
In its new assessment, Washington again declined to identify coastal waters as "impaired" by acidification—a classification that would have required steps to curb carbon pollution causing acidification. Instead, only Puget Sound was put on the "waters of concern" list, a less urgent category.
Each day the world's oceans absorb 22 million tons of carbon dioxide (CO2) from the atmosphere, most of which comes from burning fossil fuels and cutting down forests. Carbon dioxide reacts with seawater, causing it to become more acidic. Since preindustrial times the world's oceans have become about 30 percent more acidic. Ocean acidification strips seawater of the materials that marine animals—such as corals, plankton and shellfish—use to build their shells and skeletons. This can stunt growth or cause deformations, often at a cost to the animal's overall health.
For more information, click here.