Cover all open wounds with waterproof bandages before swimming in the ocean. lzf / iStock / Getty Images Plus
By Brian Labus
Like humans, many bacteria like to spend time at the beach. The so-called flesh-eating bacteria, Vibrio vulnificus, don't just like the beach; they need it, and rely on sea salt for survival. And as with human beachgoers, the warmer the water, the more of them there are.
We Only Hear About the Worst Cases
News reports tend to focus on people dying or losing limbs from the "flesh eating" bacteria. It's not front-page news when someone has a mild skin infection or eats a bad oyster and spends a couple days in the bathroom. We don't often identify the most mild illnesses because people typically don't seek medical care for them.
Even so, V. vulnificus infections are rare. The Centers for Disease Control and Prevention estimates that about 205 infections occur each year, of which 124 were reported in 2014, including 21 deaths. To put this in some perspective, over 32,000 people died that year in motor vehicle crashes.
Most cases tend to be males over 40 years of age and nearly all of them have some sort of underlying chronic health condition, such as liver or kidney disease, alcoholism or diabetes.
Even for high-risk people, simply swimming alongside the bacteria is not enough to make you sick. The bacteria must find a way to get into your body to multiply and cause damage.
For some people, this involves eating food contaminated by the bacteria – typically raw oysters. Oysters eat by filtering out small particles in the water, including bacteria, so they can contain much higher concentrations of Vibrio than the ocean itself. When someone eats a raw or undercooked oyster, the bacteria can multiply in the gastrointestinal tract and cause nausea and abdominal pain.
It can also lead to a life-threatening infection, as bacteria can move from the intestines into the bloodstream and cause an infection throughout the body. Because it spreads so quickly, it can overwhelm the body before the immune system has a chance to stop the infection. Systemic infections are treatable with antibiotics, but it is important that treatment start quickly, as the death rate can be over 50%.
For other people, V. vulnificus can enter through broken skin such as cuts, burns or wounds. Bacteria can multiply under the skin and cause a life-threatening illness commonly known as flesh-eating disease, or necrotizing fasciitis, which can appear suddenly and spread quickly. The infections typically cause a fever and cause the skin to become, red, swollen and painful at the site of infection. The bacteria do not actually "eat" the flesh, but this is what the disease can look like. Between the growth of the bacteria, the production of toxins, and collateral damage from an overwhelming immune system response, large areas of tissue under the skin can die. The infection is treatable with antibiotics, but it is important that treatment is swift.
So What Can We Do About It?
First, avoid eating raw shellfish, especially if you have a weakened immune system due to liver or kidney disease; are on medications, such as steroids, that suppress the immune system; or are diabetic or have cancer. While raw oysters are a popular delicacy, eating any uncooked animal product carries a risk of disease. If you are preparing oysters at home, handle them just as you would any other raw meat. But keep in mind that lemon juice, hot sauce or alcohol do not kill the bacteria and will not protect you if the shellfish is contaminated and that there is no way to identify the contamination by sight or taste.
Another precaution is not to swim with open cuts or wounds, as this provides a direct path for bacteria to enter your body. Avoid the ocean until you heal or cover the wounds with waterproof bandages.
If you are at high risk for infection because a weakened immune system, wear clothing and shoes that will protect you from cuts and scrapes while swimming.
Finally, if you do wind up with a skin infection after swimming in the ocean or gastroenteritis after eating raw shellfish, tell your doctor, as prompt identification and treatment is necessary for this rare illness.
Remember, you don't need to skip the beach. Just use some common sense measures to protect yourself from infection by V. vulnificus, especially if you are at high risk.
Brian Labus is an assistant professor of epidemiology and biostatistics at the University of Nevada, Las Vegas.
Disclosure statement: Brian Labus received past funding from the Centers for Disease Control and Prevention for disease surveillance activities while working at the local health department, including the subject of this article.
Reposted with permission from our media associate The Conversation.
From Your Site Articles
Related Articles Around the Web
EcoWatch Daily Newsletter
The 100-meter wide crater on Runit Island was deemed a good place to dump as much soil contaminated with plutonium as possible. Chunks of unexploded plutonium-239 were also disposed of in the hole. Google Earth

New research found high levels of radiation in giant clams near a 42-year old nuclear waste site in the Central Pacific. The findings have scientists concerned that pollution from the site is leaving the enclosed structure and leaking into the ocean and the food chain, according to the Los Angeles Times.

The radioactive clams were found near Runit Dome, which locals call "The Tomb," on the Enewatik Atoll on the Marshall Islands. The clams are a local delicacy and popular in China, which has had a voracious appetite for them in recent years, according to the Los Angeles Times. Yet, the findings suggest that either radiation is oozing out of Runit Dome or the waste from past weapons testing was not adequately cleaned up.
From 1946 to 1958, the U.S. carried out 67 nuclear weapons tests at Bikini and Enewetak atolls, including the 1954 "Bravo" hydrogen bomb, the most powerful detonated by the U.S. It was about 1,000 times bigger than the atomic bomb dropped on Hiroshima during World War II, according to Aljazeera.
Radioactive ash fell more than 7,000 square miles from the test site and it blanketed the nearby islands. Children played in the white, powdery substance and ate it like it was snow, Marshall Islands health minister would later testify, according to the Atomic Heritage Foundation.
In 1977, the U.S. tipped soil and ash from the explosions into a crater on Runit Island and topped it with an 18-inch thick concrete dome. However, it was supposed to be a temporary fix and the bottom of the crater was never properly insulated, according to CBS News. After decades of exposure to the elements, cracks in the concrete are evident, raising concerns that a fierce tropical cyclone could breach the structure.
Recently, the UN Secretary General António Guterres addressed concerns over the legacy of nuclear testing. "The consequences of these have been quite dramatic, in relation to health, in relation to the poisoning of waters in some areas," he said in Fiji, CBS News reported. "I've just been with the president of the Marshall Islands (Hilda Heine), who is very worried because there is a risk of leaking of radioactive materials that are contained in a kind of coffin in the area."
According to a 2017 report by the Australian Broadcasting Corporation, the nuclear fallout included plutonium-239, an isotope that is one of the world's most toxic substances, and one with a radioactive half-life of 24,100 years.
"The bottom of the dome is just what was left behind by the nuclear weapons explosion," Michael Gerrard, the chair of Columbia University's Earth Institute, told the Australian Broadcasting Corporation. "It's permeable soil. There was no effort to line it. And therefore, the seawater is inside the dome."
The U.S. Department of Energy scientists say that the shellfish with elevated radiation levels near Runit Dome are safe to eat in small quantities and are contaminated because of the initial nuclear testing, not because of any contamination leaking out of the dome, according to the Los Angeles Times. Yet, the scientists do admit that its groundwater, which leaks into the lagoon and ocean, is severely contaminated.
Yet, some locals who attended the Department of Energy's presentation, cast doubt on the conclusions.
"What they're saying is, here is the dome. And here, in the lagoon area, there is radiation. ... But as far as leaking from the dome, we don't think that's the case?" said James Matayoshi, mayor of Rongelap Atoll, one of the atolls contaminated by fallout from the nuclear testing program, the Los Angeles Times reported. "That doesn't make any sense.
From Your Site Articles
Related Articles Around the Web
waterlust.com / @tulasendlesssummer_sierra .
Each product featured here has been independently selected by the writer. If you make a purchase using the links included, we may earn commission.
The bright patterns and recognizable designs of Waterlust's activewear aren't just for show. In fact, they're meant to promote the conversation around sustainability and give back to the ocean science and conservation community.
Each design is paired with a research lab, nonprofit, or education organization that has high intellectual merit and the potential to move the needle in its respective field. For each product sold, Waterlust donates 10% of profits to these conservation partners.
Eye-Catching Designs Made from Recycled Plastic Bottles
waterlust.com / @abamabam
The company sells a range of eco-friendly items like leggings, rash guards, and board shorts that are made using recycled post-consumer plastic bottles. There are currently 16 causes represented by distinct marine-life patterns, from whale shark research and invasive lionfish removal to sockeye salmon monitoring and abalone restoration.

One such organization is Get Inspired, a nonprofit that specializes in ocean restoration and environmental education. Get Inspired founder, marine biologist Nancy Caruso, says supporting on-the-ground efforts is one thing that sets Waterlust apart, like their apparel line that supports Get Inspired abalone restoration programs.
"All of us [conservation partners] are doing something," Caruso said. "We're not putting up exhibits and talking about it — although that is important — we're in the field."
Waterlust not only helps its conservation partners financially so they can continue their important work. It also helps them get the word out about what they're doing, whether that's through social media spotlights, photo and video projects, or the informative note card that comes with each piece of apparel.
"They're doing their part for sure, pushing the information out across all of their channels, and I think that's what makes them so interesting," Caruso said.
And then there are the clothes, which speak for themselves.
Advocate Apparel to Start Conversations About Conservation
waterlust.com / @oceanraysphotography
Waterlust's concept of "advocate apparel" encourages people to see getting dressed every day as an opportunity to not only express their individuality and style, but also to advance the conversation around marine science. By infusing science into clothing, people can visually represent species and ecosystems in need of advocacy — something that, more often than not, leads to a teaching moment.

"When people wear Waterlust gear, it's just a matter of time before somebody asks them about the bright, funky designs," said Waterlust's CEO, Patrick Rynne. "That moment is incredibly special, because it creates an intimate opportunity for the wearer to share what they've learned with another."
The idea for the company came to Rynne when he was a Ph.D. student in marine science.
"I was surrounded by incredible people that were discovering fascinating things but noticed that often their work wasn't reaching the general public in creative and engaging ways," he said. "That seemed like a missed opportunity with big implications."
Waterlust initially focused on conventional media, like film and photography, to promote ocean science, but the team quickly realized engagement on social media didn't translate to action or even knowledge sharing offscreen.
Rynne also saw the "in one ear, out the other" issue in the classroom — if students didn't repeatedly engage with the topics they learned, they'd quickly forget them.
"We decided that if we truly wanted to achieve our goal of bringing science into people's lives and have it stick, it would need to be through a process that is frequently repeated, fun, and functional," Rynne said. "That's when we thought about clothing."
Support Marine Research and Sustainability in Style
To date, Waterlust has sold tens of thousands of pieces of apparel in over 100 countries, and the interactions its products have sparked have had clear implications for furthering science communication.
For Caruso alone, it's led to opportunities to share her abalone restoration methods with communities far and wide.
"It moves my small little world of what I'm doing here in Orange County, California, across the entire globe," she said. "That's one of the beautiful things about our partnership."
Check out all of the different eco-conscious apparel options available from Waterlust to help promote ocean conservation.
Melissa Smith is an avid writer, scuba diver, backpacker, and all-around outdoor enthusiast. She graduated from the University of Florida with degrees in journalism and sustainable studies. Before joining EcoWatch, Melissa worked as the managing editor of Scuba Diving magazine and the communications manager of The Ocean Agency, a non-profit that's featured in the Emmy award-winning documentary Chasing Coral.
By Amy McDermott
Food is expensive. Not just for pocketbooks, but for the planet. Worldwide, more than 25 percent of greenhouse gas emissions come from food production. That's methane belched from cows and nitrous oxide escaping from soils, as well as fossil fuels burned by tractors, fishing boats and rumbling transport vehicles. Some foods cost more than others.
Seafood has a smaller carbon footprint than other animal proteins, on average, because fishing doesn't require farmland or care of livestock. But even among seafoods, fish and shellfish can have varying impacts.
So what's the best choice? Small schooling species, like anchovies and herring, are the most sustainable options, experts say, based on energy use and emissions of their fisheries. There's no free lunch. The question is, what can the planet afford?
Fishermen unload a catch of anchovy and sardines in Ayvalik, Turkey. OCEANA / María José Cornax
Saving Energy

Small schooling fish are low impact because catching them doesn't burn much fossil fuel, the major source of emissions for fisheries.
Ninety percent of the greenhouse gas emissions associated with wild seafood come from fuel use, said Peter Tyedmers, who studies the environmental consequences of food systems at Dalhousie University in Halifax, Nova Scotia.
"If you think about fishing, where does fuel get burned?" he said. "On a fishing boat, it's driving the engine. Some fisheries guzzle more gas than others. It depends how long and how hard the engine works."
Fisheries targeting anchovy, mackerel and similar fish are the most fuel efficient, according to a 2015 study coauthored by Tyedmers. They average less than 80 liters of fuel per ton of catch when fishermen use purse-like nets to surround huge schools of the fish. Because these species swim in dense aggregations, fishermen can locate a swarm, throw a net around the whole thing and pull up thousands of fish in one trip.
Compare this to crustaceans like Australian Tiger prawns or Norway lobster, which can burn more than 10,000 liters of fuel per ton of catch. That's because it takes a lot of gas to drag a heavy prawn net through the water, as does motoring from one lobster trap to another. Scooping up a whole school of fish at once is much more fuel efficient.
Conservation status matters too, said Nathan Pelletier, an ecological economist and industrial ecologist, specializing in food system sustainability at the University of British Columbia. When populations are healthy, there are more fish in the water, so it takes less time and less fuel to fill a net. Overfishing leaves fewer fish out there, so it takes more time and energy to catch the same amount.
"Abundant fisheries, from a climate change perspective, will be less greenhouse gas intensive," Pelletier said. "All else being equal, the more fish there are, the less energy we will have to invest in chasing them around and catching them."
A school of sardines rushes around a diver in Tañon Strait, the largest marine protected area in the Philippines. Dense aggregations of little fish make them a fuel-efficient target for fishermen in other areas. OCEANA / Ferdinand Edralin
On the Half Shell

Farmed mollusks may be another climate-conscious seafood, according to a forthcoming study by ecologist Ray Hilborn, at the University of Washington in Seattle. That's because these shellfish don't need to be fed; they can filter sustenance from the water instead. Animal feed can be a huge consideration when it comes to a farm's carbon footprint.
"From a climate change perspective, what you feed and how much you feed matters a lot," said Tyedmers. "In aquaculture, the big generalization is your greenhouse gas emissions are overwhelmingly driven by your feed inputs."
Farmed fish eat a combination of plant and animal parts, like ground up soy or corn, chicken feathers, animal bones and blood. Each ingredient takes energy to grow or catch, and then more energy to process into pellets or flakes. Farming mollusks sidesteps that issue, because they're filter-feeders, no pellets required.
Hold on though, Pelletier said. The jury is still out on mollusks. They don't need to be fed, but they do take effort to seed, harvest and process for human consumption. Considering the amount of meat on a mussel or oyster, it's a low edible yield for the effort.
Farmed mollusks may look good in theory, but Pelletier says he'd be cautious to endorse them, because "it's mostly shell."
Mussel farmers poke through the rows in Thailand. MKeerati / Shutterstock
Eating Well

Of course, to reduce carbon footprints as much as possible, the best bet is to eat veggies. On average, eating plants has a smaller footprint than eating animals, said Friederike Ziegler, who studies sustainable seafood at the Research Institutes of Sweden, in Gothenburg. But among animal products, seafoods are some of the best, she said. And among seafoods, little fish are the best of the best.
In Sweden, where Ziegler lives and works, the government recommends eating seafood two to three times per week. Most Swedes eat less than that. Small, schooling fish like herring are famously popular in Scandinavia, but even in Sweden, Ziegler said people could eat more fish.
Not everyone can switch to veggies, for both cultural and nutritional reasons. Wild sustainable seafood is the best option, in many parts of the world. When it comes to changing diets, "we have to think about solutions that are culturally appropriate and feasible within their specific contexts," Pelletier said.
Atlantic horse mackerels race beneath Oceana's Ranger at Dacia seamount, Spain. Small oily fish like mackerel are some of the most carbon-conscious seafoods. OCEANA / Carlos Minguell
Climate change looms large over the future. To fight it, think like an ocean predator. Dive into the little fish, with big potential for good.

From Your Site Articles
Related Articles Around the Web
iStock
By Kevin Mathews
If you like to eat shellfish, you may want to start reconsidering your dietary choices in light of our changing environment. As NPR reports, researchers are linking climate change with an increase in potentially lethal neurotoxins found in shellfish.
Published in the Proceedings of the National Academy of Sciences, a new study demonstrated that when oceans get warmer (a direct consequence of the rising atmospheric temperatures,) production of these neurotoxins, known as domoic acid, is boosted.
Can Eating Oysters Make You Sick? https://t.co/AnRzk57691 @Healthy_Child @naturallysavvy

— EcoWatch (@EcoWatch)1481063414.0
To find the source of domoic acid, you have to go straight to the bottom of the food chain: algae. When shellfish like clams, mussels and crabs consume tainted algae, the poison doesn't affect them directly, but they carry the neurotoxins in their body, which subsequently have consequences in the people who eat them.

(Not all creatures are impacted equally, however. While clams may hold on to the toxins for as long as a year, mussels can cleanse themselves of the dangerous acids within a matter of weeks).
Humans who wind up consuming shellfish containing domoic acid can develop respiratory problems, experience memory loss and in some cases death. In acute cases, the victims generally suffer from stomach problems like diarrhea and vomiting.
Even animal lovers who don't include shellfish in their diets should be alarmed by this news. Other creatures like birds and seals that eat life with the toxins can suffer just like a human would. Last year, the Marine Mammal Center reported that 75 percent of its sea lion patients were the victims of domoic acid toxicity.
The good news is that health officials are able to test seafood samples to identify whether a toxin outbreak is present in the waters, but it's not practical to verify whether all mussels, clams and crabs can be tested on an individual basis. Besides, these tests can't help spare the sea lions and birds that will continue to unwittingly eat tainted shellfish.
In 2015, lofty ocean temperatures ushered in so much domoic acid that the Dungeness crab industry on the U.S.'s Pacific coast had to stop fishing because the crabs were too risky to eat. Scientists believe that that blockage is a sign of what's to come.
As Scientific American points out, the seafood industry is already putting this research to use by starting to track ocean temperatures to determine when shellfish are most susceptible to domoic acid. This knowledge could help companies to plan around impending economic hardship, not to mention prevent a public health crisis.
Sadly, domoic acid is just one consequence of rising ocean temperatures. Other devastating examples include:
Reposted with permission from our media associate Care2.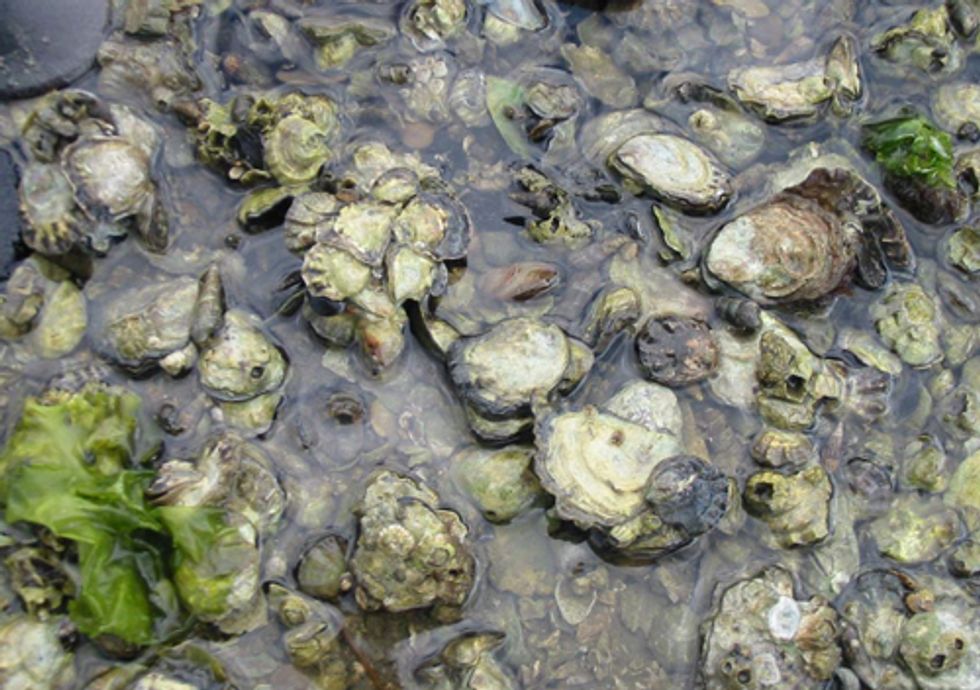 In its water-quality report to the U.S. Environmental Protection Agency (EPA), the state of Washington classified the entire Puget Sound as "waters of concern" because of ocean acidification's threat to local shellfish and fish resources. This means the data show that ocean acidification is threatening the region's ability to support fish and shellfish. It also makes the area a priority for more monitoring and assessment.
"Ocean acidification is putting the whole Puget Sound ecosystem at risk," said Miyoko Sakashita, oceans director at the Center for Biological Diversity. "Focusing on the entire Sound as a 'water of concern' because of ocean acidification is a key step toward monitoring the effects of this sea change and curbing those effects."
The Pacific Northwest is particularly vulnerable to the impacts of ocean acidification. For many of the past six years, the region's baby oysters have been unable to survive, in part due to acidifying waters. Scientists have documented waters affected by ocean acidification upwelling along the Pacific Coast during certain seasons and exposing marine life to corrosive waters.
"The science is in, and it says the Northwest's stretch of ocean, and all the marine life it supports, is in trouble," said Sakashita. "Washington may also be a warning beacon for the future of our oceans. But it isn't enough to simply recognize the problem. We have to act, and that means cutting carbon pollution."
In 2009, the Center for Biological Diversity filed a lawsuit challenging Washington's prior water-quality assessment for failing to declare coastal waters impaired by ocean acidification. As a result of a settlement of that lawsuit, the EPA directed all states to consider ocean acidification as a threat to water quality under the Clean Water Act.
In its new assessment, Washington again declined to identify coastal waters as "impaired" by acidification—a classification that would have required steps to curb carbon pollution causing acidification. Instead, only Puget Sound was put on the "waters of concern" list, a less urgent category.
Each day the world's oceans absorb 22 million tons of carbon dioxide (CO2) from the atmosphere, most of which comes from burning fossil fuels and cutting down forests. Carbon dioxide reacts with seawater, causing it to become more acidic. Since preindustrial times the world's oceans have become about 30 percent more acidic. Ocean acidification strips seawater of the materials that marine animals—such as corals, plankton and shellfish—use to build their shells and skeletons. This can stunt growth or cause deformations, often at a cost to the animal's overall health.
For more information, click here.