Yesterday, members of 350 Maine attempted to block a Pan Am train as it passed through downtown Fairfield, aiming to prevent roughly 70,000 barrels of crude oil from reaching the Irving Refinery in New Brunswick, Canada. The blockade was staged as part of a nationally coordinated week of action.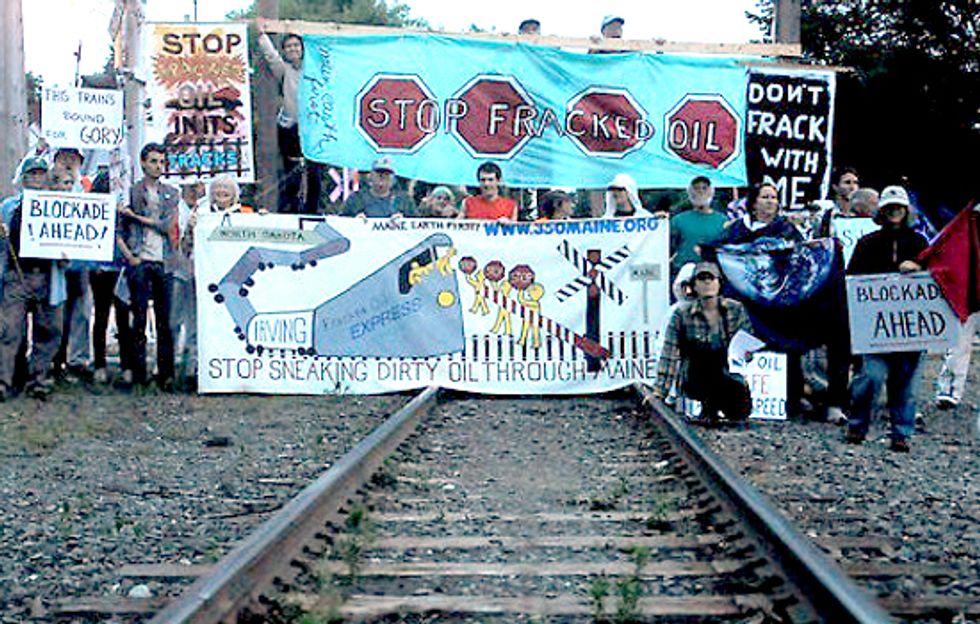 When police arrived last night to break up the peaceful protest, six people who refused to leave the scene were arrested after trying to destroy scaffolding with a chain saw. Local news media reported a surprisingly large number of law enforcement officials who responded to the action, including troopers from the state police.
Trains running through Maine carry crude from the Bakken oil fields of North Dakota, where it is  extracted—fracked—by blasting a high pressure mix of water, silica and toxic chemicals deep into the ground to release the oil from shale rock.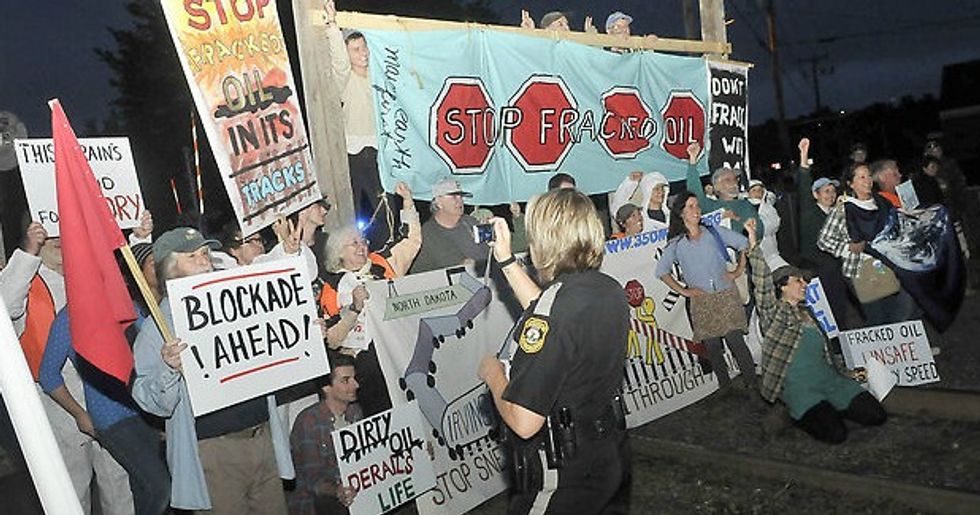 One of those arrested, 63-year-old Read Brugger from the town of Freedom, was clear about his motivations. "We feel there has not been enough awareness about the millions of gallons of crude shell oil that shipped across Maine each month," Brugger told the local Bangor Daily News. "We feel need to move beyond fossil fuels and get away from the poisonous ways oil is being extracted."
With fracking technology, previously un-extractable oil, deep underground, can now be reached and is the source of an explosive oil boom in the Midwest. Without enough pipelines to transport the Midwest crude to distant refineries, there has been a surge in the use of trains. Inspections of tracks are infrequent due to lack of resources to oversee them. Rail and energy industries insist that trains are among the safest ways to transport crude. But Pan Am alone had two train derailments in Maine within a calendar year between 2012 and 2013. When one train carrying crude derailed this March in Mattawamkeag, ME, Department of Environmental Protection spokesperson Samantha Warren called the limited spillage "a miracle."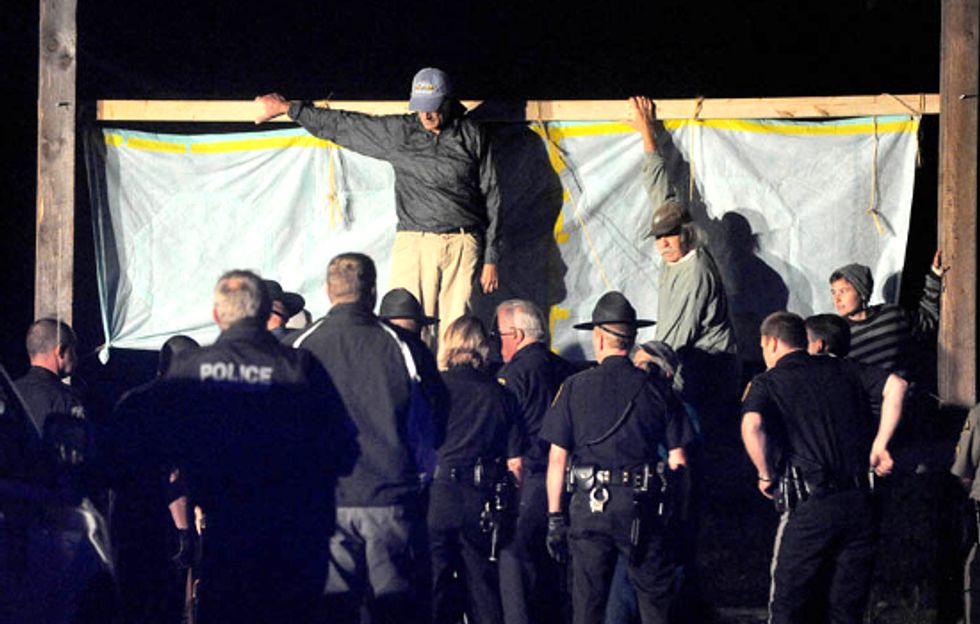 Similar demonstrations are taking place across the nation this week as part of Fearless Summer, a nation-wide grassroots movement of environmental groups, to draw attention to the dangers of fracking and extreme energy extraction.
"We oppose the continued extraction of fossil fuels, but we also oppose its transportation over thousands of miles of environmentally sensitive areas," said Sarah Linnekin of Benton, student at Unity College. "Since my number one job is to protect my children, I feel an obligation to take action," she said.
Visit EcoWatch's FRACKING page for more related news on this topic.
——–
EcoWatch Daily Newsletter
Less than two months after the disaster at West Fertilizer Co. in West, TX, another chemical plant erupted in flames Thursday just south of Baton Rouge, LA. The explosion at the Williams Olefins plant in Geismar killed at least one person and injured more than 73 employees. It remains too early to determine the cause of the explosion—and as of Friday the Occupational Safety and Health Administration had yet to visit the site. The plant produces the combustible and flammable chemicals ethylene and polymer grade propylene—used to make a range of plastic products.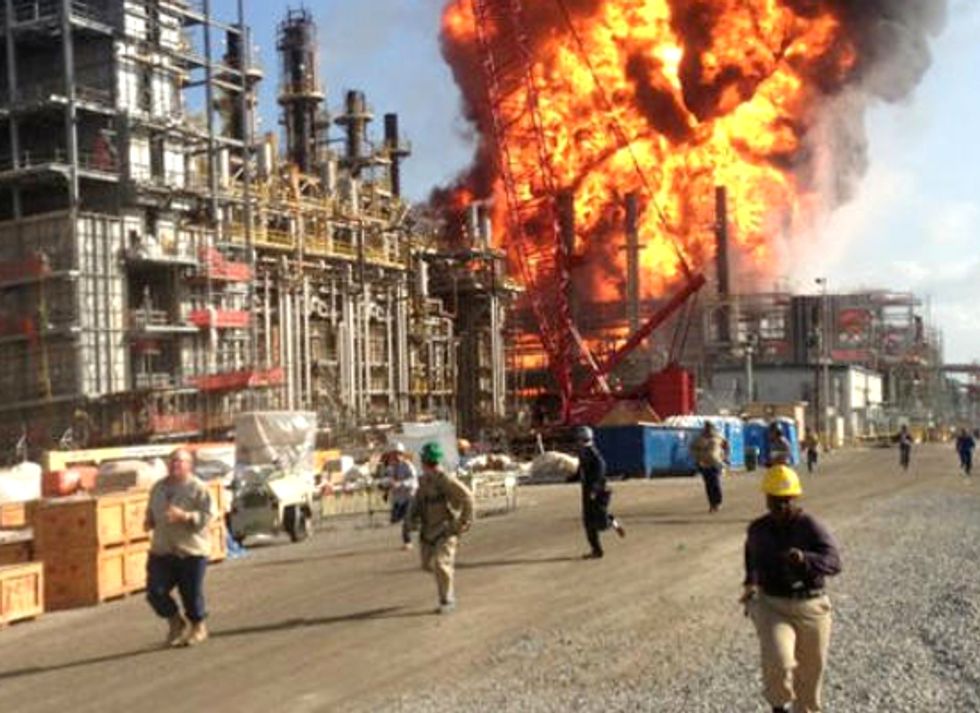 "I've worked in plants for a few years, but I've never been that up close and personal with an explosion before. It felt like heat, intense heat," plant worker Shavonne Stewart told The Advocate.
The explosion at the Williams Olefins plant is the latest in a series of similar incidents this year, notably, the disaster in West, TX—which killed 15 people—and a train blast in Maryland. The explosion at Williams Olefins stands apart, however, due to its direct tie to the natural gas boom.
The production of ethylene and propylene requires natural gas—explicitly, the use of methane. This past December the chemical juggernaut Dow Chemical Co. restarted a previously closed plant in Hahnville, LA. Like Williams, owner of the plant in Geismar, Dow saw the abundance of cheap shale gas as an opportunity to restart a previously unsuccessful venture. The Hahnville plant will be used to "boost ethylene and propylene capacity through 2017 because of cheap gas, used as a raw material and to power plants. Hydraulic fracturing [fracking] of shale rock formations caused a glut of gas supplies and sent prices to a decade low in April," Bloomberg reported.
It is safe to assume chemical disasters such as the one this past Thursday will become more common as the availability of cheap natural gas encourages more expansion in the chemical industry. A 2008 report from the Center for American Progress on the 101 most dangerous chemical facilities in the U.S.—two of them in Louisiana—found that 80 million people "live within range of a catastrophic chemical release."
Moreover, despite the efforts of the Department of Homeland Security (DHS), many facilities remain vulnerable to any manner of industrial sabotage or disaster. The DHS currently monitors over 4,000 "high-risk" facilities—which did not include West Fertilizer Co. despite its clear vulnerability–under the Chemical Facility Anti-Terrorism Standards program, which critics say is full of loopholes.
With the string of disasters in the last two months, the need for change in both the types of chemicals produced and the level of oversight provided by the DHS—which does not require companies to seek safer alternatives—is clear. How many more Wests can we tolerate?
Visit EcoWatch's FRACKING page for more related news on this topic.
——–
Sign the petition today, telling President Obama to enact an immediate fracking moratorium:

Like many other plant-based foods and products, CBD oil is one dietary supplement where "organic" labels are very important to consumers. However, there are little to no regulations within the hemp industry when it comes to deeming a product as organic, which makes it increasingly difficult for shoppers to find the best CBD oil products available on the market.
<p>Here you can learn about the importance of organic hemp oil, why it's better for the environment, and which CBD companies actually make trustworthy products with sustainable farming processes. origins which weigh heavily on many consumers who want to buy a product that's produced in the best way possible for not only themselves to ingest, but for the environment as well through sustainable farming methods. </p><h2>What Is CBD Oil?</h2><p>First things first, CBD stands for cannabidiol, and it's a cannabinoid found within cannabis sativa plants. This plant compound is believed to have many potential benefits, and it is primarily derived from hemp plants via a CO2 extraction process. </p><p>Since CBD is extracted from industrial hemp, which contains only trace amounts of THC (the psychoactive component in cannabis plants), this means that CBD won't make you feel high like marijuana, which has much higher levels of THC that causes psychoactive effects. Instead, the effects of CBD are much more subtle and promote a general sense of calm and relaxation in most users.</p><h2>What Makes a CBD Oil Organic?</h2><p>In terms of organic labels, perhaps the most important (and prominent) certification comes from the United States Department of Agriculture (USDA). This government organization has been labeling foods as "organic" for many years, but what exactly does this certification entail? Essentially, a label indicating that a product is "USDA Organic" or "Certified Organic" means that at least 95% of the ingredients are obtained from organic sources.</p><p>For a crop to be considered organic by the USDA, it must be grown without the use of industrial solvents, irradiation, genetic engineering (GMOs), synthetic pesticides, or chemical fertilizer. Instead, farmers rely on natural substances and <a href="https://www.usda.gov/media/blog/2012/03/22/organic-101-what-usda-organic-label-means" rel="noopener noreferrer" target="_blank">mechanical, physical, or biologically based farming</a> techniques to cultivate healthy and organic crops.</p><p>Before the passage of the 2018 Farm Bill, no hemp-derived products could be dubbed as "certified organic" since the hemp plant and its extracts were still categorized as a Schedule I Controlled Substance. However, it's still difficult for CBD companies to obtain a USDA certified organic label for their products due to the legal grey area that still surrounds CBD extracts. </p><p>Because of these challenges, and due to the fact that industrial hemp has only recently become an agricultural crop, very few CBD oils are USDA certified organic. Rather, many CBD products contain hemp extracts from plants that were grown in organic conditions but may not be federally certified.</p><h2>What are the Best Organic CBD Oil Brands?</h2><p><em>Each product featured here has been independently selected by the writer. If you make a purchase using the links included, we may earn commission.</em></p><em><br></em>