Overruling local authority, the British government gave the go-ahead on a new shale gas fracking permit in Lancashire County today, opening the door to a massive expansion of shale gas development in the UK. A second permit is likely to be approved.
Protestors respond to decision to allow fracking in Lancashire.BBC
Environmental groups, the Liberal Democrats and the Green Party, condemned the decision. This morning, protestors showed up in the area where the fracking project will commence. BBC North West environment correspondent Judy Hobson wrote, "This decision was never about fracking. For those against it, that argument has already been lost. The government wants a shale gas industry and on a big scale."
The Lancashire County Council had denied the permit last year, but Cuadrilla Resources, a local exploration and production company, appealed. The site on Preston New Road will be the first horizontal fracturing well in the U.K. Fracking is expected to start by the end of 2017.
Fracking was suspended in the U.K. in 2011 after test wells drilled by Cuadrilla triggered two small earthquakes. In the U.S., Oklahoma now has more earthquakes than California since it became a center of fracking operations.
UK shale resourcesOil & Gas Authority
Trillions of cubic feet of shale gas are believed to underlie parts of the U.K. More than 200 exploration licenses have been granted. The two sites in Lancashire are part of eight that Cuadrilla is exploring, according to the company's own website.

In a post published Tuesday on RenewEconomy by energy experts Peter Strachan and Alex Russell, the authors wrote:
"The continuing vision for the northern powerhouse seems to be predominantly based on fracking apart the shale beds of England. The prize is claimed to be: glittering new tax revenue; the transfer of oil jobs from the Jurassic North Sea oil and gas industry to onshore; and, cheaper and more secure gas supplies."
Reaction by residents in Lancashire has been angry.
Jackie Sylvester told The Guardian, "They've gone against the will of the people. I think the people of England don't realize that once this starts it's not going to stop and there's going to be hundreds of drills."
Another resident, Heather Speak, said, "I'm so, so angry that a government minister has turned their back on local democracy."
But stopping the Lancashire project at this point may be impossible. Opponents would have to prove that the decision was reached unlawfully.
"This fudged decision shows the government is struggling to force fracking on a reluctant nation," Greenpeace campaigner Hannah Martin said.
Greenpeace opens a fracking site in Parliament Square in February 2016 to "bring the local impacts of fracking to the heart of democracy."David Holt / Flickr
In March, a report by the independent Committee on Climate Change found that the exploitation of shale gas on a significant scale is incompatible with the U.K.'s carbon budgets. The report advises that production emissions from gas wells will have to be offset through emissions reductions elsewhere, and warns of the dangers of methane emissions associated with fracking.

"Left entirely unregulated, the emissions footprint of shale gas production could be substantial," the report states.
In making its decision, the Theresa May government said these concerns were irrelevant to its decision.
EcoWatch Daily Newsletter
This week—as thousands of Americans urge awareness to the destruction caused by oil bomb trains—an oil field in San Juan County, New Mexico erupted in flames Monday night, highlighting the continued and increasing dangers of the fossil fuel industry.
The fire broke out around 10:15 p.m. Monday at a fracking site owned and operated by WPX Energy, setting off several explosions and temporarily closing the nearby Highway 550. Fifty-five local residents were forced out of their homes.
A photo of the fire before emergency response arrived on site. Kendra Pinto
The site—located in the Mancos shale deposit area and known as the 550 Corridor and a part of Greater Chaco Canyon—contains six new oil wells and 30 temporary oil storage tanks holding either oil or produced water. All 36 storage tanks caught fire and burned, the Tulsa, Oklahoma-based energy company said.
The site was still smoldering last night and, now, "only 7 of 36 tanks at production site on fire this morning," the company tweeted.
"The fire is being allowed to burn itself out due to the intensity of the heat, the number of oil tanks involved and to contain petroleum fluids on WPX's five-acre site, predominantly in the storage tankage," WPX said.
According to Albuquerque news station KOAT, WPX stopped drilling for natural gas and oil in the area last May. The company had been producing for about a week before the fire broke out.
Response to fire in San Juan County, NM, enters day 2. Only 7 of 36 tanks at production site on fire this morning.

— WPX Energy (@WPX Energy)1468427717.0
The cause of the fire is currently unclear. "We think that in the next couple of weeks to months, we will have that information and will be able to share that with the public," WPX San Juan Asset Team manager, Heather Riley, told the news station.
There were no reported injuries or damage to nearby property. Most of the evacuees have returned home but 10 families are still lodged in a hotel, The Farmington Daily Times reported.
Environmental advocates are speaking out about the explosion.

"The site that exploded is a brand new facility that consists of six wells drilled to shale formations that have never been adequately analyzed for impacts and safety concerns." Mike Eisenfeld, the Energy and Climate Program manager at the San Juan Citizens Alliance, told EcoWatch in an email.
WPX was given approval to develop the site from the New Mexico Oil Conservation Division in September. The U.S. Bureau of Land Management (BLM) Farmington Field Office gave final approval to drill the land in December.
"In a leap before looking scenario, the federal Bureau of Land Management in Farmington, New Mexico has allowed WPX to proceed with these shale facilities discounting the inherent danger that has now become clear with the explosion," Eisenfeld said.
"This highlights the failure to have adequate safeguards in place to protect local communities and also raises serious questions about chemicals and toxicity associated with the explosion. Emergency response for this explosion was hours away. A thorough investigation is necessary. There should be a moratorium on these new wells until BLM completes a legally proficient Resource Management Plan Amendment/Environmental Impact Statement for the Mancos Shale/Gallup formations."
The New Mexico environmental non-profit WildEarth Guardians noted in a statement to EcoWatch that the BLM Farmington Field Office has leased more than 90 percent of the lands it oversees to oil and gas companies and plans to auction off additional acres for fracking during the January 2017 lease sale. The office manages a total of 1.8 million acres of public land.
"Enough is enough," Kendra Pinto, Counselor Chapter outreach intern, said. "It seems like every month we see more wells here, and things are going to get worse if the drilling doesn't stop. At this rate, what will be left here for our children? The land has changed."
STOP IT! Huge #fracking explosion near Chaco Canyon involved six new wells drilled and fracked on our public land. https://t.co/aycGwiRKfr

— Tim Ream (@Tim Ream)1468419676.0
WPX Energy has invested millions to drill into the tight shale formations in the San Juan Basin. The company has put in at least $160 million in developing oil plays in 2014 on its 60,000 leased acres, the Santa Fe New Mexican reported.
The rise of hydraulic fracturing has aided a U.S. energy boom but the environmental impact of the technology is under intense dispute, from polluting drinking water to earthquakes. Last year, WPX Energy itself came under scrutiny for failing to disclose how it is managing its impacts on communities and the local environment with its fracking operations.
"WPX Energy scored near the bottom of the industry in a recent scorecard report published by investors benchmarking 35 companies on their disclosed efforts to mitigate key impacts, and has faced controversy in the past over allegations that it irreparably contaminated local drinking water in Pennsylvania," the advisory firm Green Century Funds wrote.
WPX Energy has defended its operations and even helped produce a glossy 26-minute documentary, Down Deep, as a way of "spreading the message that fracking is safe and necessary for the U.S. energy future," Tulsa World wrote of the film.
Still, as WildEarth Guardians pointed out, the recent oil field explosion in San Juan serves as a sobering reminder of the urgent need to build safe, clean renewable energy in place of fossil fuels.

"I know people want jobs," Samuel Sage, Wildlife Guardians Counselor Chapter community services coordinator, said. "But why must they come at the expense of our air, water, and climate? Many other places are building clean energy generation and creating well-paying jobs in the process. That is our future, not this dirty industry."

"Unfortunately, this may be the tip of the iceberg," Rebecca Sobel, senior climate and energy campaigner at WildEarth Guardians, said. "The Obama Administration has already leased more than 10 million acres of public land to oil and gas drilling, and BLM continues to lease more land in New Mexico to fracking interests without studying these impacts. How many more explosions and evacuations will it take before we seriously consider the cost of these dirty fossil fuel industries and simply end this leasing program?"
By Paul Brown
The nuclear industry is celebrating breaking records that have stood for a quarter of a century—but a new update on its successes still fails to disperse the clouds over its future.
The nuclear industry provides 10 percent of the world's electricity, but its target is to supply 25 percent by 2050—requiring a massive new build program.
Ten new nuclear reactors came on line last year worldwide and more new reactors are being built than at any time since 1990. According to the report by the World Nuclear Association (WNA), there were 66 power reactors under construction across the world last year and another 158 planned. Of those being built, 24 were in mainland China.
In what it promises will be an annual update of the industry's "progress," the WNA presents a rosy picture of the future of the industry, which it hopes will produce ever-increasing amounts of the world's power.
Currently, the industry provides 10 percent of the world's electricity, but its target is to supply 25 percent by 2050—requiring a massive new build program. The plan is to open 10 new reactors a year until 2020, another 25 a year to 2030 and more than 30 a year until 2050.
Vast Increase
The industry regards this as vital to ensure that the governments of the world keep to their plan of keeping the planet from passing the internationally-agreed limit of a 2 C rise in temperatures above pre-industrial levels. It says only a vast increase in new nuclear power, combined with renewables, can achieve this.
"The World Nuclear Association's vision for the future global electricity system consists of a diverse mix of low-carbon technologies—where renewables, nuclear and a greatly reduced level of fossil fuels (preferably with carbon capture and storage) work together in harmony to ensure a reliable, affordable and clean energy supply," the report says.
Despite its optimism, the WNA admits that the situation globally for the industry is "challenging," particularly in Europe and the U.S., where low electricity prices are making nuclear power uneconomic.
The brightest prospect is China, where nuclear power is shielded from market forces. Eight new reactors were connected to the grid in 2015, with many more scheduled for construction as part of China's bid to phase out coal and improve air quality.
The largest nuclear power exporter is Russia and President Putin is offering countries generous terms, including providing the fuel for the reactors and then taking the waste back to Russia.
This plan, which ties countries into close partnerships with Russia, could be seen to pose political dangers for the countries concerned, giving Russia direct control over their energy supplies.
Many countries have chosen to ignore this potential problem. As a result, Russia's national nuclear industry is currently committed to building new reactors in China, Hungary, India and Turkey and is engaged with potential buyers in Jordan, Kazakhstan, Nigeria, South Africa and Vietnam, among others.
South Korea and India are also quoted in the WNA report as boosting nuclear power with new commitments in 2015.
In Europe and North America, however, nuclear operators are struggling. In Europe, this is mainly because of political opposition in Germany and the fact that the French nuclear industry's flagship new design, currently under construction, is badly delayed by cost overruns and time delays.
Hard to Compete
The recent UK vote to leave the European Union, which took place after the WNA report was compiled, will make this situation worse. The British plan to build 10 new reactors, including four of French design, now seems much less likely to be realized.
In North America, the success of the shale gas industry has meant that nuclear power finds it hard to compete on price.
Aside from new build, there is great emphasis in the report on the continued operation of nuclear power stations well beyond their original design life. It says that, in many cases, there is no reason why, with regular refurbishment, many nuclear reactors could not continue in service permanently. In many cases, it says, it would be cheaper to refurbish an existing station than to build a new one.
The exception is the advanced gas cooled reactors operated in the UK. These have life-limiting factors that mean they will close well before the 60-year lifespan that reactors of other designs could easily manage, the report says.
YOU MIGHT ALSO LIKE
6.5 Million People Die Each Year From Air Pollution, IEA Says
Public Lands Development Rigged in Favor of Oil and Gas
Oakland Bans Coal Exports, Huge Win for Local Residents
By Sharon Kelly
A Pennsylvania industrial wastewater treatment plant has been illegally accepting oil and gas wastewater and polluting the Allegheny river with radioactive waste and other pollutants, according Clean Water Action, which announced today that it is suing the plant.
"Waste Treatment Corporation has been illegally discharging oil and gas wastewater since at least 2003, and continues to discharge such wastewater without authorization under the Clean Water Act and the Clean Streams Law," the notice of intent to sue delivered by Clean Water Action reads.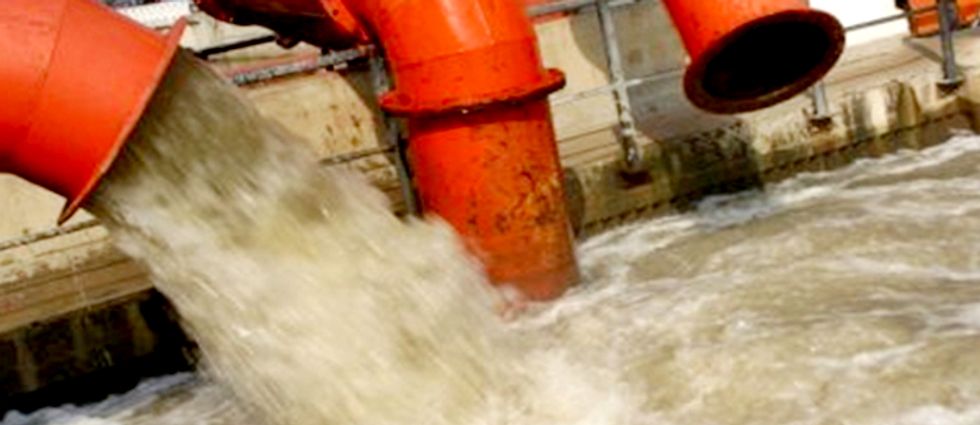 Many pollutants associated with oil and gas drilling—including chlorides, bromides, strontium and magnesium—were discovered immediately downstream of the plant's discharge pipe in Warren, PA, state regulators discovered in January. Upstream of the plant, those same contaminants were found at levels one percent or less than those downstream, or were not present at all.
State officials also discovered that the sediments immediately downstream from the plant were tainted with high levels of radium-226, radium-228 and uranium. Those particular radioactive elements are known to be found at especially high levels in wastewater from Marcellus shale gas drilling and fracking, and state regulators have warned that the radioactive materials would tend to accumulate in river sediment downstream from plants accepting Marcellus waste.
"To us, that says that they are discharging Marcellus Shale wastewater, although no one admits to sending it to them," said Myron Arnowitt, Pennsylvania state director for Clean Water Action.
A request for comment sent to Waste Treatment Corporation has not yet been answered.
The amount of radioactivity found in the Allegheny riverbed is striking. Sediments just downstream of the Waste Treatment Corporation's discharge pipe contained over 50 picocuries per gram (pCi/g) of radium-226, state records show. To put that number in rough context, the levels in found in the Allegheny are 10 times those that the U.S. Environmental Protection Agency (EPA) requires the surface soil at cleaned-up uranium mining sites to achieve.
Most of the radioactive wastes associated with fracking are too weak to cause harm to people unless they are breathed in, drank or eaten, since the alpha and beta radioactivity they primarily give off is too weak to get past people's skin. But at the levels discovered by state regulators, the dirt from the Allegheny's riverbed could potentially be radioactive enough to cause harm to people who are simply near it.
Once-confidential oil and gas industry studies have also pointed to another risk from disposing of radioactive materials from drilling or fracking in waterways—the risk to fish and aquatic life like crustaceans and mollusks. Radium bioaccumulates in fish, meaning that the more a fish ingests contaminated water or soil over its lifetime, the more radium it will contain. If people eat those fish, those radioactive materials consumed along with the fish can do harm to people's internal organs.
In their January study, state officials did not test fish or other animals like large clams or mussels from the Allegheny to see whether they were carrying radium or other pollutants. But they did study smaller organisms, and concluded that the wastewater being discharged after being processed by Waste Treatment Corporation into the Allegheny was "negatively impacting" aquatic life, specifically bugs, snails and small mollusks in the river. Many pollution-sensitive creatures found upstream of the plant's discharge pipe were missing downstream from the pipe.
"Those are the base of the food pyramid for large species like fish that people are generally more concerned about," Mr. Arnowitt said.
Just last month another industrial wastewater treatment plant was sanctioned by the EPA for illegally discharging untreated Marcellus waste. Environmental regulators also discovered high levels of radium around the discharge pipe at the Pennsylvania Brine Treatment Josephine plant. That plant was fined over $80,000 and the owner agreed to make up to $30 million in upgrades before accepting any more Marcellus shale wastewater.
The Clean Water Action lawsuit also calls attention to a troubling lack of record keeping for the toxic wastewater generated by the shale drilling boom, raising the possibility that more illegal dumping could be uncovered in the future.
"Currently, there are no companies drilling in the Marcellus Shale that report sending wastewater to WTC for disposal," a Clean Water Action statement says, referring to Waste Treatment Corporation by its initials. "However, the presence of radioactive materials in WTC's discharge indicates that WTC's wastewater likely comes, at least in part, from Marcellus Shale wells."
In 2011, after problems with wastewater disposal made national headlines, many industrial wastewater treatment plants said that they stopped taking Marcellus wastewater and were only taking conventional oil and gas wastewater, Arnowitt said. But the levels of contaminants—including the ones associated with Marcellus waste—in the discharge at many wastewater plants never changed, he said.
"It was hard to figure out why everyone believed what they were saying," he added.
With a track record like this, some Pennsylvanians are skeptical about their state government's capacity to police the drilling boom. These doubts only deepened when Senate Bill 259 was signed into law by Gov. Corbett (R-PA) earlier this month. The bill was originally intended to protect landowners by making royalty payments for people who leased their lands to drillers more transparent.
But a little-noticed provision slipped into that bill as an amendment has sparked an outcry. The amendment would allow drillers to pool together acreage owned by many different people and drill it all together, even if a lease wouldn't otherwise allow the oil and gas company to do so. This move will especially facilitate Marcellus shale drilling and fracking, which often involves drilling a well horizontally under many properties.
"This pooling language had no place in this bill," Trevor Walczak , vice president of the Pennsylvania chapter of the National Association of Royalty Owners told local reporters. "If you wanted to address pooling, we should have been doing it in a stand alone bill we could debate, not hiding it in here and fast-tracking it through."
State Rep. Everett (R-PA), who introduced the language in the bill, told Pennsylvania's TribLive he had no idea whether someone from the oil and gas industry suggested to him that provision be included. It drew little attention or debate before the bill was enacted.
"I'm serious. I don't know who exactly proposed (that amendment). We had a lot of proposals going into the bill. Legislation is brought to us by staff. I send them ideas, and they put them into a form of legislation and come back. Where the idea came from, who proposed this ... section, I don't know who that individual was," Everett said.
While Pennsylvania struggles to regulate the drilling industry, local activists are finding success in organizing outside of Harrisburg.
In one of Pennsylvania's other major watersheds, the Delaware River basin, some are hailing the pull-out announced this week by two natural gas companies, Hess Corporation and Newfield Exploration Company, as a major victory for those looking to protect the Delaware watershed, which provides drinking water to 15 million people, including Philadelphia and half of New York City.
The two companies sent a letter informing to roughly 1,300 landowners that they were abandoning plans to drill their holdings in the Delaware river basin. The landowners were part of the Northern Wayne Property Owners Alliance, and had negotiated their lease collectively.
"The lease is gone. It is no longer in force. They are releasing the properties," the group's spokesman, Peter Wynne, said Monday.
That particular region has drawn international attention, in part because it's home to film-maker Josh Fox, director of Gasland I and Gasland II, who first began investigating fracking after and oil and gas company sent him an offer to lease his family's land.
"This proves that people, organized and passionate can actually win sometimes," Fox said. "In the grand scheme of things, this is a small victory, but it's huge. It's the Upper Delaware."
Economics played a major role in the lease cancellations. Newfield Exploration said the price of gas had dropped too low to justify holding leases in the area. The Delaware River Basin, unlike most of Pennyslvania, has been under a shale drilling moratorium since the Marcellus rush began.
Visit EcoWatch's FRACKING page for more related news on this topic.
——–

By Andy Rowell
Barely a day now goes by without further evidence of the harm of fracking.
Last Thursday scientists reported new compelling evidence of the link between fracking and earthquakes. The scientists argue that, due to fracking, U.S. earthquakes have become approximately five times more common in recent years.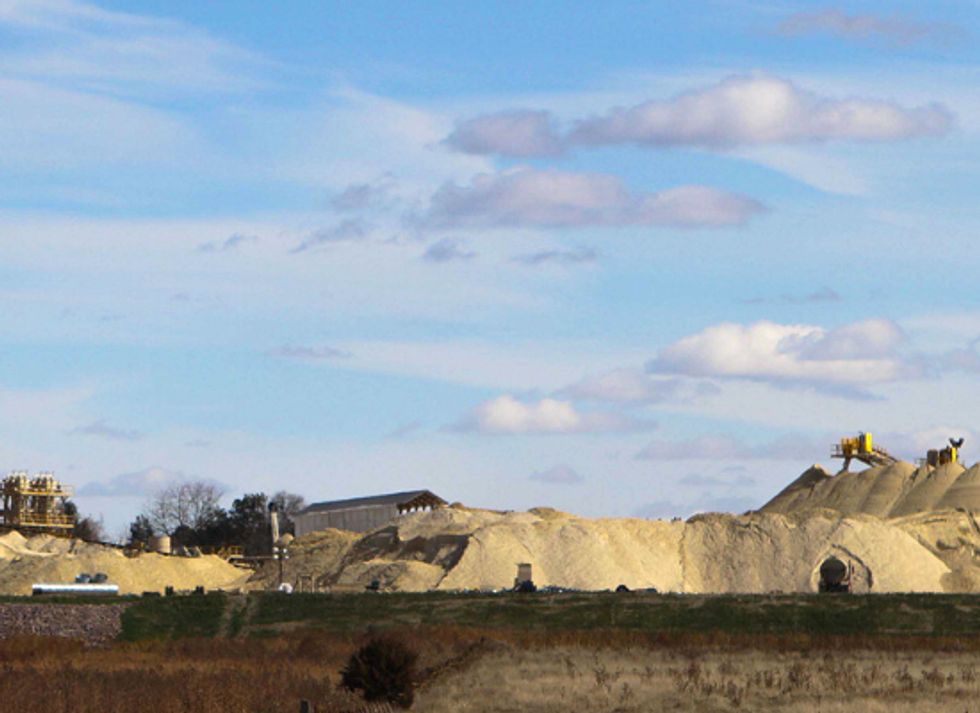 The journal Science reported that there have been more than 300 earthquakes above magnitude three on the Richter scale, which are therefore deemed significant, from 2010 to 2012. This equates to 100 a year—which is compared with a past average of 21 per year.
It appears that the huge volumes of wastewater are putting pressure on fault lines deep underground, causing the earth tremors. Inadequate monitoring of fracking's dark downside has once again been highlighted and scientists argue that much greater seismic monitoring is needed.
But fracking is also having other ecological effects too. It has also transpired that millions of gallons of water used in fracking, which are contaminated with toxic chemicals, are currently being used for consumption by wildlife and livestock.
This is happening with the formal approval from the U.S. Environmental Protection Agency (EPA), despite this being against its own regulations.
"Under the less than watchful eye of the EPA, fracking flow-back is dumped into rivers, lakes and reservoirs," argues Public Employees for Environmental Responsibility, Executive Director, Jeff Ruch. Ruch argues the EPA is ignoring its own rules, requiring that it list "the type and quantity of wastes, fluids or pollutants which are proposed to be or are being treated, stored, disposed of, injected, emitted or discharged."
Finally an article in Dallas News explores another, relatively ignored, effect of fracking: the boom in sand mining.
We often think of fracking as mainly using chemicals and water, but the process consumes vast amounts of sand that is injected down wells, helping to fracture the rocks. In turn, this sand mining also consumes a vast amount of water, pitting the sand mining industry versus local communities too.
As the Dallas News reports: "From the northern banks of the Mississippi to the Red River, the flow of sand to drilling operations has created what geologists say amounts to a mining boom."
The paper reports that, although the exact nature of the industry is unknown, the U.S. Geological Survey released a study earlier this year that estimated that nearly 50 million tons of sand were mined in 2011. This is a whopping increase of over 60 percent from two years earlier and still is probably an underestimate.
"I think you'd have to go back to the industrial revolution to see that sort of change," Mark Ellis, president of the National Industrial Sand Association tells the paper. "Horizontal drilling and shale gas has completely changed the landscape."
You cannot mine that amount of sands without meeting some resistance. In North Texas, residents near the Red River have been pressing state environmental regulators to block EOG's Resources, a Houston oil and gas driller, from sand mining a thousand acres near the Oklahoma border.
EOG intends to use some 3,700 gallons a minute once the mine is in operation. Critics say the mine will compete with local landowners for the water and, if the mine goes ahead, it could dry up local wells.
In one of the comments below the Dallas News article, a commentator adds:
Silica turns out to be a whole new air pollution problem tied to fracking. In June of 2012, an arm of the Center for Disease Control issued a 'Hazard Alert' concerning exposure to Silica pollution at fracking drilling sites. This came after nationwide tests by the National Institute for Occupational Safety and Health at 11 of 10 well pads showed alarmingly high Silica levels in the air. This was for worker exposure. No one has done any monitoring or studies concerning off-site effect of silica pollution.
The commentator finishes by saying: this is "one more example of the little-known, and under-regulated, harmful impacts of fracking that begin adding up."
Indeed they are adding up, day by day.
Visit EcoWatch's FRACKING page for more related news on this topic.
——–

A week after millions of Americans celebrated our nation's independence, Pennsylvanians held "Independence from Fracking" rallies outside key state senator's offices, including Sen. Browne.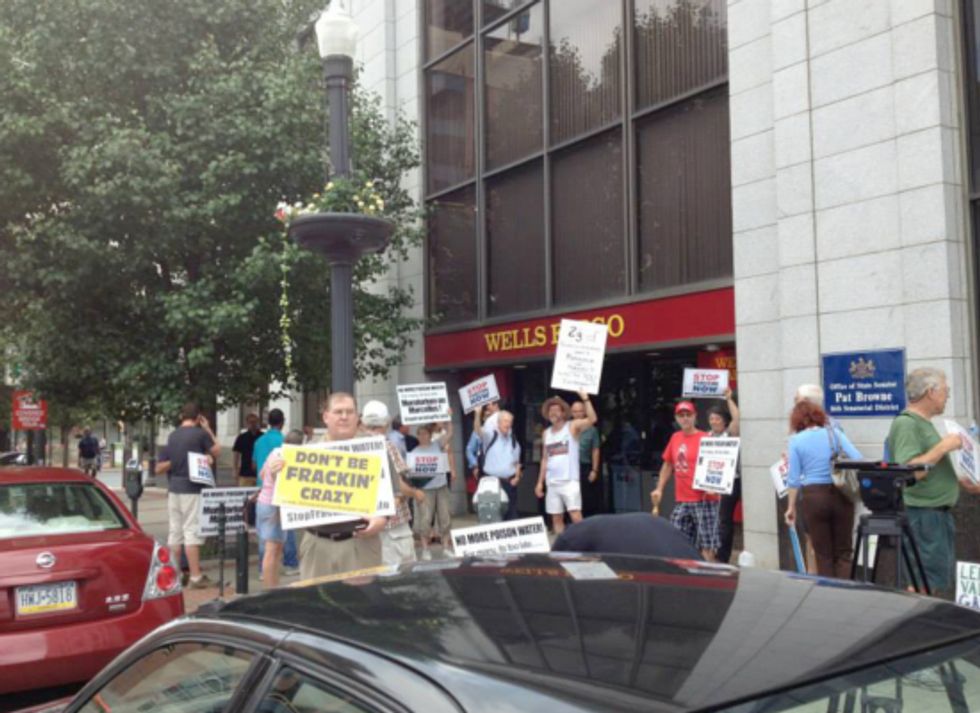 The rallies, coordinated by local citizens and statewide environmental groups, highlighted key legislators' continued opposition to a moratorium on fracking, despite growing support in the Commonwealth. There were rallies outside the offices of Pennsylvania Sen. Baker (R-Wayne), Sen. Browne (R-Lehigh), Sen. Farnese (D-Philadelphia), Sen. Kasunic (D-Fayette), Sen. McIlhinney (R-Bucks), Sen. Scarnati (R-Jefferson & Tioga), Sen. Ward (R-Westmoreland) and Sen. White (R-Westmoreland).
Organizers also held a thank you rally outside Sen. Dinniman's (D-Chester) office, who signed on in support the day before the "Independence from Fracking" day of action.
"Every day that passes, more Pennsylvanians are impacted as fracking continues to ravage our beautiful state," said Adam Garber, PennEnvironment field director. "It's time for our senators to stand up and put people's health first by supporting a moratorium, instead of allowing gas drilling companies to profit at our expense."
"People around the state are putting their state senators on notice today, standing together with one clear message: stop fracking in Pennsylvania." Said Sam Bernhardt, Pennsylvania organizer for Food & Water Watch. "We're thankful for those elected officials who stand with us. Those who continue to allow our state to be exploited by the gas industry should expect only more days like today."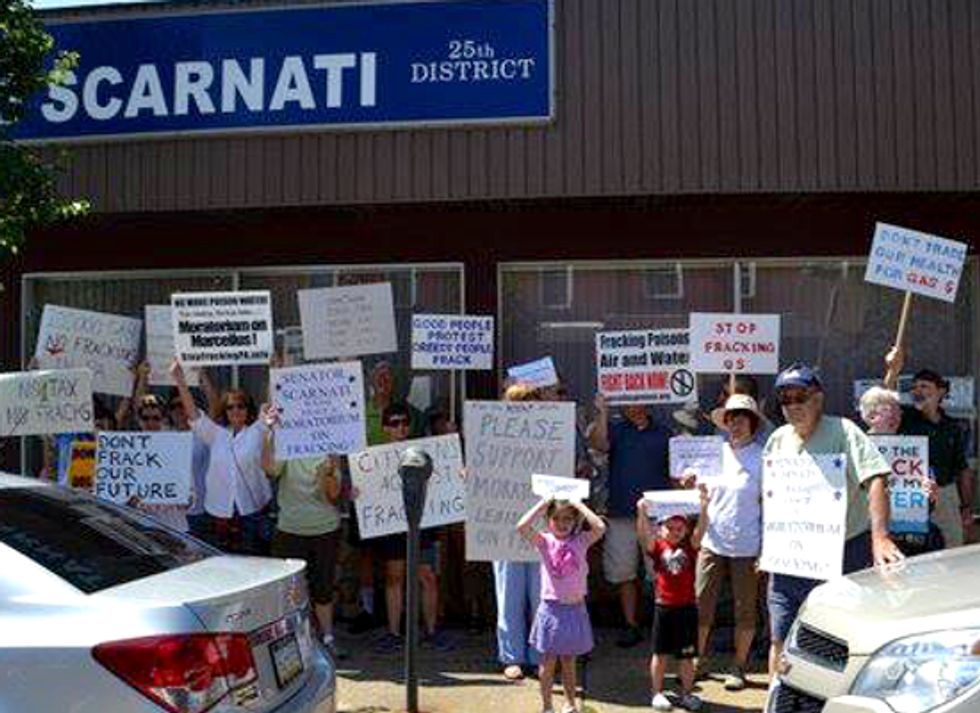 The rallies are part of a growing momentum for a moratorium in Pennsylvania. After a coalition of environmental and health groups submitted 100,000 signatures for a moratorium in April, Sen. Ferlo (D- Allegheny) introduced legislation that will put our health and environment first by halting fracking permits in the Commonwealth.
"I'm encouraged by the leadership of my colleagues in co-sponsoring my legislation to enact a temporary moratorium on fracking," said Sen. Ferlo. "These six senators understand the consequences of gas drilling, and have taken a stand to protect the Commonwealth's air, land and water despite the pressure from the wealthy oil and gas industry."
"Pennsylvania's approach to fracking is 'permit first' and 'figure the rest out later'," said Melissa Troutman, Mountain Watershed Association outreach coordinator. "From water withdrawals to waste disposal, fracking in Pennsylvania is nothing more than an experiment. That is neither good policy nor planning for the Commonwealth's future."
The growing fracking disaster has now persuaded a majority of Pennsylvanians to support a moratorium, demonstrated by a recent Muhlenberg poll. And, in recent weeks, more senators have signed onto Sen. Ferlo's legislation, including Sen. Boscola (D-Northampton), Sen. Dinniman,  Sen. Kitchens (D-Philadelphia), Sen. Leach (D-Montgomery), Sen. Schwank (D-Berks) and Sen. Washington (D-Montgomery, Phildelphia). And, the Pennsylvania State Democratic Committee passed a resolution in support of a moratorium.
"Until there are greater assurances that our citizens, environment and communities are adequately protected and have reasonable legal recourse, there should be a moratorium on gas drilling in Pennsylvania," said Sen. Boscola.
"It is important that we take this action in the interest of clearly understanding the health and environmental impacts of fracking in the Commonwealth," Sen. Dinniman said.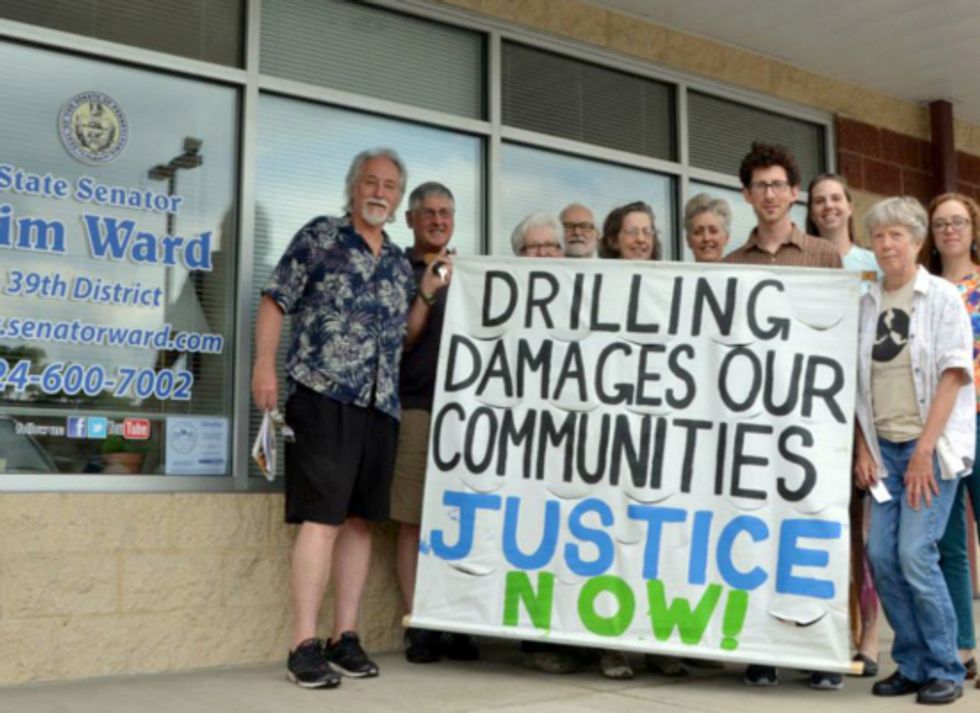 "Since there is still plenty of gas in capped wells and the pipeline infrastructure is still in the planning and approval stages, now is an excellent moment to have a moratorium for a set period of time so we can better understand the impact of natural gas pipelines on my Chester and Montgomery County district," Dinniman concluded.
"The people of Pennsylvania have spoken—nearly two-thirds support a moratorium on fracking, according to recent polling. The Pennsylvania Democratic party voted to support a moratorium," said Karen Feridun of Berks Gas Truth. "Now it's up to our elected officials to decide who they're representing—the people or the natural gas industry."
The rush to drill has had devastating effects on Pennsylvania's environment and public health and includes a track record of thousands of violations of cornerstone environmental laws and protections. In fact, the gas drilling industries have committed more than 4,363 environmental violations in recent years.
"The scope, scale and intensity of destructive accidents and widespread contamination has escalated even while new science has shown that shale gas development harms groundwater and climate," said Iris Marie Bloom, executive director of Protecting Our Waters. "It's time for our leaders to follow the majority of Pennsylvanians in calling for a moratorium to protect our health!"
"Senator Pat Browne and all other PA Senators need to think long and hard about aligning themselves with the will of 59 percent of Pennsylvania citizens who support a moratorium," said Julie Edgar of Lehigh Valley Gas Truth. "Our  need to stop this slow-motion train-wreck of gas industry domination of PA on hold before it is too late—it should be non-partisan, and non-negotiable."
There have also been dozens of cases where people's health has suffered. In Dimock, PA, drilling operations contaminated the drinking water wells of several households for roughly three years, perhaps more. And, recently released court documents show that gas drillers settled with a Washington County family who endured health problems.
The event's organizers pledge to continue pushing these senators, and many more, to support a moratorium in coming months with rallies, letter-writing campaigns, new reports about the impacts of fracking, and more.
"As a founding member of Americans Against Fracking and with nearly 3,000 members in Pennsylvania, Democracy for America is committed to the fight against drilling in PA because public health and the environment are more important than corporate profits," said Ljubica Sarafov, mid-atlantic field organizer for Democracy for America.
Visit EcoWatch's FRACKING page for more related news on this topic.
——–

Today, members of the European Parliament's Environment Committee overwhelmingly—51 in favor, 18 against—endorsed a proposal to impose a mandatory Environmental Impact Assessment (EIA) for all shale gas drilling activities in the European Union (EU). This is in line with the Parliament's resolution on the environmental impacts of shale gas, voted in November 2012, which called on the European Commission to include "projects including hydraulic fracturing in Annex I of the Environmental Impact Assessment Directive."¹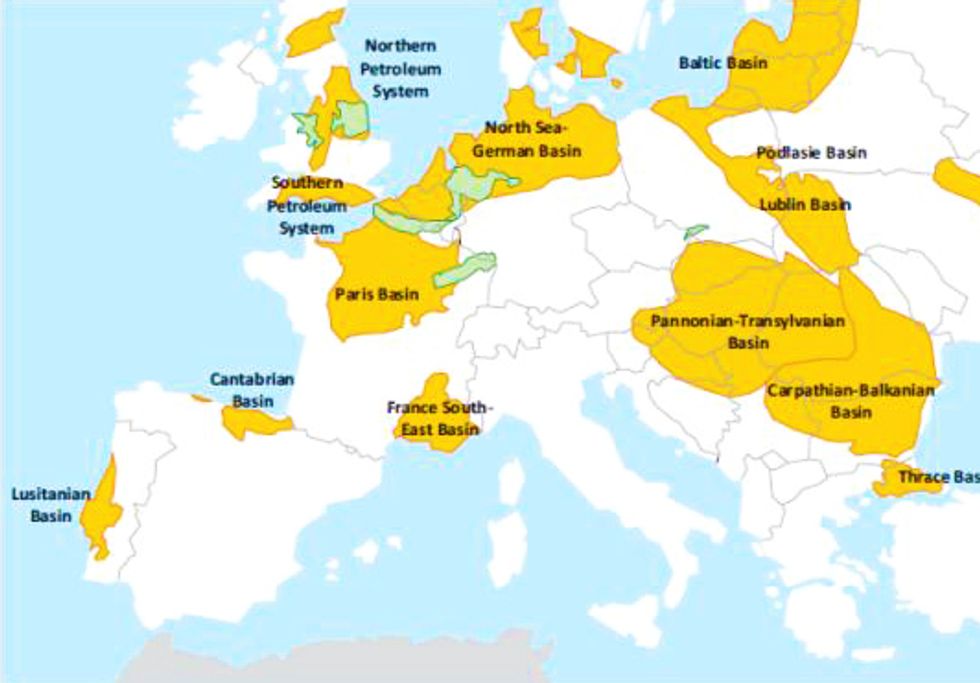 For Food & Water Europe, this is a major victory, as Members of the European Parliament (MEPs) showed a healthy dose of suspicion about the empty promises of the shale gas industry about its ability to guarantee so-called "safe fracking." Imposing a mandatory EIA for shale gas drilling is the start of adapting the EU regulatory framework to the ugly reality of unconventional hydrocarbons in the EU. This vote demonstrates a resolve among MEPs to avoid the negative impacts of an out-of-control boom in shale gas drilling in the U.S.
A mandatory EIA will provide local people and authorities with the necessary baseline data in areas with drilling, increase the preparedness among environmental agencies and local authorities and offer local communities an opportunity to be consulted early in the process. MEPs saw through the smokescreen of the numerous events to promote "sustainable fracking" in Brussels, organized by the fossil fuel industry and its allies.
"This vote to impose a mandatory EIA for all shale gas drilling was a litmus test for the resolve among MEPs to demand an adequate risk-management framework for shale gas activities in Europe," said Food & Water Europe policy officer Geert De Cock. "The majority in favor of this proposal should be a boost of confidence for Environment Commissioner Potocnick to bring forward stringent proposals for this risky industry."
The European Commission is scheduled to publish its proposals for a risk-management framework for unconventional hydrocarbon activities by the end of 2013, covering the wide range of risks associated with the practice of fracking. With today's vote, MEPs clearly signaled to the Commission that stringent rules on chemicals use, well integrity, waste management, air and methane emissions and liability will find strong support in the European Parliament.
¹European Parliament (November 2012) EP resolution of Nov. 21, 2012 on the environmental impacts of shale gas and shale oil extraction activities (2011/2308(INI)).
Visit EcoWatch's FRACKING page for more related news on this topic.
———
SHARE YOUR THOUGHTS BELOW: Do you think your elected officials would ever follow the lead of these MEPs?
———

The European Union's climate chief has become the latest political heavyweight to publicly support divestment from fossil fuels.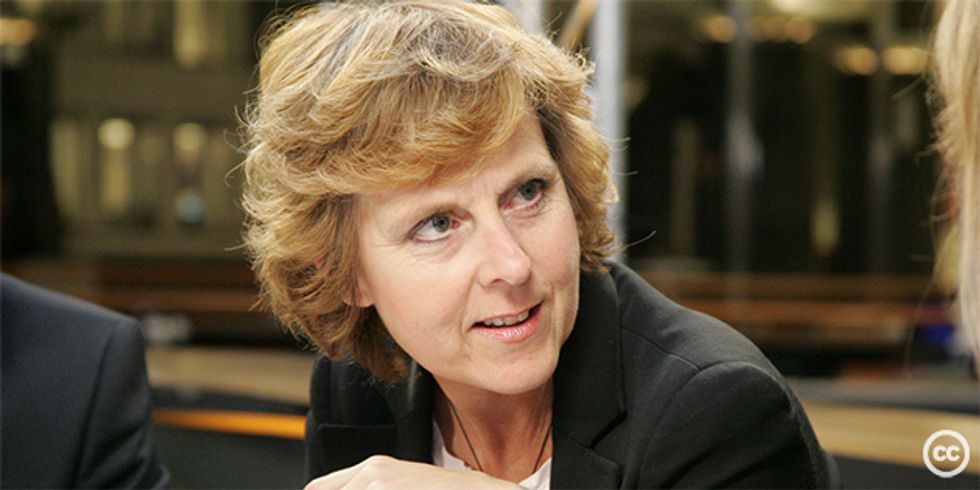 Connie Hedegaard has urged the European Investment Bank (EIB), the European Bank for Reconstruction and Development (EBRD), and the World Bank to take a lead role in eliminating public finance support for fossil fuels.
Although all three of the banks have policies aimed at encouraging lending to renewables and energy efficiency, in practice fossil fuel projects continue to benefit from their support.
Between 2007 and 2011, the EIB invested €15 billion in fossil fuel projects compared to €14.8 billion in renewables, while similarly around half of the EBRD's annual €6.7 billion of energy lending is still going to fossil fuels.
With a collective annual lending pot of €130 billion, Hedegaard said the banks must "lead by example by restricting conditions for greater public financing of coal, the most damaging fossil fuel, and by pressing for greater transparency in reporting on emissions."
The World Bank looks set to take its first step in this transition, as a leaked report last month announced the bank would stop lending to coal power projects, except in "rare circumstances" where there were no other options available.
Experts say that two-thirds of the planet's fossil fuel reserves must be left underground if disastrous levels of global warming are to be avoided.
By continuing to invest in ultimately unburnable fossil fuel assets these banks are contributing to a "carbon bubble" that poses a major risk to economic security.
Hedegaard joins other political figures and a growing chorus of people supporting the divestment movement, pushing the issue up the agenda.
Two weeks ago, President Obama used his climate change speech at Georgetown University to call on U.S. citizens to "convince those in power to reduce our carbon pollution. Push your own communities to adopt smarter practices. Invest. Divest."
Smart organizations are already shifting their money away from risky fossil fuel assets.
Last week, pension fund, Storebrand, pulled out of 19 fossil fuel companies to "reduce fossil fuel and CO2 exposure and ensure long-term stable returns" stating that such high carbon assets would likely become "worthless financially" in the future.
The bank, Rabobank also announced a blanket ban on loans to firms involved with oil sands and fracking for shale gas due to the financial and environmental risks associated with projects of this nature.
The United Church of Christ also became the latest notable organization to approve a fossil fuel divestment strategy in the U.S., becoming the country's first national and religious body to do so.
In the UK, the Church of England has also said it would consider divesting from fossil fuels, following a resolution passed by the diocese of Southwark—with the issue now passed onto the General Synod, the legislative body which governs the church.
The church has already reduced its exposure to fossil fuels by 62 percent since 2010, a significant shift in its £8 billion of assets, which has previously seen large investments in oil giants Shell and BP.
Following in the footsteps of giant institutions, local businesses and individuals are also starting to minimize their exposure to the carbon bubble and harness the potential of clean energy investments, showing they are ready to invest in renewables.
Visit EcoWatch's RENEWABLES page for more related news on this topic.
——–
SHARE YOUR THOUGHTS BELOW: What are you doing to contribute to the growing divestment movement?
——–

By Sharon Kelly
America is in the midst of the biggest onshore oil and gas rush in recent history, with excitement spreading across the U.S. Oil and gas companies have cashed in on this frenzied excitement by courting huge investments domestically and abroad.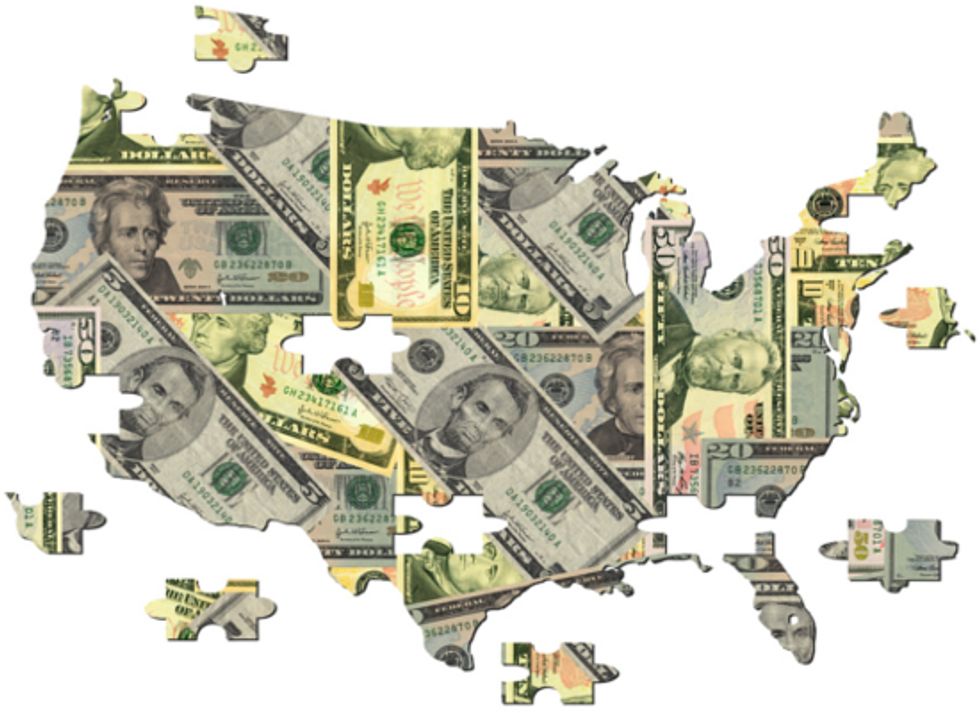 But a growing chorus of independent analysts and law enforcement agencies have their doubts and have questioned whether shale drillers are over-hyping their financial prospects and overestimating how much oil or gas they can profitably pull from the ground. Just this week, one of America's biggest agricultural lenders, the Netherlands-based Rabobank, announced that it would no longer lend money to companies that invest in shale gas extraction (nor to farmers worldwide who lease their land to these drillers).
The way that oil and gas companies describe their prospects in their financial statements matters because investors—and not just the uber-wealthy ones but also pension funds, university endowments, average folks with retirement savings or 401(k)s—can lose catastrophically if the information they rely on is faulty.
This matters to taxpayers too, since lawmakers need accurate information when making long-term decisions about the industry subsidies and tax breaks granted to encourage the drilling boom. The shale fracking rush could prove to be an expensive bust for taxpayers if oil and gas wells do not perform as promised.
Concern that companies have been over-exuberant about shale led Wall Street's two top cops, the Securities and Exchange Commission (SEC) and the New York Attorney General to investigate whether oil and gas companies have been "overbooking" their reserves (translation: inflating their appeal by promising investors more fossil fuels than their wells can actually deliver).
One company in particular—Chesapeake Energy—has attracted the most attention from these investigators.
In the drilling industry, Chesapeake is known for being more aggressive than many of its competitors in its "land grab" strategies, its use of book-keeping methods to obscure costs, even in its legal and public relations posture toward local communities that try to block drilling.
Last year, Chesapeake came under renewed heavy scrutiny after then-CEO Aubrey McClendon's $1.1 billion in personal loans, an undisclosed private hedge fund and extensive perks were revealed by an award-winning Reuters investigation.
Little has leaked out about the SEC and New York Attorney General probes. One company, Goodrich Energy, announced in September 2012 that the SEC probe into their reserves was over, but no other companies made similar announcements.
Recently, with little fanfare, Chesapeake announced a move that underscores the importance of these concerns and also offers another example of the revolving door that has characterized relations between the oil and gas industry and the regulatory agencies that are supposed to police them.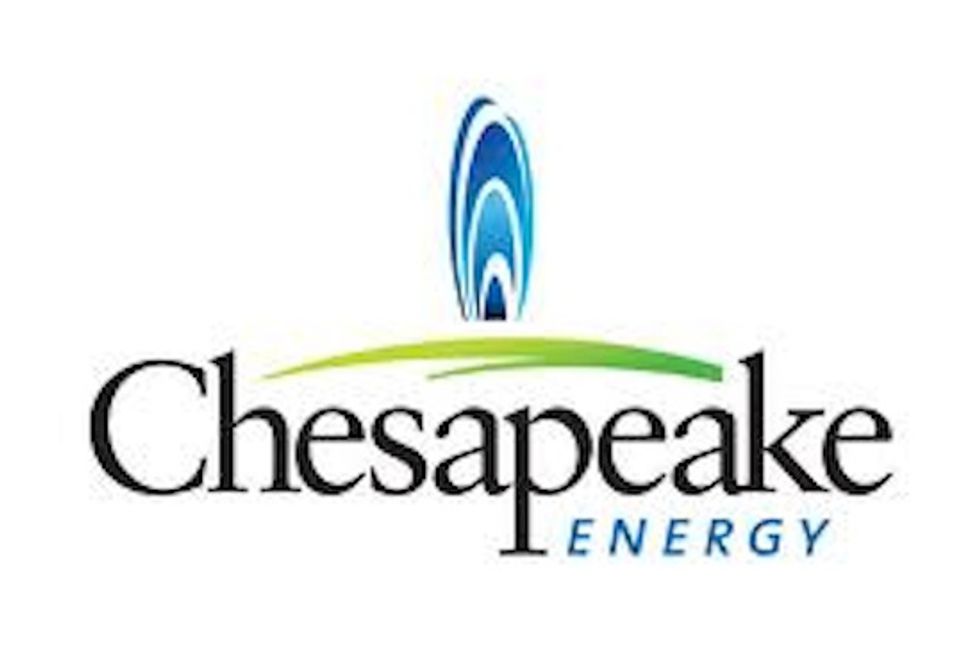 The SEC's Revolving Door Problem
On June 17, Chesapeake Energy announced it had appointed a new chief Compliance Officer, Patrick K. Craine. Craine is an accomplished attorney—he was a partner at a major law firm, Bracewell & Guiliani, where he specialized in white collar criminal defense, regulatory enforcement and internal investigations.
But hands down his greatest value to Chesapeake will be the role Craine played at the SEC. A former prosecutor, Craine handled many oil and gas cases at the SEC and, according to his law firm bio page, "prosecuted the largest oil and gas reserves restatement case in history."
Companies that hire former regulators often dismiss concerns about revolving doors, arguing that no one knows the rules better than the people who used to administer them. Their specialized knowledge and experience in interpreting rules is invaluable to companies who want to follow the rules in good faith and navigate complicated regulations, they say.
But since the financial collapse in 2008, watchdogs have honed in on the problems that can result when former prosecutor go to work for the industries they once investigated – especially at the SEC.
"Former employees of the Securities and Exchange Commission routinely help corporations try to influence S.E.C. rule-making, counter the agency's investigations of suspected wrongdoing, soften the blow of S.E.C. enforcement actions, block shareholder proposals and win exemptions from federal law," the Project on Government Oversight (POGO) wrote in a report released earlier this year.
In a companion report, POGO highlighted the ways that revolving doors can lead to a situation political scientists call "regulatory capture."
When the people who are supposed to police an industry are too cozy with the people representing that industry, they can pick up their world view. They can come to identify strongly with the people they are supposed to be overseeing, undermining their ability to take tough measures. And current regulators can unconsciously give former colleagues who now work for the industry greater deference or leeway because of their shared past.
That's why many federal agencies have ethics rules that attempt to guard against regulatory capture. But last year, the SEC's own Inspector General investigated how the SEC guards against conflicts of interest caused by revolving doors and concluded that the agency's ethics rules on these matters were riddled with loopholes.
And when it comes to policing the colossally wealthy and politically powerful oil and gas industry, the SEC is especially outgunned as its staff of enforcement specialists consists of little more than a handful of experts.
A Little-Noticed SEC Rule Change
In some ways, the SEC has helped create some of the very problems it is now investigating at Chesapeake and other drilling companies.
At the end of 2008, the SEC loosened rules that govern how oil and gas companies can calculate their reserves. The new rules from the SEC allowed more leeway in predicting how much oil and gas their wells, particularly unconventional oil and gas wells like shale or coal bed methane, could produce. This was a boon for drilling companies like Chesapeake in their effort to attract investment.
This little-noticed SEC rule change—one of the Bush Administration's last moves before leaving office—allowed companies license to more optimistically book unconventional oil and gas, including shale gas and shale oil.
The impact of this rule change on the shale gas industry was enormous and immediate.
"The final SEC rules have demonstrably created a situation where there is room for interpretations" that allow unconventional oil and gas companies to book larger reserves, a July 2012 Society of Petroleum Engineers paper by Ruud Weijemars concluded, adding that "a difference in reserves reporting 'culture' has emerged between U.S. independents—engaged in unconventional-gas developments—and the oil majors."
After the SEC changed its rules, a huge gulf emerged between the ways that these independents booked their reserves and how conventional oil and gas companies applied the rules.
"Digging deeper into company reports reveals some additional cause for concern about the certainty of economic production from shale gas reserves," Weijemars wrote in his peer-reviewed paper.
A company-by-company review led to a damning conclusion for the unconventional gas industry. Weijemars found that "throughout 2009, companies such as Petrohawk, Devon, Chesapeake and EOG could not produce gas with an operational profit. The 51 percent increase of 2009 proved reserves from U.S. shale producers therefore cannot be explained by economic fundamentals."
He said instead, that companies appeared to be making money through financial engineering and the use of creative financing. Forty percent of Chesapeake's 2009 operational income didn't come from selling gas, but instead came from derivative trading. (Weijemars is not alone in having doubts about Chesapeake's prospects—last year a report by ITG Investment Research calculated that Chesapeake could only deliver 70 percent of the oil and gas it was promising.)
"Today's reality is that nearly all North American shale-gas projects are losing money faster than can be generated from operational income," Weijermar and Joost van der Linden wrote in First Break, a journal that covers applied geophysics, petroleum geoscience and reservoir engineering, "which means losses must be compensated" using various financing techniques and selling off acreage.
The SEC is the federal agency that should be asking hard questions, uncovering information like this and making sure the numbers provided to investors add up. And indeed, Chesapeake has found itself under numerous inquiries that will keep former-SEC prosecutor Patrick Craine's hands full. But so far it's not clear how aggressively the SEC will police Chesapeake's reserve claims —or similar claims by the rest of the shale oil and gas industry—or whether any results will simply be buried.
Meanwhile, market analysts are increasingly finding red flags in the industry's publicly-disclosed data. These concerns have even drawn the attention of Congress.
 
"Shale wells deplete alarmingly," testified energy analyst Deborah Rogers in May before the Senate Committee on Energy and Natural Resources. Rogers, who was recently appointed an adviser to the U.S. Department of the Interior's Extractive Industries Transparency Initiative which is looking into some of these issues, described a pattern where companies like Chesapeake need to drill more wells just to keep gas flowing out and cash flowing in.
She also explained why this pattern is not just financially worrisome.
"The collateral damage in the form of air toxics, ground water depletion, encroachment, road damages and potential aquifer ruination in the United States could be immense," she said, "and will only continue to rise as more and more wells need to be drilled."
Visit EcoWatch's FRACKING page for more related news on this topic.
——–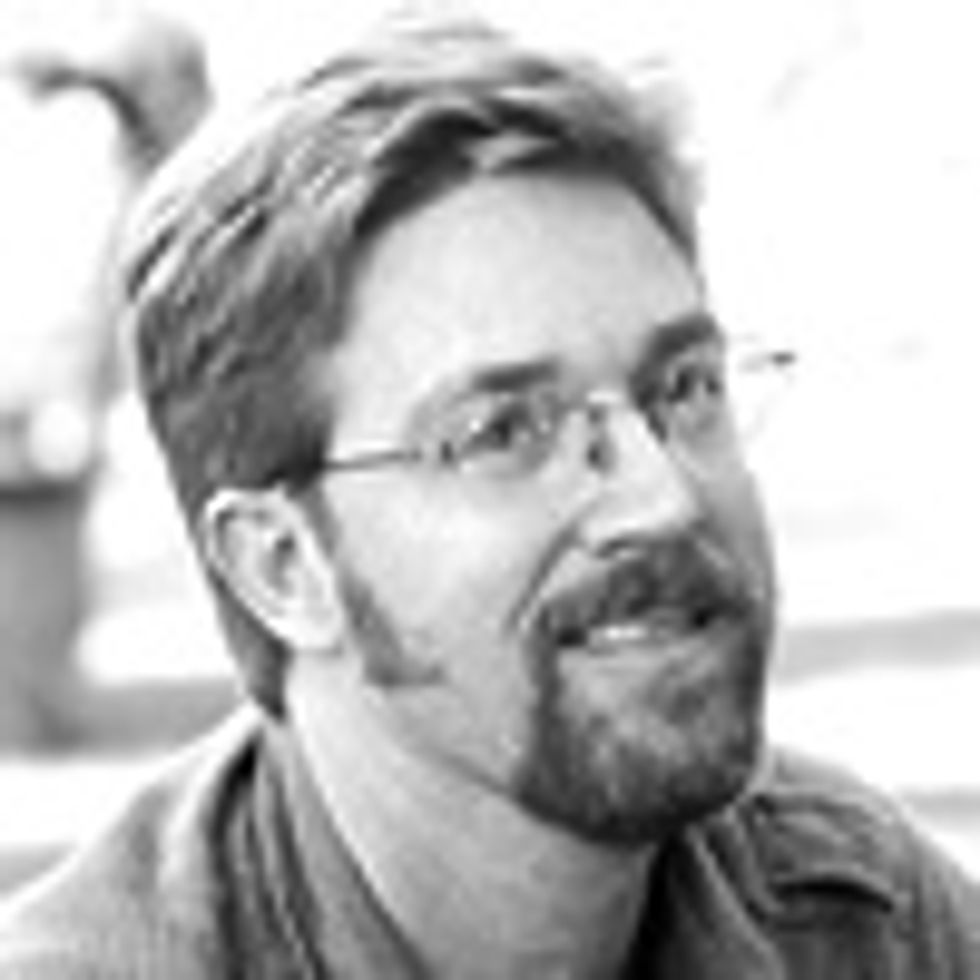 The fracking rush in the heartland may have been unleashed by ill-conceived regulatory measures last month, but frontline organizations and citizen groups in southern Illinois are not throwing in the towel—or even taking vacations this summer.
Welcome to Fracking Independence Days.
One of the most effective and outspoken citizen groups on the frontlines in the region, SAFE—Southern Illinoisans Against Fracturing Our Environment, has embarked on an ambitious plan to meet the frackers head on.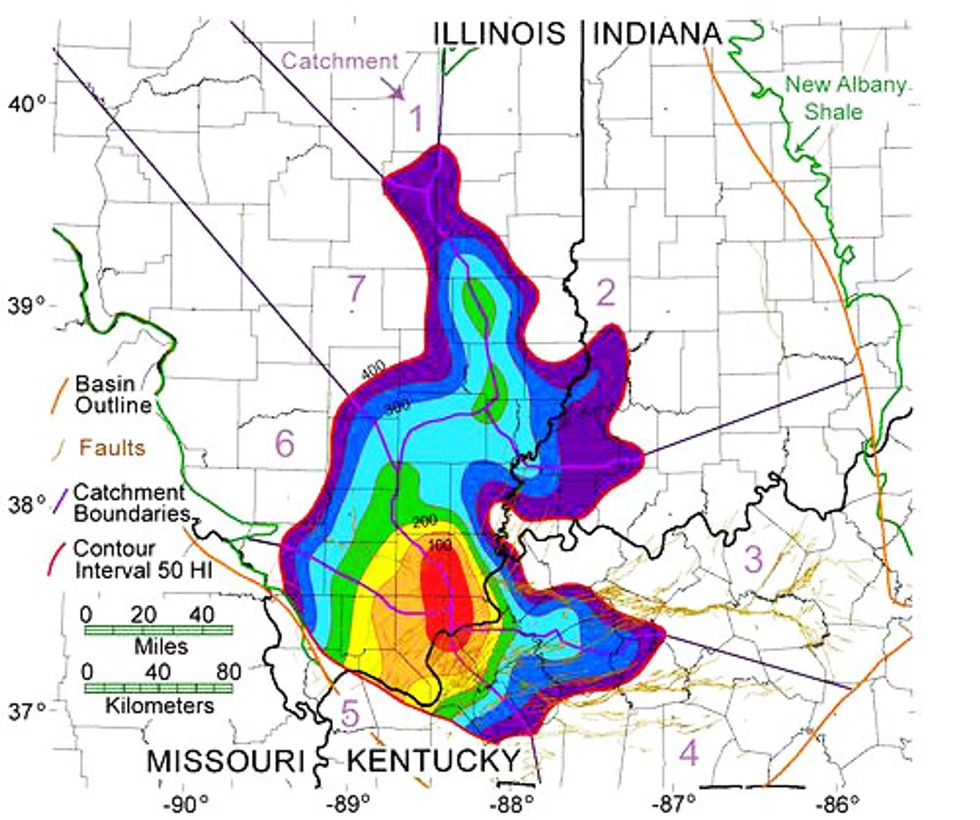 "SAFE has a major role in not only fighting for a healthy clean environment," SAFE activist Tabitha Smith Tripp told me, "but also that of re-educating people of their basic rights and how to interact with our government at even the local level."
SAFE plans to follow up its nearly two-year volunteer grassroots campaign and post-regulatory fracking manifesto, incorporate as a 501c3 non-profit and broaden its alliances with other extraction-impacted communities. SAFE plans to educate property owners and rural citizens on community rights as well as the short and long term risks of fracking. They plan to take the lead in monitoring water and air permits and activities, initiate legal challenges and defend its communities, Shawnee National Forests and watersheds from out-of-state fracking companies.
In essence: All that's necessary to ensure fracking-free independence in southern Illinois.
And to this end, with an unprecedented fracking rush on their doorsteps, effective frontline groups like SAFE needs support—funding, legal assistance and national backing. Now. This summer. This fall. Long-term.
Deeply rooted residents in southern Illinois are no strangers to the recklessness and devastation of extraction industries: absentee coal companies have left the region in ruin for decades, with more than 1,300 abandoned and toxic mines, destroyed farms, forests and hundreds of miles of now contaminated waterways; an oil rush in the 1940-50s left behind tens of thousands of abandoned toxic wells; and unchecked logging resulted in deforestation and erosion in the state's unique Shawnee National Forest.
Now caught up in the exploding coal exports market on the Mississippi River, Illinois is also slated to be targeted for expanding oil pipelines. Add a fracking boom to this explosive mix.
Enough, says SAFE.
The days of extraction mayhem are over. For the first time in decades, with generations of experience, southern Illinois has seen an emergence of citizen groups willing to take on fracking, big coal and reckless logging operations, and are now calling for a new movement to transition to clean energy manufacturing and development, community rights and water and forest protection.
I did an interview with Tabitha Smith Tripp, who has taken a leadership role in SAFE and frontline-based anti-fracking activism on a national level. Tripp also played a key role in the recent legislative battle in Illinois to pass a moratorium instead of flawed fracking regulations. Full transcription of the interview is below.
Jeff Biggers: Describe SAFE and its role in advocating for a frack-free Illinois, and its relationship with other citizens groups and environmental organizations.


Tabitha Smith Tripp: Our mission is to ban fracking in Southern Illinois, most urgently horizontal fracking, until such a time as any extraction method presents no risk to our land, air or water. To fulfill our needs for energy, employment and habitation, this implies the need to develop non-polluting technologies which do not threaten our soil, air or water.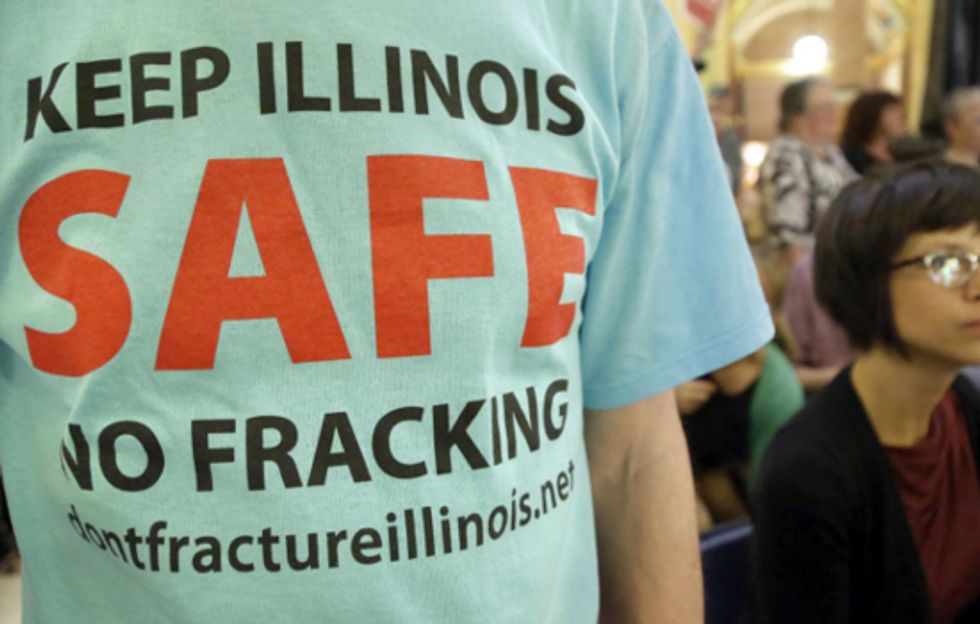 Our struggle is against a long-standing trend to intimidate and separate residents and communities from each other, which is antithetical to the basic concepts of democracy. If we are to succeed in protecting both our resources and our communities, we must re-establish and protect our human rights as granted by the Constitutions of the U.S. and the State of Illinois, and to fulfill our human duty to protect the soil, water, air, wildlife and human beings so that we might prosper, and that we might be good stewards of these resources.
 In our efforts to ban fracking, it is also our mission to awaken a community spirit among the people of Southern Illinois and create a popular movement that educates people to their rights and mobilizes them to act in the protection of these rights.
SAFE is (or will be soon) a not-for-profit 501c3 charitable organization, operating independently of other groups but in conjunction with those organizations or citizen groups who also choose to work boldly toward a ban on fracking.
Biggers: What are SAFE's main immediate needs, in terms of funding, office space, outreach and wider support?
Tripp: The movement is in a new phase. I can only presume to guess that a full time and a part time staffed position are needed, as well as retaining an attorney for many of the legal concerns raised on a daily basis.
All the things that go into an office...rent utilities, phone, copier, paper, print cartridges, tp etc. I would need more time to research the approximate figure for the basics
Travel expenses: it is three hours north to the thick of the New Albany shale—a tank of gas and 360 miles—if we have volunteer groups willing to do water testing of surface water we should be willing to compensate mileage at what cost I don't know, but if SAFE gets a 501c3 then what SAFE can't cover would then be a tax deduction.
Fracking poses a risk to the commons; air and water. Rural Illinois citizens need to have access to funds to have their water tested for specific chemicals that will provide the water well owner burden of proof evidence should there be contamination of a well. Currently the law does not test residents out side of a 1500' radius of the well bore and the well may extend up to a mile or more—it has been suggested that anyone within one kilometer of the well bore in any direction should have their well tested.
A basic pre-frack test is about $400. SAFE would like to have a fund to help families in need who would like testing but other wise can't afford it. If nothing else a Illinois tax credit when using a certified lab.
Air monitoring devices—radioactivity monitoring devices for alpha and gamma particle, water testing at a certified lab is minimum of $400 each. The needs of this movement are vast.
Biggers: Illinois is once again in the mist of an incredible coal mining rush—with a nearly 25 percent increase in the last year, and a five-fold increase in coal exports. Should frontline anti-fracking and coal mining groups be working together to deal with the extraction rush, and do you think groups like SAFE also need to be discussing "transition" efforts to clean energy production?
Tripp: The extraction industries are a perpetual boom bust cycle that has plagued Southern Illinois for as long as it has been inhabited by Europeans. Whether it was salt mining, logging, the various forms of coal removal, conventional oil drilling or hydro-carbon extraction via high volume high pressure horizontal fracturing, it perpetuates a mentality of victimization and enables rural communities to remain in a state of helplessness, instead of learning healthy means of sustainability via alternate means of commerce.
SAFE would gladly welcome conversations and the opportunity to create a regional planning group focused on transitional and long term strategies for maintaining a local economy based on sustainability and clean energy methods.
We plan for our children's education, we buy life insurance just in case—so they are "taken care of" in the event of an untimely death, but I find it ironic that when we talk to our elected officials about how to insure a healthy environment for our children's future, it falls on deaf ears. There is no contingency plan
I mentioned this idea to the Sierra Club: I wanted to be part of the 2050 club—the planning committee for the future, to anticipate 40 years down the road what our children can expect, to mitigate the pollution in terms of generation instead of elections—well you know what happened: I was told good luck getting members and laughed at.
If we could work together with other anti extraction groups in southern Illinois, what would that look like? At one point, we considered going to friends in coal mining to wage a bet—but that's like selling your soul to the devil.
Based on the latest research for coal in Illinois—it's costing taxpayers $20 million annually—what will the cumulative cost of fracking burden our children with? By taking back our communities from corporations and their subsequent greed, creating allies in similar pro-environmental groups, we could shift the tides, make use of shared resources and educate more rural areas to the propaganda and fallacies that spread virally in the words "jobs, economic boost, economic stimulation, etc."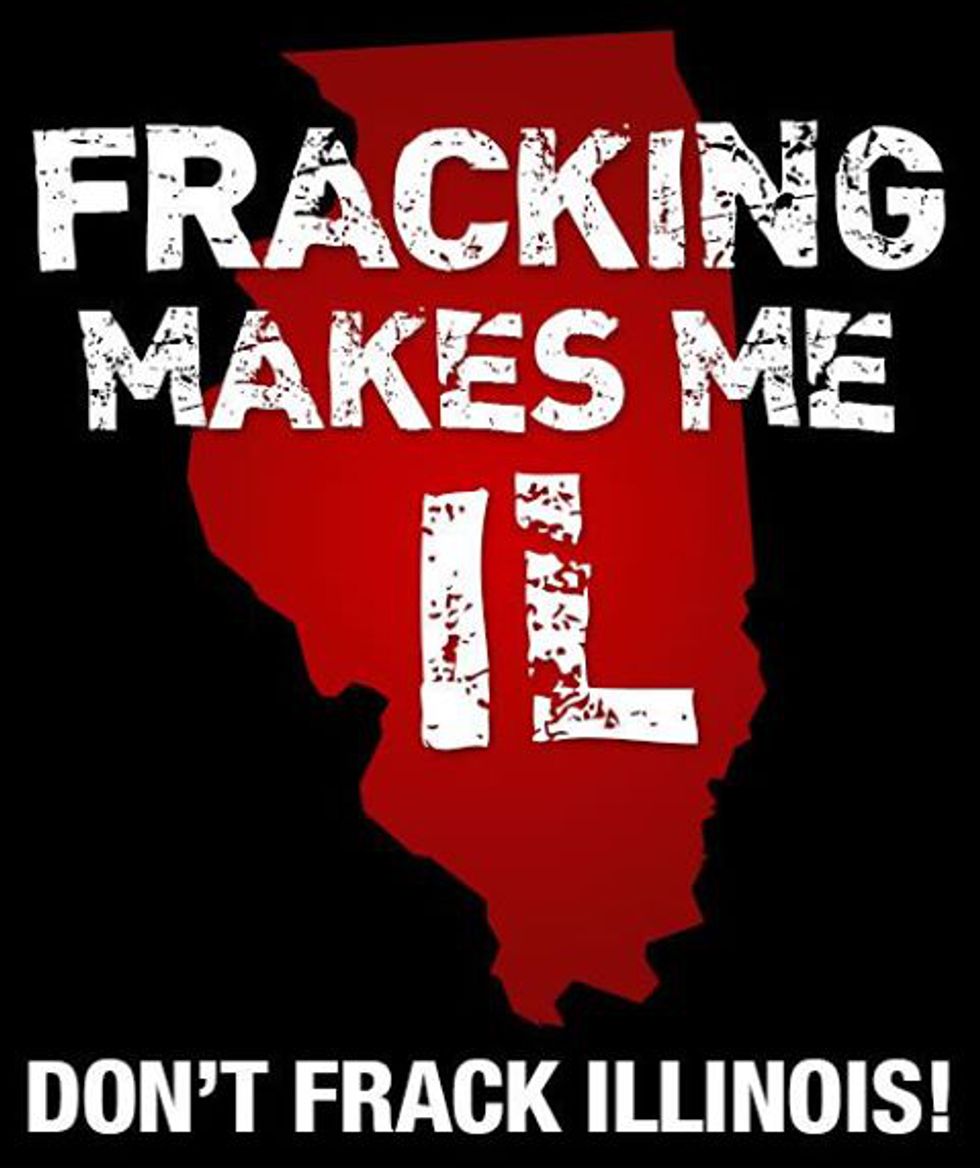 Biggers: With the new fracking regulatory rules on the books in Illinois, what do you see as the main priorities for SAFE and impacted residents in southern Illinois this summer and fall?
Tripp: SAFE's primary goal is to continue to educate property owners and rural citizens on the short and long term risk of fracking. We value our constitutional right, IL Article XI, to a healthy environment. SAFE will continue to support a moratorium and work towards a ban. Another of SAFE's primary goals is litigation at the state level based upon the right to a healthy environment. SAFE would also like to help counties and local governments put ordinances in place that protect the communities from the abuse of industry
As far as what the public can be doing to prepare and SAFE will be assisting with these as much as possible as a resource to IL residents:
—Every one should be taking before pictures, to document what your communities look like before frackers come to town. Document what the roads look like, the lack of light in the evening in rural settings. Make recordings of the sound of nature in communities and rural settings.
—Test for radioactivity—I laughed about this at first, but hey if there is no "before" you can't prove it after—and by after it may be ten years from now that all your neighbors end up with breast cancer and you can say well back then....and now there is "x" in the air or water.
—The water testing is a big one.
—Counties have the right to enact road restrictions, sound ordinances, light ordinances (fracking rigs operate day and night, trucks don't stop delivering fuel, water or chemicals) 
Surface owners need to be educated about their rights with regard to forced pooling and forced integration.
—Did I say water testing yet? I really can't express the importance of this enough. Another issue that I hadn't thought of was having the flow rate testing and documented. As we have seen in other states, like Colorado and even in place like Ohio and Pennsylvania, and most recently Michigan, water sources will be depleted, especially in times of drought. Measuring the flow rate of water wells will grant the home owner some validity when a well goes dry and a complaint is made to the state and consequentially in litigation. Once a property has been depleted of a water source the property value then decreases considerably making the home less salable and desirable.
—Get a current appraisal or updated tax assessing. It could be that the value of your real estate drops due to one of the side effects of fracking—dry well, pollution, air quality, road spill.....
—Blood testing for chemicals frequently found near fracking sites.
—Are local EMT and first responders equipped to handle an emergency, know who to call in the event of a spill—that 1-800 number should be plastered in every news paper throughout Southern Illinois.
—Citizens need to know how to object to a permit. SAFE at this time does not have the staff or the resources to fight each and every permit that comes through. We highly encourage everyone to participate in the process of public hearings as it is our only means of democracy at this point in the industry's game. They will need experts and current research, attorneys to work pro-bono or reduced rates...there is much work to be done, and SAFE needs staff and resources to be the most beneficial for this movement.
Biggers: Mainstream environmental groups based far from fracking operations are now raising funds to monitor fracking operations, and continue frack-free advocacy outreach. Do you think funders, such as foundations, need to put more money into grassroots and impacted frontline movements like SAFE?
Tripp: The extreme diversity of Illinois, whether it is the imbalance of population or the cultural differences, climate or varied topography from one end of the state to the other make outreach and education throughout the targeted fracking zone an issue. Rural organizing and movement building in the back roads of deep southern Illinois is a arduous and fiscally demanding task. Grassroots activist do what they do because most often it is their community at risk.
Covering the expenses of devoted volunteers for simple things like fuel and mileage for educating citizens about water testing or document printing, or sharing a question and answer meeting with concerned property owners, is something we can't offer currently, SAFE feels that may be one of the ways to boost volunteers help by covering legitimate expenses.
Attorney who have graciously and selflessly helped SAFE with legal documents and advice have "real" jobs. Legal advice and assistance is necessary for SAFE to continue to be effective and informative to citizens in southern Illinois, we would like to be able to retain an attorney. All these are "things" that big national organizations already have due to the multiple issue they are involved in.
SAFE is in the thick of it all, at the fore front of the fight, resources are sparse and the work load is heavy. Funding would help immensely.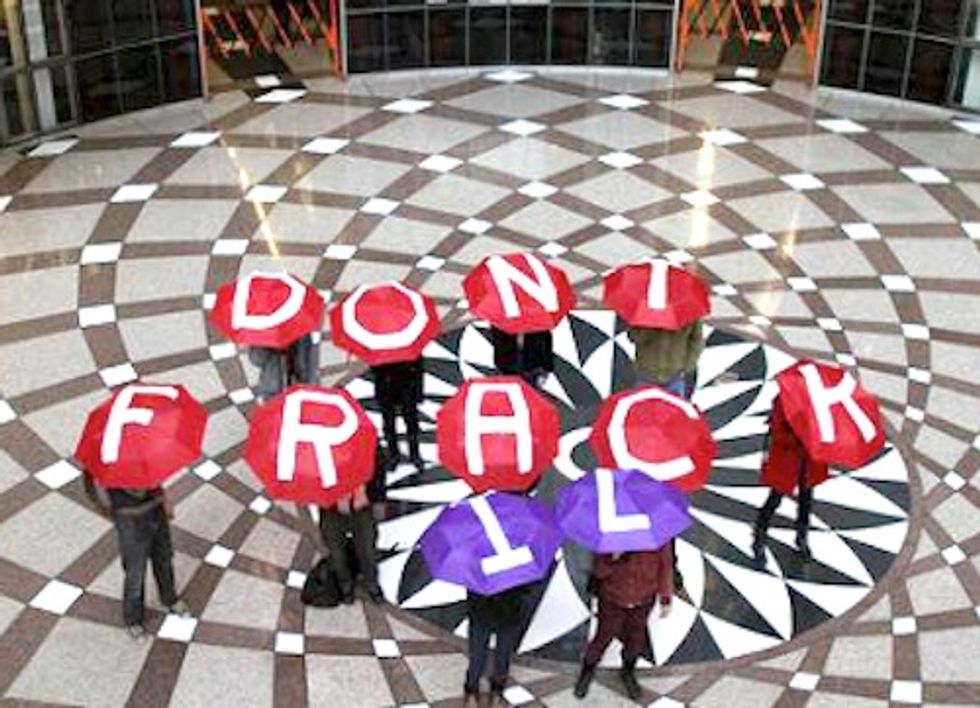 Biggers: Despite various concerns over loopholes and enforcement, the fracking regs recently passed in Illinois thanks to the support small cadre of non-impacted environmental groups based in Chicago, Springfield, and Urbana. Do you feel frontline citizen groups like SAFE have been left out of the larger fracking discussion in Springfield (and Washington, DC), and if so, what role should they play in the future?
Tripp: There are select few making decisions for a great many folks. It's happening in Illinois, it's happening in DC. This is no surprise. SAFE was left out, we had no representation from southern Illinois except for Rep. Bradley (D-IL) who was the sponsor of regulatory bill.
What role do grassroots groups play in the future of policy making? (My attitude is one of disgust and dismay.) In my news feeds on line, I see all kinds of grassroots efforts to initiate change in the system and the powers that be. I see protest and uprisings, I see indigenous groups holding back trains and tents in New York city parks, but I see a great majority of people who have been oppressed long enough and often enough that disempowerment has rooted itself like mustard grass here in the Prairie state. SAFE has a major role in not only fighting for a healthy clean environment, but also that of re-educating people of their basic rights and how to interact with our government at even the local level.
So many people, myself included, have never been to a county board meeting, sat in week after week, to press upon an issue dear to their heart.
Giving people the courage, the tools and the knowledge to impress upon elected officials that change is needed to insure a stable and sustainable future for the next generation is a positive role that SAFE and any other grassroots can model.
Biggers: How did you get involved with SAFE?
Tripp: A friend sent me a movie link about fracking, it was Gasland. I was in tears while I watched it, appalled and speechless. I thought "what are we doing to our children?" I have two young kids, we live on a fourth generation family farm with a well, and it's really good water. I had hoped that my kids would have a small lot next door and make themselves the fifth generation on the farm. But without clean water, there is no reason to stay.
I began to research the chemicals, the pollution, the waste disposal methods, the derailing of democracy in small communities where fracking had occurred, met people who had lost their water to vertical "conventional" fracking. This isn't an issue that was going away without a fight.
One of the most astonishing facts I learned was 85 percent of Illinois would be at severe to moderate risk for water shortages by the year 2050. This was a study commissioned by Natural Resources Defense Council, one of the environmental groups supporting the regulations. What is even worse is the numbers used in calculating these figures did not take into account the exorbitant amount of water permanently withdrawn from the hydrological cycle, nor did it take into account accelerated increases of atmospheric temperatures dues to increases methane emissions due to the fracking "boom."
How, in their right mind, could anyone one say that trading water, clean water, for fossil fuel and strong regulations is a good idea. Jobs wont mean anything if there is no water to drink. 
So I became involved with SAFE after the first public meeting. I will fight for what I love and what I believe in. Like most parents, you do anything and everything to protect your kids from harm.
Biggers: Do you consider SAFE to be the main frontline fracking organization in Illinois? 


Tripp: SAFE is one of the few organizations in the thick of the battle, we have active members spread across all of Southern Illinois and as far north as White county. We have been actively meeting since March of last year and have many devoted volunteers doing a massive amount of public service and education. It would be egotistical to think we are the only group fighting fracking over the 1,000's of miles in Southern Illinois, but we have made our presence known in Springfield as well as nationally.
We have recently heard through the grapevine that the group RACE and Friends of Bell Smith Springs are becoming active again as the threat of fracking looms over the Shawnee National Forest. SAFE welcomes our allies, local and statewide to join us here Southern Illinois in the fight to ban fracking in our rural communities.
SAFE, like all citizens groups on the frontlines, needs your help.
Visit EcoWatch's FRACKING page for more related news on this topic.
——–
HOW ARE YOU ASSISTING IN THE FIGHT AGAINST FRACKING?
According to Greenpeace research almost two-thirds of England has been earmarked for potential fracking, and local opposition, particularly in Conservative constituencies, is expected to be fierce. Local hostility in Balcombe, West Sussex is already delaying the fracking process, with the Campaign to Protect Rural England warning of a massive backlash if large areas of countryside are "transformed into industrial sites."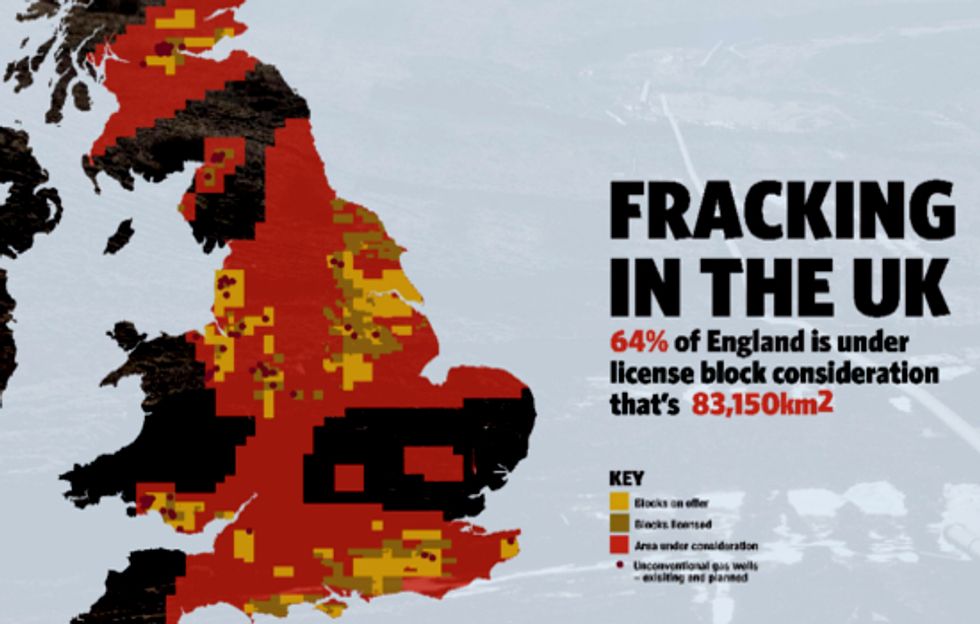 Commenting on today's announcement, Lawrence Carter, energy campaigner at Greenpeace, said:
The idea that shale gas is going to get the economy moving again is groundless. There's a huge difference between the amount of gas in the ground and how much fracking companies will be able to commercially extract. Even if they do manage to get some gas out, the fracking industry's own research reveals that production wouldn't reach meaningful levels until well into the next decade. If shale is the answer to Britain's economic malaise then the Chancellor is asking the wrong question.
Analysts from energy regulator Ofgem, Deutsche Bank and Energy UK are lining up to say that UK shale gas won't bring down bills for households or businesses. Even the company with the biggest stake in Lancashire shale gas, Cuadrilla, privately admits that it won't reduce energy prices. It's alarming that the Chancellor is staking his growth strategy on an industry that doesn't buy his hype.
Last month Greenpeace recorded a senior member of Cuadrilla, the company planning to drill in Lancashire, saying the impact of fracking on energy bills would be "basically insignificant." Speaking at a drop in session for concerned residents in Balcombe, West Sussex, the spokesman said the media had over-hyped some issues around fracking, but that others were very valid and that locals in Lancashire were right to be concerned about "well integrity" and increased traffic.
Polling in the Chancellor's Tatton constituency revealed a majority are opposed to fracking, with widespread concern about noise, disruption, falling house prices and earth tremors. Even more interestingly, 12 percent of those who voted Tory at the last election said they'd be less likely to do so again should fracking get the go ahead.
Responding to the government's proposed financial package to communities affected by fracking, Lawrence Carter said, "Whilst communities should receive benefits from local energy development, a cash package won't alleviate concerns about fracking's impact on water supply and house prices."
Visit EcoWatch's FRACKING page for more related news on this topic.
——–
Sign the petition today, telling President Obama to enact an immediate fracking moratorium:

By Kati Lawson, Pennsylvania Legislative Service
Clean water activists and representatives from Clean Water Action, Sierra Club, Delaware Riverkeeper Network and Berks Gas Truth gathered in the Capitol Wednesday to call on Gov. Corbett (R-PA) to speak publicly on the extent of water contamination from fracking for natural gas in Pennsylvania.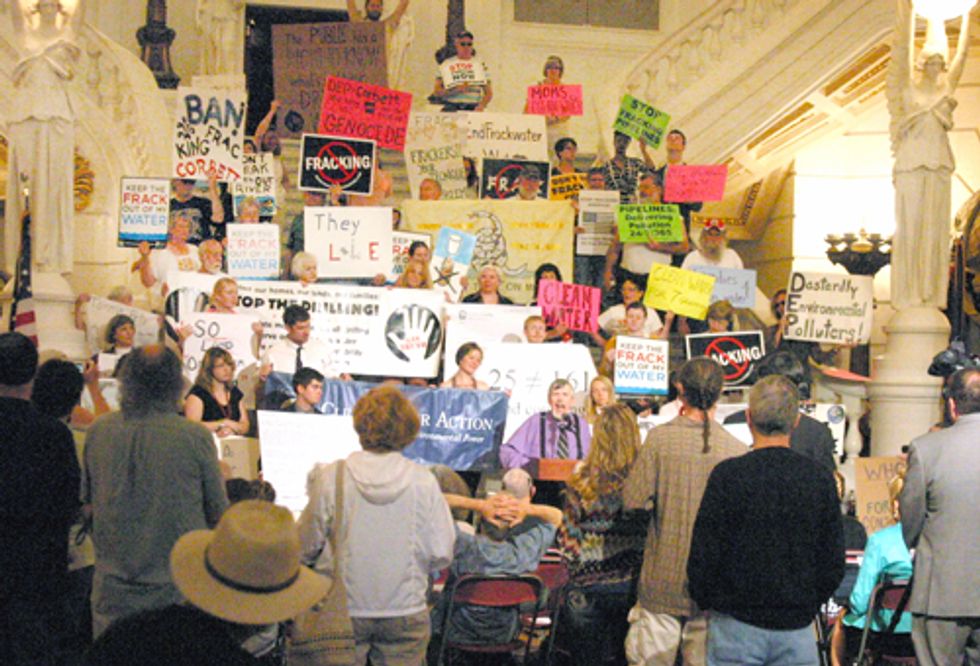 Pennsylvania State Director of Clean Water Action, Myron Arnowitt, said the rally was being held because many activists know that Pennsylvania will end up with dirty water if gas companies continue to work without regulations. He pointed to some of the large signs carried by attendees on the steps and explained that they received a letter from the Department of Environmental Protection (DEP) that told homeowners that their water had been contaminated due to gas drilling.
"It's time for Gov. Corbett to tell the public what happened and how many people have been affected by fracking," said Arnowitt. "We want a little truth from our government and some justice for the folks who have had their water contaminated by fracking."
Tracy Carluccio, deputy director at Delaware Riverkeeper Network, said that the rally was scheduled to make the government listen to the people saying "no" to drilling for natural gas in Pennsylvania. "We are as important as the gas development companies," said Carluccio. "Democracy is eroding and we will bring it back by showing the truth about gas drilling."
Carluccio said DEP has failed Pennsylvanians, and because Gov. Corbett is the man behind DEP, he too has failed his constituents. She said that DEP has not been transparent about drilling incidents and does not even have a database of the water affected by natural gas drilling.
"This administration is working for the gas drillers and developers, not for the people," stated Carluccio. "We demand that the truth come out and we want a DEP that cares and works for the people."
Karen Feridun, founder of Berks Gas Truth, said that all of Pennsylvania is in danger because of fracking, not just the areas of the state that host drilling wells. She explained that a compressor station 100 miles away from a Berks County Residence was affected during Hurricane Sandy and sent tons of gas and compounds into the air. Feridun said that people in the area who smelled gas tried to contact the gas company, the media and DEP with no success.
Feridun said that it took her personally contacting DEP representatives to get any answers about the compressor station incident. "Nothing has been done to the company who caused the leak and this kind of thing happens all the time," said Feridun. "It's almost guaranteed that when these companies violate the rules that nothing will happen; the recidivism rate is ridiculous."
Feridun stated that she knows many wonderful hardworking people who would love to do their jobs in the DEP, but as long as Gov. Corbett is in charge the state is stuck with a dangerous industry in command. "There are lots of things in life that are more important than money," said Feridun. "Our environment, health, safety and community are more important than money."
Craig Stevens, a Susquehanna County resident affected by gas drilling, said that his message to the naysayers is to go see the destruction caused by fracking firsthand. He stated that DEP has been claiming that there is no problem, then he held up hundreds of determination letters from DEP released through Right-to-Know requests.
"This isn't about fracking the ground for gas," said Stevens. "This is about fracturing a community."
Stevens said that he and other activists have offered the dirty drinking water of wells considered "safe" by DEP standards to DEP officials who refuse to drink. "There might be money in the ground for this, but I need water more than I need gas," proffered Stevens.
Ray Kemble, a resident of Dimock, PA, brought with him a jug of his well water, which was a medium brown color. "The DEP and EPA [Environmental Protection Agency] came to my house and said there was nothing wrong with my water at first," said Kemble. "Then a few months later I got a letter than said my well water is undrinkable."
Kemble explained that he used to work within the natural gas industry, but now that he is a whistleblower he no longer has a job.
Nathan Sooy, Harrisburg director of Clean Water Action, called Harrisburg the "Capital of Un-Reality." He demanded that Gov. Corbett direct DEP to protect the environment of Pennsylvania by implementing strong policies and practices, help all of the families whose water is impacted by natural gas drilling, and appoint a DEP Secretary who has experience in environmental protection.
Sooy said that a recent poll showed that almost two-thirds of Pennsylvanians are in favor of a full moratorium on drilling. He said that Gov. Corbett has accepted $1.8 million in contributions from the oil and gas industry since 2004 and called for Pennsylvanians to make the change in the Commonwealth through grassroots efforts.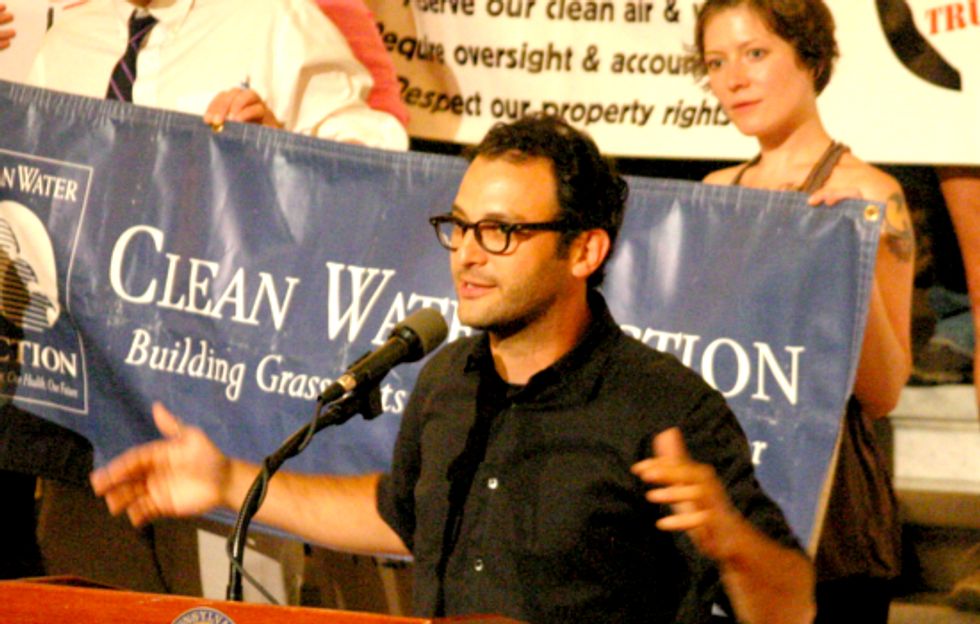 Filmmaker Josh Fox, creator of the movie Gasland, called Harrisburg the biggest fracking site in the Commonwealth. He said that the past three governors have accepted funds from natural gas drillers, but that Act 13 is the greatest affront to Pennsylvania's environment.
"Corbett sponsored and signed Act 13 which [sought] to overturn local and municipal bans because of Pennsylvania oil and gas laws," said Fox. "Another law above Pennsylvania oil and gas law, which is the Constitution of Pennsylvania, guarantees Pennsylvanians our rights to clean air and water."
Fox said that Act 13 also steps in between doctors and patients. He explained that if doctors think that their patient is suffering of a drilling-related illness they have to sign non-disclosure agreements.
"In New York, the government did environmental studies and then kept the natural gas industry out of the state because they had the democratic opportunity to do that," said Fox.
He said that the democracy of every Pennsylvanian is in jeopardy because of the gas industry's stranglehold on the elected government. Fox further explained that studies show that after thirty years, 50 percent of gas wells will leak in Pennsylvania. "With the projected 180,000 gas wells that are supposed to be built in Pennsylvania, there could be 90,000 leaky gas wells across Pennsylvania," said Fox. "There is a clear possibility of contaminating the entire state of Pennsylvania."
Fox said that Pennsylvanians have several reasons to be hopeful. "Nearly two-thirds of Pennsylvanians want a moratorium and Nate Silver said that Gov. Corbett is the most endangered governor in the United States of America," stated Fox. He said it is important to share information from neighbor to neighbor in order to vote Gov. Corbett out of office in 2014 and make sure the Democrat running for governor embraces a full moratorium on gas drilling.
Visit EcoWatch's FRACKING page for more related news on this topic.
——–

Sign the petition today, telling President Obama to enact an immediate fracking moratorium:

Since shale gas drilling began in Pennsylvania a decade ago, the PA Democratic Party has sought to tax and regulate drilling. That all changed on June 15 when the PA State Democratic Committee voted 115—81 to support a resolution calling for a moratorium on fracking.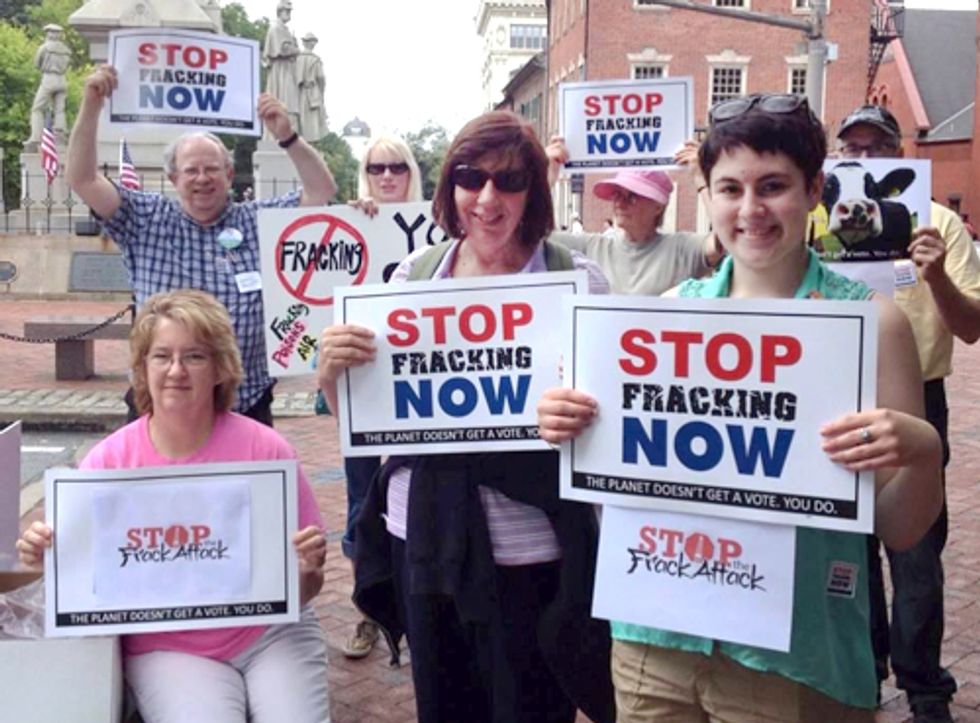 The resolution, drafted by Susan Lyons, a member of the Monroe County delegation, calls for a moratorium until fracking can be proven safe. A version of the resolution offered at the committee's last meeting was blocked from making it to the floor for a vote, so Berks Gas Truth, a grassroots community group, organized an action with co-sponsors Clean Water Action, Food & Water Watch, Gas Drilling Awareness Coalition, Lehigh Valley Gas Truth, Peach Bottom Concerned Citizens Group, Protecting Our Waters, Shale Justice and the United Sludge-Free Alliance to move the resolution forward.
"We really wanted the full committee to have an opportunity to weigh in on the resolution, but I don't think any of us expected to get it passed this time," said Karen Feridun, Berks Gas Truth's founder.
Members of Berks Gas Truth started planning to take action in May when they learned that the resolution would be up for consideration again in June. "We were discussing what we'd like to do for Stop the Frack Attack's National Month of Action when our Patti Rose realized that the Dems meeting was being held mid-month. The timing was perfect," said Feridun.
The group started by promoting the action online, inviting people to participate in conference calls where the plans were explained. The organizers encouraged registered Democrats to attend all of the sessions, meetings and social events, handing out buttons and literature. All others would protest in Lancaster's Penn Square directly across from the Lancaster Convention Center.
"We provided people with the list of committee members and told them to start calling. We told registered Dems to be sure to ask to be proxies for those who planned to miss the meeting. Proxies can not only vote, they can speak from the floor," explained Feridun who was herself a proxy, as was the Shale Justice Coalition's Wendy Lynne Lee.
"People were lining up proxies. Some even changed parties just to attend the meetings. Several people I spoke with were learning for the first time that there's such a thing as a state Democratic committee out there to lobby," says Feridun.
The committee's 59 percent to 41 percent vote mirrors the results of a recent poll by the Center for Local, State and Urban Policy at the University of Michigan, in conjunction with the Muhlenberg College Institute of Public Opinion in which nearly two-thirds of Pennsylvanians supported a moratorium on fracking. Two weeks earlier, environmental organizations led by PennEnvironment delivered 100,000 petition signatures calling for a moratorium to Gov. Corbett (R-PA). Sen. Ferlo (D-PA) announced that day that he is introducing a moratorium bill. Five Democratic legislators have signed on so far.
Most who spoke from the floor prior to the vote spoke in favor of the resolution. Rosie Skomitz, a member of the Berks Delegation and an active member of Berks Gas Truth, challenged the party to take a firm stand against fracking and pointed out that a Democratic senator was introducing a moratorium bill that had already picked up five Democratic co-sponsors.
One of the members to express her opposition was Vice-Chair Penny Gerber who said, "This bill (sic) as it currently stands says it is a moratorium on hydraulic fracturing, but it specifies that the moratorium will last until the practice can be done safely. Because no set period of time is provided it truly is a ban on fracking, and this is a thriving industry. It is for that reason I cannot support this bill (sic)." Incidentally, Gerber works as an associate for Ceisler Media & Advocacy whose clients include Chesapeake Energy, Reliant Energy and Spectra Energy.
"When I heard Gerber make the point that a moratorium until fracking can be done safely is in effect a ban, I thought, 'Right! That's our point exactly! It can never be proven safe!'" said Feridun
Visit EcoWatch's FRACKING page for more related news on this topic.
——–

Sign the petition today, telling President Obama to enact an immediate fracking moratorium: