By Emily Saari
The impacts of 2013's severe drought are apparent across the nation in forests, on farms and on once snowy peaks. Meanwhile, the oil and gas industry is demanding unprecedented amounts of water for hydraulic fracturing, better known as fracking.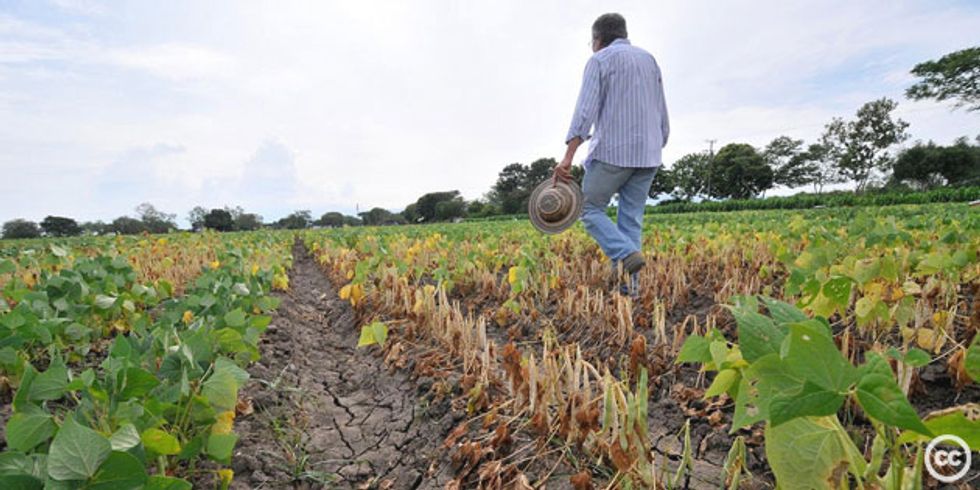 Fourth-generation Colorado farmer Kent Peppler told the Associated Press (AP) that he is fallowing some of his corn fields this year because he can't afford to irrigate the land for the full growing season, in part because deep-pocketed energy companies have driven up the price of water.
"There is a new player for water, which is oil and gas. And certainly they are in a position to pay a whole lot more than we are," Peppler said.
In a normal year, Peppler would pay anywhere from $9 to $100 for an acre-foot of water in auctions held by cities with excess supplies. But these days, energy companies are paying some cities $1,200 to $2,900 per acre-foot.
In seven states, including Colorado, Oklahoma, Texas and Wyoming, the vast majority of the counties where fracking is occurring are also suffering from drought, according to an AP analysis of industry-compiled fracking data and the U.S. Department of Agriculture's official drought designations.
The persistent U.S. drought wreaked havoc on American agriculture, raising food prices and forcing farmers to make record high insurance claims on lost profits for 2012.
As farmers struggle to make ends meet, limited fresh water reserves across the country are being diverted for fracking. The fossil fuel industry has identified deposits of oil and gas within shale rock formations deep underground, formerly inaccessible. In this new, "unconventional" drilling process, water mixed with sand and chemicals is injected into horizontal wells running through the shale. The injection cracks apart the rock, releasing the oil and gas and allowing it to rise to the surface for extraction.
Fracking requires enormous quantities of water. Estimates put water usage at between 3 and 5 million gallons per fracking of a single well, and each well can be fracked several times.
According to information accessed in 2012 from industry-backed FracFocus, a national fracking chemical registry managed by the Ground Water Protection Council and Interstate Oil and Gas Compact Commission, states have already seen more than 65 billion gallons of water used in 26,339 fracking operations.
In 2011, in a district in west Texas, the share of water resources used by fracking well sites jumped from 25 percent in 2010 to 40 percent in the first half of 2011. In Michigan, regulators granted a permit for a drilling company, Encana Oil and Gas, to use more than 21 million gallons of water at a single well in 2012. Repeatedly siphoning off these quantities of water for fracking can be a hardship for municipalities with limited capacity to augment their local water supplies—supplies that must also provide drinking and irrigation water for residents.
Water use by the fracking industry isn't comparable to water use by homeowners or farmers' agricultural needs. When used for household or agricultural purposes, often the water can eventually return to the ground to replenish aquifers, rivers and streams through the hydrological cycle.
On the other hand, after water has been used for fracking, much of it remains trapped deep underground in the wells. Wastewater that bubbles up to the surface is contaminated—both with the chemicals used in fracking and with heavy metals picked up from the shale rock formation—and must be stored away from drinking water sources.
The options for storage are limited: it can be impounded in reservoirs or injected underground. If it were to be treated and returned to the environment, it would need to be trucked to an industrial treatment facility, because municipal wastewater treatment facilities are not properly equipped to remove the chemicals in fracking wastewater. In reality, a large portion of the water used in fracking is left underground and becomes effectively lost.
Renewable energy sources don't have the same demands on water supplies. Solar and wind power use no water to capture energy and can peacefully coexist with agriculture. When it comes to generating electricity, for every 1,000 kilowatt-hours produced, solar thermal technology uses around 3,500 liters of water. In comparison, fossil fuels use 28,400 liters, more than eight times more. Solar photovoltaic and wind energy both consume less than 4 liters per kilowatt-hour of energy produced.
The nation faces a future made uncertain by the impacts of extreme heat, drought and wildfires exacerbated by climate change. Renewable energy generation not only cuts the greenhouse gas emissions that cause climate change, it doesn't tax water reserves, which are quickly becoming a limited and precious resource.
Visit EcoWatch's FRACKING page for more related news on this topic.
——–

Sign the petition today, telling President Obama to enact an immediate fracking moratorium:

Hydraulic fracturing (a.k.a. fracking) has recast the U.S.'s energy future, but it's also shining a light on fragile water supplies, which could crimp the industry's growth.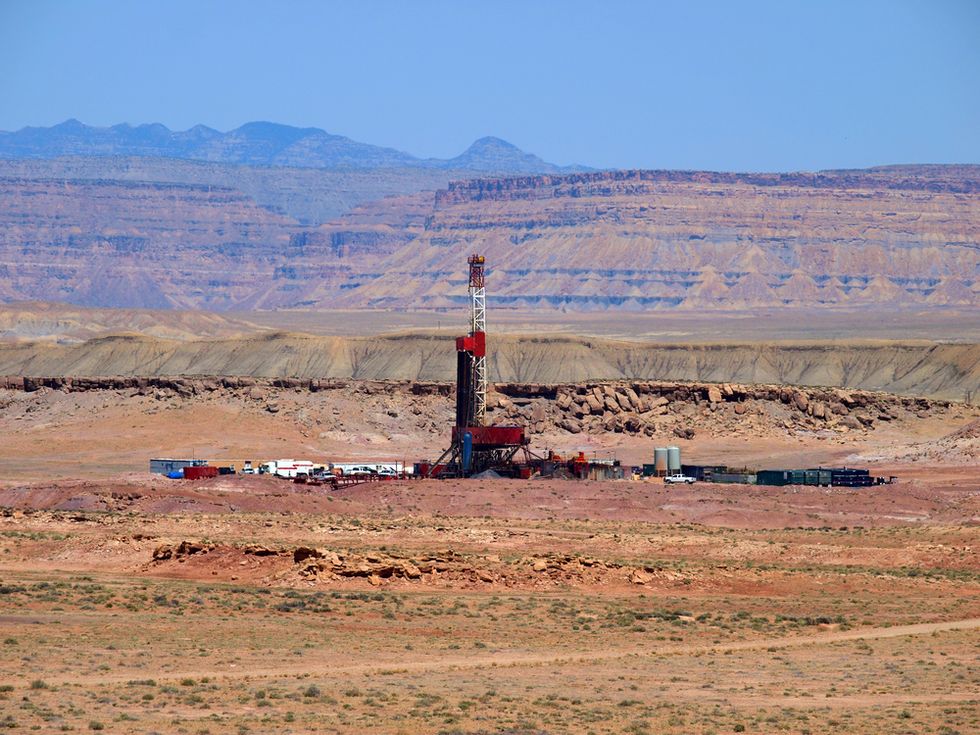 Photo courtesy of Shutterstock
The pinch is especially strong on shale energy producers and state regulators who are scrambling to find ways to keep the water flowing to this thirsty industry while not shortchanging farmers, municipalities and growing populations. Anywhere from two to 10 million gallons of water (along with sand and chemicals) are injected into each fracturing well. Multiply that times tens of thousands of wells and you're talking lots of water—and wastewater, too.
Given a fast-changing regulatory landscape and the diverse geologic conditions of key shale energy basins around the country, it's a challenge with no easy solutions.
"We've got to plan and plan and plan," engineering executive Ken Burris told a crowd of 75 industry players and regulators last week at a Water Management for Shale Plays 2013 conference in Denver.
The urgency is palpable. In less than a decade, hydraulic fracturing has grown from a largely unregulated wildcat industry to an energy juggernaut that is rejuvenating rural economies in North Dakota, Texas and Pennsylvania and putting America back on track to become the world's largest oil producer again.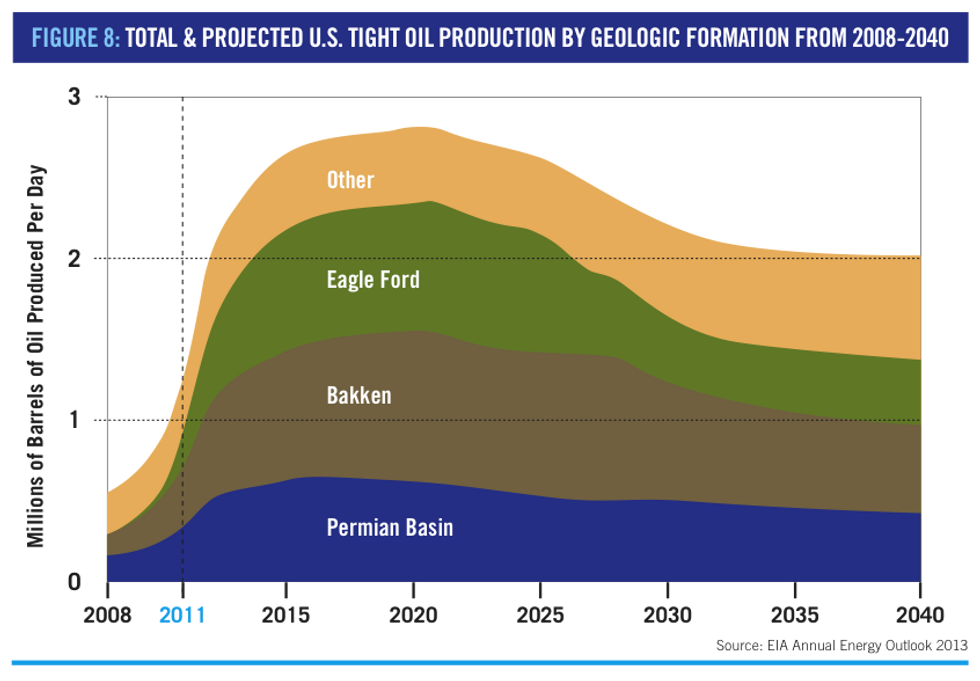 But achieving such meteoric growth doesn't come without growing pains—especially those around meeting the red-hot demand for water that shale producers need to inject into their wells.
Ground zero, in many ways, is Texas.
The U.S.'s second-largest state is in the midst of a historic drought, has little surface water to speak of and many of its groundwater aquifers are drying up. The most noteworthy of these sources under stress is the Ogallala Aquifer, which overlaps with the Permian Basin in west Texas. But that hasn't stopped oil and gas shale production from booming, leading to a doubling in water use the past three years with even bigger jumps expected as more wells are drilled in the rich Eagle Ford formation in south Texas.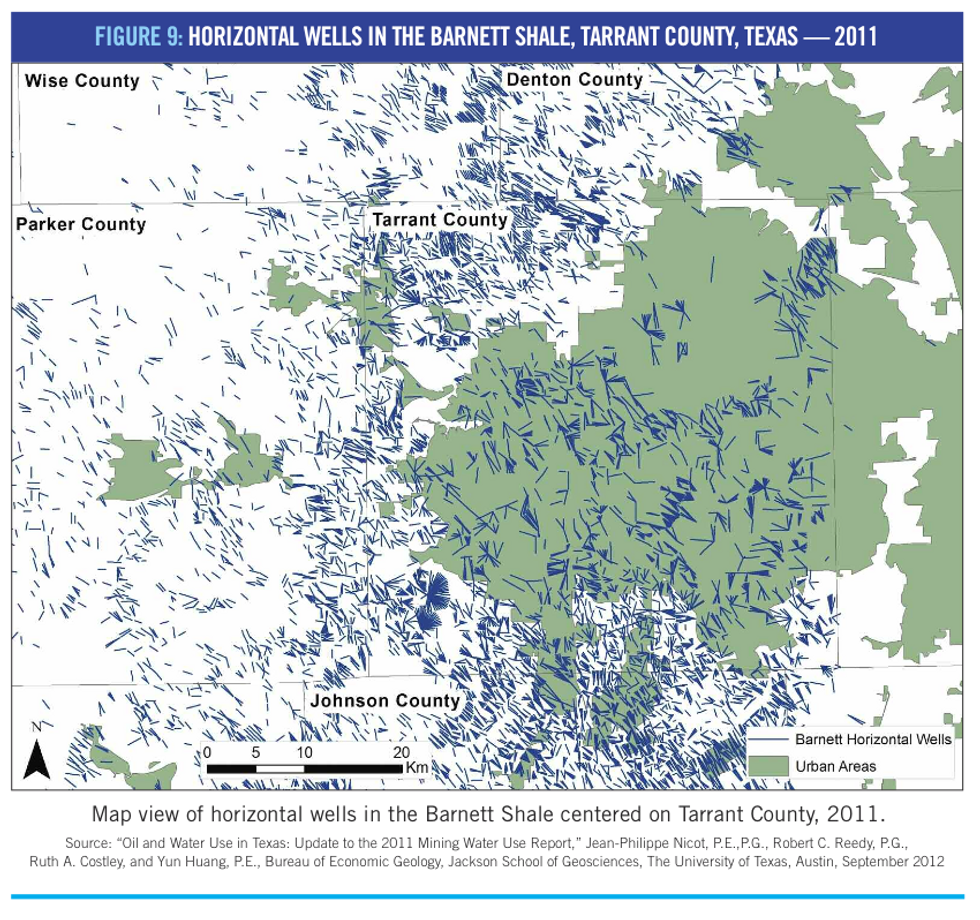 Industry players concede there isn't enough freshwater to meet their needs. "There are areas, like out in west Texas, where water could be a limiting factor," for shale production, said Ken Nichols, civil engineer at CH2M Hill, at the Denver conference.
And that means turning to alternatives, such as recycled water or brackish water, which are already seeing more use.
The state's vast reserves of brackish groundwater seems to be getting the most attention, with one study saying it's already providing some 20 percent of water being used in the Permian and Eagle Ford Shale Basins. "It's a very promising resource for the state," said Larry French, director of the Texas Groundwater Resources Division.
But it is expensive and energy intensive to make the slightly salty water usable for each drilling site. More scrutiny is also needed to understand how escalating withdrawals of brackish waters may compromise freshwater aquifers. Growing interest by water-starved cities and towns to desalinate brackish water is another complicating factor.
Colorado faces a similar challenge of more people, escalating shale production and growing competitive pressures for surface water, especially by agriculture, which has strong legal water rights and uses about 85 percent of the state's water. "Anything [frackers] produce from these wells has the potential to affect senior water rights," said Dick Wolfe, state engineer for the Colorado Division of Water Resources.
For this reason, shale producers noted during the conference that they are relying as much as possible on deeper groundwater resources. These "non-tributary" waters are typically thousands of feet underground and are largely isolated from rivers, streams and other surface waters. Wolfe says the vast majority of the state's 50,000 oil and gas wells—many of them fracking wells in the Niobrara Basin in northeast Colorado—are in non-tributary formations.
While Wolfe is confident that shale production will not compromise the state's water supplies and water quality, others are leery and are calling for much more stringent recycling of fracking wastewater.
"Most frack water is so laden with toxics or salts that it is unsuitable for other uses, and must be disposed of in shallow pits or far below groundwater reservoirs," wrote Bart Miller, water program director at Western Resources Advocates, in the Denver Post. "We can only hope it will never migrate and contaminate drinking water reservoirs."
Unlike Texas and Colorado, North Dakota is relying on both aquifers and surface waters for hydraulic fracturing, much of it coming from the Missouri River, Lake Sakakawea and over-allocated groundwater supplies. With wells popping up like dandelions—North Dakota now produces 10 percent of the country's energy—tensions and lawsuits are escalating between frackers, farmers and other water users.
"When all of us had nothing [before the oil boom], there was nothing to fight about," Dan Kalil, a county commissioner in western North Dakota's Williams County, home to many oil and natural gas wells, told Reuters. "Now, so many friendships have been destroyed because of water and oil."
Visit EcoWatch's FRACKING page for more related news on this topic.
——–
Sign the petition today, telling President Obama to enact an immediate fracking moratorium:

EcoWatch Daily Newsletter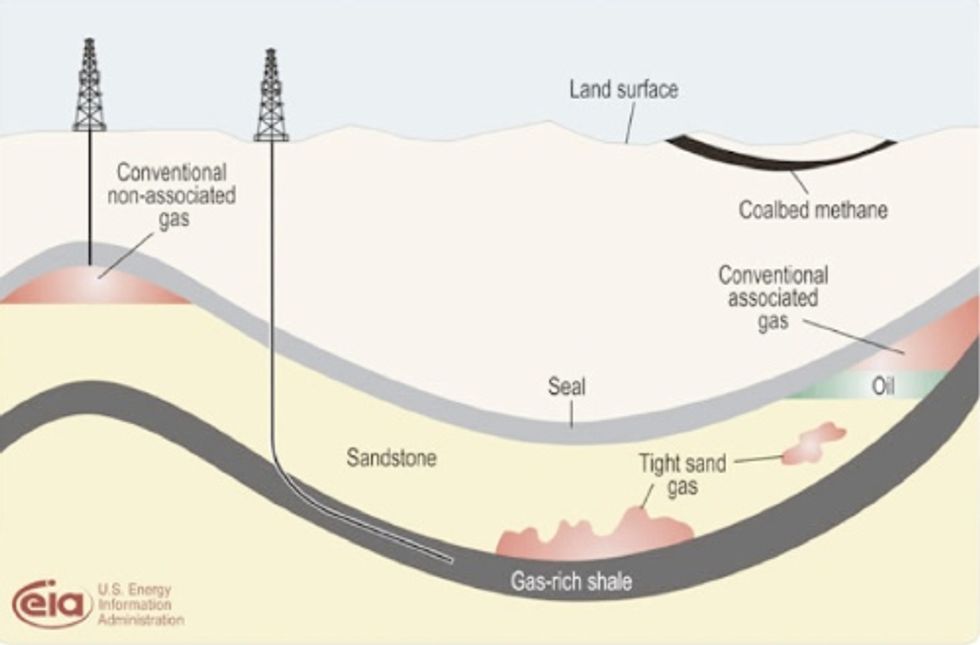 If Ohio levied a severance tax on oil and gas at rates similar to neighboring states, it could generate up to $538 million in new revenues between now and 2015. These funds would help with the up-front, public costs of the anticipated drilling and lay the groundwork for a strengthened economic future. In a paper released on Dec. 19, Beyond the Boom: Ensuring adequate payment for mineral wealth extraction, Policy Matters Ohio recommends that the state raise its severance tax on oil and gas to 5 percent of value, equal to the rates in West Virginia and Michigan.
"Ohio's severance tax is one of the lowest among states with potential to produce oil and gas from shale," said Wendy Patton, author of the new report and senior project director at Policy Matters. "Part of preparation for the coming boom should include raising the severance tax rate to a level consistent with other energy states."
States with significant reserves of natural shale gas include Texas, with a severance tax rate of 7.5 percent; Oklahoma, 7 percent, and Arkansas, Michigan and West Virginia, 5 percent. Louisiana has a rate on volume of gas produced of $.16 per thousand cubic feet (mcf). Pennsylvania currently has no severance tax, but is considering one.
Ohio's rate on volume of gas produced is $.025 per mcf (with an additional $.005 for conservation). The effective severance tax rate on natural gas over the past decade has been less than half of 1 percent. The situation for oil is similar, with Ohio's rate of $.10 per barrel, (with a matching conservation fee) at the low end among states with a severance tax on oil and an average effective severance tax rate over the past decade of less than one fifth of 1 percent of value.
States with high production of minerals use the severance tax to compensate for depletion of natural resources. The revenues strengthen and stabilize public services that build the economy of the future, including schools and higher education. The tax is deductible from federal taxes, which softens the impact on producers. Ohio ranks 25th in severance tax collections among the 35 states that collect such a tax, yet 19th in production of natural gas and 17th in oil production.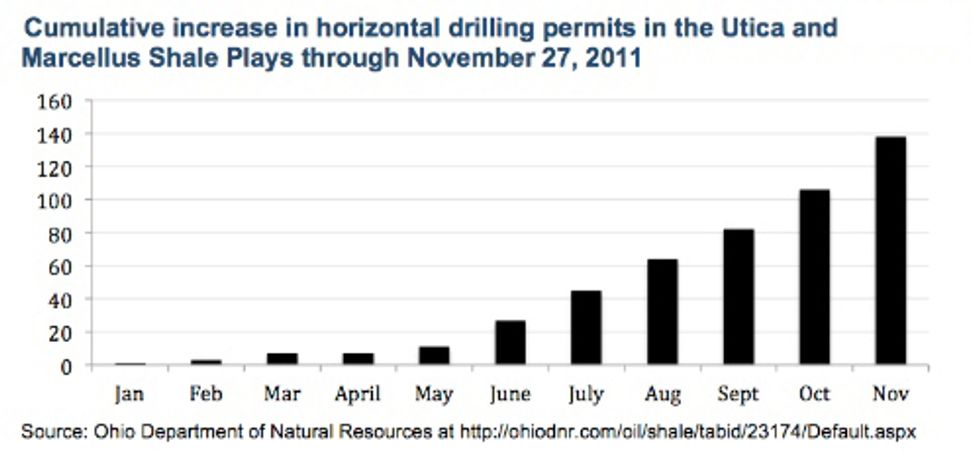 Horizontal drilling and hydrofracturing ('fracking') are expected to significantly boost drilling in Ohio. Fracking, which uses millions of gallons of water laced with chemicals and other additives, is exempt from the federal regulations, yet is suspected of pollution in watersheds and aquifers. Costs associated with increased drilling activity as well as with pollution may impact state and local finances, while the level of benefits predicted by the industry may not materialize. The so-called 'natural resources curse' of places rich in minerals but with low in per-capita income—from West Virginia and Louisiana to Nigeria—warns of trouble beyond the boom.
"Many mineral-rich states dedicate their severance tax collections to trust funds that finance services during drilling and strengthen the state once minerals are depleted," said Patton. "The severance tax is how energy states ensure impacted communities are protected and wealth invested to create a better future for all residents."
For more information and to read the full report, click here.