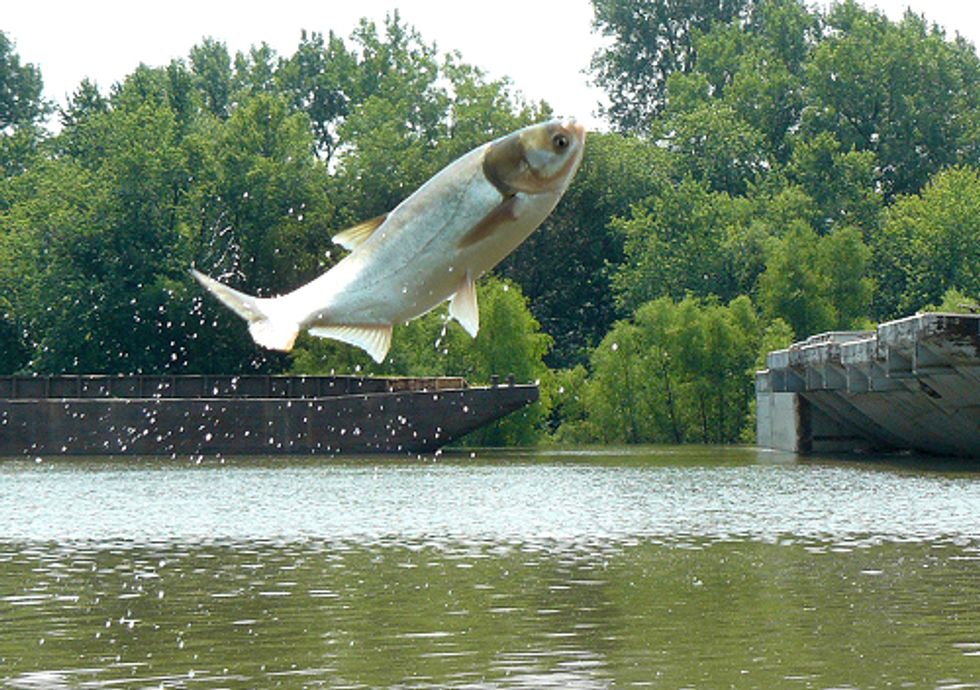 A much-anticipated study says separating the Great Lakes and Mississippi River basins to prevent the spread of Asian carp and other invasive species is not only possible, but a natural step toward much-needed action to improve Chicago's water infrastructure.
Great Lakes environmental groups reacting to the study, released Jan. 31 by the Great Lakes Commission and Great Lakes-St. Lawrence Cities Initiative, commended the authors' factual analysis concluding that separation is possible and that it must include essential upgrades to sewage, flood control and waterborne transportation while preventing the transfer of invasive species.
"The study is unprecedented in its scope and ambition, re-envisioning the Chicago Area Waterways System (CAWS) as a system that not only prevents invasive species from devastating the Great Lakes and Mississippi River and all their tributaries, but also makes sorely-needed improvements to core functions like moving people and goods, managing stormwater and maintaining water quality," the partner groups said in a statement.
The study refocuses the Great Lakes region on a long-term permanent solution and away from stopgap measures that, on their own, will ultimately fail to stop the Asian carp's march to Lake Michigan.
The authors note that restoring the natural divide between the Great Lakes and Mississippi River basins at Chicago can coordinate with efforts already under way by the city of Chicago, the state of Illinois and the Metropolitan Water Reclamation District to improve water quality and reduce flooding.
The marauding bighead and silver carp are the poster fish for the ecological and economic havoc in the offing when invading species travel between the Great Lakes and Mississippi. Research estimates that the annual cost to the Great Lakes region from invasive species introduced by shipping is upwards of $200 million per year.
"Tens of thousands of constituents have spoken to their members of Congress through a postcard campaign asking for immediate action to stop the Asian carp," said Cheryl Mendoza, associate director for Freshwater Future. "This study provides decision makers with the path to the permanent solution Great Lakes citizens have been asking for."
Since 2009, multiple hits of Asian carp DNA have been found lakeward of an electric barrier in the CAWS meant to keep the fish out of Lake Michigan and the Great Lakes. More recently, carp DNA has been reported in waters open to Lake Michigan.
Joel Brammeier, president and CEO of the Alliance for the Great Lakes, says the study is the most specific evaluation to date of what it would take to achieve hydrologic separation at the CAWS. "Chicago and Illinois have been under a spotlight as the carp close in on Lake Michigan," says Brammeier. "This report shines that light in a new direction—toward the transformation of the Chicago waterway into a resource of which everyone in the city, the state and the country can be proud."
Since 2008, environmentalists have called for separating the artificially conjoined Great Lakes and Mississippi River basins—the only permanent solution on the table and one that has come to be embraced by states, cities and members of Congress alike.
"Separation is a modern 21st century solution for a 21st century problem," says Jennifer Nalbone, director of Navigation and Invasive Species for Great Lakes United. "This study points the way to a solution that not only benefits the Great Lakes states, but also Canadian and Mississippi River stakeholders. Most of North America will ecologically and economically benefit from separating the two basins."
The GLC-GLSLCI study clearly demonstrates that separation is possible, providing detailed background on three separation options that allow elected officials and community leaders to move the discussion to the next level. As any separation is intrinsically tied to the multiple uses of the waterway system, it is imperative the Chicago region be an engaged partner.
"The study has the potential to be a game-changer in the effort to restore and protect the Great Lakes," says Jeff Skelding, director of the Healing Our Waters-Great Lakes Coalition. "It proves we have affordable solutions to the Asian carp crisis that benefit both our environment and economy. This report should put an end to excuse-making and foot-dragging and light a fire under the U.S. Army Corps of Engineers to do its job so the nation can move forward on a solution to protect the Great Lakes and the jobs that depend on them."
To that end, the partner groups stress that the study is a beginning, not an end, and should not be interpreted as a strict set of policy recommendations. Until separation is complete, they say strong interim protections must be implemented to protect against an Asian carp invasion, and note the study includes such measures within its long-term vision for separation. The groups also urge Congress to pass the Stop Asian Carp Act.
A plodding U.S. Army Corps of Engineers' study of the problem—the Great Lakes and Mississippi River Interbasin Study—could be expedited by incorporating findings from the GLC-GLSLCI study and starting separation planning now, the groups say.
"The study is a revelation. It puts solutions on the table that are both feasible and affordable," says Marc Smith, senior policy manager with the National Wildlife Federation. "The onus is clearly now on the U.S. Army Corps of Engineers to expedite its own study so the nation can stop talking about 'if' a solution is possible, and instead focus on 'when' people can be put to work to solve this problem once and for all."
Thom Cmar, attorney for the Natural Resources Defense Council, concurs. "We have a unique opportunity here because we know the invasion is under way and we know how to stop it.
"Not only can a barrier stop the spread of Asian carp and the rest of the harmful invasives moving on the waterway, it can also help revitalize the festering mess on the Chicago River—but only if we have the political will to act quickly, before it's too late," says Cmar, author of a 2010 study examining potential impacts of anti-invasive species barriers on Chicago's waterways.
Around the Basin:
More Reaction from Great Lakes Organizations
"Minnesota's waters are currently threatened by Asian Carp from many directions. We have to fight them on all fronts because once they are here we have no safe, effective way to deal with them. The protection of Minnesota's waters depends on shutting the door on the Asian Carp at the Chicago Area Waterway System (CAWS)."
—Darrell Gerber, program coordinator, Clean Water Action Minnesota
"This study shows that the separation of the Great Lakes and Mississippi River basins can be a win-win for Chicago and Ohio. Lake Erie's prized sportfish, Ohio jobs and $10 billion in economic revenue to Ohio from travel and tourism is all at risk from an Asian carp invasion. Ohio's congressional members need to work with leadership to ensure the U.S. Army Corps of Engineers expedite its plan so our children and grandchildren can enjoy the lakes as we do today."
—Kristy Meyer, director of agricultural & clean water programs, Ohio Environmental Council
"Canada's Department of Fisheries and Oceans completed an Asian Carp Risk Assessment in 2004 and found these voracious silver and bighead carp that spawn several times a year will invade nearly all of the Canadian Great Lakes shorelines and then travel up our rivers to get into our lakes. The Great Lakes are bi-national waters and we do not want these invasive carp in our waters. Sierra Club has a bi-national policy for all our nine Great Lakes Chapters that calls for 'urgent implementation of a plan to install permanent barriers to separate the hydrological connections at Chicago of the Great Lakes to the Mississippi River.' Sierra Club appreciates this GLC-GLSLCI report that should get construction started soon rather than wait another five years for the USACE to study the problem. The time to act is now!"
—Mary Muter, chair, Great Lakes Section, Sierra Club Ontario
For more information, click here.
EcoWatch Daily Newsletter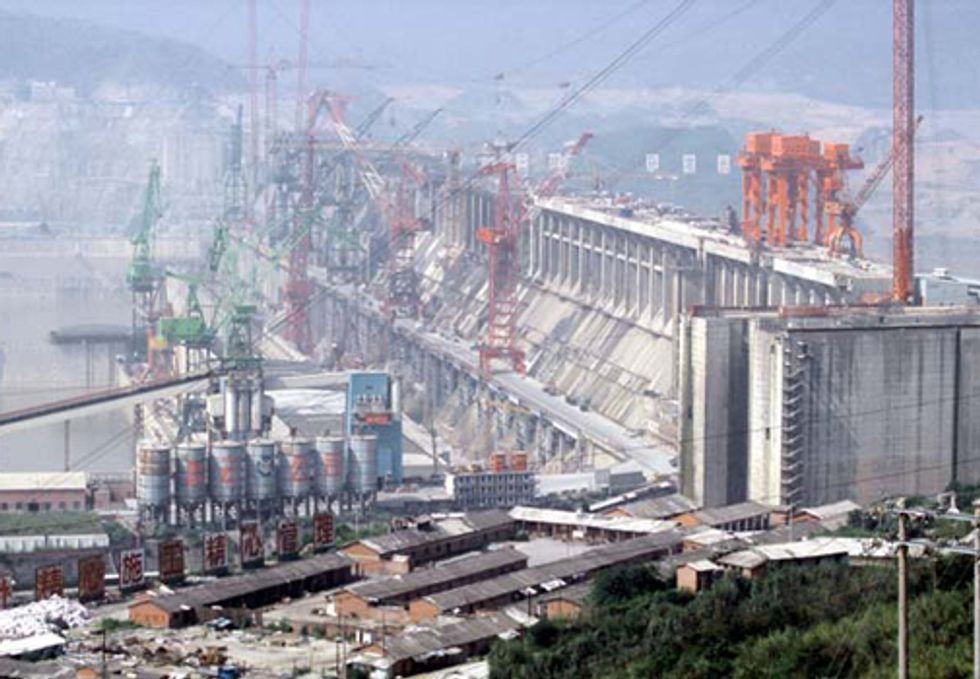 A new World Wildlife Fund (WWF) study finds that many Yangtze River Basin lakes are shrinking dramatically and could dry up completely if measures aren't taken to stem the impacts of climate change, increased industrialization and urbanization along China's longest river.
The Yangtze Conservation and Development Report 2011 (YCDR 2011) shows that lower water levels, rapid urbanization and large water infrastructure projects across the Yangtze Basin are impacting the overall health of many lakes along the 6,300 km river, which supports the livelihoods of nearly one-third of China's population.
"Lake ecosystems in the Yangtze River Basin are showing tell-tale signs of degradation, and problems like water eutrophication from industrial runoff are on the rise. We are also seeing a decline in flood retention capacity and insufficient water supply. These changes are putting increased pressure on many of the species found in the Yangtze, including the finless porpoise and Chinese carps," said Yang Guishan, president of the Nanjing Institute of Geography and Limnology, Chinese Academy of Sciences.
Climate change in the Upper Yangtze
While water resources will increase over the short term, the YCDR 2011 predicts that the long-term impacts of climate change will result in massive water shortages in headwater regions.
"Over the short term, increased glacial melt in the Qinghai-Tibetan plateau means more water. But after the glaciers are gone—and with them the source of the Yangtze River—available water resources will decline. The lack of water could cause lakes that depend on glacial melt to shrink or dry up completely," said Yang Guishan.
Pollution, population and land reclamation
From 1950-2010, the central and lower reaches of the Yangtze lost approximately two thirds of its lakes due to increased land reclamation for agriculture and industrial development. This has resulted in a water storage capacity loss roughly equivalent to 20 million Olympic-sized swimming pools—and means that smaller floods now have the potential to inflict much more damage.
Meanwhile, population growth and rapid economic development—particularly in the central and lower Yangtze—as well as excessive fish farming has resulted in more serious water pollution issues and increased instances of eutrophication, a process where excessive nutrients diminish water quality in lakes or other bodies of water.
Water quality monitoring data from 2007-2010 in the central and lower Yangtze shows that 77 percent of the 77 lakes with an area of 10 km or more could not provide safe drinking water, while more than 88 percent were in various stages of eutrophication. Meanwhile, in 2009 alone, more than 33 billion tonnes of sewage was discharged into the Yangtze River Basin, nearly a 22 percent rise from 2003.
Solutions
Similar to the diagnosis offered in the previous two editions of the YCDR, the 2011 update points out that more work still needs to be done to ensure the future health of the Yangtze River:
"The Yangtze Conservation and Development Report 2011 shows that a comprehensive action plan is an absolute necessity to ensure the future of this irreplaceable resource," said Jim Grandoville, CEO of WWF China. "WWF will be working with partners and seek solutions towards the protection and sustainable usage of the lakes along the Yangtze."
The report also emphasizes the importance of mitigating the accumulative impacts of large infrastructure projects such as the Three Gorges Dam and South to North Water Transfer Project on the Yangtze River, especially downstream.
Known as the "Yangtze health check," this is the third edition of the Yangtze Conservation and Development Report. It is jointly developed by WWF, the Nanjing Institute of Geography and Limnology, Chinese Academy of Sciences and the National Development Bank.
For more information, click here.
waterlust.com / @tulasendlesssummer_sierra .
Each product featured here has been independently selected by the writer. If you make a purchase using the links included, we may earn commission.
The bright patterns and recognizable designs of Waterlust's activewear aren't just for show. In fact, they're meant to promote the conversation around sustainability and give back to the ocean science and conservation community.
Each design is paired with a research lab, nonprofit, or education organization that has high intellectual merit and the potential to move the needle in its respective field. For each product sold, Waterlust donates 10% of profits to these conservation partners.
Eye-Catching Designs Made from Recycled Plastic Bottles
waterlust.com / @abamabam
The company sells a range of eco-friendly items like leggings, rash guards, and board shorts that are made using recycled post-consumer plastic bottles. There are currently 16 causes represented by distinct marine-life patterns, from whale shark research and invasive lionfish removal to sockeye salmon monitoring and abalone restoration.

One such organization is Get Inspired, a nonprofit that specializes in ocean restoration and environmental education. Get Inspired founder, marine biologist Nancy Caruso, says supporting on-the-ground efforts is one thing that sets Waterlust apart, like their apparel line that supports Get Inspired abalone restoration programs.
"All of us [conservation partners] are doing something," Caruso said. "We're not putting up exhibits and talking about it — although that is important — we're in the field."
Waterlust not only helps its conservation partners financially so they can continue their important work. It also helps them get the word out about what they're doing, whether that's through social media spotlights, photo and video projects, or the informative note card that comes with each piece of apparel.
"They're doing their part for sure, pushing the information out across all of their channels, and I think that's what makes them so interesting," Caruso said.
And then there are the clothes, which speak for themselves.
Advocate Apparel to Start Conversations About Conservation
waterlust.com / @oceanraysphotography
Waterlust's concept of "advocate apparel" encourages people to see getting dressed every day as an opportunity to not only express their individuality and style, but also to advance the conversation around marine science. By infusing science into clothing, people can visually represent species and ecosystems in need of advocacy — something that, more often than not, leads to a teaching moment.

"When people wear Waterlust gear, it's just a matter of time before somebody asks them about the bright, funky designs," said Waterlust's CEO, Patrick Rynne. "That moment is incredibly special, because it creates an intimate opportunity for the wearer to share what they've learned with another."
The idea for the company came to Rynne when he was a Ph.D. student in marine science.
"I was surrounded by incredible people that were discovering fascinating things but noticed that often their work wasn't reaching the general public in creative and engaging ways," he said. "That seemed like a missed opportunity with big implications."
Waterlust initially focused on conventional media, like film and photography, to promote ocean science, but the team quickly realized engagement on social media didn't translate to action or even knowledge sharing offscreen.
Rynne also saw the "in one ear, out the other" issue in the classroom — if students didn't repeatedly engage with the topics they learned, they'd quickly forget them.
"We decided that if we truly wanted to achieve our goal of bringing science into people's lives and have it stick, it would need to be through a process that is frequently repeated, fun, and functional," Rynne said. "That's when we thought about clothing."
Support Marine Research and Sustainability in Style
To date, Waterlust has sold tens of thousands of pieces of apparel in over 100 countries, and the interactions its products have sparked have had clear implications for furthering science communication.
For Caruso alone, it's led to opportunities to share her abalone restoration methods with communities far and wide.
"It moves my small little world of what I'm doing here in Orange County, California, across the entire globe," she said. "That's one of the beautiful things about our partnership."
Check out all of the different eco-conscious apparel options available from Waterlust to help promote ocean conservation.
Melissa Smith is an avid writer, scuba diver, backpacker, and all-around outdoor enthusiast. She graduated from the University of Florida with degrees in journalism and sustainable studies. Before joining EcoWatch, Melissa worked as the managing editor of Scuba Diving magazine and the communications manager of The Ocean Agency, a non-profit that's featured in the Emmy award-winning documentary Chasing Coral.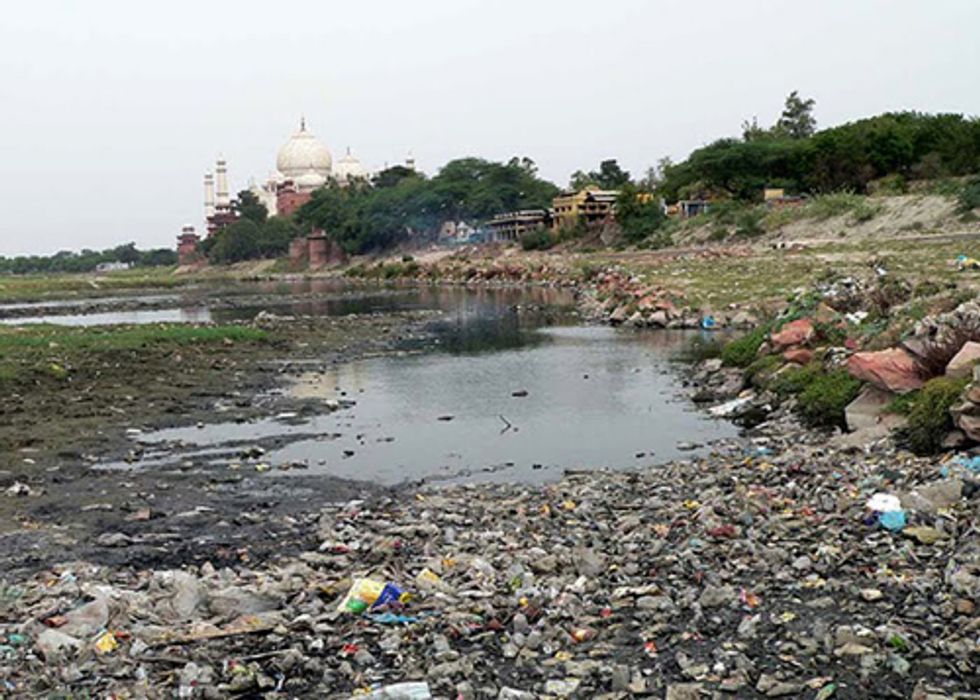 By Sunita Narain
In India, water is life and sewage tells its life story. This is the subject of the Citizens' Seventh Report on the State of India's Environment—Excreta Matters: How urban India is soaking up water, polluting rivers and drowning in its own excreta. It has a seemingly simple plot—it asks where Indian cities get their water and seeks to discover where the waste goes. But this isn't just a question or answer about water, pollution and waste. It's about the way Indian cities (and perhaps other parts of the world that are similarly placed) will develop. It's about a paradigm of growth that's sustainable and affordable.
Urbanisation in India, relentless as it is, will only continue to grow. How should the country manage its water needs so that it doesn't drown in its own excreta? This is what the Centre for Science and Environment (CSE) has asked and tried to answer in the book. What has amazed us is the lack of data, research and understanding surrounding this issue in India. People consume water, discharge waste and see their rivers die. But they often don't make the connection between flushing toilets and dying rivers. It's as if they don't want to know.
Is this a reflection of the caste system of Indian society, where removing waste is somebody else's business? Or is it a reflection of current governance systems, where water and waste are government's business, and within that the business of a seemingly lowly water and sanitation bureaucracy? Or is it a reflection of Indian society's extreme arrogance—that is, the notion that India will somehow be able to solve its water and sewage problems at its own convenience because the current problem isn't pressing enough.
It's clear Indians know little about the water they use and the waste they discharge. We at CSE had to collect data the hard way—city by city, ferreting out the material from government offices, which are rarely visited by researchers. The second volume—71 cities: water-excreta survey—of the seventh citizens' report puts together individual city profiles. Each city is mapped to know more about its past, current and future water footprint. Each city is mapped to know more about where the waste generated from such use of water goes. It's a geography lesson that's essential to learn.
It was back in the late 1990s that environmentalist Anil Agarwal, who conceived and crafted the state of India's environment reports, had said one needs to understand the political economy of defecation, where the rich are subsidised to excrete in convenience.
When we researched for this report, which explains the political economy of defecation, we were struck by one fact that should make us all angry. We found countless instances where a city's drain, called nullah, was actually a river. Delhi residents are familiar with Najafgarh drain, which discharges the city's waste into the Yamuna River. But most of them don't know that this drain has its source in the Lake Sahibi. Now Sahibi is gone, and what has replaced it is a drain carrying only filth—not water. Worse, New Gurgaon—the second largest city in the Indian state of Haryana—is now dumping its sewage into the same lake.
Buddha Nullah—a seasonal water stream—in Ludhiana is referred to as a drain because today, it's full of stench and filth. But not so long ago Buddha Nullah was a clean freshwater stream. One generation has changed its form and name.
The Mithi River is Mumbai's shame. When floods drowned Mumbai in 2005, it learned it had a clogged drain called Mithi, marred by encroachments. It did not realise that the Mithi had not shamed the city, the city had shamed the Mithi. This drain, which originates near the city, is really a river. It was recognised as a river. It flowed like one. But today even official environmental status reports call this living river a storm water drain. One more city has lost its river. These lost rivers are our collective shame.
But should Indians be surprised? Today they take water from their rivers—for irrigation, drinking and hydro-electric plants—and give back waste. Water no longer flows in its rivers. Instead, they flow with the load of excreta and industrial effluent.
Indians should be angry over the loss of our rivers. More worryingly, if they don't change their ways they'll lose their remaining rivers, lakes and other water bodies. This generation won't just be pitied for losing its rivers, but accused of committing deliberate hydrocide. Coming generations will forget that the Yamuna, Cauvery and the Damodar were rivers. They'll get to know them only as what they've become—drains.
For more information, click here.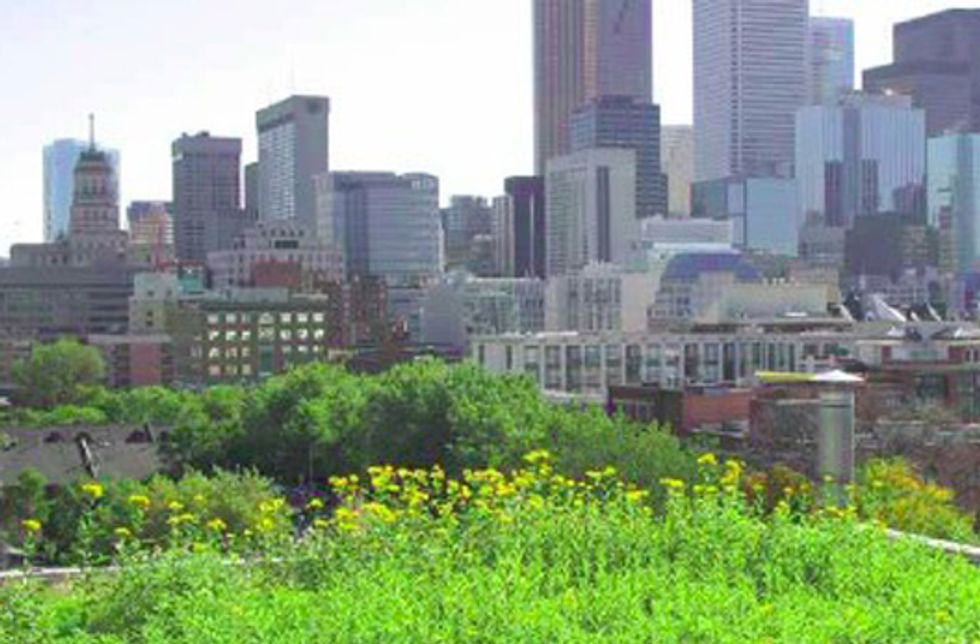 By Noah Garrison
The Natural Resources Defense Council (NRDC) released a new report called Rooftops to Rivers II: Green Strategies for Controlling Stormwater and Combined Sewer Overflows. The report discusses the considerable problems that stormwater runoff, which carries pollution to our rivers, lakes and beaches and causes sewage system overflows, poses for our communities, and ways that cities are using green infrastructure practices to clean up their waters, literally greening their cityscapes in the process. 
My colleagues David Beckman, Jon Devine and Rebecca Hammer have pointed out that green infrastructure is a simple and powerful solution to water pollution that makes cities function, from a water perspective, more like the natural landscape by reducing the amount of hardened, paved surfaces that generate rainfall runoff; that cities that use green infrastructure practices to capture rain where it falls have improved their ability to manage stormwater and reduce runoff pollution while saving money and beautifying neighborhoods at the same time—success stories that should encourage the U.S. Environmental Protection Agency (EPA) and local officials to adopt policies to drive similar approaches and outcomes nationwide; and, provided specific examples of initiatives cities are taking to stop flooding, reduce pollution and use green infrastructure practices to take on their own unique water management challenges.  Overall, Rooftops to Rivers II profiles the approaches taken by 14 cities in the U.S. and Canada (as well as provides examples from several others), revealing just how far the use of green infrastructure has spread and just how adaptable it is to different regions and climates, to changes in geography and geology, and to the various issues faced by each city.  Green infrastructure works everywhere.
For example, Pittsburgh, whose metropolitan area's 4,000 miles of sewer pipes and 450 combined and separate sewer overflow structures release 22 billion gallons of untreated municipal waste into surrounding waters every year, has enacted a stormwater ordinance that requires development sites larger than 10,000 square feet in size to retain the first one-inch of rainfall from any storm event on-site, using practices that infiltrate, evapotranspirate with plants, or capture and re-use the rain.  Publicly funded projects are required to retain 1.5 inches of rainfall on-site. The city has also begun a "Green Up Pittsburgh" initiative that offers support for community greening efforts.  The effort has led to more than 120 vacant city lots being transformed into functioning green spaces, removing blight and safety hazards, inspiring community pride and providing environmental benefits.
Toronto stands out for its investment in and long-term vision for green infrastructure to clean up and protect Lake Ontario, which was listed as an "Area of Concern" in a 1972 agreement between the U.S. and Canada.  In 2003 Toronto adopted its Wet Weather Flow Master Plan, a 25-year, $1 billion comprehensive strategy to use both traditional and green infrastructure to eliminate the adverse impacts of stormwater runoff.  Both separately and under the plan, Toronto has taken a multitude of steps to incorporate green infrastructure into city planning and development, including:
Establishing specific runoff volume reduction targets to encourage infiltration and rainwater harvesting
Initiated a voluntary pilot downspout disconnection program for property owners whose downspouts were directly connected to the city's combined or separate sewer systems.  Based on the success of the program, in 2007 the City Council voted to make downspout disconnections mandatory throughout the city
Formed a Green Roof Task Force to investigate and promote the benefits of green roofs.  A 2005 study estimated that if green roofs were installed on every flat roof in the city, Toronto would save $270 million in municipal capital costs and nearly $30 million annually in benefits.  In 2009 the City Council adopted construction standards requiring all new buildings and retrofits with more than 2,000 square meters (21,500 square feet) of floor area to include a green roof in their design.
And Kansas City, M0., which created a stormwater utility in 1999 that assesses fees based on the size of a property's impervious, or runoff generating surface area, has recently broken ground on a 100-acre pilot project that represents the largest focused installation of green infrastructure as the sole control for combined sewer overflows in the nation.  The Middle Blue River Basin Pilot Project, located in the city's Marlborough neighborhood, will potentially save the city $10 million in capital costs relative to what would have been spent if only traditional stormwater infrastructure was used.
Dozens of other cities across the country have begun incorporating green infrastructure in a similar manner:
Indianapolis has completed a Green Infrastructure Master Plan for the city and is using green infrastructure practices like tree plantings, rain gardens and other techniques that absorb rainfall to meet the terms of a federal consent decree that requires a reduction in combined sewer overflows, achieving significant cost savings relative to traditional infrastructure in the process.  Cleveland and Cincinnati are likewise looking to green infrastructure as a means of meeting the terms of consent decrees that require those cities to reduce the amount of combined sewer overflows that send polluted sewage into their waters.
Minneapolis has a stormwater ordinance requiring public and private development sites of 1-acre or more to include on-site stormwater management, and is greening a 143-acre, formerly underserved community now known as heritage park in a project that will create a system of interconnected ponds and trails and bring park-like amenities to area residents while using natural systems to treat stormwater runoff
Jacksonville, Fla. has partnered with the EPA to focus resources on its neglected downtown urban core, using green infrastructure to reduce runoff and add open space for its residents.  The city is in the process of developing a green infrastructure guidance manual as a tool for developers, architects, engineers, government employees and  anyone seeking clear permitting specifications for green infrastructure construction
Tucson, Ariz., which receives an average rainfall of only about 11 inches per year, has embraced rainfall as a valuable resource, and now requires rainwater harvesting to supplement other available water supplies. The city adopted the nation's first municipal rainwater harvesting ordinance for commercial projects, which took effect on June 1, 2010 and requires facilities subject to the ordinance to meet 50 percent of their landscape irrigation water demand using harvested rainwater.
Green infrastructure works.  It works everywhere.  And it provides benefits that extend well beyond water quality.  As these, and other cities profiled in Rooftops to Rivers II demonstrate, there's a wide array of approaches, practices, and ultimately, solutions to the problems caused by stormwater runoff that green infrastructure can provide.  And if your community hasn't embraced the practice yet, then Rooftops to Rivers II provides plenty of examples for how green infrastructure can be used in your city, and how it can help clean up waters while saving your city money and creating a greener, healthier landscape.
For more information, click here.