The Tennessee Scenic Vistas Protection Act, which could make Tennessee the first state to put a ban on high-elevation surface mining techniques such as mountaintop removal, faces an important hurdle this Wednesday, Feb. 29, in the Senate Environment Committee. We expect the vote to be very close, so it's all hands on deck in moving these legislators to do the right thing.
Below is a list of the senators who sit on the Environment Committee. Call them and let them know you support the Scenic Vistas Protection Act, and want to vote "YES." Learn more about our work to pass the Scenic Vistas bill by clicking here.
Senate Environment Committee
Committee Officers:
Sen. Steve Southerland, chair: Phone (615) 741-3851
Sen. Jack Johnson, vice-chair: Phone (615) 741-2495
Sen. Jim Summerville, secretary: Phone (615) 741-4499
Members:
Sen. Mike Bell: Phone (615) 741-1946
Sen. Mike Faulk: Phone (615) 741-2061
Sen. Kerry Roberts: Phone (615) 741-1999
Sen. Roy Herron: Phone (615) 741-4576
Sen. Beverly Marrero: Phone (615) 741-9128
Sen. Eric Stewart: Phone (615) 741-6694
In addition, call Gov. Bill Haslam at 615-741-2001. He spoke out against mountaintop removal during the campaign. Ask him to put action to those words by showing the leadership to guide the Scenic Vistas bill through the legislature.
The following television ad is running on Fox News in many of their districts.
For more information, click here.
EcoWatch Daily Newsletter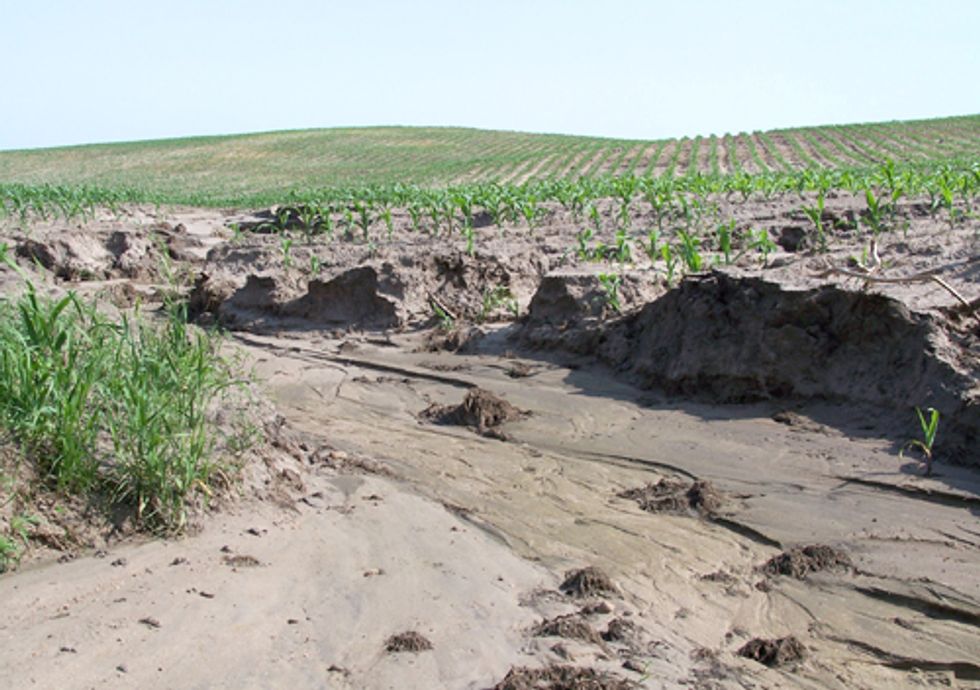 A new research paper finds that most farmers support the long-standing conservation compact that has helped protect the rich soil and clean water that sustain food, farming and public health.
Conservation Compliance: A Retrospective…and Look Ahead by conservationist Max Schnepf concludes through a comprehensive review of public opinion polls that the farming community has consistently supported the historic deal between taxpayers and farmers that was struck in the 1985 farm bill. Under it, growers agreed to keep soil from washing away and chemicals out of waterways in return for generous taxpayer support.
Seven polls taken in the last 30 years show that a solid majority of farmers believe that bargain is a fair one.
"The conservation compact was a godsend for agricultural and conservation groups and farmers," Schnepf writes. "In the 10 years following the 1985 farm bill, farmers did more to curb soil erosion than at any time since the infamous Dust Bowl years of the 1930s."
Schnepf notes that Environmental Working Group's (EWG) 2011 report, Losing Ground, found that high prices, intense competition for farmland leases and ethanol mandates have put unprecedented pressure on land and water. As a result, the historic gains in soil conservation the compact achieved are being lost.
"Conservation is once again being pushed to the back seat—the very situation that led to the compact in the first place," said EWG Senior Vice President Craig Cox. "We need to reinvigorate the compact just to keep things from getting worse, let alone make long-overdue progress on pollution problems that have gone unchecked for decades."
In the negotiations over a 2012 farm bill, agribusiness lobbyists are pushing their allies in Congress to gut the conservation compact entirely, with dire consequences for the environment and public health.
To raise awareness of the disastrous situation, EWG released a series of web-based ads and Schnepf's paper ahead of the Feb. 28 scheduled hearing of the Senate Agriculture, Nutrition and Forestry, which will focus on "Strengthening Conservation Through the 2012 Farm Bill."
Funding for agricultural conservation programs has been cut every year since 2002 and is currently $4 billion below the amount authorized in previous farm bills. Meanwhile, the taxpayers' tab for guaranteeing farm business income through so-called risk management programs has increased almost five-fold—from $1.5 billion in 2002 to $7.4 billion in 2011. There are no conservation strings attached because Congress ended those requirements in 1996.
"Congress must not break the 25-year old conservation compact between farmers and taxpayers under the guise of farm policy reform," said Cox. "Farmers need a safety net, but so do fertile soil and clean water."
EWG recommends that Congress reconfirm and reinvigorate the conservation compact by:
Bringing risk management programs back under the conservation compact umbrella.
Updating decades-old conservation plans to reflect modern technology and current weather patterns.
Requiring landowners to control highly damaging gully erosion on all annually tilled cropland.
Dedicating funding for conservation planning and enforcement.
For more information, click here.
Like many other plant-based foods and products, CBD oil is one dietary supplement where "organic" labels are very important to consumers. However, there are little to no regulations within the hemp industry when it comes to deeming a product as organic, which makes it increasingly difficult for shoppers to find the best CBD oil products available on the market.
<p>Here you can learn about the importance of organic hemp oil, why it's better for the environment, and which CBD companies actually make trustworthy products with sustainable farming processes. origins which weigh heavily on many consumers who want to buy a product that's produced in the best way possible for not only themselves to ingest, but for the environment as well through sustainable farming methods. </p><h2>What Is CBD Oil?</h2><p>First things first, CBD stands for cannabidiol, and it's a cannabinoid found within cannabis sativa plants. This plant compound is believed to have many potential benefits, and it is primarily derived from hemp plants via a CO2 extraction process. </p><p>Since CBD is extracted from industrial hemp, which contains only trace amounts of THC (the psychoactive component in cannabis plants), this means that CBD won't make you feel high like marijuana, which has much higher levels of THC that causes psychoactive effects. Instead, the effects of CBD are much more subtle and promote a general sense of calm and relaxation in most users.</p><h2>What Makes a CBD Oil Organic?</h2><p>In terms of organic labels, perhaps the most important (and prominent) certification comes from the United States Department of Agriculture (USDA). This government organization has been labeling foods as "organic" for many years, but what exactly does this certification entail? Essentially, a label indicating that a product is "USDA Organic" or "Certified Organic" means that at least 95% of the ingredients are obtained from organic sources.</p><p>For a crop to be considered organic by the USDA, it must be grown without the use of industrial solvents, irradiation, genetic engineering (GMOs), synthetic pesticides, or chemical fertilizer. Instead, farmers rely on natural substances and <a href="https://www.usda.gov/media/blog/2012/03/22/organic-101-what-usda-organic-label-means" rel="noopener noreferrer" target="_blank">mechanical, physical, or biologically based farming</a> techniques to cultivate healthy and organic crops.</p><p>Before the passage of the 2018 Farm Bill, no hemp-derived products could be dubbed as "certified organic" since the hemp plant and its extracts were still categorized as a Schedule I Controlled Substance. However, it's still difficult for CBD companies to obtain a USDA certified organic label for their products due to the legal grey area that still surrounds CBD extracts. </p><p>Because of these challenges, and due to the fact that industrial hemp has only recently become an agricultural crop, very few CBD oils are USDA certified organic. Rather, many CBD products contain hemp extracts from plants that were grown in organic conditions but may not be federally certified.</p><h2>What are the Best Organic CBD Oil Brands?</h2><p><em>Each product featured here has been independently selected. If you make a purchase using the links included, we may earn commission.</em></p>