For decades all across America, coal-fired power plants have dumped tons of toxic pollutants into public rivers, lakes, streams and coastal waters. On a toxicity-weighted scale, discharges from coal-fired power plants account for over one half of all toxic water pollution in the U.S. The pollutants dumped by coal-fired power plants are among the most toxic heavy metals listed by the U.S. Department of Health's Agency for Toxic Substances and Disease Registry, including arsenic, cadmium, chromium, lead, mercury and selenium.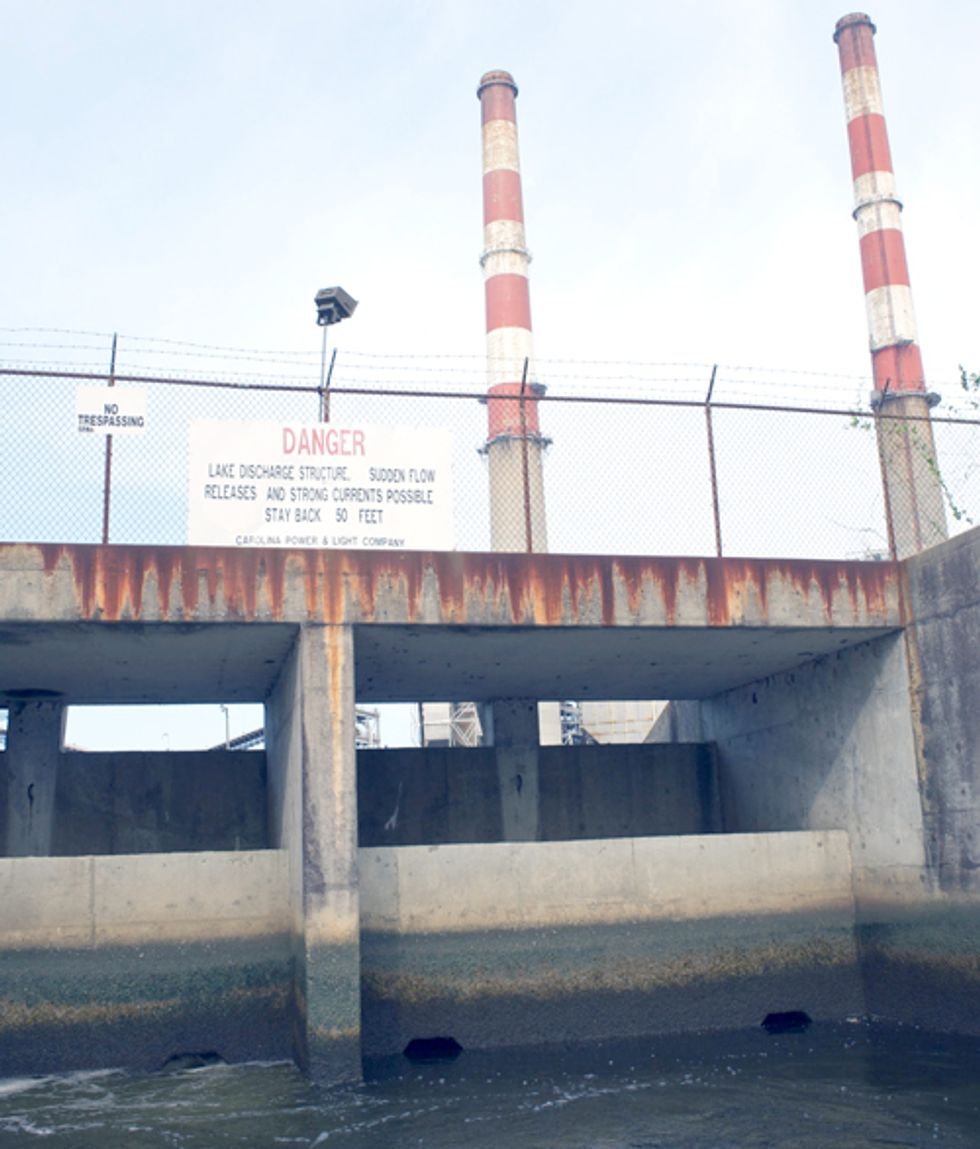 The Sutton coal-fired power plant in Wilmington, NC, is a prime example of a coal-fired power plant with a long history of groundwater pollution, surface water contamination and government failure to prevent harm to public waterways.
Underneath the sand and pine trees that surround Sutton, an unseen plume of toxic heavy metals has migrated out of the unlined ash ponds into groundwater. Monitoring well data from the site show the ash ponds have caused numerous pollutants to exceed their respective standards, including:
Arsenic at 34 times the standard
Manganese at 47 times the standard
Iron at 27 times the standard
Boron at four times the standard
Sulfate more than three times the standard
Thallium at three times the standard
Selenium at more than twice the standard
Total Dissolved Solids at twice the standard
Chloride
Antimony
Lead
Unbeknownst to most of the people living in Wilmington, NC, this hidden toxic witches brew of contamination is flowing towards public water supplies that provide drinking water to the community of Flemington. These wells are operated by the Cape Fear Public Utility Authority and are located less than a mile from the leaking Sutton coal ash ponds.
Public water supply wells located less than a mile from the leaking Sutton coal ash ponds. Public records show that polluted groundwater is flowing towards these wells. For decades, neither the U.S. EPA nor the N.C. Department of Environment and Natural Resources have required the utility to clean up of the groundwater contamination. Photo credit: Dot Griffith
Groundwater assessments prepared by Progress Energy and submitted to the North Carolina Department of Environment and Natural Resources (DENR) have found that the contaminated groundwater flows in the direction of the Flemington community wells at a rate of between 109 to 339 feet per year. In 1994, DENR's Division of Environmental Management Groundwater Section explained that the groundwater flow at the Sutton site is "substantially influenced by the pumping activities of the New Hanover Co. well field [i.e., the Flemington wells]" and that "[t]hese pumping activities may result in a groundwater flow pattern that moves from the lake and ash ponds toward the well field."
Indeed, a recent report prepared by the North Carolina Division of Environmental Health, Public Water Supply Section for the water system served by the Flemington wells assigned their "Inherent Vulnerability Rating," "Contaminant Rating" and "Susceptibility Rating" the highest risk rating and listed the Sutton facility numerous times as a "Potential Contaminant Source" for the wells. The report also confirms that many of the highly contaminated groundwater wells at Sutton are within the area that contributes groundwater to the Flemington wells.
This situation also raises an environmental justice issue. Achieving environmental justice involves identifying and addressing disproportionately high and adverse human health or environmental effects of federal programs, policies and activities on minority and low-income populations. Here, failure to enforce provisions of the Clean Water Act, to the detriment of the low-income Flemington community, is an environmental justice concern.
The other huge problem caused by decades of untreated coal ash waste being dumped into Sutton Lake is the accumulation of selenium in fish. Decades of sampling reveals that selenium concentrations have increased dramatically over time, such that in recent years the selenium concentrations in the surface water reached levels that cause reproductive failure of fish and waterfowl and have far exceeded those levels in the lake sediments and in fish tissue itself. The North Carolina Wildlife Resources Commission (WRC) determined that the sediment and fish tissue concentrations represent a "High" hazard. Unsurprisingly, the most recent published assessment of the lake by WRC noted that largemouth bass in Sutton Lake were in poor condition, and that from 2008 to 2010, the abundance and size of the largemouth bass population declined by 50 percent.
Sutton Lake is an extremely popular fishing location. It is frequented both by sport fishermen and by subsistence fishermen, who catch fish that are eaten by themselves and their families. Despite the fact that untreated coal ash sluice water, coal pile runoff, chemical metal cleaning wastes and other wastewater is discharged directly into the public waters of Sutton Lake, the public is encouraged to fish there. As selenium levels rose in fish in recent years, the state of North Carolina could have informed the public that the fish in Sutton Lake are in poor health. But in actuality boat ramps and fishing piers were recently improved to provide even greater public access and allow more people to catch and eat the fish out of Sutton Lake.
Public fishing is encouraged at Sutton Lake even though fish have high levels of selenium. Photo Credit: Dot Griffith
For decades, the regulatory agencies in charge of making sure toxic water pollution doesn't harm public waters have done very little to stop the contamination of ground and surface water caused by the Sutton coal-fired power plant. At the federal level, coal combustion waste regulations have been stalled since 2010. The U.S. Environmental Protection Agency (EPA) continues its abject failure to enact the regulations and protect the public from hazardous coal ash waste contamination at more than 1,000 other coal ash dumps across the U.S. including Sutton. At the state level, conservation groups convened repeated meetings over the last two years with North Carolina DENR to ask them to take decisive action to stop the contamination of public waters from all of North Carolina's leaking coal ash ponds across the state. They too, have failed to stop the contamination.
So today the Cape River Watch, Waterkeeper Alliance and Sierra Club, represented by the Southern Environmental Law Center (SELC), sent a notice to Duke Energy Progress, Inc., that it will bring suit under the Clean Water Act to stop Progress Energy's coal ash pollution of Sutton Lake.
"We're taking action to stop the harmful pollution of one of the area's most popular fishing lakes," said Frank Holleman, senior attorney at the Southern Environmental Law Center. "For years, Progress has dumped untreated pollution from its coal ash lagoons into Sutton Lake. Progress can't treat this public fishing lake as its private wastewater treatment pond—too many people depend on this valuable public resource."
Contaminated groundwater is flowing into a canal that discharges into Sutton Lake, creating an additional unpermitted source of contamination. The Progress facility includes two unlined coal ash lagoons alongside Sutton Lake. In 2010, a portion of the berms collapsed, spilling coal ash out of the lagoon.
"I enjoy fishing at Sutton Lake, and I know a lot of other people do too," said Kemp Burdette, Cape Fear Riverkeeper. "We need to ensure that the contamination from Progress's coal ash is stopped and cleaned up."
The groups' notice letter comes in the wake of two other notices this year in which SELC spotlighted coal ash contamination at Progress's Skyland plant in Asheville and Duke Energy's Riverbend plant north of Charlotte. The state subsequently sued the utilities in both those cases, stating that they were violating state law and that the coal ash pollution "poses a serious danger to the health, safety, and welfare of the people of North Carolina and serious harm to the water resources of the state." SELC also filed a federal court lawsuit over the Riverbend coal ash pollution June 11.
"This pollution of state waters is yet another example of the toxic legacy of coal-fired power plants in North Carolina," said Kelly Martin of the Sierra Club's Beyond Coal Campaign. "Community drinking water and a public fishing lake are both at risk, and now it's time to clean up the mess."
Selenium contamination has harmed fish populations in at least two other lakes at Progress power plants. Selenium contamination from the coal ash lagoon at Progress's Roxboro plant devastated fish populations in Lake Hyco, and fish deformities associated with selenium contamination have been documented recently in Mayo Lake. Meanwhile, at Belews Lake, selenium from a leaking Duke Power coal ash basin eradicated 19 of the 20 species of fish formerly present in the lake. In 2007, EPA classified both Lake Hyco and Belews Lake as "proven ecological damage cases" due to the coal ash pollution. Selenium accumulation can cause developmental abnormalities in fish and amphibians and has led to the death of entire local fish populations.
"To let a utility treat this important fishery as a dumping ground for its coal ash pollutants is bad for the fish, bad for the public, and bad for the state," said Donna Lisenby, global coal campaign coordinator at the Waterkeeper Alliance. "We had to act because it is clear that neither state nor federal agencies are willing to do what is necessary to protect public waterways."
Visit EcoWatch's CLEAN WATER ACT and COAL ASH pages for more related news on this topic.
 ——–
EcoWatch Daily Newsletter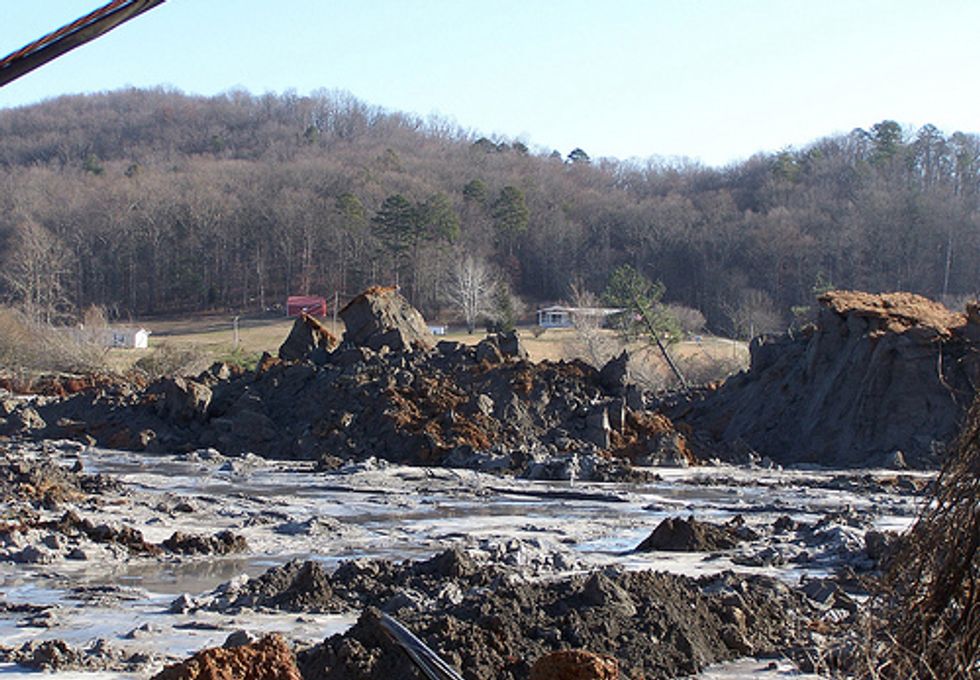 Environmental and public health groups announced their intent to sue the U.S. Environmental Protection Agency (EPA) in federal court Jan. 18 to force the release of long awaited public health safeguards against toxic coal ash. The EPA has delayed the first-ever federal protections for coal ash for nearly two years despite more evidence of leaking ponds, poisoned groundwater supplies and threats to public health.
Earthjustice, on behalf of Appalachian Voices (N.C.), Chesapeake Climate Action Network (Md.), Environmental Integrity Project, French Broad Riverkeeper (N.C.), Kentuckians For The Commonwealth (Ky.), Moapa band of Paiutes (Nev.), Montana Environmental Information Center (Mont.), Physicians for Social Responsibility, Prairie Rivers Network (Ill.), Sierra Club and Southern Alliance for Clean Energy (Tenn.), sent the EPA a notice of intent to sue the agency under the Resource Conservation and Recovery Act (RCRA). The law requires the EPA to ensure that safeguards are regularly updated to address threats posed by wastes. However, the EPA has never undertaken any action to ensure safeguards address the known threats posed by coal ash, a toxic mix of arsenic, lead, hexavalent chromium, mercury, selenium, cadmium and other dangerous pollutants that result from burning coal at coal-fired power plants.
A copy of the Notice of Intent to Sue letter sent to the EPA is available here.
Following a spill of more than a billion gallons of coal ash at a disposal pond in Harriman, Tenn., in December 2008, EPA Administrator Lisa Jackson announced in 2009 plans to set federal coal ash regulations by year's end. In May 2010, the EPA proposed a hybrid regulation to classify coal ash either as hazardous or non-hazardous waste. After eight public hearings across the country and more than 450,000 public comments, the agency decided to delay finalizing the rule amid intense pressure from the coal and power industries.
The following video shows the devastating results of the Harriman, Tennessee coal ash spill:
Despite numerous studies showing the inadequacy of current federal coal ash safeguards to protect public health and the environment as well as documented evidence by the EPA and environmental groups showing coal ash poisoned aquifers and surface waters at 150 sites in 36 states, the EPA continues to fail to adopt federal safeguards. The Jan. 18 lawsuit would force the EPA to set deadlines for review and revision of relevant solid and hazardous waste regulations to address coal ash, as well as the much needed and overdue changes to the test that determines whether a waste is hazardous under RCRA.
"Politics and pressure from corporate lobbyists are delaying much needed health protections from coal ash," said Earthjustice attorney Lisa Evans. "The law states that the EPA should protect citizens who are exposed to cancer-causing chemicals in their drinking water from coal ash. As we clean up the smokestacks of power plants, we can't just shift the pollution from air to water and think the problem is solved. The EPA must set strong, federally enforceable safeguards against this toxic menace."
"It's well past time for the EPA to do something about this hazardous waste," said Anne Hedges, program director of the Montana Environmental Information Center. "Our biggest coal ash ponds in Montana are leaking and have been leaking for decades."
"For far too long the Tennessee Valley Authority has been allowed to ignore the dangers of coal ash, resulting in the 2008 Kingston disaster, one of the worst environmental catastrophes of our time," said Josh Galperin, policy analyst and research attorney for Southern Alliance for Clean Energy. "Despite the lessons of Kingston and an explicit congressional mandate, coal ash continues to be unregulated by the EPA. We are taking action today to drive EPA to follow-through on its legal duty to protect Americans from this toxic waste."
"Data on groundwater at coal ash disposal sites is now available, and the results in Illinois and many other states are grim," said Traci Barkley, water resources scientist with Prairie Rivers Network. "State regulators found high levels of coal ash pollutants in groundwater at all 22 sites in our state. Seeing that our state's rules have not protected our residents and our clean water, we need to know that the EPA will get the job done."
"Right now our organization is involved in several lawsuits against old, leaking coal ash landfills in Maryland," said Diana Dascalu-Joffe, staff attorney with Chesapeake Climate Action Network. "Dangerous coal ash is leaching into waterways that hurt the Chesapeake Bay and could be threatening the health of Maryland citizens. The EPA has a responsibility to issue a uniform, strong rule to address coal ash so groups like ours don't have to fight to clean them up, facility by facility, at the state level."
"With a state legislature bent on weakening the ability to protect public health, North Carolinians are calling on the EPA to demonstrate political leadership by providing strong and consistent federal guidelines for coal ash disposal and storage," said Sandra Diaz, North Carolina campaign coordinator for Appalachian Voices.
"With many coal ash dumps located in populated areas, the public depends on the EPA to do everything possible to protect our health and keep our communities safe," said Mary Love, member of Kentuckians For The Commonwealth. "We need strong standards so we can not only clean up communities that have already been poisoned but make sure these toxic chemicals never again leak into our homes and communities."
"The EPA promised to set standards for coal ash disposal sites more than a decade ago," said Eric Schaeffer, executive director at Environmental Integrity Project. "Are we going to have to wait for another disaster before EPA finally keeps that promise?"
"The toxic threat that coal ash poses to human health is severe," said Dr. Maureen McCue, MD, PhD, of Physicians for Social Responsibility. "Coal ash contains contaminants that can cause cancer and can damage the intestines, liver, kidney, lungs, heart, peripheral nervous system and brain. It's unthinkable that the EPA allows this toxic stew to get into drinking water. It doesn't get much dirtier than this."
"Our children are losing more than their health because of the power plants; they're losing their culture, too," said William Anderson, chairman of the Moapa Band of Paiutes in southeastern Nevada. "We used to hunt ducks and geese on our land—but no longer. The birds land in the coal wastewater ponds. We used to harvest medicinal plants, but not anymore. The plants have been contaminated over the years by the plant's coal ash dust, soot and other pollutants."
"Two of the nation's 49 high hazard coal ash dams sit on the banks of the French Broad River. These ponds pose a looming threat to the health and safety of the surrounding community, as well as the French Broad River," said Hartwell Carson, French Broad Riverkeeper. "The dams also hold back toxic coal ash that pollutes the groundwater and surface water every day. It is time for the EPA to act to protect the French Broad River and the hundreds of similarly impacted rivers and communities around the country."
"The EPA must act and they must act soon," said Bruce Nilles, senior campaign director for the Sierra Club's Beyond Coal Campaign. "Millions of tons of toxic waste from coal plants—coal ash containing arsenic, lead, mercury and other dangerous pollution—are dumped across the country each year, often without basic safety protections. Even though the EPA has identified more than four dozen highly dangerous coal ash sites around the country they have still failed to safeguard the health and well being of those living near the dumping grounds. We urge the EPA to take definitive action to protect American families and communities."
For more information, click here.
stocknroll / Getty Images
More and more Americans are retrofitting their bathrooms with high-end bidets, allowing them to enjoy cleanliness and hygiene without creating as much paper waste. Not all bidets are created equal, however, and before deciding on a particular brand, it's important to do your homework. Take a look at our comprehensive Toto bidet review, and our reviews of Tushy and Omigo, to learn more about all of their options.

<h2>Toto overview</h2><p>Toto is a company that has been around for over 100 years. They aim to improve people's quality of life, and they do that specifically by focusing on bathrooms. To that end, Toto is known for high-quality products including toilets, faucets, showers, bathtubs, and bidets. </p><p>Toto has also expressed an admirable commitment to ecological stewardship. As <a href="https://www.totousa.com/about-toto/toto-way" target="_blank">their corporate website</a> notes, they strive to "protect the global environment by conserving finite natural resources and energy." One example of this is their donation of any imperfectly fired porcelain products for recycling and reuse as porcelain floor tile. Their <a href="https://www.totousa.com/about-toto/living-toto-library/smart-sustainable-packaging-solution" rel="noopener noreferrer" target="_blank">packaging</a> uses differing levels of recycled post-consumer paper products while their forklifts operate using <a href="https://www.totousa.com/about-toto/living-toto-library/plant-based-hydraulics" rel="noopener noreferrer" target="_blank">plant-based hydraulics</a> made from soybean oil instead of traditional hydraulic oil.</p><p>Toto is definitely a company with a superior reputation when it comes to bathroom accessories in general, and bidets in particular. Here are reviews of some of the specific products in the Toto line.</p><h2>Toto bidet reviews</h2><p>There are two different bidet product families available from Toto: standalone bidets and bidet seat attachments. Their standalone models include the Piedmont bidet, the Lloyd bidet, and the Clayton bidet, while their bidet toilet seat offerings include a wide selection in the popular Washlet line. Here are details on the three standalone options and three of the most popular bidet seat attachments.</p><p><em>Each product featured here has been independently selected by the writer. If you make a purchase using the links included, we may earn commission.</em></p><h3>Toto standalone bidets</h3><h4></h4>
<h3>Toto bidet seats</h3>