This website uses cookies to ensure you get the best experience while browsing it. By clicking 'Got It' you're accepting these terms.
The White House is readying a plan to push out former ExxonMobil CEO Rex Tillerson as Secretary of State in the coming weeks, multiple outlets reported Thursday.
ExxonMobil CEO Rex Tillerson—who has close personal and company ties to Russia and President Vladimir Putin—is President-elect Donald Trump's top pick to become the next secretary of state, with the decision likely coming next week according to NBC News.
The news comes amid reports that Congressional members and senior U.S. Central Intelligence Agency (CIA) officials say they have intelligence showing Russia attempted to tip the balance of the November U.S. presidential election in favor of Trump by hacking into email systems and giving those emails to Wikileaks. And President Barack Obama has called for a complete investigation on the matter before he leaves the White House on Jan. 20.
Though the evidence presented to the U.S. public so far lacks smoking gun documentation, many are alarmed that a geopolitical adversary may have interfered with the U.S. electoral process. Trump, though—who has signaled a potential sea change in the U.S.-Russia geopolitical relationship—is not among them, as indicated in his choice of Tillerson for top U.S. diplomat.
"If the goal is to drain the swamp in DC, Tillerson might not be your man; Exxon's business plan continues to require raising the level of the ocean to the point where Foggy Bottom will be well underwater," said 350.org founder Bill McKibben in a press release. "But this is certainly a good way to make clear exactly who'll be running the government in a Trump administration—just cut out the middleman and hand it directly to the fossil fuel industry."
Exxon Says It's "Not a U.S. Company"
Exxon, the top U.S. producer of oil and gas and a well-documented funder of climate science denial, actually leases more land in Russia than it does in the U.S.
"Exxon boosted its Russian holdings to 63.7 million acres in 2014 from 11.4 million at the end of 2013, according to data from U.S. regulatory filings," reported Bloomberg in March 2014. "That dwarfs the 14.6 million acres of rights Exxon holds in the U.S., which until last year was its largest exploration prospect."
Exxon, though headquartered in Irving, Texas near Dallas, is a sprawling "private empire" with assets spread across the globe. When asked about building more U.S. refineries to protect the U.S. economy and consumers from fuel shortages, former CEO and chairman Lee Raymond put Exxon's view of itself and its loyalty to the U.S. bluntly.
"I'm not a U.S. company, and I don't make decisions based on what's good for the U.S," Raymond is quoted as saying in the 2012 book Private Empire: ExxonMobil and American Power by Steve Coll.
In June, Tillerson attended the St. Petersburg International Economic Forum after taking a two-year hiatus from attending the event, which is the top business meeting held annually in Russia. Igor Sechin, CEO of Russian state oil company Rosneft and currently the subject of U.S. sanctions, served as the keynote speaker.
Offshore Drilling, Fracking, LNG
Exxon and Rosneft have maintained close business relations, so much so that Putin gave the Order of Friendship Award to Tillerson in 2013. In terms of business ties, what has that "friendship" entailed?
The two oil companies had intended to tap into Russia's bounty of over 191 billion acres of offshore Arctic oil as part of their joint venture. (However, that was before the U.S. sanctioned Russia for its incursion in Crimea, which has temporarily halted the drilling plans.) The two companies also co-run the Arctic Research and Design Center for Continental Shelf Development in Russia, in which Exxon maintains a 33.33 percent stake.
Since 1996, Exxon has also taken part in the Sakhalin Consortium, which centers around pumping oil offshore from Russia's Sakhalin Island. Exxon and Rosneft also co-own acreage in Texas' Permian Basin shale patch, and until recently dropping the joint venture, they co-owned 20 offshore drilling plots in the Gulf of Mexico.
Beyond the Gulf, Exxon maintains a joint venture with Rosneft to do offshore drilling in Alaska's Point Thompson in the state's North Slope territory.
In Russia, Exxon also co-owns a stake in the proposed Sakhalin liquefied natural gas (LNG) facility in Sakhalin, which would see that gas exported to the global market. However, the plant opening was delayed when sanctions hit, pushing it back at least two years according to an April 2015 announcement.
Exxon also has a joint venture with Rosneft in the Bazhenov Shale basin in Siberia, into which Exxon poured $300 million. Exxon owns a 49 percent stake and Rosneft 51 percent in that venture, which is to explore hydraulic fracturing or fracking possibilities in the field. If exploration bears fruit, Rosneft would hold a 66.67 percent interest in drilling the field while ExxonMobil would maintain a 33.33 percent stake.
"This agreement combines the strengths of our two companies," Tillerson said when the two companies announced the deal in June 2012. "ExxonMobil has technology leadership in tight oil and unconventional reserves development and Rosneft brings direct knowledge and experience of Western Siberia's geology and conventional production."
If drilling proves technologically feasible, Bazhenov could become the most prolific shale field in the world.
Lobbying Against Russian Sanctions
As soon as sanctions are lifted in Russia, which Trump has said he would do, Exxon has said it will return to the Russian Arctic.
BuzzFeed has reported that a bill is now making its way through Congress which would make it much more difficult for the next president to reverse those sanctions, which were put in place through a series of executive orders. Exxon is very interested in the fate of that bill.
As Buzzfeed reported:
"We have not lobbied on the bill," Alan Jeffers, spokesperson for ExxonMobil, told BuzzFeed News. "Our activities on the bill constitute monitoring of congressional activities."
That was this summer before Congress was again in session. Yet the bill's language has already been changed in a way that would make Exxon's dealings in Russia much easier, as it essentially exempts the exective order sanctioning Rosneft and other Russian energy companies.
With Tillerson heading the State Department, this kind of international energy policy may become much more common.
EcoWatch Daily Newsletter
Recipients of the Nobel Peace Prize are calling for the rejection of the Keystone XL tar sands pipeline. A letter from 10 Nobel Peace Prize winners addressed to both President Obama and Secretary of State Kerry announced by the Nobel Women's Initiative was inspired by the Laureates' concern for the rapidly expanding Canadian tar sands.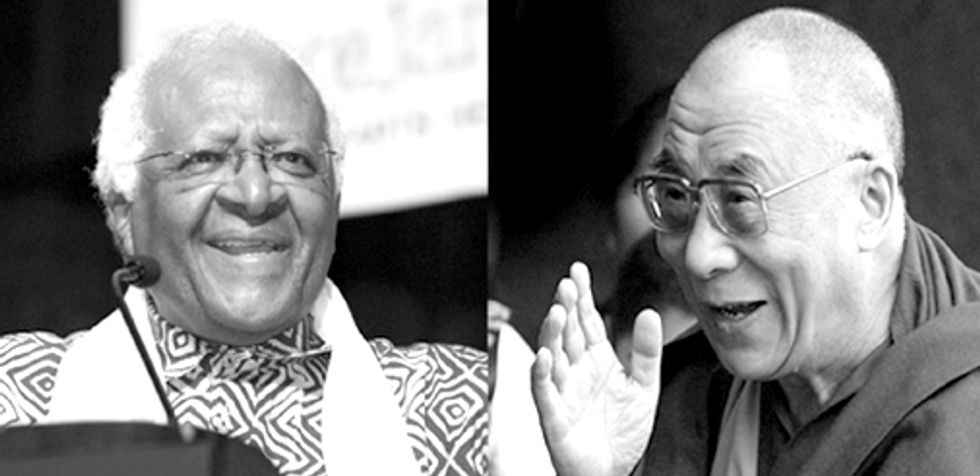 As wildfires burn out of control in Colorado adding to record-breaking weather across the nation, the Laureates said "as leaders who have spoken out strongly on these issues, we urge you, once again, to be on the right side of history and send a clear message that you are serious about moving beyond dirty oil."
The letter sent today followed an earlier letter sent in 2011 also calling for a rejection of Keystone XL. When the great moral leaders of our time, including Archbishop Tutu, call for a rejection of tar sands in the face of catastrophic climate change, it is time for the U.S. to reject the Keystone XL tar sands pipeline, a linchpin enabling the tripling of expansion of this dirty oil. 
Like millions of others, we were buoyed by words in the President's second inaugural address: "We will respond to the threat of climate change, knowing that failure to do so would betray our children and future generations." Mr. President and Secretary Kerry, this is an opportunity to begin to fulfill that promise. While there is no one policy or action that will avoid dangerous climate change, saying "no" to the Keystone XL pipeline is a critical step in the right direction. Now is the time for unwavering leadership.—Nobel Laureates Letter, 2013
The climate impacts of a world that accommodates tar sands expansion are unimaginable. If industry and the Canadian and Albertan governments had their way we would be on track for six degrees centigrade of global warming—triple the two degree limit that the President has promised to avoid.
The International Energy Agency, among many other respected bodies, has found that in order to prevent catastrophic global warming of over two degrees centigrade we must leave two thirds of fossil fuels in the ground.—Nobel Laureates Letter, 2013
In addition to the climate pollution, the tar sands are doing irreversible damage to water, air, land, animals and communities in Northern Alberta and along their pipeline routes where the question of a spill is not if but when.
Recent tar sands oil spills in Kalamazo, MI, and Mayflower, AR, have served as a harsh reminder that shipping the world's dirtiest oil will never likely be safe enough for human health and the environment. —Nobel Laureates Letter, 2013
President Obama and Senator Kerry have both been clear about the urgency and importance of dealing with climate change, and recognizing that as the world's largest polluter, the U.S. is a critical player in ensuring a safe future for generations to come. The Keystone XL tar sands pipeline debate has illustrated the two pathways we face as a country. One locks us into decades of dirty fossil fuels, taking us down a path of negatively affecting millions of lives and livelihoods. And on other pathway we build real energy security based on clean and renewable energy that will protect our economy, our people and future generations.
The Laureates acknowledged the President was under pressure to approve Keystone XL, especially by big oil interests.
We also recognize the pressure from forces in your own country. The Keystone XL pipeline will not benefit or improve the lives of Americans, but nevertheless we understand that the politics of action on climate are not easy. We believe you are the kind of leaders who can stand up to those interests when necessary, to do what is right for the world and for future generations. —Nobel Laureates Letter, 2013
The decision on the Keystone XL tar sands pipeline has emerged as an issue of international interest. It is about standing up to big oil and rejecting the expansion of some of the dirtiest oil on earth. President Obama and Secretary Kerry: It is time to say no to the Keystone XL tar sands pipeline once and for all.
Visit EcoWatch's KEYSTONE XL page for more related news on this topic.
——-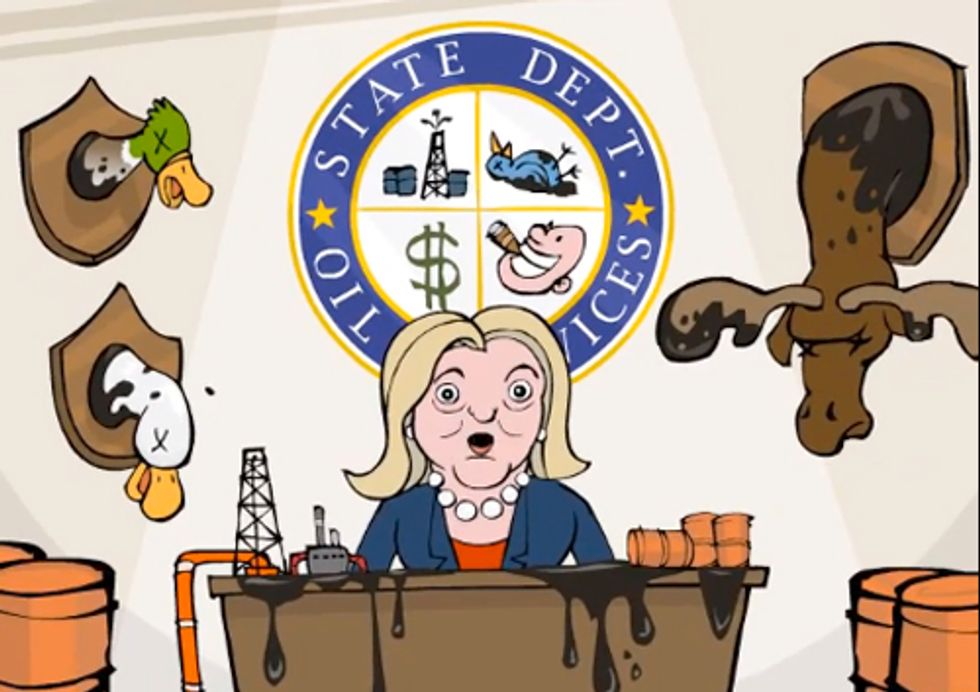 Environmental group Friends of the Earth sued the State Department on Feb. 23 to gain access to communications between the department and a broad web of lobbyists promoting the Keystone XL tar sands pipeline.
Friends of the Earth, represented by Earthjustice, filed a Freedom of Information Act (FOIA) request in October 2011, asking the State Department to release communications between the department and employees of TransCanada, the Canadian oil company seeking to build the Keystone XL pipeline, or between the department and employees of pro-pipeline lobbying firms McKenna Long & Aldridge, Bryan Cave LLP and DLA Piper.
Two of the lobbyists named on this FOIA request, Gordon Giffin with McKenna, Long & Aldridge and James Blanchard with DLA Piper, were fundraising bundlers for Secretary of State Hillary Clinton's 2008 presidential bid. DLA Piper was also the largest single corporate source of employee and PAC contributions to Hillary Clinton's campaign. The campaign connections also extend to President Obama. Jeff Berman, a lobbyist listed on Bryan Cave's Keystone XL lobbying account, was director of delegate selection in Obama's primary campaign and was called the "unsung hero" of his victory.
"Despite the administration's recent rejection of the Keystone XL permit, TransCanada is forging full-speed ahead on a new permit application, and pro-pipeline lobbyists are keeping the pressure on the State Department to approve this controversial and misguided pipeline," said Damon Moglen, climate and energy project director at Friends of the Earth. "The communications we seek are key to ensuring that the State Department isn't letting lobbyists' personal connections to Secretary Clinton or President Obama bias its decision-making."
Friends of the Earth filed a previous lawsuit against the State Department for failure to respond to a December 2010 FOIA request, leading to the release of correspondence between State Department officials and Paul Elliott, TransCanada's lead Washington, D.C. lobbyist, who was formerly one of Hillary Clinton's presidential campaign managers. Revelations about other lobbyists with close ties to Secretary of State Hillary Clinton and their potential influence on the review process for the Keystone XL permit led the environmental groups to file this FOIA request for those additional lobbyists' communications. The State Department has ignored that request.
"Emails released in response to our first Keystone XL FOIA request revealed an inappropriately cozy and accommodating relationship between TransCanada and State Department officials," said Moglen. "From conflicts of interest, to insider advice, to outright cheerleading from within the department, those FOIA documents revealed a corrupted and broken process. With TransCanada continuing to push for a permit for this controversial project, the public deserves to know the full details of oil lobbyist relationships fueling this project. The State Department must not hide documents from the public that could shed further light on serious problems in the initial review of the Keystone XL pipeline—problems that contributed to the biased and incomplete environmental review of the pipeline the first time around."
"The billions of oil dollars backing this pipeline should not interfere with government transparency. The public has a right to know how our government is making decisions that have potentially grave consequences for our environment," said Earthjustice attorney Abby Rubinson.
The complaint filed on Feb. 23 against the State Department is available by clicking here.
For more information, click here.