This website uses cookies to ensure you get the best experience while browsing it. By clicking 'Got It' you're accepting these terms.


The best of EcoWatch, right in your inbox. Sign up for our email newsletter!
Seaweed farmer in Bali, Indonesia on Nov. 23, 2018. Anton Raharjo / NurPhoto / Getty Images
By Alex Robinson
Seaweed. It's the bane of swimmers, and can ruin a nice day at the beach. But harvesting the aquatic plant could play a role in mitigating the effects of climate change.
Seaweed washes up on Mexican beach. J.Sullivan / Getty Images
By Nik Martin
A vast expanse of brown seaweed stretching across the Atlantic is a threat to tourism but a boon to marine life, U.S. researchers have said.
EcoWatch Daily Newsletter
Wiyada Arunwaikit / iStock / Getty Images
By Brian Barth
Wild-harvested seaweed can be found in very expensive packets at health boutiques, but it is abundant and free to harvest on beaches along both coasts. You can pay a handsome sum to take a seaweed harvesting workshop or do a little sleuthing and strike out on your own — it's surprisingly easy. Here are the basics.
Lori Eanes
By Lesley Jacobs Solmonson
Dozens of edible varieties of seaweed—the broad term for 10,000-plus types of marine plants and algae—are high in minerals, fiber, antioxidants and sometimes protein.
Biodegradable and edible packaging from seaweed. Evoware / Instagram
You might compost religiously. You might recycle everything your city can handle. But even the most environmentally conscious individual might have trouble responsibly disposing the ubiquitous food wrapper.
These crinkly, colorful sheets that come with our granola bars and potato chips can contain so many different materials mixed together (plastic, aluminum, paper, etc.) that recycling it can be too laborious or too expensive to be worth it.
Lia Heifetz of Barnacle Foods hauls kelp for salsa. Bethany Sonsini Goodrich
By Sarah Bedolfe
Summer in southeast Alaska is kelp season for the cofounders of Barnacle Foods, Lia Heifetz and Matt Kern. Each week, the pair watches the tides and weather, waiting for the right moment to cruise out to the abundant kelp beds offshore. They lean over the side of the boat and pull up the fronds and stalks, one piece at a time. As soon as they get back to shore, they start processing the day's harvest into a local delicacy: kelp salsa.
Salsa and Alaskan algae might seem like odd bedfellows, but for Barnacle Foods, it's a calculated decision. The kelp's savory notes make the salsa's flavor "a little more explosive," according to Kern. And the pairing is also a practical one. "Salsa is such a familiar food item," Heifetz said. It's "a gateway to getting more people to eat seaweed."
Pixabay
By Marlene Cimons
The Smithsonian Institution calls coralline algae "the unsung architects of coral reefs." These pink-colored seaweed, with a skeletal structure that resembles honeycomb, live in harmony with coral.
They strengthen the corals' foundation by growing over and between gaps in coral reefs, essentially gluing sections of coral together. They provide a surface for baby corals to settle, and serve as food for marine life, including sea urchins, parrot fish and mollusks.
The answer to powering our devices might have been hiding in our sushi all along. An international team of researchers has used seaweed to create a material that can enhance the performance of superconductors, lithium-ion batteries and fuel cells.
By Josh Chamot
Seaweed is an acquired taste, but rich in nutrients and cheap to produce, and it could replace carbon-intensive foods on menus everywhere. With that in mind, Lisette Kreischer and Marcel Schuttelaar wrote Ocean Greens, a guide to cooking with seaweed. Kreischer shared her insights on seaweed with Nexus Media, along with two of her best recipes.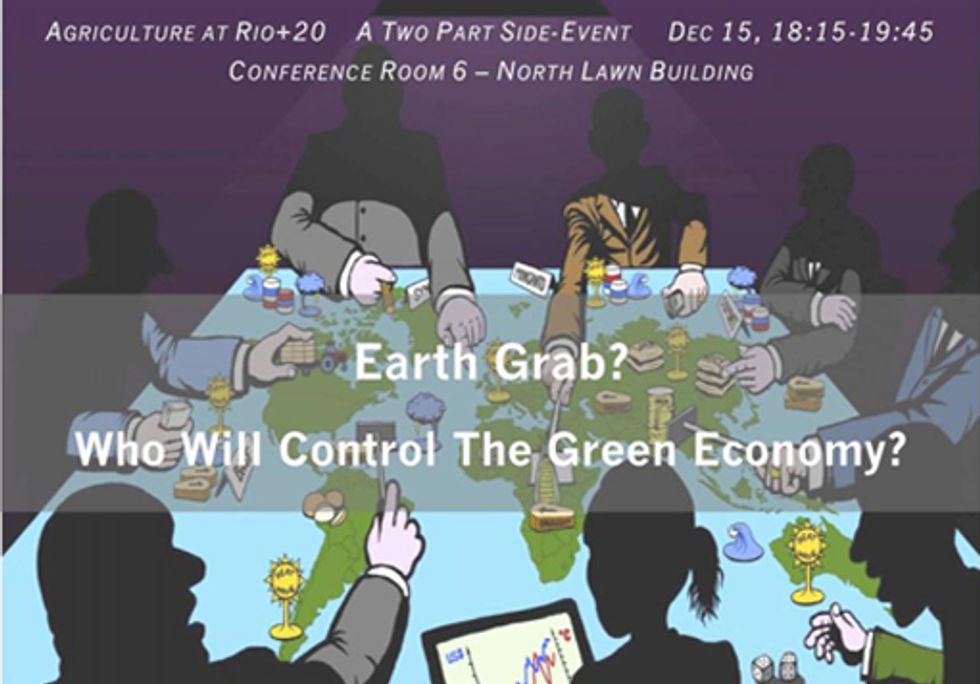 From the United Nations (U.N.) Rio+20 preparatory meetings in New York, ETC Group launched Who Will Control the Green Economy? The 60-page report connects the dots between the climate and oil crises, new technologies and corporate power. The report warns that the world's largest companies are riding the coattails of the "Green Economy" while gearing up for their boldest coup to-date—not just by making strategic acquisitions and tapping new markets, but also by penetrating new industrial sectors.
DuPont, for example, already the world's second largest seed company and sixth largest company in both pesticides and chemicals, is now a powerhouse in plant-based materials, energy and food ingredients. DuPont's business plan is not unique. Other major players in seeds, pesticides, chemicals and food—including Monsanto, Syngenta, Dow, BASF and Unilever—are also making strategic investments in risky technologies and forming R&D collaborations in hopes of turning plant biomass into all kinds of high value products—and profit.
Since the turn of the millennium, the vision of a bio-based economy has been taking shape, with its promise to solve the problems of peak oil and climate change and to usher in an era of sustainable development, it quickly acquired a patina of green. New technologies, primarily synthetic biology or extreme genetic engineering, enabled by advanced bioinformatics and genomics, are the bioeconomy's engine while agricultural feedstock is its fuel.
While seductive, the new green techno-fixes are dangerous because they will spur even greater convergence and concentration of corporate power and unleash privately owned technologies into communities that have not been consulted about—or prepared for—their impacts. If the "Green Economy" is imposed without full intergovernmental debate and extensive involvement from peoples' organizations and civil society, the Earth Summit to take place in Rio de Janeiro June 20-22, 2012 risks becoming the biggest Earth grab in more than 500 years.
"The goal is not to reject the green economy or technologies, but these are tools that must be guided by strong social policies," said Kathy Jo Wetter of ETC Group. "Agenda 21 called for technology assessment back in 1992 and the need for such a precautionary tool, that includes strict oversight of corporate concentration, is now more urgent than ever before."
"Corporate control over our food system threatens peasant farmers around the world," said Alberto Gomez of La Via Campesina. "We already produce 70 percent of the world's food, but our ability to do so in an agro-ecological way is being undermined by the kind of corporate control this report documents."
Who Will Control the Green Economy? will be launched at the Rio+20 intersessional meeting taking place in New York, Dec. 15-16. Kathy Jo Wetter, one of the report's researchers, will present the findings on Thursday, Dec. 15, 2011, at 7 p.m. at a side-event on agriculture at Rio+20, in conference room 6, North Lawn Building at the U.N. Headquarters. Alberto Gomez will also speak at this event.
What you will find in the Who Will Control the Green Economy? Report—December 2011
Naming The Green Economy's "One Percent" 
Who Will Control the Green Economy? provides hard data on the largest and most powerful corporate players controlling 25 sectors of the real economy. This is the only freely available report to assemble top 10 listings of companies (by market share) from 18 major economic sectors relevant to the Green Economy. These lists include the top 10 players in water, energy, seeds, fishing and aquaculture, food retail and processing, chemicals, fertilizer, pesticides, mining, pharmaceuticals, biotech, the grain trade and more. The report also identifies the leading players in a handful of new and emerging industrial sectors including synthetic biology, big data, seaweed and algae production and livestock genetics (pp.1-2).
Corporate Concentration Unchecked 
ETC Group has been monitoring corporate ownership trends for 30 years and the trendline is remaining steady—more monopoly everywhere. For example, the top 10 multinational seed companies now control 73 percent of the world's commercial seed market, up from 37 percent in 1995 (p. 22). The worlds 10 biggest pesticide firms now control a whopping 90 percent of the global 44 billion dollar pesticide market (p.25). 10 companies control 76 percent of animal pharmaceutical sales (p.34). 10 animal feed companies control 52 percent of the global animal feed market (p.33), 10 chemical firms account for 40 percent of the chemical market (p.11), 10 forestry companies control 40 percent of the forestry market (p. 31), 10 mining companies control a third of the mining market (p. 29) and the top ten energy companies control a quarter of the energy market (p.10).
Forget Windmills, Think Grain Mills
The "Green Economy" may evoke iconic images of solar panels and wind turbines but this is not actually where corporate activity is focusing. While non-hydro and non-nuclear renewable energy is only a thin sliver (1.8 percent) of global energy consumption—almost all of this consists of harvesting and burning biomass for energy and fuels and now chemicals. This report shows how the major corporate realignments in the new "Green Economy" are happening around plant biomass (pp.8-12, 18-21).
New Green Oligopolies 
This report uncovers new corporate convergences across diverse industry sectors as large players position themselves to dominate the "Green Economy." A case in point is the DuPont company—the world's 2nd largest seed company, 6th largest chemical company and 6th largest pesticide company which is now emerging as a major player in biotech, biofuels and bioplastics, synthetic biology, seaweeds, ingredients and enzymes while partnering with the worlds third largest energy company, British Petroleum (B.P.) (pp. ii-iii).
Food Dollars Trump Energy Dollars 
Conventional wisdom says the size of the global energy market weighs in at $7 trillion and dwarfs every other economic sector. According to our research, however, the global grocery market ekes out ahead of energy—even when government subsidies paid to producers for energy and agriculture are taken into account (p.37). 
Synthetic Biology's Meteoric Rise 
In the early 1990's the early commercialization of genetic engineering technologies drove massive reorganization of the seed, agrochemicals and pharmaceutical sectors and the emergence of 'life science' giants such as Monsanto and Novartis. Today, the new technologies of synthetic biology are spurring another frenzy of mergers, acquisitions and joint ventures around the biomass economy drawing large energy and chemical players such as Dow, DuPont, B.P., Shell, Exxon, Chevron and Total into new alliances with grain, forestry and seed giants such as Monsanto, Cargill, Bunge, Weyerhaeuser and ADM. At the heart of these new alliances are surprisingly new synthetic biology companies such as Life Technologies Inc, Amyris, Solazyme and Evolva—all rapidly being promoted to significant roles in the global food, energy, pharma and chemicals sectors (pp.8-12).
Controlling the Blue Economy, too. 
Biomass found in oceans and aquatic ecosystems accounts for 71 percent of the planet's surface area. That's why energy and chemical corporations such as DuPont, Statoil , DSM, Exxon, Mitsubishi, Monsanto, Chevron and shipping giant Stolt Nielsen are looking to the wild, wet frontier for new sugars and oils to fuel the bio-based economy, proposing the large-scale exploitation of algae, seaweed, fish and all the aquatic biomass found in lakes, rivers and coastal estuaries. (pp. 18-21)
For more information, click here.