A lethal virus that killed tens of thousands of harbor seals in the northern Atlantic in 2002 suddenly spread to sea lions, seals and otters in the northern Pacific Ocean two years later, confusing scientists, as NBC News reported.
How could the pathogen that causes a measles-like disease in marine mammals that had only been found on the Atlantic coasts suddenly have spread to the Pacific?
"We didn't understand how a virus from the Atlantic ended up in these sea otters. It's not a species that ranges widely," said Tracey Goldstein, a scientist at the University of California Davis who investigates how pathogens move through marine ecosystems, as National Geographic reported.
Goldstein and her colleagues looked at 15 years of data and realized that the spike in the virus was commensurate with Arctic sea ice loss. The data, published in a new study in the journal Scientific Reports, finds that the loss of Arctic sea ice allowed otters and other mammals to move west and spread the virus. The study shows that global heating is opening new avenues for diseases to spread, as National Geographic reported.
"The loss of sea ice is leading marine wildlife to seek and forage in new habitats and removing that physical barrier, allowing for new pathways for them to move," said Goldstein in a press release. "As animals move and come in contact with other species, they carry opportunities to introduce and transmit new infectious disease, with potentially devastating impacts."
The rapid loss of sea ice is creating a fertile breeding ground for viruses as animals travel to areas they have never been before. The phenomenon was first observed 17 years ago.
"It was a perfect storm in 2002," said Goldstein, as NBC News reported. "It was the lowest ice year on record at the time, and at the same time, in August and September, there was a really large outbreak."
To study the outbreak, the researchers took blood and mucous samples from seals, sea lions and otters from arctic and subarctic areas, from southeast Alaska to Russia. The swab samples allowed the scientists to determine which populations had been infected with the Phocine distemper virus, or PDV, and which specific strain they had been exposed to, as NBC News reported.
PDV is a common canine virus that vets vaccinate for. It spreads easily when an animal comes into direct contact with an infected animal. The virus manifests in seals much like the canine version does in dogs — goop discharged from the eyes and nose and a fever. With marine mammals, it also leads to erratic swimming, according to National Geographic.
"The virus has been shown to spread pretty easily between marine mammals," said Shawn Johnson, the vice president of veterinary medicine at The Marine Mammal Center in Sausalito, California to National Geographic. Since so many marine mammals migrate north, "the Arctic could be a perfect melting pot for transmission of the disease," Johnson said.
Not only is the changing landscape of the Arctic allowing animals to travel further, animals that need to travel farther for food will experience extra stress and exhaustion, which will weaken their immune systems and leave them susceptible to disease, Goldstein told National Geographic.
The study adds to a growing body of research signaling trouble for marine mammals, including an increase in marine heat waves that deplete their food supply and an increase in toxic algal blooms that can infect fish with a toxin that causes brain damage in marine mammals, as NBC News reported.
"When we see these changes happening in animals, we can't ignore them, because the impacts on people and the planet are not far behind," said Elizabeth VanWormer, the study's lead author, as NBC News reported. "This shows how interconnected these things are — the health of people, animals and the planet."
EcoWatch Daily Newsletter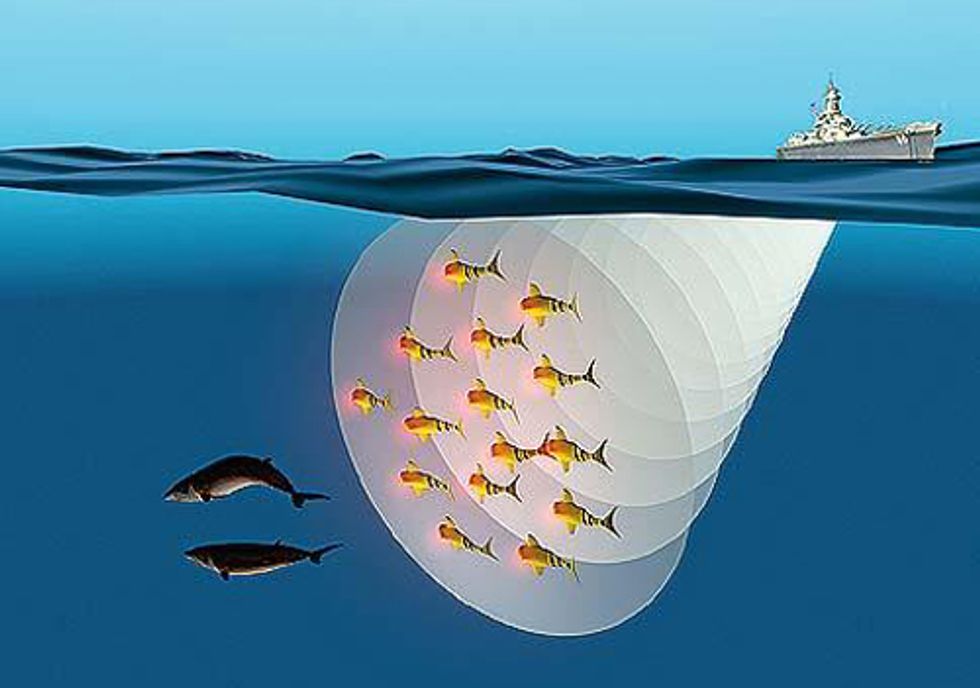 A coalition of conservation and American Indian groups sued the National Marine Fisheries Service (NMFS) Jan. 26 for failing to protect thousands of whales, dolphins, porpoises, seals and sea lions from U.S. Navy warfare training exercises along the coasts of California, Oregon and Washington.
Earthjustice, representing InterTribal Sinkyone Wilderness Council, Center for Biological Diversity, Friends of the Earth, Friends of the San Juans, Natural Resources Defense Council (NRDC) and People For Puget Sound, filed a lawsuit Jan. 26 in U.S. District Court for the District of Northern California challenging NMFS's approval of the Navy's training activities in its Northwest Training Range Complex. The lawsuit calls on NMFS to mitigate anticipated harm to marine mammals and biologically critical areas within the training range that stretches from Northern California to the Canadian border.
"These training exercises will harm dozens of protected species of marine mammals—Southern Resident killer whales, blue whales, humpback whales, dolphins, and porpoises—through the use of high-intensity mid-frequency sonar," said Steve Mashuda, an Earthjustice attorney representing the groups. "The Fisheries Service fell down on the job and failed to require the Navy to take reasonable and effective actions to protect them."
The Navy uses a vast area of the West Coast for training activities including anti-submarine warfare exercises involving tracking aircraft and sonar; surface-to-air gunnery and missile exercises; air-to-surface bombing exercises; sink exercises; and extensive testing for several new weapons systems.
"Since the beginning of time, the Sinkyone Council's member Tribes have gathered, harvested and fished for traditional cultural marine resources in this area, and they continue to carry out these subsistence ways of life, and their ceremonial activities along this Tribal ancestral coastline. Our traditional cultural lifeways, and our relatives such as the whales and many other species, will be negatively and permanently impacted by the Navy's activities," said Priscilla Hunter, chairwoman and co-founder of the InterTribal Sinkyone Wilderness Council. "Both NMFS and the Navy have failed in their obligations to conduct government-to-government consultation with the Sinkyone Council and its member Tribes regarding project impacts."
In late 2010, NMFS gave the Navy a permit for five years of expanded naval activity that will harm or "take" marine mammals and other sealife. The permit allows the Navy to conduct increased training exercises that can harm marine mammals and disrupt their migration, nursing, breeding or feeding, primarily as a result of harassment through exposure to the use of sonar.
"The Navy's Northwest Training Range is the size of the State of California, yet not one square inch is off-limits to the most harmful aspects of naval testing and training activities," said Zak Smith, staff attorney for NRDC. "We are asking for common-sense measures to protect the critical wildlife that lives within the training range from exposure to life-threatening effects of sonar. Biologically rich areas like the Olympic Coast National Marine Sanctuary should be protected."
The Navy's mid-frequency sonar has been implicated in mass strandings of marine mammals in, among other places, the Bahamas, Greece, the Canary Islands and Spain. In 2004, during war games near Hawai'i, the Navy's sonar was implicated in a mass beaching of up to 200 melon-headed whales in Hanalei Bay. In 2003, the USS Shoup, operating in Washington's Haro Strait, exposed a group of endangered Southern Resident killer whales to mid-frequency sonar, causing the animals to stop feeding and attempt to flee the sound.
"In 2003, NMFS learned firsthand the harmful impacts of Navy sonar in Washington waters when active sonar blasts distressed members of J pod, one of our resident pods of endangered orcas," said Kyle Loring, staff attorney for Friends of the San Juans. "Given this history, it is particularly distressing that NMFS approved the Navy's use of deafening noises in areas where whales and dolphins use their acute hearing to feed, navigate, and raise their young, even in designated sanctuaries and marine reserves."
"Whales and other marine mammals don't stand a chance against the Navy," said Miyoko Sakashita, oceans director at the Center for Biological Diversity.
The Navy's mitigation plan for sonar use relies primarily on visual detection of whales or other marine mammals by so-called "watch-standers" with binoculars on the decks of ships. If mammals are seen in the vicinity of an exercise, the Navy is to cease sonar use.
"Visual detection can miss anywhere from 25-95 percent of the marine mammals in an area," said Heather Trim, director of Policy for People For Puget Sound. "It's particularly unreliable in rough seas or in bad weather. We learn more every day about where whales and other mammals are most likely to be found—we want NMFS to put that knowledge to use to ensure that the Navy's training avoids those areas when marine mammals are most likely there."
The litigation is not intended to halt the Navy's exercises, but asks the Court to require NMFS to reassess the permits using the latest science and to order the Navy to stay out of biologically critical areas at least at certain times of the year.
Marcie Keever, legal director at Friends of the Earth, noted, "It has become increasingly clear from recent research that the endangered Southern Resident killer whale community uses coastal waters within the Navy's training range to find salmon during the fall and winter months. NMFS has failed in its duty to assure that the Navy is not pushing the whales closer to extinction."
Read the complaint filed Jan. 26 against the National Marine Fisheries Service by clicking here.
For more information, click here.
waterlust.com / @tulasendlesssummer_sierra .
Each product featured here has been independently selected by the writer. If you make a purchase using the links included, we may earn commission.
The bright patterns and recognizable designs of Waterlust's activewear aren't just for show. In fact, they're meant to promote the conversation around sustainability and give back to the ocean science and conservation community.
Each design is paired with a research lab, nonprofit, or education organization that has high intellectual merit and the potential to move the needle in its respective field. For each product sold, Waterlust donates 10% of profits to these conservation partners.
Eye-Catching Designs Made from Recycled Plastic Bottles
waterlust.com / @abamabam
The company sells a range of eco-friendly items like leggings, rash guards, and board shorts that are made using recycled post-consumer plastic bottles. There are currently 16 causes represented by distinct marine-life patterns, from whale shark research and invasive lionfish removal to sockeye salmon monitoring and abalone restoration.

One such organization is Get Inspired, a nonprofit that specializes in ocean restoration and environmental education. Get Inspired founder, marine biologist Nancy Caruso, says supporting on-the-ground efforts is one thing that sets Waterlust apart, like their apparel line that supports Get Inspired abalone restoration programs.
"All of us [conservation partners] are doing something," Caruso said. "We're not putting up exhibits and talking about it — although that is important — we're in the field."
Waterlust not only helps its conservation partners financially so they can continue their important work. It also helps them get the word out about what they're doing, whether that's through social media spotlights, photo and video projects, or the informative note card that comes with each piece of apparel.
"They're doing their part for sure, pushing the information out across all of their channels, and I think that's what makes them so interesting," Caruso said.
And then there are the clothes, which speak for themselves.
Advocate Apparel to Start Conversations About Conservation
waterlust.com / @oceanraysphotography
Waterlust's concept of "advocate apparel" encourages people to see getting dressed every day as an opportunity to not only express their individuality and style, but also to advance the conversation around marine science. By infusing science into clothing, people can visually represent species and ecosystems in need of advocacy — something that, more often than not, leads to a teaching moment.

"When people wear Waterlust gear, it's just a matter of time before somebody asks them about the bright, funky designs," said Waterlust's CEO, Patrick Rynne. "That moment is incredibly special, because it creates an intimate opportunity for the wearer to share what they've learned with another."
The idea for the company came to Rynne when he was a Ph.D. student in marine science.
"I was surrounded by incredible people that were discovering fascinating things but noticed that often their work wasn't reaching the general public in creative and engaging ways," he said. "That seemed like a missed opportunity with big implications."
Waterlust initially focused on conventional media, like film and photography, to promote ocean science, but the team quickly realized engagement on social media didn't translate to action or even knowledge sharing offscreen.
Rynne also saw the "in one ear, out the other" issue in the classroom — if students didn't repeatedly engage with the topics they learned, they'd quickly forget them.
"We decided that if we truly wanted to achieve our goal of bringing science into people's lives and have it stick, it would need to be through a process that is frequently repeated, fun, and functional," Rynne said. "That's when we thought about clothing."
Support Marine Research and Sustainability in Style
To date, Waterlust has sold tens of thousands of pieces of apparel in over 100 countries, and the interactions its products have sparked have had clear implications for furthering science communication.
For Caruso alone, it's led to opportunities to share her abalone restoration methods with communities far and wide.
"It moves my small little world of what I'm doing here in Orange County, California, across the entire globe," she said. "That's one of the beautiful things about our partnership."
Check out all of the different eco-conscious apparel options available from Waterlust to help promote ocean conservation.
Melissa Smith is an avid writer, scuba diver, backpacker, and all-around outdoor enthusiast. She graduated from the University of Florida with degrees in journalism and sustainable studies. Before joining EcoWatch, Melissa worked as the managing editor of Scuba Diving magazine and the communications manager of The Ocean Agency, a non-profit that's featured in the Emmy award-winning documentary Chasing Coral.