This website uses cookies to ensure you get the best experience while browsing it. By clicking 'Got It' you're accepting these terms.


The best of EcoWatch, right in your inbox. Sign up for our email newsletter!
iStock
The U.S. Department of Agriculture (USDA) announced its revised school meal rules, in words that would make George Orwell proud:
The U.S. Department of Agriculture today [Nov. 29] provided local food service professionals the flexibility they need to serve wholesome, nutritious, and tasty meals in schools across the nation. The new School Meal Flexibility Rule ... reflects USDA's commitment, made in a May proclamation to work with program operators, school nutrition professionals, industry, and other stakeholders to develop forward-thinking strategies to ensure school nutrition standards are both healthful and practical ... This action reflects a key initiative of USDA's Regulatory Reform Agenda, developed in response to the President's Executive Order to alleviate unnecessary regulatory burdens.
Replacing non-biodegradable polystyrene trays with a compostable version is the first target of a pioneering attempt by six big-city school systems to create new markets for sustainable food and lunchroom supplies.
The Urban School Food Alliance—whose members are public school districts in Chicago, Dallas, Los Angeles, Miami, New York and Orlando, FL—hopes to persuade suppliers to create and sell healthier, cheaper and more environment-friendly products by combining their purchasing power.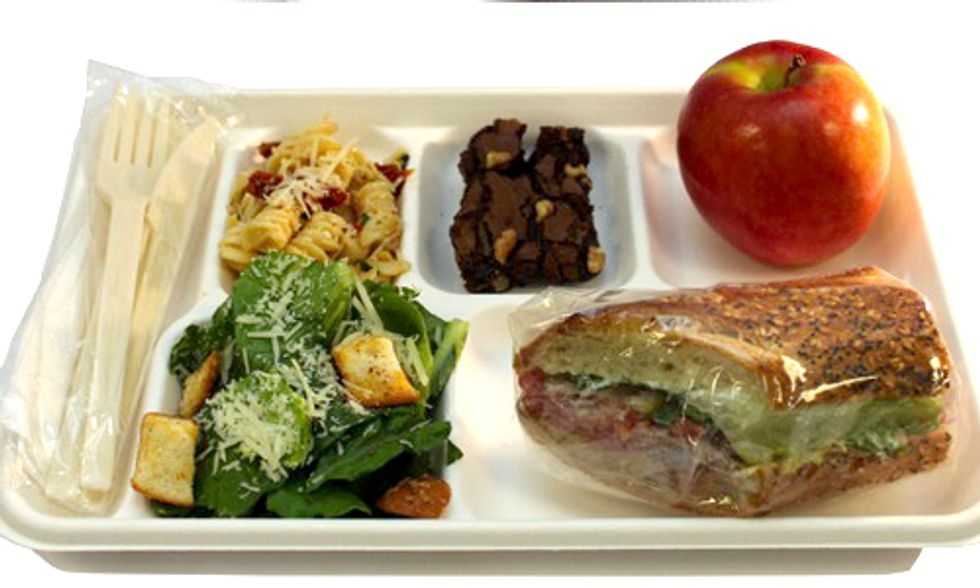 Replacing the polystyrene trays with compostable plates are the alliance's first objective. New York and Miami are running pilot programs and another 30 schools are expected to join in about two weeks.
The alliance hopes to keep a lot of trash out of landfills and save money for other uses. A test run of the program last year reduced cafeteria waste by 85 percent in eight schools.
If all goes as planned, the compostable plates will replace styrofoam lunch trays by September for more than 2.6 million students nationwide. That could add up to some 271 million plates annually that will no longer be burned as trash or buried in landfills.
The alliance's next target is healthier food and leaders are now considering suppliers of antibiotic-free chicken. Future initiatives could include sustainable tableware, pesticide-free fruit and goods with less packaging.
Short-term environmental and health benefits, such as reducing antibiotic use in food animals, are not the only goals, Eric Goldstein, the chief executive of school support services in New York City, told the New York Times. Using recyclable plates or serving healthier chicken sets an example students may carry into adulthood, he said, and sets a standard for other school systems.
The foam trays used in many districts are made from petroleum byproducts and can be quickly manufactured in large quantities. The compostable plates, which are made from sugar cane, take longer to make and require more machinery to produce in volume.
The Natural Resources Defense Council (NRDC), as part of its overall food advocacy work in New York and around the country, is working with the alliance.
"Like these school districts, we see huge potential through this unique coalition to build new national markets for sustainable food and other products," Mark Izeman, NRDC senior attorney and director of the New York Urban Program, wrote this week in his blog.

EcoWatch Daily Newsletter
A public school in Flushing, NY that was the first in the nation to offer a 100 percent vegetarian lunch menu reported recently that students have improved attendance, test scores and energy in the wake of the change.
Students are still allowed to brown-bag, but the overwhelming majority—about 90 percent—of students are choosing the veggie-based cafeteria food, which includes organic roasted tofu, braised black beans and falafel.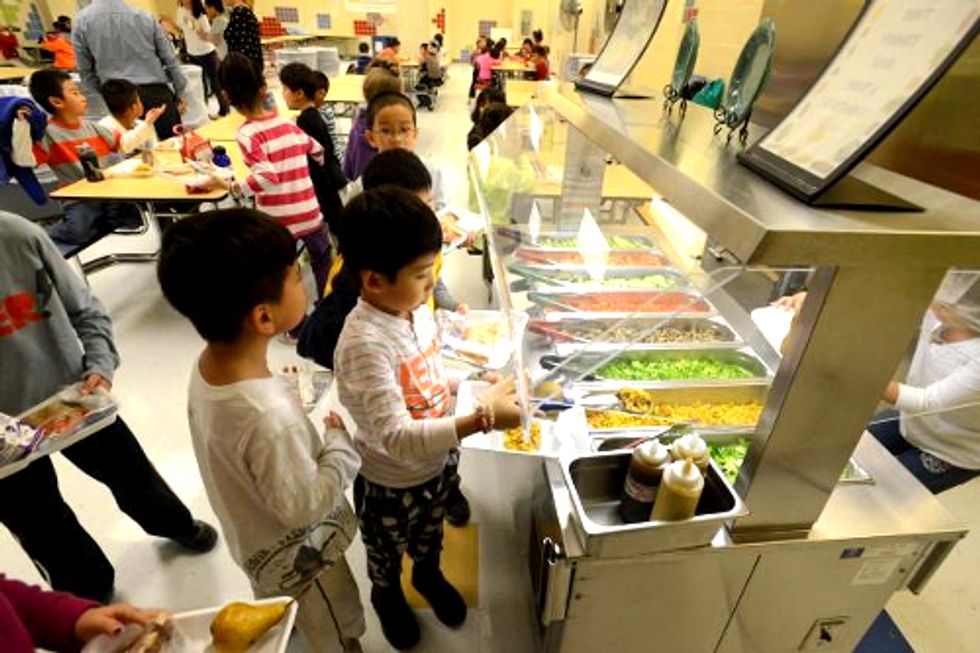 After one semester, the number of students at the school who were classified as overweight and obese dropped 2 percent, Principal Bob Groff said. He believes that number is down even more this year.
The school, which has more than 400 students in grades pre-K through 3, changed its lunch menu in January. The school went vegetarian because the plant-based choices were superior to the meat-based ones offered by the city, Groff said.
"I've never been presented with an option that's 'organic lean chicken,'" Groff told the New York Daily News.
Students also attend weekly nutrition classes where they learn about making smart food choices, he said. Teachers also let students whose energy is lagging to take breaks that allow them to get up for a minute and be active.
The school, P.S. 244, created the vegetarian menu with the help of the New York Coalition for Healthy School Food.
About 70 percent of the students at P.S. 244 have families with Asian or Indian roots; this veggie-friendly cultural background may have played a role in the smoothness of the transition and the popularity of the program with the school's parents and students.
"The food in their cafeteria is the envy of many," New York Coalition for Healthy School Food Executive Director Amie Hamlin said. "The children are getting the nutrients their bodies and brains need to function at their optimal levels."
Hamlin said she has been fielding calls from other schools interested in creating healthier meal plans. 
P.S. 244 was recognized last week by the Physicians Committee for Responsible Medicine, a Washington, D.C.-based advocacy group that promotes plant-based diets, for becoming the country's first public school to serve vegetarian-only meals in its cafeteria.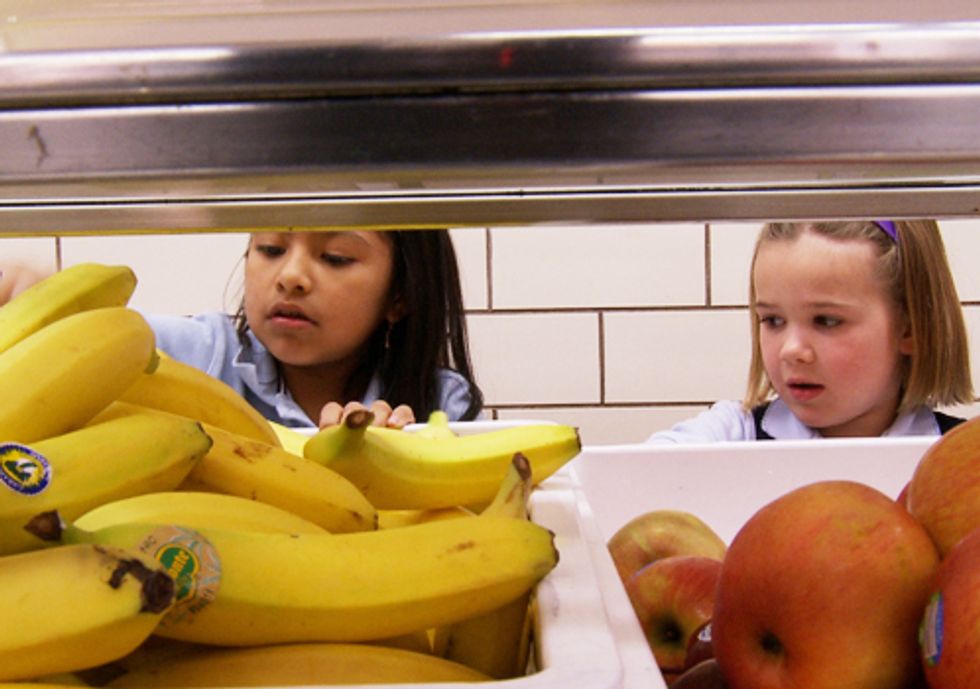 By Marion Nestle
Michelle Obama and Tom Vilsack announced new nutrition standards for school meals Jan. 25, to what seems to be near-universal applause (the potato growers are still miffed, according to the New York Times).
The new standards are best understood in comparison to current standards (see chart). They call for:
More fruits and vegetables
A greater range of vegetables
A requirement for whole grains
All milk to be 1 percent or less
Only non-fat milk to be permitted to be flavored
This may not sound like much. But given what it has taken the U.S. Department of Agriculture (USDA) to get to this point, the new standards must be seen as a major step forward.
See, for example, the comparison of an old and new weekly menu (this has not changed since USDA's original proposal in January last year).

The new one looks so much better. Now it's up to schools to make the new standards work, make the foods taste yummy, and get kids to be willing to try new foods.
To review the history—This all started when the USDA asked the Institute of Medicine (IOM) to design nutrition standards that would:
Increase the amount and variety of fruits, vegetables, and whole grains
Set a minimum and maximum level of calories
Focus more on reducing saturated fat and sodium
The new standards come pretty close to what the IOM recommended (see the earlier chart), with some now-famous exceptions. The IOM proposed limits on starchy vegetables. USDA then proposed to limit starchy vegetables to two servings a week. It also set a minimum for the amount of tomato sauce on pizza that could count toward vegetable servings.
Under pressure from potato growers and suppliers of school pizza, Congress weighed in and overruled the USDA on both counts.
The result—pizza now counts as a vegetable.
To give some idea of the extent of lobbying on all sides of this issue, USDA's January proposal elicited 132,000 public comments (these are someplace at www.regulations.gov and are addressed in the Federal Register notice).
I asked in a previous post whether this kind of congressional micromanagement made sense (absolutely not, in my view). I also wrote previously about the intense lobbying efforts to make sure these standards would never be released.
Despite congressional and industry opposition, the standards are out.
Applause is very much in order for Mrs. Obama's leadership on this issue.
Good work. Now let's get busy on the next challenges:
Set nutrition standards for competitive foods in schools—those sold outside of the lunch program as snacks and meal replacements.
Teach kids where food comes from.
Teach kids to cook.
For the record:
The initial press release—It is headlined "First Lady to Announce New Nutrition Standards for Meals Served in America's Schools: Public-Private Partnership Aims to Connect More Kids to Nutrition Programs." I'm not sure where the Public-Private Partnership comes into this.
USDA's actual press announcement provides links to the Nutrition Standards home page and other relevant documents.
Additions—Dana Woldrow sends this link to shed some light on the curious business of private-public partnerships. Here's one where Goya foods is giving out teaching materials in schools.
For more information, click here.