The Russia pavilion at the COP24 conference in Katowice, Poland. Beata Zawrzel / NurPhoto via Getty Images
The U.S. has thrown its hat in the ring with three other fossil-fuel friendly nations to block the COP24 talks from "welcoming" the landmark Intergovernmental Panel on Climate Change (IPCC) report that warned that we must reduce greenhouse gas emissions to 45 percent of 2010 levels by 2030 in order to limit warming to 1.5 degrees Celsius above pre-industrial levels, BBC News reported.
The report, released in October, was commissioned by a 2015 Conference of the Parties to the United Nations Framework Convention on Climate Change, but now the roughly 200 countries gathered for the 24th conference in Katowice, Poland have failed to formally acknowledge it.
The failure hinged on language. The majority of delegates wanted to "welcome" the report, but the U.S. joined with other oil-producing countries—Russia, Saudi Arabia and Kuwait—Saturday night to insist the report be only "noted," The Guardian reported. Because UN rules insist on consensus, delegates were therefore not able to publish any text relating to the report.
"It's not about one word or another, it is us being in a position to welcome a report we commissioned in the first place," Ruenna Haynes from St. Kitts and Nevis said, BBC News reported. "If there is anything ludicrous about the discussion it's that we can't welcome the report."
UN: Could you write us a report on global warming of 1.5C? IPCC: It will take years of volunteer effort from scient… https://t.co/Yo7m4Z3wuH

— Simon Donner (@Simon Donner)1544315491.0
The move tenses the atmosphere for the last five days of talks at COP24, during which ministers, who arrive Monday, will work to establish a rulebook for implementing the Paris agreement to limit global warming to "well below" two degrees Celsius above pre-industrial levels. It also raises concerns that the Trump administration is evolving from simply withdrawing the U.S. from international efforts to fight climate change to actively disrupting those efforts.

"It is troubling. Saudi Arabia has always had bad behavior in climate talks, but it could be overruled when it was alone or just with Kuwait. That it has now been joined by the U.S. and Russia is much more dangerous," Union of Concerned Scientists director of strategy and policy Alden Meyer told The Guardian.
Indeed, Saudi Arabia had fought to limit the conclusions of the IPCC report when it was released in Korea earlier in the fall, but eventually agreed to let it be released as is, BBC News reported.
The scientists who worked hard on the report also expressed dismay at Saturday's failure.
"What is so disturbing in our [report] ... that four governments cannot even 'welcome' its findings?" French climate scientist Val. Masson-Delmotte asked in a Twitter thread. "A 1.5°C and a 2°C worlds are VERY different in terms of mean climate, extremes, sea level rise, and climate-related risks, with the emergence of climate change hotspots challenging basic water, food, economic security and the risk of irreversible loss of wildlife," she continued, hinting at the real-world stakes of ignoring the report.
A 1.5°C and a 2°C worlds are VERY different in terms of mean climate, extremes, sea level rise, and climate-related… https://t.co/xXZX43vlX5

— Val. Masson-Delmotte (@Val. Masson-Delmotte)1544353570.0
Former UK climate negotiator Yamide Dagnet of the World Resources Institute expressed hope that the arrival of the ministers Monday would turn the tide and persuade COP24 to acknowledge the report after all.

"We hope that the rest of the world will rally and we get a decisive response to the report," Dagnet said. "I sincerely hope that all countries will fight that we don't leave COP24 having missed a moment of history."
"We are clearly the last generation that can change the course of climate change." #COP24 #climatechange… https://t.co/9qO31AtGa6

— EcoWatch (@EcoWatch)1543862713.0
From Your Site Articles
Related Articles Around the Web
EcoWatch Daily Newsletter
Aerial view of Corpus Christi, Texas. Simiprof / Wikimedia Commons
The Center for Biological Diversity and more than 1,100 Texas residents are demanding that Texas regulators reconsider issuing a wastewater permit to a project that would be the world's largest plastics plant.
The facility, funded by ExxonMobil and the Saudi Arabian government, would discharge more than 13 million gallons a day of toxic wastewater. It will exceed legal pollution standards, as the Center for Biological Diversity notes in a petition filed Wednesday with the Texas Commission on Environmental Quality.
The plant, which would receive more than $1 billion in state tax breaks, would "crack" the ethane in natural gas to produce almost 2 million tons of ethylene and polyethylene annually. Polyethylene pellets are the basic building blocks of plastic products. The Texas plant is part of a multibillion-dollar push by the fossil fuel industry to increase global plastic production by 40 percent over the next decade.
"This facility will dump millions of gallons of toxic wastewater a day into beautiful Corpus Christi Bay. That's right in the middle of critical habitat for endangered whooping cranes," said Emily Jeffers, an attorney with the Center for Biological Diversity. "Texas and its wildlife will pay a heavy price just to produce more cheap plastic that will litter our oceans and landscapes. Texans don't want toxins in their bays and rivers, and they don't want plastics polluting our oceans and seafood."
Wednesday was the deadline for concerned citizens to request the commission reconsider its April 9 decision to issue a wastewater permit for the plastic plant. The Center for Biological Diversity, along with more than 1,148 Texas residents who supported the online petition, submitted a request for reconsideration. In addition to the wastewater permit, the facility must obtain several air permits.
It will also contribute to plastic pollution, which has become so pervasive that plastic is expected to outweigh all the fish in the sea by 2050. Marine plastic pollution affected at least 267 species, including 86 percent of sea turtle species and 43 percent of marine mammal species. Large whales are often found with bellies full of plastic after they die.
Little bits of plastic get mistaken for food and eaten by fish, sea turtles, birds and other wildlife. These animals often choke on the items, or experience feelings of fullness and then starve to death.
Plastic also attracts and absorbs toxic chemicals from the marine environment, increasing the hazards to any animal that eats them, including those higher on the food chain, including humans. Other animals become entangled in plastic garbage and drown.
Plastic Threatens to Swamp the Planet https://t.co/OcKU0zAeBS @PlasticPollutes @NRDC @YEARSofLIVING @ClimateReality… https://t.co/kRUjDOztBb

— EcoWatch (@EcoWatch)1519316247.0
From Your Site Articles
Related Articles Around the Web
waterlust.com / @tulasendlesssummer_sierra .
Each product featured here has been independently selected by the writer. If you make a purchase using the links included, we may earn commission.
The bright patterns and recognizable designs of Waterlust's activewear aren't just for show. In fact, they're meant to promote the conversation around sustainability and give back to the ocean science and conservation community.
Each design is paired with a research lab, nonprofit, or education organization that has high intellectual merit and the potential to move the needle in its respective field. For each product sold, Waterlust donates 10% of profits to these conservation partners.
Eye-Catching Designs Made from Recycled Plastic Bottles
waterlust.com / @abamabam
The company sells a range of eco-friendly items like leggings, rash guards, and board shorts that are made using recycled post-consumer plastic bottles. There are currently 16 causes represented by distinct marine-life patterns, from whale shark research and invasive lionfish removal to sockeye salmon monitoring and abalone restoration.

One such organization is Get Inspired, a nonprofit that specializes in ocean restoration and environmental education. Get Inspired founder, marine biologist Nancy Caruso, says supporting on-the-ground efforts is one thing that sets Waterlust apart, like their apparel line that supports Get Inspired abalone restoration programs.
"All of us [conservation partners] are doing something," Caruso said. "We're not putting up exhibits and talking about it — although that is important — we're in the field."
Waterlust not only helps its conservation partners financially so they can continue their important work. It also helps them get the word out about what they're doing, whether that's through social media spotlights, photo and video projects, or the informative note card that comes with each piece of apparel.
"They're doing their part for sure, pushing the information out across all of their channels, and I think that's what makes them so interesting," Caruso said.
And then there are the clothes, which speak for themselves.
Advocate Apparel to Start Conversations About Conservation
waterlust.com / @oceanraysphotography
Waterlust's concept of "advocate apparel" encourages people to see getting dressed every day as an opportunity to not only express their individuality and style, but also to advance the conversation around marine science. By infusing science into clothing, people can visually represent species and ecosystems in need of advocacy — something that, more often than not, leads to a teaching moment.

"When people wear Waterlust gear, it's just a matter of time before somebody asks them about the bright, funky designs," said Waterlust's CEO, Patrick Rynne. "That moment is incredibly special, because it creates an intimate opportunity for the wearer to share what they've learned with another."
The idea for the company came to Rynne when he was a Ph.D. student in marine science.
"I was surrounded by incredible people that were discovering fascinating things but noticed that often their work wasn't reaching the general public in creative and engaging ways," he said. "That seemed like a missed opportunity with big implications."
Waterlust initially focused on conventional media, like film and photography, to promote ocean science, but the team quickly realized engagement on social media didn't translate to action or even knowledge sharing offscreen.
Rynne also saw the "in one ear, out the other" issue in the classroom — if students didn't repeatedly engage with the topics they learned, they'd quickly forget them.
"We decided that if we truly wanted to achieve our goal of bringing science into people's lives and have it stick, it would need to be through a process that is frequently repeated, fun, and functional," Rynne said. "That's when we thought about clothing."
Support Marine Research and Sustainability in Style
To date, Waterlust has sold tens of thousands of pieces of apparel in over 100 countries, and the interactions its products have sparked have had clear implications for furthering science communication.
For Caruso alone, it's led to opportunities to share her abalone restoration methods with communities far and wide.
"It moves my small little world of what I'm doing here in Orange County, California, across the entire globe," she said. "That's one of the beautiful things about our partnership."
Check out all of the different eco-conscious apparel options available from Waterlust to help promote ocean conservation.
Melissa Smith is an avid writer, scuba diver, backpacker, and all-around outdoor enthusiast. She graduated from the University of Florida with degrees in journalism and sustainable studies. Before joining EcoWatch, Melissa worked as the managing editor of Scuba Diving magazine and the communications manager of The Ocean Agency, a non-profit that's featured in the Emmy award-winning documentary Chasing Coral.
According to the most recent data available from the U.S. Energy Information Administration (EIA), Saudi Arabia is the second largest oil producer in the world. It produces 13 percent of the world's oil and gets 60 percent of its own electric energy from petroleum.
But the desert nation, whose Paris agreement action plan was rated as "critically-insufficient" by Climate Action Tracker in November 2017, is about to go from zero to hero on the green scale.
On Tuesday, it announced that it would partner with Japanese tech conglomerate SoftBank to build the world's largest solar power project, Bloomberg reported.
Except that "world's largest" doesn't quite cover of size of the project's ambitions.
According to Bloomberg, the project, which will be built in the Saudi desert, is projected to generate 100,000 jobs and produce 200 gigawatts of power by 2030, 100 times the next biggest planned project, the Solar Choice Bulli Creek PV Plant in Australia, which only aims to produce two.
"It's a huge step in human history," Saudi Crown Prince Mohammed Bin Salman told Bloomberg. "It's bold, risky and we hope we succeed doing that."
Solar power is a logical choice for Saudi Arabia. It's capital, Riyadh, averages 8.9 hours of sunshine a day, and the country is also projected to be severely impacted if climate change raises global temperatures above 1.5 degrees Celsius above industrial levels. According to Climate Action Tracker, if global temperatures rise to three or four degrees Celsius, 75 percent of the country would be excessively arid by the end of the century.
"The kingdom has great sunshine, great size of available land and great engineers, great labor, but most importantly, the best and greatest vision," SoftBank founder Masayoshi Son said of the new project, as reported by Bloomberg.
To provide more context for the scope of that vision, Fortune pointed out that the total capacity of all existing solar installations is around 400 gigawatts, which is only double what the Saudi/SoftBank project plans to produce on its own. China's Tengger Desert Solar Park, the largest installation currently in operation, generates a little more than 1.5 gigawatts. Since the Saudi project estimates an output of 7.2 gigawatts by 2019, it will more than quadruple the output of the current leader in just one year.
The project is projected to cost $200 billion overall. Saudi Arabia will have to import panels at first, and it will also need to build up the battery capacity to store the solar energy. The first phase will cost $5 billion, $1 billion of which will come from the Vision Fund, which Saudi Arabia and SoftBank are joint investors in.
Son told Fortune he thought the investment would be worth it.
"The project will fund its own expansion," he said.
The Saudi government's bold investment in solar power humbles the U.S., which, according to EIA data, is the country currently leading it as no. 1 oil producer.
However, instead of encouraging the solar industry in order to reduce production of fossil fuels, the Trump administration has given it the jitters by announcing a 30 percent tariff on imported solar panels this January.
Solar Power Forecast: Record-Low Costs Expected to Keep Plummeting as Technology Improves https://t.co/8KSIqlAMuP @SolarPowerWorld

— EcoWatch (@EcoWatch)1508883013.0
From Your Site Articles
Related Articles Around the Web
Former Exxon CEO and current U.S. Sec. of State, Rex Tillerson, shakes hands with Saudi Defense Minister, Prince Mohammad bin Salman during Trump's recent visit. Saudi Press Agency via Twitter
By Steve Horn
During his recent trip to Saudi Arabia, President Donald Trump announced an array of economic agreements between the U.S. and the Middle Eastern kingdom, saying it would usher in "jobs, jobs, jobs" for both oil-producing powerhouses.
While the $350 billion, 10-year arms deal garnered most headlines, a lesser-noticed agreement was also signed between ExxonMobil and the state-owned Saudi Basic Industries Corporation (SABIC) to study a proposed co-owned natural gas refinery in the Gulf of Mexico. Under the deal, signed at the Saudi-U.S. CEO Forum, the two companies would "conduct a detailed study of the proposed Gulf Coast Growth Ventures project in Texas and begin planning for front-end engineering and design work" for the 1,300-acre, $10 billion plant set to be located near Corpus Christi, Texas, according to an ExxonMobil press release.
In addition, ExxonMobil's press release for the agreement mentions that Darren Woods, the company's CEO, was in the room for the signing of the pact alongside ExxonMobil Saudi Arabia CEO Philippe Ducom and SABIC executives. Missing from that release: After the forum ended, Woods went to the Al-Yamamah Palace for an agreement-signing ceremony attended by both President Trump and recently retired ExxonMobil CEO and current U.S. Sec. of State Rex Tillerson.
DeSmog discovered they were all present at the palace via the Saudi Press Agency's English-language press Twitter account, which released a series of photos of Woods and Tillerson shaking hands with SABIC CEO Yousef Al-Benyan and Saudi Defense Minister Prince Mohammad bin Salman, respectively. President Trump is seen seated in the background of the photos of both Woods and Tillerson, which were taken in the same room.
As in the ExxonMobil press release, White House and State Department press releases failed to mention that Tillerson and Woods were both present when the deals were signed between the two countries at the Royal Court. Getty Images also published the photo of Woods at the Al-Yamamah Palace, with Trump seated in the background.
Tillerson-ExxonMobil Recusal
Tillerson served as CEO of ExxonMobil for 10 years, heading the "private empire" until President Trump nominated him as U.S. Secretary of State in December 2016. At his January Senate confirmation hearing, Tillerson said he would recuse himself for one year from ExxonMobil-related business which comes before the State Department, and submitted a letter to the same effect on Jan. 3 to the State Department's Office of Legal Counsel.

"For a period of one year after my resignation from ExxonMobil, I will not participate personally and substantially in any particular matter involving specific parties in which I know that ExxonMobil is a party or represents a party, unless I am first authorized to participate, pursuant to 5 C.F.R. § 2635.502(d)," wrote Tillerson in the letter.
The statute of U.S. law laid out by Tillerson in his letter, 5 C.F.R. § 2635.502(d), dictates what steps federal employees should take if they have potential business conflicts or impartiality issues pertaining to U.S. government business.
"Where an employee knows that a particular matter involving specific parties is likely to have a direct and predictable effect on the financial interest of a member of his household, or knows that a person with whom he has a covered relationship is or represents a party to such matter, and where the employee determines that the circumstances would cause a reasonable person with knowledge of the relevant facts to question his impartiality in the matter, the employee should not participate in the matter unless he has informed the agency designee of the appearance problem and received authorization from the agency designee," the law reads.
At his Senate confirmation hearing, Tillerson echoed the remarks made in his recusal letter with regards to State Department business potentially overlapping with that of ExxonMobil.
"If confirmed as secretary of state, I would recuse myself from those issues," Tillerson said at his confirmation hearing. "I've made clear in my disclosures, and I think in answers to questions that have been posed, that obviously there's a statutory recusal period, which I will adhere to, on any matters that might come before the State Department that deal directly and specifically with ExxonMobil."
Saudi-U.S. CEO Forum
Woods, the Exxon CEO who took Tillerson's spot at the top of the company, was in Saudi Arabia at the same time as the Trump administration, apparently both to sign the agreement with SABIC and lead a roundtable at the inaugural Saudi-U.S. CEO Forum on business "Partnership Enablers."

The forum, attended by U.S. Sec. of Commerce Wilbur Ross, "drew the kind of corporate firepower Trump suggested he could harness when he ran for the Oval Office as a Washington outsider/business executive who would reach outside the Beltway and enlist other executives in support of the administration's economic goals," wrote Bloomberg.
"More than 30 CEOs of major U.S. companies were on hand for the summit, at the Four Seasons Hotel in Riyadh. Some later joined Trump and Saudi officials at the Royal Court Palace for a deal-signing ceremony."
"Bizarre Art of the Deal"
Gulf Coast Growth Ventures, known in industry lingo as a "cracker" facility, is set to refine natural gas obtained via hydraulic fracturing ("fracking") from Texas' Eagle Ford Shale and other shale basins into plastics materials. It received billions of dollars in tax subsidies from local government bodies in Texas. When built and fully functioning, Gulf Coast Growth Ventures will be the largest cracker facility on the planet.

Tillerson, as previously reported by DeSmog, maintained close ties between ExxonMobil and Saudi Arabia during his tenure as CEO. The State Department did not respond to a request for comment pertaining to Tillerson's trip to Saudi Arabia and interaction with current Exxon CEO, Darren Woods, but maintained to DeSmog that Tillerson has upheld his ExxonMobil recusal and divestment agreement (in which Tillerson sold away his stock holdings in the company) as Secretary of State.
Tyson Slocum, energy program director at Public Citizen—a Washington, DC-based watchdog organization—has a different take on the matter.
"The president's Saudi trip was a bizarre Art of the Deal-esque foreign policy disaster: a sleazy mix of conflicted government-arranged corporate endorsement deals," Slocum told DeSmog.
"Most troubling of all was Tillerson's presence and role in accommodating Exxon's deal with the House of Saud, thereby violating the former CEO's recusal agreement. Trump and Tillerson's Riyadh embarrassment is just another sad indication of the administration's prioritization of crony corporate access masquerading as a jumbled assembly of foreign policy and economic development."
The White House did not respond to a request for comment.
Reposted with permission from our media associate DeSmogBlog.
Saudi Arabia, the world's biggest crude oil exporter, is launching an ambitious renewable energy program to transform its power sector.
The kingdom is pledging between $30-$50 billion to develop 30 solar and wind projects over the next 10 years to boost electricity generation and curb oil consumption.
Saudi Arabia wants 10 percent of its electricity to come from renewables in the next six years, energy minister Khalid Al-Falih said Monday at a conference in Riyadh.
He said that the new projects will help the country reach a goal of about 10 gigawatts of renewable energy by 2023. The plan also includes an unspecified amount of electricity generated from nuclear plants.
Here's what Saudi Arabia's renewable energy program entails, according to Bloomberg:
"The country is currently seeking bids to build 700 megawatts of wind and solar power capacity in a first round of tenders. It plans a second tender round for rights to build 400 megawatts more of wind power and an additional 620 megawatts of solar plants, Turki Al Shehri, head of the ministry's renewable energy project development office, told reporters. Saudi Arabia will tender for the wind project in the fourth quarter at a project planned for the northern area of Domat al-Jandal, Al-Falih said."
The "Saudi Vision 2030" plan seeks to reduce the kingdom's reliance on oil. Renewable energy projects are a major component of this plan.

By Andy Rowell
According to a new analysis, the U.S. now holds more oil reserves than Saudi Arabia and Russia, the first time this has happened. And more than half of the U.S.'s remaining oil reserves are in shale oil.
The analysis, by Rystad Energy, has concluded that recoverable oil in the U.S. from existing fields, discoveries and yet undiscovered areas is equivalent to 264 billion barrels, which easily beats Saudi Arabia's 212 billion barrels and just squeezes past Russia's 256 billion.
Photo credit: Paul Lowry
The crux though will be whether the U.S. shale industry can access the finance to carry on exploiting shale. And that remains to be seen.
The mini-revival in the oil price may be over. Having rallied since its low point earlier in the year of $27, oil had reached the $60 a mark, but has slipped back to below $50 a barrel on concerns about a slowdown in the global economy has increased.
And those looking for a rapid increase in the next few months look set to be disappointed. The CEO of the world's largest oil trader, Vitol, which trades about 6 million barrels a day, has told Bloomberg that oil prices will not rise much further over the coming months.
Vitol's boss, Ian Taylor said: "I cannot see the market really roaring ahead. We have a lot of oil in the system and it will take us considerable time to work that off."
The international benchmark will probably end the year "not too far away from where we are today" and rise to about $60 by the end of 2017, Taylor said.
According to Bloomberg: "The wild card for next year is U.S. shale supply, which appears to have reached a bottom, but it's too early to say whether growth will resume."
But shale growth is not looking certain, with the industry still struggling with a low oil price and access to financing. And one of the key way to access financing is via bond sales.
As the Financial Times reported: "Bond sales by U.S. independent oil and gas companies have fallen to their slowest rate for more than a decade, in a warning sign of financing constraints that could hold back the industry's recovery."
In the second quarter of this year, the U.S. shale sector sold a paltry $280m of bonds in the second quarter, making it a slower period than any since the financial crisis of 2008-09.
In contrast, the paper points out, the industry raised almost $860bn from bond sales and bank loans during the boom years of 2007-2014. It is an industry still sitting on a crumbling pile of debt.
And the bottom line is that the industry is still spending more than it is earning. According to the FT, the leading U.S. exploration and production companies cut their capital spending to $14.9 billion in the first quarter of this year, which is a whopping $10 billion more than they earned.
This is totally unsustainable and will constrict the smaller players from accessing bonds and finance. Gary Ross of Pira Energy told the FT: "It's not going to be easy to reconstruct this industry."
YOU MIGHT ALSO LIKE
The Future of Nuclear Power Is 'Challenging,' Says WNA Report
Public Lands Development Rigged in Favor of Oil and Gas
Free Trade, DNC Platform and the Climate Crisis
Kochs Dump Trump to Fund Climate-Denying Senators in Ohio and Nevada
The U.S. Energy Information Administration estimates that the U.S. will be the world's top producer of petroleum and natural gas hydrocarbons in 2013, surpassing Russia and Saudi Arabia. For the U.S. and Russia, total petroleum and natural gas hydrocarbon production, in energy content terms, is almost evenly split between petroleum and natural gas. Saudi Arabia's production, on the other hand, heavily favors petroleum.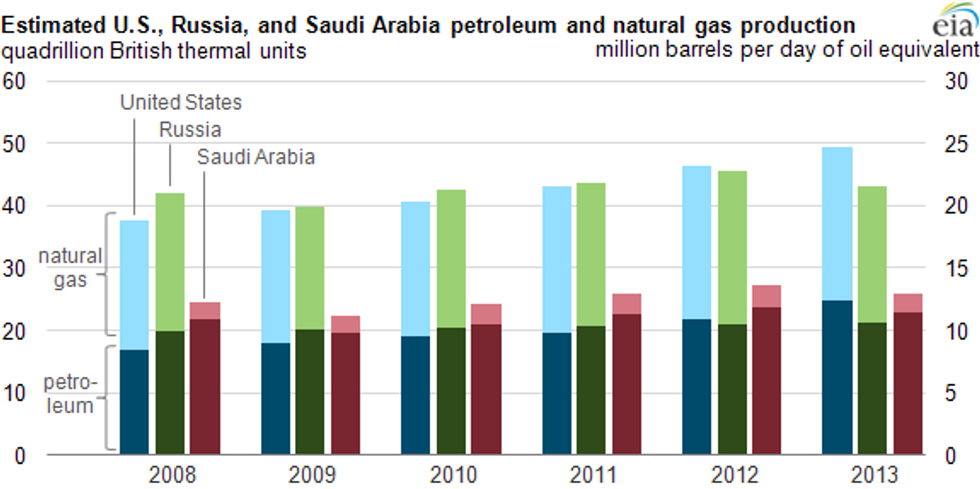 Note: Petroleum production includes crude oil, natural gas liquids, condensates, refinery processing gain, and other liquids, including biofuels. Barrels per day oil equivalent were calculated using a conversion factor of 1 barrel oil equivalent = 5.55 million British thermal units (Btu).
Since 2008, U.S. petroleum production has increased 7 quadrillion Btu, with dramatic growth in Texas and North Dakota. Natural gas production has increased by 3 quadrillion Btu over the same period, with much of this growth coming from the eastern U.S. Russia and Saudi Arabia each increased their combined hydrocarbon output by about 1 quadrillion Btu over the past five years.
Comparisons of petroleum and natural gas production across countries are not always easy. Differences in energy content of crude oil, condensates and natural gas produced throughout these countries make accurate conversions difficult. There are also questions regarding the inclusion of biofuels and refinery gain in the calculations. Total petroleum and natural gas hydrocarbon production estimates for the U.S. and Russia for 2011 and 2012 were roughly equivalent—within 1 quadrillion Btu of one another. In 2013, however, the production estimates widen out, with the U.S. expected to outproduce Russia by 5 quadrillion Btu.
Visit EcoWatch's ENERGY page for more related news on this topic.
——–

When it comes to energy and economics in the climate-change era, nothing is what it seems. Most of us believe (or want to believe) that the second carbon era, the Age of Oil, will soon be superseded by the Age of Renewables, just as oil had long since superseded the Age of Coal. President Obama offered exactly this vision in a much-praised June address on climate change. True, fossil fuels will be needed a little bit longer, he indicated, but soon enough they will be overtaken by renewable forms of energy.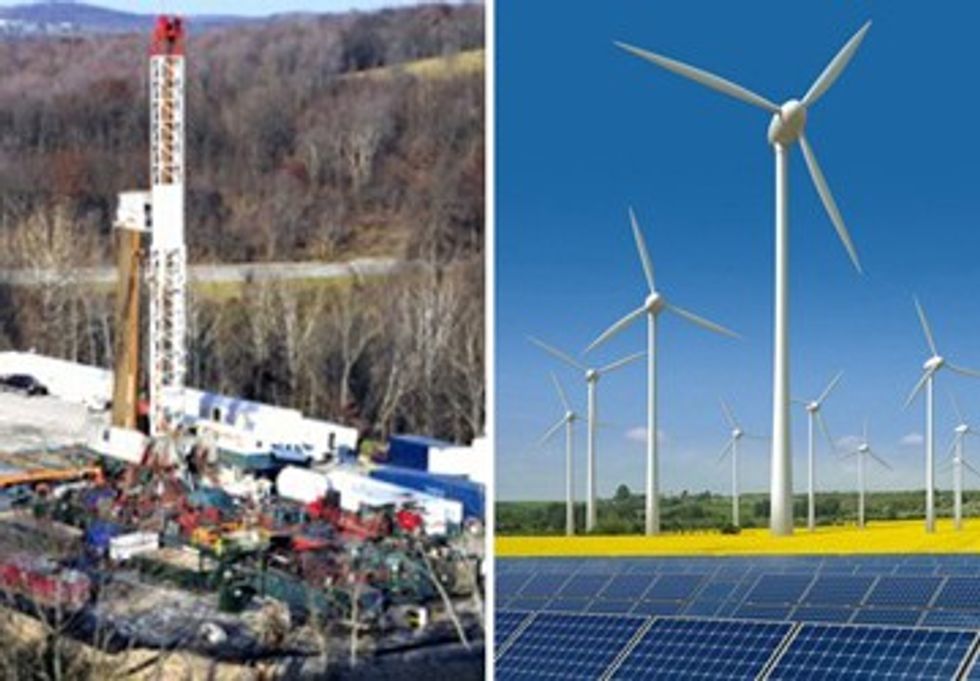 Many other experts share this view, assuring us that increased reliance on "clean" natural gas combined with expanded investments in wind and solar power will permit a smooth transition to a green energy future in which humanity will no longer be pouring carbon dioxide (CO2) and other greenhouse gases into the atmosphere. All this sounds promising indeed. There is only one fly in the ointment: it is not, in fact, the path we are presently headed down. The energy industry is not investing in any significant way in renewables. Instead, it is pouring its historic profits into new fossil-fuel projects, mainly involving the exploitation of what are called "unconventional" oil and gas reserves.
The result is indisputable: humanity is not entering a period that will be dominated by renewables. Instead, it is pioneering the third great carbon era, the Age of Unconventional Oil and Gas.
That we are embarking on a new carbon era is increasingly evident and should unnerve us all. Hydro-fracking—the use of high-pressure water columns to shatter underground shale formations and liberate the oil and natural gas supplies trapped within them—is being undertaken in ever more regions of the U.S. and in a growing number of foreign countries. In the meantime, the exploitation of carbon-dirty heavy oil and tar sands formations is accelerating in Canada, Venezuela and elsewhere.
It's true that ever more wind farms and solar arrays are being built, but here's the kicker: investment in unconventional fossil-fuel extraction and distribution is now expected to outpace spending on renewables by a ratio of at least three-to-one in the decades ahead.
According to the International Energy Agency (IEA), an inter-governmental research organization based in Paris, cumulative worldwide investment in new fossil-fuel extraction and processing will total an estimated $22.87 trillion between 2012 and 2035, while investment in renewables, hydropower and nuclear energy will amount to only $7.32 trillion. In these years, investment in oil alone, at an estimated $10.32 trillion, is expected to exceed spending on wind, solar, geothermal, biofuels, hydro, nuclear and every other form of renewable energy combined.
In addition, as the IEA explains, an ever-increasing share of that staggering investment in fossil fuels will be devoted to unconventional forms of oil and gas: Canadian tar sands, Venezuelan extra-heavy crude, shale oil and gas, Arctic and deep-offshore energy deposits, and other hydrocarbons derived from previously inaccessible reserves of energy. The explanation for this is simple enough. The world's supply of conventional oil and gas—fuels derived from easily accessible reservoirs and requiring a minimum of processing—is rapidly disappearing. With global demand for fossil fuels expected to rise by 26 percent between now and 2035, more and more of the world's energy supply will have to be provided by unconventional fuels.
In such a world, one thing is guaranteed: global carbon emissions will soar far beyond our current worst-case assumptions, meaning intense heat waves will become commonplace and our few remaining wilderness areas will be eviscerated. Planet Earth will be a far—possibly unimaginably—harsher and more blistering place. In that light, it's worth exploring in greater depth just how we ended up in such a predicament, one carbon age at a time.
The First Carbon Era
The first carbon era began in the late 1800s, with the introduction of coal-powered steam engines and their widespread application to all manner of industrial enterprises. Initially used to power textile mills and industrial plants, coal was also employed in transportation (steam-powered ships and railroads), mining and the large-scale production of iron. Indeed, what we now call the Industrial Revolution was largely comprised of the widening application of coal and steam power to productive activities. Eventually, coal would also be used to generate electricity, a field in which it remains dominant today.
This was the era in which vast armies of hard-pressed workers built continent-spanning railroads and mammoth textile mills as factory towns proliferated and cities grew. It was the era, above all, of the expansion of the British Empire. For a time, Great Britain was the biggest producer and consumer of coal, the world's leading manufacturer, its top industrial innovator and its dominant power—and all of these attributes were inextricably connected. By mastering the technology of coal, a small island off the coast of Europe was able to accumulate vast wealth, develop the world's most advanced weaponry and control the global sea-lanes.
The same coal technology that gave Britain such global advantages also brought great misery in its wake. As noted by energy analyst Paul Roberts in The End of Oil, the coal then being consumed in England was of the brown lignite variety, "chock full of sulfur and other impurities." When burned, "it produced an acrid, choking smoke that stung the eyes and lungs and blackened walls and clothes." By the end of the nineteenth century, the air in London and other coal-powered cities was so polluted that "trees died, marble facades dissolved, and respiratory ailments became epidemic."
For Great Britain and other early industrial powers, the substitution of oil and gas for coal was a godsend, allowing improved air quality, the restoration of cities and a reduction in respiratory ailments. In many parts of the world, of course, the Age of Coal is not over. In China and India, among other places, coal remains the principal source of energy, condemning their cities and populations to a twenty-first-century version of nineteenth-century London and Manchester.
The Second Carbon Era
The Age of Oil got its start in 1859 when commercial production began in western Pennsylvania, but only truly took off after World War II, with the explosive growth of automobile ownership. Before 1940, oil played an important role in illumination and lubrication, among other applications, but remained subordinate to coal; after the war, oil became the world's principal source of energy. From 10 million barrels per day in 1950, global consumption soared to 77 million in 2000, a half-century bacchanalia of fossil fuel burning.
Driving the global ascendancy of petroleum was its close association with the internal combustion engine (ICE). Due to oil's superior portability and energy intensity (that is, the amount of energy it releases per unit of volume), it makes the ideal fuel for mobile, versatile ICEs. Just as coal rose to prominence by fueling steam engines, so oil came to prominence by fueling the world's growing fleets of cars, trucks, planes, trains and ships. Today, petroleum supplies about 97 percent of all energy used in transportation worldwide.
Oil's prominence was also assured by its growing utilization in agriculture and warfare. In a relatively short period of time, oil-powered tractors and other agricultural machines replaced animals as the primary source of power on farms around the world. A similar transition occurred on the modern battlefield, with oil-powered tanks and planes replacing the cavalry as the main source of offensive power.
These were the years of mass automobile ownership, continent-spanning highways, endless suburbs, giant malls, cheap flights, mechanized agriculture, artificial fibers and—above all else—the global expansion of American power. Because the U.S. possessed mammoth reserves of oil, was the first to master the technology of oil extraction and refining, and the most successful at utilizing petroleum in transportation, manufacturing, agriculture and war, it emerged as the richest and most powerful country of the twenty-first century, a saga told with great relish by energy historian Daniel Yergin in The Prize. Thanks to the technology of oil, the U.S. was able to accumulate staggering levels of wealth, deploy armies and military bases to every continent and control the global air and sea-lanes—extending its power to every corner of the planet.
However, just as Britain experienced negative consequences from its excessive reliance on coal, so the U.S.—and the rest of the world—has suffered in various ways from its reliance on oil. To ensure the safety of its overseas sources of supply, Washington has established tortuous relationships with foreign oil suppliers and has fought several costly, debilitating wars in the Persian Gulf region, a sordid history I recount in Blood and Oil. Over-reliance on motor vehicles for personal and commercial transportation has left the country ill-equipped to deal with periodic supply disruptions and price spikes. Most of all, the vast increase in oil consumption—here and elsewhere—has produced a corresponding increase in carbon dioxide emissions, accelerating planetary warming (a process begun during the first carbon era) and exposing the country to the ever more devastating effects of climate change.
The Age of Unconventional Oil and Gas
The explosive growth of automotive and aviation travel, the suburbanization of significant parts of the planet, the mechanization of agriculture and warfare, the global supremacy of the U.S. and the onset of climate change: these were the hallmarks of the exploitation of conventional petroleum. At present, most of the world's oil is still obtained from a few hundred giant onshore fields in Iran, Iraq, Kuwait, Russia, Saudi Arabia, the United Arab Emirates, the U.S. and Venezuela, among other countries; some additional oil is acquired from offshore fields in the North Sea, the Gulf of Guinea and the Gulf of Mexico. This oil comes out of the ground in liquid form and requires relatively little processing before being refined into commercial fuels.
But such conventional oil is disappearing. According to the IEA, the major fields that currently provide the lion's share of global petroleum will lose two-thirds of their production over the next 25 years, with their net output plunging from 68 million barrels per day in 2009 to a mere 26 million barrels in 2035. The IEA assures us that new oil will be found to replace those lost supplies, but most of this will be of an unconventional nature. In the coming decades, unconventional oils will account for a growing share of the global petroleum inventory, eventually becoming our main source of supply.
The same is true for natural gas, the second most important source of world energy. The global supply of conventional gas, like conventional oil, is shrinking, and we are becoming increasingly dependent on unconventional sources of supply—especially from the Arctic, the deep oceans and shale rock via fracking.
In certain ways, unconventional hydrocarbons are akin to conventional fuels. Both are largely composed of hydrogen and carbon, and can be burned to produce heat and energy. But in time the differences between them will make an ever-greater difference to us. Unconventional fuels—especially heavy oils and tar sands—tend to possess a higher proportion of carbon to hydrogen than conventional oil, and so release more CO2 when burned. Arctic and deep-offshore oil require more energy to extract, and so produce higher carbon emissions in their very production.
"Many new breeds of petroleum fuels are nothing like conventional oil," Deborah Gordon, a specialist on the topic at the Carnegie Endowment for International Peace, wrote in 2012. "Unconventional oils tend to be heavy, complex, carbon laden, and locked up deep in the earth, tightly trapped between or bound to sand, tar, and rock."
By far the most worrisome consequence of the distinctive nature of unconventional fuels is their extreme impact on the environment. Because they are often characterized by higher ratios of carbon to hydrogen, and generally require more energy to extract and be converted into usable materials, they produce more CO2 emissions per unit of energy released. In addition, the process that produces shale gas, hailed as a "clean" fossil fuel, is believed by many scientists to cause widespread releases of methane, a particularly potent greenhouse gas.
All of this means that, as the consumption of fossil fuels grows, increasing, not decreasing, amounts of CO2 and methane will be released into the atmosphere and, instead of slowing, global warming will speed up.
And here's another problem associated with the third carbon age: the production of unconventional oil and gas turns out to require vast amounts of water—for fracking operations, to extract tar sands and extra-heavy oil, and to facilitate the transport and refining of such fuels. This is producing a growing threat of water contamination, especially in areas of intense fracking and tar sands production, along with competition over access to water supplies among drillers, farmers, municipal water authorities and others. As climate change intensifies, drought will become the norm in many areas and so this competition will only grow fiercer.
Along with these and other environmental impacts, the transition from conventional to unconventional fuels will have economic and geopolitical consequences hard to fully assess at this moment. As a start, the exploitation of unconventional oil and gas reserves from previously inaccessible regions involves the introduction of novel production technologies, including deep-sea and Arctic drilling, hydro-fracking and tar-sands upgrading. One result has been a shakeup in the global energy industry, with the emergence of innovative companies possessing the skills and determination to exploit the new unconventional resources—much as occurred during the early years of the petroleum era when new firms arose to exploit the world's oil reserves.
This has been especially evident in the development of shale oil and gas. In many cases, the breakthrough technologies in this field were devised and deployed by smaller, risk-taking firms like Cabot Oil and Gas, Devon Energy Corporation, Mitchell Energy and Development Corporation and XTO Energy. These and similar companies pioneered the use of hydro-fracking to extract oil and gas from shale formations in Arkansas, North Dakota, Pennsylvania and Texas, and later sparked a stampede by larger energy firms to obtain stakes of their own in these areas. To augment those stakes, the giant firms are gobbling up many of the smaller and mid-sized ones. Among the most conspicuous takeovers was ExxonMobil's 2009 purchase of XTO for $41 billion.
That deal highlights an especially worrisome feature of this new era: the deployment of massive funds by giant energy firms and their financial backers to acquire stakes in the production of unconventional forms of oil and gas—in amounts far exceeding comparable investments in either conventional hydrocarbons or renewable energy. It's clear that, for these companies, unconventional energy is the next big thing and, as among the most profitable firms in history, they are prepared to spend astronomical sums to ensure that they continue to be so. If this means investment in renewable energy is shortchanged, so be it. "Without a concerted policymaking effort" to favor the development of renewables, Carnegie's Gordon warns, future investments in the energy field "will likely continue to flow disproportionately toward unconventional oil."
In other words, there will be an increasingly entrenched institutional bias among energy firms, banks, lending agencies and governments toward next-generation fossil-fuel production, only increasing the difficulty of establishing national and international curbs on carbon emissions. This is evident, for example, in the Obama administration's undiminished support for deep-offshore drilling and shale gas development, despite its purported commitment to reduce carbon emissions. It is likewise evident in the growing international interest in the development of shale and heavy-oil reserves, even as fresh investment in green energy is being cut back.
As in the environmental and economic fields, the transition from conventional to unconventional oil and gas will have a substantial, if still largely undefined, impact on political and military affairs.
U.S. and Canadian companies are playing a decisive role in the development of many of the vital new unconventional fossil-fuel technologies; in addition, some of the world's largest unconventional oil and gas reserves are located in North America. The effect of this is to bolster U.S. global power at the expense of rival energy producers like Russia and Venezuela, which face rising competition from North American companies, and energy-importing states like China and India, which lack the resources and technology to produce unconventional fuels.
At the same time, Washington appears more inclined to counter the rise of China by seeking to dominate the global sea lanes and bolster its military ties with regional allies like Australia, India, Japan, the Philippines and South Korea. Many factors are contributing to this strategic shift, but from their statements it is clear enough that top American officials see it as stemming in significant part from America's growing self-sufficiency in energy production and its early mastery of the latest production technologies.
"America's new energy posture allows us to engage [the world] from a position of greater strength," National Security Advisor Tom Donilon asserted in an April speech at Columbia University. "Increasing U.S. energy supplies act as a cushion that helps reduce our vulnerability to global supply disruptions [and] affords us a stronger hand in pursuing and implementing our international security goals."
For the time being, the U.S. leaders can afford to boast of their "stronger hand" in world affairs, as no other country possesses the capabilities to exploit unconventional resources on such a large scale. By seeking to extract geopolitical benefits from a growing world reliance on such fuels, however, Washington inevitably invites countermoves of various sorts. Rival powers, fearful and resentful of its geopolitical assertiveness, will bolster their capacity to resist American power—a trend already evident in China's accelerating naval and missile buildup.
At the same time, other states will seek to develop their own capacity to exploit unconventional resources in what might be considered a fossil-fuels version of an arms race. This will require considerable effort, but such resources are widely distributed across the planet and in time other major producers of unconventional fuels are bound to emerge, challenging America's advantage in this realm (even as they increase the staying power and global destructiveness of the third age of carbon). Sooner or later, much of international relations will revolve around these issues.
Surviving the Third Carbon Era
Barring unforeseen shifts in global policies and behavior, the world will become increasingly dependent on the exploitation of unconventional energy. This, in turn, means an increase in the buildup of greenhouse gases with little possibility of averting the onset of catastrophic climate effects. Yes, we will also witness progress in the development and installation of renewable forms of energy, but these will play a subordinate role to the development of unconventional oil and gas.
Life in the third carbon era will not be without its benefits. Those who rely on fossil fuels for transportation, heating and the like can perhaps take comfort from the fact that oil and natural gas will not run out soon, as was predicted by many energy analysts in the early years of this century. Banks, the energy corporations and other economic interests will undoubtedly amass staggering profits from the explosive expansion of the unconventional oil business and global increases in the consumption of these fuels. But most of us won't be rewarded. Quite the opposite. Instead, we'll experience the discomfort and suffering accompanying the heating of the planet, the scarcity of contested water supplies in many regions and the evisceration of the natural landscape.
What can be done to cut short the third carbon era and avert the worst of these outcomes?  Calling for greater investment in green energy is essential but insufficient at a moment when the powers that be are emphasizing the development of unconventional fuels. Campaigning for curbs on carbon emissions is necessary, but will undoubtedly prove problematic, given an increasingly deeply embedded institutional bias toward unconventional energy. 
Needed, in addition to such efforts, is a drive to expose the distinctiveness and the dangers of unconventional energy and to demonize those who choose to invest in these fuels rather than their green alternatives. Some efforts of this sort are already underway, including student-initiated campaigns to persuade or compel college and university trustees to divest from any investments in fossil-fuel companies. These, however, still fall short of a systemic drive to identify and resist those responsible for our growing reliance on unconventional fuels.
For all President Obama's talk of a green technology revolution, we remain deeply entrenched in a world dominated by fossil fuels, with the only true revolution now underway involving the shift from one class of such fuels to another. Without a doubt, this is a formula for global catastrophe. To survive this era, humanity must become much smarter about this new kind of energy and then take the steps necessary to compress the third carbon era and hasten in the Age of Renewables before we burn ourselves off this planet.
Visit EcoWatch's ENERGY page for more related news on this topic.
——–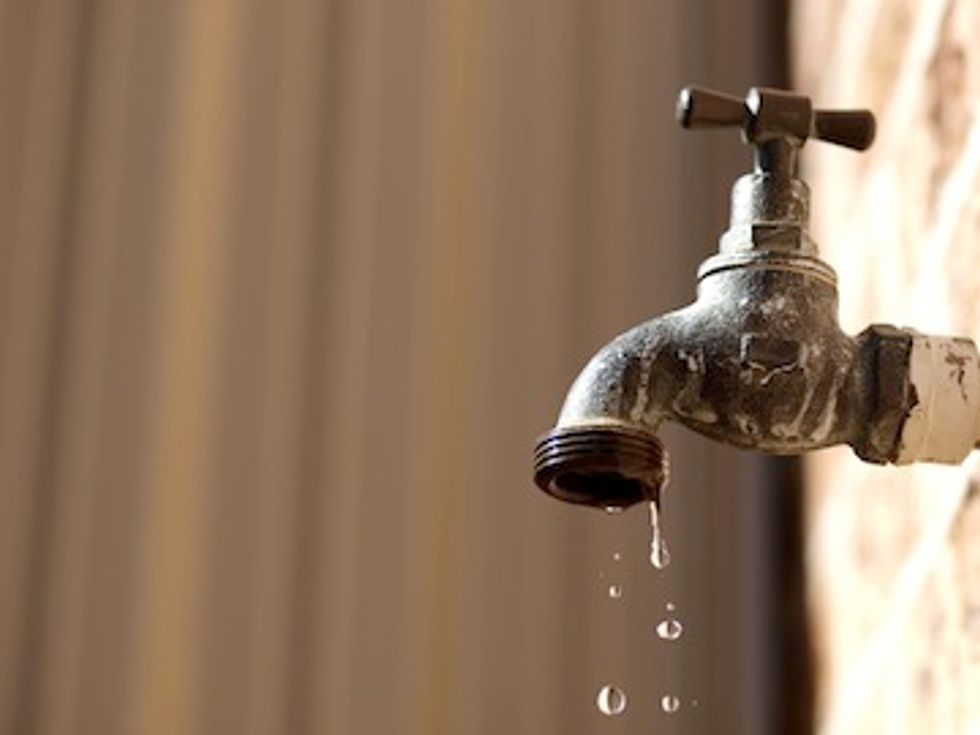 Photo courtesy of Shutterstock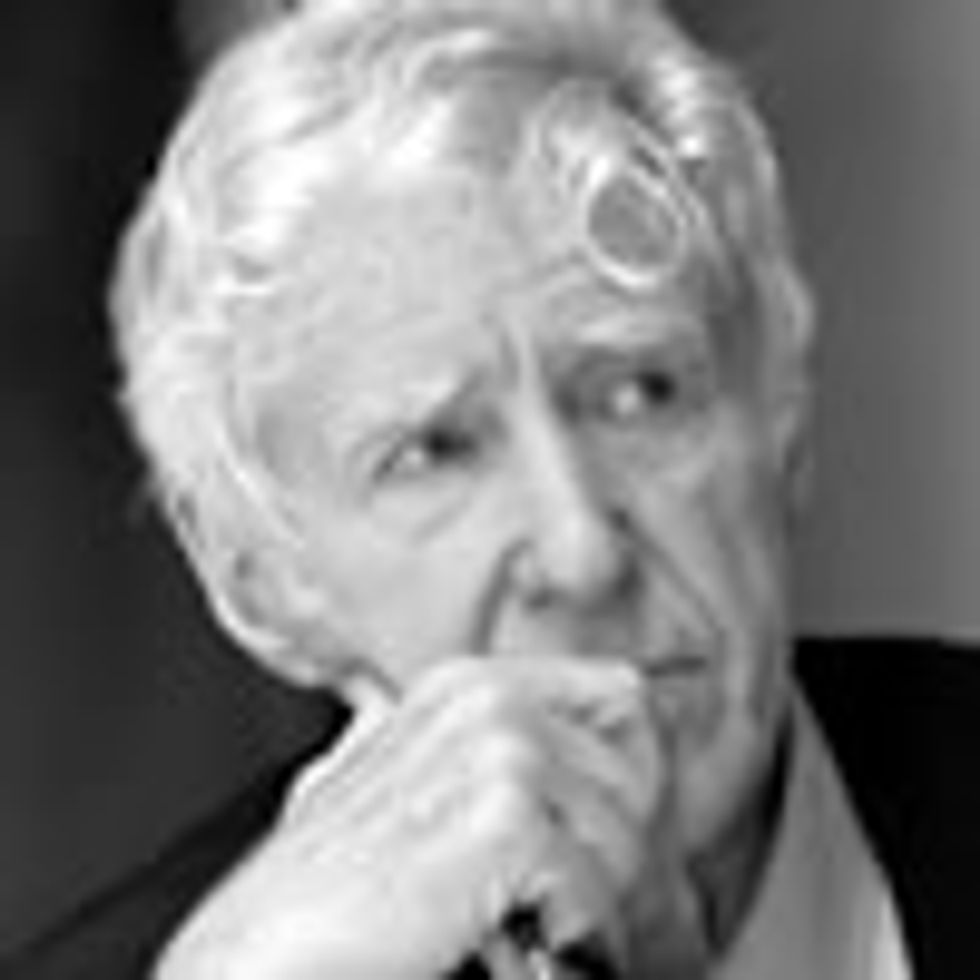 Peak oil has generated headlines in recent years, but the real threat to our future is peak water. There are substitutes for oil, but not for water. We can produce food without oil, but not without water.
We drink on average four liters of water per day, in one form or another, but the food we eat each day requires 2,000 liters of water to produce, or 500 times as much. Getting enough water to drink is relatively easy, but finding enough to produce the ever-growing quantities of grain the world consumes is another matter.
Grain consumed directly supplies nearly half of our calories. That consumed indirectly as meat, milk and eggs supplies a large part of the remainder. Today, roughly 40 percent of the world grain harvest comes from irrigated land. It thus comes as no surprise that irrigation expansion has played a central role in tripling the world grain harvest over the last six decades.
During the last half of the twentieth century, the world's irrigated area expanded from close to 250 million acres (100 million hectares) in 1950 to roughly 700 million in 2000. This near tripling of world irrigation within 50 years was historically unique. But since then the growth in irrigation has come to a near standstill, expanding only 10 percent between 2000 and 2010.
In looking at water and our future, we face many questions and few answers. Could the world be facing peak water? Or has it already peaked?
Farmers get their irrigation water either from rivers or from underground aquifers. Historically, beginning with the Sumerians some 6,000 years ago, irrigation water came from building dams across rivers, creating reservoirs that then enabled them to divert the water onto the land through a network of gravity-fed canals. This method of irrigation prevailed until the second half of the twentieth century, where with few sites remaining for building dams, the prospects for expanding surface irrigation faded. Farmers then turned to drilling wells to tap underground water resources.
In doing so, they learned that there are two types of aquifers: those that are replenishable through rainfall, which are in the majority, and those that consist of water laid down eons ago, and thus do not recharge. The latter, known as fossil aquifers, include two strategically important ones, the deep aquifer under the North China Plain and the Ogallala aquifer under the U.S. Great Plains.
Tapping underground water resources helped expand world food production, but as the demand for grain continued climbing, so too did the amount of water pumped. Eventually the extraction of water began to exceed the recharge of aquifers from precipitation, and water tables began to fall. And then wells begin to go dry. In effect, overpumping creates a water-based food bubble, one that will burst when the aquifer is depleted and the rate of pumping is necessarily reduced to the rate of recharge.
Today some 18 countries, containing half the world's people, are overpumping their aquifers. Among these are the big three grain producers—China, India and the U.S.—and several other populous countries, including Iran, Pakistan and Mexico.
During the last couple of decades, several of these countries have overpumped to the point that aquifers are being depleted and wells are going dry. They have passed not only peak water, but also peak grain production. Among the countries whose use of water has peaked and begun to decline are Saudi Arabia, Syria, Iraq and Yemen. In these countries peak grain has followed peak water.
Nowhere are falling water tables and the shrinkage of irrigated agriculture more dramatic than in Saudi Arabia, a country as water-poor as it is oil-rich. After the Arab oil export embargo in 1973, the Saudis realized they were vulnerable to a counter-embargo on grain. To become self-sufficient in wheat, they developed a heavily subsidized irrigated agriculture based heavily on pumping water from fossil aquifers.
After being self-sufficient in wheat for over 20 years, the Saudis announced in early 2008 that, with their aquifers largely depleted, they would reduce wheat planting by one eighth each year until 2016, when production would end. By then Saudi Arabia projects it will be importing some 15 million tons of wheat, rice, corn and barley to feed its 30 million people. It is the first country to publicly project how aquifer depletion will shrink its grain harvest.
Syria, a country of 22 million people riddled by civil war, is also overpumping its underground water. Its grain production peaked in 2001 and during the years since has dropped 32 percent. It, too, is becoming heavily dependent on imported grain.
In neighboring Iraq, grain production has plateaued over the last decade. In 2012 it was dependent on the world market for two thirds of its consumption. In addition to aquifer depletion, both Syria and Iraq are also suffering from a reduced flow in the Tigris and Euphrates rivers as upstream Turkey claims more water for its own use.
In Yemen, a nation of 24 million people that shares a long border with Saudi Arabia, the water table is falling by roughly six feet a year as water use outstrips aquifer recharge. With one of the world's fastest-growing populations and with water tables falling throughout the country, Yemen is fast becoming a hydrological basket case. Grain production has fallen by nearly half over the last 40 years. By 2015, irrigated fields will be a rarity and the country will be importing virtually all of its grain. Living on borrowed water and borrowed time, Yemen could disintegrate into a group of tribal fiefdoms warring over water.
Thus in the Arab Middle East the world is seeing the collision between population growth and water supply at the regional level. For the first time in history, grain production is dropping in a geographic region with nothing in sight to arrest the decline. Because of the failure of governments in the region to mesh population and water policies, each day now brings 9,000 more people to feed and less irrigation water with which to feed them.
Other countries with much larger populations  are also near or beyond peak water. In Iran, a country with 77 million people, grain production dropped 10 percent between 2007 and 2012 as irrigation wells started to go dry. One-quarter of its current grain harvest is based on overpumping. With its population growing by a million people per year, it, too, faces a day of reckoning.
Pakistan, with a population of 182 million that is growing by 3 million per year, is also mining its underground water. Most of its irrigation water comes from the Indus river system, but in the Pakistani part of the fertile Punjab plain, the drop in water tables appears to be similar to the better-known fall that is occurring in India.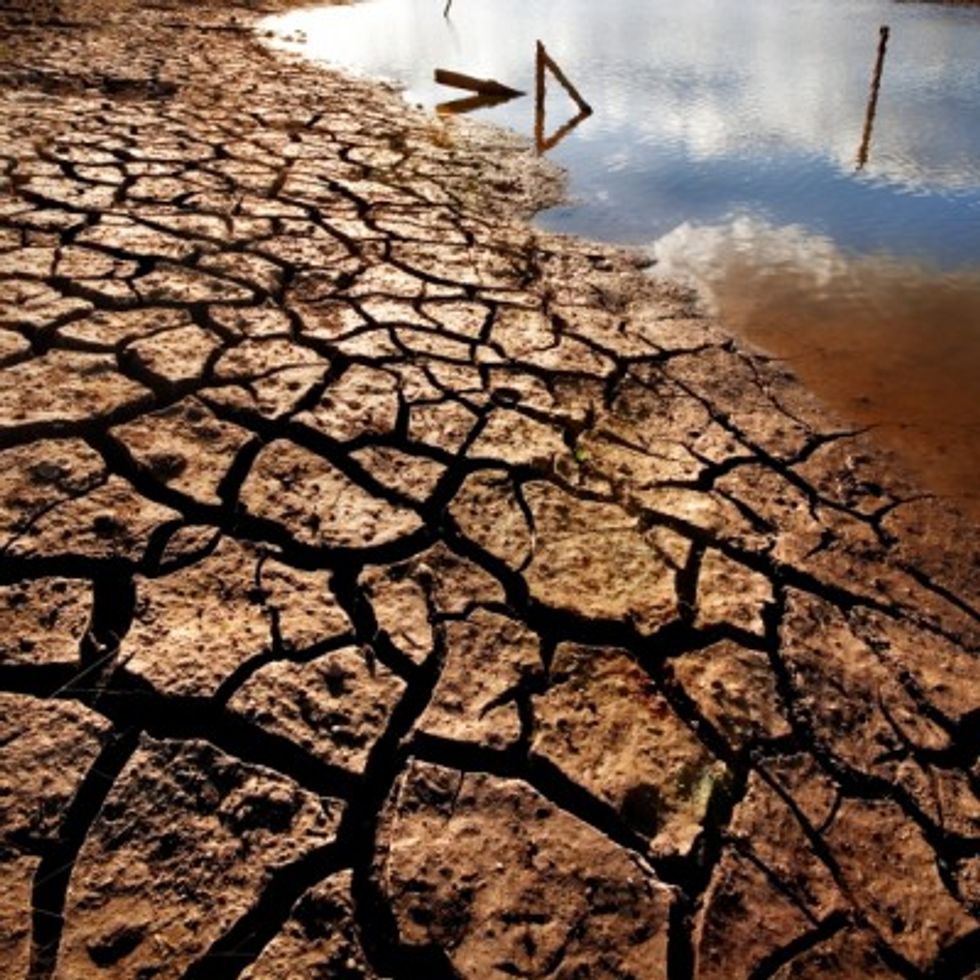 Observation wells near the twin cities of Islamabad and Rawalpindi showed a fall in the water table between 1982 and 2000 that ranged from three to six feet a year. In the Pakistani province of Balochistan, which borders Afghanistan, water tables around the capital, Quetta, are falling by 3.5 meters (11.5 feet) per year—pointing to the day when the city will run out of water. Sardar Riaz A. Khan, former director of Pakistan's Arid Zone Research Institute in Quetta, reports that six of Balochistan's seven basins have exhausted their groundwater supplies, leaving their irrigated lands barren.
In a World Bank study, water expert John Briscoe says: "Pakistan is already one of the most water-stressed countries in the world, a situation which is going to degrade into outright water scarcity due to high population growth." He then notes that "the survival of a modern and growing Pakistan is threatened by water."
In Mexico—home to a population of 122 million that is projected to reach 156 million by 2050—the demand for water is outstripping supply. Mexico City's water problems are well known. Rural areas are also suffering. In the agricultural state of Guanajuato, the water table is falling by six feet  or more a year. In the northwestern wheat-growing state of Sonora, farmers once pumped water from the Hermosillo aquifer at a depth of 40 feet. Today they pump from over 400 feet. Mexico may be near peak water use. Peak grain may be imminent.
In addition to these small and midsize countries, aquifer depletion now also threatens harvests in the big three grain producers—China, India and the U.S.—that together produce half of the world's grain. The question is not whether water shortages will affect future harvests in these countries, but rather when they will do so.
Among the big three, dependence on irrigation varies widely. Some four fifths of China's grain harvest comes from irrigated land, most of it drawing on surface water, principally the Yellow and Yangtze rivers. For India, three fifths of its grain is irrigated, mostly with groundwater. For the U.S., only one-fifth of the harvest is from irrigated land. The bulk of the grain crop is rain-fed, produced in the highly productive Midwestern Corn Belt where there is little or no irrigation.
Falling water tables are already adversely affecting harvest prospects in China, which rivals the U.S. as the world's largest grain producer. A groundwater survey released in Beijing in 2001 indicated that the water table under the North China Plain, an area that produces half of the country's wheat and a third of its corn, was falling fast. Overpumping has largely depleted the shallow aquifer, forcing well-drillers to turn to the region's deep aquifer, which is not replenishable.
The survey reported that under Hebei Province in the heart of the North China Plain, the average level of the deep aquifer was dropping nearly 10 feet per year. Around some cities in the province, it was falling twice as fast. He Qingcheng, head of the groundwater monitoring team, notes that as the deep aquifer is depleted, the region is losing its last water reserve—its only safety cushion.
In 2010, He Qingcheng reported that Beijing was drilling down 1,000 feet to reach an aquifer, five times deeper than 20 years ago. His concerns are mirrored in the unusually strong language of a World Bank report on China's water situation that foresees "catastrophic consequences for future generations" unless water use and supply can quickly be brought back into balance.
As serious as water shortages are in China, they are even more alarming in India, where the margin between food consumption and survival is so precarious. In India, whose population is growing by 15 million per year, irrigation depends heavily on underground water. And since there are no restrictions on well drilling, farmers have drilled more than 27 million irrigation wells and are pumping vast amounts of underground water.
In this global epicenter of well drilling, pumps powered by heavily subsidized electricity are dropping water tables at an alarming rate. Among the states most affected are Punjab, Haryana, Rajasthan and Gujarat in the north and Tamil Nadu in the south. In North Gujarat the water table is falling by 20 feet per year. In Tamil Nadu, a state of 72 million people, water tables are falling everywhere. Kuppannan Palanisami of Tamil Nadu Agricultural University noted in 2004 that 95 percent of the wells owned by small farmers have dried up, reducing the irrigated area in the state by half over the preceding decade.
India's grain harvest has been expanding rapidly in recent years, but in part for the wrong reason, namely massive overpumping. A World Bank study estimates that 15 percent of India's food supply is produced by mining groundwater. Stated otherwise, 175 million Indians are now fed with grain produced with the unsustainable use of water. As early as 2004, Fred Pearce reported in New Scientist that "half of India's traditional hand-dug wells and millions of shallower tube wells have already dried up, bringing a spate of suicides among those who rely on them. Electricity blackouts are reaching epidemic proportions in states where half of the electricity is used to pump water from depths of up to a kilometer."
As India's water tables fall, larger farmers are using modified oil-drilling technology to reach water, going as deep as 1,000 feet in some locations. In communities where underground water sources have dried up entirely, all agriculture is now rain-fed and drinking water must be trucked in. Tushaar Shah of the International Water Management Institute says of India's water situation: "When the balloon bursts, untold anarchy will be the lot of rural India."
In the U.S., farmers are over-pumping in the Great Plains, including in several leading grain-producing states such as Texas, Oklahoma, Kansas, and Nebraska. In these states, irrigation has not only raised wheat yields but it has also enabled a shift from wheat to corn, a much higher-yielding crop. Kansas, for example, long known as the leading wheat state, now produces more corn than wheat.
Irrigated agriculture has thrived in these states, but the water is drawn from the Ogallala aquifer, a huge underground water body that stretches from Nebraska southwards to the Texas Panhandle. It is, unfortunately, a fossil aquifer, one that does not recharge. Once it is depleted, the wells go dry and farmers either go back to dryland farming or abandon farming altogether, depending on local conditions.
In Texas, a large grain and cattle state, whose northern part overlies the shallow end of the Ogallala, irrigated grain area peaked in 1975. Since then it has shrunk by two-thirds, with the most precipitous drop in recent years. In Kansas the peak came in 1982 and irrigated grain area has since fallen 41 percent. Nebraska, now also a leading corn-producing state, saw its irrigated area peak most recently, in 2007. Even though aquifer depletion is reducing grain output in several key states, it is not yet sufficient to reduce the overall U.S. grain harvest, the bulk of which is produced in the rain-fed Midwestern Corn Belt.
At the international level, water conflicts, such as the one in the Nile river basin between Egypt and the upstream countries, make the news. But within countries it is the competition for water between cities and farms that preoccupies political leaders. Indeed, in many countries farmers now face not only a shrinking water supply as aquifers are pumped dry, but also a shrinking share of that shrinking supply.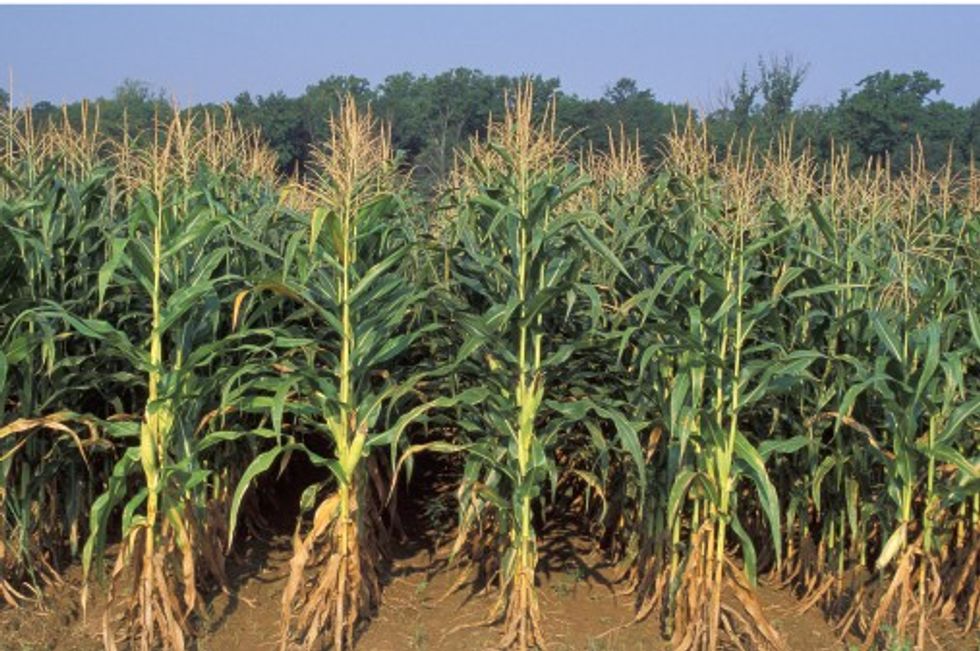 In large areas of the U.S., such as the southern Great Plains and the Southwest, virtually all water is now spoken for. The growing water needs of major cities and thousands of small towns often can be satisfied only by taking water from agriculture. As the value of water rises, more farmers are selling their irrigation rights to cities, letting their land dry up. Hardly a day goes by without the announcement of a new sale. Half or more of all sales are by individual farmers or their irrigation districts to cities and municipalities.
In the largest farm-to-city water transfer in U.S. history, farmers in California's highly productive Imperial Valley agreed in 2003 to send San Diego County enough water to meet the household needs of close to one million people each year. The agreement spans 45 years. This could reduce food production in the Imperial Valley, a huge vegetable garden not only for California, but for countless other markets as well. Writing from the area in the New York Times, Felicity Barringer notes that many fear that "a century after Colorado River water allowed this land to be a cornucopia, unfettered urban water transfers could turn it back into a desert."
Colorado, with a fast-growing population, has one of the world's most active water markets. Cities and towns of all sizes are buying irrigation water rights from farmers and ranchers. In the Arkansas river basin, which occupies the southeastern quarter of the state, Colorado Springs and Aurora (a suburb of Denver) have already bought water rights to one-third of the basin's farmland. Aurora has purchased rights to water that was once used to irrigate 19,000 acres of cropland in the Arkansas valley. The U.S. Geological Survey estimates that 400,000 acres of farmland dried up statewide between 2000 and 2005.
Colorado is not alone in losing irrigation water. Farmers in rural India are also losing their irrigation water to cities. This is strikingly evident in Chennai (formerly Madras), a city of 9 million on the east coast. As a result of the city government's inability to supply water to many of its people, a thriving tank-truck industry has emerged that buys water from nearby farmers and hauls it to the city's thirsty residents.
For farmers near cities, the market price of water typically far exceeds the value of the crops they can produce with it. Unfortunately the 13,000 privately owned tank trucks hauling water to Chennai are mining the region's underground water resources. As water tables fall, eventually even the deeper wells will go dry, depriving rural communities of both their food supply and their livelihood.
In the competition for water between farmers on the one hand and cities and industries on the other, farmers always lose. The economics do not favor agriculture. In countries such as China, where industrial development and the jobs associated with it are an overriding national economic goal, agriculture is becoming the residual claimant on the water supply.
Where virtually all water has been claimed, cities can typically get more water only by taking it from irrigation. Countries then import grain to offset the loss of irrigated grain production. Since it takes 1,000 tons of water to produce one ton of grain, importing grain is the most efficient way to import water. Thus trading in grain futures is, in a sense, trading in water futures. To the extent that there is a world water market, it is embodied in the world grain market.
We can now see how overpumping, whether in the Middle East or the U.S. Great Plains, can lead to aquifer depletion and shrinking grain harvests. In short, peak water can lead to peak grain. For some countries this is no longer merely a theoretical possibility. It is a reality.
Thus far, aquifer depletion has translated into shrinking harvests only in smaller countries in the Middle East. When we look at middle-sized countries such as Iran, Mexico and Pakistan, with tightening water supplies, we see that Iran is already in deep trouble. It is feeling the effects of shrinking water supplies from overpumping. Pakistan may also have reached peak water. If so, peak grain may not be far behind. In Mexico, the water supply may have already peaked. With less water for irrigation, Mexico may be on the verge of a downturn in its grain harvest.
In summarizing prospects for the three big grain producers—the U.S., China and India—we see sharp contrasts. In the U.S., the irrigated grainland is starting to shrink largely as a result of depletion of the Ogallala aquifer, making it more difficult to rapidly increase overall grain production.
China, with four-fifths of its grain harvest coming from irrigated land, relies heavily on irrigation, but it is largely river water. A notable exception to this is the all-important North China Plain which relies heavily on underground water. With tight water supplies in northern China and with cities claiming more irrigation water, the shrinking water supply will likely reduce the harvest in some local situations. And before long it could more than offset production gains, leading to an absolute decline in China's grain harvest.
Of the big three countries, the one most vulnerable to overpumping is India. Three-fifths of its grain harvest comes from irrigated land. And since only a minor share of its irrigation water comes from rivers, India is overwhelmingly dependent on underground water. Its millions of wells, each powered with a diesel engine or electric motor, are dropping water tables at an alarming rate. Accurate data are hard to come by, but India may have already passed peak water. The question is, will peak water be followed by peak grain or is there enough unrealized technological potential remaining to raise yields enough to offset any imminent losses from wells going dry?
The world has quietly transitioned into a situation where water, not land, has emerged as the principal constraint on expanding food supplies. There is a large area of land that could produce food if water were available.
Water scarcity is not our only challenge. Just as harvests are shrinking in some countries because of aquifer depletion, they are shrinking in other countries because of soil erosion. Among the more dramatic examples are Mongolia and Lesotho, which have each seen their grain area shrink as a result of soil erosion. And as a result of overplowing and overgrazing, two huge new dust bowls are forming in the world today, one in northwest China and the other in the Sahelian region of Africa. These giant dust bowls dwarf the U.S. Dust Bowl of the 1930s.
The bottom line is that water constraints—augmented by soil erosion, the loss of cropland to nonfarm uses, a plateauing of yields in major producing areas and climate change—are making it more difficult to expand world food production. The question raised is this: is it conceivable that the negative influences on future food production could one day offset the positive ones, leading to a cessation in the world grain harvest?
Visit EcoWatch's WATER and FOOD pages for more related news on this topic.
——–
By Noam Chomsky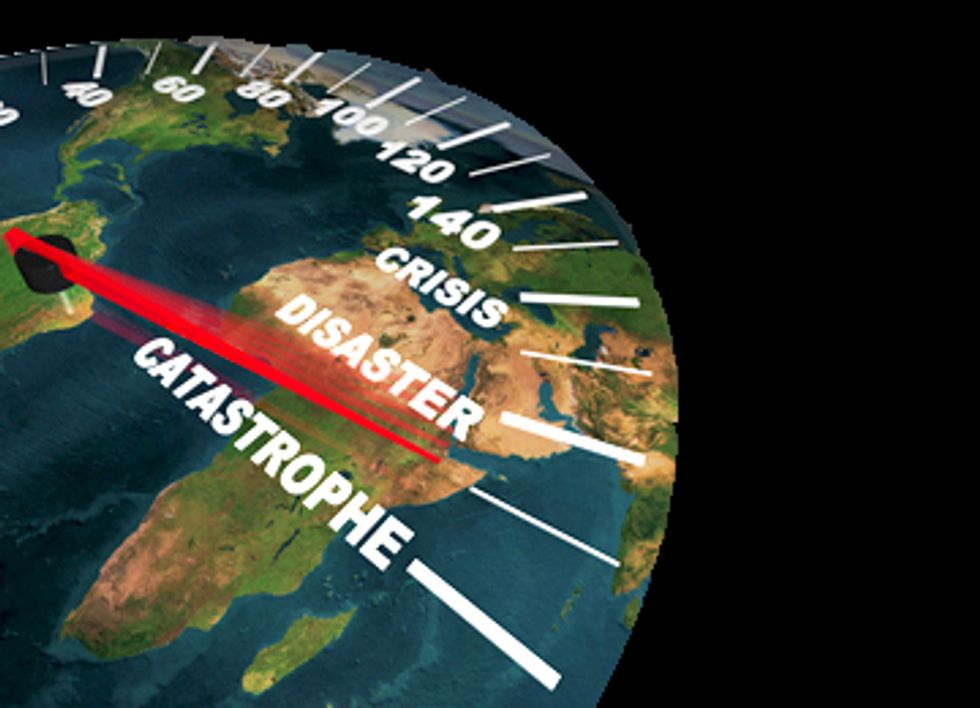 What is the future likely to bring? A reasonable stance might be to try to look at the human species from the outside. So, imagine that you're an extraterrestrial observer who is trying to figure out what's happening here or, for that matter, imagine you're an historian 100 years from now—assuming there are any historians 100 years from now, which is not obvious—and you're looking back at what's happening today. You'd see something quite remarkable.
For the first time in the history of the human species, we have clearly developed the capacity to destroy ourselves. That's been true since 1945. It's now being finally recognized that there are more long-term processes like environmental destruction leading in the same direction, maybe not to total destruction, but at least to the destruction of the capacity for a decent existence.
And there are other dangers like pandemics, which have to do with globalization and interaction. So there are processes underway and institutions right in place, like nuclear weapons systems, which could lead to a serious blow to, or maybe the termination of, an organized existence.
How to Destroy a Planet Without Really Trying
The question is: What are people doing about it? None of this is a secret. It's all perfectly open. In fact, you have to make an effort not to see it.
There have been a range of reactions. There are those who are trying hard to do something about these threats, and others who are acting to escalate them. If you look at who they are, this future historian or extraterrestrial observer would see something strange indeed. Trying to mitigate or overcome these threats are the least developed societies, the indigenous populations, or the remnants of them, tribal societies and first nations in Canada. They're not talking about nuclear war but environmental disaster, and they're really trying to do something about it.
In fact, all over the world—Australia, India, South America—there are battles going on, sometimes wars. In India, it's a major war over direct environmental destruction, with tribal societies trying to resist resource extraction operations that are extremely harmful locally, but also in their general consequences. In societies where indigenous populations have an influence, many are taking a strong stand. The strongest of any country with regard to global warming is in Bolivia, which has an indigenous majority and constitutional requirements that protect the "rights of nature." 
Ecuador, which also has a large indigenous population, is the only oil exporter I know of where the government is seeking aid to help keep that oil in the ground, instead of producing and exporting it—and the ground is where it ought to be.
Venezuelan President Hugo Chavez, who died recently and was the object of mockery, insult and hatred throughout the Western world, attended a session of the United Nations General Assembly a few years ago where he elicited all sorts of ridicule for calling President George W. Bush a devil. He also gave a speech there that was quite interesting. Of course, Venezuela is a major oil producer. Oil is practically their whole gross domestic product. In that speech, he warned of the dangers of the overuse of fossil fuels and urged producer and consumer countries to get together and try to work out ways to reduce fossil fuel use. That was pretty amazing on the part of an oil producer. You know, he was part Indian, of indigenous background. Unlike the funny things he did, this aspect of his actions at the UN was never even reported.
So, at one extreme you have indigenous, tribal societies trying to stem the race to disaster. At the other extreme, the richest, most powerful societies in world history, like the U.S. and Canada, are racing full-speed ahead to destroy the environment as quickly as possible. Unlike Ecuador, and indigenous societies throughout the world, they want to extract every drop of hydrocarbons from the ground with all possible speed. 
Both political parties, President Obama, the media and the international press seem to be looking forward with great enthusiasm to what they call "a century of energy independence" for the U.S. Energy independence is an almost meaningless concept, but put that aside. What they mean is: We'll have a century in which to maximize the use of fossil fuels and contribute to destroying the world.
And that's pretty much the case everywhere. Admittedly, when it comes to alternative energy development, Europe is doing something. Meanwhile, the U.S., the richest and most powerful country in world history, is the only nation among perhaps 100 relevant ones that doesn't have a national policy for restricting the use of fossil fuels, that doesn't even have renewable energy targets. It's not because the population doesn't want it. Americans are pretty close to the international norm in their concern about global warming. It's institutional structures that block change. Business interests don't want it and they're overwhelmingly powerful in determining policy, so you get a big gap between opinion and policy on lots of issues, including this one.
So that's what the future historian—if there is one—would see. He might also read today's scientific journals. Just about every one you open has a more dire prediction than the last.
"The Most Dangerous Moment in History"
The other issue is nuclear war. It's been known for a long time that if there were to be a first strike by a major power, even with no retaliation, it would probably destroy civilization just because of the nuclear-winter consequences that would follow. You can read about it in the Bulletin of Atomic Scientists. It's well understood. So the danger has always been a lot worse than we thought it was.
We've just passed the 50 year anniversary of the Cuban Missile Crisis, which was called "the most dangerous moment in history" by historian Arthur Schlesinger, President John F. Kennedy's advisor. Which it was. It was a very close call, and not the only time either. In some ways, however, the worst aspect of these grim events is that the lessons haven't been learned.
What happened in the missile crisis in October 1962 has been prettified to make it look as if acts of courage and thoughtfulness abounded. The truth is that the whole episode was almost insane. There was a point, as the missile crisis was reaching its peak, when Soviet Premier Nikita Khrushchev wrote to Kennedy offering to settle it by a public announcement of a withdrawal of Russian missiles from Cuba and U.S. missiles from Turkey. Actually, Kennedy hadn't even known that the U.S. had missiles in Turkey at the time. They were being withdrawn anyway, because they were being replaced by more lethal Polaris nuclear submarines, which were invulnerable.
So that was the offer. Kennedy and his advisors considered it—and rejected it. At the time, Kennedy himself was estimating the likelihood of nuclear war at a third to a half. So Kennedy was willing to accept a very high risk of massive destruction in order to establish the principle that we—and only we—have the right to offensive missiles beyond our borders, in fact anywhere we like, no matter what the risk to others—and to ourselves, if matters fall out of control. We have that right, but no one else does.
Kennedy did, however, accept a secret agreement to withdraw the missiles the U.S. was already withdrawing, as long as it was never made public. Khrushchev, in other words, had to openly withdraw the Russian missiles while the U.S. secretly withdrew its obsolete ones; that is, Khrushchev had to be humiliated and Kennedy had to maintain his macho image. He's greatly praised for this: Courage and coolness under threat, and so on. The horror of his decisions is not even mentioned—try to find it on the record.
And to add a little more, a couple of months before the crisis blew up, the U.S. had sent missiles with nuclear warheads to Okinawa, Japan. These were aimed at China during a period of great regional tension.
Well, who cares? We have the right to do anything we want anywhere in the world. That was one grim lesson from that era, but there were others to come.
Ten years after that, in 1973, Secretary of State Henry Kissinger called a high-level nuclear alert. It was his way of warning the Russians not to interfere in the ongoing Israel-Arab war and, in particular, not to interfere after he had informed the Israelis that they could violate a ceasefire the U.S. and Russia had just agreed upon. Fortunately, nothing happened.
Ten years later, President Ronald Reagan was in office. Soon after he entered the White House, he and his advisors had the Air Force start penetrating Russian air space to try to elicit information about Russian warning systems, Operation Able Archer. Essentially, these were mock attacks. The Russians were uncertain, some high-level officials fearing that this was a step towards a real first strike. Fortunately, they didn't react, though it was a close call. And it goes on like that.
What to Make of the Iranian and North Korean Nuclear Crises
At the moment, the nuclear issue is regularly on front pages in the cases of North Korea and Iran. There are ways to deal with these ongoing crises. Maybe they wouldn't work, but at least you could try. They are, however, not even being considered, not even reported.
Take the case of Iran, which is considered in the West—not in the Arab world, not in Asia—the gravest threat to world peace. It's a Western obsession, and it's interesting to look into the reasons for it, but I'll put that aside here. Is there a way to deal with the supposed gravest threat to world peace? Actually, there are quite a few. One way, a pretty sensible one, was proposed a couple of months ago at a meeting of the non-aligned countries in Tehran. In fact, they were just reiterating a proposal that's been around for decades, pressed particularly by Egypt, and has been approved by the UN General Assembly.
The proposal is to move toward establishing a nuclear-weapons-free zone in the region. That wouldn't be the answer to everything, but it would be a pretty significant step forward. And there were ways to proceed. Under UN auspices, there was to be an international conference in Finland last December to try to implement plans to move toward this. What happened? 
You won't read about it in the newspapers because it wasn't reported—only in specialist journals. In early November, Iran agreed to attend the meeting. A couple of days later President Obama cancelled the meeting, saying the time wasn't right. The European Parliament issued a statement calling for it to continue, as did the Arab states. Nothing resulted. So we'll move toward ever-harsher sanctions against the Iranian population—it doesn't hurt the regime—and maybe war. Who knows what will happen?
In Northeast Asia, it's the same sort of thing. North Korea may be the craziest country in the world. It's certainly a good competitor for that title. But it does make sense to try to figure out what's in the minds of people when they're acting in crazy ways. Why would they behave the way they do? Just imagine ourselves in their situation. Imagine what it meant in the Korean War years of the early 1950s for your country to be totally leveled, everything destroyed by a huge superpower, which furthermore was gloating about what it was doing. Imagine the imprint that would leave behind.
Bear in mind that the North Korean leadership is likely to have read the public military journals of this superpower at that time explaining that, since everything else in North Korea had been destroyed, the Air Force was sent to destroy North Korea's dams, huge dams that controlled the water supply—a war crime, by the way, for which people were hanged in Nuremberg. And these official journals were talking excitedly about how wonderful it was to see the water pouring down, digging out the valleys, and the Asians scurrying around trying to survive. The journals were exulting in what this meant to those "Asians," horrors beyond our imagination. It meant the destruction of their rice crop, which in turn meant starvation and death. How magnificent! It's not in our memory, but it's in their memory.
Let's turn to the present. There's an interesting recent history. In 1993, Israel and North Korea were moving towards an agreement in which North Korea would stop sending any missiles or military technology to the Middle East and Israel would recognize that country. President Clinton intervened and blocked it. Shortly after that, in retaliation, North Korea carried out a minor missile test. The U.S. and North Korea did then reach a framework agreement in 1994 that halted its nuclear work and was more or less honored by both sides. When George W. Bush came into office, North Korea had maybe one nuclear weapon and verifiably wasn't producing any more. 
Bush immediately launched his aggressive militarism, threatening North Korea—"axis of evil" and all that—so North Korea got back to work on its nuclear program. By the time Bush left office, they had eight to 10 nuclear weapons and a missile system, another great neocon achievement. In between, other things happened. In 2005, the U.S. and North Korea actually reached an agreement in which North Korea was to end all nuclear weapons and missile development. In return, the West, but mainly the U.S., was to provide a light-water reactor for its medical needs and end aggressive statements. They would then form a nonaggression pact and move toward accommodation.
It was pretty promising, but almost immediately Bush undermined it. He withdrew the offer of the light-water reactor and initiated programs to compel banks to stop handling any North Korean transactions, even perfectly legal ones. The North Koreans reacted by reviving their nuclear weapons program. And that's the way it's been going.
It's well known. You can read it in straight, mainstream American scholarship. What they say is: It's a pretty crazy regime, but it's also following a kind of tit-for-tat policy. You make a hostile gesture and we'll respond with some crazy gesture of our own. You make an accommodating gesture and we'll reciprocate in some way.
Lately, for instance, there have been South Korean-U.S. military exercises on the Korean peninsula which, from the North's point of view, have got to look threatening. We'd think they were threatening if they were going on in Canada and aimed at us. In the course of these, the most advanced bombers in history, Stealth B-2s and B-52s, are carrying out simulated nuclear bombing attacks right on North Korea's borders. 
This surely sets off alarm bells from the past. They remember that past, so they're reacting in a very aggressive, extreme way. Well, what comes to the West from all this is how crazy and how awful the North Korean leaders are. Yes, they are. But that's hardly the whole story, and this is the way the world is going.
It's not that there are no alternatives. The alternatives just aren't being taken. That's dangerous. So if you ask what the world is going to look like, it's not a pretty picture. Unless people do something about it. We always can.
Visit EcoWatch's ENERGY page for more related news on this topic.
——–
Click here to tell Congress to Expedite Renewable Energy.

By J. Matthew Roney
Even amid policy uncertainty in major wind power markets, wind developers still managed to set a new record for installations in 2012, with 44,000 megawatts of new wind capacity worldwide. With total capacity exceeding 280,000 megawatts, wind farms generate carbon-free electricity in more than 80 countries, 24 of which have at least 1,000 megawatts. At the European level of consumption, the world's operating wind turbines could satisfy the residential electricity needs of 450 million people.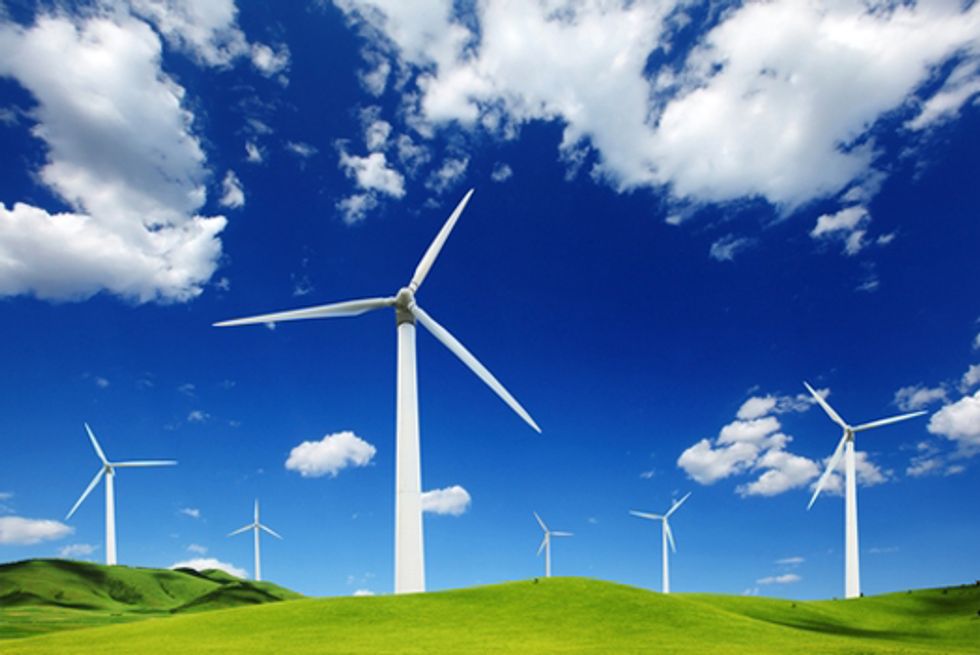 Photo courtesy of Shutterstock
China installed some 13,000 megawatts of wind in 2012, according to the Global Wind Energy Council (GWEC). This was a marked slowdown from the previous two years, when new installations averaged 18,000 megawatts annually. Reasons for the drop-off include concerns about project quality and inadequate electricity transmission and grid infrastructure, which prompted the government to approve fewer projects and to restrict lending. Still, all told, China leads the world with 75,000 megawatts of wind capacity: more than a quarter of the world total.
In a country more readily associated with coal-fired electricity and nuclear power ambitions, wind reached some impressive milestones in China's energy mix in 2012. Wind-generated electricity increased more than coal-fired electricity did for the first time. Even more remarkable, the electricity produced by wind farms over the course of the year exceeded that produced by nuclear power plants. And this is just the beginning: with massive wind projects under development across its northern and eastern provinces, and 19 ultra-high-voltage transmission projects connecting windy rural areas to population centers (all to be completed by 2014), more milestones lie ahead in China. Consulting firms GTM Research and Azure International project that China will reach 140,000 megawatts of wind by 2015 and nearly 250,000 megawatts by 2020.
The U.S. wind industry made headlines too. More new wind electricity generating capacity was added in 2012 than any other generation technology, including natural gas—a record 13,100 megawatts. An incredible 5,200 megawatts, spread among 59 wind farms, came online in December alone as developers raced to qualify for the federal production tax credit before it was set to expire at the end of the year. The U.S. remains second only to China, with 60,000 total megawatts of wind capacity—enough to power more than 14 million U.S. homes.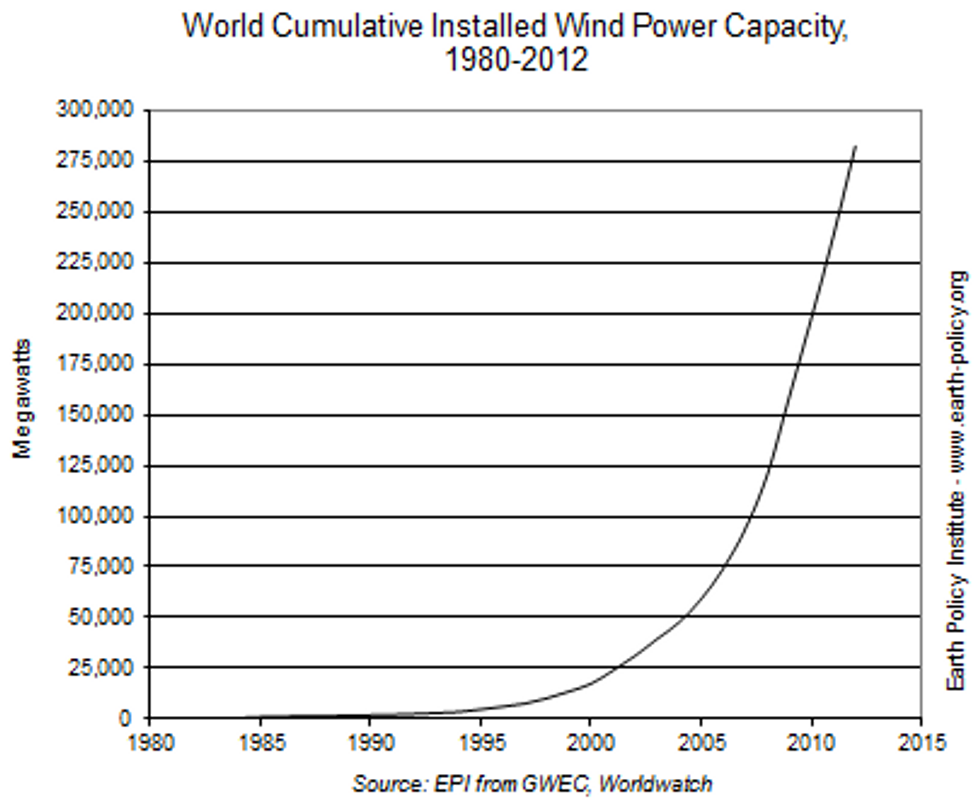 Several U.S. states have more installed wind capacity than most countries do. The 12,200 megawatts in Texas and the 5,500 megawatts in California, for example, would rank them sixth and eleventh, respectively, on the world wind power list. In Texas, a further 21,000 megawatts of wind projects are under consideration, much of which could be accommodated by the "Competitive Renewable Energy Zones" high-voltage transmission projects scheduled for completion by the end of 2013. These new lines will connect wind-rich West Texas and the panhandle with high-demand markets to the east. (See data).
Wind farms generated at least 10 percent of the electricity produced in nine states in 2012, up from five states the year before. Iowa and South Dakota got nearly a quarter of their electricity from wind. Oregon's 845-megawatt Shepherd's Flat wind farm, commissioned in 2012, is North America's largest. But in Carbon County, Wyoming, a project of up to 3,000 megawatts is under development.
To the north, Canada's 6,500 megawatts of wind power are sufficient to meet the electricity needs of nearly 2 million households. As Ontario, the country's most populous province, works to phase out coal-fired power by 2014, its wind generation is growing—in fact, Ontario's wires carried more electricity from wind than from coal for the first time in 2012.
The European Union (EU) added more megawatts of wind in 2012 than it did natural gas, coal, or nuclear, even as fiscal austerity measures cut renewable energy incentives. Several EU member states lead the world in the share of electricity they get from wind farms. Spain and Portugal typically have a 16 percent wind share. In Germany, whose 30,000 megawatts of wind capacity are the third highest in the world, the national wind share is 11 percent. Four of Germany's northern states now get roughly half of their electricity from wind.
But it is Denmark that sets the bar for wind's role in electricity production. The Danish Wind Industry Association reports that wind farms generated 30 percent of Denmark's electricity in 2012, up from 28 percent in 2011. The government pledged in late 2011 to boost this share to 50 percent by 2020.
Looking eastward, Romania and Poland each added roughly 900 megawatts of wind in 2012, reaching 2,500 and 1,900 megawatts, respectively. Turkey's goal is to reach 20,000 megawatts of wind in the next 10 years, nearly 10 times its current capacity.
Aside from China, India is the other big Asian wind market. With more than 18,000 megawatts installed, India ranks fifth worldwide in wind capacity. The government plans to spend roughly $8 billion on grid and transmission upgrades by 2017 through its "green energy corridors" plan. This is sorely needed in a country where nearly 300 million people do not have access to electricity.
Latin America, Africa, the Middle East and Oceania have enormous wind potential but little actual development thus far. Activity in each of these regions, however, indicates seriousness about harnessing the wind. In Latin America, Mexico more than doubled its wind capacity to almost 1,400 megawatts in 2012. Brazil, where wind installations grew 75 percent in 2012, could add another 1,500 megawatts in 2013 to reach 4,000 megawatts total.
Just 100 megawatts of wind were installed in all of Africa in 2012, split between Ethiopia and Tunisia. Kenya's long-awaited 310-megawatt Lake Turkana wind farm, which could generate more than 10 percent of national electricity, has suffered multiple setbacks but may begin construction in 2013. No new wind projects came online in the Middle East. Jordan is looking to grow its currently negligible wind power to 1,200 megawatts by 2020, however, and plans are also under way in Israel and Saudi Arabia.
In Australia, the goal is to get 20 percent of electricity from renewable sources by 2020. Half of the country's current 2,600 megawatts of wind is in the state of South Australia, where wind farms generated 24 percent of all electricity in 2012. The January 2013 commissioning of the 420-megawatt Macarthur wind farm in the state of Victoria gets the country halfway to its expected 30 percent wind growth for the year.
Most of the world's installed wind capacity is land-based; just 2 percent—roughly 5,400 megawatts—has been built offshore. Recently, however, offshore development has accelerated, more than tripling over the last five years. Ten of the 12 countries with offshore wind farms are European. The United Kingdom hosts more than half of the world's offshore capacity and aims for 18,000 megawatts of offshore wind by 2020; its offshore wind resources are actually estimated to be 16 times larger than its electricity consumption. In Denmark, some 15 percent of electricity is expected to come from offshore wind farms by 2014.
China and Japan are the only offshore wind producers outside of Europe, hosting 390 megawatts and 25 megawatts, respectively. With 130 megawatts installed in 2012 alone, China has quickly amassed the world's third largest offshore capacity figure; the country's near-term offshore targets are 5,000 megawatts by 2015 and 30,000 by 2020. In the wake of the 2011 disaster at the Fukushima nuclear power plant, Japan is looking to harness more of its offshore wind, a resource plentiful enough to meet national electricity needs nearly three times over. And in South Korea, numerous offshore projects are under way, as the country's wind industry aims to reach 23,000 megawatts of wind power by 2030.
According to Navigant Research, new wind installations worldwide will fall to some 40,000 megawatts in 2013. This would be the first instance in at least 17 years when annual additions did not increase year-to-year. Much of this deceleration will likely be the result of a slowdown in U.S. development. Still, the annual market is expected to rebound in 2014 as costs continue to fall, as major players recover, and as newcomers in Africa, the Middle East and the Baltic region begin to realize their wind ambitions. GWEC and Greenpeace International project at least 425,000 megawatts of wind capacity worldwide by 2015—enough to generate electricity for all of Central and South America. The world is starting to realize that wind's potential is almost without limit.
Visit EcoWatch's RENEWABLES page for more related news on this topic.
——–
Click here to tell Congress to Expedite Renewable Energy.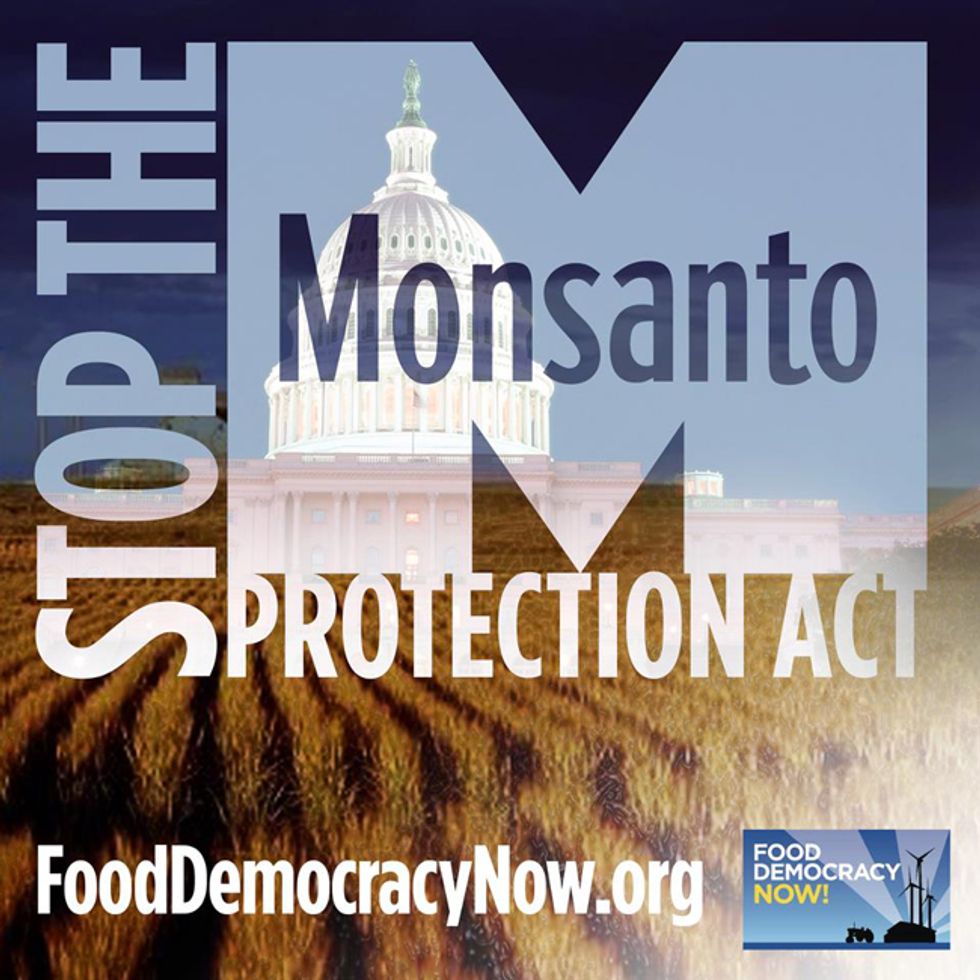 It is with great sadness and a heavy heart that we regret to inform you that late last night President Barack Obama signed H.R. 933, which contained the "Monsanto Protection Act" into law. This is an outrage that will not go unanswered.
While we are still waiting to hear from the administration all the final details, we understand at this time that Section 735, the Monsanto biotech rider, is intact.
President Obama knowingly signed the Monsanto Protection Act over the insistence of more than 250,000 Americans who signed an urgent letter asking that he use his executive authority to veto H.R. 933 and send it back to Congress to remove the Monsanto Protection Act from the bill. Regretfully, President Obama failed to live up to his oath to protect the American people and our Constitution.
Now that Congress has passed and President Obama has signed into law, the Monsanto Protection Act, Food Democracy Now! urgently requests that the President issue an executive order to support the mandatory labeling of genetically modified organisms (GMOs).
We want to thank everyone who made tens of thousands of calls to Congress and the White House and we understand that people are upset, but now is not the time to be quiet.
If leadership in Washington, DC can betray the public behind closed doors, it's time that the American public gain the right to transparency about what they are eating and the food they're feeding their families every day.
Not only is GMO labeling a reasonable and common sense solution to the continued controversy that corporations like Monsanto, DuPont and Dow Chemical have created by subverting our basic democratic rights, but it is a basic right that citizens in 62 other countries around the world already enjoy, including Europe, Russia, China, India, South Africa and Saudi Arabia.
In addition, mandatory labeling of GMO foods is something that President Obama promised while on the campaign trail in 2007 to Iowa farmers when he said on Nov. 10 in Des Moines: "Here's what I'll do as president ... we'll let folks know whether their food has been genetically modified because Americans should know what they're buying."
It's time that President Obama hold true to his campaign promise to Iowa farmers and the American people by issuing an executive order to label GMOs in our food products immediately. The American people need real leadership in Washington, DC, not more backroom deals by corporate lobbyists that subvert our democracy.
The passage of the Monsanto Protection Act is another sign of how out of touch Congress and the White House are with the sentiment of the America public. The insertion of the biotech rider in a backroom deal with corporate lobbyists and Senate leaders is a new low. Since losing a court case in 2010 to Center for Food Safety for the unlawful planting of GMO sugar beets, Monsanto and other biotech companies have been desperate to find a way around court mandated environmental impact statements required as a result of a U.S. district court's ruling.
There is a fierce urgency in the fight over the Monsanto Protection Act for family farmers and food activists across the country as 13 new genetically engineered crops await approval at the U.S. Department of Agriculture and AquaBounty's GMO salmon could be approved by the Food and Drug Administration next month. The passage of this rider in an unrelated budget spending bill could open the floodgates for these new approvals, even if the budget agreement only lasts for the next six months.
Any new approvals could threaten the livelihoods of America's farmers, as the approval of even a single one of these untested crops can lead to widespread contamination of farmers' crops, bringing economic harm to farmers and contamination to our seed supply.
For the past year, family farm advocates and legal experts have fought to stop the Monsanto Protection Act, another special interest corporate giveaway that fundamentally undermines the federal courts' ability to protect family farmers and the environment from potentially hazardous GMO crops that have not been proven safe.
We recognize that there are narrow-minded people out there who do not think that a six-month provision that subverts our Constitution and judicial authority for another corporate handout to Monsanto is worth shutting down the federal government, but here at Food Democracy Now! we disagree.
We are greatly encouraged by the quarter million American people who have signed this letter and the tens of thousands of phone calls to Congress and the White House to demand that our basic rights are upheld by our elected officials, particularly our President. This is a sign of how urgent citizen participation is to maintaining a democracy.
Click here to make a call to the White House and let President Obama and your members of Congress know how upset you are and that it's time for GMO labeling.
Visit EcoWatch's GENETICALLY MODIFIED ORGANISM page for more related news on this topic.
——–
Tell the FDA to Deny Approval of GE Salmon: