This website uses cookies to ensure you get the best experience while browsing it. By clicking 'Got It' you're accepting these terms.


The best of EcoWatch, right in your inbox. Sign up for our email newsletter!
NYC Mayor's Office / Twitter
New York City's iconic Empire State Building glowed green Wednesday night following two "watershed" announcements—that the city would seek to divest its pension funds from fossil fuel investments, and that it filed suit against five oil giants for contributing to climate change.
"The Empire State Building is shining green tonight because it's time to put our planet first. #DivestNY," Democratic Mayor Bill de Blasio tweeted Wednesday.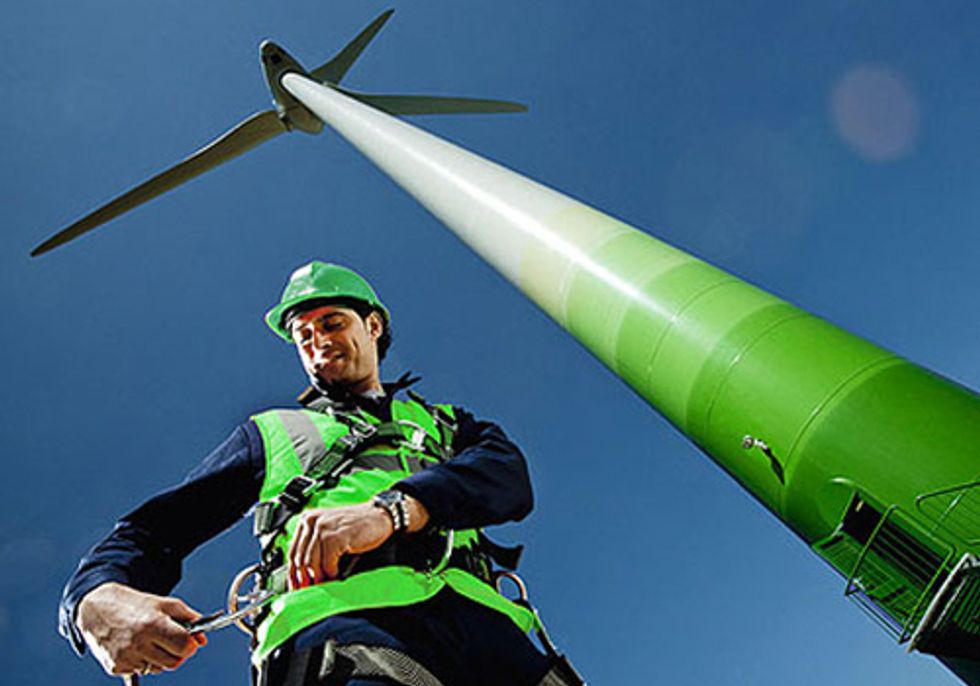 By Bob Keefe
Used with permission of NRDC – Switchboard
Fossil fuel lobbyists and their allies in Congress continue to dispute the need to support development of more renewable energy in America.
Never mind that more than 90 percent of Americans say developing renewable energy should be a national priority.
Never mind that renewable energy, led by the solar industry, is among the fastest-growing and most promising job sectors in our economy.
Never mind that with every solar panel or wind turbine we install, we reduce emissions from coal, oil and other fossil fuels that pollute our air, warm our planet and in turn, foster more climate-related disasters.
Need more reasons for why we need to support development of renewable energy in America?
Scan the headlines—like these from just the past few days:
From the New York Times:
Iran Threatens to Block Oil Shipments, as U.S. Prepares Sanctions
WASHINGTON—A senior Iranian official on Tuesday delivered a sharp threat in response to economic sanctions being readied by the United States, saying his country would retaliate against any crackdown by blocking all oil shipments through the Strait of Hormuz, a vital artery for transporting about one-fifth of the world's oil supply.
From the Associated Press:
Nigerian Offshore Oil Spill Covers 115 miles
LAGOS, Nigeria—An oil spill near the coast of Nigeria is probably the worst to hit those waters in a decade, a government official said Thursday, as slicks from the Royal Dutch Shell PLC spill approached the country's southern shoreline.

The slick from Shell's Bonga field has affected 115 miles of ocean near Nigeria's coast, Peter Idabor, who leads the National Oil Spill Detection and Response Agency, told the Associated Press. Idabor said the slick continued to move toward shore Thursday night, putting at risk birds, fish and other wildlife in the area.
From the Los Angeles Times:
Gasoline Prices Set December Record
The most expensive year ever for gasoline purchases in the U.S. is heading to a close—but not without another dig at motorists' wallets.

Pain levels at the pump rose again over the last week in California and across most of the nation, assuring that 2011 will mark the second year in a row that prices have posted record December highs.

The average price of a gallon of regular gasoline in California hit $3.576, up 2 cents since Dec. 19, according to the Energy Department's weekly survey of service stations. That shattered—by 28.9 cents—the old record of $3.287 a gallon set in December 2007 and was tied in December 2010.

Nationally, the numbers told a similar story. The U.S. average for a gallon of regular gasoline rose 2.9 cents over the last week to $3.258. That was 20.6 cents a gallon higher than a year earlier and 20.5 cents higher than the record high set in December 2007.
Three more reasons, taken from just a few days' worth of news, why America needs to keep pressing forward on renewable energy development.
Iran can't block the sun from shining on solar panels or the wind from blowing on turbines in America. Cars that get better mileage or run on renewable fuels mean we save money at the pump. Less dependence on fossil fuels means fewer environmental disasters like those in Nigeria or in the Gulf of Mexico.
Some say we don't need to support development of more renewable energy in America. Why?
For more information, click here.
EcoWatch Daily Newsletter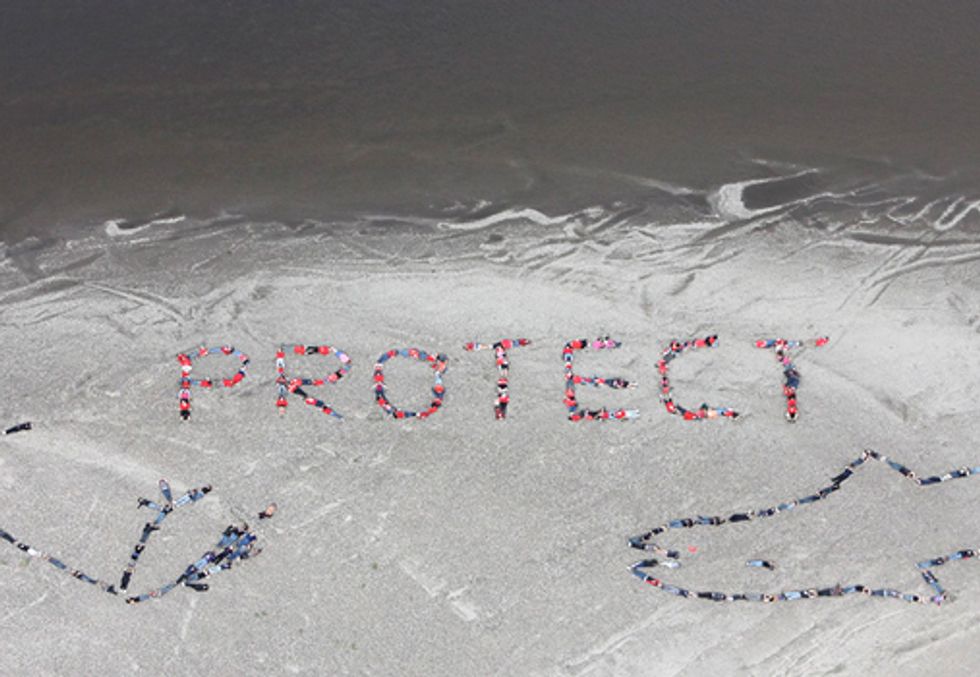 Congress passed an omnibus spending bill Dec. 16 for fiscal year 2012 that includes a poison pill buried deep within the bill's 1,200 page conference agreement—that literally poisons the air in our nation's Arctic Ocean. This poison pill, or Dirty Arctic Air rider, would compromise the health of the Inupiat people who have thrived there for thousands of years as well as the Arctic's myriad wildlife species, from polar bears and beluga whales to walrus and millions of birds.
Specifically, the poison pill transfers authority over Arctic offshore drilling air pollution permits from the U.S. Environmental Protection Agency (EPA) to the U.S. Department of Interior (DOI). As a result, Arctic drilling will become almost completely exempt from the Clean Air Act's health-based national ambient air quality standards and the act's program to prevent significant deterioration of air quality.
Statement from Cindy Shogan, executive director, Alaska Wilderness League:
"Today's action by Congress tells the people of America's Arctic—proud Inupiats and Americans—that they are less important than a few foreign-owned oil companies such as Royal Dutch Shell.
"There is no question that this Dirty Arctic Air rider—snuck into a vital spending bill at the 11th hour—is a clear giveaway to Shell and Big Oil. Currently, Shell's proposed drilling program in the Arctic's Chukchi and Beaufort Seas would release, each year, tens of thousands of tons of climate-warming greenhouse gases; hundreds of tons of nitrogen dioxide, which causes and exacerbates respiratory disease; and tens of tons of other harmful pollutants including carbon monoxide and volatile organic compounds. If subject to DOI's regulations, Shell could be authorized to emit pollution in excess of even these massive amounts.
"The people of America's Arctic already suffer from the impacts of drilling in their pristine, wild home. When Rosemary Ahtuangaruak started her career as health aide in 1986 in Nuiqsut, a small village that sits adjacent to the Alpine Oil Field and near Prudhoe Bay, North America's largest oil field, she treated one patient with asthma. When she quit in 1997, there were 60 people who had to use respiratory medications. This is an increase of more than tenfold, and
corresponded with an increase of oil industry activity near her town. As the National Academy of Sciences noted in its extensive study of cumulative environmental effects of oil and gas development on Alaska's North Slope, "petroleum development has resulted in major, significant, and probably irreversible changes to the way of life on the North Slope."
"President Barack Obama owes it to the people of the Arctic to demand that DOI immediately tighten its air rules to match those of EPA."
Arctic air pollution oversight—EPA vs. DOI:
The EPA has a long history of protecting public health through the Clean Air Act, which has saved more than 200,000 lives and prevented millions of asthma attacks, heart problems and other serious illnesses. Such expertise is essential for protecting a region as fragile as the Arctic, which is already under significant threat from the effects of climate change and onshore development.
Beyond the fact that DOI has no history or expertise in Arctic air quality, DOI regulations are not nearly as protective. They do not require compliance with Clean Air Act requirements over the ocean but only onshore and the regulations include wholesale exemptions from air quality analysis for many facilities based on their distance from the shore. This is especially alarming in the Arctic where there are vast lease tracks offshore, thereby exempting 80 million acres of potential leases from regulation at the source.
Shifting the point of compliance from the source on the ocean to the shoreline ignores that some members of Arctic coastal communities spend significant time on the ocean. DOI regulations would allow the oil companies to pollute at unhealthy levels within traditional Alaska Native subsistence hunting areas.
For more information, click here.