This website uses cookies to ensure you get the best experience while browsing it. By clicking 'Got It' you're accepting these terms.


The best of EcoWatch, right in your inbox. Sign up for our email newsletter!
Air pollution in Paris in December, 2016 as seen from Montmartre.
Tangopaso / Wikimedia Commons
The European Commission confirmed in a statement Thursday that it would pursue legal action against six European countries for exceeding air pollution limits set for 2005 and 2010, Air Quality News reported.
The commission is referring France, Germany, the UK, Italy, Hungary and Romania to the European Court of Justice (ECJ), which could fine them millions of euros if they do not act quickly enough to solve the problem, The Guardian reported.
Flooding in Carlisle, England. Wikimedia Commons
By Paul Brown
With flood risks and damage from extreme events increasing across Europe, homeowners in areas of greatest risk are still not taking enough measures to protect themselves.
Researchers reported in the journal Risk Analysis their efforts to discover how to motivate people to keep themselves safe and protect their property from flood damage.
EcoWatch Daily Newsletter
By Alicia Graef
In a surprise move that has wildlife advocates cheering, Romania's government has taken action to protect its large carnivores from trophy hunters.
Last week, the Environment Ministry announced a total ban on trophy hunting of brown bears, wolves, lynx and and other wild cats, which is expected to save thousands of animals from being killed.
Romania's government has taken action to protect its large carnivores from trophy hunters.iStock
These species are protected under both Romanian law and the European Habitats Directive, but loopholes have allowed for the killing of dangerous animals who have caused damage, or threaten humans and livestock.

Unfortunately, deciding how many dangerous animals there are is up to those who stand to make a lot of money from the continued killing of wildlife.
The Guardian explains that every year, hunting associations would submit two numbers, including the total population of each large carnivore species and the total number which they believed to be likely to cause damages. The second number is used to set quotas for each species, which are then sold by hunting outfitters as permits to the public.
"Hunting for money was already illegal, but it was given a green light anyway," environment minster, Cristiana Pasca-Palmer, told the Guardian. 'The damages [clause in the habitats directive] acted as a cover for trophy hunting."
The system used raises a lot of questions about a serious conflict of interest, yet hunters have taken advantage of it, spending thousands to take home a trophy and the number of animals killed has continued to grow over the years.
In 2016 alone, the quotas set allowed for the killing of 550 bears, 600 wolves and 500 big cats. ZME Science puts that in perspective by likening it to killing "the entire brown bear population in Slovakia, the population of wolves living in France, Norway, and Sweden, and four Poland-worths of lynxes—in one country, in a single year."
Now, the animals will be getting a much-needed reprieve. The decision is expected to divide rural and urban dwellers, but supporters hope other measures will help reduce potential conflicts with wildlife. So far this includes creating a special unit that will deal with conflicts and animals who have caused damage individually, in addition to setting up a working group of experts to study populations of wildlife and come up with solutions for effectively managing them.
For now, it's an epic step in the right direction when it comes to protecting large carnivores from being needlessly killed for sport and entertainment, and it's hopefully one that will send a message to other countries that continue to allow this deplorable practice.
Not only are these species vital to maintaining healthy ecosystems, but studies continue to show that the science being used to justify killing them isn't good, and in many cases continued slaughter has backfired and caused more conflicts, instead of reducing them.
For more information on how to help large carnivores in the U.S., check out organizations including Project Coyote and Predator Defense.
Reposted with permission from our media associate Care2.

By Dave Levitan
As municipal food composting programs spread across North America and Europe, no city faces a more daunting task than New York. Its Department of Sanitation collects more than 10,000 tons of trash every day, and another 1,700 tons of recyclable materials. A large portion of that waste, though, may soon have a future other than the landfill: Food scraps and other "organics" have long been just a part of New York's trash pile, but a pilot program in the city is aimed at rolling out collection of that material and composting it, a far more environmentally friendly method.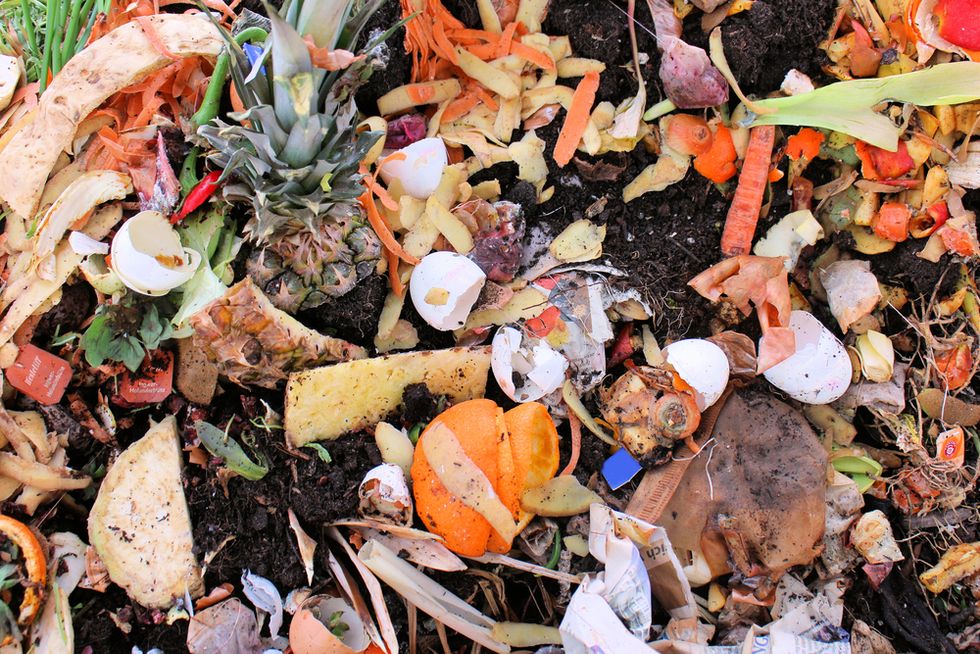 Photo courtesy of Shutterstock
"It's the next new thing in terms of municipal waste handling in the 21st century," says Eric Goldstein, a senior attorney with the Natural Resources Defense Council (NRDC) in New York. "Right now ... there are over 150 communities throughout the United States that are collecting organics at curbside. It's a national trend. It's revolutionary."
Many of those programs are still voluntary, and the bulk are in small cities and towns. But larger cities in North America—including San Francisco, Seattle, San Antonio, Toronto and Portland, OR—are moving rapidly ahead. And municipal composting efforts in many European countries are far advanced and steadily growing. In 2011, the 27 states in the European Union composted on average 15 percent of municipal waste, with Austria composting 34 percent, the Netherlands 28 percent, and countries like France, Spain, and Germany each composting about 18 percent.
In New York Mayor Michael Bloomberg's State of the City address this past February, he called food waste the city's "final recycling frontier," which holds true for the rest of the U.S., as well. According to the U.S. Environmental Protection Agency (EPA), the country as a whole produced 250 million tons of municipal solid waste in 2011, and compostable materials—which include yard trimmings, paper and paperboard, as well as food waste—comprised the largest component of that at 56 percent.
The environmental benefits of recycling that material are significant. As it decomposes in landfills, food and other organic waste produces methane, a greenhouse gas 25 times more powerful than carbon dioxide. According to the EPA, landfills are the third-largest source of methane in the U.S., behind industry and agriculture. Shipping waste long distances from cities to landfills produces even more greenhouse gas emissions. Composting, meanwhile, takes that waste and turns it into something usable: fertilizer. If cities like New York want to cut emissions, cut waste and even cut costs, composting is a proven way to go about it.
The good news is that of the 87 million tons of "recovered" waste in the U.S. in 2011—meaning waste that did not end up in a landfill—organic material accounted for the largest component. But most of that material was paper; food waste accounted for only 1.6 percent of the recovered total versus 14.5 percent of the generated total, the EPA says. The U.S. does a reasonably good job of keeping paper out of landfills thanks to recycling programs, but food almost universally still goes where it shouldn't.
New York is trying to change that with its new program. So far, compost collection is being offered in one neighborhood of Staten Island, and city officials say that after only a few months participation rates are above 40 percent. Contamination rates—meaning, the presence of non-compostable material in the compost bin—are at 1 percent or below. In Manhattan, about 100 city schools are also participating, with a goal of spreading to 400 schools by the end of the year. Two high-rise apartment buildings are included as well, with more to follow this fall.
"We spend over $85 million a year sending food waste to landfills, so there's a major cost," said Ron Gonen, New York City's deputy commissioner for recycling and sustainability, who heads up the composting program. He said so far the program is collecting at a pace on the order of "tens of thousands" of tons per year. "It's growing every day," said Gonen. "We're going to continue to expand, in all five boroughs." By 2014 the program will cover around 100,000 households.
Goldstein says that if New York demonstrates the economic and logistical viability of its program it could be a "bellwether" in the push to expand composting nationwide. But a few cities—in general, the green, progressive ones you might expect—have already taken the lead over the last decade. San Francisco—the second-densest large city in the U.S. after New York—is considered the frontrunner, thanks to legislation in 2002 that set a goal of diverting 75 percent of its waste from landfills by 2010 and achieving "zero waste" by 2020.
San Francisco's composting program began with restaurants and other businesses, and in 2009 an ordinance made it mandatory for all residents to separate organic material for collection. Instead of two bins to set out on the curb for trash and recyclables, there are now three. The green compost bins can include all food scraps, no matter how spoiled, along with vegetation from yards like leaves and flowers, and solid paper products including coffee cups, waxy paper, milk cartons and related items. The city collected its millionth ton of organic waste for composting last fall. Overall, 78 percent of San Francisco's waste is now diverted from landfills.
Seattle has a similar program, as does Portland; the latter went a step further and scaled back residential garbage pickup to only once every two weeks when the weekly compost pickup began.
Despite some early resistance and confusion—much of it related to every-other-week garbage collection—a survey in Portland found that 66 percent of residents rated the city's recycling and composting program as "good" or "very good" after one year, with another 20 percent neutral on the issue. Along with the positive reception, there has been clear progress. In the 12-month period prior to the October 2011 start of the composting program, 94,100 tons of garbage were collected. In the following 12 months, that figure fell to 58,300 tons. Meanwhile, collections of compostable material rose from 30,600 tons to 85,400 tons, a figure that includes yard waste.
There were questions early on about vermin, but moving the scraps from the garbage can to the compost bin doesn't change much, said Bruce Walker, Portland's solid waste and recycling program manager. The organic material in Portland travels to one of two facilities that are 15 and 90 miles from downtown. Walker said regular garbage gets trucked much farther, about 140 miles from the city, so the environmental savings are compounded. The composting facilities produce fertilizers that are sold to farms, tree nurseries and to the general public.
In Europe, the European Landfill Directive requires European Union member states to reduce "biodegradable municipal waste" sent to landfills to 35 percent of 1995 amounts by 2016. In the EU, 40 percent of waste is now composted or recycled, with 23 percent incinerated and 37 percent landfilled. Norway, Sweden, the Netherlands, Denmark, Switzerland, Belgium, Austria and Germany now send less than 3 percent of their waste to landfills. Copenhagen, one of the greenest cities in the world, stopped sending organic waste to landfills as far back as 1990.
Other European countries lag far behind, with Greece and eastern European nations such as Bulgaria, Lithuania and Romania doing almost no composting. Still, some of the swiftest progress has come from some former eastern bloc countries like Estonia. The capital city of Talinn has been collecting biodegradable kitchen waste separately since 2007, part of the reason why landfill rates in Estonia have dropped from close to 100 percent 15 years ago to below 60 percent today. Europe is also much farther along than the U.S. in using anaerobic digestion, a process that takes organic waste and turns it into biogas, which can be used to generate electricity.
In New York, the question of where to bring collected organic material is unresolved. The city has a request for proposals to build a new composting plant in or close to the city, but until then there aren't nearby facilities that can handle large amounts. Goldstein, of the NRDC, said that one possibility is to site facilities outside the city or partner with farms in the Catskills—sending the material 75 miles or so is still a huge improvement on the current system, which involves exporting to landfills sometimes many states and hundreds of miles away.
"The city has been really slow in terms of going through this process," said Christine Datz-Romero, co-founder and executive director of the Lower East Side Ecology Center, which has worked on composting in New York for two decades. "If we wanted a facility here in New York City we should have started that process a long time ago. For building a facility we're talking years. I see that as the biggest stumbling block because right now we have very limited capacity."
Should New York and numerous other U.S. cities and towns establish vibrant composting programs, the environmental benefits will be enormous, advocates say. "Ultimately, there's going to be very little left in the traditional garbage can," said Goldstein.
Visit EcoWatch's FOOD page for more related news on this topic.
——–
By J. Matthew Roney
Even amid policy uncertainty in major wind power markets, wind developers still managed to set a new record for installations in 2012, with 44,000 megawatts of new wind capacity worldwide. With total capacity exceeding 280,000 megawatts, wind farms generate carbon-free electricity in more than 80 countries, 24 of which have at least 1,000 megawatts. At the European level of consumption, the world's operating wind turbines could satisfy the residential electricity needs of 450 million people.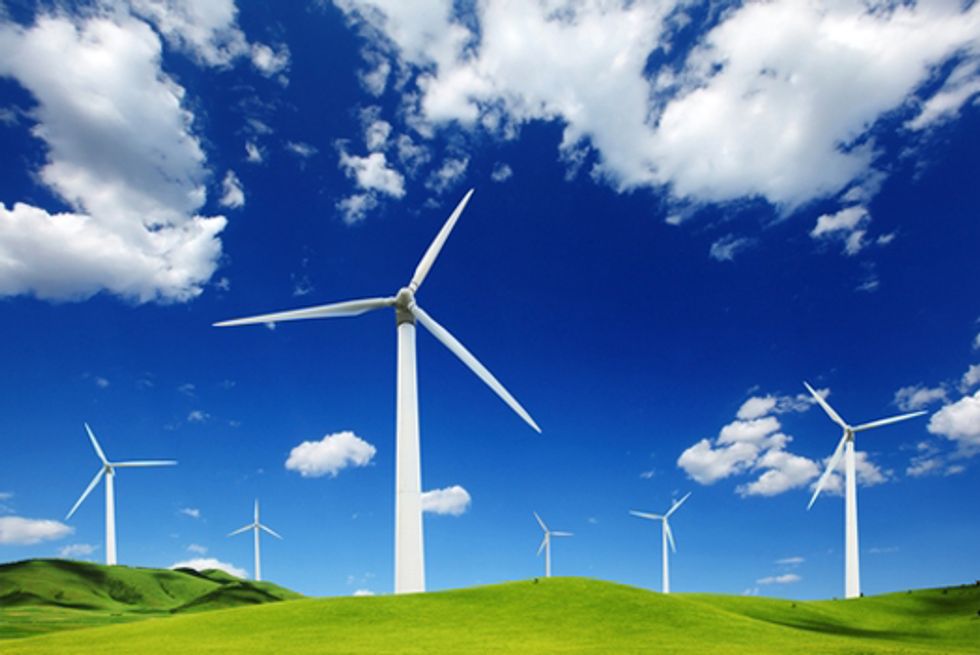 Photo courtesy of Shutterstock
China installed some 13,000 megawatts of wind in 2012, according to the Global Wind Energy Council (GWEC). This was a marked slowdown from the previous two years, when new installations averaged 18,000 megawatts annually. Reasons for the drop-off include concerns about project quality and inadequate electricity transmission and grid infrastructure, which prompted the government to approve fewer projects and to restrict lending. Still, all told, China leads the world with 75,000 megawatts of wind capacity: more than a quarter of the world total.
In a country more readily associated with coal-fired electricity and nuclear power ambitions, wind reached some impressive milestones in China's energy mix in 2012. Wind-generated electricity increased more than coal-fired electricity did for the first time. Even more remarkable, the electricity produced by wind farms over the course of the year exceeded that produced by nuclear power plants. And this is just the beginning: with massive wind projects under development across its northern and eastern provinces, and 19 ultra-high-voltage transmission projects connecting windy rural areas to population centers (all to be completed by 2014), more milestones lie ahead in China. Consulting firms GTM Research and Azure International project that China will reach 140,000 megawatts of wind by 2015 and nearly 250,000 megawatts by 2020.
The U.S. wind industry made headlines too. More new wind electricity generating capacity was added in 2012 than any other generation technology, including natural gas—a record 13,100 megawatts. An incredible 5,200 megawatts, spread among 59 wind farms, came online in December alone as developers raced to qualify for the federal production tax credit before it was set to expire at the end of the year. The U.S. remains second only to China, with 60,000 total megawatts of wind capacity—enough to power more than 14 million U.S. homes.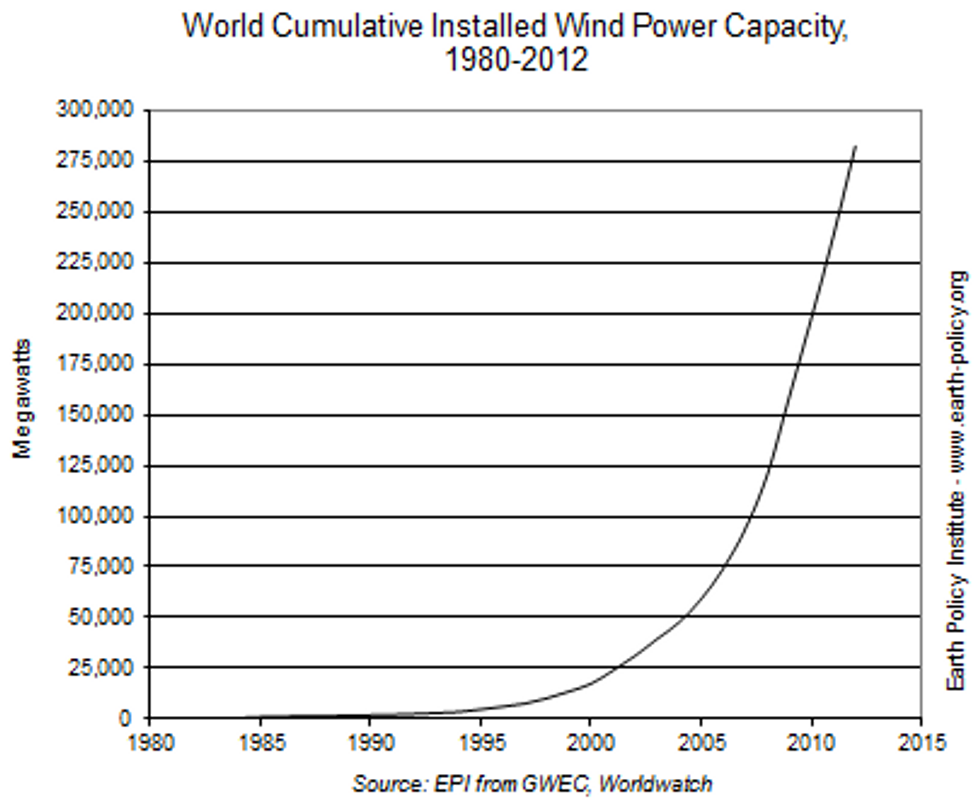 Several U.S. states have more installed wind capacity than most countries do. The 12,200 megawatts in Texas and the 5,500 megawatts in California, for example, would rank them sixth and eleventh, respectively, on the world wind power list. In Texas, a further 21,000 megawatts of wind projects are under consideration, much of which could be accommodated by the "Competitive Renewable Energy Zones" high-voltage transmission projects scheduled for completion by the end of 2013. These new lines will connect wind-rich West Texas and the panhandle with high-demand markets to the east. (See data).
Wind farms generated at least 10 percent of the electricity produced in nine states in 2012, up from five states the year before. Iowa and South Dakota got nearly a quarter of their electricity from wind. Oregon's 845-megawatt Shepherd's Flat wind farm, commissioned in 2012, is North America's largest. But in Carbon County, Wyoming, a project of up to 3,000 megawatts is under development.
To the north, Canada's 6,500 megawatts of wind power are sufficient to meet the electricity needs of nearly 2 million households. As Ontario, the country's most populous province, works to phase out coal-fired power by 2014, its wind generation is growing—in fact, Ontario's wires carried more electricity from wind than from coal for the first time in 2012.
The European Union (EU) added more megawatts of wind in 2012 than it did natural gas, coal, or nuclear, even as fiscal austerity measures cut renewable energy incentives. Several EU member states lead the world in the share of electricity they get from wind farms. Spain and Portugal typically have a 16 percent wind share. In Germany, whose 30,000 megawatts of wind capacity are the third highest in the world, the national wind share is 11 percent. Four of Germany's northern states now get roughly half of their electricity from wind.
But it is Denmark that sets the bar for wind's role in electricity production. The Danish Wind Industry Association reports that wind farms generated 30 percent of Denmark's electricity in 2012, up from 28 percent in 2011. The government pledged in late 2011 to boost this share to 50 percent by 2020.
Looking eastward, Romania and Poland each added roughly 900 megawatts of wind in 2012, reaching 2,500 and 1,900 megawatts, respectively. Turkey's goal is to reach 20,000 megawatts of wind in the next 10 years, nearly 10 times its current capacity.
Aside from China, India is the other big Asian wind market. With more than 18,000 megawatts installed, India ranks fifth worldwide in wind capacity. The government plans to spend roughly $8 billion on grid and transmission upgrades by 2017 through its "green energy corridors" plan. This is sorely needed in a country where nearly 300 million people do not have access to electricity.
Latin America, Africa, the Middle East and Oceania have enormous wind potential but little actual development thus far. Activity in each of these regions, however, indicates seriousness about harnessing the wind. In Latin America, Mexico more than doubled its wind capacity to almost 1,400 megawatts in 2012. Brazil, where wind installations grew 75 percent in 2012, could add another 1,500 megawatts in 2013 to reach 4,000 megawatts total.
Just 100 megawatts of wind were installed in all of Africa in 2012, split between Ethiopia and Tunisia. Kenya's long-awaited 310-megawatt Lake Turkana wind farm, which could generate more than 10 percent of national electricity, has suffered multiple setbacks but may begin construction in 2013. No new wind projects came online in the Middle East. Jordan is looking to grow its currently negligible wind power to 1,200 megawatts by 2020, however, and plans are also under way in Israel and Saudi Arabia.
In Australia, the goal is to get 20 percent of electricity from renewable sources by 2020. Half of the country's current 2,600 megawatts of wind is in the state of South Australia, where wind farms generated 24 percent of all electricity in 2012. The January 2013 commissioning of the 420-megawatt Macarthur wind farm in the state of Victoria gets the country halfway to its expected 30 percent wind growth for the year.
Most of the world's installed wind capacity is land-based; just 2 percent—roughly 5,400 megawatts—has been built offshore. Recently, however, offshore development has accelerated, more than tripling over the last five years. Ten of the 12 countries with offshore wind farms are European. The United Kingdom hosts more than half of the world's offshore capacity and aims for 18,000 megawatts of offshore wind by 2020; its offshore wind resources are actually estimated to be 16 times larger than its electricity consumption. In Denmark, some 15 percent of electricity is expected to come from offshore wind farms by 2014.
China and Japan are the only offshore wind producers outside of Europe, hosting 390 megawatts and 25 megawatts, respectively. With 130 megawatts installed in 2012 alone, China has quickly amassed the world's third largest offshore capacity figure; the country's near-term offshore targets are 5,000 megawatts by 2015 and 30,000 by 2020. In the wake of the 2011 disaster at the Fukushima nuclear power plant, Japan is looking to harness more of its offshore wind, a resource plentiful enough to meet national electricity needs nearly three times over. And in South Korea, numerous offshore projects are under way, as the country's wind industry aims to reach 23,000 megawatts of wind power by 2030.
According to Navigant Research, new wind installations worldwide will fall to some 40,000 megawatts in 2013. This would be the first instance in at least 17 years when annual additions did not increase year-to-year. Much of this deceleration will likely be the result of a slowdown in U.S. development. Still, the annual market is expected to rebound in 2014 as costs continue to fall, as major players recover, and as newcomers in Africa, the Middle East and the Baltic region begin to realize their wind ambitions. GWEC and Greenpeace International project at least 425,000 megawatts of wind capacity worldwide by 2015—enough to generate electricity for all of Central and South America. The world is starting to realize that wind's potential is almost without limit.
Visit EcoWatch's RENEWABLES page for more related news on this topic.
——–
Click here to tell Congress to Expedite Renewable Energy.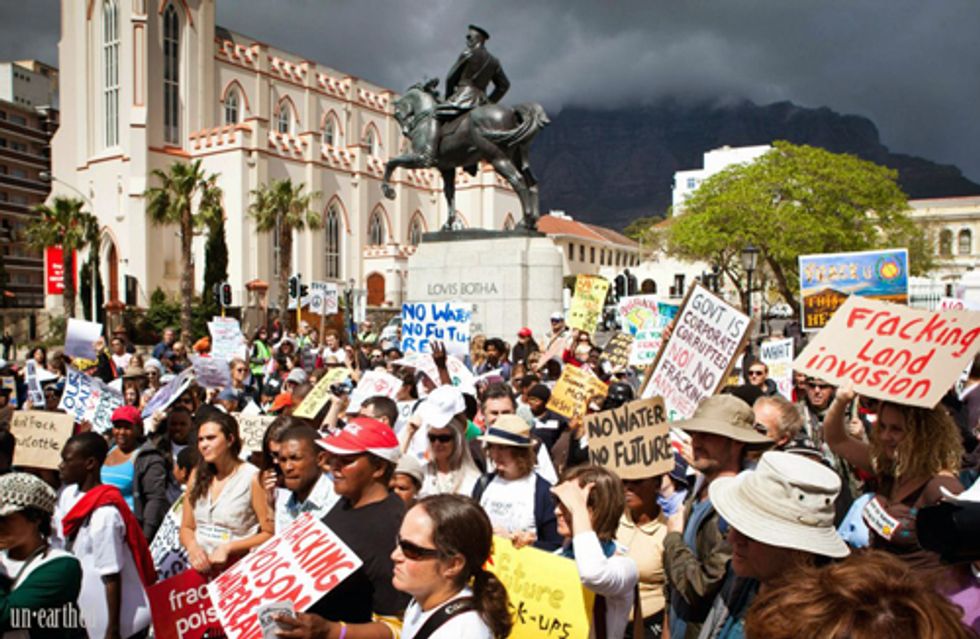 Today people from all over the world hosted events to ban fracking. From New York to South Africa, people gathered to protect human health and the environment from the risks associated with fracking. Global Frackdown is the first coordinated international day of action against fracking that united activists on five continents at more than 150 events calling for a ban on fracking in their communities and to advocate for the development of clean, sustainable energy solutions.
"Fracking and drilling for oil and gas poses a direct and immediate threat to our drinking water, our health and our communities," said Wenonah Hauter, executive Director of Food & Water Watch. "While big oil and gas continues its spin campaign to obscure the dangers of this toxic, polluting process, people around the world are taking a stand through the Global Frackdown."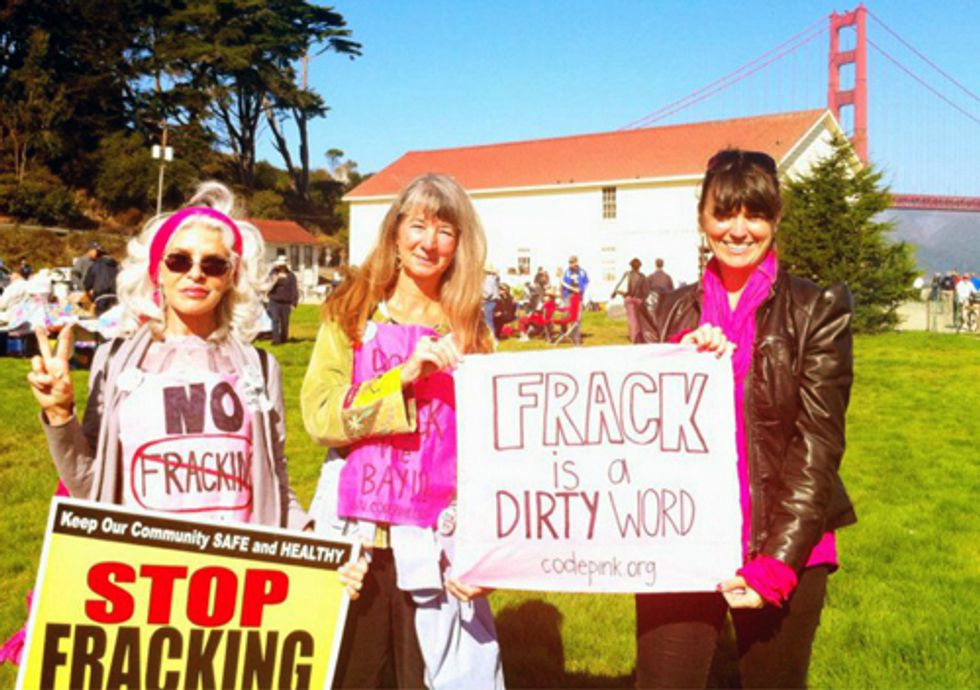 Major actions overseas included a rally on the steps of the European Parliament; demonstrations in front of Parliament buildings in South Africa, Bulgaria and the Czech republic; marches in Argentina; grassroots activities in Paris and the south of France, and screenings of the film Gasland in Spain.
"The events taking place around the world as part of the Global Frackdown prove that people are tired of the lies from big oil and gas," said Jim Dean, chair of Democracy for America. "Time and again, studies prove fracking is unsafe—for our communities, our families and our country. We've learned our lessons from Love Canal and the Horizon oil spill—when money is involved, corporations lie to the people to keep their profits up. It's time to end the lies." 
"Fracking operations are contaminating drinking water sources and making nearby families sick," added John Rumpler, senior attorney for Environment America. "This dirty drilling has to stop."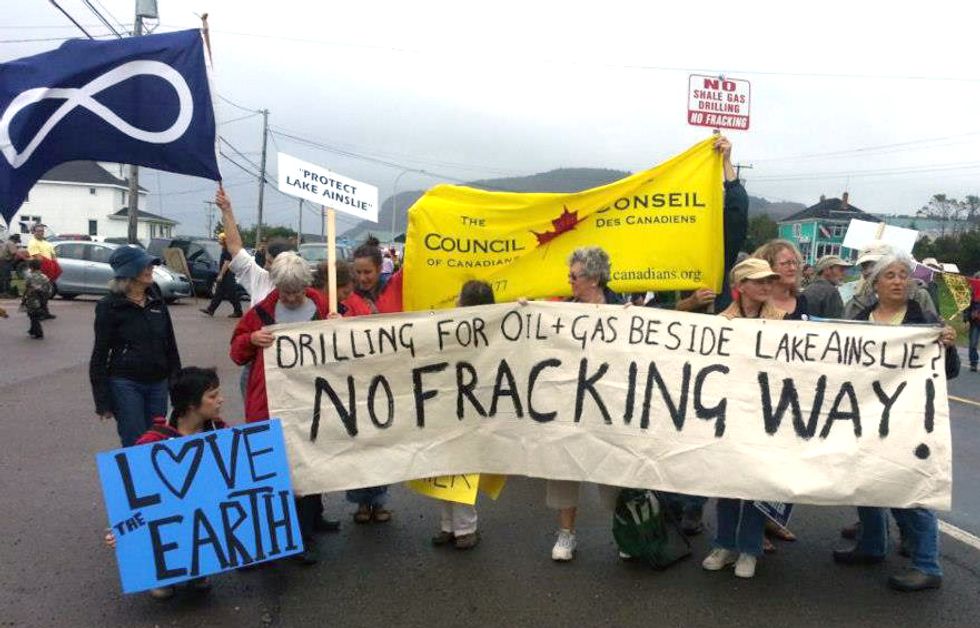 "This past summer, we've gotten one stark reminder after another of the human and economic costs of a climate system starting to spiral out of control," said Erich Pica, president of Friends of the Earth. "Substituting one bad fossil for another doesn't solve the climate crisis. But the good news is that communities all over the world aren't buying what the oil and gas industry is selling—more extreme energy fueling more extreme weather. They're organizing inspiring actions all over the world to turn up the heat on the fossil fuel industry and its bought-and-paid-for political cronies."
"Big oil's plan to frack the world will keep us addicted to fossil fuels at a critical moment when we need to immediately transition to clean, safe, renewable energy," concluded Duncan Meisel, anti-fracking campaigner at 350.org. "This is the world's richest industry, and they're doing all they can to buy off politicians in order to frack our communities, but this event shows that the entire world is ready to stand up to stop them."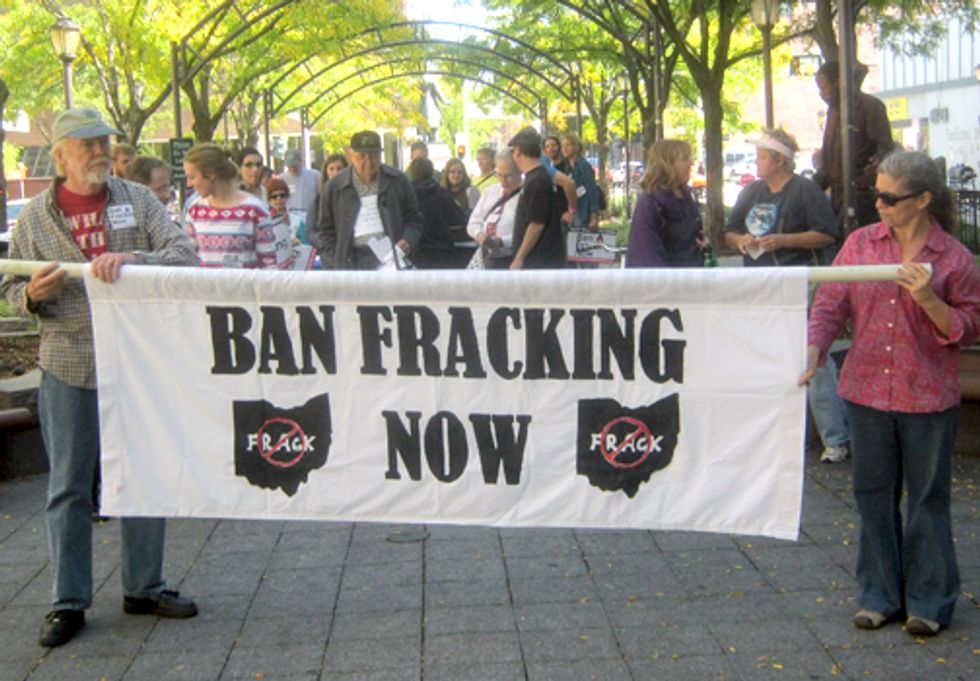 At the Cincinnati Frackdown in Ohio, 50 people met in Piatt Park to hear speakers and take action on the local, state and federal levels. Among the speakers were Cincinnati Vice Mayor Roxanne Qualls, Cincinnati Council Members Laure Quinlivan and Wendell Young, Father Neil Pezzulo of Glenmary Home Missioners, Kate Melges of Greenpeace and Alison Auciello of Food & Water Watch. Speakers conveyed the need to be good stewards of the Earth, frustration with state laws that make it difficult for local communities to protect human health and safety, and the need for a statewide ban on fracking. After the rally, protestors marched to Cincinnati City Hall to recognize the strong stand Cincinnati has taken against fracking.
Photos are still coming in from this tremendous day of action across the globe to ban fracking.
Visit EcoWatch's FRACKING page for more related news on this topic.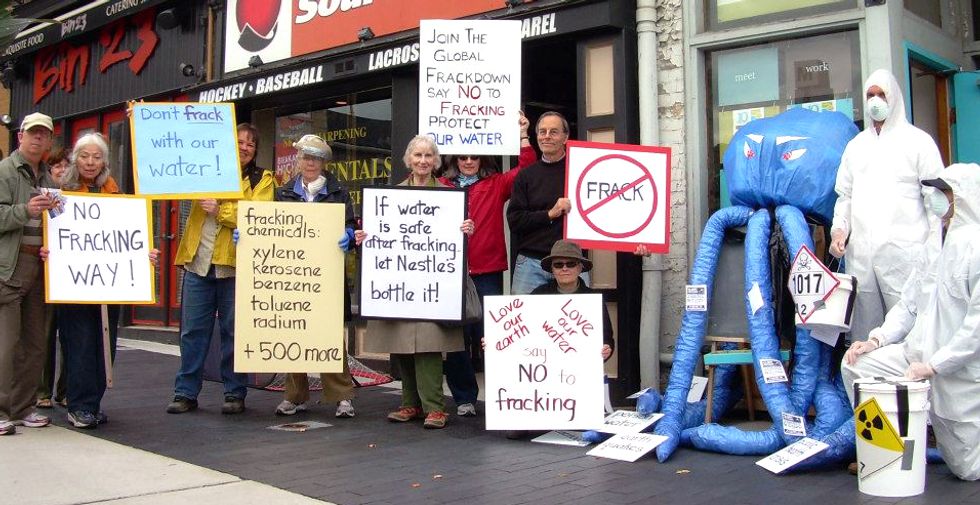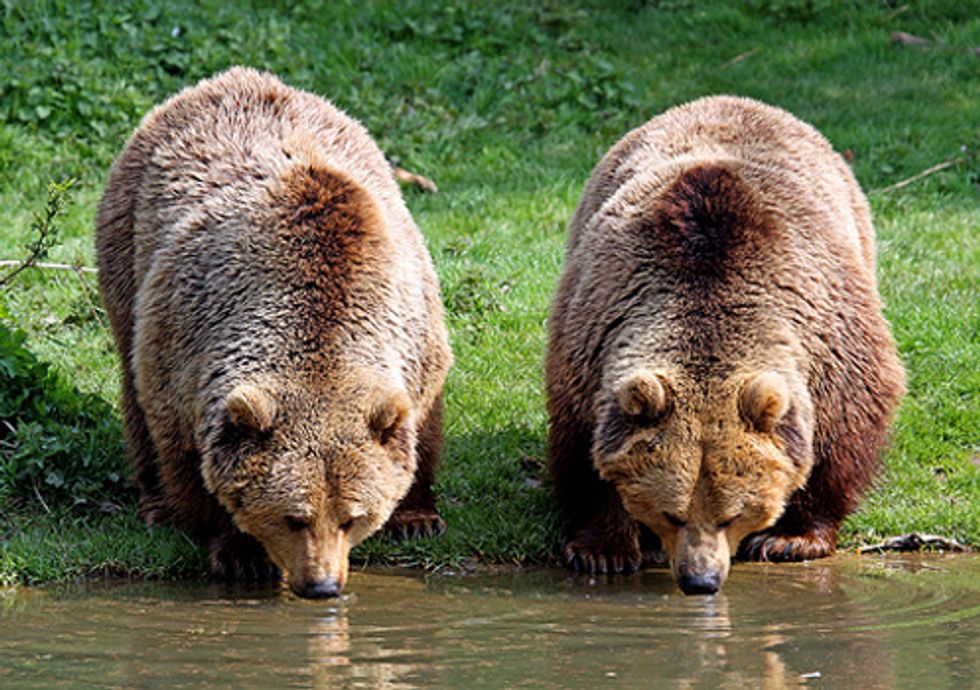 Thanks to the work of a team of dedicated Romanian conservationists, a large part of the Zarand landscape corridor is to be protected as part of the European Union's (EU) Natura 2000 network.
The Zarand landscape is a key focal site for Fauna & Flora International's work in Romania, and they will be working closely with local non-governmental organization, Zarand Association, to help ensure the effective management of the sites.
A key area for carnivore conservation
Romania is home to a wide range of plant and animal life and supports key populations of large carnivores, including around 40 percent of Europe's brown bears.
The Zarand landscape corridor plays a vital role in the conservation of these charismatic animals—linking the southern and western Carpathian Mountains, it allows wolves, bears, lynx and other animals to move between the two mountain ranges.
Although people have lived in the area for centuries, it retains an element of wilderness thanks to the traditional, low-impact practices of local communities.
Unfortunately, in recent years, the Zarand corridor has come under increasing threat from new developments and a shift away from small-scale agriculture.
The designation of the Natura 2000 sites within the Zarand corridor represents an important step forward in the conservation of this critical landscape. The sites will be managed by a number of different custodians and administrators who will soon be appointed according to national law.
"Designing a common conservation management plan will require all the decision makers to reach an agreement," said Anca Serban, Conservation Leadership Programme intern (Fauna & Flora International). "Clearly this will present significant challenges, but it is key to saving this picturesque landscape."
About the Conservation Leadership Programme
The Conservation Leadership Programme (CLP) is a partnership between Fauna & Flora International, Conservation International, Birdlife International and the Wildlife Conservation Society.
The CLP is working to promote the development of future conservation leaders, ensuring that they have the skills and knowledge required to address today's most pressing conservation issues.
As a CLP-supported intern, Anca is helping the Zarand team to set up the site management plan and develop community conservation programmes that involve local people in natural resource management. Together, they are now investigating how social and economic factors influence conservation. They are also working to identify the right set of incentives that will achieve the joint objectives of biodiversity conservation and improved rural livelihoods.
For more information, click here.