By Nika Knight
A biology professor has simple advice for athletes and tourists descending on Rio de Janeiro, Brazil for the Olympics' start on Friday: "Don't put your head underwater."
Dr. Valerie Harwood, chair of the Department of Integrative Biology at the University of South Florida, remarked on the dangers posed by Rio's water to AP, which reported Monday that a 16-months-long study revealed that "the waterways of Rio de Janeiro are as filthy as ever, contaminated with raw human sewage teeming with dangerous viruses and bacteria."
Thousands of dead fish float in the Rodrigo de Freitas lagoon, where the Olympics rowing and canoeing competitions will take place, in 2016.Marcelo Sayao / EPA
The wire service adds that superbugs—bacteria resistant to most forms of antibiotics—were not the only cause for great concern. Shockingly high levels of viruses have alarmed scientists:

[T]he AP investigation found that infectious adenovirus readings—tested with cell cultures and verified with molecular biology protocols—turned up at nearly 90 percent of the test sites over 16 months of testing. "That's a very, very, very high percentage," said [Dr. Harwood]. "Seeing that level of human pathogenic virus is pretty much unheard of in surface waters in the U.S. You would never, ever see these levels because we treat our waste water. You just would not see this."
Swimmers risk serious illness by competing, experts say. "According to a study by the University of Texas School of Public Health, athletes who ingest just three teaspoons of water from the contaminated bay in Brazil have a 99 percent chance of being infected," the National Observer noted.
"Dead animals, plastic, garbage and furniture are only a sample of the vile items reported to pollute its waters," the newspaper added "and the athletes competing this August have been told to swim with their mouths closed to avoid contracting serious illness from the water."
The National Post reported: "Untreated hospital waste is the probable cause of waterborne superbacteria, but chemical waste from factories is another culprit. However, the chief reason that Rio's waterways are such a petri dish of contaminants is the torrent of untreated human feces that spews out of open sewers such as one located at the east end of the Guanabara Bay, where it is hemmed in by apartments where many of the city's wealthiest citizens live."
And it is those wealthy denizens who stand to benefit the most from the Olympics, while the region's poorest have been displaced by the tens of thousands, their homes demolished to make room for massive sports stadiums.
An investigation published Monday in The Atlantic by Alex Cuadros detailed the schemes, grafts and bribes that have gone on behind the scenes to construct the Olympics infrastructure, while many of the city's impoverished favela residents are rendered homeless and the region's battered ecosystem is further degraded.
Cuadros wrote, "Contracts for everything from stadium and train-line construction to port renovations have funneled billions of dollars in taxpayer-subsidized revenues to a handful of Brazil's most powerful, well-connected families and their companies." He continued:
[M]ost of the government's Olympic budget has been poured into the wealthy suburb of Barra da Tijuca, home to only 300,000 people. [...]
[A] flood of public money is benefiting the coterie of men who own most of Barra's land. One of them, a 92-year-old billionaire named Carlos Carvalho, controls some 65 million square feet of property in the area. His most famous project for the Olympics is the so-called Athletes' Village. After the games are over, all 31 of the Village's 17-story towers will be transformed into luxury condos featuring multiple swimming pools, tropical gardens and an unobstructed view of Jacarepaguá Lake.
[...] Carvalho is also a partner in construction of the nearby Olympic Park, a sprawling spit of concrete sprinkled with a billion dollars' worth of sporting facilities. Here, the city handed over lakeside land that Carvalho is expected to develop into a whole new neighborhood, once the economy rebounds and demand picks up again.
As scarce as resources are in Brazil, such subsidies are common for well-connected businessmen. But they are no guarantee of quality. For Olympic athletes arriving this month, Carvalho delivered apartments with blocked toilets, leaky pipes, and exposed wiring.

Of all the contradictions between Olympic vision and reality, perhaps the most glaring is in Carvalho's choice of partners, the construction firms Odebrecht and Andrade Gutierrez. These companies are at the center of the multibillion-dollar corruption scandal that has plunged Brazil into political chaos, and investigators now believe they skimmed bribes from Olympic projects, too. Both companies are cooperating with investigators. As recently as May, Paes surreally claimedthe Olympics were free of corruption, even though his own party is deeply implicated in the wide-ranging bribery scheme.

And the Olympics golf course, Cuadros discovered, was constructed by a wealthy businessman on stolen public lands and in what had formerly been an environmental protection zone where construction was forbidden. The area was deemed no longer a protected zone when a nearby sand-mining operation was found to have "degraded" the ecosystem. The sand-mining operation was owned by the same businessman who built the golf course.
Cuadros also reported that more than 20,000 residents of the city's favelas have been removed, their homes demolished, to make way for roads and Olympics stadiums.
Meanwhile, the weekend before the Olympics' start saw competing protests sweep Rio de Janeiro and São Paulo, underscoring the political turmoil gripping the nation. In Rio de Janeiro, protesters ostensibly demonstrated against corruption—but also voiced support for the ruling neoliberal, pro-business elite and called for the impeachment of embattled Workers' Party president Dilma Rousseff.
In São Paulo, a competing rally drew crowds calling for workers' rights and an end to the right-wing takeover of Brazil's federal government.
The Senate is expected to vote on whether to impeach Rousseff in late August.
Last week, protests in Rio were more locally focused: the Brazil chapter of rights group Amnesty International displayed 40 body bags in front of the office of the Local Organizing Committee for the Olympics to draw attention to the city's fatal police shootings, which have increased significantly in the months leading up to the games.
"Since April, Amnesty International has been raising concerns around the increased risk of human rights violations in the context of Rio 2016 Olympics, as it happened before in other mega sporting events such as the 2014 World Cup and the 2007 Panamerican Games," the organization noted. "Since 2009, when Rio won the bid to host the Olympics, more than 2,600 people were killed by the police in the city."
Renata Neder, human rights advisor at Amnesty International, commented: "Brazil failed to learn from past mistakes. In the month of May alone, 40 people were victims of homicides committed by the police, a 135 percent increase in comparison to the same period in 2015. These numbers are unacceptable and compromise the Olympic legacy."
Indeed, as political and environmental turmoil threatens the Rio Olympics, Cuadros observed in The Atlantic that "perhaps the best Olympic legacy that Brazilians can hope for is that the event will serve as a cautionary tale to future generations."
This article was reposted with permission from our media associate Common Dreams.
From doping scandals to security concerns, the 2016 Olympic Games in Brazil has been embroiled by one crisis after another—and that's just the tip of the iceberg.
As athletes and hundreds of thousands of tourists around the world descend into Rio de Janeiro, here are seven health and environmental controversies that have already made headlines before the Aug. 5 Opening Ceremony.
The polluted Guanabara bay in Rio where rowing and sailing will be held.Flickr
1. Polluted Waterways
Rio's epic water pollution has been going on for two decades due to a lack of modern sanitation programs. Despite Olympic organizers's promise to clean the city's waterways at their 2009 bid, trash, raw sewage and even body parts have been a presence at water sport venues.
At Guanabara Bay—where rowing and sailing will be held—tons of noxious raw sewage gets pumped into the bay each day. Oceanographer David Zee told CBS News that the Brazilian government planned to install eight treatment plants on Rio's polluted rivers but only built one. Officials promised to treat 80 percent of the sewage flowing into the bay but have gotten to only half. USA Today Sports reported that organizers will use a short-term and (purely cosmetic) water treatment method so the waters will glisten blue for television broadcasts.

In fact, Rio's Olympics will bring none of the environmental improvements that were originally pitched. An official from Brazil's Federal Audit Court, which audits the federal government's spending, told Reuters: "As for now, we have nothing relevant to report about what was done in the environmental area."
2. Super Bacteria
In related news, last year, the Associated Press published its results from an eight-month study of Rio's water venues, concluding that none were safe for swimming or boating, with more than 1 billion viruses from human sewage in a single liter of water from the Rodrigo de Freitas Lake. Water samples were 1.7 million times the level of what would be considered hazardous on a Southern California beach.
Antibiotic-Resistant Bacteria Found in Rio de Janeiro Waterways Ahead of Olympics https://t.co/0cfXUAMHkD @EARTHWORKS @GreenpeaceAustP

— EcoWatch (@EcoWatch)1465939210.0
That leads us to this conundrum. As EcoWatch mentioned last month, antibiotic-resistant super bacteria has been found in waters that will host the swimming portion of the triathlon and in the lagoon where rowing and canoe athletes will be competing. Two studies have connected five beaches—Copacabana, Ipanema, Leblon, Botafogo and Flamengo—and the Rodrigo de Freitas to the superbug bacteria. Scientists say the super bacteria can cause hard-to-treat urinary, gastrointestinal, pulmonary and bloodstream infections, which contribute to death in up to half of infected patients. Meningitis has also been linked to exposure to the superbug.
3. Zika
A number of high-profile athletes, especially golfers, have dropped out of the Summer Games due to Zika fears. The mosquito-borne virus, which has spread throughout the South American country, has been declared an international public health emergency by the World Health Organization. Some scientists have suggested that global warming is exacerbating the problem, which is linked to microcephaly in babies. Infectious diseases, such Zika and dengue, could spread as aedes aegypti mosquitoes expand their habitats in a warmer, wetter world, one study found. Experts, however, have said that there is little risk of Zika spread. The southern hemisphere is also currently in the middle of winter, making the threat of bites even lower. Still, the epidemic has only further impaired Brazil's struggling public health system, and will continue be a problem when the games conclude.
4. Golf Course Trampling on Nature
Golf's return to the Olympics should have been celebrated. However, not only are some of the sport's biggest stars skipping Rio due to Zika, instead of using the city's two existing golf courses, organizers decided to build a completely new one from scratch. Biologist and environmental activist Marcello Mello told the Guardian that the new course encroaches on the Marapendi reserve, home to rare butterflies, pines and other species not found anywhere else in the world, calling the construction an "environmental crime."
"They are destroying the Atlantic Forest, which is part of our national heritage," he added. Mello also alleges that the city is using the Olympics to help foster business for development companies. "Without a doubt, the Olympics are a giant real estate scam," he said. This is not to mention that thousands of people living in Rio's favelas have been notoriously pushed out of their homes for Olympic construction.
5. Jaguar Killing
Last month, a jaguar—the Brazilian Olympic team's mascot—was shot and killed at the Olympic torch passing ceremony. As EcoWatch reported, the female jaguar was shot after the female jaguar escaped from her handlers, sparking outcry from animal activists.
"Wild animals held captive and forced to do things that are frightening, sometimes painful and always unnatural are ticking time bombs—captivity puts animal and human lives at risk," the People for the Ethical Treatment of Animals wrote in a blog post.

Jaguars are a near-threatened species with an estimated 15,000 left in the wild, according to Defenders of Wildlife.
Jaguar Shot Dead After #Olympics Torch Passing Ceremony in #Brazil https://t.co/IAMUOZuBQM #Olympics2016 #Rio2016 #RioOlympics

— EcoWatch (@EcoWatch)1466615079.0
6. Public Transportation Mishaps
When Rio organizers made their bid for the summer games seven years ago, they suggested a number of improvements to ease the city's terrible traffic, which causes severe congestion, noise and air pollution from vehicle exhausts. However, the organizers probably did not anticipate that a crippling recession would affect their plans. The city's government declared a state of financial disaster last month, impacting Olympics-related infrastructure projects.
Rio's new 10-mile rail line, which cost $1.2 billion more than its initial estimate, may not be completed in time before the opening ceremony. A bike lane collapsed in April, killing two people. And according to the Associated Press, the new light rail system suffered a major power outage on the second day of service and the month-old highway near Barra da Tijuca is already damaged with potholes and large cracks.
7. The Danger of Environmental Activism
Protesting any of the environmental or health issues above might be a danger in itself. Brazil happens to be the nation of the highest death toll of environmental activists. Global Witness revealed 50 confirmed murders of environmental activists last year.
"I know there is a risk to this work. It is dangerous to campaign for the environment in Brazil," Mello told the Guardian about his Occupy Golf Campaign. "But I love nature and somebody has to do this job. If I die for this cause, it will be worth it."
EcoWatch Daily Newsletter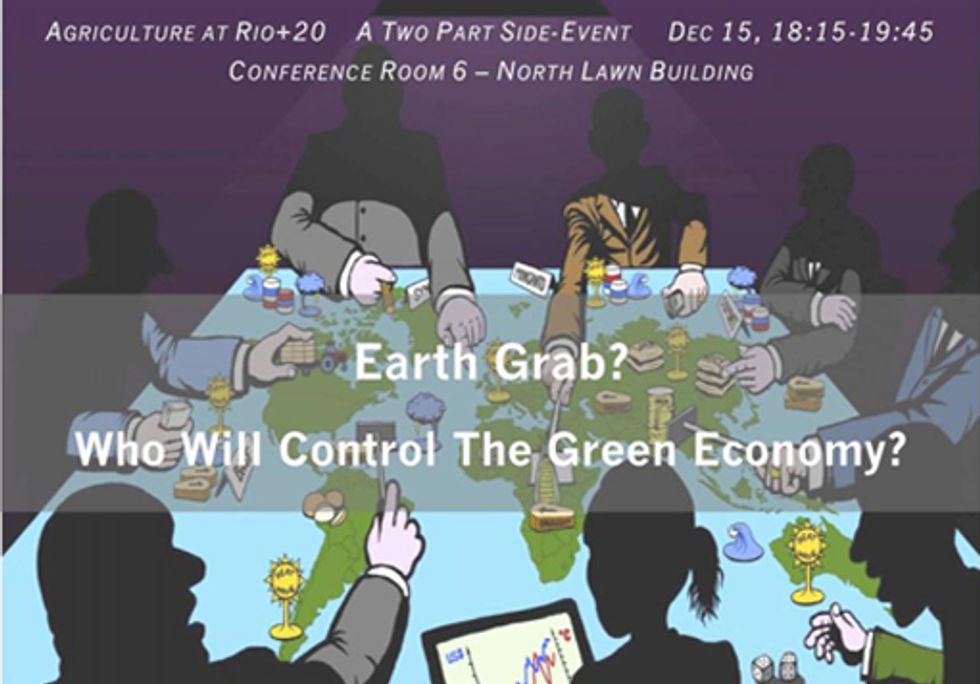 From the United Nations (U.N.) Rio+20 preparatory meetings in New York, ETC Group launched Who Will Control the Green Economy? The 60-page report connects the dots between the climate and oil crises, new technologies and corporate power. The report warns that the world's largest companies are riding the coattails of the "Green Economy" while gearing up for their boldest coup to-date—not just by making strategic acquisitions and tapping new markets, but also by penetrating new industrial sectors.
DuPont, for example, already the world's second largest seed company and sixth largest company in both pesticides and chemicals, is now a powerhouse in plant-based materials, energy and food ingredients. DuPont's business plan is not unique. Other major players in seeds, pesticides, chemicals and food—including Monsanto, Syngenta, Dow, BASF and Unilever—are also making strategic investments in risky technologies and forming R&D collaborations in hopes of turning plant biomass into all kinds of high value products—and profit.
Since the turn of the millennium, the vision of a bio-based economy has been taking shape, with its promise to solve the problems of peak oil and climate change and to usher in an era of sustainable development, it quickly acquired a patina of green. New technologies, primarily synthetic biology or extreme genetic engineering, enabled by advanced bioinformatics and genomics, are the bioeconomy's engine while agricultural feedstock is its fuel.
While seductive, the new green techno-fixes are dangerous because they will spur even greater convergence and concentration of corporate power and unleash privately owned technologies into communities that have not been consulted about—or prepared for—their impacts. If the "Green Economy" is imposed without full intergovernmental debate and extensive involvement from peoples' organizations and civil society, the Earth Summit to take place in Rio de Janeiro June 20-22, 2012 risks becoming the biggest Earth grab in more than 500 years.
"The goal is not to reject the green economy or technologies, but these are tools that must be guided by strong social policies," said Kathy Jo Wetter of ETC Group. "Agenda 21 called for technology assessment back in 1992 and the need for such a precautionary tool, that includes strict oversight of corporate concentration, is now more urgent than ever before."
"Corporate control over our food system threatens peasant farmers around the world," said Alberto Gomez of La Via Campesina. "We already produce 70 percent of the world's food, but our ability to do so in an agro-ecological way is being undermined by the kind of corporate control this report documents."
Who Will Control the Green Economy? will be launched at the Rio+20 intersessional meeting taking place in New York, Dec. 15-16. Kathy Jo Wetter, one of the report's researchers, will present the findings on Thursday, Dec. 15, 2011, at 7 p.m. at a side-event on agriculture at Rio+20, in conference room 6, North Lawn Building at the U.N. Headquarters. Alberto Gomez will also speak at this event.
What you will find in the Who Will Control the Green Economy? Report—December 2011
Naming The Green Economy's "One Percent" 
Who Will Control the Green Economy? provides hard data on the largest and most powerful corporate players controlling 25 sectors of the real economy. This is the only freely available report to assemble top 10 listings of companies (by market share) from 18 major economic sectors relevant to the Green Economy. These lists include the top 10 players in water, energy, seeds, fishing and aquaculture, food retail and processing, chemicals, fertilizer, pesticides, mining, pharmaceuticals, biotech, the grain trade and more. The report also identifies the leading players in a handful of new and emerging industrial sectors including synthetic biology, big data, seaweed and algae production and livestock genetics (pp.1-2).
Corporate Concentration Unchecked 
ETC Group has been monitoring corporate ownership trends for 30 years and the trendline is remaining steady—more monopoly everywhere. For example, the top 10 multinational seed companies now control 73 percent of the world's commercial seed market, up from 37 percent in 1995 (p. 22). The worlds 10 biggest pesticide firms now control a whopping 90 percent of the global 44 billion dollar pesticide market (p.25). 10 companies control 76 percent of animal pharmaceutical sales (p.34). 10 animal feed companies control 52 percent of the global animal feed market (p.33), 10 chemical firms account for 40 percent of the chemical market (p.11), 10 forestry companies control 40 percent of the forestry market (p. 31), 10 mining companies control a third of the mining market (p. 29) and the top ten energy companies control a quarter of the energy market (p.10).
Forget Windmills, Think Grain Mills
The "Green Economy" may evoke iconic images of solar panels and wind turbines but this is not actually where corporate activity is focusing. While non-hydro and non-nuclear renewable energy is only a thin sliver (1.8 percent) of global energy consumption—almost all of this consists of harvesting and burning biomass for energy and fuels and now chemicals. This report shows how the major corporate realignments in the new "Green Economy" are happening around plant biomass (pp.8-12, 18-21).
New Green Oligopolies 
This report uncovers new corporate convergences across diverse industry sectors as large players position themselves to dominate the "Green Economy." A case in point is the DuPont company—the world's 2nd largest seed company, 6th largest chemical company and 6th largest pesticide company which is now emerging as a major player in biotech, biofuels and bioplastics, synthetic biology, seaweeds, ingredients and enzymes while partnering with the worlds third largest energy company, British Petroleum (B.P.) (pp. ii-iii).
Food Dollars Trump Energy Dollars 
Conventional wisdom says the size of the global energy market weighs in at $7 trillion and dwarfs every other economic sector. According to our research, however, the global grocery market ekes out ahead of energy—even when government subsidies paid to producers for energy and agriculture are taken into account (p.37). 
Synthetic Biology's Meteoric Rise 
In the early 1990's the early commercialization of genetic engineering technologies drove massive reorganization of the seed, agrochemicals and pharmaceutical sectors and the emergence of 'life science' giants such as Monsanto and Novartis. Today, the new technologies of synthetic biology are spurring another frenzy of mergers, acquisitions and joint ventures around the biomass economy drawing large energy and chemical players such as Dow, DuPont, B.P., Shell, Exxon, Chevron and Total into new alliances with grain, forestry and seed giants such as Monsanto, Cargill, Bunge, Weyerhaeuser and ADM. At the heart of these new alliances are surprisingly new synthetic biology companies such as Life Technologies Inc, Amyris, Solazyme and Evolva—all rapidly being promoted to significant roles in the global food, energy, pharma and chemicals sectors (pp.8-12).
Controlling the Blue Economy, too. 
Biomass found in oceans and aquatic ecosystems accounts for 71 percent of the planet's surface area. That's why energy and chemical corporations such as DuPont, Statoil , DSM, Exxon, Mitsubishi, Monsanto, Chevron and shipping giant Stolt Nielsen are looking to the wild, wet frontier for new sugars and oils to fuel the bio-based economy, proposing the large-scale exploitation of algae, seaweed, fish and all the aquatic biomass found in lakes, rivers and coastal estuaries. (pp. 18-21)
For more information, click here.