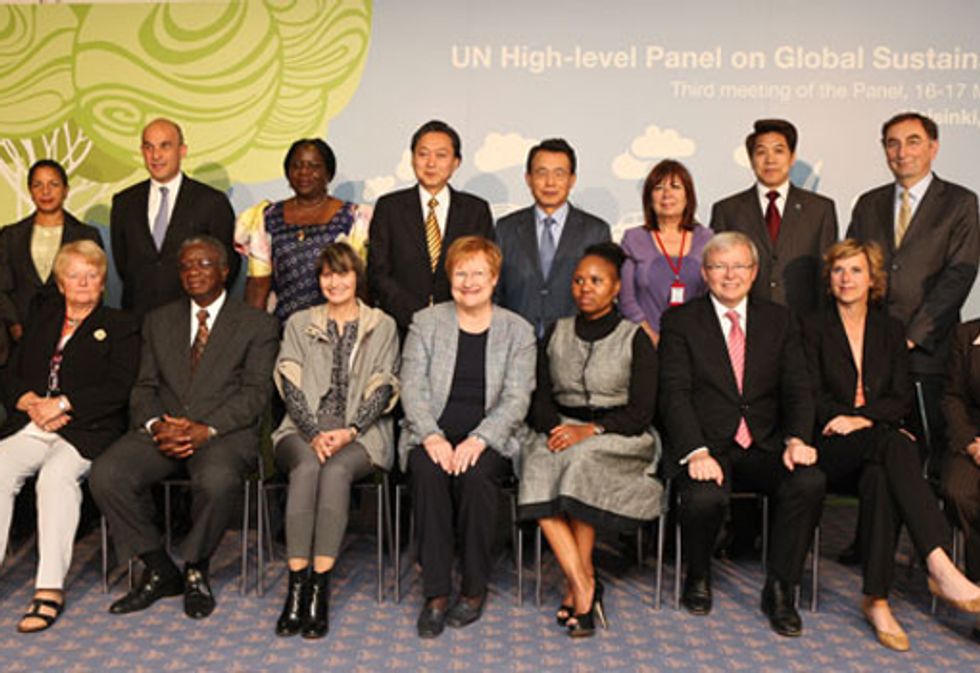 The United Nations (UN) High-Level Panel for Global Sustainability call for a radical redesign of the global economy for a healthy environment and social well-being deserves a wide audience and the full attention of all governments before this year's Rio+20 Earth Summit, global environment organization World Wildlife Fund (WWF) said Jan 30.
Resilient People, Resilient Planet: A Future worth Choosing, more than a year in preparation by a panel co-chaired by South African president Jacob Zuma and Finnish President Tarja Halonen, is a useful successor to Our Common Future, the 1987 Brundtland Report that became the reference text on sustainable development and the basis of the original 1992 Rio Earth Summit—for many considered the start of the global environmental movement.
"The Global Sustainability report gives the highest level political signal yet of greater readiness to take the bold steps needed to build a prosperous future," said Jim Leape, director general of WWF International.
"This report makes the alarming point that while we are already exceeding the Earth's capacity to support us, by 2030 we will need 50 percent more food, 45 percent more energy and 30 percent more water than we do today.
"The High-Level Panel report offers a vision for meeting those challenges. As negotiators develop the text for the Rio Summit in June, we look to them to embrace the urgency and commitments needed to turn this vision into reality."
Convened by UN Secretary General Ban Ki-moon in 2010, the panel was charged with providing a vision for sustainability, growth and prosperity in the years to come, along with a framework for moving past political and economic hurdles that put progress at risk. The panel, comprising current and former political leaders, was urged to make bold, practical and concrete recommendations reflecting the scale and urgency of the challenges faced by our planet.
Global conservation organization WWF welcomed the report's call for responsible consumer choices and sustainable resource management, and urged political leaders to create the enabling conditions to allow for the "21st century Green Revolution" called for in the Jan. 30 report.

Wanted urgently—a sustainable economy
The Global Sustainability report focuses on a number of essential measures to create a "green economy." WWF welcomes the wide-ranging recommendations which include:
 incorporating social and environmental costs in the regulation and pricing of goods
 the phasing out of counter-productive subsidies (particularly fossil fuel subsidies)
 a requirement for business groups to work with governments and international agencies to report annually on environmental practices
 the establishment of a "beyond GDP" Sustainable Development Index or set of indicators to be developed by 2014
A coherent institutional framework
The second important area covered by the report relates to the strengthening of institutional governance at all levels. Recommendations include:
 the establishment of universal Sustainable Development Goals to compliment and succeed the Millennium Development Goals post-2015
 the establishment of a new UN Global Sustainable Development Council
 a peer review mechanism to enable states to share experiences and lessons learned
Other notable areas of the report include:
 the recognition of the links between food, water and energy and the fact that they should not be treated as separate issues
 the need to give priority to challenges facing marine and coastal ecosystems
 funds for transition to sustainable development to developing countries
 increased resources for disaster risk reduction
Report's weaknesses
Much like the Rio+20 first negotiating draft issued earlier this month, the report is weak on binding commitments.
WWF did have concerns that while the recommendations for economic and institutional reform are positive, the report fails to suggest any concrete, time-bound commitments for progress, leaving policies open to governments to implement as they saw fit.
WWF urged the discussion at Rio to reflect the need for obligations and commitments in the recognition that this is about everyone's future prosperity.
While the report focuses strongly on environmental concerns, the Rio negotiations need to further integrate social issues which are core to sustainability.
For real change, we need to take into account social issues such as poverty eradication, gender equality, fair distribution of resources, advancing of education and employment creation. Recommendations must make the link between social welfare and environmental health.
Find more information on the Global Sustainability report by clicking here.
Learn more about WWF's reaction to the Rio+20 first negotiating draft by clicking here.
For more information, click here.
—————
WWF is one of the world's largest and most respected independent conservation organizations, with over 5 million supporters and a global network active in over 100 countries. WWF's mission is to stop the degradation of the earth's natural environment and to build a future in which humans live in harmony with nature, by conserving the world's biological diversity, ensuring that the use of renewable natural resources is sustainable, and promoting the reduction of pollution and wasteful consumption.
EcoWatch Daily Newsletter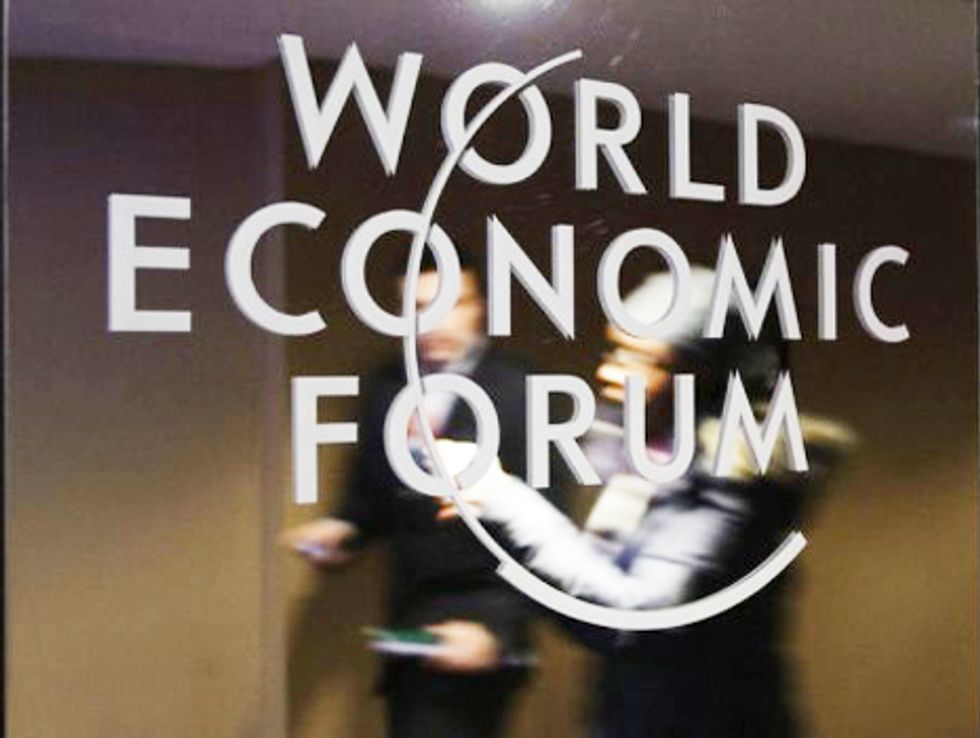 The World Economic Forum (WEF), meeting this week in Davos, Switzerland, is the biggest annual gathering of influential thinkers and leaders from the worlds of business, politics, media and civil society. World Wildlife Fund (WWF) Director General Jim Leape explains why WWF is there.
What are the main environmental issues on your mind going into this year's World Economic Forum in Davos?
There is an ever greater need for a sustainable approach to business—especially regarding resource use, in a world of rapidly increasing consumption. Humanity is already using the equivalent of over 1.5 planets—yet for life we all rely on clean air and healthy freshwater resources, abundant forests and thriving natural ecosystems.
WWF is active in preserving freshwater systems, ocean life and forests; encouraging the use and development of renewable energy; reducing the impact on natural resources of major commodity supply chains like paper, palm oil and soy; and generally lightening humanity's footprint on the natural world. We envision a future where humans live in harmony with nature, and we partner with major players on the world stage—politicians, civil society, faith groups, labour unions, businesses and many others—in achieving that goal.
The theme of this year's Davos event is 'The Great Transformation: Shaping New Models," and this links closely with WWF's vision of change that makes room for both social and environmental sustainability. We only have one planet, and a finite bank of precious natural resources. But with bold and thoughtful solutions, there is ample room for green businesses to thrive within a model of global sustainable development.
In recent years, WEF has proved to be an increasingly important place to engage with companies on sustainability. Good initiatives have started to emerge regarding water, agriculture and sustainable consumption—and I look forward to see how these good intentions can become more concrete in the coming days and weeks.
The WEF event in Davos is an opportunity to catch up with business and corporate contacts. How important is WWF's work with the private sector, and why should businesses care about the environment?
Business and industry have a massive impact on natural resources, and companies have a duty to ensure that they use those resources sustainably. We all benefit from products and services in our daily lives, but the private sector should be encouraged to conduct its business in a way that entails a minimum impact on the natural world and the ecosystems on which we all depend.
Companies that want to be competitive today and tomorrow should be concerned about sustainability. Licence to operate is being increasingly influenced by environmental and social performance—and this trend will only continue.
WWF engages with corporate partners to bring about real change on the ground—supporting responsible businesses to reduce their ecological footprint.
The next big event this year is the Rio+20 summit on sustainable development in Brazil in June. What does WWF hope will come out of that global gathering?
Two decades after the first Earth Summit in Rio de Janeiro, Brazil, this year's Rio+20 conference is a major opportunity for the world to commit to charting a course for creating shared prosperity within the limits of this one planet. Twenty years ago the term 'sustainable development' came into currency, but this has still not been followed by sufficient action in making the concept a reality. Rio is an opportunity to put things back on track.
I am hopeful that Rio+20 will prove a catalyst in sparking new commitments and urging major players—including governments, businesses and others—to stretch themselves in aiming for a more sustainable approach to what they do. The WEF in Davos this week is an ideal platform to inspire governments, corporate players and others to step up and prepare the road to Rio.
For more information, click here.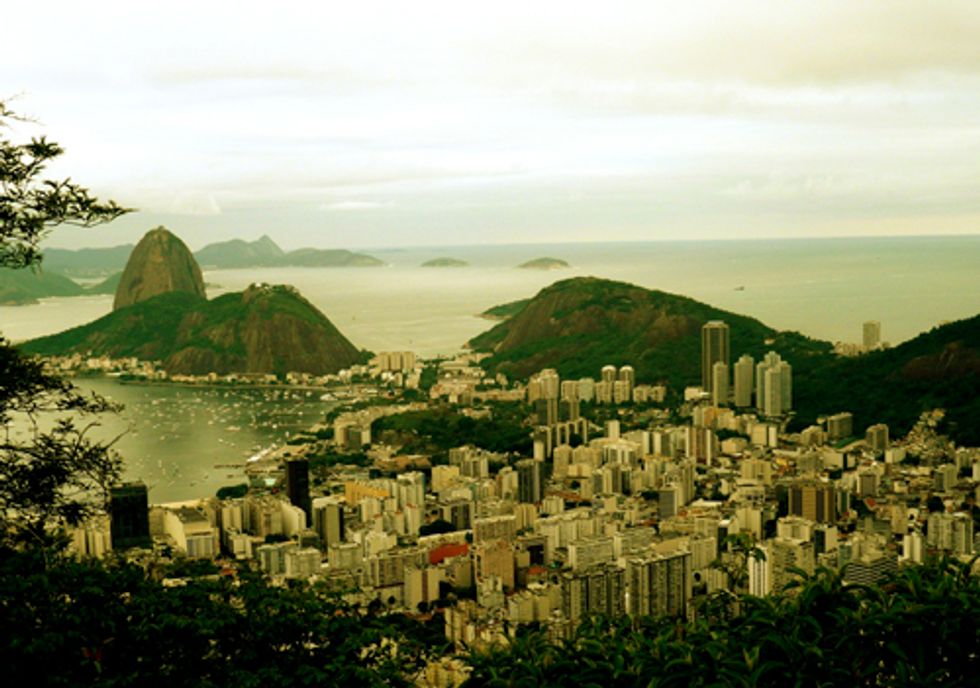 By Manish Bapna
What are the top environmental and development issues that will shape 2012? Jan. 10, I presented the World Resources Institute's (WRI) 9th annual Stories to Watch at the National Press Club. While we can't predict the future, here's a rundown of the key issues to keep an eye on:
1. Environmental Issues in an Election Year
U.S. Climate Policy
In 2008, the Obama administration set a target that the U.S. would reduce greenhouse gas (GHG) emissions 17 percent by 2020 (compared to 2005 levels). According to WRI's 2010 analysis, the 17 percent target is still within reach, but it will require a sustained effort in 2012 and beyond.
In 2012, the Obama administration has significant opportunities to cut emissions—but it remains to be seen how far it will be willing to go. This year you cannot answer the question of whether the administration will be aggressive without considering the political context even more than usual.
At the state level, California will be putting in place the foundation for their new cap-and-trade program, and the Regional Greenhouse Gas Initiative states will be doing a program review in 2012.
U.S. Presidential Election
It's amazing how quickly things can change in politics. Back in 2008, both Democratic and Republican candidates supported national action to address climate change.
Now, the obvious story to watch is how environmental issues play out in the 2012 campaign. This will, in part, set the stage for what happens in the next presidential administration.
Will President Obama leverage his environment and public health record and position himself in contrast to the more extreme strains of the GOP? Will he lean into these issues or distance himself from them?
On the Republican side, will the presumed candidate embrace anti-EPA rhetoric, using it as a prime example of government overreach? Or will he pivot back toward more moderate positions as the general election begins?
2. Transitions in China
Solar and Wind Trade Issues between the U.S. and China
Recent trade cases have upped the ante in the clean energy trade dispute between the U.S. and China. Solarworld has brought a case forward on behalf of a coalition of U.S. manufacturers of solar panels. A group of solar buyers and installers have banded together to oppose the complaint. China's Ministry of Commerce began a formal investigation of U.S. government support for the clean energy sector. And, just last week, a new trade case was filed in the U.S. challenging Chinese subsidies for steel towers used for wind turbines.
We'll be keeping a close eye on this story. Some are suggesting that this dispute could become as heated as the trade wars on automobiles between the U.S. and Japan in the 1980s.
National Energy Cap
For the first time, China is considering setting a national cap on energy use. Although we don't know the details yet, it will likely be an annual limit on total energy consumption or coal consumption, probably through 2015 or through 2020. This would be a major step forward in helping China decouple energy consumption from Gross Domestic Product growth.
The ultimate impact of the cap will be to limit the use of coal in China, which currently makes up more than 70 percent of consumption. We'll be watching to see how this plays out on the national and provincial level.
Carbon Trading Systems
China will be setting up provincial carbon trading systems in 2012. Interestingly, the pilots in different places will be constructed differently. Just as U.S. states act as laboratories of change, the Chinese government uses pilots at the provincial level to test new ideas before scaling up across the country.
3. Rising Food Demand and Opportunities
Demand for food is accelerating at a remarkable rate. The global middle class is expected to triple within the next 20 years, changing the types of food people eat. There will be pressure to convert many of the remaining, pristine natural landscapes to food production. How we respond to this demand will have profound implications for biodiversity, forests and the global climate.
One solution to this problem is to restore degraded or significantly underproductive lands. Although estimates vary, a key study last year published in the Proceedings of the National Academy of Sciences found that somewhere between 600-700 million acres of degraded cropland has been abandoned over the past century, and a huge amount of that land (about four times the size of Texas) could be brought back into production.
4. Renewable Energy—Boom or Bust
Global investment in renewable energy is already approaching global investments in fossil fuels. Could 2012 be the year in which renewable energy investment surpasses fossil fuels?
This depends in part on two issues. First is the effect of the shale gas boom. Abundant, cheap shale gas may make it even more difficult for renewables to break into the market.
Second are government policy decisions, especially in the U.S., China, Germany and India. These will likely determine the scale of future investment in renewable energy. Will countries commit to steady and well-telegraphed renewable policies, as Germany has done successfully over the past few years, or will they cut renewable support under political and fiscal pressures?
5. Rio+20
In June 2012, more than 40,000 people are expected to convene for the Rio+20 Conference in Brazil. This is the fourth historic global environmental summit, following Stockholm in 1972, Rio in 1992, and Johannesburg in 2002. But, with just six months to go, vision for the conference is only now beginning to emerge. I am therefore doubtful that major breakthroughs will emerge from the official process. That said, we may see exciting action emerge from the bottom up—via a subset of governments or from civil society or from the business sector or a combination of them.
For example, we expect to see governments make commitments to energy access, and around water security, food security and governance. If so, we could see some significant developments in Rio.
When we look to 2012, we see that a movement toward sustainability is underway in many places around the globe. It is collapsing the boundaries between economics and environment, and is re-defining concepts of what constitutes quality of life and national security. We observe it is being driven not just by altruism, but by necessity—long-term business strategies, political calculations, re-valuing natural resources and in many instances survival for many people.
For more information, click here.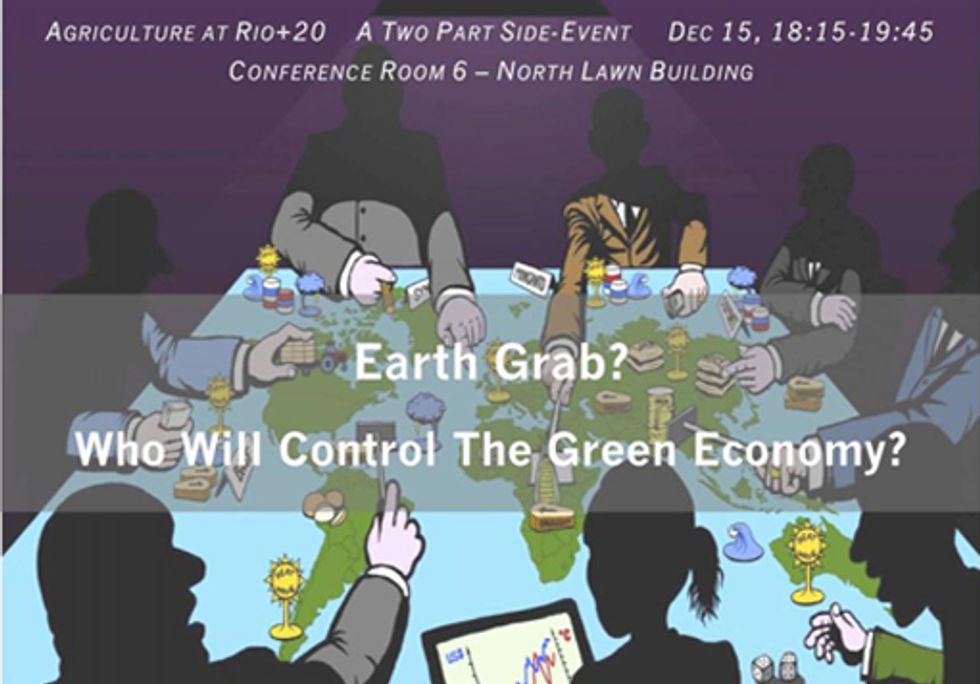 From the United Nations (U.N.) Rio+20 preparatory meetings in New York, ETC Group launched Who Will Control the Green Economy? The 60-page report connects the dots between the climate and oil crises, new technologies and corporate power. The report warns that the world's largest companies are riding the coattails of the "Green Economy" while gearing up for their boldest coup to-date—not just by making strategic acquisitions and tapping new markets, but also by penetrating new industrial sectors.
DuPont, for example, already the world's second largest seed company and sixth largest company in both pesticides and chemicals, is now a powerhouse in plant-based materials, energy and food ingredients. DuPont's business plan is not unique. Other major players in seeds, pesticides, chemicals and food—including Monsanto, Syngenta, Dow, BASF and Unilever—are also making strategic investments in risky technologies and forming R&D collaborations in hopes of turning plant biomass into all kinds of high value products—and profit.
Since the turn of the millennium, the vision of a bio-based economy has been taking shape, with its promise to solve the problems of peak oil and climate change and to usher in an era of sustainable development, it quickly acquired a patina of green. New technologies, primarily synthetic biology or extreme genetic engineering, enabled by advanced bioinformatics and genomics, are the bioeconomy's engine while agricultural feedstock is its fuel.
While seductive, the new green techno-fixes are dangerous because they will spur even greater convergence and concentration of corporate power and unleash privately owned technologies into communities that have not been consulted about—or prepared for—their impacts. If the "Green Economy" is imposed without full intergovernmental debate and extensive involvement from peoples' organizations and civil society, the Earth Summit to take place in Rio de Janeiro June 20-22, 2012 risks becoming the biggest Earth grab in more than 500 years.
"The goal is not to reject the green economy or technologies, but these are tools that must be guided by strong social policies," said Kathy Jo Wetter of ETC Group. "Agenda 21 called for technology assessment back in 1992 and the need for such a precautionary tool, that includes strict oversight of corporate concentration, is now more urgent than ever before."
"Corporate control over our food system threatens peasant farmers around the world," said Alberto Gomez of La Via Campesina. "We already produce 70 percent of the world's food, but our ability to do so in an agro-ecological way is being undermined by the kind of corporate control this report documents."
Who Will Control the Green Economy? will be launched at the Rio+20 intersessional meeting taking place in New York, Dec. 15-16. Kathy Jo Wetter, one of the report's researchers, will present the findings on Thursday, Dec. 15, 2011, at 7 p.m. at a side-event on agriculture at Rio+20, in conference room 6, North Lawn Building at the U.N. Headquarters. Alberto Gomez will also speak at this event.
What you will find in the Who Will Control the Green Economy? Report—December 2011
Naming The Green Economy's "One Percent" 
Who Will Control the Green Economy? provides hard data on the largest and most powerful corporate players controlling 25 sectors of the real economy. This is the only freely available report to assemble top 10 listings of companies (by market share) from 18 major economic sectors relevant to the Green Economy. These lists include the top 10 players in water, energy, seeds, fishing and aquaculture, food retail and processing, chemicals, fertilizer, pesticides, mining, pharmaceuticals, biotech, the grain trade and more. The report also identifies the leading players in a handful of new and emerging industrial sectors including synthetic biology, big data, seaweed and algae production and livestock genetics (pp.1-2).
Corporate Concentration Unchecked 
ETC Group has been monitoring corporate ownership trends for 30 years and the trendline is remaining steady—more monopoly everywhere. For example, the top 10 multinational seed companies now control 73 percent of the world's commercial seed market, up from 37 percent in 1995 (p. 22). The worlds 10 biggest pesticide firms now control a whopping 90 percent of the global 44 billion dollar pesticide market (p.25). 10 companies control 76 percent of animal pharmaceutical sales (p.34). 10 animal feed companies control 52 percent of the global animal feed market (p.33), 10 chemical firms account for 40 percent of the chemical market (p.11), 10 forestry companies control 40 percent of the forestry market (p. 31), 10 mining companies control a third of the mining market (p. 29) and the top ten energy companies control a quarter of the energy market (p.10).
Forget Windmills, Think Grain Mills
The "Green Economy" may evoke iconic images of solar panels and wind turbines but this is not actually where corporate activity is focusing. While non-hydro and non-nuclear renewable energy is only a thin sliver (1.8 percent) of global energy consumption—almost all of this consists of harvesting and burning biomass for energy and fuels and now chemicals. This report shows how the major corporate realignments in the new "Green Economy" are happening around plant biomass (pp.8-12, 18-21).
New Green Oligopolies 
This report uncovers new corporate convergences across diverse industry sectors as large players position themselves to dominate the "Green Economy." A case in point is the DuPont company—the world's 2nd largest seed company, 6th largest chemical company and 6th largest pesticide company which is now emerging as a major player in biotech, biofuels and bioplastics, synthetic biology, seaweeds, ingredients and enzymes while partnering with the worlds third largest energy company, British Petroleum (B.P.) (pp. ii-iii).
Food Dollars Trump Energy Dollars 
Conventional wisdom says the size of the global energy market weighs in at $7 trillion and dwarfs every other economic sector. According to our research, however, the global grocery market ekes out ahead of energy—even when government subsidies paid to producers for energy and agriculture are taken into account (p.37). 
Synthetic Biology's Meteoric Rise 
In the early 1990's the early commercialization of genetic engineering technologies drove massive reorganization of the seed, agrochemicals and pharmaceutical sectors and the emergence of 'life science' giants such as Monsanto and Novartis. Today, the new technologies of synthetic biology are spurring another frenzy of mergers, acquisitions and joint ventures around the biomass economy drawing large energy and chemical players such as Dow, DuPont, B.P., Shell, Exxon, Chevron and Total into new alliances with grain, forestry and seed giants such as Monsanto, Cargill, Bunge, Weyerhaeuser and ADM. At the heart of these new alliances are surprisingly new synthetic biology companies such as Life Technologies Inc, Amyris, Solazyme and Evolva—all rapidly being promoted to significant roles in the global food, energy, pharma and chemicals sectors (pp.8-12).
Controlling the Blue Economy, too. 
Biomass found in oceans and aquatic ecosystems accounts for 71 percent of the planet's surface area. That's why energy and chemical corporations such as DuPont, Statoil , DSM, Exxon, Mitsubishi, Monsanto, Chevron and shipping giant Stolt Nielsen are looking to the wild, wet frontier for new sugars and oils to fuel the bio-based economy, proposing the large-scale exploitation of algae, seaweed, fish and all the aquatic biomass found in lakes, rivers and coastal estuaries. (pp. 18-21)
For more information, click here.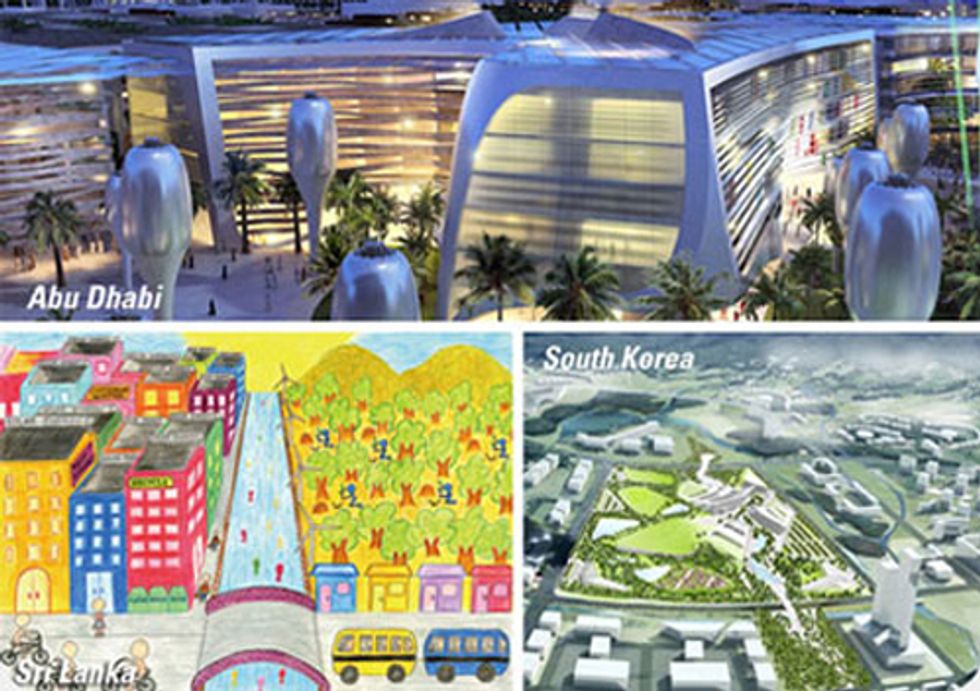 A team of world-class visual artists and experts in sustainable development announced Nov. 23 it's launching a first-of-its-kind global conversation to learn what people want their communities to be like in 2030.
The project, called The Future We Want, is being conducted in cooperation with the United Nations (U.N.), leading up to the U.N.'s Conference on Sustainable Development, better known as Rio+20, next June in Rio de Janeiro.
According to one of its directors, William Becker, the project is assembling a group of the world's foremost visual artists and technology experts who will use a variety of tools to gather ideas from around the world on this question—What do we want our community and lives to be like 20 years from now, including how we've addressed challenges such as climate change, population growth and resource limitations?
Based on responses, The Future We Want team will produce vivid videos and animations of life in a variety of cultures and nations in the year 2030, and unveil them in an exhibit at the Rio conference.
While the project is not an official U.N. enterprise—it's funded by individuals, corporations and foundations—it's designed to add a new dimension to Rio+20 and other upcoming U.N. events on sustainable development. The project's title mirrors the U.N.'s tagline for Rio+20 announced Nov. 22 by Secretary General Ban Ki-moon.
"We have seen and heard a great deal about the future we must avoid," Becker said. "It's time for a conversation about the future we can build."
The co-director of The Future We Want project, Jonathan Arnold noted that communications technologies available today make possible an unprecedented global dialogue. Arnold already uses advanced visualization technologies in his work as a successful smart-growth real estate developer in Kansas City, Mo.
"There is a point at which scientific warnings and dramatic media produce apocalypse fatigue when they focus solely on civilization's collapse," Arnold said. "When people reach that point, they feel helpless and they disengage. The Future We Want will provide balance by inviting and visualizing realistic ideas from people around the world about the positive future that's possible if we put our minds to it."
Becker and Arnold, who have been developing the project the past three years, noted that the power of positive vision was demonstrated more than 70 years ago when General Motors (GM) hosted the Futurama Pavilion at the 1939 New York Worlds Fair. Millions of visitors were shown models of a dynamic, highly mobile, car-centered society, offering hope during the Great Depression. Developed nations have invested in the GM vision ever since.
"It clearly is time for a new vision," Arnold said. "The world shown in 1939 is no longer sustainable. The Great Recession, the growing impacts of global warming, impending shortages of water and other critical resources all have created another teachable moment in which we are learning that our old concepts of communities no longer work."
"We believe the world is hungry for a future that is more stable, more secure, more resilient and more genuinely prosperous than the world we would get with business as usual," Arnold said.
People interested in joining The Future We Want conversation can begin by clicking here.
For more information, click here.