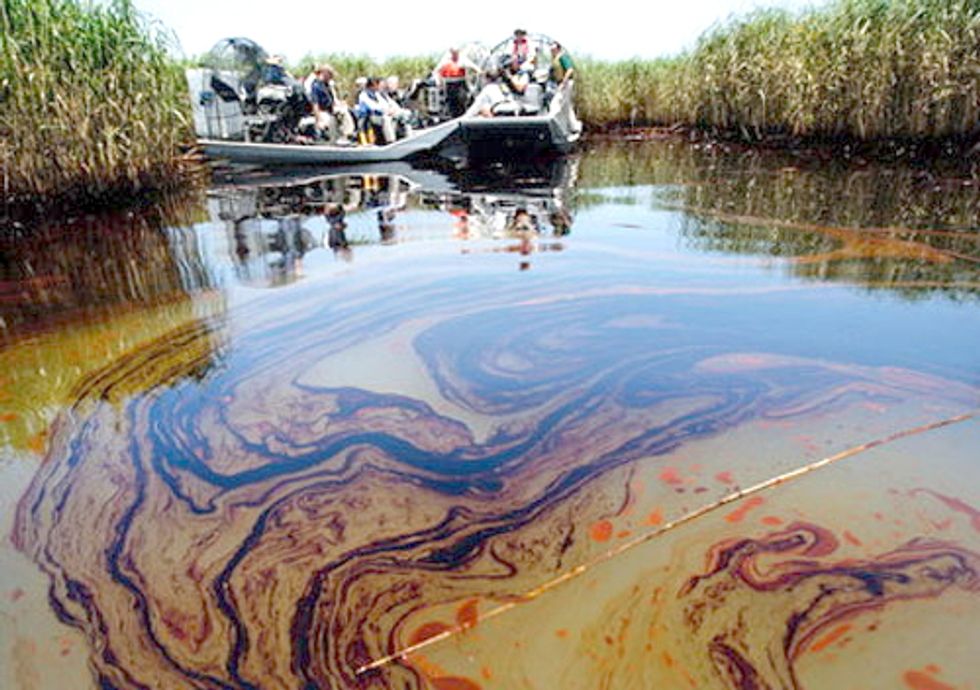 By Jaclyn McDougal
BP could soon squirm its way to a sweet settlement deal this week for the Gulf oil disaster—a move that would allow the company's pockets to continue to expand on the heels of their record profits, while leaving more uncertainty for restoring the Gulf of Mexico to an environmentally and economically healthy state.
News reports indicate that BP may be close to reaching a settlement for its part in the Gulf oil disaster. The proposed settlement allegedly requires BP to pay a mere 3 percent of the full amount of Clean Water Act (CWA) penalties it could be fined under the law. Reports suggest the agreement would require BP to pay only $142 per barrel of oil spilled into the Gulf, although CWA allows up to $4,300 per barrel to be assessed against a liable party. BP has reportedly set aside $3.5 billion in preparation for paying CWA fines, but this settlement deal would be significantly less.
The settlements do not stop there. MOEX Offshore recently settled to pay only $90 million for its part in the Deepwater Horizon blowout. The settlement would send $45 million to the federal government for penalties and restoration. In addition to paying $25 million in CWA penalty funds to the states, MOEX will acquire $20 million worth of properties containing habitat and natural resources worthy of conservation in perpetuity, and/or which will protect water quality in the Gulf of Mexico region.
According to the Department of Justice, there are no federal requirements for how the states use the penalty money.
"The states should use the $25 million in penalty funds to help the damaged Gulf ecosystems and the people in the Gulf that depend on those ecosystems for their livelihoods and quality of life," said John Kostyack, National Wildlife Federation's vice president for wildlife conservation, reacting to the initial MOEX settlement. "As far as the $20 million goes, we need a lot more transparency on where that money is going and what projects it will fund. It is hard to support this without knowing which properties will be acquired or restored and how they intend to restore water quality."
Now is a critical time to get the RESTORE Act passed—it's been nearly two years since the Gulf oil disaster. Last week Sens. Bill Nelson (D-FL) and Richard Shelby (R-AL) introduced an amendment to the Senate Transportation bill (S.1813) that would ensure BP fines from the oil spill go to the Gulf where they belong. Unless Congress takes action now, before a settlement is reached, a significant portion of the funds BP pays could be used for unrelated federal spending, instead of helping the Gulf.
For more information, click here.
EcoWatch Daily Newsletter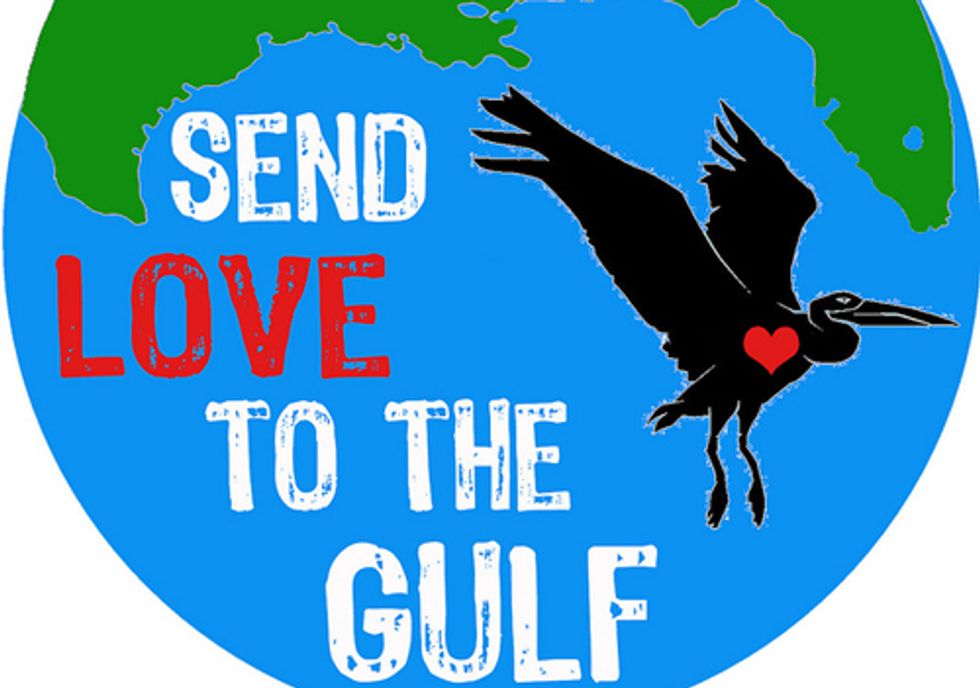 Want to help show your love for the Gulf this Valentine's Day? It's easy. Just click on one of the messages below to tell Senate Majority Leader Harry Reid (D-NV) and Minority Leader Mitch McConnell (R-KY) that you want money from the BP oil spill to go back to the Gulf.
Background on the RESTORE Act:
The BP oil disaster dumped nearly five million barrels of oil into the Gulf of Mexico, damaging the wildlife, ecosystems and economy of the Gulf Coast.
The RESTORE Act seeks to ensure that at least 80 percent of the penalties paid by BP are returned to the Gulf to be used for restoring the region's communities, economies and environments.
However unless Congress acts quickly, these penalties could go toward unrelated federal spending. We must act now if we want to ensure that this money goes back to where the damage was done.
Click on one of the messages below to tweet your love for the Gulf.
Be sure to check out our Facebook page as well and share our Valentine's Day image with your friends.
For more information, click here.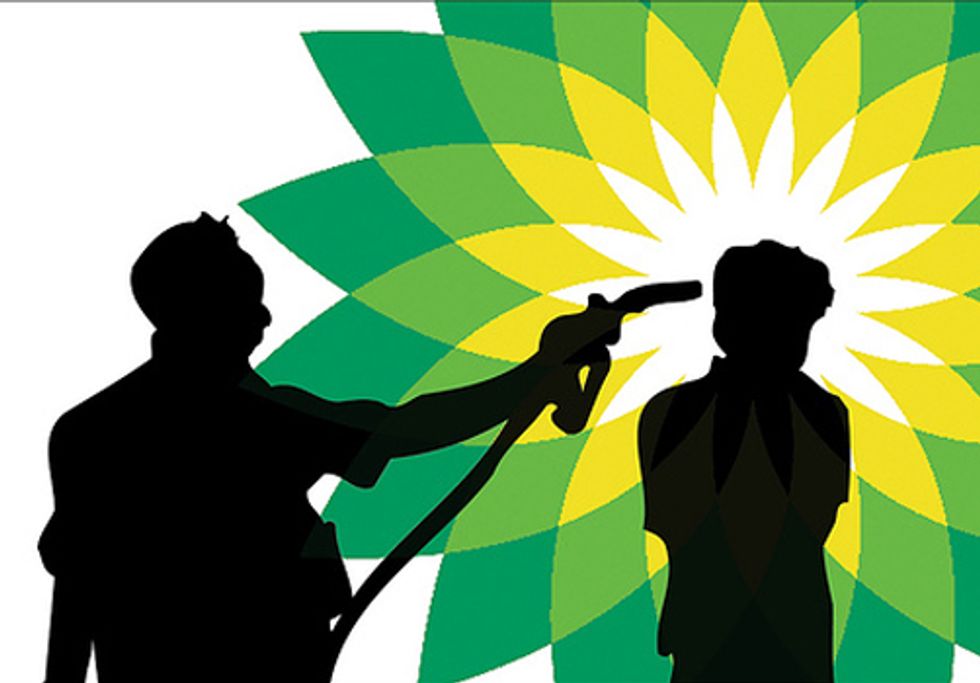 By Jaclyn McDougal
Reports on Feb. 7 indicate that BP made a major profit for 2011. BP announced that it made a profit of $25.7 billion during the 2011 calendar year. BP's fourth-quarter profits alone reached $7.69 billion, up 38 percent from 2010. The company made $3 million every hour during 2011.
"BP made nearly $26 billion and the Gulf still waits to be restored," said Jeremy Symons, senior vice president of conservation and education with National Wildlife Federation. "Now it's up to Congress to hold BP accountable and repair the Gulf's waters, wildlife and America's seafood supply by passing the RESTORE Act—before BP hastily reaches a settlement that could let them off the hook for the full amount of fines they should pay."
"Nearly two years after the Gulf oil disaster BP has still not fulfilled its commitment to the Gulf of Mexico, but instead is preparing for their upcoming trial with a full war chest," Symons stated. "BP's announcement on their annual profits today shows that they have available funds for widespread restoration but choose to use their money for commercials showcasing their broken promises to the Gulf of Mexico."
Restoration is critical to the well-being of the Gulf ecosystems and livelihoods. A healthy ecosystem is the lifeblood of a healthy Gulf economy, both regionally and nationally. Congress must pass the RESTORE Act before a settlement sends the fine money to Washington, D.C. where it can be used for unrelated federal spending, instead of restoring the ecosystems and economies of the five Gulf States.
For more information, click here.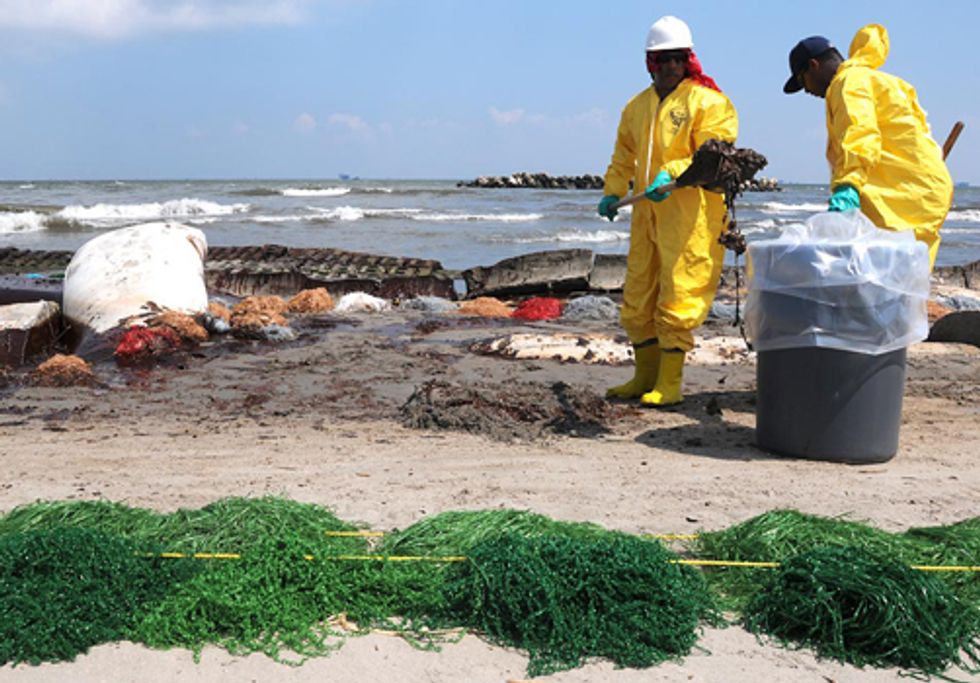 By Tammy Herrington
During the summer of 2010, the nation watched in horror as gallons of oil spewed into the Gulf of Mexico. While many outside the Gulf region are hearing that we are back to normal, we continue to find tarballs on our beaches, mats of tar beneath the surface of local waters and fish with lesions, leading to questions about long-term impacts.
The RESTORE Act, or Senate Bill 1400, was introduced by Gulf Coast Senators as an effort to send 80 percent of the fines BP will pay from this disaster back to the Gulf Coast for environmental and economic recovery. It has passed through committee, but we now need it to pass a vote of the full Senate. Sending this money to the region that suffered can make a huge impact on Gulf economies and make the area more resilient to future disasters. The Gulf produces nearly half of the U.S. domestic energy supply, holds seven of the nation's ten largest ports, and produces two-thirds of the nation's shrimp and oysters. The health of these resources truly impacts the entire nation.
What we need from you:
Mobile Baykeeper, in conjunction with the Women of the Storm, needs friends in non-Gulf Coast states to fax and/or phone their two U.S. senators. Ask for the staffer on environmental or governmental affairs, and urge the senator to support the RESTORE Act. You can find the names and contact information from Senators in all 50 states here. Our goal is to make contact with Senators by Feb. 3, 2012.
Message:
The Gulf Coast provides energy independence, commerce, ecotourism, and national security to the entire nation. Restoration of Gulf resources is critical for the region as well as the nation.
If most of the fine dollars are not designated to environmental and economic recovery of the Gulf Coast, they will disappear into the federal budget. Applying BP fine dollars to Gulf restoration will create thousands of jobs and make the area more resilient to future disasters.
When a disaster of this magnitude strikes, the entire nation must support the affected area. The Gulf Coast's environment, economy, and communities bore the brunt of this disaster, and these fines should go back to the Gulf Coast to fix what has been broken. The next disaster could be in that Senator's state. We would want citizens of that state to get fair and reasonable support.
Sample content for fax or phone call:
"Senator (NAME), I support the RESTORE Act because I know the importance of the Gulf Coast to (Senator's state), the U.S. and around the world. I hope you will support it too." Then add a version of the message points above.
Feedback:
Email me at therrington@mobilebaykeeper.org the states in which you have made contact with friends to call their senators and the information you and your friends have received about senatorial positions on the RESTORE Act so we can keep track of our activity. Thank you for your help. We are grateful to have your support and hopeful that we can work together to pass the RESTORE Act in 2012.
For more information, click here.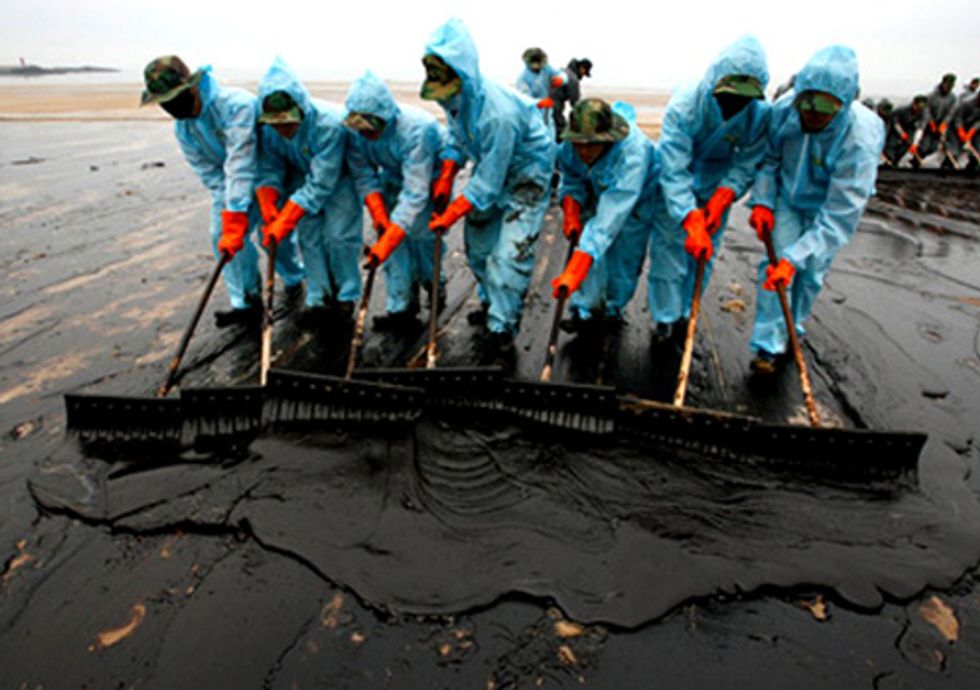 By Whit Remer
There is one unanswered wish many residents along the Gulf Coast are still hoping for this new year—passage of the RESTORE Act (Resources and Ecosystems Sustainability, Tourist, Opportunities and Revived Economy of the Gulf Coast Act). As Congress wrapped up 2011, there was talk all along the Gulf Coast and Washington, D.C. about the bill. And the buzz is resounding. Thanks to the efforts of citizens and organizations working to restore the Gulf Coast, members of Congress from across the region are returning to Washington, D.C. determined to pass the RESTORE Act early this year.
Over the last few months, the RESTORE Act has been praised for its bipartisan support and commitment to restoring the environment and economies of the Gulf that were damaged by the British Petroleum (BP) oil disaster. In December, over a dozen prominent environmental groups sent a letter to Senate leadership urging passage of the RESTORE Act. The bill is supported across the Gulf, with a recent poll finding that 84 percent of Florida voters support sending Clean Water Act penalties back to the Gulf. It's clear that residents of the Gulf Coast, environmental organizations, economic developers and businesses large and small support sending BP penalty money back to the Gulf.
With passage through the Senate Environmental and Public Works Committee and a productive hearing in the House Transportation and Infrastructure Committee, the bill enjoys success both on the ground in the Gulf and in the halls of Washington, D.C. With all this momentum, the RESTORE Act is primed for passage in 2012.
Moving forward, Gulf Coast congressional members will be working hard to keep the RESTORE Act on the radar of House and Senate leadership. Gulf Coast members must also work with their colleagues from around the country by reminding them that the Gulf Coast is a place of national significance. The region serves as an important commercial trade route, hosts extensive oil and gas infrastructure, and is home to 33 percent of the nation's seafood, hundreds of species of wildlife, and migratory waterfowl.
The important take-away is this—the RESTORE Act is alive and well. But for the RESTORE Act to become a law, we must continue to remind Congress how important it is to return BP oil spill money to the injured Gulf Coast area. Help Congress answer your wish for the Gulf by writing your congressional members and letting them know you support the RESTORE Act.
For more information, click here.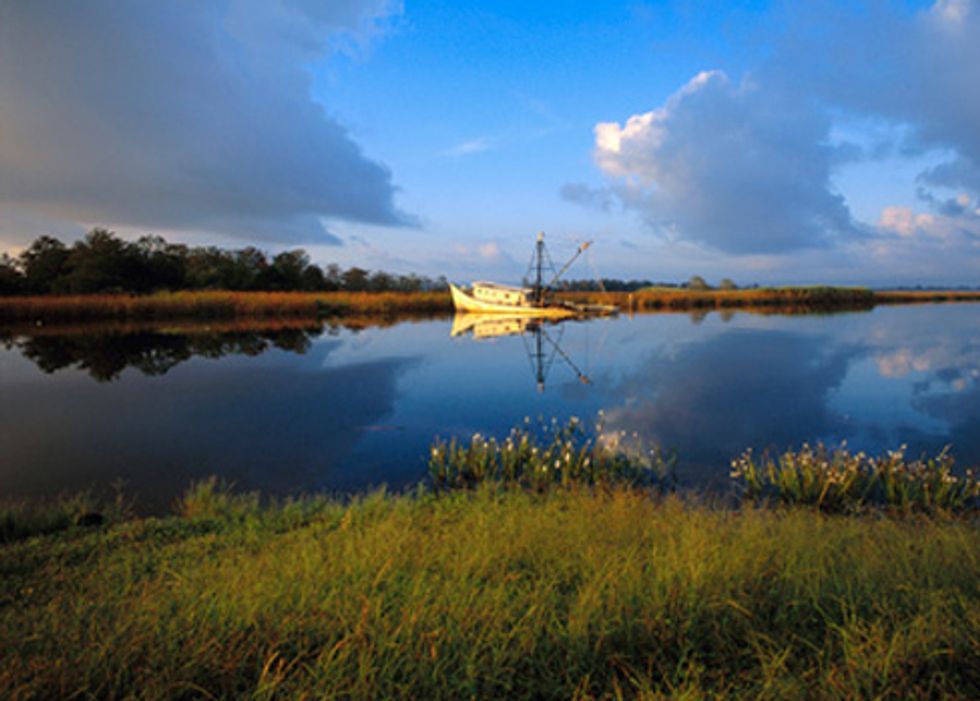 The first round of early restoration projects for the Gulf of Mexico were announced Dec. 14 by the British Petroleum (BP) Deepwater Horizon Natural Resource Damage Assessment Trustees. These kinds of projects are required by law in order to specifically address the damage to natural resources and public use of those resources caused by the BP Deepwater Horizon oil disaster. Ocean Conservancy issued the following statement from Chris Dorsett, director of Gulf Restoration and Fisheries Conservation programs:
"This is an important and positive first step. This kind of investment in early restoration is unprecedented and will begin the process of making good on promises to fully restore the Gulf of Mexico from the impacts of the BP Deepwater Horizon oil disaster. Involving local communities in this process is essential to success. We are therefore encouraged to see a robust plan for public engagement in this first phase of restoration. Looking ahead, we anticipate that a more comprehensive oil disaster restoration program will be based on a strong on-going science program, additional opportunities for public engagement and a focus on restoration in both marine and coastal environments.
"Beyond the early restoration projects chosen through the Natural Resource Damage Assessment process to address impacts from the oil disaster, there must also be follow-through on the national commitment to address decades of degradation from sources such as coastal erosion, overfishing and excessive nutrient runoff that has produced a dead zone of depleted oxygen. These problems threaten fish, wildlife, the places where they live and the people who depend on a healthy ocean for jobs and business. The RESTORE Act, currently under consideration in Congress, is designed to direct the Clean Water Act fines BP and other responsible parties must pay into a broader restoration strategy to address these long term challenges and ensure a healthy and sustainable future."
More information about Ocean Conservancy's work to restore the Gulf of Mexico can be found by clicking here.
For more information, click here.
—————
Ocean Conservancy is the world's foremost advocate for the oceans. Through science-based advocacy, research, and public education, we inform, inspire and empower people to speak and act for the oceans. Ocean Conservancy is headquartered in Washington, DC, and has offices in Florida, the Gulf of Mexico, and the Pacific, with support from more than half a million members and volunteers. To learn more about Ocean Conservancy, click here.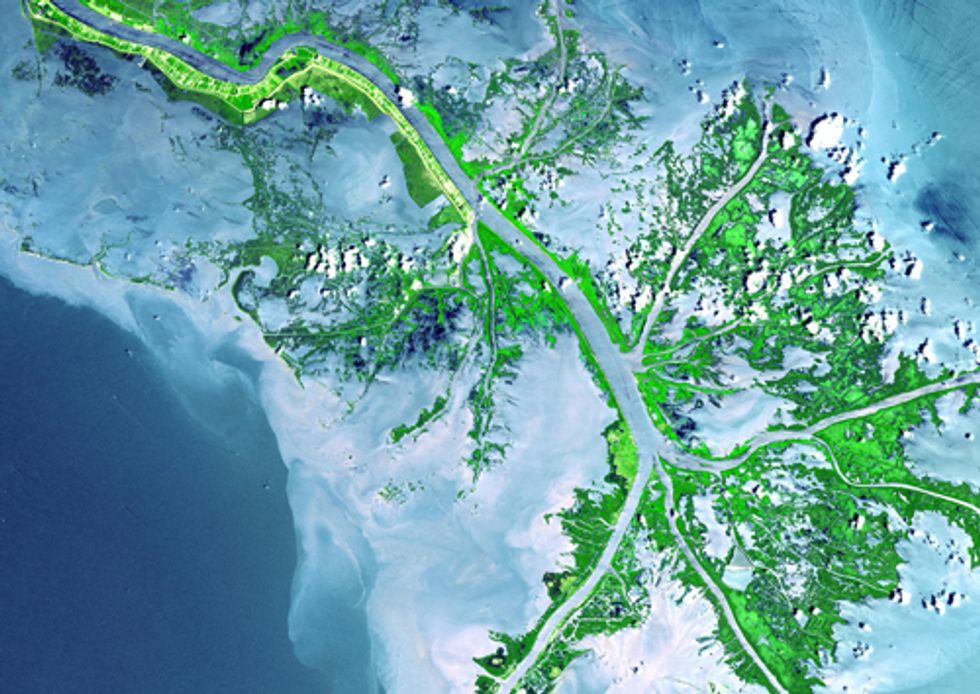 Today and tomorrow, we are asking everyone to participate in Twitter (today, Dec. 12) and Facebook (tomorrow, Dec. 13) Social Media Days of Action around the RESTORE Act, urging Congress to make the bill a priority this year. The RESTORE Act will ensure that 80 percent of the Gulf oil spill Clean Water Act penalties that British Petroleum and other responsible parties will have to pay will be returned to the Gulf States that deserve it. We need Congress to make passing the RESTORE Act a priority, so that this money will be dedicated to Gulf Coast ecosystem and economic restoration.
You can help by joining our RESTORE Act Twitter Day of Action today. Be sure to include the #RESTOREact hashtag, as well as tagging @SenatorReid and @McConnellPress in your Tweets.
Sample Tweets (Click to Tweet):
Help protect Gulf wildlife, people & jobs. Tell @SenatorReid & @McConnellPress to pass #RESTOREact -- Please RT! via @RestoreDelta
Gulf wildlife still need our voice. Tell @SenatorReid & @McConnellPress to pass #RESTOREact & send #oilspill fines back to Gulf. Please RT!
Help restore the Gulf Coast ecosystem and economy. Tell @SenatorReid & @McConnellPress to make #RESTOREact a priority this year. Please RT!
The Gulf #oilspill is not over. Tell @SenatorReid & @McConnellPress to pass #RESTOREact -- Please RT! via @RestoreDelta
Pls RT! The wildlife & people of the Gulf Coast need your voice. Tell @SenatorReid & @McConnellPress to make the #RESTOREact a priority
A reminder that tomorrow we will be having a Facebook RESTORE Act Day of Action. Become a fan of Restore the Mississippi River Delta on Facebook to participate and check back here tomorrow for more details.
For more information, click here.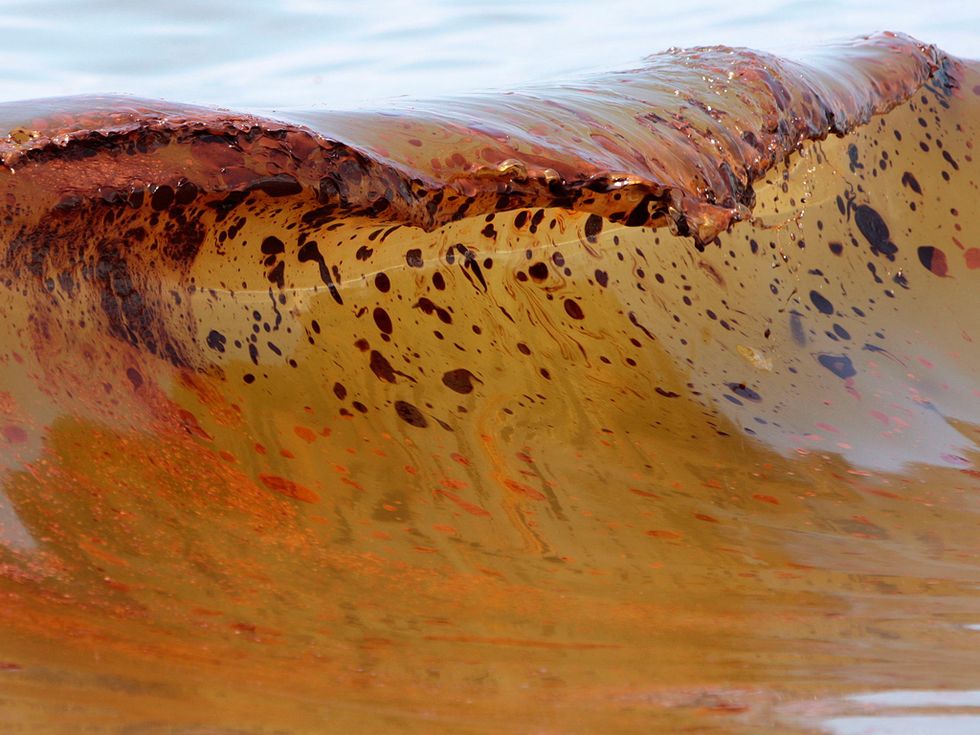 The Clean Water Act penalties from last year's British Petroleum (BP) oil disaster could kick-start the launch of a long-term investment in ecosystem restoration and create jobs that would benefit at least 140 businesses with nearly 400 employee locations in 37 states, including more than 260 in the Gulf Coast and nearly 60 in Florida, according to a new Duke University study. The report—RESTORING THE GULF COAST: New Markets for Established Firms—funded by a grant from the Walton Family Foundation to Environmental Defense Fund—is based on a sample of 140 firms linked to coastal restoration projects already undertaken or completed.
"Long-term ecosystem restoration would be an economic grand slam because it both protects current jobs in key Florida industries—like fishing, tourism, and shipping—and creates new jobs," said Jackie Prince Roberts, director of sustainable technologies for Environmental Defense Fund. "A study of Everglades restoration by Mather Economics—based on data from the U.S. Army Corps of Engineers—estimates that every $1 million of public investment in restoring the Everglades would create about 20 jobs. Our study helps Florida residents understand where those jobs can be created, and the opportunity Florida has to be a leader in this new industry sector that provides ecosystem restoration services to the Gulf, and to meet emerging global demand."
The study's release is timely because the House Transportation and Infrastructure Committee will hold a hearing Wednesday to examine bipartisan legislation, the RESTORE Act (H.R. 3096), that would dedicate 80 percent of the estimated $5-21 billion in Clean Water Act fines from the 4.9 million barrel spill to restoring the Gulf. The Senate Environment and Public Works Committee already has approved the Senate version of the bill (S. 1400), cosponsored by nine of the 10 Gulf state senators, including Florida's Bill Nelson (D) and Marco Rubio (R).
"Restoration projects activate a full supply chain linking materials providers, equipment manufacturers, shipbuilders, machinery repair firms, engineering and construction contractors and environmental resource firms," the report says. "Many of the firms are based in the Gulf Coast region. Having long worked in the marine construction industry building oil and gas industry infrastructure, they can apply the same skills and equipment to coastal restoration, thus finding new markets and a more diverse client base."
"Coastal habitat restoration typically creates at least 3-4 times as many jobs as road infrastructure or oil and gas projects for every $1 million invested," said Keith Bowers, president of Biohabitats, Inc., a conservation planning, ecological restoration and regenerative design firm that does restoration work in the Everglades, Big Cypress and Tampa Bay, Fla., Texas and Louisiana, and has offices in Baltimore, Md.; Louisville, Ky.; Raleigh, N.C.; North Charleston, S.C., Denver, Colo.; Cleveland, Ohio; Glen Ridge, N.J.; and Santa Fe, N.M. "This study proves ecological restoration can be a real catalyst for job creation, economic vitality and ecosystem resiliency. Passing the RESTORE Act could help restore the fishing and tourism industries in Florida and the other Gulf Coast states."
Two-thirds of the firms sampled have offices in the Gulf Coast and qualify as small businesses, according to Small Business Administration guidelines on number of employees. One of the firms is Taylor Engineering, an employee-owned design firm that restored seven miles of critically eroded beaches battered by hurricanes in Walton County and the city of Destin in Okaloosa County, and has full-service offices in Jacksonville and West Palm Beach, and local-service offices in Tampa and Destin, Fla., Savannah, Ga., Baltimore, Md., and Columbia, S.C. The firm has provided a life-cycle commitment to the art and science of delivering sustainable solutions in the water environment since 1983.
"If our customer base picks up in response to RESTORE funding, there would be a positive and sustainable long-term impact on our hiring," said James Marino, P.E., president of Taylor Engineering, and a certified Diplomat in Coastal Engineering, who was an officer in the U.S. Army Corps of Engineers for 20 years. "Restoration projects are very important to small and medium-sized firms like ours because they provide a valuable stream of work in a fragile economy. The cost to benefit ratio is very high for restoration projects, especially for beach restoration, which brings considerable value for regional economies in a multitude of business sectors. Not only do these projects serve as an immediate and prolonged benefit economically, but more importantly, the net positive effects provided to a sustainable environmental infrastructure are enduring."
The BP oil disaster worsened the damage to the badly degraded Mississippi River Delta wetlands, a priceless resource that "sustains the Gulf region's unique people and cultures and brings the U.S. economy billions of dollars each year in energy, fishing, shipping and tourism," the report states. "At stake in the loss of coastal wetlands is not only the environmental health of the Gulf region, but also several of the nation's vital industries."
The Gulf region's critical economic role, and the extent to which this role depends on the delta ecosystem, is evident in the following assets provided by the Gulf region:
The report notes that a robust coastal restoration sector has been developing in the marine construction industry, but recent budget cuts have stalled many authorized restoration projects.
"In Florida, the economy is the environment, but funding for environmental restoration projects has been reduced by the state and most local governments," said Michael L. Davis, vice president and principal, Keith and Schnars, P.A., an environmental, planning and engineering consulting firm that currently is working on the South Miami-Dade Watershed Study and Plan and has offices in Fort Lauderdale, Jacksonville and Doral, Florida. "The RESTORE Act is a win for Florida's economy and Florida's environment because it will enable environmental consulting firms like mine to hire additional biologists and engineers, and restoration construction contractors to buy more equipment and hire more operators."
The report concludes that coastal restoration is needed in Florida, California, the Pacific Northwest and the Great Lakes. If U.S. markets expand, the firms that serve them will be well positioned to sell to international markets as they develop in the future. For example, several countries in Asia are developing integrated coastal management programs, and recently India, Bangladesh, Indonesia and Vietnam have undertaken hundreds of millions of dollars' worth of coastal restoration projects. The RESTORE Act would continue to build this promising new sector.
For more information, click here.
—————
Environmental Defense Fund, a leading national nonprofit organization, creates transformational solutions to the most serious environmental problems. EDF links science, economics, law and innovative private-sector partnerships. Follow us at Twitter.com/EDF_Louisiana and at Facebook.com/EnvDefenseFund.