Apple's solar PV facility in Maiden, North Carolina is helping the state become a national solar leader. Photo credit: James West / Climate Desk
With an incoming presidential administration seemingly hostile towards action on climate change, local solutions are now more important than ever. With or without Donald Trump's help, the North Carolina municipality of Boone is calling on the whole state—and the United States at large—to encourage green jobs and transition to 100 percent clean energy across all energy sectors.
Best piece yet on Trump's Interior pick, Zinke @EcoWatch https://t.co/Pj4JYW44g1

— Robert F. Kennedy Jr (@Robert F. Kennedy Jr)1481919367.0
The resolution was approved by a 5-0 vote by Boone Town Council on Thursday. This makes Boone the first town in the country to officially demand that the U.S. completely ditch fossil fuels to "avoid climate catastrophe."
The country's total transition to clean energy is not as far-fetched as it seems. Boone's resolution was inspired in part by the research of renewable energy expert Dr. Mark Z. Jacobson, a Stanford University professor and cofounder of The Solutions Project, a state-by-state roadmap to convert the country to 100 percent renewable energy by 2050.

You might have heard of the project before. In fact, Jacobson stopped by David Letterman's late-night television show in 2013 to explain how the whole world, not just the U.S., can transition to renewables.
"There's enough wind to power the entire world, for all purposes, around seven times over," Jacobson explained then. "Solar, about 30 times over, in high-solar locations worldwide."
Jacobson is an advisor for the North Carolina Climate Solutions Coalition which endorsed Boone's resolution.
Boone NC votes 5-0 to be first US town for 100% clean, renew energy ALL sectors @howarth_cornell @MichaelEMann… https://t.co/eVwe1vFHi6

— Mark Z. Jacobson (@Mark Z. Jacobson)1481857311.0
"This decision by Boone, North Carolina to commit to transitioning to 100 percent clean, renewable energy sets a great example for other towns and cities in the U.S. and around the world," Jacobson commented to EcoWatch. "It is now established that such a transition is possible state by state and country by country."
Last year, the Solutions Project team published a study explaining how each state in the country can replace fossil fuels by tapping into renewable resources available in each state such as wind, solar, geothermal, hydroelectric, and even small amounts of tidal and wave power.
The authors found that converting the nation's energy infrastructure into renewables is ideal because it helps fight climate change, saves lives by eliminating air pollution, creates jobs in the rapidly booming renewable energy sector and also stabilizes energy prices.
North Carolina's roadmap to renewables.The Solutions Project
"The results of such a transition are the creation of more net long-term jobs than lost (2 million more if the U.S. converts), more stable energy prices (since wind and solar fuel costs are zero), lower overall energy costs, lower terrorism and grid blackout risk (because energy sources will be more decentralized), no more air pollution mortality from fossil fuels and a reduction in global warming," Jacobson explained.
One reason Boone adopted its resolution is because North Carolina is a solar power all star. The Tar Heel state ranks third in the nation in installed solar capacity, with enough to power 260,000 homes. The state's solar power industry employs some 6,000 people. In 2015, nearly $1.7 billion was invested on solar installations in the state. Not only that, the Atlantic coast state also has incredible offshore wind energy potential.
"Leading economists, policy experts, and business leaders conclude that transitioning to a clean energy economy available for all would create millions of green jobs nationally, improve our living standards, and boost economic growth in coming years," Boone's resolution states.
Boone's resolution stresses that the state's most disadvantaged populations are most affected by a warming planet, which is why action is needed.
"Low-income communities and communities of color in North Carolina and the United States are inordinately exposed to pollution, that causes serious health problems such as cancer and asthma, from fossil fuels, including the dirtiest coal-fired power plants which produce coal ash, are disproportionately located in communities of color," it reads.
Unlike our president-elect and his top staff comprised of climate change deniers and fossil fuel puppets, Boone's town council accepts that rising global average temperatures are primarily due to human-caused fossil fuels emissions and that 195 nations agreed during the Paris climate talks to hold global temperature rise well below 2 degrees Celsius.
Trump Taps Exxon's Rex Tillerson as Secretary of State, Confirms 'Support of Big Oil and Putin' https://t.co/OA47LMjMJ1 @OpenSecretsDC

— EcoWatch (@EcoWatch)1481666708.0
Jacobson believes that the country's transition to sustainable energy is possible but the main barriers are "social and political rather than technical or economic." See North Carolina's storied solar wars, for example.
"Boone," however, as Jacobson said, "has overcome many of the social and political barriers."
Dr. Michael E. Mann, renowned climate scientist and fellow North Carolina Climate Solutions Coalition advisor, praised the town's vote.
"Daniel Boone was an early pioneer who explored our nation's frontiers during it's early history. So it seems fitting that a town named after him would serve as our next great American pioneer, boldly leading us into the frontier of a clean energy-driven economy," he told EcoWatch. "Just when we really needed some good news in the climate change battle, I thank the people of Boone, North Carolina for providing some."
By Andy Rowell
President Barack Obama tweeted on Saturday that "we owe it to our kids to do something about climate change."
The tweet and its accompanying video lay the ground for Obama's major and long-awaited speech on climate tomorrow at Georgetown University.
In the video, Obama argues that: "There's no single step that can reverse the effects of climate change. But when it comes to the world we leave our children, we owe it to them to do what we can."
As the most powerful person in the free world, Obama can do more than most. His words in the video are not really new: he has made similar positive statements before, such as in his inauguration and State of the Union address. But despite the positive rhetoric, political action to tackle climate change has been limited due to the gridlock in Washington with open hostility to climate policies from the Republicans.
Due to this, the U.S. media are reporting that Obama is intending to introduce a series of executive actions, which do not need Congress's approval to be made into law. These measures will reportedly include tighter regulation of coal-fired power plants, increased energy efficiency standards and the promotion of renewable energy on public lands.
The good news is that Obama could undertake all of these policies without congressional approval. But while reducing pollution from power plants would be a welcome first step, there are other decisions that Obama can no longer duck.
First up, of course, is the pressing decision on Keystone XL (KXL). This is now seen by millions in the U.S. and abroad as the true litmus test of Obama's stance on climate. Approve the pipeline and all his positive rhetoric counts for nothing—but by rejecting it, the President would send a powerful message that we cannot afford to burn the highly polluting tar sands.
But just as important as saying no to KXL is moving away from Obama's "All of the Above" energy plan, which advocates a continued use of fossil fuels.
In that respect, as I have covered before, the President's "All of the Above" energy plan is misguided. In reality it is little more than "Drill Baby Drill" by another name. The science is telling us that we cannot have all of the above. We cannot carry on relentless oil and gas drilling.
Moreover, As Steve Kretzmann and I have written before, "The President cannot simultaneously fight climate change and support an All of the Above/Drill Baby Drill energy strategy. It would be like launching a war on cancer while promoting cheap cigarettes for kids. Leadership on climate requires understanding this."
Tomorrow the President clearly wants to show climate leadership. His intervention is welcome, but this time he must not fluff his lines. And that means no more "All of the Above," as well as no KXL.
Moreover the President could set out a clear radical vision. Over in public health, tobacco control advocates have started talking about an "endgame" for eliminating cigarettes for society, with some countries, such as New Zealand, setting definitive time-scales to do so. It is time for politicians to do the same with fossil fuels. It is time to think about becoming fossil-free and setting a timescale to achieve that goal.
Visit EcoWatch's CLIMATE CHANGE page for more related news on this topic.
——–
Click here to tell Congress to Expedite Renewable Energy

EcoWatch Daily Newsletter
Jill Wiener has dedicated a large part of the past five years of her life to keeping the use of hydraulic fracturing for natural gas extraction out of New York State. The Sullivan County, NY, resident believes that if fracking has yet to happen in a state, it should never be allowed to happen. And where fracking is happening, it should be stopped.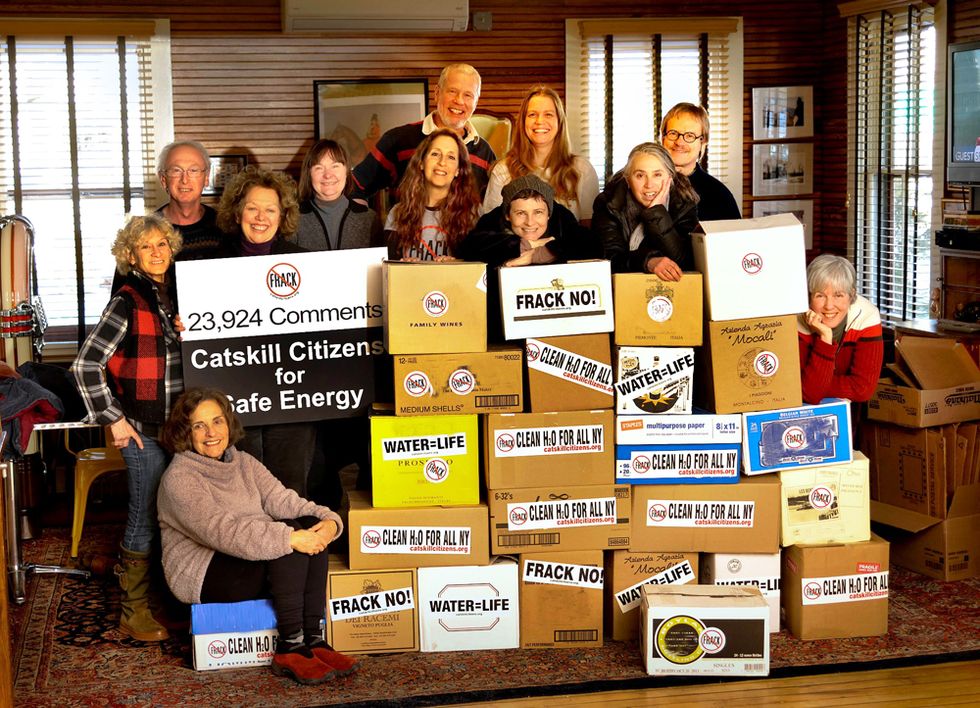 Many of Wiener's fellow grassroots activists in New York share this belief. They're opposed to the regulatory path followed in other states, including in Illinois where some big environmental groups worked with the natural gas industry to get fracking legislation passed and signed into law. So far, the New York activists' strategy for keeping shale gas drilling out of the state has worked: fracking in New York still appears to be a long way off, if it happens at all.
The strength of the resistance manifested itself again June 17 when more than 3,000 people of all ages and backgrounds from across New York gathered in Albany to urge Gov. Andrew Cuomo and the legislature to end the threat of fracking and promote a clean energy agenda. Robert Boyle, a long-time environmental activist and founder of Riverkeeper, remarked last year that he has never seen an environmental movement "spread with such wildfire" as the anti-fracking movement.
"It took me 13 or 14 years to get the first Riverkeeper going. Fracking isn't like that. It's like lighting a train of powder," he told journalist Ellen Cantarow.
Spreading Like Wildfire
The movement started to spread like wildfire in New York when concerned residents began educating their neighbors about the dangers of fracking. "The grassroots groups actually informed the Big Green groups," Wiener said in an interview with EcoWatch. "This was the grassroots telling the grass tops what was happening on the ground and doing the research and seeing that something was wrong. Back in 2008, the Big Greens thought that natural gas was a good bridge fuel, better for the climate."
Anti-fracking activists in New York were hearing news about what was happening in Pennsylvania, stories that put them on high alert. "We had a head-start because the industry marched through Pennsylvania first," Wiener said. When industry representatives began showing up in New York, they guaranteed millions of dollars to residents if they leased their land and minimal impact on the environment from the shale gas extraction process.
But many residents refused to buy into the industry's narrative. "There are a lot of native New Yorkers here," Wiener said. "We all grew up with the story, 'Well, I've got a bridge to sell you.' We're pretty skeptical."
Wiener became involved in the anti-fracking movement after she ran into a friend at a local supermarket who handed her literature describing what the natural gas industry had up its sleeve.
"I looked at it and said, 'Oh dear! They're never going to do this here. This is a hair-brained scheme,'" she recalled.
Wiener and other anti-fracking activists in the region were feeling good about their chances because they had just finished working with state lawmakers to defeat the construction of an electric transmission line called the New York Regional Interconnect (NYRI). The proposed 400-kilovolt, 1,200 megawatt, high-voltage line would have run about 190 miles from Utica, NY, to Orange County, NY.
"The whole project didn't make sense. It was not easily defeated, but we had our elected officials on our side," explained Wiener. The activists were expecting the same success in the fight against fracking. Getting public officials on board the anti-fracking bandwagon would be a "no-brainer," she thought. Activists soon discovered, though, that the fight against fracking would be much tougher and drawn-out than the campaign against the NYRI electric transmission line.
Wiener's concerns about fracking led her to Catskill Citizens for Safe Energy, a group formed in 2008 in reaction to "landmen knocking on doors." The group seeks to educate the public about fracking and to promote clean energy. At Catskill Citizens, no one takes a salary and there's no office. The organization is run by volunteers who make decisions by consensus.
The various anti-fracking groups in New York regularly communicate with each other. "If there is a plan or an action or a piece of legislation, we keep in very close touch. We have open discussions about where we need help," Wiener said.
Catskill Citizens has attracted "creative thinkers from all political stripes," many of whom have organizing experience, she said. "This is not a left-wing, tree-hugging issue. It's a public health issue and everybody deserves clean air, clean water and the right to their property and the quiet enjoyment of their property," she emphasized.
An Artist and an Activist
An artist by trade, Wiener moved into a late nineteenth century farm house in Callicoon, NY, from New York City in 1997, where she set up a pottery studio. Along with running a pottery business, Wiener grows flowers on her farm that she then cuts and arranges for parties, weddings and special events.
"I now spend much more time 'working' with Catskill Citizens than tending to my own businesses," she said. It's Wiener's strong convictions that allow her to work the long hours needed to help sustain a movement. "I don't have kids. It's not like I'm fighting for my own children. But there is right and there is wrong. And, boy, I really hate wrong," she said.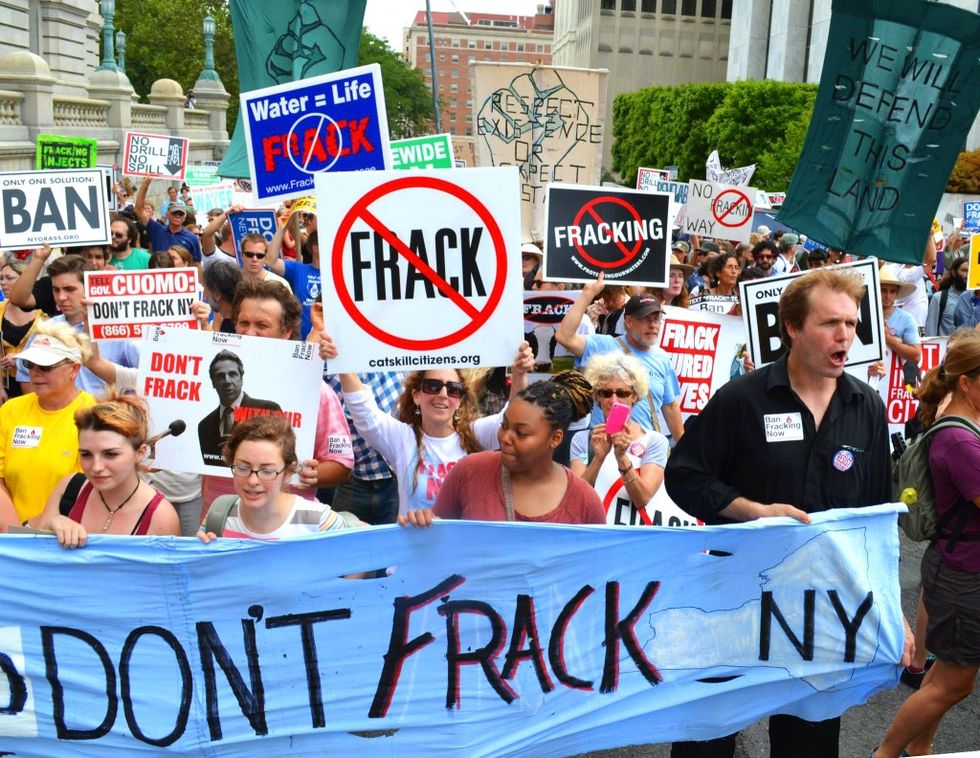 New Yorkers Against Fracking
In her work as an activist, Wiener serves as a member of the board of directors of Catskill Citizens and is on the advisory council of Stop the Frack Attack, a national coalition of anti-fracking groups.
Since moving out of New York City, Wiener also has served on the boards of the Sullivan County Visitors Association, Sullivan County Farmers' Markets, Jeffersonville Area Chamber of Commerce and the Sullivan County Alliance for Sustainable Development. She ran for the Callicoon Town Council in 2011 but did not win a seat. "I believe it is my duty to participate, to try to make our communities better where we can and protect them where we must," she said.
Before she became involved in the anti-fracking movement, Wiener said she had trouble standing up and speaking in front of just a handful of people. In recent years, though, she has become a spokesperson for the movement, speaking at events where she puts her gas industry expertise and her quick wit on display in front of large crowds. "One of my proudest moments was at the [Don't Frack New York rally in Albany in August 2012] when I spoke in front of over 2,000 people," she said.
On most days, Wiener said she is phoning fellow anti-fracking activists to talk strategy, attending meetings or performing ordinary organizational duties to help make the movement even bigger. "Our numbers keep increasing and I think our resolve keeps getting stronger and stronger because everyday something else that is an obvious wrong comes from this industry," she said.
"The industry had for years and years sold natural gas as this perfect solution to our energy problems and to climate change. They sold it as wonderful and clean and green and you put a straw into the ground and you just sort of suck the gas out and it's very simple," Wiener said. "But it really turns out that it wasn't. This is not your grandmother's gas well."
The rush to extract natural gas from the Marcellus Shale and other shale gas plays is creating industrial zones in rural areas across the U.S. The industrialization of wide swaths of forestland, meadows and mountains is threatening the health of humans who live near the drilling zones and disturbing animal and plant species who inhabit these regions.
Most people agree that the natural gas extraction process harms the environment. But they disagree on the extent of the harm. There's debate on whether the benefits of natural gas production outweigh the harm it causes. According to Wiener, the natural gas industry often takes "one kernel of one word of truth and they surround it in this pile of misinformation."
Five Minutes of Happy Dance
The odds appear to be stacked against anti-fracking activists, especially when they compare their meager budgets with the industry's huge war chests. "It's very hard to break through that with the truth when you're faced with insurmountable amounts of money. But somehow we manage to do it, person to person to person," she said.
Echoing a major theme in Gasland 2, the new documentary made by filmmaker Josh Fox, Wiener said the political elite's overwhelming support for fracking at the state and federal levels demonstrates that the nation has "a democracy problem" and that there is "undue influence by corporate money."
The influence of money also is seen in the nonprofit sector. Referring to the Environmental Defense Fund's (EDF) involvement in the Center for Sustainable Shale Development, Wiener said she takes exception to environmental groups that are "GINO," or green in name only. The Pittsburgh-based center, formed earlier this year, bills itself as a coalition of companies and groups working together to improve environmental performance of industry operations. In addition to EDF, the center's members include Chevron Corp., CONSOL Energy Inc. and Royal Dutch Shell plc, as well as Citizens for Pennsylvania's Future and the Pennsylvania Environment Council.
"If the Environmental Defense Fund actually wanted to do something good, they could take their incredible power and the money that they've gotten from Mayor Bloomberg, and put it to good use by educating the public on the dangers of shale gas extraction," she said. In August 2012, Bloomberg Philanthropies awarded the EDF with a three-year, $6 million grant for its work to "minimize the environmental impacts of natural gas operations through hydraulic fracturing."
According to Wiener, the EDF "could walk into Pennsylvania because they have relationships there and say, 'That's enough now, stop! You put a moratorium on this right now. Unless and until you get it right and you're not putting people's lives at risk and polluting their air and changing the character of your state in an irreversible way, you don't do it.'"
North of the border, in New York, pro-industry officials and environmental activists alike are beginning to believe the strength of the anti-fracking movement could spoil the natural gas industry's dream of a shale gas bonanza in the state. Wiener, who describes herself as "really stubborn," believes New York can remain free of shale gas drilling as long as she and fellow activists keep applying pressure.
But what if anti-fracking forces do succeed in New York? That was a question that a state lawmaker asked Wiener at a recent meeting. "My own state senator—not particularly on our side—said, 'Jill, what are you going to do if you ever manage to stop this? Are you going to sit back and do everything you did before?'"
"I said, 'No, if we can stop it in New York, you think I'm going to leave everybody else behind? No. Five minutes of happy dance and then we're right back to work.'"
Visit EcoWatch's FRACKING page for more related news on this topic.
——–

Sign the petition today, telling President Obama to enact an immediate fracking moratorium:

Japan could be on course to become the world's largest market for solar energy, just two years after the Fukushima power station melt down took virtually all of its nuclear fleet offline.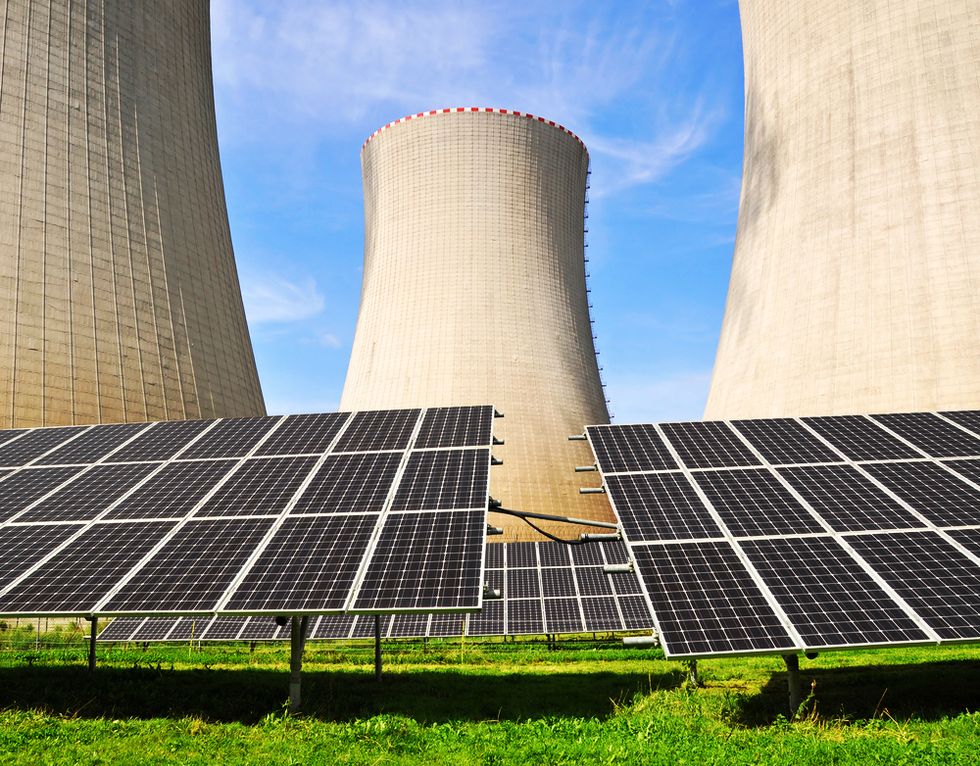 Photo courtesy of Shutterstock
Analysts at Deutsche Bank suggest that Japan could take over the top spot for solar power within the next two years, while industry consultant IHS said that in revenue terms, Japan could overtake current leader Germany this year.
It expects to see sales of $20 billion of solar modules in 2013.
Following the Fukushima nuclear disaster, the government in Japan announced last year that it aimed to phase out nuclear power by 2040.
Data released by the Japan Photovoltaic Energy Association last Friday showed that first quarter installations in Japan rose nearly three-fold to 3,809 megawatt (MW), helped by the introduction last July of above-market incentives in the form of feed in tariffs (FiTs).
Those FiTs, widely used around the world, were wound back in April from 37.8 yen (37.5 cents) per kilowatt hour (kWh) from 42 yen, but according to Bloomberg, is still more than twice those of China (1 yuan or 16c/kWh) and Germany (0.1082 Euro of 14c/kWh).
In the seven months from the introduction of the tariffs and the end of February, Japan's Ministry of Economy, Trade and Industry approved 12,258 MW of solar projects—both residential and non-residential—at the higher tariff, and Deutsche Bank estimates that Japan will have an annualized "run rate" of up to 9,000 MW.
The Deutsche Bank analysts said the tariffs had already had an impact on costs, with the total system costs for large-scale projects declining by nearly 30 per cent from 280 yen/watt in the last quarter of 2012 to as low as 200 yen/watt now.
Visit EcoWatch's RENEWABLES page for more related news on this topic.
——–
Click here to tell Congress to Expedite Renewable Energy

The International Energy Agency (IEA) released today a major new report warning that nothing short of an energy sector revolution is required to protect the world from runaway climate change and a global temperature rise beyond two degrees Celsius.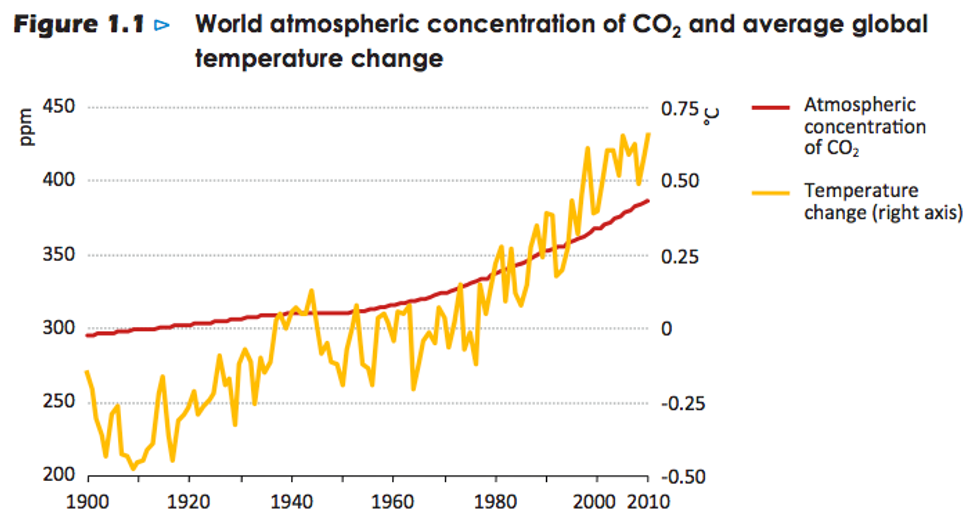 In what is the IEA's most urgent call for climate action yet, the World Energy Outlook Special Report 2013: Redrawing the Energy Climate Map advocates a "reorientation of an energy system currently dominated by fossil fuels," and proposes near-term action to clean up the power sector and halt the increase of global emissions by 2020.
It also calls for "transformational" change in energy generation worldwide in the longer term.
IEA Executive Director Maria van der Hoeven said:
Climate change has quite frankly slipped to the back burner of policy priorities. But the problem is not going away—quite the opposite.

This WEO [World Energy Outlook] Special Report is a timely reminder that climate change must remain a permanent and prominent item on the policy agenda. It seeks to outline the intensive action which we need to start implementing today, without waiting to 2020 or later for a global agreement to take effect.
Compared to 2011, energy-related carbon dioxide emissions in 2012 have increased by 1.4 percent.
A new global agreement aimed at meeting this target will not emerge before 2015 and is not likely to be implemented before 2020.
Meanwhile, the world is drifting further towards dangerous levels of average temperature rise and runaway climate change; the IEA projects an increase of 3.6 to 5.3 degrees Celsius by the end of the century. Scientists warn this level of warming could threaten civilization as we know it.
In its "4-for-2 degrees Celsius" scenario, the report proposes four near-term "pragmatic and achievable" measures to put the world on track to limiting warming to safer levels and could reduce emissions by eight percent on levels otherwise expected by 2020 without harming economic growth.
Targeted energy efficiency measures in buildings, industry and transport would account for nearly half of these savings by 2020 while limiting the construction and use of the least-efficient coal-fired power plants could deliver another 20 percent of these savings—while helping to curb local air pollution.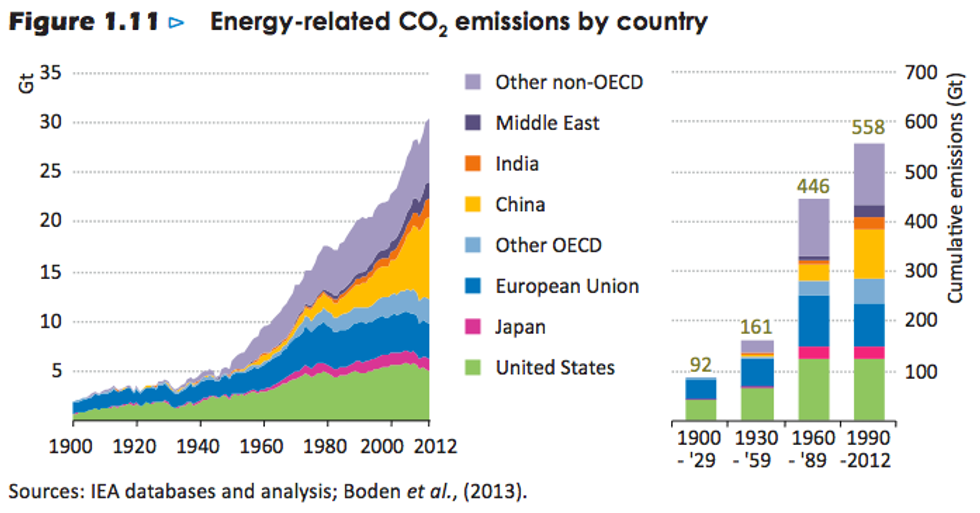 The report estimated renewable energy generation would increase from around 20 percent to 27 percent over the same period to fill the void created.
Halving methane releases from flaring in the oil and gas industry could provide another 18 percent of the savings and implementing a partial phase of out fossil fuel consumption subsidies would account for 12 percent, according to the report.
The IEA also makes the economic case for avoiding a looming 2017 lock-in for long-term warming above 2ºC. While delaying climate action across the entire energy system till 2020 would save $1.5 trillion, the report estimates that an additional $5 trillion will be needed in low-carbon investment after this date.
Fossil fuel power plants have long life cycles and are therefore exposed to serious risks in a carbon-constrained world, facing early and costly retirement or retrofitting, or even becoming "stranded assets."
In a report last year, the IEA warned that—to stay below two degrees Celsius—about two-thirds of proven global fossil fuel reserves have to stay in the ground. Yet companies spend vast amounts not only digging up known fossil fuel reserves but by looking for and developing new fossil fuel reserves.
A recent report from the Carbon Tracker Initiative found that the financial industry invested $674 billion in such projects last year alone, and warned that $6 trillion could be pumped into a "carbon bubble" over the next decade.
In response to this dire outlook for carbon-intensive utilities, the IEA promotes a strong global carbon market and carbon capture and storage (CCS) technologies as possible ways to avoid problems and to create a role for fossil fuels in the future energy mix of a carbon-constrained world.
However, in the same report the IEA also warns that the use of CCS "remains distant" as the technology has yet to be deployed at scale, and it could still be many years before the power sector could rely on it, if full-scale deployment ever becomes a reality.
Greenpeace also warns that power plants fitted with the technology require 11-40 percent more fuel and thus boost dependence on fossil fuels even further.
While generally welcoming the IEA's call to action, environmental groups have upped the stakes.
Samantha Smith, leader of the World Wildlife Fund (WWF) Global Climate & Energy Initiative said:
This is a welcome intervention by the IEA, particularly the focus on energy efficiency standards for lighting, cars and appliances as well as cutting methane losses in oil and gas production. Unfortunately, the other policies are incomplete, not ambitious enough or regionally biased. With the world on track for catastrophic levels of global warming, as the IEA says, these stop-gap proposals simply don't go far enough.
Building on IEA arguments they argue that the IEA should set a target to cut emissions from coal power 20 percent by 2020—targeting all power stations.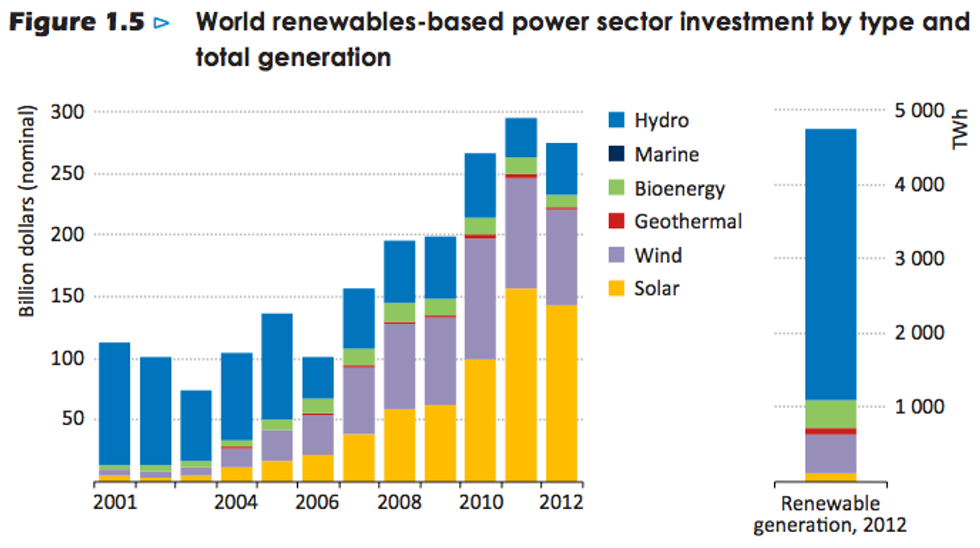 They also call for deeper cuts in fossil fuel subsidies, phasing out both consumption subsidies and production subsidies—those providing incentive for exploring for new reserves—in both developed and developing countries.
According to the IEA, $523 billion was spent globally in 2011—up 30 percent from 2010 and huge in comparison to the $88 billion spent on subsidising clean renewables.
WWF says governments should instead use taxpayer money to boost renewables and fight energy poverty.
Visit EcoWatch's CLIMATE CHANGE page for more related news on this topic.
——–
Click here to tell Congress to Expedite Renewable Energy

On the invitation of the German Environment Minister Peter Altmaier, high-level representatives from 10 countries have gathered in Berlin to establish the Renewables Club on June 1. Their common goal is to scale up the deployment of renewable energy worldwide. Founding members of this pro-renewable alliance are China, Denmark, France, Germany, India, Morocco, South Africa, Tonga (as a representative of small and medium-sized island nations), United Arab Emirates, United Kingdom and the director-general of the International Renewable Energy Agency (IRENA).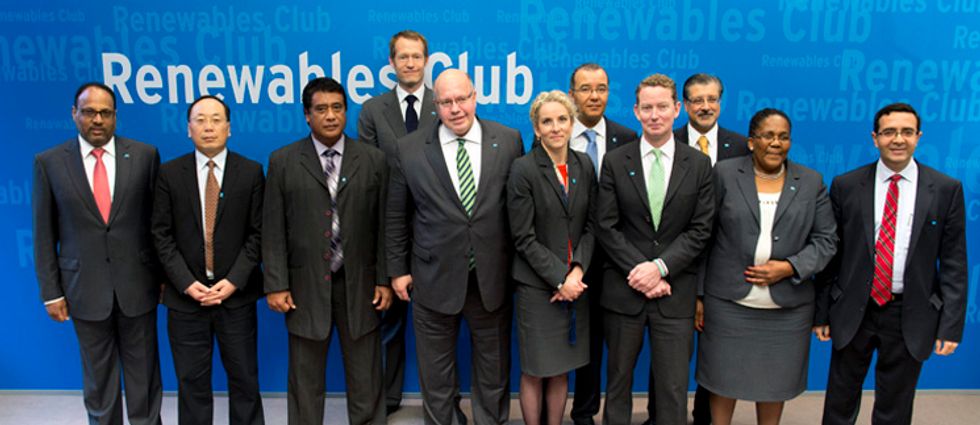 "As members of the Club, we aim to lead by example," said Minister Altmaier. "The Renewables Club is a political initiative of pioneering countries that are united by an important goal: a worldwide transformation of the energy system." In such a system, renewable energy should play a key role in the future global energy supply.
"We are determined to work together as advocates and implementers of renewable energy at global level," said Altmaier. "We in Germany do not stand alone with our Energiewende [energy transition], but are a part of a strong group of leaders."
The Renewable Club's purpose is to supplement and support IRENA.
"Renewable energy is not only a good way of combating climate change, it also contributes to prosperity and supply security throughout the world," said Minister Altmaier. "Especially at a time of growing energy demand, this is the attraction of renewable energy for countries all over the world."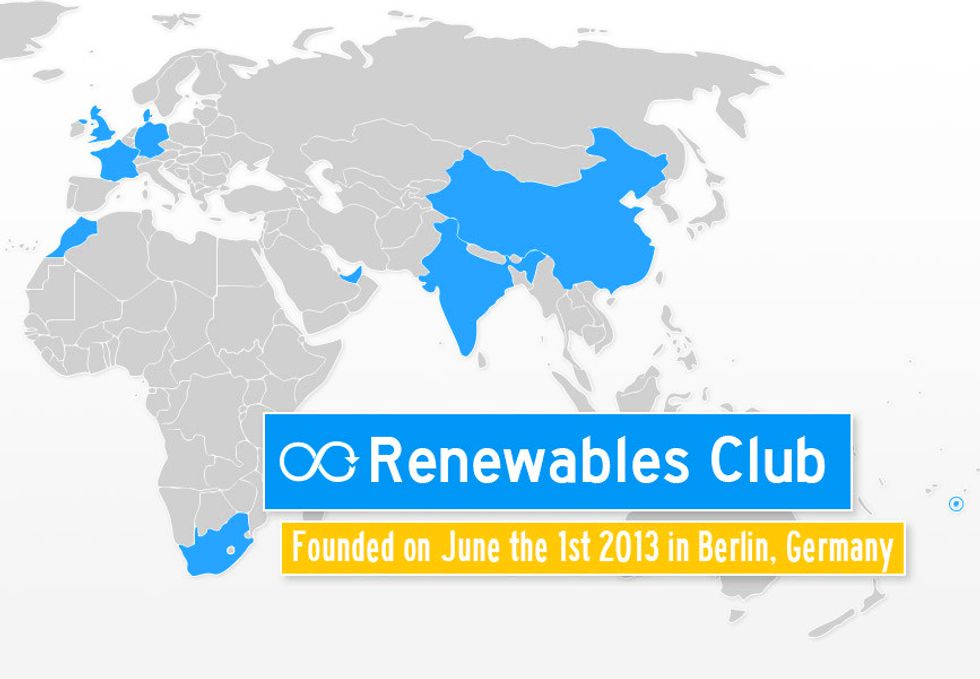 The Renewable Club members agreed to unite in putting renewable energy on the political agenda in the future. At the next UN climate conference, club members plan to jointly present the advantages of renewable energy for prosperity, climate and sustainable development. As a network and driver of ideas, members also aim to generate incentives for projects promoting the global transformation of the energy system.
While the formal foundation of a club of pro-renewable energy nations did not come with any binding targets nor joined projects, it does send out some very powerful messages. One of the most important messages is probably the fact that 10 diverse nations publicly declare that the world has to move to a renewable future at this moment to deal with many of the challenges of our time. The following is a statement from the Renewables Club:
We recognize that, with the global energy demand predicted to rise  tremendously in the years to come, countries are facing investment and infrastructure decisions on a scale that will define the development of generations to come. We also recognize that the current energy system as it stands right now poses risks to the climate, environment, poverty eradication, energy security and development, in particular in most vulnerable countries.
We are convinced that renewable energy, including transmission and interconnection infrastructures, is an essential part of the solution to the existential challenges we are facing and the means to transform the path to sustainability. We stress that renewable energy has entered into a virtuous circle of falling costs, increasing deployment and accelerated technological progress, renewable energy technologies now representing economical choices in an increasing number of countries and regions.
What is even more impressive than the refreshingly clear language are some of the statistics and facts on the Renewables Club, even in its current 10-member set up:
With approximately 2.9 billion inhabitants, the 10 member nations represent about 40 percent of the world population.
With approximately $19 trillion, they also represent about 27 percent of the world economy (measured in nominal Gross Domestic Product).
The members of the Renewables Club represented 40 percent of global investments in renewables last year.
The Renewables Club includes economies that are leaders in technology, innovation, industry, renewable deployment and efficient policy frameworks, as well as those emerging economies that will benefit the most from a rapid transition to renewable energy.
In all fairness, the establishment of this club is perhaps just some symbolic low-level political "noise," but it might also be the beginning of an important international institution that acts as a strong voice for the proven working solutions to many of the world's problems, and as a spearhead against many of the political barriers that hinder progress today.
Perhaps a good indication of the latter is the fact that the formal foundation of this "coalition of the willing" or "axis of renewables" initiated by the German government was precluded by many bilateral agreements, cooperation treaties and even explicit development projects.
Visit EcoWatch's RENEWABLES page for more related news on this topic.
——–
Click here to tell Congress to Expedite Renewable Energy

Gas prices are on the decline as we head into the summer driving season, deflating the GOP's gas price attacks and pushing their allies to use their old playbook against clean energy. (Click here for Solyndra talking points.) Now is the time to go on offense with progressive energy solutions—which polls show Americans rightly see as more credible than "drill here, drill now."
FUEL EFFICIENCY STANDARDS
Killer Facts: Thanks to the Obama Administration's fuel efficiency standards, Americans will save more than $1.7 trillion at the pump—more than $8,000 per vehicle by 2025. Almost 90 percent of small business owners believe it's important to take action now to increase fuel efficiency in cars and light trucks.
REINING IN WALL STREET SPECULATION
Killer Facts: Each year, the impact of excessive speculation on gas prices costs a typical owner of a Honda Civic $400 more, a Ford Explorer driver $550 more, and an F-150 pickup owner $750 more.
CLEANER, SAFER SOURCES OF ENERGY
Killer Facts: Under President Obama, the U.S. is now closest we've been in almost 20 years to achieving energy independence. For the first time in over a decade, America is importing less than half of the oil our nation uses, and domestic oil output is the highest in eight years.
THE GOP STRATEGY: WHAT DOESN'T WORK
Killer Facts: For every penny more consumers pay at the gas pump, Big Oil profits shoot up by another $200 million. In return, almost 90 percent of the oil and gas industry's contributions this election cycle have gone to Republicans.
Visit EcoWatch's ENERGY page for more related news on this topic.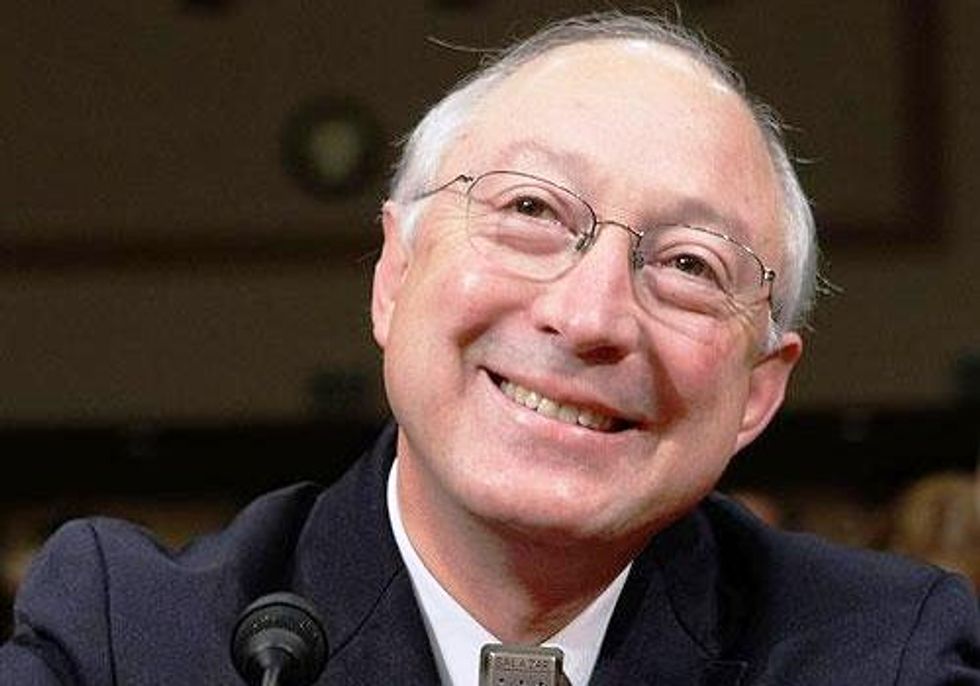 WHAT: Building a Comprehensive Energy Portfolio forum with Ken Salazar, United States Secretary of the Interior
WHEN: Feb. 14, 12 p.m.
WHERE: Sammy's Metropolitan Restaurant and Ballroom, 925 Euclid Ave., 21st Floor, Cleveland, Ohio 44115
Since being confirmed as Secretary of the Interior in 2009, Ken Salazar has been a champion of developing our nation's domestic energy resources in a safe and responsible way, including onshore and offshore oil and gas resources. Building a renewable energy economy is a top priority for President Barack Obama and Salazar's office has approved the first-ever solar energy projects on public lands and recently approved moving forward with the development of offshore "wind energy areas" in Delaware, Maryland, New Jersey and Virginia.
As a U.S. Senator, Salazar was also involved in building a comprehensive energy portfolio. He was involved in every major bipartisan legislative effort on energy since 2005, including helping craft the Renewable Fuels, Consumer Protection, and Energy Efficiency Act of 2007. Salazar also tackled the challenge of providing affordable health care by fighting to broaden the Children's Health Insurance Program and by working to improve health care for older Americans.
Ken Salazar, a fifth-generation Coloradan, was confirmed as the 50th secretary of the U.S. Department of the Interior on Jan. 20, 2009, in a unanimous vote by the U.S. Senate.
Tickets: $35 - Individuals; $500 - table of eight. All prices include lunch. Reservations and cancellations are required at least 24 hours in advance of the event.
For more information and to make a reservation, click here or call 216-621-0082.