North Carolina senators are taking an American Legislative Exchange Council (ALEC) style approach in their efforts to push through legislation that allows oil companies a loophole in regulations requiring disclosure of the chemicals used in hydraulic fracturing, or fracking, operations.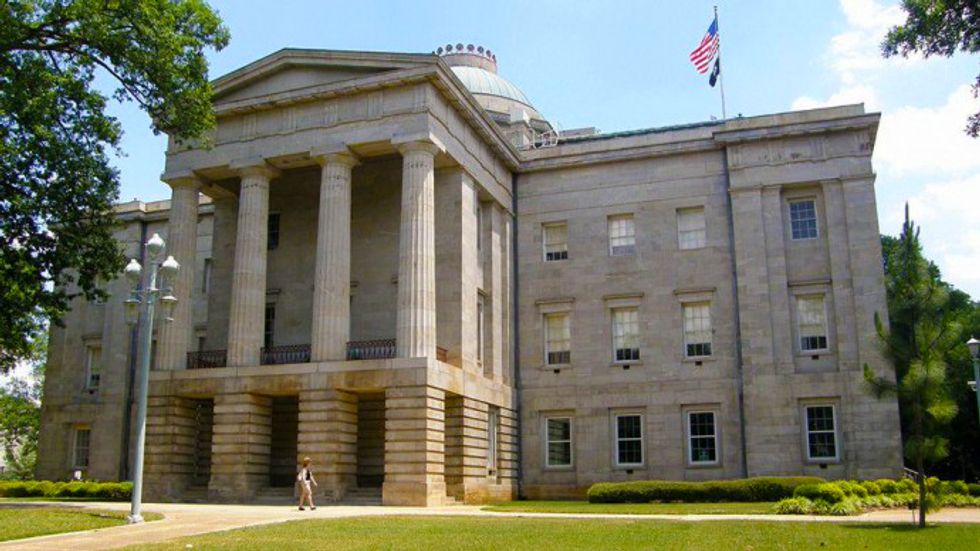 This week, a state Senate committee approved a version of what is normally an annual environmental "housecleaning bill," according to the Associated Press. While the House version of the bill was a mere four pages, the Senate version contained 44 pages and language relating to the regulation of the fracking industry.
The Senate's version allows companies to withhold "trade secret" chemicals used in the drilling process. Similar provisions are seen in model ALEC legislation that has been adopted by states throughout the nation—including Florida and, most recently, Illinois.
The regulations came as a surprise to North Carolinians, as the legislature voted earlier this year to create an Energy and Mining Commission, a body whose purpose is to create regulations for the industry. The commission's most recent attempts were axed after Halliburton, a leader in the industry, claimed the regulations were too intense.
With fracking poised to begin in the state by 2015, environmental advocates are calling out the most recent Senate move as an attempt by pro-fracking forces to steamroll the process of creating fracking regulations.
Oil companies have already purchased more than 9,000 acres of land for drilling in Chatham, Lee and Moore Counties, according to Environment North Carolina.
North Carolina's Tug-of-War Over Fracking
Republican state Sen. Bob Rucho is the likely suspect behind the somewhat secretive moves made by the Senate this week. Sen. Rucho is a staunch advocate of the would-be fracking industry in the state.
In June 2012, when debating the issue in the Senate, Rucho was quoted by McClatchy News Service in a debate over the safety of the fracking industry, saying, "The only way you'll ever know is by actually punching down some wells."
In February, Rucho co-sponsored SB 76, which set March 2015 as the goal for the issuance of fracking permits, undoing a previously issued moratorium. The bill also set Oct. 1, 2014, as the deadline for the state to come up with a "modern regulatory program for the management of oil and gas exploration and development activities."
On June 7, the House voted in favor of a version of SB 76 that would also allow permits to be issued by March 1, 2015.
"Nothing will get done if you don't have a timeline," Rucho told Stateline, the news service of the Pew Charitable Trusts. "We believe we have a significant resource here … the upside potential is tremendous."
In July 2012, Republicans, with the help of one accidental Democratic vote, overrode Gov. Bev Perdue's veto of a fracking bill, ushering in the Clean Energy and Economic Security Act. The legislation called for the creation of the Energy and Mining Commission, which would be responsible for coming up with regulations by October 2014.
Those in the state concerned with fracking saw it not as a step in the direction of caution, but one that paves the way for the oil and gas industry to move in without adequate environmental review.
As environmentalists saw it, regulations were not an appropriate substitute for an environmental review.
"Without allocating funding to this effort, the bill directs to develop a massive new oil and gas regulatory infrastructure, but ignores the DENR's [Department of Energy and Natural Resources] recommendation that more studies are needed to determine if fracking can be done safely in NC [North Carolina], given the state's unique geology," Sierra Club's North Carolina branch said in a statement following the move.
That new regulatory department, the Energy and Mining Commission, has already come under scrutiny by environmental groups for caving to industry pressure.
Minutes from the commission's March meeting indicate it had already been looking into a chemical disclosure system that allowed for "trade secrets" to be left out. However, it would have required chemicals to be released for each well.
Like other states, the commission was looking at the industry-created FracFocus website, an online platform that allows companies to disclose chemicals used at each well, aside from those deemed trade secrets.
"Committee Chairman (George) Howard stated that the trade secret disclosure rule would require all companies to submit a master chemical family name list of fracturing fluid additives before being permitted for operations," minutes for the March 2013 meeting state. "Emergency responders and health professionals would be notified within two hours of a request for trade secret information via telephone."
The commission's move to potentially institute chemical disclosure rules of any kind were halted when Halliburton, a leader in the fracking industry, flexed its muscles. According to the News Observer, Halliburton told the Commission that the regulations were too strict.
Halliburton runs its own chemical disclosure operation on its website. In 2010, in the midst of a debate with the U.S. Environmental Protection Agency about disclosure regulations, the company launched its own "honesty policy" website, showcasing chemicals used in the states in which it operates.
"While it's nice to see Halliburton acknowledging that desire, it's not meaningful or sufficient unless the information is fully disclosed on a site-by-site basis," Natural Resources Defense Council's Amy Mall told The New York Times in 2010.
This isn't the first time Halliburton has influenced fracking politics. The entire oil and gas industry in the U.S. is exempt from the Clean Air Act and Clean Water Act, thanks to exemptions issued in the 2005 energy bill that were supported by then-Vice President Dick Cheney, former CEO of Halliburton.
What's the Big Deal?
According to a 2009 North Carolina Geological Survey report, the state has two potential areas for commercial oil extraction, and one of them—the Atlantic Outer Continental Shelf formation—extends nearly 50 miles into coastal waters.
"The offshore Atlantic Outer Continental Shelf remains prospective and may be tested in the future," the 2009 report states.
According to McClatchy News Service, the federal government estimates there are 1.7 cubic feet of natural gas in a 150-mile stretch of the Deep River Basin. The estimated extraction potential would provide 5.6 years of use, based on the state's 2010 consumption rates.
Fracking, which injects water, silica sand and chemicals into the Earth to break up rock formation, allowing oil to be extracted, is a concern for those living near fracking wells. At the top of the list of concerns is groundwater contamination, which can result when the flow of chemicals used makes its way into the groundwater table.
According to Environment North Carolina, the drinking water of more than 2.4 million people who live on the coast and the piedmont—areas where oil has been identified—would be at risk.
There's debate over how frequently this occurs. A study published this week by North Carolina's Duke University profiles water contamination in Pennsylvania, a frack-heavy state. The study sampled water from 141 drinking water wells throughout the area.
The report indicates that methane was detected in 82 percent of drinking water samples, with "average concentrations six times higher for homes" less than 1 kilometer from fracking wells. Ethane levels were 23 times higher in homes less than 1 kilometer from fracking wells. Propane was detected in 10 water wells, all within a kilometer of fracking operations.
The North Carolina Senate bill regulations, like those in other ALEC bills, aim to provide a form of transparency, allowing residents access to the chemicals being used in the drilling process.
Yet without full knowledge of chemicals, anti-fracking advocates are claiming the so-called regulations don't do much good.
Visit EcoWatch's FRACKING page for more related news on this topic.
——
Sign the petition today, telling President Obama to enact an immediate fracking moratorium:

EcoWatch Daily Newsletter
By Andrew Morris
The relatively untapped Chattanooga shale field—which runs from southern Kentucky through central Tennessee—will soon see a long awaited incursion of major gas and oil companies such as CONSOL Energy, CNX Gas, GeoMet and Atlas Energy. Tennessee's General Assembly's Joint Committee on Government Operations passed a series of rules on fracking on May 22, set to go into effect June 18.
CONSOL Energy—which has gas leases on roughly 240,000 acres in the state–already is preparing to begin horizontal drilling in Anderson County, which borders Kentucky. Soon workers will shoot gallons of water and nitrogen into the shale rock in order to release and collect the natural gas within. Some of the most glaring issues regard the notably high bar on when the rules actually apply—which most operations will not meet due to low demand and the state's geography.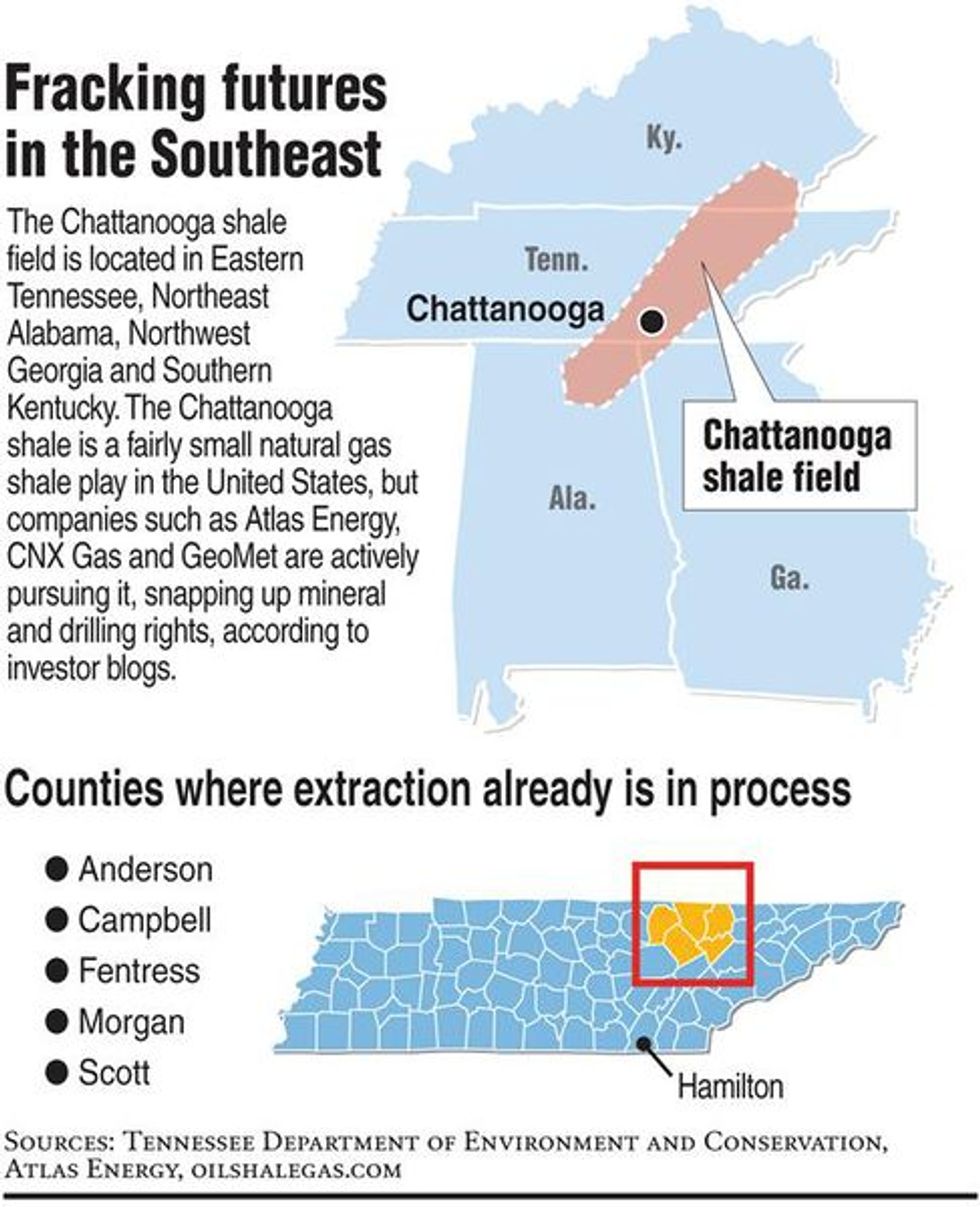 Unlike the Marcellus shale field in Pennsylvania, Tennessee's Chattanooga field is significantly shallower, which warrants less water to be used. Part of the controversy with the new rules is that public notice only applies when operations exceed 200,000 gallons of water, which is unlikely in the case of Chattanooga as significantly less water is necessary. In addition, general notice of the operations themselves is only required for those living half a mile from the site, which would exclude many.
In September local environmental groups pushed for a ban on fracking operations that would use water exceeding 200,000 gallons. The board dismissed the ban but kept 200,000 gallons as a marker for public notification. The board, at that time called the Oil and Gas Board—now merged with the Water Quality Control Board, forming the Board of Water Quality, Oil and Gas—ignored the cries of the groups for tighter regulations.
Serious questions have arisen about the effectiveness of the new set of rules in assuring proper safety of the local population and environment. Groups such as the Tennessee Clean Water Network and the Sierra Club's Tennessee Chapter were less than enthused. Concerns were raised about the safety of local groundwater, as fracking produces significant quantities of wastewater—also known as flowback—which contains salt, oil, grease and occasionally radioactive material depending on the location and method of fracking.
"Wastewater disposal is a significant issue in the Northeast where fracking occurs," contends Meg Lockhart of the Tennessee Department of Environment and Conservation. "The amounts of liquid we're dealing with in Tennessee are much, much smaller, if liquid is used at all."
"But, if water in any significant quantity is used, some of it would come back up the well," said Renee Hoyos, executive director of the Tennessee Clean Water Network.
It is a bit hyperbolic at this stage to assume that fracking operations in Tennessee will reach the level of Ohio or Pennsylvania, but if gas prices resume an increase in the near future we can expect to see more and more companies expanding into previously ignored areas of the country.
Visit EcoWatch's FRACKING page for more related news on this topic.
——–
Sign the petition today, telling President Obama to enact an immediate fracking moratorium:

Like many other plant-based foods and products, CBD oil is one dietary supplement where "organic" labels are very important to consumers. However, there are little to no regulations within the hemp industry when it comes to deeming a product as organic, which makes it increasingly difficult for shoppers to find the best CBD oil products available on the market.
<p>Here you can learn about the importance of organic hemp oil, why it's better for the environment, and which CBD companies actually make trustworthy products with sustainable farming processes. origins which weigh heavily on many consumers who want to buy a product that's produced in the best way possible for not only themselves to ingest, but for the environment as well through sustainable farming methods. </p><h2>What Is CBD Oil?</h2><p>First things first, CBD stands for cannabidiol, and it's a cannabinoid found within cannabis sativa plants. This plant compound is believed to have many potential benefits, and it is primarily derived from hemp plants via a CO2 extraction process. </p><p>Since CBD is extracted from industrial hemp, which contains only trace amounts of THC (the psychoactive component in cannabis plants), this means that CBD won't make you feel high like marijuana, which has much higher levels of THC that causes psychoactive effects. Instead, the effects of CBD are much more subtle and promote a general sense of calm and relaxation in most users.</p><h2>What Makes a CBD Oil Organic?</h2><p>In terms of organic labels, perhaps the most important (and prominent) certification comes from the United States Department of Agriculture (USDA). This government organization has been labeling foods as "organic" for many years, but what exactly does this certification entail? Essentially, a label indicating that a product is "USDA Organic" or "Certified Organic" means that at least 95% of the ingredients are obtained from organic sources.</p><p>For a crop to be considered organic by the USDA, it must be grown without the use of industrial solvents, irradiation, genetic engineering (GMOs), synthetic pesticides, or chemical fertilizer. Instead, farmers rely on natural substances and <a href="https://www.usda.gov/media/blog/2012/03/22/organic-101-what-usda-organic-label-means" rel="noopener noreferrer" target="_blank">mechanical, physical, or biologically based farming</a> techniques to cultivate healthy and organic crops.</p><p>Before the passage of the 2018 Farm Bill, no hemp-derived products could be dubbed as "certified organic" since the hemp plant and its extracts were still categorized as a Schedule I Controlled Substance. However, it's still difficult for CBD companies to obtain a USDA certified organic label for their products due to the legal grey area that still surrounds CBD extracts. </p><p>Because of these challenges, and due to the fact that industrial hemp has only recently become an agricultural crop, very few CBD oils are USDA certified organic. Rather, many CBD products contain hemp extracts from plants that were grown in organic conditions but may not be federally certified.</p><h2>What are the Best Organic CBD Oil Brands?</h2><p><em>Each product featured here has been independently selected by the writer. If you make a purchase using the links included, we may earn commission.</em></p><em><br></em>