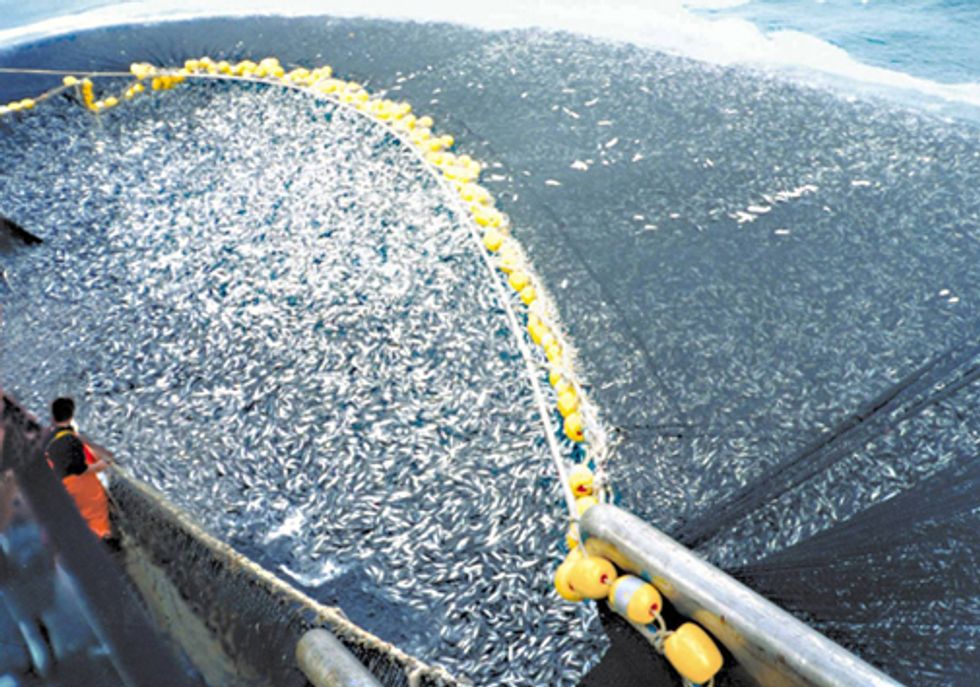 Asian, European and Latin American fleets have devastated fish stocks in the southern Pacific, once among the world's richest waters, a new investigation by the International Consortium of Investigative Journalists (ICIJ) has found.
Governments with the power to stop the plunder have stalled for years, and no binding rules are in place. The result—Stocks of jack mackerel are down 90 percent to less than 3 million metric tons in just two decades. The oily fish is a staple in Africa, but people elsewhere are unaware that it is in their forkfuls of farmed salmon. Jack mackerel is a vital component of fishmeal for aquaculture.
Today, industrial fleets bound only by voluntary restraints compete in what amounts to a free-for-all in open waters from the west coast of South America across much of the southern Pacific.
Daniel Pauly, oceanographer of University of British Columbia, sees the jack mackerel crisis as an alarming indicator of progressive collapse in all oceans. "This is the last of the buffaloes," he told ICIJ. "When they're gone, everything will be gone ... This is the closing of the frontier."
Delegates from at least 20 countries will gather Jan. 30 in Chile's capital of Santiago to seek more progress toward the elusive goal of curbing this plunder.
Among the investigation's findings:
As other fisheries are pushed to their limits, giant trawlers have moved southward toward the edge of Antarctica to catch the fish that are left. Many are aided by government subsidies.
National interests and geopolitical rivalry have blocked efforts, since 2006, to create and ratify a regional fisheries management organization that can impose binding legal measures to rescue jack mackerel from further collapse.
In Chile, a handful of companies controlled largely by wealthy families own rights to 87 percent of the jack mackerel catch. With government backing they have secured unrealistically high quotas—beyond what scientists recommend to save the stock.
In Peru, the world's second largest fishing nation, widespread cheating at fishmeal plants allows companies to overfish and evade taxes. An ICIJ analysis reveals that at least 630,000 tons of anchoveta—worth nearly $200 million when reduced to fishmeal for aquaculture—"vanished" over two and a half years.
The Last Fish: Plunder in the South Pacific is the latest installment of Looting the Seas, a multi-year investigation looking at forces that are rapidly emptying oceans of fish. The stories are published in partnership with media around the world, including the International Herald Tribune, Le Monde (France), South China Morning Post (Hong Kong), El Mundo (Spain), Trouw (The Netherlands), and the investigative journalism centers IDL-Reporteros (Peru) and CIPER (Chile). A documentary co-produced with London-based tve is planned to air on BBC World TV News in the spring.
Read the full investigation by clicking here
For more information, click here.
—————
The International Consortium of Investigative Journalists is a global network of reporters who collaborate on in-depth investigative stories. Founded in 1997, ICIJ was launched as a project of the Center for Public Integrity to extend the Center's style of watchdog journalism, focusing on issues that do not stop at national frontiers. With 160 members in 61 countries, ICIJ is dedicated to investigating cross-border crime, corruption, and the accountability of power. Backed by the Center and its computer-assisted reporting specialists, public records experts, fact-checkers and lawyers, ICIJ reporters and editors provide real-time resources and state-of-the-art tools and techniques to journalists around the world.
The Center for Public Integrity is a nonprofit, nonpartisan, and independent digital news organization specializing in original investigative journalism on significant public policy issues. Since 1990, the Washington, D.C.-based Center has released more than 500 investigative reports and 17 books to provide greater transparency and accountability of government and other institutions. It has received the George Polk Award and more than 50 other major journalism awards, including honors from Investigative Reporters and Editors, Online News Association, Overseas Press Club, Society of Environmental Journalists, and Society of Professional Journalists.
EcoWatch Daily Newsletter