This website uses cookies to ensure you get the best experience while browsing it. By clicking 'Got It' you're accepting these terms.
Light breaking through the cloud and catching the monsoon rains over the vast plains surrounding Tucson, Arizona. john finney photography / Moment / Getty Images
By Molly Matthews Multedo
Not much rain falls in the desert city of Tucson, Arizona. And as the climate warms, it's getting even drier. So when it does rain, it pays — literally — to make the most of it.
When it rains in cities or suburban areas with lots of roads and rooftops, rainwater is unable to soak into the ground. Instead, it flows along the surface where it picks up pollutants like sediment, chemicals, oil, grease or heavy metals. The runoff then flows into storm drains where it ultimately ends up in nearby rivers, lakes and streams.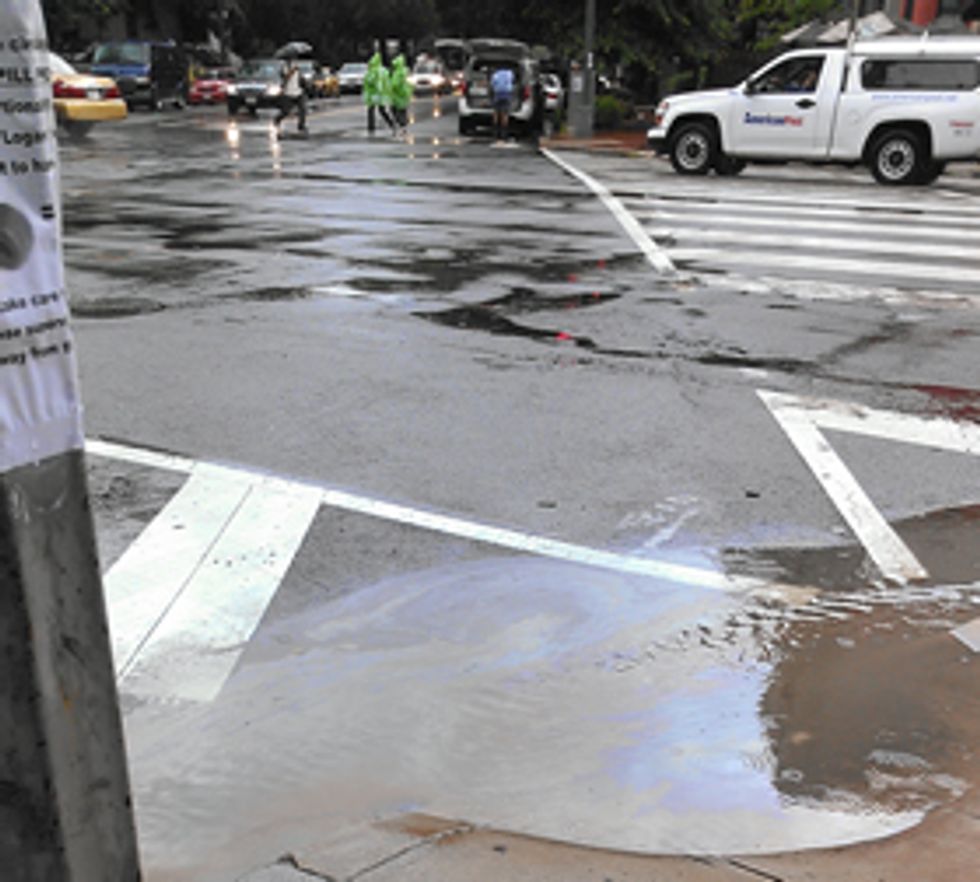 From basement backups to beach closures to sewage overflows, polluted runoff can have big costs for communities. The Federal Emergency Management Agency estimates that polluted urban runoff contributes to 25 percent of economic losses from flooding, totaling nearly $1 billion every year. The Environmental Protection Agency (EPA) has found that between 1.8 million and 3.5 million people are estimated to become sick from recreational contact with raw sewage discharges into waters every year.
In particular, large paved areas of commercial and industrial facilities built decades ago are significant contributors of polluted runoff yet are seldom required to control or treat it in ways that really protect our local waters. Taxpayer dollars already support public infrastructure to manage runoff and these existing sites are not doing their fair share.
Studies have consistently demonstrated that these sites accumulate large quantities of pollutants such as copper, lead, zinc, phosphorus and nitrogen. Although little management is required, runoff from these areas carries harmful contaminants into local waters that degrade drinking water supplies, cause beach closures and threaten fish habitat. Large volumes of runoff also contribute to local flooding, shutting down roads and exacerbating basement backups at additional costs to communities and local businesses.
Given that more than half of the hardened surfaces in our urban areas consist of buildings and parking lots (53.9 percent according to the U.S. Geological Survey), it will be practically impossible to attain clean water goals without controlling the runoff that leaves these sites.
Today, American Rivers, Anacostia Riverkeeper, Anacostia Watershed Society, Blue Water Baltimore/ Baltimore Harbor Waterkeeper, California Coastkeeper Alliance, Conservation Law Foundation, Natural Resources Defense Council, PennFuture, Potomac Riverkeeper and the Shenandoah Riverkeeper submitted petitions to the Environmental Protection Agency (EPA) that call on the Agency to use its existing authority to better manage runoff from existing commercial, industrial and institutional areas. 
These petitions are based on facts we all know—that rainwater running off the pavement and rooftops in these areas pollutes our waters.  They call on EPA to carry out the responsibility assigned to it by Congress in 1987, known as residual designation authority, to take steps that will create cleaner waters by reducing polluted runoff and keeping it out of storm sewers and local waterways.
These contributors should be held accountable for their contributions to pollution through runoff and help share the cost of managing their stormwater rather than placing the burden solely on the taxpayer. These sites can share in the cost of solutions to solve the problems they are helping create.
Visit EcoWatch's WATER page for more related news on this topic.
——–

EcoWatch Daily Newsletter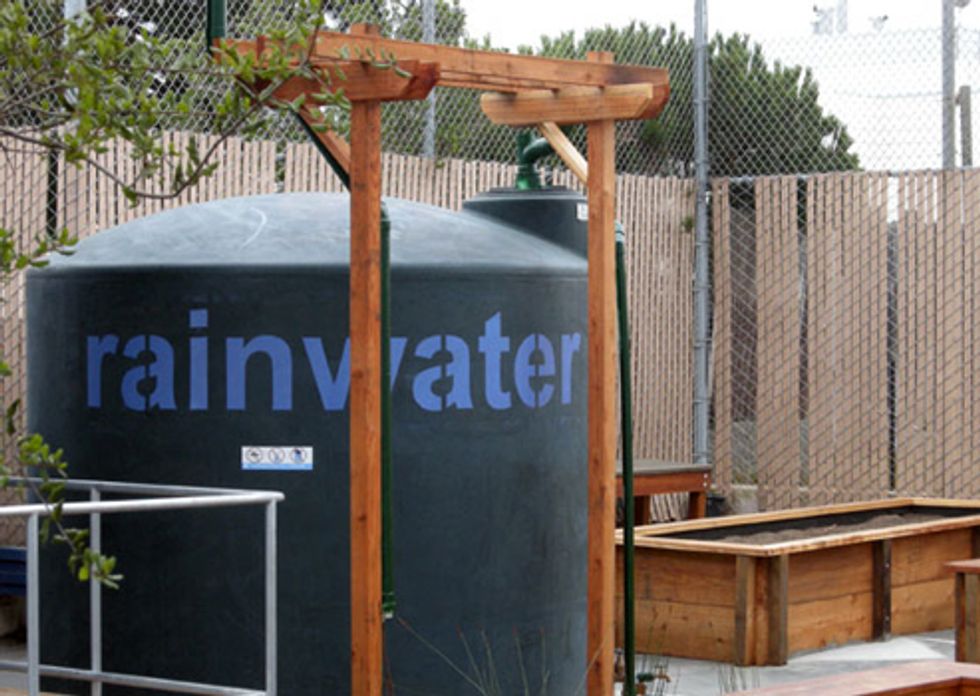 As America's expanding urban areas struggle with major water supply shortages and runoff pollution problems, capturing rainwater from rooftops provides a tremendous untapped opportunity to increase water supply and improve water quality, according to a recent analysis on Capturing Rainwater from Rooftops by the Natural Resources Defense Council (NRDC).
In its report, NRDC demonstrates the benefits and potential of rooftop rainwater capture, a "green infrastructure" practice that can be used to retain stormwater runoff on-site, by analyzing ways in which eight diverse U.S. cities could incorporate this simple water collection approach. By comparing annual rainfall totals to rooftop coverage, NRDC determined that opportunities exist in each city to capture hundreds of millions of gallons of rainfall every year for reuse. By doing so, residents of these communities would obtain inexpensive onsite water supplies for non-potable uses, such as yard watering and toilet flushing, reduce runoff pollution, and would lower energy costs associated with treating and delivering drinkable-quality water.
"Our analysis shows that solutions to one of America's biggest urban challenges are right in front of us—in this case, literally falling from the sky," said Noah Garrison, lead author of the report and NRDC water policy analyst. "The potential exists for cities throughout the U.S. to capture hundreds of millions or even billions of gallons of rainwater each year from urban rooftops. We encourage policymakers to look closely at the bottom-line benefits of rooftop rainwater harvesting, and consider implementing policies and incentives that generate more momentum for rainwater collection while making the practice more accessible as well."
Specifically, NRDC's report illustrates opportunities for capturing, treating and supplying harvested rainwater for non-potable purposes in Atlanta, Ga.; Austin, Texas; Chicago, Ill.; Denver, Colo.; Fort Myers, Fla.; Kansas City, Mo.; Madison, Wisc.; and Washington, D.C. Several success stories also demonstrate the effectiveness of rooftop rainwater capture for new construction in New York, N.Y., and redeveloped buildings in Santa Monica, Calif. The total annual volume of rainwater falling on rooftops in these cities alone, if captured in its entirety, would be enough to meet the water supply needs of at least 21 percent to as much as 75 percent of each city's population.
The report comes as the U.S. Environmental Protection Agency is in the process of updating its national standards for controlling runoff pollution from new development and existing paved areas. NRDC encourages the agency to adopt national standards for on-site stormwater retention that will increase green infrastructure approaches such as rainwater harvesting. As a result, communities can effectively transform polluted runoff flowing to our waterways into captured rooftop rainwater used as an on-site water supply resource.
"Urban areas struggling with water supply issues and runoff pollution should look to this report for ideas and encouragement," said Jon Devine, senior attorney in NRDC's water program.
NRDC encourages cities and states to develop policy options and incentives to encourage more rainwater harvesting. These include:
Adopt stormwater pollution control standards that require on-site volume retention.
Adopt standards that require or promote rainwater harvesting and/or water efficiency.
Review building, health and plumbing codes for barriers to reusing rainwater.
Provide incentives for decreasing stormwater runoff and promoting water conservation.
Require use of rainwater harvesting on all public properties.
The complete NRDC report is available by clicking here.
For more information on rooftop rainwater capture, see Noah Garrison's blog by clicking here.
For more information, click here.
—————
The Natural Resources Defense Council (NRDC) is an international nonprofit environmental organization with more than 1.3 million members and online activists. Since 1970, our lawyers, scientists, and other environmental specialists have worked to protect the world's natural resources, public health, and the environment. NRDC has offices in New York City, Washington, D.C., Los Angeles, San Francisco, Chicago, Livingston, Montana, and Beijing.