Aerial view of Yaguas River and the Cachimbo tributary. Alvaro del Campo, Field Museum
The Peruvian government announced it will establish a new and enormous national park in the Amazon.
Yaguas National Park, located in the northern region of Loreto, consists of 2,147,166 acres of rainforest, a vast river system and is home to more than 3,000 species of plants, 500 species of birds and 160 species of mammals, including giant otters, woolly monkeys, Amazonian river dolphins and manatees. The park also features 550 fish species—one of the richest fish faunas in the world.
The designation, approved after a Ministry Council meeting last week, is intended to conserve the region's precious biodiversity and protect the sacred lands of the indigenous communities that live around Yaguas.
The new park will "not only maintain a natural sanctuary, which is home to unique species in the world, but also generate opportunities for indigenous families," Prime Minister Mercedes Aráoz said.
According to a report from the website Latam, the Peruvian government can expect to gain about 23 million soles ($7,148,630) over a period of 20 years thanks to the creation of the national park and the benefits that the conservation of its biodiversity will bring to the communities located around the park. The preservation of species for subsistence hunting alone would save the communities more than $5.2 million, the report said.
The area has faced increased pressures from illegal logging and mining interests over the past two decades. Many indigenous communities of Yaguas have voiced concern by these threats and have thus cheered the creation of the national park.
"The mountain of our ancestors has to be a national park because it is a sacred place," explained Eriberto Jiménez Hilorio, president of the Indigenous Federation of the Border Communities of Putumayo.
The Andes Amazon Fund
"The benefits are for everyone, for the future of everyone, for the country, and for the world," added Liz Chicaje Churay, the president of the Federation of the Native Communities of Ampiyacu.
The Andes Amazon Fund will donate $1 million dollars towards establishing the park and providing social development opportunities for the indigenous communities.
"As a Peruvian conservationist, I am proud that with the creation of Yaguas National Park, Peru continues on the path of creating one of the most amazing park systems in the world," Andes Amazon Fund program director Enrique Ortiz said. "This park is as large as Yellowstone National Park and probably 10 times as diverse."
ANNOUNCEMENT- Andes Amazon Fund announces the donation of one million dollars to assist with the implementation of… https://t.co/IEpLjxpO2h

— Andes Amazon Fund (@Andes Amazon Fund)1515771758.0
From Your Site Articles
Related Articles Around the Web
EcoWatch Daily Newsletter
Carl Safina
In the course of writing a book about what free-living animals learn from each other, I find myself on the Tambopata River in southeast Peru. The nearest town is Puerto Maldonado but from there the trip is all upriver. Wheeled vehicles are useless in this forest, and there are none. The surrounding forest has been officially protected with designations of national reserve and national park.
Perhaps the strangest thing is that while it takes very special skills for humans to exist in the Amazon rainforest, my trip into the forest is amazingly comfortable. I'm here to hang out with scientists of the Tambopata Macaw Project at the Tambopata Research Center, a special privilege. My logistics are all being facilitated by the expert eco-tourism company Rainforest Expeditions, which is why my trip upriver is so easy.
Our first night, we stop at a tourist lodge called Refugio Amazonas. The next day we visit a Harpy Eagle nest with a big chick. I get lucky enough to see mama, too, when she delivers a monkey to her babe.
Harpy Eagle chick.Carl Safina
Adult Harpy Eagle.Carl Safina
From there it is upriver to the Research Center. There I have the enormous privilege of hanging out with researchers Don Brightsmith and Gaby Vigo, spending many hours watching wild macaws at their nests and visiting the "clay licks" from which they derive the sodium they require.
Macaws at clay lick. Carl Safina
Carl Safina
The forest is wholly overwhelming. From ground to canopy, the impression is of a wall of green. Through the ferns of the ground rise saplings and centenarians. Every vertical level is occupied. Trees vary enormously. There are hundreds of species of trees, some with straight dark trunks, spiny trunks, blotchy trunks; some are variegated; some mossy, viney, some bare. Some trees drop prop roots to the ground and others splay head-high buttress roots that emanate from the base of the trees like garden walls.
Within the forest.Carl Safina
Giant fig tree with buttress roots.Carl Safina
Occasionally a troop of peccaries trundles by, or an agouti, while the trees are rustled by howlers, titis, tamarins, capuchins, spider monkeys and squirrel monkeys.
Titi monkey.Carl Safina
But most of my time and attention are devoted to the macaws I've come for. They light the emerald jungle with their flaming bodies.
Scarlet macaws.Carl Safina
Blue-and-yellow macaws.Carl Safina
Seeing flocks of macaws helped me remember how big the natural world is supposed to be. And how beautiful it is—where it remains.
Macaw flock.Carl Safina
If this is not magic enough, the morpho butterflies provide an added shock of beauty, looking like dried leaves when folded in prayerful rest, then weaving their electric blue through the sunshafts and shadows.
Carl Safina
Morpho butterfly.Carl Safina
Overall it's a miraculous glimpse of the original world. May it stay protected from chainsaws and bullets. May we find a way to let it be—this beautiful home of millions of beings—as it has been for millions of years. Because this is where the living world gets its power, and catches its breath.
From Your Site Articles
Related Articles Around the Web
waterlust.com / @tulasendlesssummer_sierra .
Each product featured here has been independently selected by the writer. If you make a purchase using the links included, we may earn commission.
The bright patterns and recognizable designs of Waterlust's activewear aren't just for show. In fact, they're meant to promote the conversation around sustainability and give back to the ocean science and conservation community.
Each design is paired with a research lab, nonprofit, or education organization that has high intellectual merit and the potential to move the needle in its respective field. For each product sold, Waterlust donates 10% of profits to these conservation partners.
Eye-Catching Designs Made from Recycled Plastic Bottles
waterlust.com / @abamabam
The company sells a range of eco-friendly items like leggings, rash guards, and board shorts that are made using recycled post-consumer plastic bottles. There are currently 16 causes represented by distinct marine-life patterns, from whale shark research and invasive lionfish removal to sockeye salmon monitoring and abalone restoration.

One such organization is Get Inspired, a nonprofit that specializes in ocean restoration and environmental education. Get Inspired founder, marine biologist Nancy Caruso, says supporting on-the-ground efforts is one thing that sets Waterlust apart, like their apparel line that supports Get Inspired abalone restoration programs.
"All of us [conservation partners] are doing something," Caruso said. "We're not putting up exhibits and talking about it — although that is important — we're in the field."
Waterlust not only helps its conservation partners financially so they can continue their important work. It also helps them get the word out about what they're doing, whether that's through social media spotlights, photo and video projects, or the informative note card that comes with each piece of apparel.
"They're doing their part for sure, pushing the information out across all of their channels, and I think that's what makes them so interesting," Caruso said.
And then there are the clothes, which speak for themselves.
Advocate Apparel to Start Conversations About Conservation
waterlust.com / @oceanraysphotography
Waterlust's concept of "advocate apparel" encourages people to see getting dressed every day as an opportunity to not only express their individuality and style, but also to advance the conversation around marine science. By infusing science into clothing, people can visually represent species and ecosystems in need of advocacy — something that, more often than not, leads to a teaching moment.

"When people wear Waterlust gear, it's just a matter of time before somebody asks them about the bright, funky designs," said Waterlust's CEO, Patrick Rynne. "That moment is incredibly special, because it creates an intimate opportunity for the wearer to share what they've learned with another."
The idea for the company came to Rynne when he was a Ph.D. student in marine science.
"I was surrounded by incredible people that were discovering fascinating things but noticed that often their work wasn't reaching the general public in creative and engaging ways," he said. "That seemed like a missed opportunity with big implications."
Waterlust initially focused on conventional media, like film and photography, to promote ocean science, but the team quickly realized engagement on social media didn't translate to action or even knowledge sharing offscreen.
Rynne also saw the "in one ear, out the other" issue in the classroom — if students didn't repeatedly engage with the topics they learned, they'd quickly forget them.
"We decided that if we truly wanted to achieve our goal of bringing science into people's lives and have it stick, it would need to be through a process that is frequently repeated, fun, and functional," Rynne said. "That's when we thought about clothing."
Support Marine Research and Sustainability in Style
To date, Waterlust has sold tens of thousands of pieces of apparel in over 100 countries, and the interactions its products have sparked have had clear implications for furthering science communication.
For Caruso alone, it's led to opportunities to share her abalone restoration methods with communities far and wide.
"It moves my small little world of what I'm doing here in Orange County, California, across the entire globe," she said. "That's one of the beautiful things about our partnership."
Check out all of the different eco-conscious apparel options available from Waterlust to help promote ocean conservation.
Melissa Smith is an avid writer, scuba diver, backpacker, and all-around outdoor enthusiast. She graduated from the University of Florida with degrees in journalism and sustainable studies. Before joining EcoWatch, Melissa worked as the managing editor of Scuba Diving magazine and the communications manager of The Ocean Agency, a non-profit that's featured in the Emmy award-winning documentary Chasing Coral.
In a historic verdict in defense of forests and human rights, a court in Central Kalimantan has ordered the government of the Indonesian province to review the permits of palm oil companies associated with massive forest and peat land fires in 2015.
The case against the government in Central Kalimantan was filed in 2016 by seven Indonesian citizens and supported by Friends of the Earth Indonesia (WALHI), following a 2-month mediation process. Among the evidence presented were findings previously presented in the report, Up in Smoke, published in 2015 by WALHI and Friends of the Earth member groups in the U.S. and Europe.
"While many of the world's largest palm oil producers have pledged to voluntarily address the massive environmental and human rights impacts of their business, its clear that legal action is required to hold them accountable," said Jeff Conant, senior international forests campaigner with Friends of the Earth U.S. "This decision by the court in Central Kalimantan is a historic step in ensuring the government does what's needed to limit the damage from this sector."
Palm oil from Central Kalimantan is in thousands of consumer food products and cosmetics on the global market, as well as in biofuels in many countries; numerous palm oil companies implicated in the decision receive financing from a broad range of banks and institutional investors in the U.S., including Goldman Sachs, JPMorganChase, Vanguard and the pension fund managers TIAA and CalPERS.
"This decision should also make it clear to the financiers of the sector that the risks of investment in palm oil continue unabated," Conant added.
The 2015 Indonesian forest fires lasted for months and caused massive air pollution and greenhouse gas emissions, at one point releasing more carbon dioxide than the entire U.S. economy and causing an estimated 100,000 premature deaths in the region. In 2016, four United Nations special rapporteurs sent a letter to the president of Indonesia urging his government to address the fire and haze crisis as an urgent matter of protection of human rights.
"This verdict is important not just to us, but to future generations," said Ari Rompas, director of WALHI Central Kalimantan. "The judge recognized that the environment is a heritage to be preserved for future generations. It is therefore important that the government does not waste time in appealing this verdict, but ensures that companies respect the law and stop the forest fires."
WALHI analyzed satellite data of 181 palm oil company concessions from the 2015 fire season. The largest plantation land banks included in the study are owned by Wilmar International, Bumitama Gunajaya Agro, Sinar Mas, Best Agro International and Genting group. According to WALHI, the verdict means that these companies can now effectively be brought to justice.
"The judge made clear that the local government needs to ensure that companies stop the forest fires," Rompas continued. "The companies need to allocate much more resources in order to prevent forest fires."
To date, the companies implicated in the verdict have not responded. The local government is now considering appealing the verdict. With a severe dry season predicted for 2017, it is imperative that the Indonesian government act quickly to adopt measures that enforce the court's decision.
The Verdict
In its ruling, the court ordered the central government to:
Review and revise the permits of all plantation companies, whether implicated in the 2015 fires or not;
Actively enforce civil and criminal laws to penalize companies whose concessions were implicated in the 2015 fires;
Inform the public regarding the affected land and the companies that own concessions implicated in the fires.
In addition, the central government of Indonesia is required to:
Form a joint team on forest fire management consisting of the Ministry of Environment and Forestry, the Ministry of Agriculture and the Ministry of Health;
Build a respiratory medicine hospital and an evacuation room for people affected by forest fires.
"The victory of this citizen's lawsuit in Central Kalimantan and previously in Riau Province, build momentum for the government to protect human rights, especially of vulnerable groups such as children, whose health is threatened by haze pollution from forest fires," said Khalisah Khalid, head of campaign and network development at WALHI. "The UN Human Rights Council should continue to remind the government of Indonesia to hold corporate actors accountable for their role in the fires," he continued.
European Parliament Votes to Clamp Down on Palm Oil Imports
Palm oil's environmental footprint was also raised in a European Parliament vote this week that called for a phase-out of palm oil as a component of biofuels by 2020.

The Trump administration intends to scrap and rewrite an Obama-era rule designed to make fracking on federal lands safer.
Drilling has taken place on federal lands for years, with more than 100,000 wells in existence. In 2015, the Interior Dept. issued new standards aimed at making the process safer, including stricter and higher design standards for wells and waste fluid storage facilities to mitigate risks to air, water and wildlife. Companies would also be required to publicly disclose chemicals used in fracking.
Scientists Link #Fracking to Explosion That Severely Injured Texas Family: EcoWatch https://t.co/jRigmTiYjc #environment

— EcoInternet (@EcoInternet)1489181842.0
However, U.S. District Judge Scott Skavdahl blocked the Obama rule in June after accepting the argument from energy companies and several states that federal regulators lack congressional authority to set rules for fracking.
The Obama administration appealed the decision to the 10th Circuit, but the rule could be killed for good. The Trump administration said in court filings Wednesday it is withdrawing from the lawsuit.
Justice Dept. lawyers representing Interior and the Bureau of Land Management asked the court to "continue the oral argument and hold these appeals in abeyance pending a new rulemaking" on the issue.
"As part of this process, the Department has begun reviewing the 2015 Final Rule (and all guidance issued pursuant thereto) for consistency with the policies and priorities of the new Administration," the motion reads. "This initial review has revealed that the 2015 Final Rule does not reflect those policies and priorities."
A spokeswoman for Interior Sec. Ryan Zinke confirmed with the Associated Press that the administration intends to submit a new rule.
Neal Kirby of the Independent Petroleum Association of America praised the withdrawal of the rule, calling it "unnecessary, duplicative and would further drive away independent producers from federal lands."
"Every energy-producing area has different needs and requirements, which is why the states are far more effective at regulating hydraulic fracturing than the federal government," he said.
Many environmental advocates felt that the 2015 rule was already too lenient, but the Trump administration's latest action could be even more worrisome to fracking opponents.
New Fracking Rules on Public Lands 'A Giveaway to Oil and Gas Industry,' Advocates Say via @EcoWatch: http://t.co/IjEKb9vxY6

— Food & Water Watch (@Food & Water Watch)1426874604.0
"This disturbing decision highlights Trump's desire to leave our beautiful public lands utterly unprotected from oil industry exploitation," said Michael Saul, an attorney with the Center for Biological Diversity. "Backing away from these modest rules is doubly dangerous given the administration's reckless plans to ramp up fracking and drilling on public lands across America."
Other environmental organizations spoke out against the announcement.
"Today's news demonstrates the degree to which Secretary Zinke and the Trump administration are in the pocket of the oil and gas industry," said Earthjustice attorney Mike Freeman.
Earthworks policy director Lauren Page said: "By moving to overturn these common-sense protections, the Trump administration is positioning itself against the disclosure of toxic chemicals, protecting clean water and preserving our public land."
Groundwater contamination is one of the biggest concerns about unconventional oil and natural gas production. While the industry maintains the safety of the process, in December the U.S. Environmental Protection Agency released its highly anticipated final report identifying cases of impacts on drinking water at each stage in the hydraulic fracturing water cycle.
The disposal of fracking wastewater into underground wells has also been linked to the alarming increase in seismic activity in states such as Oklahoma and Kansas.
"With [Wednesday's] decision, Trump is making it clear that he thinks we need more fracking operations contaminating our drinking water, causing earthquakes and polluting our environment, not less," Sierra Club Beyond Dirty Fuels campaign director Lena Moffitt said. "The Sierra Club will continue to defend this rule, ensuring that our publicly-owned lands remain protected from fracking and Donald Trump."
President Trump has plans to open up federal lands for more energy development. As a candidate, Trump campaigned on a promise to "unleash America's $50 trillion in untapped shale, oil, and natural gas reserves, plus hundreds of years in clean coal reserves."
Big Oil Cheers as Trump Plans to Open National Parks for Drilling https://t.co/25OEh4PTFx @HuffPostGreen @greenpeaceusa

— EcoWatch (@EcoWatch)1484269516.0
He accused President Obama of "denying millions of Americans access to the energy wealth sitting under our feet" by restricting leasing and banning new coal extraction.
Incidentally, the actions of the current administration go against the sentiments of the majority of Americans, who are opposed to fracking and drilling of public lands, according to a new Gallup poll.
The poll, released on Tuesday, determined that 53 percent of Americans oppose fracking as a means of increasing the production of natural gas and oil in the U.S. Only 46 percent support for opening up federal lands for oil exploration, compared to 65 percent who favored it in 2014.
"Americans Tilt Toward Protecting Environment, Alternative Fuels"Gallup
The Gallup poll found that 72 percent of Americans support spending more government money on energy alternatives such as solar and wind power. About two-thirds of Americans favor more strongly enforcing federal environmental regulations and setting higher emissions standards for business and energy.
Public opposition to fracking has grown in recent years, as counties and cities across the country are passing resolutions and ordinances to ban the practice.
Even states are getting behind the action. The Maryland House of Delegates passed a milestone bill earlier this month that would ban fracking statewide.
Fracking opponents are now urging the Maryland Senate to pass the same legislation. On Thursday morning, a group of protesters' including including faith leaders and western Maryland residents, barred the entrance to the State House in a peaceful act of civil disobedience. Thirteen were arrested.
[email protected]

of @foodandwater one of 13 #DontFrackMD activists arrested calling on @MDSenate to pass fracking ban.… https://t.co/3Dqt4S8W3n

— Thomas Meyer (@Thomas Meyer)1489675157.0
"As stewards of God's creation, United Methodists are opposed to hydraulic fracturing because of the serious consequences for the environment, including damage to water and geological stability," said Rev. Julie Wilson, chair for the Board of Church and Society for the Baltimore Washington Conference of the United Methodist Church. "We support a ban on fracking."
Garrett County in western Maryland is likely to be the first area targeted if fracking is allowed. The demonstrators say that fracking would threaten the area's local economy, which relies heavily on tourism and agriculture.
The first few folks calling on the @MDSenate to #banfracking as they were removed by police from the State House en… https://t.co/NwKNFlvKOn

— Rianna Eckel (@Rianna Eckel)1489678004.0
"Western Maryland would be targeted first by fracking, and western Marylanders overwhelmingly know that we can never allow it to take place," said Ann Bristow, Garrett County resident and member of Gov. O'Malley's Marcellus shale advisory commission.
"The more we learn about fracking, the more we know we need a ban. Our water, health and climate are far more important than short term gain for the natural gas industry. Once free of worrying about fracking in Maryland, we can all turn our attention to a renewable and sustainable future."
By Meg Wilcox
Read any article about Haiti's environment and you'll encounter the same grim statistic, that 98 percent of the country is deforested. That's hard to fathom. How could a country possibly have only two percent tree cover?

Death by a Thousand Cuts, a 2016 film that tells the tale of a brutal murder related to Haiti's charcoal trade, shines a light on the forces behind the nation's dismal environmental state.
Trucks carrying bags of wood charcoal, the major cooking fuel source for Haitians and a key driver of deforestation.Patrick Dessources
Beyond the legacy left by the French, grinding poverty is a root cause, with per capita income in Haiti just $828 in 2014. Two-thirds of Haitians are subsistence farmers and the vast majority cook their food with wood charcoal. Charcoal production fuels deforestation, which leads to soil erosion, loss of productive agricultural land and a vicious cycle of poverty.

An estimated 50 percent of Haitian topsoil in fact has been washed away, irreparably damaging farmland and contributing to crop losses of up to 70 percent in recent years.
But, wait, what does this have to do with your chocolate bar?
Chocolate, of course, comes from cocoa, which grows on trees. It needs shade and that means cocoa farms are often found in forests, at the base of mountains. Cocoa is, surprisingly, Haiti's third largest export crop. In fact, if you visit Haiti's verdant cocoa region in the north, near Cap-Haïtien, that 98 percent deforestation statistic belies what you'll see.
Cocoa grows in Creole Gardens, rare forested areas in Haiti. Pictured are Nocelyn Preval aka "Chiquito," a worker at a cocoa processing facility and cocoa farmer Merviel Chilmise.
In northern Haiti, some 4,000 smallholder farmers harvest cocoa in agroforestry systems called creole gardens. Garden is an understatement, as these dense tangles of vegetation are forests with larger coconut, breadfruit, mango and avocado trees that tower over and offer shade to the smaller cocoa trees, as well as food for the farmers. Smaller banana trees are also intercropped into the system.
Cocoa farms are one of the few places in Haiti with standing trees and cocoa farmers have incentive to protect that greenery. Pierre Daniel Phelizor, for example, a cocoa farmer of 15 years, told me that his favorite pastime is planting new trees and that he runs a small nursery, selling cocoa, breadnut and mango trees to other farmers. Phelizor does not sell his trees to the ubiquitous charcoal traders.
Pierre Daniel Phelizor, Haitian cocoa farmer says he's "doing real business with his cocoa trees" now that he's selling into the specialty chocolate market.
So what does this have to do with your choice of chocolate bar? Bear with me.

One way to fight deforestation is to expand the production of cocoa and other tree crops in Haiti, like mango and avocado—and at the same time also help improve Haitian's lives and keep them from turning to the lucrative charcoal trade in the first place.
Fermented cocoa beans drying at Produits de Iles S.A.(PISA), a private cocoa processing company in the north of Haiti.
"In terms of reforesting the country, cocoa is one of the best crops you can use," said Ralph Denize, of FOMIN (Multilateral Investment Fund) in a phone call. FOMIN is partnering with Catholic Relief Services, a financier Root Capital and the Swiss Government to help expand and strengthen Haiti's cocoa industry.
Haiti currently exports only 4,000 metric tons of cocoa per year, a big drop from its peak of 20,000 metric tons in the 1960s and far less than neighboring Dominican Republic, which exported 70,000 metric tons in 2014.
Gilbert Gonzales, inside the cocoa fermentation facility at the company he founded Produits de Iles S.A. (PISA), in the north of Haiti.
Revitalizing the industry is one way to help expand Haiti's forest cover.

And here is where your choice of chocolate bar comes in.
The vast majority of Haiti's cocoa beans are sold and exported in their raw, unprocessed state for mass-produced chocolate. Farmers earn very little for that and it's one of the reasons why cocoa production has dropped in Haiti. A quasi-monopoly buyer has also kept prices paid to Haitian farmers low.
Fermented or processed, beans are what dark chocolate and specialty chocolate bars are made from and they can earn farmers up to twice as much.
To date, however, there are scant few fermentation processing facilities in the country where Haitian farmers can bring their beans.
Now different players in the cocoa industry are working to expand that fermentation capacity, from private companies and farmer cooperative associations to specialty chocolate manufacturers and financiers. They aim to rebuild Haiti's cocoa industry while providing farmers with a better life.
Taza Chocolate's single origin Haitian chocolate bar.
"Moving from unfermented to fermented cocoa is about keeping the value added in the country," Denize told me.

And that in turn motivates farmers like Phelizor to take good care of their trees. Phelizor says in fact that he is "doing real business with his cocoa trees" now that he's selling into the specialty market.
If you buy a standard issue milk chocolate bar, you're likely eating a blend of cocoa beans from different countries, with a lot of sugar and fillers to boot. If you buy what's known as a "single origin," specialty chocolate bar you can actually select where the cocoa beans were grown. And if you're a chocolate connoisseur, you can pick the flavor, as each origin has distinctive notes, much like wine and coffee.
You can do that now for Haiti, which happens to produce an exquisite chocolate flavor, with fruity notes, owing to its prized cocoa varietals. The first chocolate manufacturer in the U.S. to produce and market a single origin bar, with 84 percent Haitian cocoa beans, is Taza Chocolate. Taza is the pioneer, but we can expect to see more chocolate bars marketed with Haitian cocoa, as Uncommon Cacao, a broker that sells to many specialty chocolate manufacturers, has recently entered Haiti's market.
So the next time you buy a chocolate bar, think about choosing one made with Haitian cocoa and make a small contribution toward helping to reforest the country while improving impoverished farmers lives.
The Bornean orangutan is now listed as critically endangered. With this update, both species of orangutan (the other being Sumatran) are now at extremely high risk of extinction in the wild.
A Bornean orangutan with baby at Camp Leakey Tanjung Puting Reserve in South Kalimantan, Indonesia.Photo credit: World Wildlife Fund
The International Union for Conservation of Nature (IUCN) published an assessment this week that found hunting, habitat destruction and degradation, and habitat fragmentation to be the biggest drivers of Bornean orangutan population loss, Mongabay reported.
The authors wrote that "the combined impacts of habitat loss, habitat degradation and illegal hunting equate to an 86% population reduction between 1973 and 2025," according to Mongabay.
Bornean orangutan declared 'critically endangered' as forests shrink https://t.co/U2Ca1GBdnw

— The Guardian (@The Guardian)1467882408.0
Only 59.6 percent of Borneo's forests were suitable for orangutans in 2010. Most of the land, Mongabay reported, is protected by Indonesian, Malaysian and Brunei governments. But illegal logging and uncontrolled burning continues to threaten the population.
"This is full acknowledgement of what has been clear for a long time: orangutan conservation is failing," Andrew Marshall, one of the authors of the assessment, told Mongabay.
Even with the remaining forest, it might not be enough to sustain the current Bornean orangutan population, Mongabay said:
In addition, the smaller patches of remaining forest may be unable to sustain the groups currently living there. These zombie orangutan populations can adapt to survive for decades in degraded or isolated habitats, but the poor health or low numbers may prevent successful reproduction.
The @IUCN has updated the Bornean orangutan's status to critically #endangered. https://t.co/ijC6K1Zej4 https://t.co/pJR6IWGBcC

— Oregon Zoo (@Oregon Zoo)1467842422.0
Habitat loss is not the only factor contributing to the decreasing Bornean orangutan population. Females reproduce once every six to eight years—the longest birth interval of any land mammal—making the population slow to rebound even if improvements to conservation are made.
Bornean Orangutan female 'Tata' and her unnamed baby aged 2-3 months portrait at Camp Leakey, Tanjung Puting National Park in Central Kalimantan, Borneo, Indonesia. Photo credit: World Wildlife Fund
This new classification for the Bornean orangutan shouldn't be a cause to give up hope though. Marshall said that recent studies have found the species to be "more adaptable, and fare better in degraded forests than once predicted," Mongabay reported.
He believes placing a higher conservation value on degraded lands could help the Bornean orangutans avoid extinction.
"Although I think things will likely get worse before they get better, it's not too late for orangutans," Marshall said.
The World Wildlife Fund reports that there are currently 41,000 Bornean and 7,500 Sumatran orangutans in the wild. Sumatran orangutans have been listed on IUCN's Red List as critically endangered since 2000.

The Congo—one of the world's greatest rainforests—is getting steadily less green. The slow change in color during this century, recorded by a series of U.S. satellites, has been matched by a rise in temperature and lower precipitation. And, researchers think, it could reflect a forest's response to climate change. 
Scientists from Australia, China, the U.S. and France report in the journal Nature that they examined optical, thermal, microwave and gravity data collected by orbiting sensors between 2000 and 2012.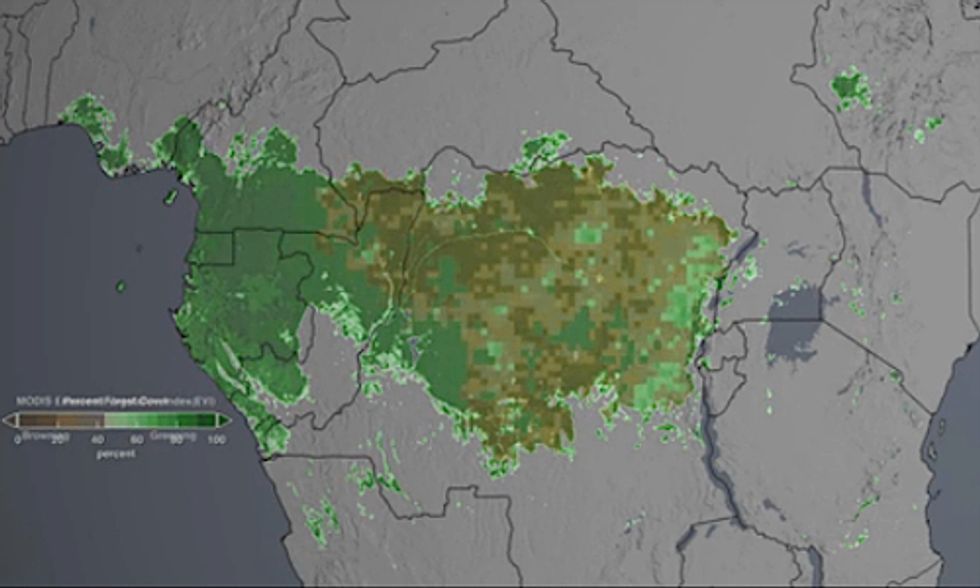 They concentrated on intact forested regions during the months of April, May and June each year, which span the peaks of growth and rainfall. They detected an intensification in the forest's decline. This decline was consistent with lower rainfall, poorer water storage below the canopy and a gradual change in the composition of species.
"It is important to understand these changes because most climate models predict tropical forests may be under stress due to increasing severe water shortages in a warmer and drier twenty-first century climate," said Liming Zhou, of Albany State University of New York. But other factors could accelerate this "browning" of one of the world's greatest rainforests.
A team from the Catholic University of Louvain in Belgium—also known in Belgium's other language as KU Leuven—predicts in the Journal of Climate that explosive population growth and inefficient agricultural practices are likely to make things a great deal hotter for the region and a great deal worse for the rainforest.
By 2050, according to their computer models, Central Africa will be on average 1.4 degrees Celsius hotter than it is today just because of greenhouse gas emissions. And the steady destruction of the forest will add an extra 0.7 degrees Celsius to that figure.
Temperature increases on such a scale will harm plant and animal species and even bring about some extinction. Where the forests have been cleared, there will be increased levels of evaporation, and consequent rises in temperature.
Across the Atlantic, things also look bleak for the Amazon rainforest. Paulo Brando of the Amazon Environmental Research Institute in Brazil and colleagues from the U.S. report in the Proceedings of the National Academy of Sciences that the piecemeal clearing of the rainforest, along with drought, has begun to create "tinderbox" conditions  and an ever more destructive cycle of burning.
Over the course of eight years, in one of the longest-running experiments of its kind, the researchers burned 50-hectare plots of forest in the south-eastern Amazon, a region vulnerable to climate change. They compared the tree deaths each year to measure the impact of drought on fire intensity.
"Drought causes more intense and widespread fires," said Dr. Brando. "Four times more adult trees were killed by fire during a drought year, which means that there was also more carbon dioxide released into the atmosphere, more tree species loss and a greater likelihood of grasses invading the forest."
This research, too, was backed up by satellite observation. In 2007, a year of drought, fires in south-east Amazonia burned 10 times more forest than in an average year—an area equivalent to a million soccer fields, according to Douglas Morton of the U.S. space agency NASA, a co-author.
Climate change is expected to bring shorter, more intense rainy seasons and longer dry seasons in the region. Michael Coe of Woods Hole Research Center, another author, said "We tend to think only about average conditions, but it is the non-average conditions we have to worry about."
--------
YOU MIGHT ALSO LIKE
Climate Change Causes Chain Reaction in Ecosystems
Importance of Old Growth Forests: Carbon Capture Potential Grows With Age
Bamboo: The Secret Weapon for Forest Restoration? 
--------