By Sharon Kelly
Back in April last year, the Trump administration's Environmental Protection Agency decided it was "not necessary" to update the rules for toxic waste from oil and gas wells. Torrents of wastewater flow daily from the nation's 1.5 million active oil and gas wells and the agency's own research has warned it may pose risks to the country's drinking water supplies.
On Tuesday, a major new investigative report published by Rolling Stone and authored by reporter Justin Nobel delves deep into the risks that the oil and gas industry's waste — much of it radioactive — poses to the industry's own workers and to the public.
"There is little public awareness of this enormous waste stream," Nobel, who also reports for DeSmog, wrote, "the disposal of which could present dangers at every step — from being transported along America's highways in unmarked trucks; handled by workers who are often misinformed and underprotected; leaked into waterways; and stored in dumps that are not equipped to contain the toxicity."
Additional documents obtained by Nobel and shared with DeSmog show that a report prepared for the American Petroleum Institute (API), the nation's largest oil and gas trade group, described the risks posed by the industry's radioactive wastes to workers as "significant" in 1982 — long before the shale drilling rush unleashed new floods of wastewater from the industry — including waste from the Marcellus Shale, which can carry unusually high levels of radioactive contamination.
A Trillion Toxic Gallons
Oil and gas wells pump out nearly a trillion gallons of wastewater a year, Rolling Stone reported. That's literally a river of waste — enough to replace all the water flowing from the Mississippi River into the Gulf of Mexico for more than two and a half days.
Much of that wastewater, often referred to by the industry as "brine," carries high levels, not of familiar table salt, but of corrosive salts found deep below the Earth's surface, as well as toxic compounds and carcinogens.
That water can also carry serious amounts of radioactive materials. The Rolling Stone report, labeled "sobering" by the Poynter Institute, described levels of radium as high as 28,500 picocuries per liter in brine from the Marcellus Shale, underlying Pennsylvania, Ohio, New York, and West Virginia, levels hundreds of times as much as the Nuclear Regulatory Commission would allow in industrial discharges from other industries.
The oil and gas industry's waste, however, isn't regulated like most other industry's wastes, slipping instead through loopholes carved out in the nation's cornerstone environmental laws, including exemptions for the industry in federal laws covering hazardous waste.
"If I had a beaker of that on my desk and accidentally dropped it on the floor, they would shut the place down," Yuri Gorby, a microbiologist who'd studied radioactive materials at the U.S. Geological Survey and Department of Energy, told the magazine. "And if I dumped it down the sink, I could go to jail."
Crude Oil, Gas, and Radiation
"It is well-known that some naturally occurring elements, uranium for example, have an affinity for crude oil," the 1982 API report says, noting that uranium can decay into elements like radium-226 ("a potent source of radiation exposure, both internal and external," API's report explained) and radon-222 (which can "cause the most severe impact to public health," it observed).
"Almost all materials of interest and use to the petroleum industry contain measurable quantities of radionuclides that reside finally in process equipment, product streams, or waste," the 1982 report notes.
"This contamination can produce significant occupational exposures," API's report continued (emphasis in original).
Excerpt from a 1982 report prepared for the American Petroleum Institute and titled "An Analysis of the Impact of the Regulation of 'Radionuclides' as a Hazardous Air Pollutant on the Petroleum Industry."
API's report focused on the possibility that the federal government might step in and regulate those radioactive materials under the Clean Air Act or under federal Superfund laws.
"Depending on the mode of definition," the report adds, "very small quantities of petroleum products could easily contain reportable quantities of [radioactive materials]." A chart lists amounts as small as a half a barrel of crude oil or 17 cubic feet of natural gas as containing "one reportable quantity of uranium or radon" under the most restrictive definition.
The report labels uranium "a somewhat different dilemma" than radon gas. "We estimated earlier in this paper that significant quantities of uranium potentially enter our refineries via crude oil," the report continues. "Little is known of its fate, however."
"Since the law of conservation of matter must apply, it can only end up in the product, the process waste, remain in the process equipment, or escape into the environment," the report notes, calling for more study, particularly of the industry's refining equipment and waste.
Some of the report's most stark language warned about the possibility of federal regulation of the industry's radioactive wastes.
"It is concluded that the regulation of radionuclides could impose a severe burden on API member companies," the report says, "and it would be prudent to monitor closely both regulatory actions."
API spokesperson Reid Porter provided to DeSmog the group's response to the Rolling Stone investigation.
"We take each report of safety or health issues related to energy development very seriously," Porter said. "Nothing is more important than the health and safety of our workers, the local environment, and the communities where we live, operate, and raise families. Natural gas and oil companies meet or exceed strict federal and state regulations and also undergo regular inspections to ensure that all materials are managed, stored, transported, and disposed of safely. Through regular monitoring, ongoing testing, and strict handling protocols, industry operations are guided by internationally recognized standards and best practices to provide for safe working environments and public safety."
API also pointed to a one-page document titled "NORM [naturally occurring radioactive materials] in the Oil and Natural Gas Industry." As of publication time, API had not responded to questions from DeSmog regarding the 1982 report.
10 Years Later, Hazards 'Widespread'; 20 Years Later, Workers Sue Over Cancers
Over a decade later, problems persisted, other documents indicate. "Contamination of oil and gas facilities with naturally occurring radioactive materials (NORM) is widespread," a 1993 paper published by the Society of Petroleum Engineers warned. "Some contamination may be sufficiently severe that maintenance and other personnel may be exposed to hazardous concentration."
Nonetheless, the paper focused on the potential for "over-regulation."
"Where possible, industry input should be directed to minimize an over-regulation of NORM contamination in the industry," author Peter Gray, an expert on radioactivity who formerly worked for Phillips Petroleum Co., wrote. He added that concentrations of radioactive contamination at the time were "relatively low and do not usually present a health hazard to the public or to most personnel in the industry," but added that some facilities "may be hazardous to maintenance personnel in particular."
The 1993 paper notes that some oil-producing states had passed or were considering passing laws to protect against the industry's radioactive wastes, noting in particular that Louisiana and Mississippi had regulations in effect, and that Louisiana had required "radiation surveys of every petroleum facility in the state."
But state and federal regulators largely failed to act, Rolling Stone found. "Of 21 significant oil-and-gas-producing states, only five have provisions addressing workers, and just three include protections for the public, according to research by [Elizabeth Ann Glass] Geltman, the public-health expert," the magazine reported. "Much of the legislation that does exist seems hardly sufficient."
In documents dated nearly two decades later, from a 2011 lawsuit brought by more than 30 Louisiana oilfield workers who'd developed cancer, plaintiff's experts described as resulting from their exposure to radioactive materials at work.
The 2013 plaintiff's expert report describes in detail how jobs like roustabout, roughneck, and derrickman can expose workers to radioactive materials, including a sludge where radioactive elements concentrate that collects inside pipes and so-called "pipe scale," or crusty deposits that also attract radioactive materials. The case ended in October 2016, following a long string of settlements on unspecified terms by individual plaintiffs in the case, public court records show.
Tracking the Trucks
Nobel's Rolling Stone exposé depicts radioactive drilling waste sloshing into a striking array of corners.
For example, to keep dust down, the "brine" can be spread on roads, like a stretch in Pennsylvania where Nobel describes a group of Amish girls strolling barefoot. Nobel adds that contractors pick up waste directly from the wellhead and that in 2016 alone, more than 10.5 million gallons were sprayed on roads in the northwestern corner of Pennsylvania.
The waste has also been sold at Lowe's, bottled as "AquaSalina" and marketed as a pet-safe way to fight ice and salt, though an Ohio state lab found it contains radium at more than 40 times the levels the Nuclear Regulatory Commission allows in discharge from industry. And the radium-laced waste is spilled from trucks transporting it, in potential what the article indicates may be a violation of federal law.
One brine truck driver, identified only as a man named Peter from Ohio, started taking his own samples after being told by another worker with a radiation detector that he'd been hauling "one of the 'hottest loads' he'd ever seen," Rolling Stone reports. "A lot of guys are coming up with cancer, or sores and skin lesions that take months to heal," Peter told the magazine. Tests by a university lab found radium levels as high as 8,500 picocuries per liter, the article adds.
One expert, scientist Marvin Reisnikoff, who'd served as one of the plaintiff's experts in the lawsuit brought by the Louisiana oilfield workers and co-authored the 2013 report, told Rolling Stone that a standard brine truck rolling through Pennsylvania might be carrying radioactive wastewater at levels a thousand times higher than those allowed under federal Department of Transportation (DOT) limits. But, a DOT spokesperson told Rolling Stone, federal regulators rely heavily on industry self-reporting, and the rules seem generally unenforced.
Environmental groups immediately called for congressional hearings into the drilling industry's radioactive wastes.
"This alarming report brings into stark relief what we already knew to be true," Food & Water Watch Policy Director Mitch Jones said in a statement calling for a congressional investigation, "that highly toxic and radioactive waste generated by fossil fuel drilling and fracking cannot be stored or disposed of safely, and in fact is often being intentionally dispersed in our communities."
"It is imperative that Congress hold hearings soon to examine and expose the full extent of the threat oil and gas waste poses to families and workers throughout America," he added, "and take urgent action to halt fracking and the legal and illegal dispersal of the waste currently taking place."
Reposted with permission from DeSmogBlog.
From Your Site Articles
Related Articles Around the Web
EcoWatch Daily Newsletter
Mosaic Fertilizer has been slammed with a federal lawsuit over the massive, radioactive sinkhole that opened under its New Wales plant in Mulberry, Florida, 30 miles east of Tampa.
The sinkhole, formed below a phosphogypsum stack, has leaked an estimated 215 million gallons of contaminated wastewater into the Floridan Aquifer, posing a potentially serious threat to drinking water. To make matters worse, news reports indicate that the fertilizer giant and state officials knew about the problem for three weeks but failed to notify the public.

Attorneys from ClassAction.com filed a 23-page class action complaint on behalf of Nicholas Bohn, Natasha McCormick and Eric Weckman—local residents who rely on private wells as their source of water. The lawsuit was filed at the Federal Courthouse in downtown Tampa.
"Residents in the communities that surround the New Wales facility have legitimate concern for the integrity and safety of their water supplies as the toxic radioactive and other chemical wastewater is in the Floridan Aquifer causing, and will continue to cause, water contamination," the complaint reads.
"There are approximately 5,000 individuals who live in within five miles of the sinkhole who obtain their water from private wells and are impacted by the sinkhole," it states. "It is estimated there are over 1,500 private wells in the impacted area."

Mosaic's "conscious actions and omissions disregarded foreseeable risks to human health and safety and to the environment," the lawsuit alleges.
The lawsuit seeks an unspecified amount in damages, including reimbursement or funding for private well testing, monitoring and treatment if tests show the well is contaminated.
Morgan & Morgan environmental attorney Rene Rocha is one of the attorneys taking on the case. When asked via email if the plaintiffs are seeking a specific dollar amount, Rocha explained to EcoWatch that the main intention of the lawsuit is to keep people safe and to hold Mosaic accountable.

"We are seeking recovery for all damages suffered by the residents in the area, but it is too early to assign any specific dollar amount to that," he wrote. "First and foremost we are concerned with ensuring the safety of people living nearby the facility, and the integrity of their water supply."
Since the Sept. 22 filing, Rocha said, "We have been contacted by many residents who are concerned."
A statement from ClassAction.com noted it is "yet unclear to what extent these wastes have travelled through the Aquifer, but the wastes contain extremely toxic and radioactive contaminants such as radium, radon, uranium, thorium, and lead, as well as other non-radioactive toxins." Its attorneys are continuing to monitor the environmental impact of the sinkhole, as well as any possible health risks posed by the water's contaminants.
"This lawsuit is about providing peace of mind to families living nearby the plant. It's about making sure they are confident their water is safe, and that they don't have to take the word of a company that repeatedly disregards the public and the environment in pursuit of profits," ClassAction.com attorney John Yanchunis said.
In response to the lawsuit, Mosaic spokeswoman Callie Neslund told the Associated Press, "We are reviewing the details of this filing and will respond through the judicial process."

Walt Precourt, Mosaic's senior vice president of phosphates, addressed the Polk County Board of County Commissioners on Sept. 20.
"On behalf of Mosaic and our nearly 4,000 employees in Florida, we'd like to express our sincere regret that the sinkhole and water recovery operations on our property have caused concerns for the community," he said. "I regret and apologize for not providing information sooner, and am committed to providing regular updates to the public as we move forward."
On its website, Mosaic says it is offering water tests free of charge. A third-party testing company has taken samples from 52 wells, with 210 testing appointments scheduled. Mosaic is also offering free bottled water to those who request it.
Awful! Massive sinkhole in US releasing radioactive waste into aquifer: https://t.co/JeEO5FJ6I3 #Florida https://t.co/rtpD5kysn3

— Greenpeace (@Greenpeace)1474308908.0
The Florida Department of Environmental Protection (DEP) said in its most recent update that "ongoing monitoring of nearby wells continues to indicate that affected water is contained to the impacted site."
"The nearest private drinking well is around 3 miles away from the site, and thus far in DEP's investigation there is no indication that there is a threat to this well," the agency continued. "Both Mosaic and DEP will continue to perform sampling, and if any indication of off-site migration is seen, affected homeowners will be immediately notified."
"Mosaic wants to mine an additional 50,000 acres of Florida's beautiful, biodiverse lands, but this incident makes clear it can't even handle the radioactive waste it currently generates," said Jaclyn Lopez, Florida director at the Center for Biological Diversity. "We must come together and demand that our counties, our state and our federal government reject further expansion of this dangerous industry."

Incidentally, as ClassAction.com pointed out on its website, Mosaic has somewhat of a "checkered past" with toxic messes. On October 2015, the U.S. Environmental Protection Agency and the U.S. Department of Justice announced a nearly $2 billion hazardous waste settlement with Mosaic, forcing it to clean up 60 billion pounds of hazardous waste at eight facilities, including the New Wales site where the new sinkhole appeared.
The sinkhole was discovered by a Mosaic worker on Aug. 27 but news of its discovery was not made public until Sept. 11. Several local residents have spoken up since news broke.

"I'm not going to pay for it. They'll pay for it I'm pretty sure," Dixie Mason, who lives about two miles away from the sinkhole, told ABC Action News.
Preliminary reports from private wells showed "normal" readings of sodium, sulfate and fluoride. However, some neighbors have expressed confusion and frustration that radioactivity readings—the one thing everyone was looking for—were not yet provided in the report. Watch below:
waterlust.com / @tulasendlesssummer_sierra .
Each product featured here has been independently selected by the writer. If you make a purchase using the links included, we may earn commission.
The bright patterns and recognizable designs of Waterlust's activewear aren't just for show. In fact, they're meant to promote the conversation around sustainability and give back to the ocean science and conservation community.
Each design is paired with a research lab, nonprofit, or education organization that has high intellectual merit and the potential to move the needle in its respective field. For each product sold, Waterlust donates 10% of profits to these conservation partners.
Eye-Catching Designs Made from Recycled Plastic Bottles
waterlust.com / @abamabam
The company sells a range of eco-friendly items like leggings, rash guards, and board shorts that are made using recycled post-consumer plastic bottles. There are currently 16 causes represented by distinct marine-life patterns, from whale shark research and invasive lionfish removal to sockeye salmon monitoring and abalone restoration.

One such organization is Get Inspired, a nonprofit that specializes in ocean restoration and environmental education. Get Inspired founder, marine biologist Nancy Caruso, says supporting on-the-ground efforts is one thing that sets Waterlust apart, like their apparel line that supports Get Inspired abalone restoration programs.
"All of us [conservation partners] are doing something," Caruso said. "We're not putting up exhibits and talking about it — although that is important — we're in the field."
Waterlust not only helps its conservation partners financially so they can continue their important work. It also helps them get the word out about what they're doing, whether that's through social media spotlights, photo and video projects, or the informative note card that comes with each piece of apparel.
"They're doing their part for sure, pushing the information out across all of their channels, and I think that's what makes them so interesting," Caruso said.
And then there are the clothes, which speak for themselves.
Advocate Apparel to Start Conversations About Conservation
waterlust.com / @oceanraysphotography
Waterlust's concept of "advocate apparel" encourages people to see getting dressed every day as an opportunity to not only express their individuality and style, but also to advance the conversation around marine science. By infusing science into clothing, people can visually represent species and ecosystems in need of advocacy — something that, more often than not, leads to a teaching moment.

"When people wear Waterlust gear, it's just a matter of time before somebody asks them about the bright, funky designs," said Waterlust's CEO, Patrick Rynne. "That moment is incredibly special, because it creates an intimate opportunity for the wearer to share what they've learned with another."
The idea for the company came to Rynne when he was a Ph.D. student in marine science.
"I was surrounded by incredible people that were discovering fascinating things but noticed that often their work wasn't reaching the general public in creative and engaging ways," he said. "That seemed like a missed opportunity with big implications."
Waterlust initially focused on conventional media, like film and photography, to promote ocean science, but the team quickly realized engagement on social media didn't translate to action or even knowledge sharing offscreen.
Rynne also saw the "in one ear, out the other" issue in the classroom — if students didn't repeatedly engage with the topics they learned, they'd quickly forget them.
"We decided that if we truly wanted to achieve our goal of bringing science into people's lives and have it stick, it would need to be through a process that is frequently repeated, fun, and functional," Rynne said. "That's when we thought about clothing."
Support Marine Research and Sustainability in Style
To date, Waterlust has sold tens of thousands of pieces of apparel in over 100 countries, and the interactions its products have sparked have had clear implications for furthering science communication.
For Caruso alone, it's led to opportunities to share her abalone restoration methods with communities far and wide.
"It moves my small little world of what I'm doing here in Orange County, California, across the entire globe," she said. "That's one of the beautiful things about our partnership."
Check out all of the different eco-conscious apparel options available from Waterlust to help promote ocean conservation.
Melissa Smith is an avid writer, scuba diver, backpacker, and all-around outdoor enthusiast. She graduated from the University of Florida with degrees in journalism and sustainable studies. Before joining EcoWatch, Melissa worked as the managing editor of Scuba Diving magazine and the communications manager of The Ocean Agency, a non-profit that's featured in the Emmy award-winning documentary Chasing Coral.
Radioactive contamination in the seabed off the Fukushima coast is hundreds of times above pre-2011 levels, while contamination in local rivers is up to 200 times higher than ocean sediment, according to results from Greenpeace Japan survey work released Thursday.
"The extremely high levels of radioactivity we found along the river systems highlights the enormity and longevity of both the environmental contamination and the public health risks resulting from the Fukushima disaster," Ai Kashiwagi, energy campaigner at Greenpeace Japan, said.
Greenpeace sediment sampling in Abukuma river, Miyagi prefecture, February 2016. The Abukuma has a 5,172km2 catchment15 which is largely in Fukushima prefecture, before entering the Pacific ocean in Miyagi prefecture. Greenpeace / Raquel Monton
"These river samples were taken in areas where the Abe government is stating it is safe for people to live. But the results show there is no return to normal after this nuclear catastrophe," said Kashiwagi.

Riverbank sediment samples taken along the Niida River in Minami Soma, measured as high as 29,800 Bq/kg for radiocaesium (Cs-134 and 137). The Niida samples were taken where there are no restrictions on people living, as were other river samples. At the estuary of the Abukuma River in Miyagi prefecture, which lies more than 90km north of the Fukushima Daiichi plant, levels measured in sediment samples were as high as 6,500 Bq/kg.
Greenpeace radiation specialist Jacob Namminga on board research vessel off the coast of Fukushima Daiichi, removing marine sediment sample collected by Remotely Operated Vehicle, March 2016. Greenpeace / Christian Aslund
The lifting of evacuation orders in March 2017 for areas that remain highly contaminated is a looming human rights crisis and cannot be permitted to stand. The vast expanses of contaminated forests and freshwater systems will remain a perennial source of radioactivity for the foreseeable future, as these ecosystems cannot simply be decontaminated.

Caesium-137 has a half life of 30 years and will continue to pose a risks to the the environment and human health for hundreds of years. Cs-137 contamination in seabed samples near the Fukushima plant was measured at up to 120 Bq/kg – compared to levels pre-2011 of 0.3 Bq/kg. Further, the levels of contamination found 60km south of the Fukushima Daiichi nuclear plant were comparable with those found within 4km of the plant. Numerous marine science investigations, have concluded that these higher levels are one explanation for some marine species still showing higher cesium levels than the background levels in seawater.
River systems along Fukushima and neighboring prefecture coastline discharging radioactivity into Pacific Ocean.
"The radiation levels in the sediment off the coast of Fukushima are low compared to land contamination, which is what we expected and consistent with other research," Kendra Ulrich, senior global energy campaigner at Greenpeace Japan, said. "The sheer size of the Pacific Ocean combined with powerful complex currents means the largest single release of radioactivity into the marine environment has led to the widespread dispersal of contamination."

Most of the radioactivity in Fukushima Daiichi reactor units 1-3 core fuel in March 2011 remains at the site.
"The scientific community must receive all necessary support to continue their research into the impacts of this disaster," Ulrich said.
"In addition to the ongoing contamination from forests and rivers, the vast amount of radioactivity onsite at the destroyed nuclear plant remains one of the greatest nuclear threats to Fukushima coastal communities and the Pacific Ocean. The hundreds of thousands of tonnes of highly contaminated water, the apparent failure of the ice wall to reduce groundwater contamination and the unprecedented challenge of three molten reactor cores all add up to a nuclear crisis that is far from over."
A radiation survey team onboard the research vessel Asakaze, supported by the Greenpeace flagship Rainbow Warrior, conducted underwater survey work along the Fukushima coastline from Feb. 21 to March 11 this year, as well collecting samples in river systems. The samples were measured at an independent laboratory in Tokyo.
By Emily Saari
The impacts of 2013's severe drought are apparent across the nation in forests, on farms and on once snowy peaks. Meanwhile, the oil and gas industry is demanding unprecedented amounts of water for hydraulic fracturing, better known as fracking.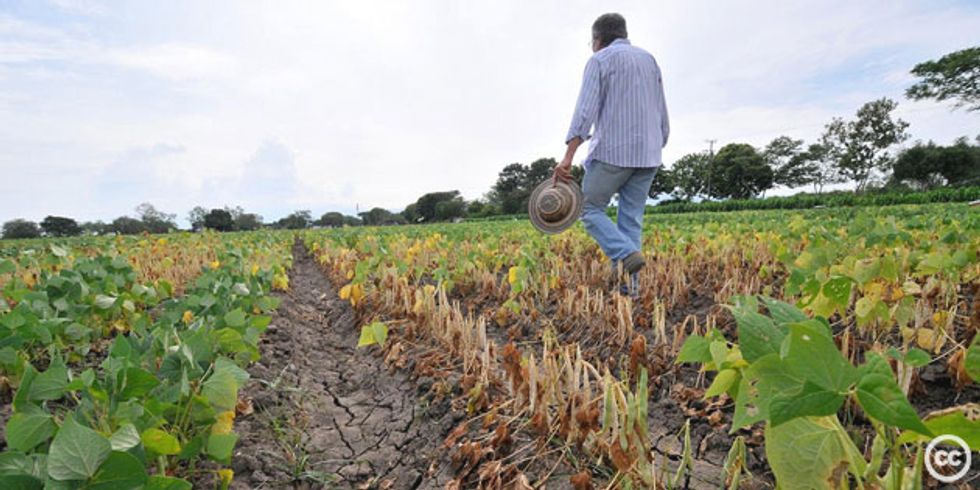 Fourth-generation Colorado farmer Kent Peppler told the Associated Press (AP) that he is fallowing some of his corn fields this year because he can't afford to irrigate the land for the full growing season, in part because deep-pocketed energy companies have driven up the price of water.
"There is a new player for water, which is oil and gas. And certainly they are in a position to pay a whole lot more than we are," Peppler said.
In a normal year, Peppler would pay anywhere from $9 to $100 for an acre-foot of water in auctions held by cities with excess supplies. But these days, energy companies are paying some cities $1,200 to $2,900 per acre-foot.
In seven states, including Colorado, Oklahoma, Texas and Wyoming, the vast majority of the counties where fracking is occurring are also suffering from drought, according to an AP analysis of industry-compiled fracking data and the U.S. Department of Agriculture's official drought designations.
The persistent U.S. drought wreaked havoc on American agriculture, raising food prices and forcing farmers to make record high insurance claims on lost profits for 2012.
As farmers struggle to make ends meet, limited fresh water reserves across the country are being diverted for fracking. The fossil fuel industry has identified deposits of oil and gas within shale rock formations deep underground, formerly inaccessible. In this new, "unconventional" drilling process, water mixed with sand and chemicals is injected into horizontal wells running through the shale. The injection cracks apart the rock, releasing the oil and gas and allowing it to rise to the surface for extraction.
Fracking requires enormous quantities of water. Estimates put water usage at between 3 and 5 million gallons per fracking of a single well, and each well can be fracked several times.
According to information accessed in 2012 from industry-backed FracFocus, a national fracking chemical registry managed by the Ground Water Protection Council and Interstate Oil and Gas Compact Commission, states have already seen more than 65 billion gallons of water used in 26,339 fracking operations.
In 2011, in a district in west Texas, the share of water resources used by fracking well sites jumped from 25 percent in 2010 to 40 percent in the first half of 2011. In Michigan, regulators granted a permit for a drilling company, Encana Oil and Gas, to use more than 21 million gallons of water at a single well in 2012. Repeatedly siphoning off these quantities of water for fracking can be a hardship for municipalities with limited capacity to augment their local water supplies—supplies that must also provide drinking and irrigation water for residents.
Water use by the fracking industry isn't comparable to water use by homeowners or farmers' agricultural needs. When used for household or agricultural purposes, often the water can eventually return to the ground to replenish aquifers, rivers and streams through the hydrological cycle.
On the other hand, after water has been used for fracking, much of it remains trapped deep underground in the wells. Wastewater that bubbles up to the surface is contaminated—both with the chemicals used in fracking and with heavy metals picked up from the shale rock formation—and must be stored away from drinking water sources.
The options for storage are limited: it can be impounded in reservoirs or injected underground. If it were to be treated and returned to the environment, it would need to be trucked to an industrial treatment facility, because municipal wastewater treatment facilities are not properly equipped to remove the chemicals in fracking wastewater. In reality, a large portion of the water used in fracking is left underground and becomes effectively lost.
Renewable energy sources don't have the same demands on water supplies. Solar and wind power use no water to capture energy and can peacefully coexist with agriculture. When it comes to generating electricity, for every 1,000 kilowatt-hours produced, solar thermal technology uses around 3,500 liters of water. In comparison, fossil fuels use 28,400 liters, more than eight times more. Solar photovoltaic and wind energy both consume less than 4 liters per kilowatt-hour of energy produced.
The nation faces a future made uncertain by the impacts of extreme heat, drought and wildfires exacerbated by climate change. Renewable energy generation not only cuts the greenhouse gas emissions that cause climate change, it doesn't tax water reserves, which are quickly becoming a limited and precious resource.
Visit EcoWatch's FRACKING page for more related news on this topic.
——–

Sign the petition today, telling President Obama to enact an immediate fracking moratorium:

Today, grassroots leaders in Ohio called out state leaders for failing to protect Ohioans from solid radioactive waste from hydraulic fracturing (fracking). According to local citizens groups, Gov. Kasich's budget bill will provide inadequate protection from low-level radioactive waste (LLRW), and therefore constitutes a handout to the oil and gas industry. They are asking the state to require the oil and gas industry to properly dispose of LLRW.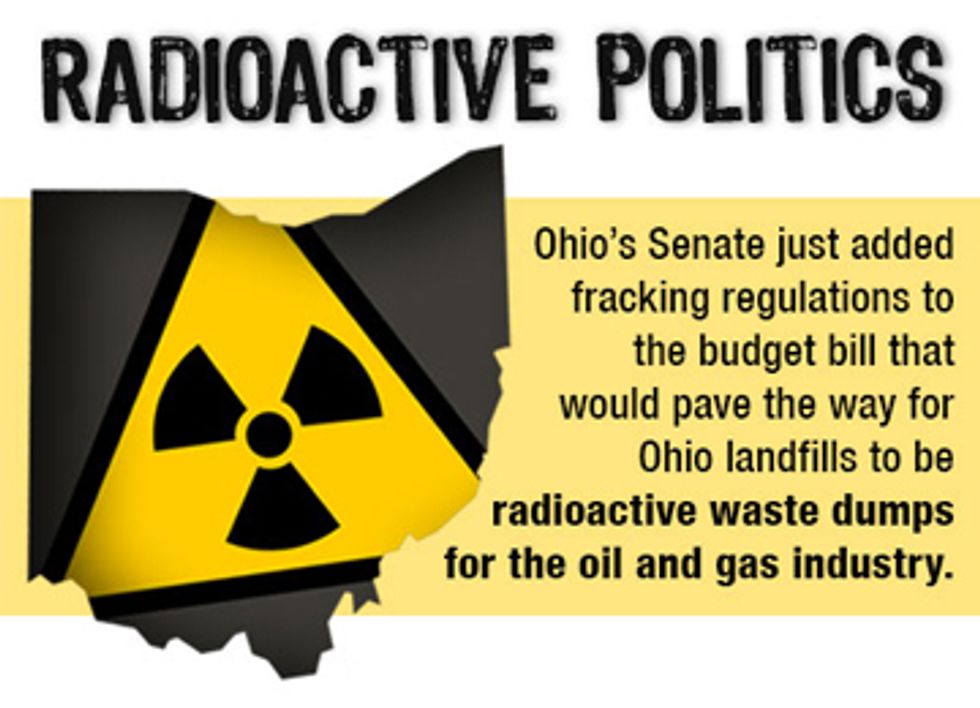 "The regulations represent yet another concession to the oil and gas industry at the expense of Ohioans' health and safety," says Alison Auciello, an organizer for Food & Water Watch. "Governor Kasich and our regulators are billing the proposal as a way to monitor and keep radioactive waste from landfills. But the legislation will indeed do the opposite of the claims made by the administration. Even worse, it gives a false sense of security that we are being protected. Disposal of radioactive waste should be considered a grave matter, not an ill-informed side note to the budget bill."
 
"The General Assembly is playing a word game to remake lethally radioactive waste into 'drilling cuttings' in order to allow drillers to dump their mountain of garbage on the cheap," said Terry Lodge, an attorney for the opposition working group. "They're replacing scientific fact with magical thinking and endangering public health, water, land and air—all for profit. By implementing these standards, they will violate federal standards. This will not stand."
 
"The radiation inherently present in shale gas drilling waste is a very serious concern. Whether disposed via injection wells, dumped into landfills or discharged into our Ohio surface waters from waste water plants, our state appears to be targeted as a regional radiation sacrifice zone," asserted Chris Borello, for Concerned Citizens of Stark County. "But once let out into our environment, this carcinogenic and long-lived toxin will leave Ohioans at risk forever. The proposal in the Ohio budget is an outdated, substandard criteria misleadingly contrary to what the National Academy of Science, the U.S. EPA [Environmental Protection Agency] and what 37 other states cite as the protective definition concerning this form of radiation. If enacted, Ohio will recklessly allow much of this radiation to be swept under the rug, posing an ongoing threat to the health of residents."
 
"Through the chosen definitions, this legislation exempts much radioactive and toxic material from any testing or tracking. Add oil-based substances, like benzene, to this concoction and the Governor and Ohio regulators think this waste can be used for 'any manner authorized as a beneficial use.' This is bad policy and endangers the health of Ohioans," said Vanessa Pesec, president of the Network for Oil and Gas Accountability and Protection.
 
"Ohio learned an important lesson in the 1990s when we were considering placing a low level radioactive waste landfill in the state for medical and research waste. We learned that if you take a small amount of radioactive waste and mix it with a large volume of regular wastes, you end up with a large volume of radioactive waste," said Julie Weatherington-Rice, senior scientist at Bennett & Williams Environmental. "Somehow, our legislature and our administration have forgotten this vital, basic radiological lesson. Water soluble wastes like radium, uranium and radon gas just leach out anyway, leaving behind the rest of the radioactive elements to contaminate wherever our current government chooses to put them. You either learn from history, or you repeat the mistakes again and again."
Visit EcoWatch's FRACKING page for more related news on this topic.
——–
Sign the petition today, telling President Obama to enact an immediate fracking moratorium: