This website uses cookies to ensure you get the best experience while browsing it. By clicking 'Got It' you're accepting these terms.


The best of EcoWatch, right in your inbox. Sign up for our email newsletter!
By Sharon Kelly
Back in April last year, the Trump administration's Environmental Protection Agency decided it was "not necessary" to update the rules for toxic waste from oil and gas wells. Torrents of wastewater flow daily from the nation's 1.5 million active oil and gas wells and the agency's own research has warned it may pose risks to the country's drinking water supplies.
Mosaic Fertilizer has been slammed with a federal lawsuit over the massive, radioactive sinkhole that opened under its New Wales plant in Mulberry, Florida, 30 miles east of Tampa.
The sinkhole, formed below a phosphogypsum stack, has leaked an estimated 215 million gallons of contaminated wastewater into the Floridan Aquifer, posing a potentially serious threat to drinking water. To make matters worse, news reports indicate that the fertilizer giant and state officials knew about the problem for three weeks but failed to notify the public.

EcoWatch Daily Newsletter
Radioactive contamination in the seabed off the Fukushima coast is hundreds of times above pre-2011 levels, while contamination in local rivers is up to 200 times higher than ocean sediment, according to results from Greenpeace Japan survey work released Thursday.
"The extremely high levels of radioactivity we found along the river systems highlights the enormity and longevity of both the environmental contamination and the public health risks resulting from the Fukushima disaster," Ai Kashiwagi, energy campaigner at Greenpeace Japan, said.
Greenpeace sediment sampling in Abukuma river, Miyagi prefecture, February 2016. The Abukuma has a 5,172km2 catchment15 which is largely in Fukushima prefecture, before entering the Pacific ocean in Miyagi prefecture. Greenpeace / Raquel Monton
"These river samples were taken in areas where the Abe government is stating it is safe for people to live. But the results show there is no return to normal after this nuclear catastrophe," said Kashiwagi.

Riverbank sediment samples taken along the Niida River in Minami Soma, measured as high as 29,800 Bq/kg for radiocaesium (Cs-134 and 137). The Niida samples were taken where there are no restrictions on people living, as were other river samples. At the estuary of the Abukuma River in Miyagi prefecture, which lies more than 90km north of the Fukushima Daiichi plant, levels measured in sediment samples were as high as 6,500 Bq/kg.
Greenpeace radiation specialist Jacob Namminga on board research vessel off the coast of Fukushima Daiichi, removing marine sediment sample collected by Remotely Operated Vehicle, March 2016. Greenpeace / Christian Aslund
The lifting of evacuation orders in March 2017 for areas that remain highly contaminated is a looming human rights crisis and cannot be permitted to stand. The vast expanses of contaminated forests and freshwater systems will remain a perennial source of radioactivity for the foreseeable future, as these ecosystems cannot simply be decontaminated.

Caesium-137 has a half life of 30 years and will continue to pose a risks to the the environment and human health for hundreds of years. Cs-137 contamination in seabed samples near the Fukushima plant was measured at up to 120 Bq/kg – compared to levels pre-2011 of 0.3 Bq/kg. Further, the levels of contamination found 60km south of the Fukushima Daiichi nuclear plant were comparable with those found within 4km of the plant. Numerous marine science investigations, have concluded that these higher levels are one explanation for some marine species still showing higher cesium levels than the background levels in seawater.
River systems along Fukushima and neighboring prefecture coastline discharging radioactivity into Pacific Ocean.
"The radiation levels in the sediment off the coast of Fukushima are low compared to land contamination, which is what we expected and consistent with other research," Kendra Ulrich, senior global energy campaigner at Greenpeace Japan, said. "The sheer size of the Pacific Ocean combined with powerful complex currents means the largest single release of radioactivity into the marine environment has led to the widespread dispersal of contamination."

Most of the radioactivity in Fukushima Daiichi reactor units 1-3 core fuel in March 2011 remains at the site.
"The scientific community must receive all necessary support to continue their research into the impacts of this disaster," Ulrich said.
"In addition to the ongoing contamination from forests and rivers, the vast amount of radioactivity onsite at the destroyed nuclear plant remains one of the greatest nuclear threats to Fukushima coastal communities and the Pacific Ocean. The hundreds of thousands of tonnes of highly contaminated water, the apparent failure of the ice wall to reduce groundwater contamination and the unprecedented challenge of three molten reactor cores all add up to a nuclear crisis that is far from over."
A radiation survey team onboard the research vessel Asakaze, supported by the Greenpeace flagship Rainbow Warrior, conducted underwater survey work along the Fukushima coastline from Feb. 21 to March 11 this year, as well collecting samples in river systems. The samples were measured at an independent laboratory in Tokyo.
By Emily Saari
The impacts of 2013's severe drought are apparent across the nation in forests, on farms and on once snowy peaks. Meanwhile, the oil and gas industry is demanding unprecedented amounts of water for hydraulic fracturing, better known as fracking.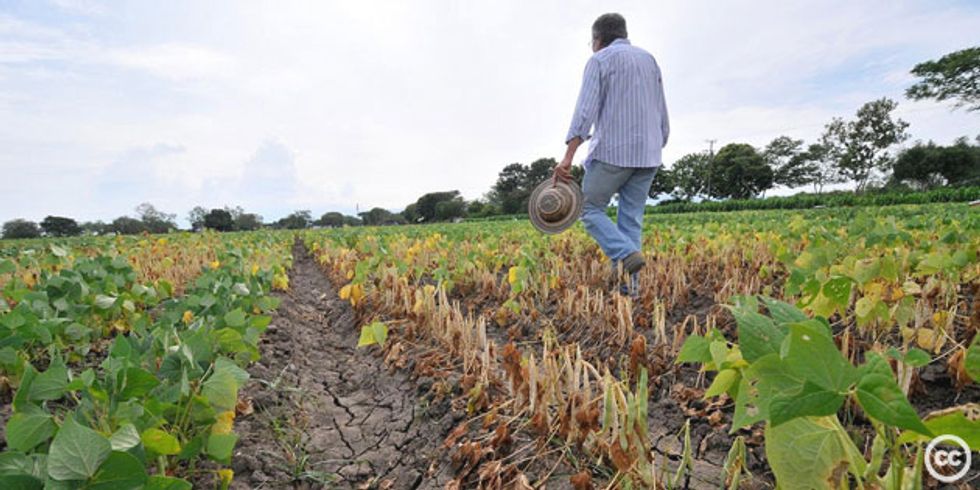 Fourth-generation Colorado farmer Kent Peppler told the Associated Press (AP) that he is fallowing some of his corn fields this year because he can't afford to irrigate the land for the full growing season, in part because deep-pocketed energy companies have driven up the price of water.
"There is a new player for water, which is oil and gas. And certainly they are in a position to pay a whole lot more than we are," Peppler said.
In a normal year, Peppler would pay anywhere from $9 to $100 for an acre-foot of water in auctions held by cities with excess supplies. But these days, energy companies are paying some cities $1,200 to $2,900 per acre-foot.
In seven states, including Colorado, Oklahoma, Texas and Wyoming, the vast majority of the counties where fracking is occurring are also suffering from drought, according to an AP analysis of industry-compiled fracking data and the U.S. Department of Agriculture's official drought designations.
The persistent U.S. drought wreaked havoc on American agriculture, raising food prices and forcing farmers to make record high insurance claims on lost profits for 2012.
As farmers struggle to make ends meet, limited fresh water reserves across the country are being diverted for fracking. The fossil fuel industry has identified deposits of oil and gas within shale rock formations deep underground, formerly inaccessible. In this new, "unconventional" drilling process, water mixed with sand and chemicals is injected into horizontal wells running through the shale. The injection cracks apart the rock, releasing the oil and gas and allowing it to rise to the surface for extraction.
Fracking requires enormous quantities of water. Estimates put water usage at between 3 and 5 million gallons per fracking of a single well, and each well can be fracked several times.
According to information accessed in 2012 from industry-backed FracFocus, a national fracking chemical registry managed by the Ground Water Protection Council and Interstate Oil and Gas Compact Commission, states have already seen more than 65 billion gallons of water used in 26,339 fracking operations.
In 2011, in a district in west Texas, the share of water resources used by fracking well sites jumped from 25 percent in 2010 to 40 percent in the first half of 2011. In Michigan, regulators granted a permit for a drilling company, Encana Oil and Gas, to use more than 21 million gallons of water at a single well in 2012. Repeatedly siphoning off these quantities of water for fracking can be a hardship for municipalities with limited capacity to augment their local water supplies—supplies that must also provide drinking and irrigation water for residents.
Water use by the fracking industry isn't comparable to water use by homeowners or farmers' agricultural needs. When used for household or agricultural purposes, often the water can eventually return to the ground to replenish aquifers, rivers and streams through the hydrological cycle.
On the other hand, after water has been used for fracking, much of it remains trapped deep underground in the wells. Wastewater that bubbles up to the surface is contaminated—both with the chemicals used in fracking and with heavy metals picked up from the shale rock formation—and must be stored away from drinking water sources.
The options for storage are limited: it can be impounded in reservoirs or injected underground. If it were to be treated and returned to the environment, it would need to be trucked to an industrial treatment facility, because municipal wastewater treatment facilities are not properly equipped to remove the chemicals in fracking wastewater. In reality, a large portion of the water used in fracking is left underground and becomes effectively lost.
Renewable energy sources don't have the same demands on water supplies. Solar and wind power use no water to capture energy and can peacefully coexist with agriculture. When it comes to generating electricity, for every 1,000 kilowatt-hours produced, solar thermal technology uses around 3,500 liters of water. In comparison, fossil fuels use 28,400 liters, more than eight times more. Solar photovoltaic and wind energy both consume less than 4 liters per kilowatt-hour of energy produced.
The nation faces a future made uncertain by the impacts of extreme heat, drought and wildfires exacerbated by climate change. Renewable energy generation not only cuts the greenhouse gas emissions that cause climate change, it doesn't tax water reserves, which are quickly becoming a limited and precious resource.
Visit EcoWatch's FRACKING page for more related news on this topic.
——–

Sign the petition today, telling President Obama to enact an immediate fracking moratorium:

Today, grassroots leaders in Ohio called out state leaders for failing to protect Ohioans from solid radioactive waste from hydraulic fracturing (fracking). According to local citizens groups, Gov. Kasich's budget bill will provide inadequate protection from low-level radioactive waste (LLRW), and therefore constitutes a handout to the oil and gas industry. They are asking the state to require the oil and gas industry to properly dispose of LLRW.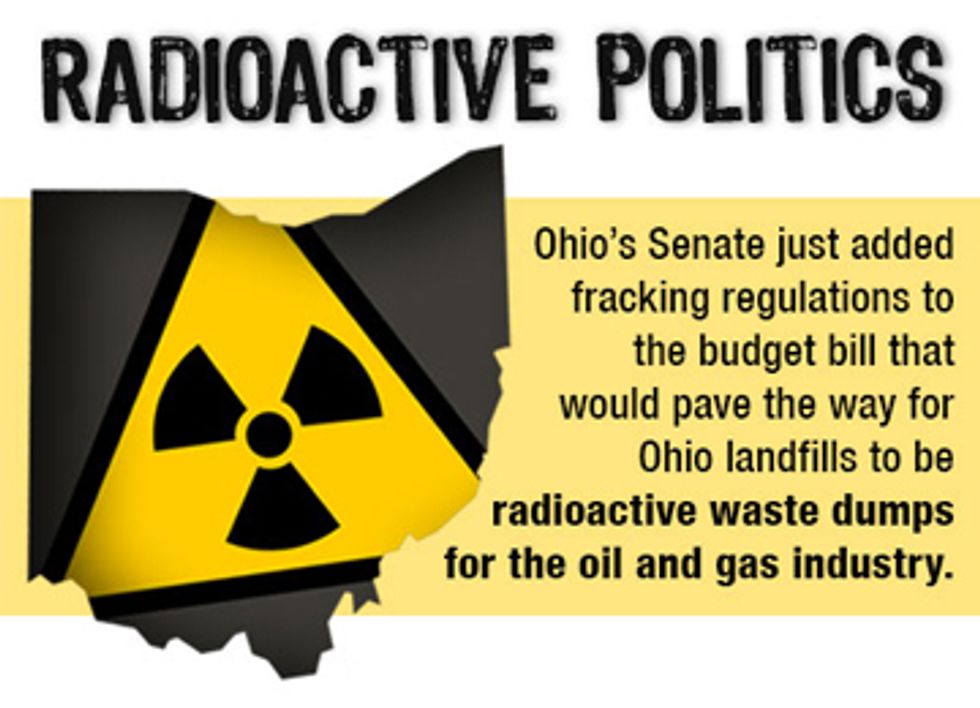 "The regulations represent yet another concession to the oil and gas industry at the expense of Ohioans' health and safety," says Alison Auciello, an organizer for Food & Water Watch. "Governor Kasich and our regulators are billing the proposal as a way to monitor and keep radioactive waste from landfills. But the legislation will indeed do the opposite of the claims made by the administration. Even worse, it gives a false sense of security that we are being protected. Disposal of radioactive waste should be considered a grave matter, not an ill-informed side note to the budget bill."
 
"The General Assembly is playing a word game to remake lethally radioactive waste into 'drilling cuttings' in order to allow drillers to dump their mountain of garbage on the cheap," said Terry Lodge, an attorney for the opposition working group. "They're replacing scientific fact with magical thinking and endangering public health, water, land and air—all for profit. By implementing these standards, they will violate federal standards. This will not stand."
 
"The radiation inherently present in shale gas drilling waste is a very serious concern. Whether disposed via injection wells, dumped into landfills or discharged into our Ohio surface waters from waste water plants, our state appears to be targeted as a regional radiation sacrifice zone," asserted Chris Borello, for Concerned Citizens of Stark County. "But once let out into our environment, this carcinogenic and long-lived toxin will leave Ohioans at risk forever. The proposal in the Ohio budget is an outdated, substandard criteria misleadingly contrary to what the National Academy of Science, the U.S. EPA [Environmental Protection Agency] and what 37 other states cite as the protective definition concerning this form of radiation. If enacted, Ohio will recklessly allow much of this radiation to be swept under the rug, posing an ongoing threat to the health of residents."
 
"Through the chosen definitions, this legislation exempts much radioactive and toxic material from any testing or tracking. Add oil-based substances, like benzene, to this concoction and the Governor and Ohio regulators think this waste can be used for 'any manner authorized as a beneficial use.' This is bad policy and endangers the health of Ohioans," said Vanessa Pesec, president of the Network for Oil and Gas Accountability and Protection.
 
"Ohio learned an important lesson in the 1990s when we were considering placing a low level radioactive waste landfill in the state for medical and research waste. We learned that if you take a small amount of radioactive waste and mix it with a large volume of regular wastes, you end up with a large volume of radioactive waste," said Julie Weatherington-Rice, senior scientist at Bennett & Williams Environmental. "Somehow, our legislature and our administration have forgotten this vital, basic radiological lesson. Water soluble wastes like radium, uranium and radon gas just leach out anyway, leaving behind the rest of the radioactive elements to contaminate wherever our current government chooses to put them. You either learn from history, or you repeat the mistakes again and again."
Visit EcoWatch's FRACKING page for more related news on this topic.
——–
Sign the petition today, telling President Obama to enact an immediate fracking moratorium: