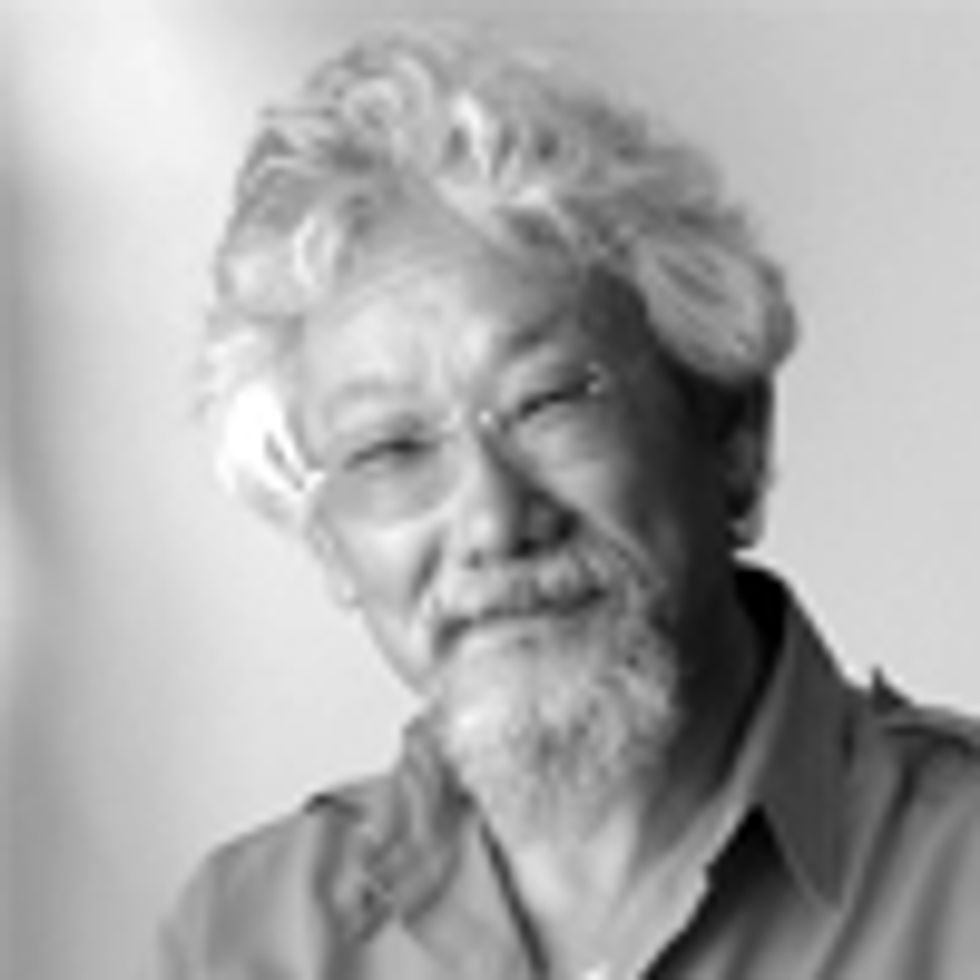 British Columbia (B.C.) appears to be pinning its economic hopes on natural gas—much of it obtained by fracking. While the world should be turning from fossil fuels to cleaner energy and conservation, we're poised to dig ourselves deeper into the climate-altering carbon hole.
 
Taking a cue from the liquidation-sale policies of the Alberta and federal governments, B.C.'s leaders want to get fossil fuels out of the ground, piped to the coast, liquefied and shipped to Asia—or wherever they can find buyers—as quickly as possible. It's a short-sighted plan based on outmoded thinking. In the long run, it's not good for the economy or the environment.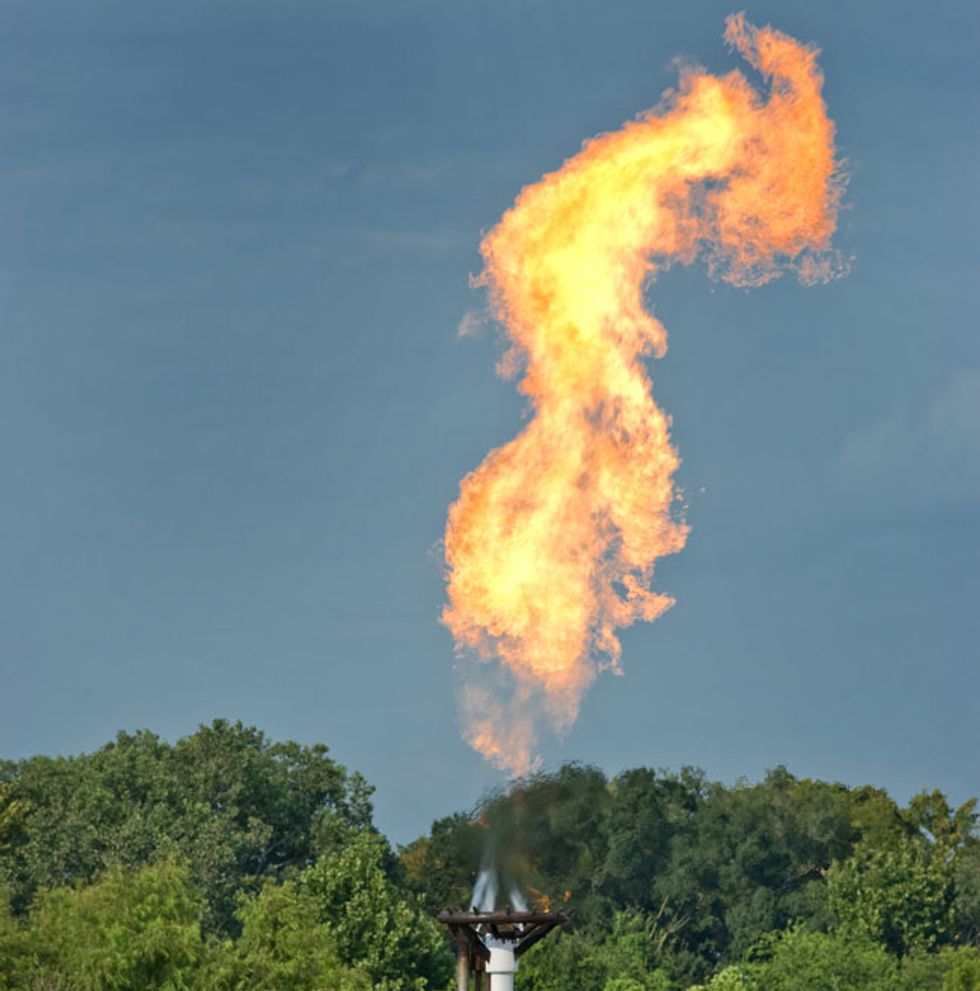 Whether politicians believe fossil fuel supplies are endless or can only see as far as the next election, they're selling out our future and leaving a shattered legacy for our kids and grandkids. To start, natural gas is not the clean-energy solution it's touted to be. According to the Pembina Institute, if only five of the 12 proposed liquefied natural gas (LNG) terminals were built on the B.C. coast, they could spew 63 million tons of carbon a year into the atmosphere—exceeding the amount now produced by the Alberta tar sands and equal to all of B.C.'s greenhouse gas emissions in 2010. Discharged particle matter and volatile organic compounds would also be significant new sources of pollution.
Liquefying the gas for export, which requires enormous amounts of energy, isn't the only source of greenhouse gases. Leaks–or what the industry refers to as "fugitive emissions"–during drilling, extraction and transport are also concerns. Although the B.C. Environment Ministry claims just .3 to .4 percent of gas escapes into the atmosphere, independent studies say it's likely many times that amount.
According to an article in Nature, scientists from the U.S. National Oceanic and Atmospheric Administration and the University of Colorado in Boulder found leaks of methane—a greenhouse gas 20 times more potent than carbon dioxide—amounted to between four and nine percent of total production at two gas fields in the U.S.
Even the economic benefits of the province's LNG plans are suspect. Many analysts expect price corrections, and LNG expert Peter Hughes told the Canadian Broadcasting Corporation the perceived windfall is "wishful thinking" because B.C. will have to compete with producers in places like Qatar, East Africa and Australia. Most of the money wouldn't even stay in B.C., as many gas companies are from other provinces and countries. As for jobs, natural gas extraction, transport and production create relatively few compared to almost every other economic sector–including tourism, science and technology, health care, education and small business.
 
On top of that, fracking—shooting water, sand and chemicals at high pressure into the ground to shatter shale and release natural gas—has many other environmental consequences. It requires massive amounts of water, contaminates drinking water, damages habitat and ecosystems—even causes small earthquakes!
 
As well as seeing natural gas as an economic panacea, some argue it could be a "bridging fuel"–something cleaner than oil or coal to use while we make the transition to renewable energy. But it's a hazard-strewn bridge, and subsidizing and investing in natural gas extraction and infrastructure without any real commitment to wean us off oil, coal and gas will only keep us on the fossil fuel road and discourage investment in clean energy and conservation.
 
The industry also relies on taxpayers' money to subsidize it, through tax and royalty credits, and to provide water, roads and the massive amounts of energy required to liquefy the gas. And fugitive emissions from gas operations are exempt from the carbon tax. If we are really "bridging" to reduce fossil fuels, why are we subsidizing companies for their carbon costs?
 
It's time to invest our money and human resources in long-term, innovative ideas that will create good, lasting jobs and ensure that we and our children and grandchildren continue to enjoy healthy and prosperous lives and that our spectacular "supernatural" environment is protected. We have abundant renewable resources and opportunities to conserve energy and lead the way in developing clean energy. It's time to move forward.
Visit EcoWatch's LNG and FRACKING and pages for more related news on this topic.
——–
Click here to tell Congress to Expedite Renewable Energy

EcoWatch Daily Newsletter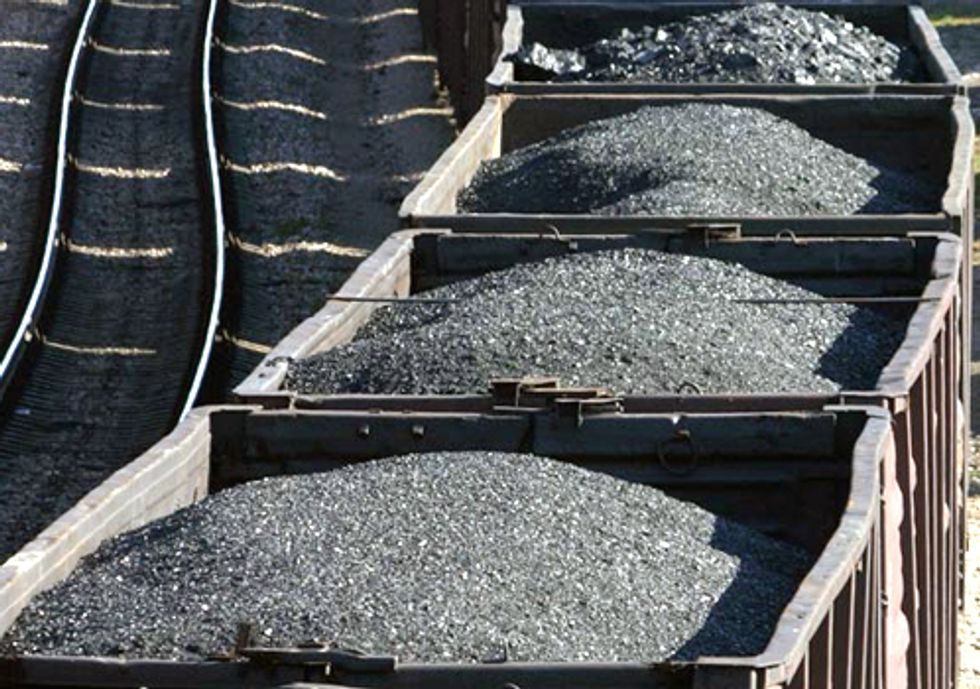 Although oil remains the world's leading energy source, coal and natural gas continue to grow in significance, according to new research conducted by the Worldwatch Institute for its Vital Signs Online service. Global consumption of coal increased 5.4 percent in 2011, to 3.72 billion tons of oil equivalent, while natural gas use grew 2.2 percent, to 2.91 billion tons of oil equivalent. Both are primary fuels for the world's electricity market, and because they are often used as substitutes for one other, their trends need to be examined together, write report authors Matt Lucky and Reese Rogers.
The bulk of coal use is for power generation, with smaller amounts being used in steelmaking. Spurred mainly by rising demand in China and India, coal's share in the global primary energy mix reached 28 percent in 2011—its highest point since the International Energy Agency began keeping statistics in 1971. Although the U.S. remains one of the world's largest coal users, just over 70 percent of global demand in 2011 was in countries outside of the Organisation for Economic Co-operation and Development (OECD), including China and India. Consumption in non-OECD countries grew 8 percent in 2011 to 2.63 billion tons of oil equivalent.
China alone accounted for nearly half of all coal use in 2011. India is the second largest contributor to rising coal demand and is the world's third largest coal consumer, after surpassing the European Union in 2009. The U.S. remains the second largest coal user, even though U.S. demand decreased by around 5 percent in 2011 and continued to fall in 2012 due to the shale gas boom and the abundance of cheap natural gas. Even with declining demand, the U.S. still accounts for 45 percent of coal demand within the OECD.
Coal production, like consumption, is concentrated mainly in China. But the U.S. holds the largest proved coal reserves, with 28 percent of the global total, followed by Russia at 18 percent, China at 13 percent, Australia at 9 percent, and India at 7 percent. Together, these five countries accounted for three-quarters of proved coal reserves as well as three-quarters of global coal production in 2011.
In the case of natural gas, global consumption grew at a slower rate than coal—2.2 percent—to reach 2.91 billion tons of oil equivalent in 2011. Usage grew in all regions except the European Union, which experienced a 9.9 percent decline in natural gas consumption—the largest on record and due mainly to a struggling economy and high natural gas prices.
Natural gas accounted for nearly 23.7 percent of global primary energy consumption in 2011, down slightly from 23.8 percent in 2010. Consumption increased most significantly in East Asia, led by China (21.5 percent) and Japan (11.6 percent).
Natural gas production increased at a higher rate than consumption—3.1 percent—reaching 2.96 billion tons of oil equivalent in 2011. The U.S. and Russia accounted for nearly 40 percent of the world's output in 2011, contributing 20 percent and 18.5 percent, respectively, followed by Canada, Iran, and Qatar at 4–5 percent each.
Continued strong growth in the global coal and natural gas sectors depends on numerous factors. Demand for coal could stagnate with the introduction of new technologies in the power sector, or with the adoption of policies to reduce the environmental and health impacts of coal combustion. Increasing global concern about greenhouse gas emissions and climate change could lead to a greater transition from coal to natural gas. Other factors that could change the equation include rising environmental and other concerns about hydraulic fracturing (or "fracking") and the possibility that cheap natural gas might undermine growth in renewable energy.
Further highlights from the report:
Over the period 2001–11, China accounted for 80 percent of the global increase in coal demand. China alone accounted for 49.5 percent of global coal production in 2011.
U.S. coal exports are growing at a rate not seen since the 1979–81 export boom, and 2012 exports are projected to be more than double those in 2009, according to data as of August 2012.
The greatest growth in natural gas production in 2011 occurred in Yemen (51.3 percent), Iraq (42.0 percent), Turkmenistan (40.6 percent) and Qatar (25.8 percent).
Liquefied natural gas's share of the total natural gas trade grew to 32.2 percent in 2011, up from 30 percent in 2010.
Visit EcoWatch's ENERGY page for more related news on this topic.
——–
Click here to tell Congress to Expedite Renewable Energy.

Hundreds of activists from the Arab region and around the world attended a historical march at Cornish Park in Doha, Qatar demanding urgent actions to address climate change during the UN climate conference, COP18. Activists are asking for world leaders to help create a world that does not compromise resources and life for future generations or their ability to meet their own needs. The march is thought to be the first event of its kind in the history of modern day Qatar.
Ali Fakhry, IndyACT media campaigner explained, "The marchers are here to ask their country leaders to act now, there is no time left." During the march, people held banners and chanted "Pledge Pledge, Pledge," "Arabs; it's time to lead" and "One Environment, Earth," while calling for urgent climate action, concrete steps towards binding future agreement in Doha and a second commitment of Kyoto protocol to start in 2013.
"Time is running out for us to ensure climate impacts do not spin out of control. We only have one environment and one Earth, as the ministers and decision makers are coming, we need them to hear civil society voices and push for concrete steps they are willing to take whether it is committing to cutting their emissions or ensuring poorer countries get support to take action," said Fakhry.
Activists from more than 15 Arab countries, including Qatar, Mauritania, Morocco, Jordan, Libya, Tunisia, United Arab Emirates, Palestine, Lebanon, Iraq, Algeria, Sudan, Oman, Egypt and Bahrain are also calling on their leaders—during the first climate negotiations ever held in the Middle East—to submit concrete voluntary pledges for mitigation targets at COP18 in order to fulfill their own responsibilities in reducing greenhouse gas emissions.
The march was supported by regional and international NGO networks such as IndyACT, OASIS Doha, 350.org, Climate Action Network and the global TckTckTck campaign, as well as youth activists who were instrumental in the Arab spring and are now organized in the newly founded Arab Youth Climate Movement.
The youth climate movement—another first of its kind in the Arab world launched by IndyACT—unites hundreds of grassroots activists from across the region. On Nov. 10, activists staged a regional Day of Action in the lead up to the UN climate talks in Doha.
Visit EcoWatch's CLIMATE CHANGE page for more related news on this topic.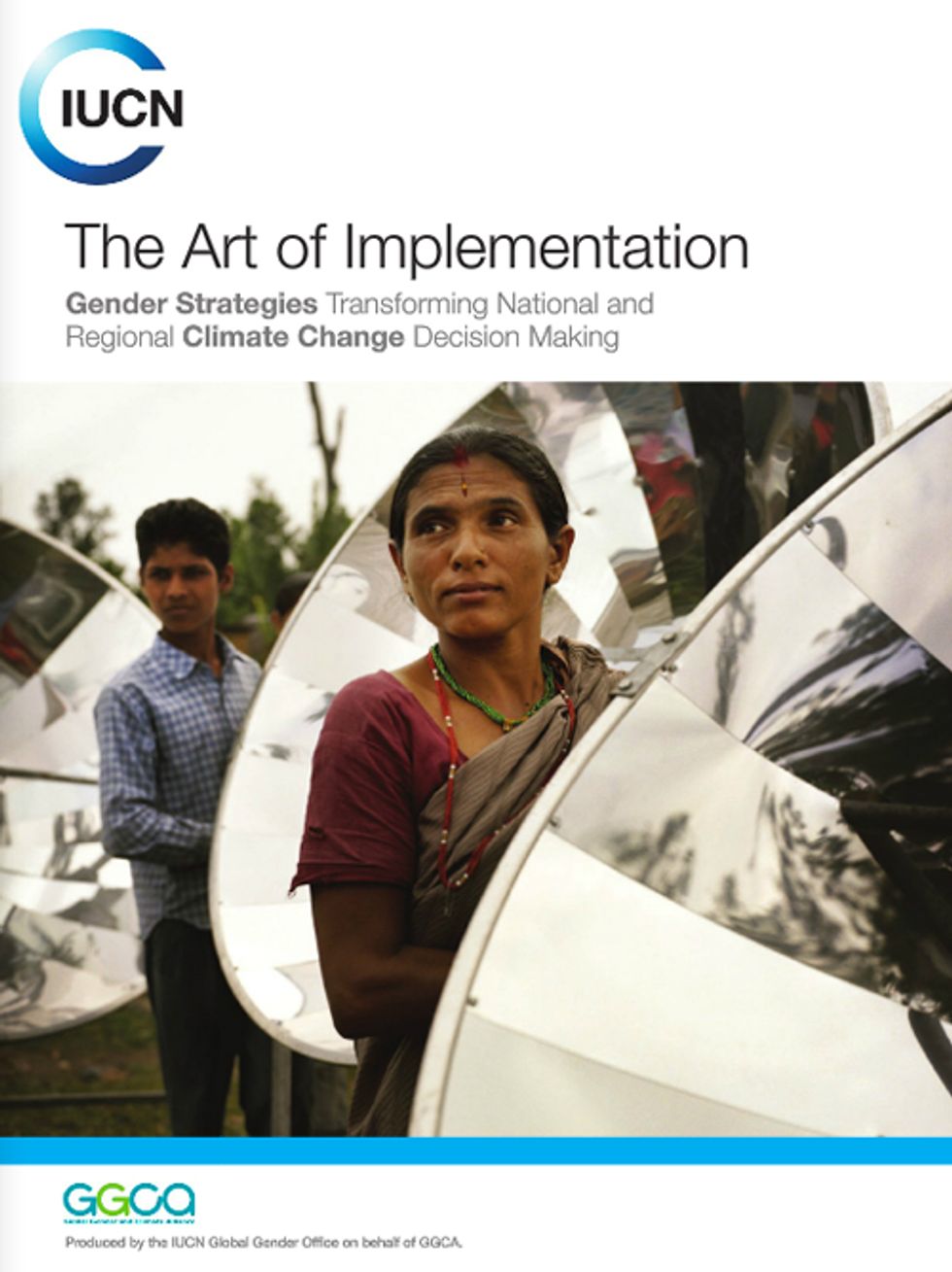 A new International Union for Conservation of Nature (IUCN) publication outlining action plans for women to help them adapt to climate change and minimize its impact has been launched at the 18th Conference of the Parties to the United Nations Framework Convention on Climate Change in Doha, Qatar.
A water taxi network owned and operated by women on the Nile that reduces emissions and provides fast, reliable public transport in a gridlocked Cairo transport system; a recycling project that empowers women as green entrepreneurs in Kathmandu; women-environmental whistleblowers on the coast of Liberia that assist the government in the collection of meteorological data to forecast the weather, acting as an early-warning system for storms and reporting environmental offenses; a carbon-footprint program run by community women and poetry singers in temples in Jordan and Nepal that communicate climate change messages. These are just a few innovative examples included in the book.
The Art of Implementation: Gender Strategies Transforming National and Regional Climate Change Decision Making focuses on the development of climate change and gender action plans—steps to be taken by women to adapt to climate change and minimize its impact. The publication includes a synthesis of strategies and action plans developed by the IUCN Global Gender Office on behalf of the Global Gender and Climate Alliance (GGCA) in Mozambique, Jordan, Egypt, Tanzania, Nepal, Haiti, Panama, Costa Rica, Liberia, the Arab League of States and the Central American Region. It also outlines the methodology used by IUCN.
"A critical step in the development of these action plans is the need to anchor global agreements within national contexts so as to take action on climate change at the local and national level, whilst harnessing the power of women in the process," says Lorena Aguilar, IUCN's Senior Global Gender Adviser. "The strategies and action plans represent a country's intention to empower and respond to the needs of the often invisible 'other half' of the population in the context of climate change. They link national and global policy in a concrete manner, communicate the importance of gender in climate action and frame women as agents of change—and not merely as a 'vulnerable' group."
The book outlines actions designed to adapt to climate change and minimize its impact that can be taken by women and other players in a variety of sectors covering topics as diverse as agriculture and food security, forests and REDD+, water, energy, health, urbanization, integrated coastal management, waste management, tourism, land use and disaster risk management. Each section also includes clear objectives, actions and indicators and identifies the specific institutions responsible for their implementation and delivery.
The action plans provide a comprehensive framework for the development of projects and their implementation, which has been agreed on by governments, UN institutions, contributing country partners, academia, the private sector and civil society, among others.
"Climate change will undermine the very foundation of socioeconomic development and will increase inequality and poverty," says Tarja Halonen, Former President of Finland and main funding partner to the project. "It will have a serious impact on the livelihoods of poor women in developing countries, as the increasing droughts and storms will affect agriculture and water resources, which are often the responsibility of women."
Until recently, policy responses at the global or national level did not reflect this reality. For more than twenty years, gender equality was absent from the United Nations Framework Convention on Climate Change (UNFCCC) and in decision-making by its Conference of the Parties and Subsidiary Bodies. Few National Adaptation Programs of Action (NAPAs) or national communications submitted by Parties to the UNFCCC addressed gender issues in a comprehensive manner, and some did not mention gender considerations at all.
Following several years of advocacy, capacity building, and building awareness, governments have now agreed multilaterally that gender equality is a key component in achieving climate change goals. Since 2008, more than 60 official gender references have entered the UNFCCC negotiation text, and the final outcomes of the Cancun (2010) and Durban (2011) conferences included eight and seventeen references to gender, respectively.
With these global mandates in place, the urgent next step is to turn them into action and determine how to design climate change policies that address these issues.
Visit EcoWatch's CLIMATE CHANGE page for more related news on this topic.