These days, mobile phone chargers and cables can be picked up at just about any drug store or gas station. But these products can be cheaply made, come in unnecessary plastic packaging, and certainly add to world's toxic and growing electronic waste, or e-waste, problem
With that in mind, Nimble has launched a line of sustainably made mobile accessories that include wireless charging pads, stands and travel kits.
The devices have features such as plant-based bioplastic, 100 percent organic hemp, recycled PET from plastic bottles and recyclable aluminum, as well as USB cables that are BPA- and PVC-free.
Instead of using paint or toxic adhesives, they're speckled with natural mineral crystals to create a unique design. They also come packaged in 100 percent recycled scrap paper with no inks, adhesives or dyes, making them completely compostable.
Infinitely recyclable and highly durable. Our products are housed in aluminum for the protection, and the appeal. J… https://t.co/qbBH0XZlx9

— nimble (@nimble)1534207996.0
The battery cells themselves are made of standard lithium-ion, which are non-biodegradable, of course. But to make up for that, the startup has a One-for-One Tech Recovery Project that aims to recycle one pound of e-waste for every product sold. Each gadget comes with a recyclable bag that you can stuff with any old and unwanted phones, tablets and other electronics you have lying around. You then print out a free-shipping label from the Nimble website and send it directly to their e-waste recycling partner, Homeboy Electronics Recycling in Los Angeles, for proper reclamation.
Nimble aims to be e-waste neutral by 2022 through recovery of an equal amount of e-waste as it adds in new items to their line.
The three founders, Ross Howe, Jon Bradley and Kevin Malinowski, are all ex-employees of the mobile accessory maker Mophie.
"We all came from the consumer electronics industry and we realized that that business model is really broken," Howe, the CEO of Nimble, said in a company video, adding that typical packaging for phone accessories are not only unrecyclable, it also adds $8-10 dollars to the item.
Wired noted that Nimble's pricing is competitive—more expensive than the budget stuff, but cheaper than big-name brands. Nimble's products won't be sold at traditional retail shops, which cuts prices even more.
Their least expensive option is the $40 wireless pad that can power all the latest iPhones at 7.5 watts and other smartphones at up to 10 watts. The portable chargers are available at 10K, 13K, 20K and 26K mAh capacities and range from $50 to $100.
The devices can be purchased directly on their website and on Amazon in the coming days. It ships straight from their facility in Orange County, California. At this time, Nimble only ships to addresses in the U.S.
"We believe people should know how their products are made, where they come from and what the impact is on the world," said Howe in a press release. "Simply put, we make great personal tech products, more thoughtfully."
Watch here to learn more:
From Your Site Articles
Related Articles Around the Web
EcoWatch Daily Newsletter
Ok, so you know about the potential health implications of BPA in plastic and you do your best to avoid it. But what about PVC in plastics and other products?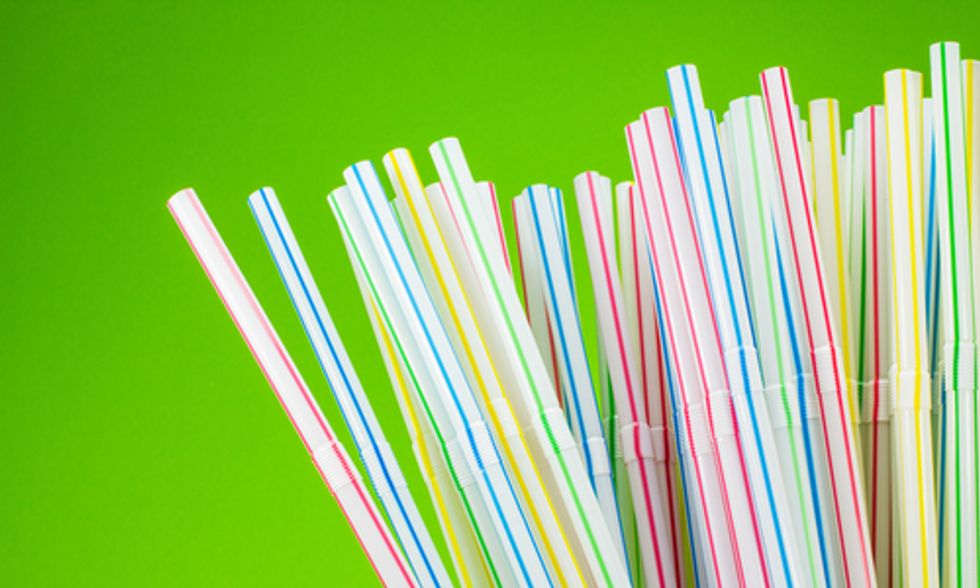 Plastic drinking straws. Photo courtesy of Shutterstock
PVC—polyvinyl chloride, or vinyl—is found in a range of products, from children's toys to building materials to food packaging. Healthy Child Healthy World describes PVC as the most toxic plastic, and vinyl chloride, the chemical used to make PVC, has been described as a known carcinogen by the World Health Organization's International Agency for Research on Cancer.
PVC, because of its high chlorine content, creates toxic pollution in the form of dioxins, which accumulate in animals' fat up through the food chain. Exposure to PVC often includes exposure to phthalates, which may have serious health effects. Besides health problems, there are a number of negative environmental impacts from the production and use of this material, such as problems in disposing of PVC, which is very difficult to recycle. There are other consequences you might not have even thought about.
Greenpeace lists the following 10 reasons to avoid PVC:
1. Hazardous production
2. Environmental racism
3. Toxic additives
4. Catastrophic accidents
5. Terrorist targets
6. Dangerous cargo
7. No safe use
8. Unsafe disposal
9. Problematic recycling
10. Safer cost-effective alternatives are widely available
This infographic created by Mary-Anne Phillips highlights the dangers of PVC:

How might you be exposed to PVC? The U.S. National Library of Medicine offers the following list of potential sources:
You can be exposed to PVC by eating food or drinking water contaminated with it. At home, you can be exposed to PVC if you have PVC pipes, vinyl flooring or other consumer products made with PVC. You can be exposed if your home has vinyl siding or if you are building or renovating your home. Exposure may occur through food packaging and containers or "shrink wrapped" packages.
You can be exposed to PVC outdoors if you have a plastic swimming pool or plastic furniture. You can be exposed if you live or work on a farm that has an irrigation system containing PVC.
You can be exposed to PVC if you are a patient in a hospital and use medical devices made with PVC.
At work, you can be exposed to PVC if you work in a facility that manufactures PVC pipes and pipe fittings, tubing and other building and construction products. You can be exposed if you work in a facility that manufactures vinyl chloride, BPA or phthalates. You can be exposed if you are a plumber, home builder, construction worker, health care professional, farmer or worker in an auto manufacturing facility or repair shop.
While that lists sounds daunting, there are ways to protect yourself from the dangers of PVC .
On packaging, look for the #3 or the letters PVC, often found near the recycling symbol—and avoid these products.
The Center for Health, Environment and Justice, which calls PVC the most environmentally harmful plastic, has created a list of common products—in categories such as apparel, kitchen items and office supplies—that are made from or packaged in PVC. The organization also created the following table of PVC-free alternatives to common materials.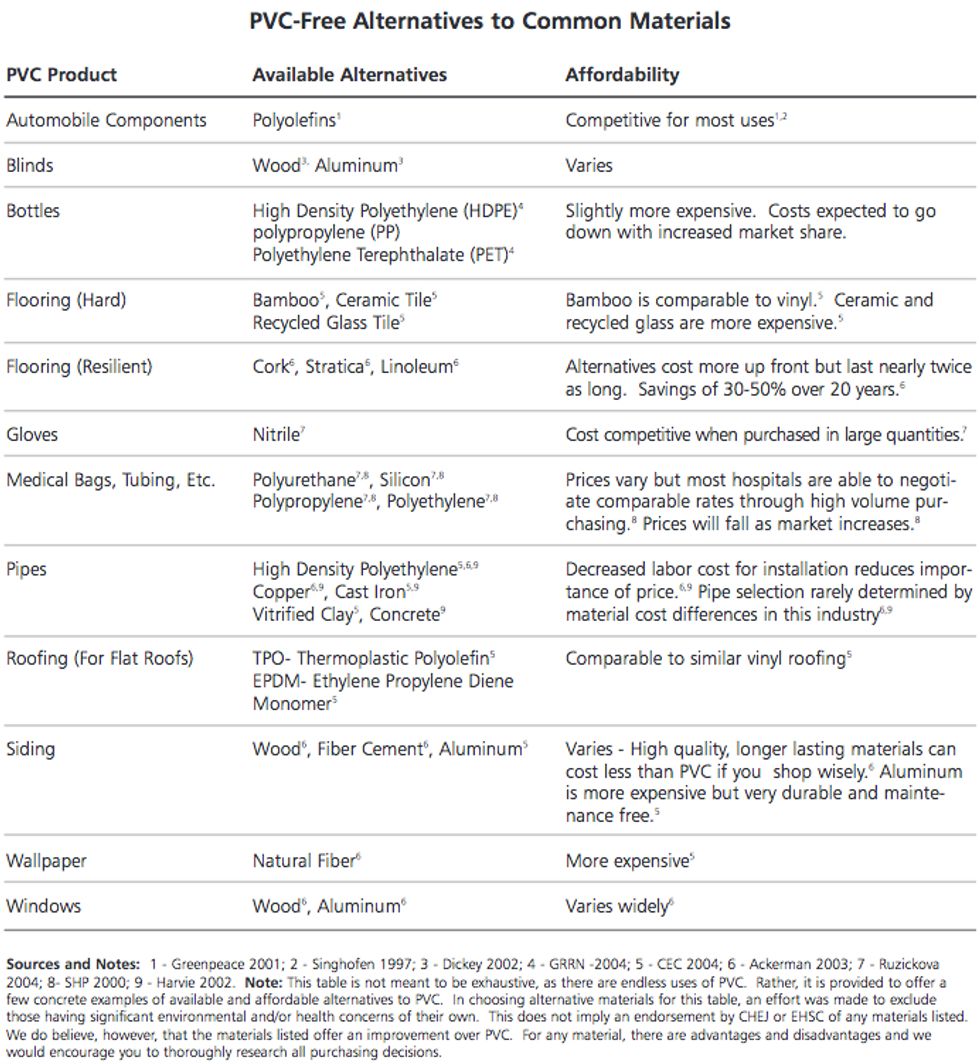 waterlust.com / @tulasendlesssummer_sierra .
Each product featured here has been independently selected by the writer. If you make a purchase using the links included, we may earn commission.
The bright patterns and recognizable designs of Waterlust's activewear aren't just for show. In fact, they're meant to promote the conversation around sustainability and give back to the ocean science and conservation community.
Each design is paired with a research lab, nonprofit, or education organization that has high intellectual merit and the potential to move the needle in its respective field. For each product sold, Waterlust donates 10% of profits to these conservation partners.
Eye-Catching Designs Made from Recycled Plastic Bottles
waterlust.com / @abamabam
The company sells a range of eco-friendly items like leggings, rash guards, and board shorts that are made using recycled post-consumer plastic bottles. There are currently 16 causes represented by distinct marine-life patterns, from whale shark research and invasive lionfish removal to sockeye salmon monitoring and abalone restoration.

One such organization is Get Inspired, a nonprofit that specializes in ocean restoration and environmental education. Get Inspired founder, marine biologist Nancy Caruso, says supporting on-the-ground efforts is one thing that sets Waterlust apart, like their apparel line that supports Get Inspired abalone restoration programs.
"All of us [conservation partners] are doing something," Caruso said. "We're not putting up exhibits and talking about it — although that is important — we're in the field."
Waterlust not only helps its conservation partners financially so they can continue their important work. It also helps them get the word out about what they're doing, whether that's through social media spotlights, photo and video projects, or the informative note card that comes with each piece of apparel.
"They're doing their part for sure, pushing the information out across all of their channels, and I think that's what makes them so interesting," Caruso said.
And then there are the clothes, which speak for themselves.
Advocate Apparel to Start Conversations About Conservation
waterlust.com / @oceanraysphotography
Waterlust's concept of "advocate apparel" encourages people to see getting dressed every day as an opportunity to not only express their individuality and style, but also to advance the conversation around marine science. By infusing science into clothing, people can visually represent species and ecosystems in need of advocacy — something that, more often than not, leads to a teaching moment.

"When people wear Waterlust gear, it's just a matter of time before somebody asks them about the bright, funky designs," said Waterlust's CEO, Patrick Rynne. "That moment is incredibly special, because it creates an intimate opportunity for the wearer to share what they've learned with another."
The idea for the company came to Rynne when he was a Ph.D. student in marine science.
"I was surrounded by incredible people that were discovering fascinating things but noticed that often their work wasn't reaching the general public in creative and engaging ways," he said. "That seemed like a missed opportunity with big implications."
Waterlust initially focused on conventional media, like film and photography, to promote ocean science, but the team quickly realized engagement on social media didn't translate to action or even knowledge sharing offscreen.
Rynne also saw the "in one ear, out the other" issue in the classroom — if students didn't repeatedly engage with the topics they learned, they'd quickly forget them.
"We decided that if we truly wanted to achieve our goal of bringing science into people's lives and have it stick, it would need to be through a process that is frequently repeated, fun, and functional," Rynne said. "That's when we thought about clothing."
Support Marine Research and Sustainability in Style
To date, Waterlust has sold tens of thousands of pieces of apparel in over 100 countries, and the interactions its products have sparked have had clear implications for furthering science communication.
For Caruso alone, it's led to opportunities to share her abalone restoration methods with communities far and wide.
"It moves my small little world of what I'm doing here in Orange County, California, across the entire globe," she said. "That's one of the beautiful things about our partnership."
Check out all of the different eco-conscious apparel options available from Waterlust to help promote ocean conservation.
Melissa Smith is an avid writer, scuba diver, backpacker, and all-around outdoor enthusiast. She graduated from the University of Florida with degrees in journalism and sustainable studies. Before joining EcoWatch, Melissa worked as the managing editor of Scuba Diving magazine and the communications manager of The Ocean Agency, a non-profit that's featured in the Emmy award-winning documentary Chasing Coral.