This website uses cookies to ensure you get the best experience while browsing it. By clicking 'Got It' you're accepting these terms.


The best of EcoWatch, right in your inbox. Sign up for our email newsletter!
Traces of Oxycodone were found in bay mussels like these used to monitor pollution levels in Seattle's Puget Sound.
brewbooks / Flickr / CC BY-SA 2.0
A surprising finding from the waters of Seattle's Puget Sound reveals that the opioid epidemic devastating human communities in the U.S. could be harming marine life as well.
Every two years, the Washington Department of Fish and Wildlife (WDFW) transplants bay mussels raised in clean waters in Whidbey Island, WA to locations around Puget Sound in order to monitor pollution levels in the water. Since mussels are filter feeders, area scientists can get a good idea of what contaminants are present in the environment by examining which have built up in the mussels' tissue after two to three months of exposure.
Today, the Sierra Club and its partners filed suit against Burlington Northern Santa Fe Railway Company (BNSF) and several coal companies for violations of the federal Clean Water Act. The Sierra Club, Puget Soundkeeper, Columbia Riverkeeper, RE Sources for Sustainable Communities and Friends of the Columbia Gorge sent a 60 day notice in April after collecting evidence demonstrating the companies' responsibility for emitting coal into waterways in several locations across Washington. Spokane Riverkeeper and the Natural Resources Defense Council (NRDC) recently sent a notice letter for these violations as well.
"BNSF and the other coal shippers had two months to figure out a way to stop polluting our waterways and communities with coal dust but they chose to do nothing to find a solution," said Cesia Kearns, senior campaign representative of the Sierra Club's Beyond Coal Exports campaign. "After years of railroad and coal companies playing the coal dust blame game, the last two months proved we can only expect more of the same from these companies. "
The suit was filed in U.S. District Court for the Western District of Washington in Seattle, where coal dust has been identified in and along multiple waterways. Seattle Mayor Mike McGinn, a co-founder of the Leadership Alliance Against Coal comprised of over 40 Northwest tribal and elected leaders, has actively opposed the plan to develop coal export terminals in Washington and Oregon which would send 18 coal trains per day through Seattle, and is now speaking out against the Clean Water Act violations.
"We are concerned about the effects of coal dust on our environment and on our waterways," said Seattle Mayor Mike McGinn. "It is important that the coal companies comply with our environmental laws."
According to BNSF testimony at hearings before the Surface Transportation Board, each rail car loses an average of 500-3,500 pounds of coal dust. Coal trains are composed of approximately 120 rail cars, resulting in an average of 60,000-420,000 lbs of coal lost per train, each trip. A massive increase in rail traffic and longer trains are expected in the future should new hotly contested coal export terminals be built in Washington and Oregon.
BNSF Railway, owned by Warren Buffett's Berkshire Hathaway, is one of the largest coal transporters in the U.S. It is responsible for hauling an average of four trains, or 480 open-top rail cars, carrying coal through Washington daily. BNSF ships nearly 300 million tons of coal through 28 states each year, coming in contact with countless waterways every trip.
"If we're seeing this much coal from just a few trains in Washington every day, it begs the question of what problems other waterways in states across the country might also be facing," said Bart Mihailovich, Spokane Riverkeeper.
According to BNSF, approximately 90 percent of its annual coal shipments are from coal mines in the Powder River Basin (PRB) located in Wyoming and Montana. PRB coal breaks apart easily and contains mercury, arsenic, uranium and hundreds of other toxins harmful to fish and human health.
Clyde Anderson, a retired Union Pacific employee from Omaha, NE, spent decades working on the rail line and says even after a coal train has traveled nearly 800 miles from the West, coal dust is still a major problem. "Sometimes the coal dust was so bad, the visibility of the caboose was completely blocked," said Anderson.
Using the most conservative BNSF figures, the four daily coal trains travelling through Washington heading to Canada or to the state's last remaining coal plant combine to lose a staggering 240,000 pounds of coal dust per day. Local residents and conservation groups are concerned that the problem will only worsen if coal companies receive approval to move forward with their controversial plans to develop at least three coal export terminals in Washington and Oregon, which could send an additional 42 trains through Washington daily.
"With proposals to dramatically increase coal train traffic in the Gorge currently looming, it is even more important that we end these dangerous violations of the Clean Water Act and stop dumping coal in the Columbia River Gorge, our National Scenic Treasure," said Michael Lang, conservation director for Friends of the Columbia Gorge.
Under the Clean Water Act, anyone discharging pollutants into U.S. waters must first obtain what is known as a National Pollutant Discharge Elimination System permit. BNSF does not have such a permit.
Plaintiffs intend to file a similar action in the Eastern District of Washington at a later date.
The plaintiffs are represented by the Law Offices of Charles M. Tebbutt, P.C. of Eugene, OR, Andrea Rodgers Harris of Seattle, WA, Jessica Yarnall Loarie of the Sierra Club Law Program, and David Pettit and Morgan Wyenn of the Natural Resources Defense Council.
Visit EcoWatch's COAL page for more related news on this topic.
——–
Click here to tell Congress to Expedite Renewable Energy

EcoWatch Daily Newsletter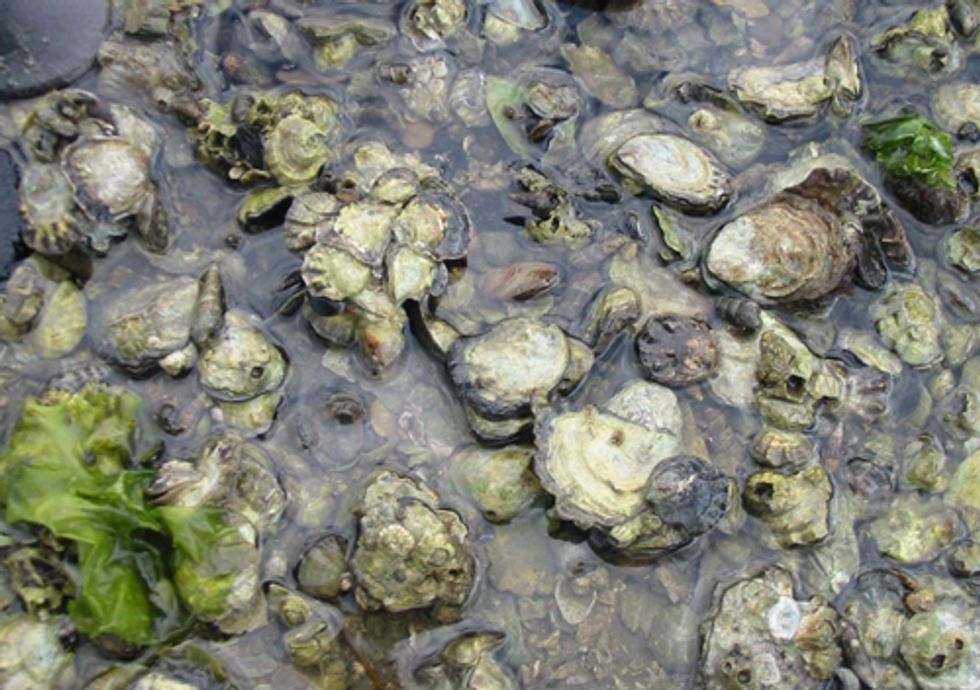 In its water-quality report to the U.S. Environmental Protection Agency (EPA), the state of Washington classified the entire Puget Sound as "waters of concern" because of ocean acidification's threat to local shellfish and fish resources. This means the data show that ocean acidification is threatening the region's ability to support fish and shellfish. It also makes the area a priority for more monitoring and assessment.
"Ocean acidification is putting the whole Puget Sound ecosystem at risk," said Miyoko Sakashita, oceans director at the Center for Biological Diversity. "Focusing on the entire Sound as a 'water of concern' because of ocean acidification is a key step toward monitoring the effects of this sea change and curbing those effects."
The Pacific Northwest is particularly vulnerable to the impacts of ocean acidification. For many of the past six years, the region's baby oysters have been unable to survive, in part due to acidifying waters. Scientists have documented waters affected by ocean acidification upwelling along the Pacific Coast during certain seasons and exposing marine life to corrosive waters.
"The science is in, and it says the Northwest's stretch of ocean, and all the marine life it supports, is in trouble," said Sakashita. "Washington may also be a warning beacon for the future of our oceans. But it isn't enough to simply recognize the problem. We have to act, and that means cutting carbon pollution."
In 2009, the Center for Biological Diversity filed a lawsuit challenging Washington's prior water-quality assessment for failing to declare coastal waters impaired by ocean acidification. As a result of a settlement of that lawsuit, the EPA directed all states to consider ocean acidification as a threat to water quality under the Clean Water Act.
In its new assessment, Washington again declined to identify coastal waters as "impaired" by acidification—a classification that would have required steps to curb carbon pollution causing acidification. Instead, only Puget Sound was put on the "waters of concern" list, a less urgent category.
Each day the world's oceans absorb 22 million tons of carbon dioxide (CO2) from the atmosphere, most of which comes from burning fossil fuels and cutting down forests. Carbon dioxide reacts with seawater, causing it to become more acidic. Since preindustrial times the world's oceans have become about 30 percent more acidic. Ocean acidification strips seawater of the materials that marine animals—such as corals, plankton and shellfish—use to build their shells and skeletons. This can stunt growth or cause deformations, often at a cost to the animal's overall health.
For more information, click here.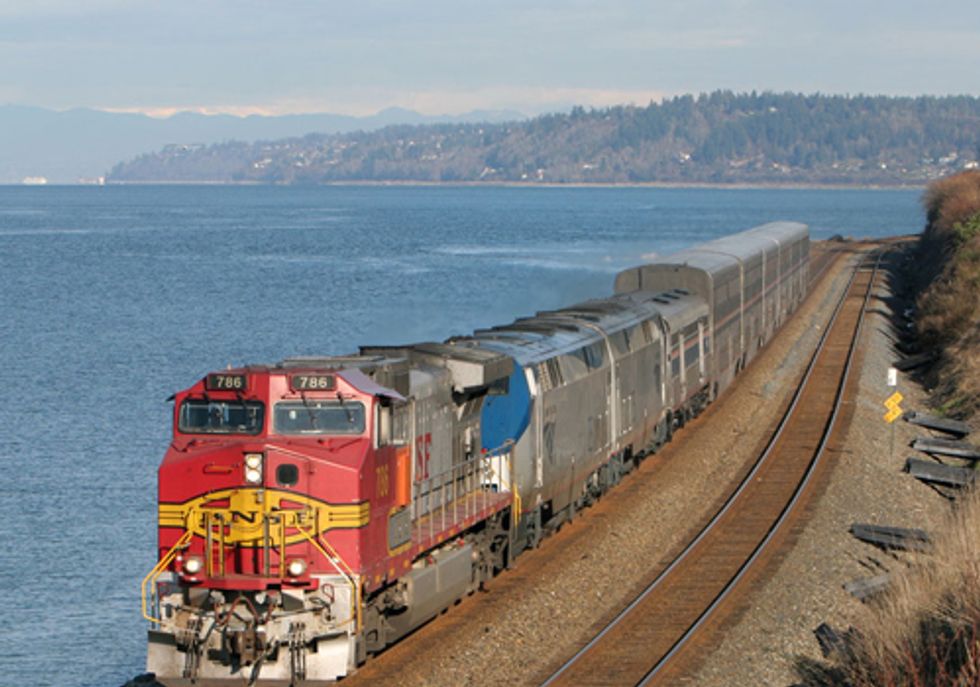 After a multi-year legal challenge, Puget Soundkeeper Alliance (Soundkeeper) has entered one of the country's largest Clean Water Act settlements involving the discharge of stormwater pollution. As part of a settlement of Federal Clean Water Act claims, BNSF Railway Company (BNSF) agreed to pay $1.5 million to a third-party organization to fund Puget Sound restoration and pollution mitigation projects. Soundkeeper had earlier obtained a court ruling establishing that BNSF had illegally discharged industrial stormwater from a Seattle facility to Puget Sound. The case is pending before the Honorable John Coughenour in the Federal Court for the Western District of Washington, located in Seattle.
"Stormwater pollution is killing Puget Sound. The size of this settlement is one of the largest ever in a citizen enforcement action involving stormwater discharges. It sends a strong message that stormwater pollution is an important issue and has serious consequences for polluters," said Chris Wilke, Puget Soundkeeper and executive director at Puget Soundkeeper Alliance.
As described in the proposed Consent Decree submitted Dec. 21 to a Washington federal judge, BNSF has implemented numerous measures since the lawsuit was filed to help ensure compliance with the Clean Water Act in future discharges to Elliott Bay. By law, the U.S. Department of Justice and the U.S. Environmental Protection Agency have 45 days to review the agreement before it may be signed into legal effect as an order of the court.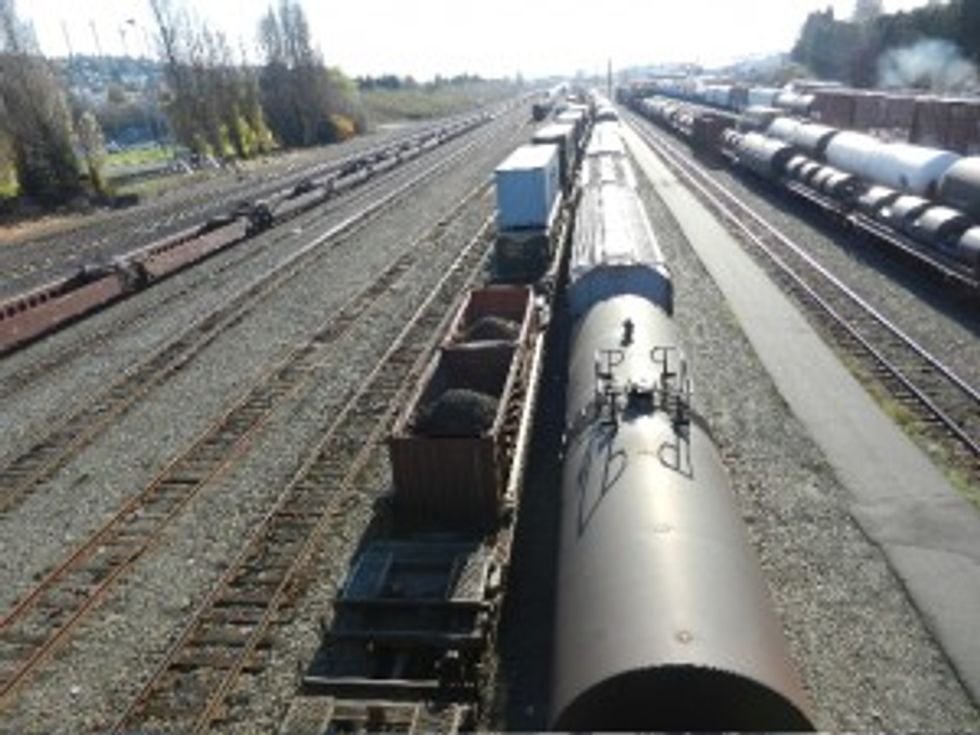 The case involves stormwater discharges from BNSF's Balmer Yard facility, located between Seattle's Queen Anne and Magnolia neighborhoods. The facility discharges industrial stormwater to Elliott Bay near the public beach at Smith Cove Park. The facility is operated by Texas-based BNSF, a subsidiary of Berkshire Hathaway.
Industrial stormwater can contain toxic levels of heavy metals, such as copper, zinc and lead, as well as oils and suspended solids. Elliott Bay is identified by state and federal agencies as providing critical habitat for threatened Chinook salmon and is home or a migration route to other species including coho salmon, sixgill shark, octopus, lingcod, marbled murrelet, harbor seals, harbor porpoise and orca whales. Polluted stormwater runoff is the number-one source of toxic loading in the Puget Sound, according to a recent study by the Department of Ecology. Heavy metals, especially copper, are particularly dangerous to the survival of salmon species, which are highly valued culturally and economically by the people of the Puget Sound Region.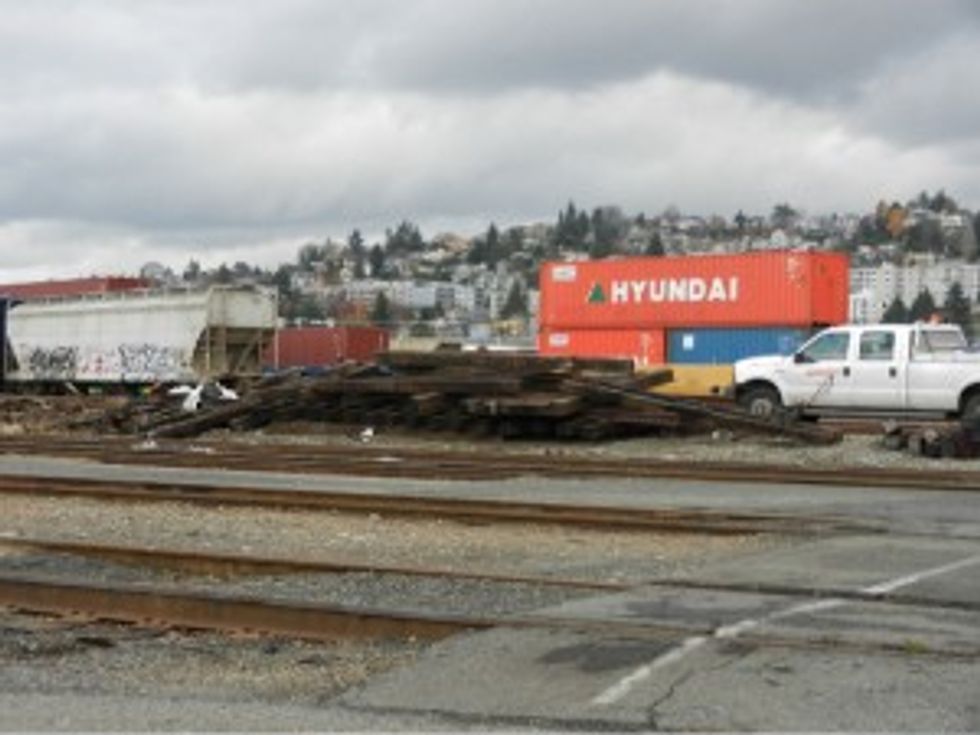 Soundkeeper filed the suit against BNSF in July of 2009 under the Clean Water Act's "citizen suit" provision, which authorizes concerned citizens to step in and enforce its provisions to protect public waterways when public agencies fail to do so. Soundkeeper alleged that BNSF was in violation of its Clean Water Act permit regulating discharges of industrial stormwater from the Balmer Yard facility. Soundkeeper amended the complaint in August 2010 to add claims that BNSF's unpermitted discharges of industrial stormwater from the Balmer Yard violated the Clean Water Act.
"We identified the Balmer Yard because BNSF had consistently reported concentrations of heavy metals in its discharges far exceeding the thresholds set by its permit," said Wilke of Soundkeeper. "These pollutant levels were particularly concerning because a facility as large as the Balmer Yard can discharge a significant amount of industrial stormwater to Puget Sound." Wilke said this is an important step in the long process to clean up toxic stormwater discharges to the Puget Sound, which is identified as a high priority in the recovery of the Puget Sound by state and federal agencies.
Federal Judge John Coughenour entered an order in August of 2011 finding BNSF liable for extensive violations of the Clean Water Act, including for discharging industrial stormwater without a permit and for failing to implement required stormwater pollution control measures.
Soundkeeper was represented in the lawsuit by the Seattle law firm of Smith & Lowney, which focuses on environmental and public interest law. "This settlement shows that the Clean Water Act is a potent tool for holding industry accountable for illegal stormwater pollution. We hope the size of this settlement encourages businesses and governments to tackle their stormwater problems," said Brian Knutsen, the lead attorney on the case.
The Consent Decree filed Dec. 21 contains provisions for recovering damages to the environment and ensuring compliance with the Clean Water Act at the facility. The Consent Decree recognizes that since the case was filed, BNSF has taken significant actions to improve its management of stormwater on its site, including developing a stormwater pollution prevention plan, coating roofs to minimize zinc pollution, stabilizing banks to minimize soil erosion, and taking other actions to prevent and control spills and minimize rain contact with sources of contamination.
BNSF must pay a total of $1.5 million to a new Puget Sound Stewardship and Mitigation Fund established by the Rose Foundation, which will award grants for environmental restoration projects in Puget Sound. "This new fund will help support important work to protect the waters of Puget Sound," said Rose Foundation director Tim Little. "The money will be put to good use in protecting water quality and rebuilding habitat for endangered salmon for years to come."
The federal court will retain jurisdiction over the case to enforce the requirements of the consent decree, which includes the requirement that BNSF comply with the terms of its stormwater discharge permit.
For more information, click here.
The proposed Consent Decree can be viewed by clicking here.
The Court's order on Clean Water Act violations can be viewed by clicking here.
—————
The mission of Puget Soundkeeper Alliance is to protect and preserve Puget Sound through monitoring, engagement, enforcement and partnership. Puget Soundkeeper is a licensed member of the 200-member international Waterkeeper Alliance, which fights to protect waterways around the world. Puget Soundkeeper Alliance does not receive any money from this settlement, despite the intense involvement of its staff and several board members over the years of litigation.