By Elizabeth Schuster
Monday, I participated in a meeting hosted by the White House Council on Environmental Quality and the Environmental Protection Agency on financing water infrastructure.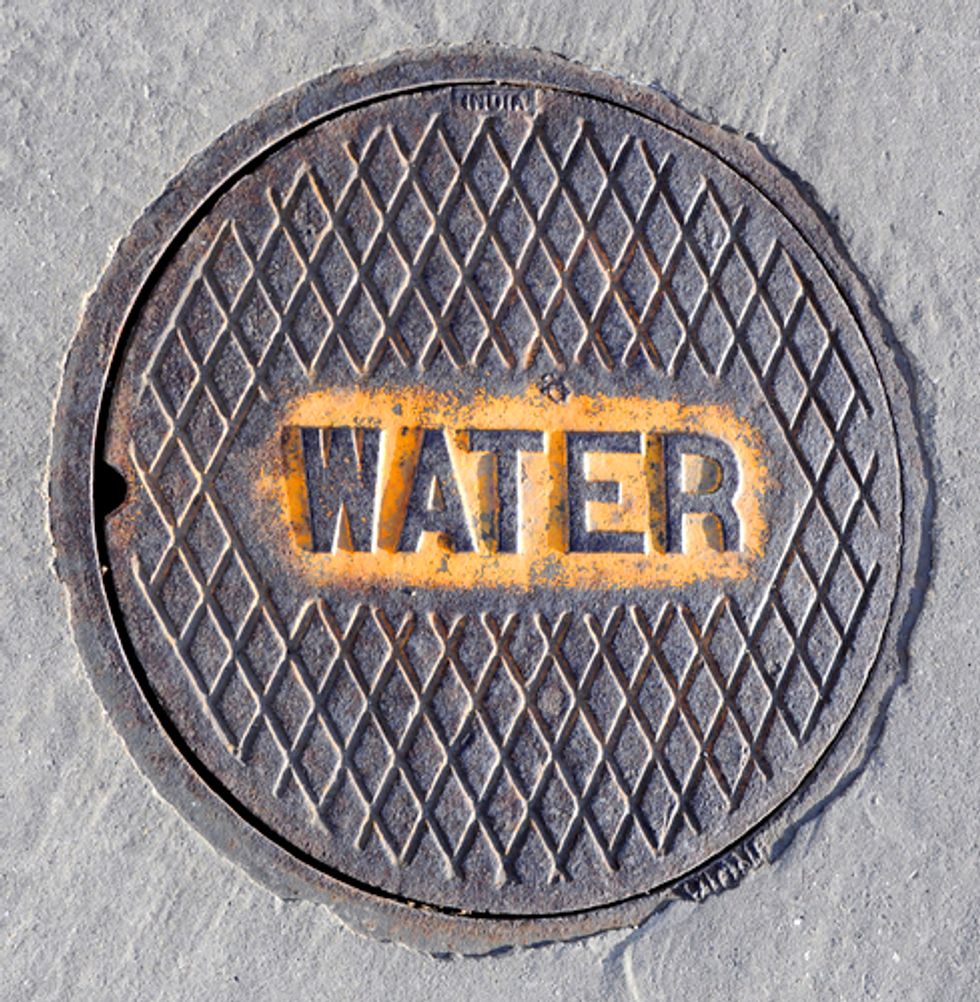 Photo courtesy of Shutterstock
Although I applaud the administration's efforts to convene a discussion about the enormous need to invest in our nation's aging infrastructure, I was discouraged that much of the meeting focused on promoting public-private partnerships and attracting more private financing for public water systems.   
Throughout the meeting, a misleading notion was continually raised that using private capital to fund water systems somehow constitutes an innovative approach to financing. This couldn't be further from the truth. Time and again, municipalities and consumers have suffered under privatized water systems.  
As if attempting to package and sell privatization as a new trendy approach isn't alarming enough, the chief financial officer of American Water, the nation's largest water company, added insult to injury when she asked about the status of the company's proposal that the Internal Revenue Service modify its rules to allow companies that take over privatized municipal water systems to retain public tax benefits on the system's existing debt. 
Why not just give private companies like American Water the same tax-exempt status on bonds as public utilities? That's actually another proposal out there these days. Apparently, this so-called "innovative" private financing requires government tax breaks and special treatment to compete with traditional public financing.
This is not the first time American Water has floated this proposal to the federal government. In response to a Freedom Of Information Act request filed by Food & Water Watch in November 2012, we learned that American Water's proposal had made it to the Treasury Department in September. Then in March of this year, the company included its proposal in testimony submitted to the House Appropriations subcommittee. Talk about persistence.  
Modifying the tax code to allow private companies like American Water to receive the same tax benefits on its financing as our public, local governments would not level the playing field.  It would give companies an unfair and unjustified advantage. Worse, unlike with local governments, there is no guarantee that lowering the borrowing costs for private companies will result in greater investments in our water systems or lower water rates for consumers. The companies could just pocket most of the savings, using the lower debt costs to rationalize higher returns. That means we would sacrifice tax revenue to pad the profits of the water privatization industry. 
We have to keep tabs on their next moves and continue to protect our water systems. At the end of the day, privatizing our public water systems is not an innovative approach to delivering clean, safe, affordable water to U.S. communities. Instead, we should stick to a tried and true method—keeping water in public hands. If we want to talk actual innovation, why not establish a steady source of federal funding for community water systems so no municipality ever has to entertain the notion of privatizing its water. 
Visit EcoWatch's WATER page for more related news on this topic.
——–

EcoWatch Daily Newsletter
Local residents rejoiced this week at the Boulder County Commission's decision to enact a new moratorium on fracking for 18 months. The current one was set to expire June 25. Tuesday's vote took place at the County Commissioner's meeting, after a group of local business owners, medical professionals, clergy and residents held a rally calling on the commission to extend the moratorium.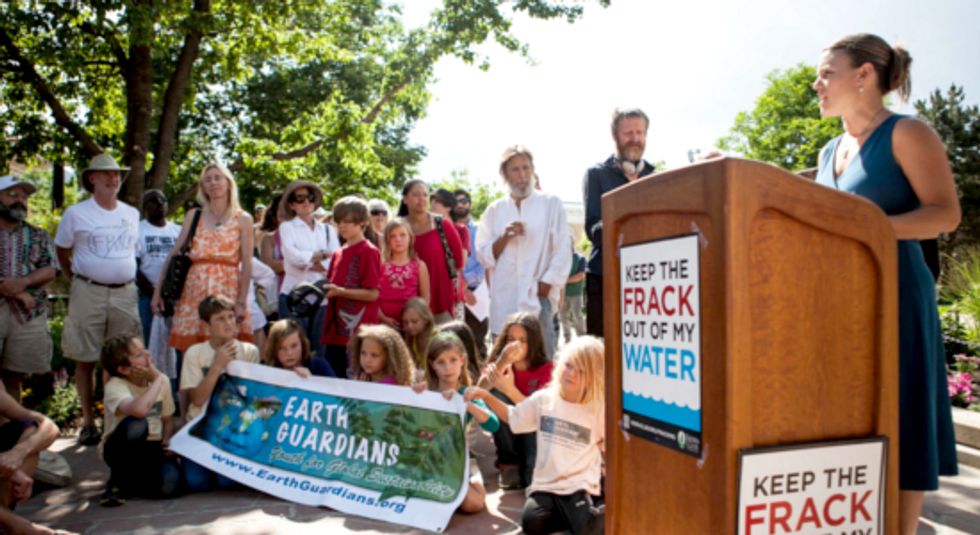 In recent weeks, an unprecedented number of citizens have rallied to protect Boulder County from the ravages of fracking. Thousands of residents have sent emails and post cards to their commissioners, demanding an extension. Activists have also packed meetings held by the County Planning Commission and the Boulder City Council. As a result, the County Planning Commission voted unanimously to recommend the moratorium extension and the City Council voted for its own one-year moratorium and to support an ordinance to ban the sale or use of city water in fracking.
"We applaud the commissioner's decision to extend the moratorium," said Russell Mendell, statewide organizer for Frack Free Colorado. "This is the result of the hard work of thousands of Boulder County citizens who have written post cards, testified and sent e-mails detailing the devastating impacts of fracking."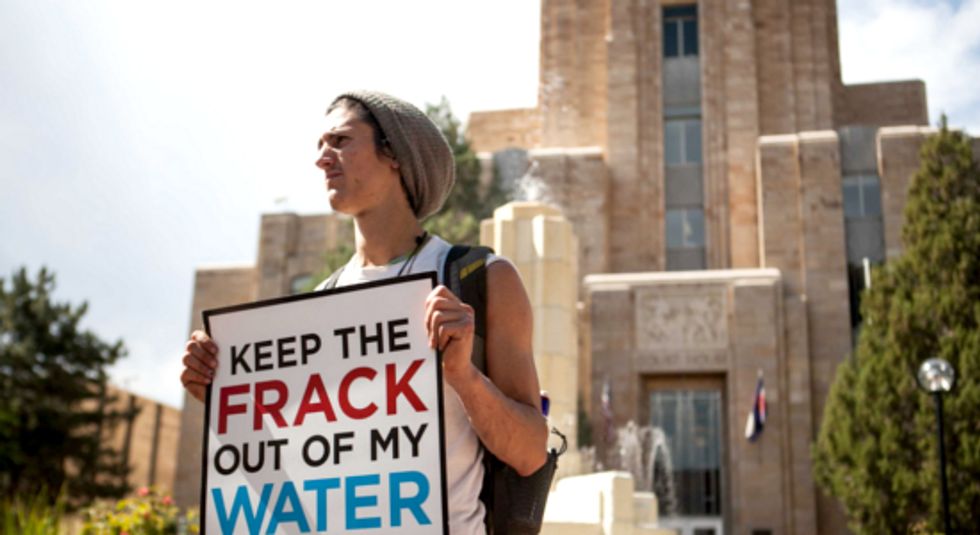 "While people around the country are getting sick from their practices, the gas industry has proven allergic to independent studies quantifying health impacts," continued Mendell. "The independent health studies that have been conducted reveal a 66 percent increase in cancer within one half mile of a fracking well, yet both the EPA [Environmental Protection Agency] and the COGCC [Colorado Oil and Gas Conservation Commission] admit they have no idea how to regulate air emissions to prevent health impacts."
"The people of Boulder County deserve a choice between cancer-causing, toxic fracking and clean renewable energy. We will continue to work to protect our communities from fracking, while moving towards a clean energy economy that relies on solar, wind and energy efficiency."
"We've seen an enormous outcry from Boulder County citizens that fracking is too dangerous to allow near homes and schools in their neighborhood," said Neshama Abraham, member of the Beyond Oil & Natural Gas Team for the Rocky Mountain Chapter of the Sierra Club. "We are grateful that the commissioners have heard us and will extend the moratorium for another eighteen months. We plan to celebrate after the meeting!"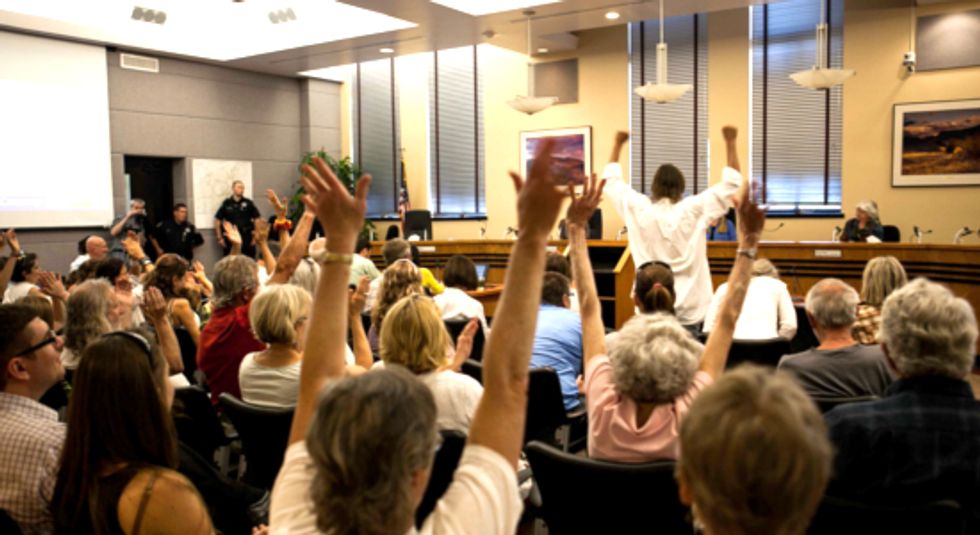 "In a time when all the science indicates that a sane society should be transitioning rapidly away from fossil fuels, and while federal and state regulations are proving dismally ineffective, it's essential that local communities do their due diligence to safeguard air, water, public health and safety," said Micah Parkin, organizer for 350 Boulder County. "Lacking conclusive evidence that fracking is safe and with mounting evidence to the contrary, the prudent action is to follow the precautionary principle. We commend our commissioners for supporting a moratorium on fracking that puts our families' health and safety first."
"The commissioners were woken up by the power and care of their community," said Cliff Willmeng, R.N. and organizer for East Boulder County United. "We aren't going to stop and this is a direct challenge to corporate power. This is the beginning of a new civil rights movement."
Visit EcoWatch's FRACKING page for more related news on this topic.
——–

Sign the petition today, telling President Obama to enact an immediate fracking moratorium:

For decades all across America, coal-fired power plants have dumped tons of toxic pollutants into public rivers, lakes, streams and coastal waters. On a toxicity-weighted scale, discharges from coal-fired power plants account for over one half of all toxic water pollution in the U.S. The pollutants dumped by coal-fired power plants are among the most toxic heavy metals listed by the U.S. Department of Health's Agency for Toxic Substances and Disease Registry, including arsenic, cadmium, chromium, lead, mercury and selenium.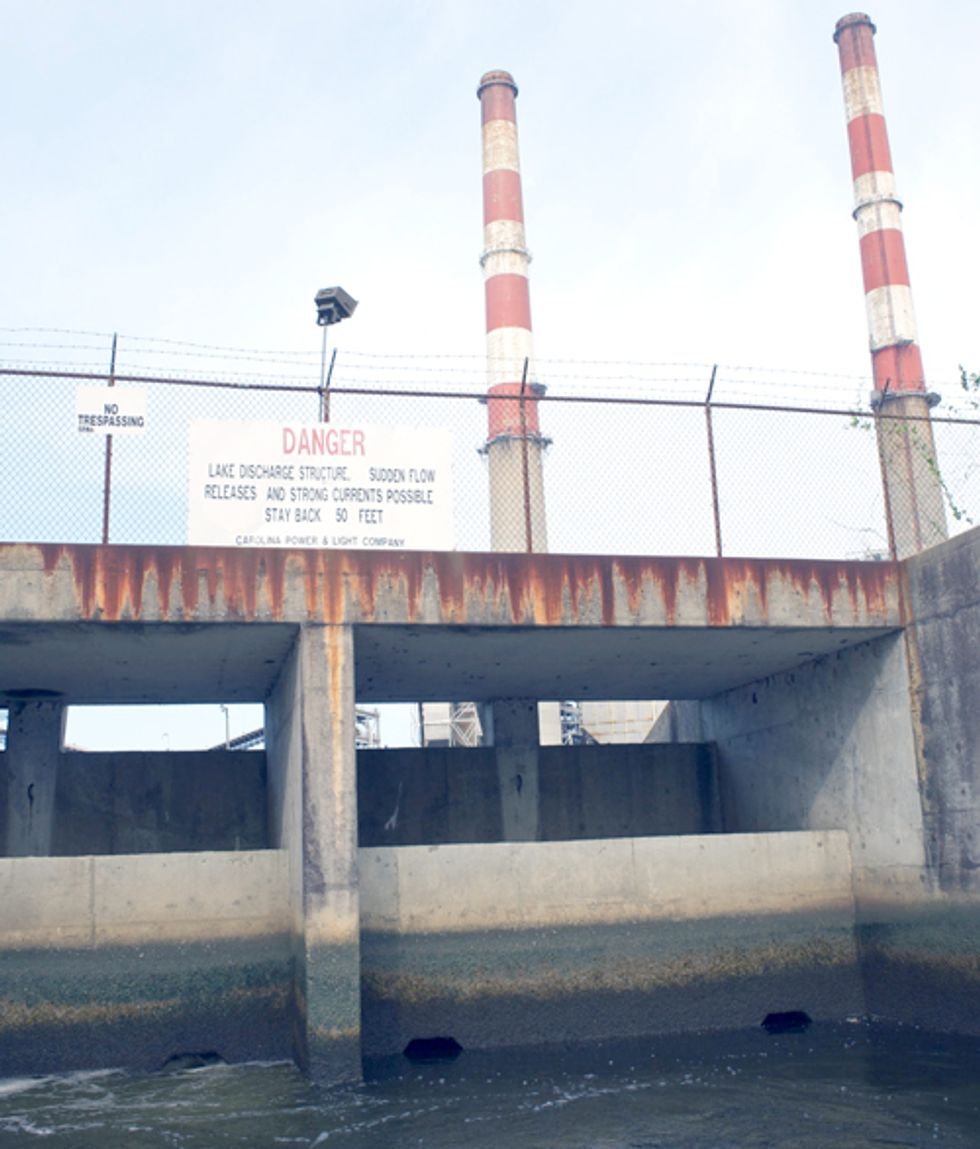 The Sutton coal-fired power plant in Wilmington, NC, is a prime example of a coal-fired power plant with a long history of groundwater pollution, surface water contamination and government failure to prevent harm to public waterways.
Underneath the sand and pine trees that surround Sutton, an unseen plume of toxic heavy metals has migrated out of the unlined ash ponds into groundwater. Monitoring well data from the site show the ash ponds have caused numerous pollutants to exceed their respective standards, including:
Arsenic at 34 times the standard
Manganese at 47 times the standard
Iron at 27 times the standard
Boron at four times the standard
Sulfate more than three times the standard
Thallium at three times the standard
Selenium at more than twice the standard
Total Dissolved Solids at twice the standard
Chloride
Antimony
Lead
Unbeknownst to most of the people living in Wilmington, NC, this hidden toxic witches brew of contamination is flowing towards public water supplies that provide drinking water to the community of Flemington. These wells are operated by the Cape Fear Public Utility Authority and are located less than a mile from the leaking Sutton coal ash ponds.
Public water supply wells located less than a mile from the leaking Sutton coal ash ponds. Public records show that polluted groundwater is flowing towards these wells. For decades, neither the U.S. EPA nor the N.C. Department of Environment and Natural Resources have required the utility to clean up of the groundwater contamination. Photo credit: Dot Griffith
Groundwater assessments prepared by Progress Energy and submitted to the North Carolina Department of Environment and Natural Resources (DENR) have found that the contaminated groundwater flows in the direction of the Flemington community wells at a rate of between 109 to 339 feet per year. In 1994, DENR's Division of Environmental Management Groundwater Section explained that the groundwater flow at the Sutton site is "substantially influenced by the pumping activities of the New Hanover Co. well field [i.e., the Flemington wells]" and that "[t]hese pumping activities may result in a groundwater flow pattern that moves from the lake and ash ponds toward the well field."
Indeed, a recent report prepared by the North Carolina Division of Environmental Health, Public Water Supply Section for the water system served by the Flemington wells assigned their "Inherent Vulnerability Rating," "Contaminant Rating" and "Susceptibility Rating" the highest risk rating and listed the Sutton facility numerous times as a "Potential Contaminant Source" for the wells. The report also confirms that many of the highly contaminated groundwater wells at Sutton are within the area that contributes groundwater to the Flemington wells.
This situation also raises an environmental justice issue. Achieving environmental justice involves identifying and addressing disproportionately high and adverse human health or environmental effects of federal programs, policies and activities on minority and low-income populations. Here, failure to enforce provisions of the Clean Water Act, to the detriment of the low-income Flemington community, is an environmental justice concern.
The other huge problem caused by decades of untreated coal ash waste being dumped into Sutton Lake is the accumulation of selenium in fish. Decades of sampling reveals that selenium concentrations have increased dramatically over time, such that in recent years the selenium concentrations in the surface water reached levels that cause reproductive failure of fish and waterfowl and have far exceeded those levels in the lake sediments and in fish tissue itself. The North Carolina Wildlife Resources Commission (WRC) determined that the sediment and fish tissue concentrations represent a "High" hazard. Unsurprisingly, the most recent published assessment of the lake by WRC noted that largemouth bass in Sutton Lake were in poor condition, and that from 2008 to 2010, the abundance and size of the largemouth bass population declined by 50 percent.
Sutton Lake is an extremely popular fishing location. It is frequented both by sport fishermen and by subsistence fishermen, who catch fish that are eaten by themselves and their families. Despite the fact that untreated coal ash sluice water, coal pile runoff, chemical metal cleaning wastes and other wastewater is discharged directly into the public waters of Sutton Lake, the public is encouraged to fish there. As selenium levels rose in fish in recent years, the state of North Carolina could have informed the public that the fish in Sutton Lake are in poor health. But in actuality boat ramps and fishing piers were recently improved to provide even greater public access and allow more people to catch and eat the fish out of Sutton Lake.
Public fishing is encouraged at Sutton Lake even though fish have high levels of selenium. Photo Credit: Dot Griffith
For decades, the regulatory agencies in charge of making sure toxic water pollution doesn't harm public waters have done very little to stop the contamination of ground and surface water caused by the Sutton coal-fired power plant. At the federal level, coal combustion waste regulations have been stalled since 2010. The U.S. Environmental Protection Agency (EPA) continues its abject failure to enact the regulations and protect the public from hazardous coal ash waste contamination at more than 1,000 other coal ash dumps across the U.S. including Sutton. At the state level, conservation groups convened repeated meetings over the last two years with North Carolina DENR to ask them to take decisive action to stop the contamination of public waters from all of North Carolina's leaking coal ash ponds across the state. They too, have failed to stop the contamination.
So today the Cape River Watch, Waterkeeper Alliance and Sierra Club, represented by the Southern Environmental Law Center (SELC), sent a notice to Duke Energy Progress, Inc., that it will bring suit under the Clean Water Act to stop Progress Energy's coal ash pollution of Sutton Lake.
"We're taking action to stop the harmful pollution of one of the area's most popular fishing lakes," said Frank Holleman, senior attorney at the Southern Environmental Law Center. "For years, Progress has dumped untreated pollution from its coal ash lagoons into Sutton Lake. Progress can't treat this public fishing lake as its private wastewater treatment pond—too many people depend on this valuable public resource."
Contaminated groundwater is flowing into a canal that discharges into Sutton Lake, creating an additional unpermitted source of contamination. The Progress facility includes two unlined coal ash lagoons alongside Sutton Lake. In 2010, a portion of the berms collapsed, spilling coal ash out of the lagoon.
"I enjoy fishing at Sutton Lake, and I know a lot of other people do too," said Kemp Burdette, Cape Fear Riverkeeper. "We need to ensure that the contamination from Progress's coal ash is stopped and cleaned up."
The groups' notice letter comes in the wake of two other notices this year in which SELC spotlighted coal ash contamination at Progress's Skyland plant in Asheville and Duke Energy's Riverbend plant north of Charlotte. The state subsequently sued the utilities in both those cases, stating that they were violating state law and that the coal ash pollution "poses a serious danger to the health, safety, and welfare of the people of North Carolina and serious harm to the water resources of the state." SELC also filed a federal court lawsuit over the Riverbend coal ash pollution June 11.
"This pollution of state waters is yet another example of the toxic legacy of coal-fired power plants in North Carolina," said Kelly Martin of the Sierra Club's Beyond Coal Campaign. "Community drinking water and a public fishing lake are both at risk, and now it's time to clean up the mess."
Selenium contamination has harmed fish populations in at least two other lakes at Progress power plants. Selenium contamination from the coal ash lagoon at Progress's Roxboro plant devastated fish populations in Lake Hyco, and fish deformities associated with selenium contamination have been documented recently in Mayo Lake. Meanwhile, at Belews Lake, selenium from a leaking Duke Power coal ash basin eradicated 19 of the 20 species of fish formerly present in the lake. In 2007, EPA classified both Lake Hyco and Belews Lake as "proven ecological damage cases" due to the coal ash pollution. Selenium accumulation can cause developmental abnormalities in fish and amphibians and has led to the death of entire local fish populations.
"To let a utility treat this important fishery as a dumping ground for its coal ash pollutants is bad for the fish, bad for the public, and bad for the state," said Donna Lisenby, global coal campaign coordinator at the Waterkeeper Alliance. "We had to act because it is clear that neither state nor federal agencies are willing to do what is necessary to protect public waterways."
Visit EcoWatch's CLEAN WATER ACT and COAL ASH pages for more related news on this topic.
 ——–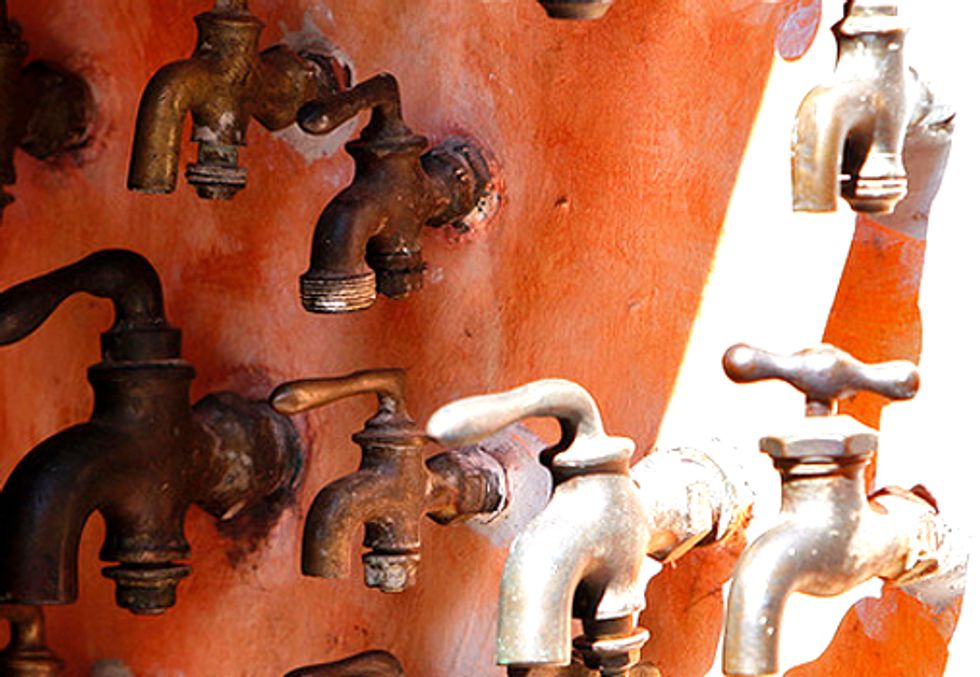 Solving the tragedy of almost 900 million people around the globe lacking access to safe water, and 2.6 billion lacking access to sanitation requires innovative solutions to fixing inadequate and underfunded infrastructure. A new report released on Feb. 28 by the national consumer advocacy group Food & Water Watch highlights how public-public partnerships have successfully and inexpensively provided these critical resources to communities around the globe. Public-Public Partnerships: An Alternative Model to Leverage the Capacity of Municipal Water Utilities, shows that municipalities can forge partnerships with one another to efficiently deliver drinking water and wastewater service while ensuring that these resources are kept under public control.
"All too often, communities that cannot afford to maintain their own drinking and wastewater systems are forced to sell or lease them to private entities, which often provide subpar service at higher rates," said Food & Water Watch Executive Director Wenonah Hauter. "Public-public partnerships allow communities to avoid the woes associated with privatized service and ensure that essential drinking water supplies and sewer systems stay in the public's hands."
Under a public-public partnership, two or more water utilities or non-governmental organizations pool resources, buying power and technical expertise. Such partnerships provide the same advantage that a private utility could deliver without the workforce reductions, poor customer service, rate increases and service interruptions that private utilities are notorious for. Because such partnerships do not involve investors who expect a cut of the savings, efficiencies generated are reinvested into the system, not shareholder bank accounts.
"Privatization has failed consumers in the United States and around the world," said Donald Cohen, chair of In the Public Interest. "Public-public partnerships have proven a superior model of delivering essential resources such as water and sanitation to consumers because they don't rely on the help of an entity purely motivated by profits."
"Public-Public Partnerships build on the public sector's rich legacy of cooperation, common sense and dedication to meeting basic needs," said Sean Sweeney, director of the Cornell Global Labor Institute. "These principles are the foundation stones of a truly sustainable economy. It is a future waiting to be realized."   
Public-public partnerships can be successfully implemented on a variety of scales—within nations, across national boundaries and between industrialized nations and developing ones. Some examples include:  
The Baltimore Regional Cooperative Purchasing Committee, a group of communities in Maryland saved $1.5 million in 2010 by partnering with one another.
The town of Cape Vincent, New York teamed up with the village of Cape Vincent to purchase a single water tank to serve both municipalities. They saved $1 million and reduced the average cost per household by $200 a year.
The city of Nashville, Tennessee, partnered with the water workers' union there to lower the cost of water delivery by re-engineering the city's water services. Within five years, this utility-employee partnership saved a total of $8.5 million and lowered rates for customers.
In Puerto Cortés, Honduras, a partnership among five civil society groups created a new water utility that was eventually able to provide water to 98 percent of the city's residents 24 hours a day whereas the city's old water utility only delivered water to 79 percent of residents, 14 hours a day.
For communities in the developing world, these partnerships can serve as the foundation for sustainable economic development. Partnerships between water systems in industrialized nations and those in developing countries can improve water quality and allow parties to share best practices. Industrialized countries can provide management and technical expertise in these cases while ensuring that costs are kept low for consumers. This model has been particularly successful in Africa, where more than half a dozen cross-border utility partnerships have been forged since 1987.
"Tight economic times often mean that communities have a hard time maintaining their drinking water and sanitation systems, and they have often resorted to leasing or selling these assets to private entities in order to make ends meet. But privatization has already proven to be a failure. Public-public partnerships are a cheap, efficient method of providing essential drinking water and wastewater services. Governments around the globe should implement policies to facilitate them," concluded Hauter.  
Public-Public Partnerships: An Alternative Model to Leverage the Capacity of Municipal Water Utilities is available by clicking here.
For more information, click here.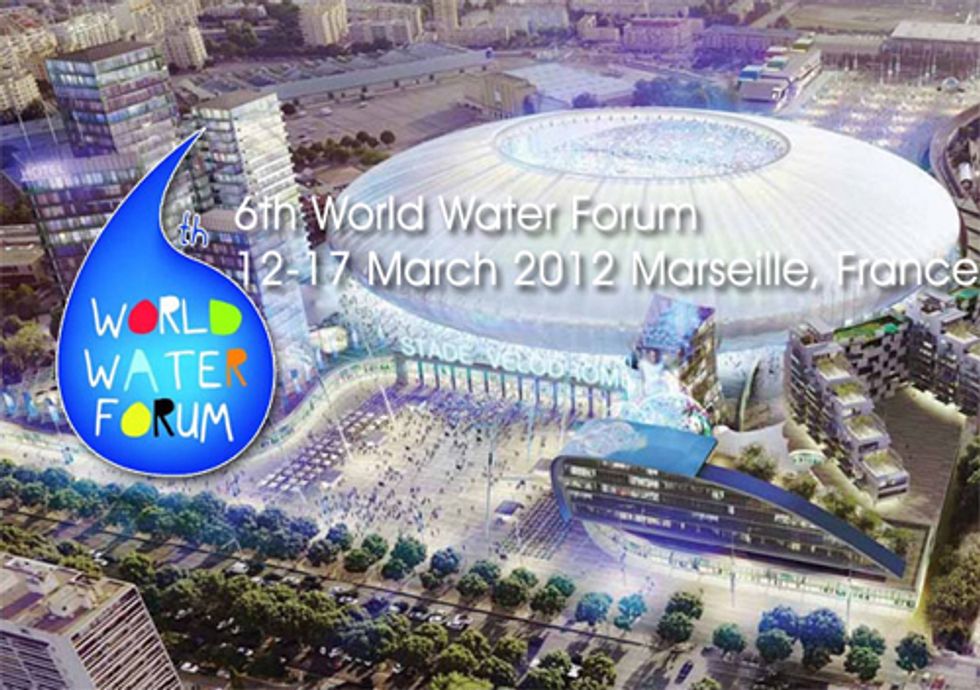 Critics of the triennial World Water Forum are encouraged by the failure on the part of forum organizers to attract large numbers to this year's event taking place March 12-17 in Marseille.
Forum organizers announced at a press conference last week that only 2,000 people had fully registered, while another 2,000 were yet to be confirmed. This falls dismally short of the 20,000 participants that had been anticipated.
The small number of registrations also comes despite the fact that various national, regional and municipal authorities have poured millions of euros of public funds into sponsorship of the event.
"It isn't just the World Water Forum that is failing," says Maude Barlow, senior advisor to the 63rd President of the UN General Assembly. "Water privatization has failed communities around the world and a growing number are now reclaiming control of their water. In this context, it is no surprise that this illegitimate Forum is no longer able to attract attention."
Notably, the Norwegian Ministry of Foreign Affairs has already stated that it will not be attending this year.
At the 2009 World Water Forum in Istanbul, 24 governments signed a counter-declaration recognizing water as a human right in opposition to the forum's official ministerial declaration. And in a scathing criticism of the World Water Forum, then-president of the United Nations General Assembly, Father Miguel d'Escoto Brockmann, called for the UN to hold its own event to address the global water crisis.
"It is significant for the World Water Forum to show signs of crisis in Marseille, which is where the World Water Council was founded," says French MEP Michèle Rivasi. "Re-municipalization is gaining speed in France, regardless of the strong support for privatization from the French government."
Groups from around the world—who view the forum as a corporate tradeshow disguised as a multi-stakeholder conference—are organizing the Alternative World Water Forum (in French, Forum Alternatif Mondial de l'Eau, or FAME). They have invited governments to a consultation with civil society outside the forum on the implementation of the human right to water.
For more information, click here.