This website uses cookies to ensure you get the best experience while browsing it. By clicking 'Got It' you're accepting these terms.


The best of EcoWatch, right in your inbox. Sign up for our email newsletter!
A photo taken on on Feb. 29 shows a train at Dudelange's train station as the country inaugurates its free public transports policy. JEAN-CHRISTOPHE VERHAEGEN / AFP / Getty Images
Luxembourg Transport Minister Francois Bausch hailed a "great day" for the Grand Duchy, as it became the first country on Earth to make public transport ticket free.
By Dana Drugmand
Electric buses are replacing existing diesel-fueled fleets at an accelerating rate, and the transition to battery-powered buses is outpacing even the most optimistic projections. In this light, it should come as little surprise that commentators and organizations with ties to the Koch network and the oil industry are attacking a transportation option that yields fewer fossil fuel profits and cleaner, healthier air for people and planet.
EcoWatch Daily Newsletter
Sven Hoffmann / Flickr
In car-obsessed Germany, the government is considering free public transportation in some of its most polluted cities to reduce road traffic and emissions from private vehicles.
"We are considering public transport free of charge in order to reduce the number of private cars," three ministers wrote in a letter to EU environment commissioner Karmenu Vella in Brussels.
Taking public transportation already makes a big difference in reducing your carbon footprint. Now, the San Francisco Bay Area's rapid transit system is reducing its own carbon footprint by committing to 100 percent renewable energy.
Could this be the future of public transportation? Mercedes-Benz has unveiled the world's first autonomous bus—and it actually works.
The "Future Bus" just completed its first 12-mile journey "without steering, accelerating and without brake pedal" on public roads in the Netherlands, according to Daimler Buses, the company working with Mercedez-Benz.
Using CityPilot autonomous driving technology, the full-sized bus successfully navigated through bends, passes, tunnels and traffic lights along the route between Amsterdam's Schiphol airport and the town of Haarlem.

Daimler said its bus drives up to 43-miles-per-hour and can recognize obstacles, especially pedestrians on the road, and brake autonomously.

Thanks to CityPilot, as Wired UK explains, the bus is connected to the city's wireless network, "so it can communicate directly with traffic lights and other city infrastructure for a smoother ride. The built-in camera systems can even scan the road for potholes and avoid bumpy areas the next time it travels on them, sharing that information back to the city."

In the video below, the driver does not touch the wheel as the bus whisks through the city streets and picks up passengers. The cockpit has a large screen that displays information the driver might need.

The Future Bus is equipped with a GPS system and about a dozen cameras that can scan the road and surroundings. A long and short-range radar systems constantly monitors the route ahead. It can even handle bus stops without driver intervention, as the doors open and close automatically.

"Connectivity plus camera and radar systems with data fusion are catapulting the city bus into the future," Daimler said.

As Wired UK pointed out, even though the bus can drive itself, regulations require a human operator in case he or she needs to intervene, like during an emergency.

As for its design, the 39-foot bus features a sleek exterior and open-plan interior inspired by the layouts of city squares and parks, the German automaker said.
Designer seats are loosely arranged along the walls to allow for open seating, grab rails branch upwards like trees and the ceiling lighting resembles a leaf canopy.
The bus even offers wireless charging.
Besides the obvious environmental benefits of public transportation, automated buses have a number of eco-friendly traits. A bus that's connected to a city's communication network could relay and receive information to operate more efficiently and with better fuel economy than perhaps a human driver can. It could also help alleviate city traffic in densely populated areas.

Europe is particularly friendly towards self-driving vehicles. This past April, the transport ministers of all 28 European Union member states signed the Amsterdam Declaration, in which EU member states and the transport industry pledged to "draw up rules and regulations that will allow autonomous vehicles to be used on the roads."

Daimler tweeted that it invest approximately €200 million to further develop its city-bus portfolio by 2020. It is currently unclear if or when these buses will become a reality or even if they will make it stateside but for a sustainable transportation future, these buses can not come soon enough.
Daimler Buses
There are many ways to assess the greenness of your home state. MPHOnline's approach was to consider a state's energy makeup, gasoline consumption per capita, greenhouse gas emissions, air and water quality, recycling efforts and availability of public transportation.
Using this data from state energy, waste, transportation and environmental management agencies, MPHOnline created an interactive map to determine how each state ranks. Click on your state to see how it fares.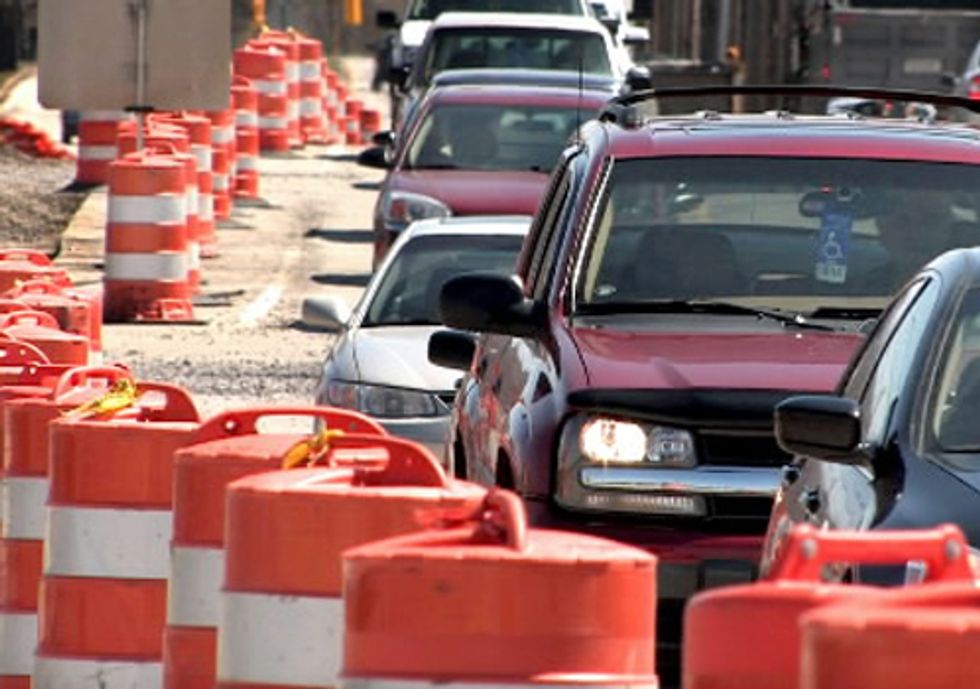 Rep. Dave Camp (R-MI), chairman of the House of Representatives' Ways and Means Committee on Feb. 2 proposed eliminating dedicated federal funding for mass transit, moving funds currently used for mass transit and putting them instead toward building new highways. This proposal for the bill comes on top of provisions from other House committees that would not only force us to consume more oil, but actually open new, destructive drilling throughout the country. 
Environment America Transportation Advocate John Cross issued this statement in response:
"We are stunned that Rep. Camp is proposing to eliminate all dedicated funding for public transit—guaranteeing that America becomes more dependent on oil. Big Oil is the winner in every step of this process at the expense of the air we breathe, the places we love, and the Americans who take more than 10 billion trips on public transit every year. 
"The House has now proposed eliminating all dedicated federal funds for any form of transportation other than highways, roads and airports in an attempt to throw clean transportation choices under the bus. This comes on top of the blatant gift to Big Oil of proposing that we pay for new highways by granting the oil companies the right to drill off our coasts and in the Arctic National Wildlife Refuge and to develop destructive oil shale. 
"When it comes to transportation, this House is taking us down a dead end road to pollute our air, threaten our climate, endanger our country's treasured spaces, and grant oil corporations' every wish."
For more information, click here.