People wear face masks on the subway amid the coronavirus pandemic on March 10, 2021 in New York City. Noam Galai / Getty Images
By Kenny Stancil
Four congressional Democrats on Friday unveiled the BUILD GREEN Infrastructure and Jobs Act, a bill that would invest $500 billion over 10 years in state, local, and tribal projects to galvanize the transition to all electric public transportation — reducing climate-damaging greenhouse gas emissions and health-threatening air pollution while expanding clean mass transit and creating up to one million new jobs.
Modeled after the Department of Transportation's BUILD grant program, the bill to provide grant funding to green the nation's public transportation infrastructure while creating good-paying jobs in the process was introduced by Sens. Elizabeth Warren (D-Mass.) and Ed Markey (D-Mass.) as well as Reps. Andrew Levin (D-Mich.) and Alexandria Ocasio-Cortez (D-N.Y.).
"The climate crisis is an existential threat to our planet," Warren acknowledged in a press release, "but it's also a once-in-a-generation opportunity to rebuild our crumbling infrastructure, create a million good new jobs, and unleash the best of American innovation."
The BUILD GREEN Act, she added, "will make the big federal investments necessary to transform our country's transportation system, confront the racial and economic inequality embedded in our fossil fuel economy, and achieve the ambitious targets for 100% clean energy in America."
That assessment was shared by Markey, who said that "we cannot build back better without building back greener." Markey called the bill "our opportunity to invest in a clean energy revolution across our country, transform our transportation sector to be climate-smart, and create millions of good-paying union jobs at the same time."
"We can work together," he added, "to leverage investment in climate action, reduce emissions, and support environmental justice communities through bold infrastructure projects, all while tackling our climate crisis."
Co-sponsors of the proposed legislation — which is supported by almost three in five Americans, according to a new poll (pdf) conducted by Data for Progress—include Sen. Bernie Sanders (I-Vt.) and Reps. Jan Schakowsky (D-Ill.), Pramila Jayapal (D-Wash.), Ayanna Pressley (D-Mass.), Rashida Tlaib (D-Mich.), Mondaire Jones (D-N.Y.), and Jamaal Bowman (D-N.Y.), among others.
Alluding to the recent crisis in Texas caused by the collision of a deregulated, fossil-fuel dependent energy system and a climate change-driven winter storm, Ocasio-Cortez said that "we must stop spending billions of taxpayer money on infrastructure systems only for them to fail at the most crucial moment."
"The BUILD GREEN Act," Ocasio-Cortez continued, "helps ensure that our federal dollars are being invested in infrastructure that can sustain the impact of climate change and better prepares our communities for extreme weather events."
"In most of the country," she added, "subways, buses, and other public transit are practically inaccessible or completely overburdened," meaning that "this bill would make a dramatic, material difference in the everyday lives of hundreds of millions of people."
Calling the electrification of personal vehicles and mass transit a "central pillar" of the Green New Deal resolution introduced in 2019 by Ocasio-Cortez and Markey, Levin said that "the answer to both the climate crisis and the crisis of wealth inequality is to empower working people with the sustainable investments necessary to rebuild the communities devastated by decades of pollution and corporate trade policy."
He added that the bill "will deliver the transformational change demanded by the American people while ensuring that we build the green economy of the 21st century here at home with good-paying, union jobs."
The Better Utilizing Investments to Leverage Development and Generating Renewable Energy to Electrify the Nation's (BUILD GREEN) Infrastructure and Jobs Act would:
jumpstart the transition to all electric public transportation, expand clean mass transit to underserved communities, and help modernize our crumbling infrastructure by covering up to 85% of costs for eligible state, local, and tribal projects, with an option for the Secretary of Transportation to cover 100% of costs;
reduce carbon emissions by an estimated 21.5 million metric tons of CO2 annually or the equivalent of taking 4.5 million combustion engine cars off the road;
prevent an estimated 4,200 deaths annually by reducing significant sources of local air pollution that cause adverse health effects like asthma, and avert $100 billion annually in healthcare costs;
start to correct decades of health disparities and environmental injustice by dedicating at least 40% of all funding to projects in frontline, vulnerable, and disadvantaged communities; and
create up to one million good new jobs with strong labor protections.
In its evaluation of the economic and environmental impacts of the bill, which it called "a vital component of tackling the climate crisis," Data for Progress estimated that electrifying the nation's public transportation systems, installing electric vehicle charging infrastructure nationwide, and expanding associated renewable energy generation capacity would save lives and money.
The proposed legislation is endorsed by a slew of progressive advocacy groups, including Data for Progress as well as Sunrise Movement, League of Conservation Voters, Natural Resources Defense Council, Sierra Club, 350.org, Greenpeace, Public Citizen, Friends of the Earth, Center for Progressive Reform, GreenLatinos, Rewiring America, New Consensus, Zero Hour, and WE ACT for Environmental Justice.
Given that "transportation represents about 29% of U.S. emissions," said Natalie Mebane, U.S. policy director at 350.org, "we can make huge progress in lowering our greenhouse gas emissions by electrifying the transportation sector and ensuring that it is powered by 100% clean energy."
A recent assessment of President Joe Biden's climate plans found his transportation policies to be inadequate if the U.S. is to reach his administration's goal of net-zero emissions by 2050.
Mebane added that "this bill will create close to one million jobs at a time when we need a just economic recovery immediately" in the wake of the devastating Covid-19 pandemic and corresponding economic crisis.
Robert R.M. Verchick, president of the board of directors of the Center for Progressive Reform and professor of environmental law at Loyola University, New Orleans, said that "the transportation networks we build today shape the possibilities for tomorrow."
"If we want our children and grandchildren to thrive in their schools and in their jobs, they will need ways to get there," said Verchick. "If we want neighborhoods free of smog and industrial racket, we will need clean and efficient ways of moving around. Few investments we make today will have as profound an impact on the opportunities available to future generations as our infrastructure choices."
The BUILD GREEN Act was unveiled just two weeks after Sunrise Movement launched its "Good Jobs for All" campaign to put the country on a path toward a Green New Deal; that happened not long after Pressley introduced the Federal Job Guarantee Resolution, which seeks to make "meaningful, dignified work" at a livable wage an enforceable legal right.
Earlier this week, hundreds of local officials across the nation called on the Biden administration and Congress to deliver a bold infrastructure plan that improves the health of communities across the country.
Sanders, for his part, said Thursday that if Republicans try to obstruct progress on green jobs and infrastructure, Democrats "must use our majority to get it done."
Reposted with permission from Common Dreams.
From Your Site Articles
Related Articles Around the Web
EcoWatch Daily Newsletter
A photo taken on on Feb. 29 shows a train at Dudelange's train station as the country inaugurates its free public transports policy. JEAN-CHRISTOPHE VERHAEGEN / AFP / Getty Images
Luxembourg Transport Minister Francois Bausch hailed a "great day" for the Grand Duchy, as it became the first country on Earth to make public transport ticket free.
The small but wealthy nation has introduced free public transport in an effort to "motivate" residents — and 214,000 daily foreign commuters — to change their behavior in the hilly region wedged between Germany, Belgium and France.
Rides on buses, trains, and trams were already free on Saturdays but all charges have now been scrapped as the week closes.
Preexisting sales of €2 tickets had amounted to €41 million ($45 million) or just 8 percent of Luxembourg's annual transport budget of €500 million.
Public transport will now be funded largely via taxes paid into the national budget, meaning travel savings for private households, especially "low earners," said Bausch's ministry, adding: "The scheme applies to residents, cross-border commuters and tourists alike."
Commuters, Visitors Will Benefit Too
"You will no longer need a ticket to board any national bus, train or the tram," proclaimed Luxembourg's public transport consortium Saturday, adding: "Commuters from neighboring countries will benefit from reduced fares!"
It warned Luxembourgers however: "Free public transport ends at the border, so you must get a cross-border pass or ticket if you plan to travel outside of the territory of the Grand Duchy."
Tickets would also be needed for first-class travel on trains.
To end traffic jams, Luxembourg in 2017 opened the first section of its planned tram service from the capital's southern outskirts to its airport to the north.
And it's now focused on anticipating travel demand, doubling "Park+Ride" car parking spaces "especially at borders" and establishing "cohesive" cycle routes across its 2,586-square-kilometer (998-square-mile-) landscape.
Alone for its nascent track network, 4 billion euros are being invested over the period 2018 to 2027, to cater for an anticipated 20 percent rise in public mobility needs by 2025.
That amounts to €600 per Luxemburg resident per year on rail transport, says the ministry.
Stuck in Traffic
A survey done in 2018 by TNS Ilres found that cars in Luxembourg accounted for 47 percent of business travel and 71 percent of leisure transport.
By 2030, its public transport fleet is expected to have "alternative drive technology," a reference to electric motorization.
Luxembourg, by area one of Europe's smallest sovereign states but one of four EU seats, including the European Court of Justice, is staffed by commuters who travel daily from neighboring France, Belgium and Germany.
Population Growth
The 614,000-person dukedom, with comparatively high wages, is facing strong growth in population. Almost half are foreigners, including resident Portuguese citizens making up 18 percent, and French at 13 percent.
Bausch, a former Luxembourg rail civil servant and member of the Greens, is also Luxembourg's deputy prime minister in a three-party liberal-social democrat-greens coalition government renewed in 2018 and headed by premier Xavier Bettel.

In neighboring Germany, Alexander Handschuh, spokesman for the country's DStGB local bodies association, said Luxembourg's move signaled a paradigm shift because it was trying "very resolutely with an all-round concept" to boost public transport.
Reposted with permission from Deutsche Welle.

From Your Site Articles
Related Articles Around the Web
waterlust.com / @tulasendlesssummer_sierra .
Each product featured here has been independently selected by the writer. If you make a purchase using the links included, we may earn commission.
The bright patterns and recognizable designs of Waterlust's activewear aren't just for show. In fact, they're meant to promote the conversation around sustainability and give back to the ocean science and conservation community.
Each design is paired with a research lab, nonprofit, or education organization that has high intellectual merit and the potential to move the needle in its respective field. For each product sold, Waterlust donates 10% of profits to these conservation partners.
Eye-Catching Designs Made from Recycled Plastic Bottles
waterlust.com / @abamabam
The company sells a range of eco-friendly items like leggings, rash guards, and board shorts that are made using recycled post-consumer plastic bottles. There are currently 16 causes represented by distinct marine-life patterns, from whale shark research and invasive lionfish removal to sockeye salmon monitoring and abalone restoration.

One such organization is Get Inspired, a nonprofit that specializes in ocean restoration and environmental education. Get Inspired founder, marine biologist Nancy Caruso, says supporting on-the-ground efforts is one thing that sets Waterlust apart, like their apparel line that supports Get Inspired abalone restoration programs.
"All of us [conservation partners] are doing something," Caruso said. "We're not putting up exhibits and talking about it — although that is important — we're in the field."
Waterlust not only helps its conservation partners financially so they can continue their important work. It also helps them get the word out about what they're doing, whether that's through social media spotlights, photo and video projects, or the informative note card that comes with each piece of apparel.
"They're doing their part for sure, pushing the information out across all of their channels, and I think that's what makes them so interesting," Caruso said.
And then there are the clothes, which speak for themselves.
Advocate Apparel to Start Conversations About Conservation
waterlust.com / @oceanraysphotography
Waterlust's concept of "advocate apparel" encourages people to see getting dressed every day as an opportunity to not only express their individuality and style, but also to advance the conversation around marine science. By infusing science into clothing, people can visually represent species and ecosystems in need of advocacy — something that, more often than not, leads to a teaching moment.

"When people wear Waterlust gear, it's just a matter of time before somebody asks them about the bright, funky designs," said Waterlust's CEO, Patrick Rynne. "That moment is incredibly special, because it creates an intimate opportunity for the wearer to share what they've learned with another."
The idea for the company came to Rynne when he was a Ph.D. student in marine science.
"I was surrounded by incredible people that were discovering fascinating things but noticed that often their work wasn't reaching the general public in creative and engaging ways," he said. "That seemed like a missed opportunity with big implications."
Waterlust initially focused on conventional media, like film and photography, to promote ocean science, but the team quickly realized engagement on social media didn't translate to action or even knowledge sharing offscreen.
Rynne also saw the "in one ear, out the other" issue in the classroom — if students didn't repeatedly engage with the topics they learned, they'd quickly forget them.
"We decided that if we truly wanted to achieve our goal of bringing science into people's lives and have it stick, it would need to be through a process that is frequently repeated, fun, and functional," Rynne said. "That's when we thought about clothing."
Support Marine Research and Sustainability in Style
To date, Waterlust has sold tens of thousands of pieces of apparel in over 100 countries, and the interactions its products have sparked have had clear implications for furthering science communication.
For Caruso alone, it's led to opportunities to share her abalone restoration methods with communities far and wide.
"It moves my small little world of what I'm doing here in Orange County, California, across the entire globe," she said. "That's one of the beautiful things about our partnership."
Check out all of the different eco-conscious apparel options available from Waterlust to help promote ocean conservation.
Melissa Smith is an avid writer, scuba diver, backpacker, and all-around outdoor enthusiast. She graduated from the University of Florida with degrees in journalism and sustainable studies. Before joining EcoWatch, Melissa worked as the managing editor of Scuba Diving magazine and the communications manager of The Ocean Agency, a non-profit that's featured in the Emmy award-winning documentary Chasing Coral.
By Dana Drugmand
Electric buses are replacing existing diesel-fueled fleets at an accelerating rate, and the transition to battery-powered buses is outpacing even the most optimistic projections. In this light, it should come as little surprise that commentators and organizations with ties to the Koch network and the oil industry are attacking a transportation option that yields fewer fossil fuel profits and cleaner, healthier air for people and planet.
A string of recent commentaries published in the conservative Washington Examiner have relied on a handful of critical reports about the rollout of electric buses in individual municipalities, which the commentators use to portray electric buses, as a class, as uneconomical and unreliable.
Despite these efforts by Koch affiliates and oil industry consultants, the electrification of bus transit is firmly underway. These high tech buses are already being widely deployed throughout China, which, according to Bloomberg New Energy Finance (BNEF), is adding about 9,500 electric buses every five weeks. As China leads the way and North American and European municipalities follow suit, analysts expect this momentum to accelerate and predict 80 percent of the global municipal bus fleet to be electric by 2040.
That is bad news for the oil industry. Bloomberg New Energy Finance forecasts that switching from internal combustion engine transport to electric vehicles will displace 7.3 million barrels of oil a day.
According to Bloomberg, this year electric buses already will lower diesel consumption by 233,000 barrels a day.
Who's Behind a Series of Drive-by Attacks on Electric Buses in the Washington Examiner?
As more cities and states move toward this electrified mass transit option, it cuts into the demand for conventional diesel fuel—and into fossil fuel industry profits. A Washington Examiner article from Dec. 12, 2017 explores the rise of electric vehicles with a particularly telling headline: "Rise of electric vehicles threatens oil industry."
More recently, the Washington Examiner has run a series of opinion pieces criticizing electric buses. The main arguments are that they are expensive and unreliable, prone to breaking down. These pieces share arguments, and their authors share affiliations, with the Koch brothers and other oil industry funders.
For example, one commentary by Philip Wegmann looks at a new electric bus fleet on Martha's Vineyard, pointing to the cost of the vehicles and the fact that they experienced technical problems early on. The piece neglects to mention any benefits of these buses to the environment or public health, nor does it reference the fact that the Vineyard Transit Authority's slow rollout of the buses was expected and that they plan on doubling the size of the electric fleet by next summer.
Wegmann has been closely tied to the Koch network since the beginning of his career. He started his writing career as a fellow of the Koch's America's Future Foundation writing program. Wegmann is currently a fellow at the Steamboat Institute, a right-wing think tank affiliated with the Koch-backed State Policy Network. This year, he was awarded the Steamboat Institute's Tony Blankley fellowship, which came with a $10,000 stipend and a host of other benefits.
Prior to joining the Examiner as a staff writer, Wegmann worked for conservative media outlet The Daily Signal, which is published by the Koch network-funded Heritage Foundation and which also features work by fellow America's Future Foundation alumnus Michael Bastasch.
Another Examiner piece by Wegmann slams electric buses in Los Angeles. "They don't run, they are expensive, and they're Chinese," Wegmann wrote. LA's neighbor Santa Monica is also converting its buses to electric, and Wegmann again attacks that move in another commentary. He again played the cost card, and claims, without statistical evidence, that "basically no one" rides the new buses.
Wegmann continues to rail against the electric bus in the Examiner, as recently as last week commenting on Atlanta, Georgia's purchase of a fleet from the Chinese company Build Your Dreams (BYD). "One expects cities like Albuquerque and Los Angeles to drop millions on the novelty environmental fleets, not a deep red state in the South that traditionally votes Republican and cares more for business than green pipe dreams," he writes.
Ross Marchand echoes this criticism in another Examiner opinion piece. Marchand is director of policy for the Taxpayers Protection Alliance, which is basically a front group funded in part through Koch-connected channels. Previously Marchand interned for the Texas Public Policy Foundation and the American Legislative Exchange Council (ALEC), both part of the Koch network.
Marchand's argument is primarily based on expense, but he even claims that electric buses could "prove dirtier than conventional fleet depending on which energy sources America relies on in the future." He backs that statement with a link to a piece by Jonathan Lesser, president of the consulting firm Continental Economics. Lesser has an antagonistic record towards clean energy policies, and he has "submitted expert testimony and reports on behalf of major utility and fossil fuel interests like Exelon, Occidental, Duke Energy, and FirstEnergy," according to the Energy and Policy Institute.
Lesser is also frequently contracted by the Manhattan Institute, a think tank that has received millions of dollars in funding from foundations in the Koch donor network.
Electric Bus Myths, Debunked
The claims laid out by electric bus antagonists use limited views and dog whistles of "communism" and "environmental zealotry" to attack the electric vehicles, especially when compared to "cleaner natural gas-burning buses." The unreliability argument is backed, for instance, by an investigative story in the LA Times from May that looks at problems with range and quality encountered by the Chinese e-bus manufacturing company BYD.
The Times article raises legitimate concerns about the products delivered by BYD, and the company responded with a statement saying that glitches are to be expected with "any groundbreaking technology." However, the article referred only to BYD buses, and not the electric bus industry as a whole.
"That was an article about a company, but the headline was about a category," Ryan Popple, CEO of electric bus maker Proterra, told GTM. "I hope that people don't paint a broad brush over the whole category." While the BYD buses struggled on hills—a major focus of the LA Times article—competitor Proterra's electric buses have been tested, for instance, in the mountains around Park City, Utah, to the satisfaction of local municipal transit planners, who ordered six units to serve the local bus routes.
Had he wanted, Wegmann could have looked even closer to find a counterpoint to the problematic BYD buses in Los Angeles. Foothill Transit, which serves 22 cities from downtown LA to the east, first tested Proterra buses in 2010 and is still using them.
"The technology is very robust," Doran Barnes, Foothill's executive director, told the Seattle Times. "We've had very few problems." Foothill Transit now operates 17 Proterra electric buses, and recently ordered 13 more, including a new set of all-electric double decker buses. Foothill Transit has pledged to serve its hilly region with an exclusively electric fleet by 2030.
Foothill Transit
So despite the early performance and mechanical issues from at least one manufacturer, as these issues are resolved and technology continues to improve, municipal transit authorities across the U.S. continue to order more of the buses from BYDand other major electric bus manufacturers like Proterra and New Flyer.
As for the cost argument, it is true that electric buses cost more up front than their diesel-powered counterparts. However, those costs are falling, and when considering the entire life cycle of the vehicle—purchase price, fuels, operational and maintenance expenses—electric buses prove to be cheaper than their diesel counterparts.
Moreover, according to BNEF, the projected decline in battery costs likely make electric buses cost-competitive with diesel at the point of purchase by 2026. By then, the number of electric buses on the road is expected to more than triple and make up nearly half of the worldwide city bus fleets.
There are solid reasons behind this trend. Electric buses are better for public health (reducing local air pollution from burning diesel), better for the climate (increasing efficiency and reducing reliance on fossil fuels), and make economic sense in terms of their full cost of moving passengers, when factoring in maintenance and fuel cost-savings. These various benefits are explained in a May 2018 report from U.S. PIRG and Environment America.
In terms of public health, there is no question that electric is better. Diesel exhaust is classified by the U.S. Environmental Protection Agency (EPA) as a likely carcinogen, and it is internationally recognized as a cancer-causing agent that is also responsible for respiratory and other illnesses. Chicago estimates that its electric buses will result in $55,000 in healthcare savings annually per bus, while a Columbia University analysis for New York City pegs it at $150,000 per bus.
Another obvious benefit of shifting from diesel to electric buses is the reduction of greenhouse gas emissions in the transportation sector. In the U.S. alone, converting transit buses to electric could save over 2 million tons of emissions each year, a clear win for the climate.
Electric buses also have lower operating and maintenance costs. As with other electric vehicles, there is no fuel cost. Chicago Transit Authority estimates it saves $25,000 annually in net fuel costs for each bus.
Furthermore, the U.S. PIRG report states that:
"According to studies of electric buses currently in operation, electric buses save at least $0.19 per mile in lower maintenance costs. Over the lifetime of the bus, an electric transit bus can avoid hundreds of thousands of dollars in operating costs over an equivalent diesel or natural gas bus, from lower fuel and maintenance costs."
While the e-bus costs more upfront, the fuel and maintenance cost-savings make up the difference, usually within 10 years.
Improved models and better battery technology are moving toward solving reliability issues, too. The newer electric bus models apparently can travel up to 200 miles or more on a single charge. Proterra makes e-buses designed to go 200 to 350 miles, for example. Electric buses also have fewer parts than diesel buses, which would theoretically require less maintenance.
Given these considerations, many cities are now announcing transitions to electric bus fleets. New York City announced in April its plans to electrify its fleet by 2040. Los Angeles is committed to an entirely zero-emissions fleet by 2030. Seattle is purchasing 120 e-buses by 2020 and has committed to electrifying its entire fleet by 2040.
Electric buses are moving toward the mainstream, despite attacks from oil industry apologists.
Reposted with permission from our media associate DeSmogBlog.
Sven Hoffmann / Flickr
In car-obsessed Germany, the government is considering free public transportation in some of its most polluted cities to reduce road traffic and emissions from private vehicles.
"We are considering public transport free of charge in order to reduce the number of private cars," three ministers wrote in a letter to EU environment commissioner Karmenu Vella in Brussels.
"Effectively fighting air pollution without any further unnecessary delays is of the highest priority for Germany," the ministers added.
A trial of the proposal is planned for the cities of Bonn, Essen, Herrenberg, Reutlingen and Mannheim "at the end of the year at the latest."
The letter was signed by German Environment Minister Barbara Hendricks, Agriculture Minister Christian Schmidt and Chief of Staff of the Federal Chancellery Peter Altmaier.
According to AFP, which first reported on the letter, other proposed measures include further restrictions on emissions from vehicle fleets like buses and taxis, low-emissions zones and support for car-sharing schemes.
DW reported that some of the cities selected for the free public transportation trials were unclear about the specifics of the proposal.
"It's not in the planning phase yet," a spokeswoman with the city of Bonn told DW. Rollout dates have yet to be announced and the federal government did not specify about how it will subsidize the free public transportation.
But Bonn Mayor Ashok Sridharan, who was informed about the government's plans over the weekend, said he was happy his city was selected as one of the "lead cities."
"We also have one or two ideas that we can also propose, since we've been working on this topic for some time," Sridharan told DW.
As the AFP noted, the proposal comes just over two years after Volkswagen's "dieselgate" emissions cheating scandal. The German company was forced to pay billions in fines and helped prompt its plans to electrify much of its fleet. Other carmakers, including fellow German brand Daimler, have since faced their own emissions scandals.
Last year, Volkswagen, Daimler and BMW announced a €500 million ($593 million) plan to upgrade more than 5 million newer diesel cars in Germany and offer trade-in rebates on older models. They have also agreed to pay into a public transit fund to reduce diesel pollution.
The government "should make sure that the car manufacturers finance the emergency measure" of free transport, Greenpeace told AFP.
Environment ministry spokesman Stefan Gabriel Haufe clarified Wednesday that the measure is not intended to help the car industry pay for cleaning up its polluting cars already on the road.
"In the long run, you can't reduce excess emissions levels in cities unless you cut nitrogen emissions from diesel engines," he said at a news conference. "We have seen speculations that we would like to reduce the burden on the car industry. That is absolutely not the case."
Why Transportation Is Now the Top Source of U.S. Pollution https://t.co/uxE3GZWznN @cleanaircouncil @CeresNews

— EcoWatch (@EcoWatch)1512442504.0
From Your Site Articles
Related Articles Around the Web
Taking public transportation already makes a big difference in reducing your carbon footprint. Now, the San Francisco Bay Area's rapid transit system is reducing its own carbon footprint by committing to 100 percent renewable energy.
The Bay Area Rapid Transit (or BART) is likely the first electrified public transit system to make this ambitious goal. The BART is used by about 434,000 commuters each workday.
Earlier this month, BART's board of directors approved a new wholesale electric portfolio policy enabling the transportation agency to buy more power directly from renewable sources, including solar, wind and small hydroelectric facilities.
Transit agencies usually buy power from their local provider but under a 2015 California law, BART has the freedom to choose its own power sources. The aim is to increase its use of renewable energy to 50 percent by 2025, and 100 percent by 2045.
BART said its current portfolio is already 78 percent cleaner in terms of carbon content compared with a typical large customer of electricity utility PG&E, but its new "aggressive guidelines" makes it even greener.
BART is one of the largest power users in Northern California, consuming roughly 400,000 megawatt-hours annually. That's slightly more than the city of Alameda, which has an estimated population of 80,000.

"Every day, BART takes cars off the road and helps drive down our greenhouse gas emissions," said BART Director Nick Josefowitz in a statement.
"But especially now, BART and the Bay Area must shoulder even more responsibility to combat climate change. Even though BART is not required to comply with the state's renewable energy standards, we have committed to purchasing 100 percent renewable electricity and taking a leadership role in decarbonizing our transportation sector."
BART's clean energy goals puts it on track to exceed California's Renewable Portfolio Standard that mandates 50 percent renewables by 2030.
"Given that renewable energy supply costs have fallen significantly in recent years and have approached cost parity with other supply sources, BART has an opportunity to set clean energy goals that are both ambitious and realistic," BART's Sustainability Manager Holly Gordon said.
Could this be the future of public transportation? Mercedes-Benz has unveiled the world's first autonomous bus—and it actually works.
The "Future Bus" just completed its first 12-mile journey "without steering, accelerating and without brake pedal" on public roads in the Netherlands, according to Daimler Buses, the company working with Mercedez-Benz.
The Mercedes-Benz Future Bus with CityPilot is semi-automated with traffic light, obstacle & pedestrian recognition. https://t.co/NKWG8oIrft

— Mercedes-Benz (@Mercedes-Benz)1468965317.0
Using CityPilot autonomous driving technology, the full-sized bus successfully navigated through bends, passes, tunnels and traffic lights along the route between Amsterdam's Schiphol airport and the town of Haarlem.

Daimler said its bus drives up to 43-miles-per-hour and can recognize obstacles, especially pedestrians on the road, and brake autonomously.

Thanks to CityPilot, as Wired UK explains, the bus is connected to the city's wireless network, "so it can communicate directly with traffic lights and other city infrastructure for a smoother ride. The built-in camera systems can even scan the road for potholes and avoid bumpy areas the next time it travels on them, sharing that information back to the city."

In the video below, the driver does not touch the wheel as the bus whisks through the city streets and picks up passengers. The cockpit has a large screen that displays information the driver might need.

The Future Bus is equipped with a GPS system and about a dozen cameras that can scan the road and surroundings. A long and short-range radar systems constantly monitors the route ahead. It can even handle bus stops without driver intervention, as the doors open and close automatically.

"Connectivity plus camera and radar systems with data fusion are catapulting the city bus into the future," Daimler said.

As Wired UK pointed out, even though the bus can drive itself, regulations require a human operator in case he or she needs to intervene, like during an emergency.

As for its design, the 39-foot bus features a sleek exterior and open-plan interior inspired by the layouts of city squares and parks, the German automaker said.
Designer seats are loosely arranged along the walls to allow for open seating, grab rails branch upwards like trees and the ceiling lighting resembles a leaf canopy.
The #MBFutureBus: Divided in a Service and a Lounge Area. https://t.co/fVkwtyh17f

— Daimler AG (@Daimler AG)1468857826.0
The bus even offers wireless charging.
Not just a detail: Wireless charging in the #MBFutureBus https://t.co/xNUIgSazS6

— Daimler AG (@Daimler AG)1468857316.0
Besides the obvious environmental benefits of public transportation, automated buses have a number of eco-friendly traits. A bus that's connected to a city's communication network could relay and receive information to operate more efficiently and with better fuel economy than perhaps a human driver can. It could also help alleviate city traffic in densely populated areas.

Europe is particularly friendly towards self-driving vehicles. This past April, the transport ministers of all 28 European Union member states signed the Amsterdam Declaration, in which EU member states and the transport industry pledged to "draw up rules and regulations that will allow autonomous vehicles to be used on the roads."

Daimler tweeted that it invest approximately €200 million to further develop its city-bus portfolio by 2020. It is currently unclear if or when these buses will become a reality or even if they will make it stateside but for a sustainable transportation future, these buses can not come soon enough.
Daimler Buses
There are many ways to assess the greenness of your home state. MPHOnline's approach was to consider a state's energy makeup, gasoline consumption per capita, greenhouse gas emissions, air and water quality, recycling efforts and availability of public transportation.
Using this data from state energy, waste, transportation and environmental management agencies, MPHOnline created an interactive map to determine how each state ranks. Click on your state to see how it fares.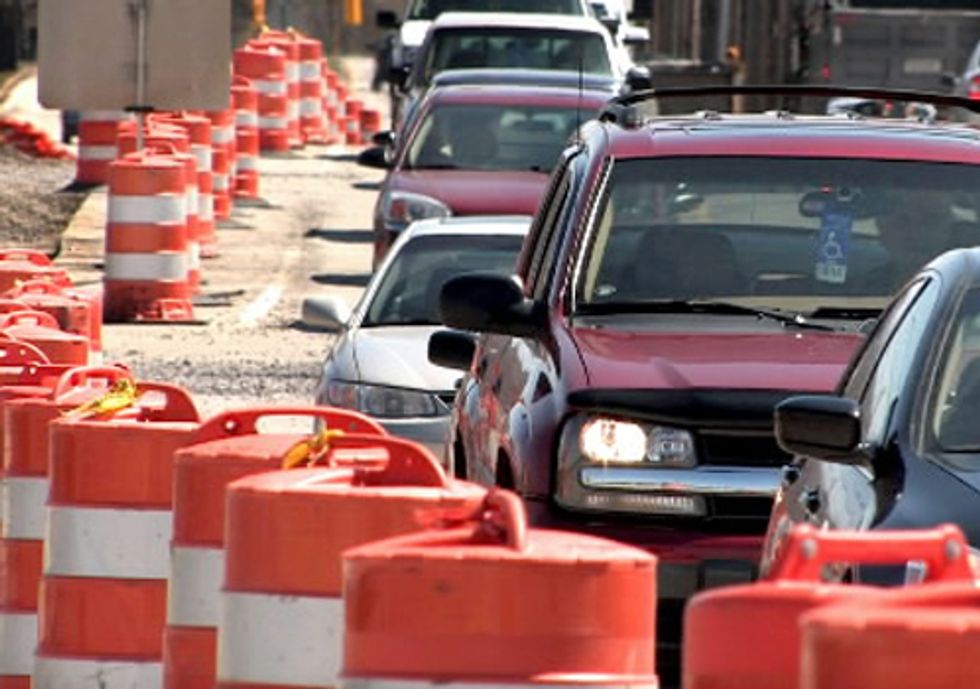 Rep. Dave Camp (R-MI), chairman of the House of Representatives' Ways and Means Committee on Feb. 2 proposed eliminating dedicated federal funding for mass transit, moving funds currently used for mass transit and putting them instead toward building new highways. This proposal for the bill comes on top of provisions from other House committees that would not only force us to consume more oil, but actually open new, destructive drilling throughout the country. 
Environment America Transportation Advocate John Cross issued this statement in response:
"We are stunned that Rep. Camp is proposing to eliminate all dedicated funding for public transit—guaranteeing that America becomes more dependent on oil. Big Oil is the winner in every step of this process at the expense of the air we breathe, the places we love, and the Americans who take more than 10 billion trips on public transit every year. 
"The House has now proposed eliminating all dedicated federal funds for any form of transportation other than highways, roads and airports in an attempt to throw clean transportation choices under the bus. This comes on top of the blatant gift to Big Oil of proposing that we pay for new highways by granting the oil companies the right to drill off our coasts and in the Arctic National Wildlife Refuge and to develop destructive oil shale. 
"When it comes to transportation, this House is taking us down a dead end road to pollute our air, threaten our climate, endanger our country's treasured spaces, and grant oil corporations' every wish."
For more information, click here.