For the third day in a row, air pollution blanketed Paris, which authorities called the worst bout for at least 10 years. The city imposed driving restrictions and made public transit free.
#Paris aujourd'hui. La preuve de la nécessité de réduire la place de la voiture en centre-ville #pollution https://t.co/R10Tdu4o2Y

— Anne Hidalgo (@Anne Hidalgo)1481035096.0
Unusually calm air failed to disperse vehicle emissions and particulates from wood fires, creating conditions that have veiled the Eiffel Tower in a gray haze.
Paris has instituted a system based on alternating odd or even license plate numbers to ban certain vehicles from city streets, effectively cutting traffic in half each day. This is just the fourth time in 20 years that Paris has taken this step, and the first time it has been in place for consecutive days.
"Cars are poisoning the air," Paris city hall transport official Herve Levife told Reuters. "We need to take preventive measures."
"We want these bans to automatically take effect when the pollution exceeds a certain level, not have to negotiate them with the government each time," Levife added.
#Paris Goes Car-Free First Sunday of Every Month https://t.co/NOd8Lc5qdt @ClimateReality @sierraclub @Greenpeace https://t.co/xmUwjLRsLx

— EcoWatch (@EcoWatch)1463503788.0
More than 1,700 drivers were issued tickets for violating the ban on Tuesday, which carries a fine of 35 Euros, or about $37.42. Hybrid and battery electric vehicles, as well as those carrying three or more passengers, are exempt.
All public transit was made free, putting a strain on commuter systems as crowds piled onto trains and buses. The city's bike-share system was also free to use.
Along with Paris, the French cities of Lyons and Villeurbanne were expected to impose similar measures.
Air quality index readings reached or exceeded 150 on Thursday, considered a "critical" level.Air Pollution in Paris: Real-time Air Quality Index Visual Map
Readings of particulate matter exceeded 80 micrograms per cubic meter. The European Union has set a maximum daily average of 50. Particulate matter, due to its small size, can be inhaled deeply into lungs. High exposure can cause asthma, lung cancer, cardiovascular disease, respiratory diseases, birth defects and premature death.
Beginning July 1, Paris banned all cars 20 years or older. Longer-term, Paris and three other cities—Athens, Madrid and Mexico City—will ban diesel engines by 2025 as announced earlier this week. Diesels area major emitter of particulate matter pollution.
In March 2015, the air quality index in Paris briefly made it the worst polluted city in the world.
EcoWatch Daily Newsletter
Could Uber and Lyft make the dream of futurists for personal rapid transit come true?
Since the 1950s, thinkers such as city transportation planner Donn Fichter began to envision an automated public transit system for low-density areas where rail and even buses were not practical. Even in denser urban environments, it has always been a challenge to get people to leave their cars at home when mass transit cannot offer point-to-point and schedule on demand service.
The 1960s through 1990s saw research studies and a handful of demonstration projects in the U.S., Europe and Japan. In 1999, I visited the Honda R&D facility in Tochigi, Japan, where I could summon a self-driven minicar to take me to specific spots around the campus. The vehicle would then return to its home base on its own. Other proposed systems used guideways, separating the vehicle from existing road or rail systems but offering less flexibility.
The automotive industry is investing heavily in autonomous vehicle technology, some aspects of which are already available in mass-market vehicles from major manufacturers. Two major industry suppliers, Delphi Automotive and Mobileye, are teaming up to produce off-the-shelf autonomous vehicle technology that will be shown at the International CES in Las Vegas in January. This will enable automakers to more quickly introduce self-driving cars and spend less on their own research and development.
Uber has just started a pilot program in Pittsburgh involving up to 100 self-driving vehicles in partnership with Volvo. The company has also acquired Otto, a start-up company headed by autonomous vehicle engineer Anthony Levandowski.
Uber's modified Volvo XC90 for its Pittsburgh self-driving fleet.Uber
Earlier this year, General Motors announced a $500 million in investment in rival Lyft. This month, Ford said it would have a fully autonomous vehicle on the road for ride sharing by 2021. Google's 25-mph prototype vehicle is also testing on public roads.
Uber and Lyft are looking beyond competition with traditional taxi services. They may be creating the first practical, affordable personal rapid transit (PRT) systems that will compete with buses. In 2014, Uber launched UberPool, enabling multiple parties to share a ride along similar routes. The following year, the company announced uberCOMMUTE in China, which they described as " carpooling at the press of a button." In the U.S., it's being tested in Chicago. Then, in December, Uber launched uberHOP in Seattle, which operates along pre-selected commuters routes.
Virtually all mass transit systems are publicly subsidized. Farebox revenues rarely cover more than 50 percent of expenses, which are labor and capital-intensive. In Pinellas Park, Florida—a Tampa suburb—has just replaced two bus lines with Uber service, subsidized to the tune of $3 per ride. It's cheaper than running the buses. The Pinellas Suncoast Transit Authority budgeted $40,000 a year. Running the two bus lines cost four times as much.
In the Denver suburb of Centennial, Lyft launched a program this month providing free rides to the Dry Creek light rail station. In this case, the program is designed to encourage mass transit use by enabling commuters to get to the station without having to park a car there all day. A self-driving bus is already being tested in Washington, DC.
First Self-Driving, 3D-Printed Smart Bus Hits the Streets of Washington, DC https://t.co/7oLRkNmVN9 @GreenNewsDaily @cleantechgroup

— EcoWatch (@EcoWatch)1466388026.0
A key benefit of a self-driving vehicles is greater fuel efficiency. The computer can drive better than you can. It will drive at a steady speed, will avoid jackrabbit starts and won't exceed the speed limit. Ultimately, a preponderance of autonomous vehicles could reduce traffic congestion by communicating with each other and traveling together in a controlled caravan. Car-sharing and carpooling make for more efficient use of roadways, vehicles and infrastructure devoted to parking.

There are concerns, however, that self-driving cars will encourage more driving. That remains to be seen, but if the technology is accompanied by more car-sharing and greater use of electric vehicles, that may act as an offset.
A KPMG/Center for Automotive Research study stated, "The new technology could provide solutions to some of our most intractable social problems—the high cost of traffic crashes and transportation infrastructure, the millions of hours wasted in traffic jams and the wasted urban space given over to parking lots, just to name a few. But if self-driving vehicles become a reality, the implications would also be profoundly disruptive for almost every stakeholder in the automotive ecosystem."
Personal rapid transit is no longer a pipe dream; it's a business.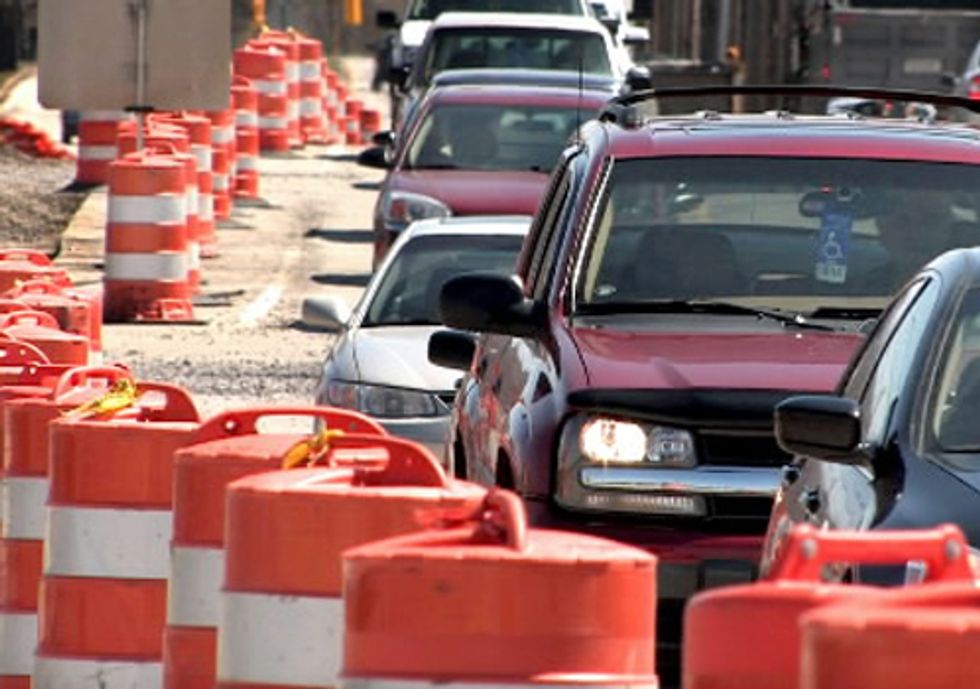 Rep. Dave Camp (R-MI), chairman of the House of Representatives' Ways and Means Committee on Feb. 2 proposed eliminating dedicated federal funding for mass transit, moving funds currently used for mass transit and putting them instead toward building new highways. This proposal for the bill comes on top of provisions from other House committees that would not only force us to consume more oil, but actually open new, destructive drilling throughout the country. 
Environment America Transportation Advocate John Cross issued this statement in response:
"We are stunned that Rep. Camp is proposing to eliminate all dedicated funding for public transit—guaranteeing that America becomes more dependent on oil. Big Oil is the winner in every step of this process at the expense of the air we breathe, the places we love, and the Americans who take more than 10 billion trips on public transit every year. 
"The House has now proposed eliminating all dedicated federal funds for any form of transportation other than highways, roads and airports in an attempt to throw clean transportation choices under the bus. This comes on top of the blatant gift to Big Oil of proposing that we pay for new highways by granting the oil companies the right to drill off our coasts and in the Arctic National Wildlife Refuge and to develop destructive oil shale. 
"When it comes to transportation, this House is taking us down a dead end road to pollute our air, threaten our climate, endanger our country's treasured spaces, and grant oil corporations' every wish."
For more information, click here.