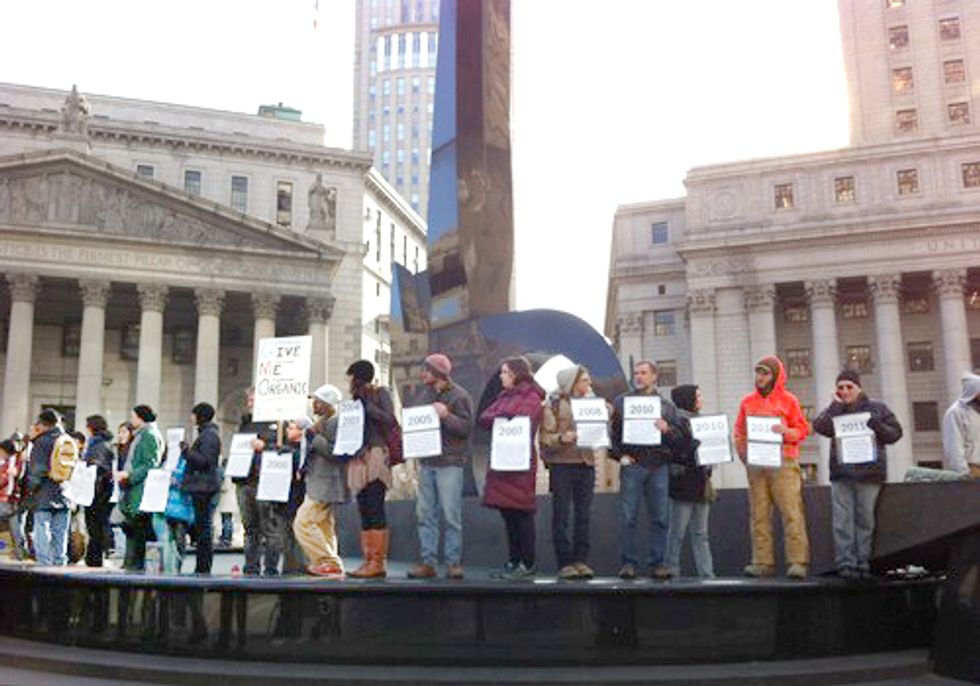 It was standing room only as family farmers from around North America filled Federal Court Judge Naomi Buchwald's courtroom in Manhattan on Tuesday, Jan. 31. The topic was the landmark organic community lawsuit Organic Seed Growers and Trade Association (OSGATA) et al v. Monsanto and the oral argument from Monsanto's pre-trial motion to dismiss, which it filed last July. Plaintiffs from at least 21 States and provinces were in the courtroom including Oregon, California, New Mexico, Colorado, Kansas, Nebraska, South Dakota, Saskatchewan, Missouri, Iowa, Ohio, Florida, North Carolina, Virginia, New Jersey, Pennsylvania, New York, Connecticut, Massachusetts, Vermont and Maine.
Meanwhile, outside the courthouse in Foley Square, hundreds turned out for the citizen's assembly of support for family farmers, an action organized by several groups including Occupy Food Justice. A depiction of Monsanto's infamous 100 year history including Agent Orange, dioxin, PCBs and now gene-spliced food was presented. Speakers addressed topics ranging from sustainable agriculture to risks associated with genetically modified organisms (GMOs) to issues of good food and food justice. After the conclusion of the courtroom oral argument, the plaintiff farmers and their legal team from the Public Patent Foundation provided details and comments on the courtroom proceedings, to supporters at the citizens' assembly.
"We were very pleased that the court granted our request to have oral argument regarding Monsanto's motion to dismiss our case today," said Daniel Ravicher of the Public Patent Foundation, lead lawyer for the plaintiffs. "The judge graciously permitted both parties to raise all the points they wished in a session that lasted over an hour. While Monsanto's attorney attempted to portray the risk organic farmers face from being contaminated and then accused of patent infringement as hypothetical and abstract, we rebutted those arguments with the concrete proof of the harm being suffered by our clients in their attempts to avoid such accusations. The judge indicated she will issue her ruling within two months. We expect she will deny the motion and the case will then proceed forward. If she should happen to grant the motion, we will most likely appeal to the Court of Appeals who will review her decision without deference."
The large group of 83 Plaintiffs in OSGATA v. Monsanto is comprised of individual family farmers, independent seed companies and agricultural organizations. The total number of members within the plaintiff group exceeds 300,000 and includes many thousands of certified organic farmers. The plaintiffs are not seeking any monetary compensation. Instead, the farmers are pre-emptively suing Monsanto and seeking court protection under the Declaratory Judgment Act, from Monsanto-initiated patent infringement lawsuits.
President and lead Plaintiff for Organic Seed Growers and Trade Association—Maine organic seed farmer Jim Gerritsen—was in the courtroom and witnessed the oral argument. Gerritsen had this to say, "Our lawyer did a good job explaining the current injustice farmers face. We have a right to be secure on our farms and to be free from Monsanto's GMO trespass. If we become contaminated by Monsanto, not only is the value of our organic seed crop extinguished but we could also be sued by Monsanto for patent infringement because their contamination results in our 'possession' of their GMO technology. We have farmers who have stopped growing organic corn, organic canola and organic soybeans because they can't risk being sued by Monsanto. It's not fair and it's not right. Family farmers need justice and we deserve the protection of the court."
Early on in the legal process, Monsanto was asked by lawyers for the plaintiffs to provide a binding legal covenant not to sue. Monsanto refused this request and in doing so made clear that it would not give up its option to sue contaminated innocent family farmers who want nothing to do with Monsanto's GMO technology.
In a remarkable demonstration of solid support by American citizens for family farmers, co-plaintiff Food Democracy Now! has collected more than 100,000 signatures on it's petition supporting the rights of family farmers against Monsanto. "For the past 12,000 years farmers have saved the best seeds each year to increase yields and improve traits for the food we eat," said Dave Murphy, founder and executive director of Food Democracy Now! "In 1996, when Monsanto sold its first patented genetically modified (GMO) seed to farmers, this radically changed the idea of how farmers planted and saved seed. Less than two decades later, Monsanto's aggressive patent infringement lawsuits have created a climate of fear in rural America among farmers. It's time for that to end. Farmers should not have to live in fear because they are growing our food."
For more information, click here.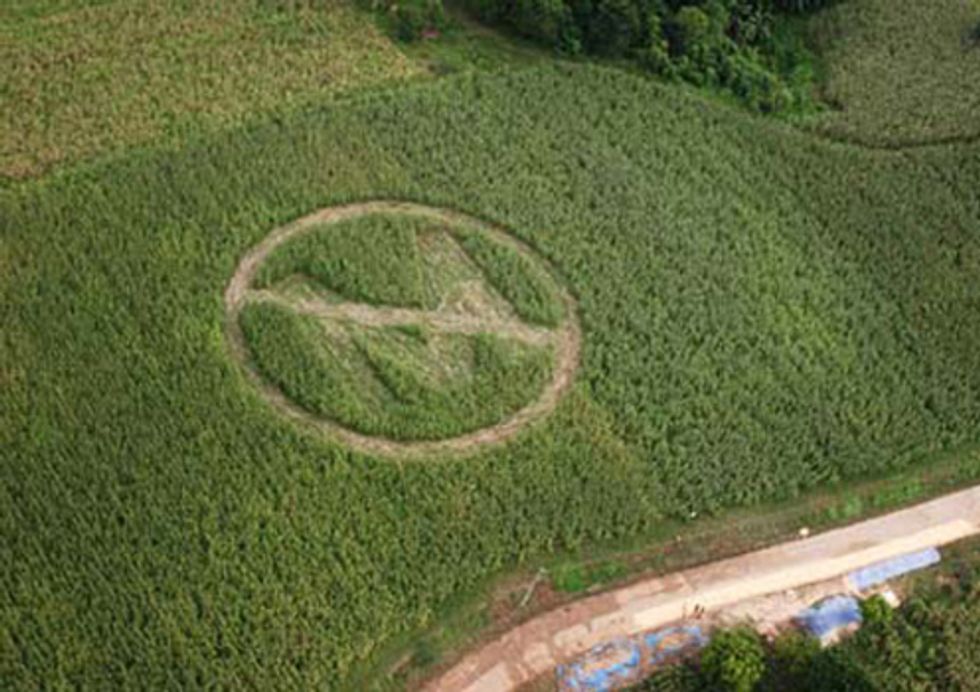 The Organic Seed Growers and Trade Association (OSGATA) invites citizens to assemble outside the Manhattan District court on Jan. 31 in an effort to present the message to family farmers that millions of Americans stand behind them as they seek their day in court. In the past two decades, Monsanto's seed monopoly has grown so powerful that they control the genetics of nearly 90 percent of five major commodity crops including corn, soybeans, cotton, canola and sugar beets. This has resulted in onerous costs to farmers through high technology patent fees for seeds as well as burdensome litigation costs in defending themselves against lawsuits asserted by Monsanto.
In many cases organic and conventional farmers are forced to stop growing certain crops in order to avoid genetic contamination and potential lawsuits. Between 1997 and April 2010, Monsanto filed 144 lawsuits against American farmers in at least 27 different states, for alleged infringement of its transgenic seed patents and/or breach of its license to those patents, while settling another 700 out of court for undisclosed amounts. As a result of these aggressive lawsuits, Monsanto has created an atmosphere of fear in rural America and driven dozens of farmers into bankruptcy.
The lawsuit OSGATA et al vs. Monsanto was filed on behalf of 300,000 organic and non-GMO (genetically modified organisms) farmers and citizens to seek judicial relief in "protect[ing] themselves from ever being accused of infringing patents on transgenic (GMO) seed." The judge has requested and agreed to hear oral argument in order to make a decision of whether or not to allow the farmers' cases to move forward in the courts after Monsanto filed a motion to dismiss the lawsuit.
"We are family farmers and we are headed to court in New York City on Jan. 31 to let the judge know that our survival as farmers depends on this lawsuit," said Jim Gerritsen, OSGATA president. "We're not asking Monsanto for one penny. We just want justice for our farmers and we want court protection from Monsanto."
"I don't think it's fair that Monsanto should be able to sue my family for patent infringement because their transgenic seed trespasses onto our farm and contaminates and ruins our organic crop," said Bryce Stephens, of Stephen's Land and Cattle Co. "We have had to abandon raising corn because we are afraid Monsanto wouldn't control their genetic pollution and then they would come after us for patent infringment. It's not right."
We are encouraging supporters of farmers' rights to grow food without fear and intimidation to assemble outside the courtroom in a peaceful manner to support the farmers in their claims, recognizing that these injustices affect us all and that this case is deserving of the court's time and attention on Jan. 31, 2012.
Due to limited space, only a small number of individuals will be able to enter the courtroom and listen to the proceedings. We respectfully ask that farmers and plaintiffs in the case be given priority to hear this case in person as each plaintiff will have traveled many miles and put a great deal on the line to be a part of this case.
In the spirit of peaceful assembly and respect for the courts, we request that you adhere to the following principles:
Principles for Citizens' Assembly
1. Assemble outside the court in a show of support for family farmers and their right to grow food without the threat of intimidation, harassment or loss of income.
2. Assemble peacefully to present a positive message that America's citizens stand behind family farmers and support their rights of legal protection under the Constitution.
3. Bring signs that portray messages of:
Hope
The positive impacts of sustainable and organic agriculture
Solutions to our current crisis in food, agriculture and society
Support for farmers who seek justice in the courts
4. Be respectful of court security requests and follow them faithfully.
5. Maintain a respectful distance from the court entry on Pearl Street, making sure not to block access for foot traffic or vehicles.
6. Maintain a tone of respect for the court and the sanctity of our legal process as the judge hears the merits of this important case.
7. Cell phones, cameras and tape recorders are prohibited inside the courthouse. Those who enter the courthouse must conform to court security protocols.
8. No signs, t-shirts with slogans or other disruptions, visual or otherwise, are appropriate or allowed in the courtroom.
9. No chanting or loud noises allowed outside the courthouse as all must maintain their conduct in ways that are respectful to the judicial process and in accordance with the seriousness of the case.
10. Follow the instructions of designated assembly captains who will continue to update you as the events of the day unfold.
As advocates for farmers and supporters of a citizen-based democracy we greatly appreciate your support for family farmers and your agreement to act in accordance with these principles in order to guarantee farmers' rights to grow food without fear and intimidation.
Location to Hear Plaintiffs and Attorney Comment After Hearing
Once oral arguments are heard in the court, farmers, plaintiffs and Lead Attorney Dan Ravicher of the Public Patent Foundation will be available for comments to supporters and the media, at the Southwest Corner on 500 Pearl Street, at Pearl Street and Cardinal Hayes Place.
For those planning on assembling at 9 a.m., Pearl Street has been recommended to gather respectfully and overflow can gather at Foley Square.
Find a link to a map of the location by clicking here.
To RSVP to the event, click here.
To sign a petition supporting farmers in the case against Monsanto, click here.
For more information, click here.
EcoWatch Daily Newsletter