"From 1992 to 2016, heat killed 783 workers in the U.S. and seriously injured nearly 70,000, according to a new report on heat risks."
InsideClimateNews / USDA
A broad coalition of worker advocacy, public health and environmental groups on Tuesday called on the federal Occupational Safety and Health Administration (OSHA) to create a workplace standard for heat stress.
More than 130 groups led by Farmworker Justice, United Farm Workers and Public Citizen signed a petition sent to OSHA noting that two in every 1,000 American workers are now subject to heat stress, and calling on the agency to mandate that employers provide adequate hydration and shade, medical attention and rest breaks during high heat events.
The Obama administration denied a previous petition for a heat stress standard from the coalition in 2012.
"I don't want any more families to go through the pain that my family went through," Californian Raudel Felix García, whose brother died while working his job at a vineyard during triple-digit temperatures, told reporters on a press call.
As reported by the Huffington Post:
"Deaths and injuries from extreme heat are still too common in states without any protective standards," said United Farm Workers of America President Arturo S. Rodriguez, who spoke to reporters during a conference call on Tuesday. "Farmworkers are not agricultural implements. They are important human beings who sweat and sacrifice to feed millions of people across America and the world."
Rodriguez's organization, along with two former OSHA directors, the nonprofit consumer group Public Citizen, and a broad coalition of more than 130 labor, public health and environmental organizations, filed the petition to Loren Sweatt, the acting assistant secretary of labor for occupational safety and health, on Tuesday.
Without a federal heat stress standard, OSHA relies on a general requirement that employers provide workplaces free of hazards. But as global warming causes more frequent spells of extreme heat and record-breaking summers become the norm, the coalition said employers are falling far short.
"We argue that [the general requirement] is not enough," said Shanna Devine, a worker health and safety advocate for Public Citizen. "Employers aren't going to voluntarily implement these common-sense criteria ― access to water, shade and breaks ― unless required to and unless there is likely to be a real penalty."
Climate Change Harms Human Health https://t.co/ChUuuQVVOD @NRDC @YEARSofLIVING @greenpeaceusa @billmckibben @CleanAirMoms

— EcoWatch (@EcoWatch)1521049045.0
For a deeper dive:

Huffington Post, E&E, InsideClimate News. Commentary: New York Daily News, Terri Gerstein op-ed
For more climate change and clean energy news, you can follow Climate Nexus on Twitter and Facebook, and sign up for daily Hot News.
From Your Site Articles
Related Articles Around the Web
EcoWatch Daily Newsletter
The 2018 Ford Transit, one of Ford's 15 showcased models at the DC Auto Show, gets an estimated 23 mpg according to fueleconomy.gov. washingtonautoshow.com
This week, tens of thousands of people will attend the Washington Auto Show to see the latest that the industry has to offer. However, instead of moving toward a cleaner transportation future, Ford Motor Company and other automakers are working to take us backward: They are lobbying the Trump administration to weaken clean car standards, which curb pollution, save consumers money and protect health.
"After a year of the worst climate change-fueled extreme weather we've ever seen, it's clear that we need to hit the brakes on global warming pollution, and one of our best programs to cut emissions are the clean car standards," said Andrea McGimsey, global warming solutions program director at Environment America. "If Ford is serious about committing to a clean, electric, zero-emission future, it needs to step up and publicly support the clean car standards."

While Ford largely supported stronger fuel efficiency and emissions standards enacted during the Obama administration, it has taken a different approach since the election of Donald Trump.
"Ford may be trying to put on a good show, but behind closed doors, it has been working with Donald Trump and Scott Pruitt to roll back our single biggest defense against dangerous climate pollution," said Sierra Club's deputy legislative director, Andrew Linhardt. "Ford's claims of sustainability in its advertising and here at the auto show are nothing more than greenwashing. If Ford wants to back up its claims, it would be arguing to put clean car standards in the fast lane, strengthening them to protect our health and our climate rather than undermining them."

In 2011, automakers, labor groups and environmentalists stood beside President Barack Obama as he announced the new clean car standards.The rules already are delivering benefits, already having saved Americans more than $53 billion and, if enforced as written, will ensure that:
Greenpeace USA
. "Ford's feel-good PR statements about their commitment to fight climate change will not distract us from the fact that the company is fighting a standard that would help them do just that."
"Making clean vehicles is auto mechanics, not rocket science: Ford can save drivers gas and slash air pollution," said Dan Becker, director of the
Safe Climate Campaign
. "Instead, Ford announced that it will make more gas-guzzling SUVs and other trucks while it works with President Trump to roll back clean car standards."
Despite a recent announcement to invest in
electric vehicles
, Ford isn't showcasing any of its electric models at the auto show.
Madeline Page, campaign coordinator with
Public Citizen
said, "Search the Washington auto show website to see what electric vehicles will be on display this week, and you'll get this message: 'Sorry, the search criteria returned 0 results.' It's further evidence that Ford's desperate attempts to flex its green credentials in the media is just that, talk. It may be too late to pack the convention center with clean vehicles, but we will continue to call out Ford's hypocrisy and push the company to halt efforts to roll back the clean car standards."
The rules are popular. A
Natural Resources Defense Council poll
found that 79 percent of Americans want the government to increase standards. Moreover, a 2016 technical assessment by the
U.S. Environmental Protection Agency
, the National Highway Traffic Safety Administration and the California Air Resources Board shows that automakers are meeting the standards more affordably and faster than predicted.
Corporate Fleets Making the Switch to #ElectricVehicles https://t.co/1E1dKROBvA @elonmusk @Tesla @SierraClub #EVs #cleanenergy @IKEAUSA

— EcoWatch (@EcoWatch)1508520601.0
From Your Site Articles
Related Articles Around the Web
waterlust.com / @tulasendlesssummer_sierra .
Each product featured here has been independently selected by the writer. If you make a purchase using the links included, we may earn commission.
The bright patterns and recognizable designs of Waterlust's activewear aren't just for show. In fact, they're meant to promote the conversation around sustainability and give back to the ocean science and conservation community.
Each design is paired with a research lab, nonprofit, or education organization that has high intellectual merit and the potential to move the needle in its respective field. For each product sold, Waterlust donates 10% of profits to these conservation partners.
Eye-Catching Designs Made from Recycled Plastic Bottles
waterlust.com / @abamabam
The company sells a range of eco-friendly items like leggings, rash guards, and board shorts that are made using recycled post-consumer plastic bottles. There are currently 16 causes represented by distinct marine-life patterns, from whale shark research and invasive lionfish removal to sockeye salmon monitoring and abalone restoration.

One such organization is Get Inspired, a nonprofit that specializes in ocean restoration and environmental education. Get Inspired founder, marine biologist Nancy Caruso, says supporting on-the-ground efforts is one thing that sets Waterlust apart, like their apparel line that supports Get Inspired abalone restoration programs.
"All of us [conservation partners] are doing something," Caruso said. "We're not putting up exhibits and talking about it — although that is important — we're in the field."
Waterlust not only helps its conservation partners financially so they can continue their important work. It also helps them get the word out about what they're doing, whether that's through social media spotlights, photo and video projects, or the informative note card that comes with each piece of apparel.
"They're doing their part for sure, pushing the information out across all of their channels, and I think that's what makes them so interesting," Caruso said.
And then there are the clothes, which speak for themselves.
Advocate Apparel to Start Conversations About Conservation
waterlust.com / @oceanraysphotography
Waterlust's concept of "advocate apparel" encourages people to see getting dressed every day as an opportunity to not only express their individuality and style, but also to advance the conversation around marine science. By infusing science into clothing, people can visually represent species and ecosystems in need of advocacy — something that, more often than not, leads to a teaching moment.

"When people wear Waterlust gear, it's just a matter of time before somebody asks them about the bright, funky designs," said Waterlust's CEO, Patrick Rynne. "That moment is incredibly special, because it creates an intimate opportunity for the wearer to share what they've learned with another."
The idea for the company came to Rynne when he was a Ph.D. student in marine science.
"I was surrounded by incredible people that were discovering fascinating things but noticed that often their work wasn't reaching the general public in creative and engaging ways," he said. "That seemed like a missed opportunity with big implications."
Waterlust initially focused on conventional media, like film and photography, to promote ocean science, but the team quickly realized engagement on social media didn't translate to action or even knowledge sharing offscreen.
Rynne also saw the "in one ear, out the other" issue in the classroom — if students didn't repeatedly engage with the topics they learned, they'd quickly forget them.
"We decided that if we truly wanted to achieve our goal of bringing science into people's lives and have it stick, it would need to be through a process that is frequently repeated, fun, and functional," Rynne said. "That's when we thought about clothing."
Support Marine Research and Sustainability in Style
To date, Waterlust has sold tens of thousands of pieces of apparel in over 100 countries, and the interactions its products have sparked have had clear implications for furthering science communication.
For Caruso alone, it's led to opportunities to share her abalone restoration methods with communities far and wide.
"It moves my small little world of what I'm doing here in Orange County, California, across the entire globe," she said. "That's one of the beautiful things about our partnership."
Check out all of the different eco-conscious apparel options available from Waterlust to help promote ocean conservation.
Melissa Smith is an avid writer, scuba diver, backpacker, and all-around outdoor enthusiast. She graduated from the University of Florida with degrees in journalism and sustainable studies. Before joining EcoWatch, Melissa worked as the managing editor of Scuba Diving magazine and the communications manager of The Ocean Agency, a non-profit that's featured in the Emmy award-winning documentary Chasing Coral.
iStock
By Julia Conley
Public interest groups spoke out Monday about a White House event at which Vice President Mike Pence touted the Trump administration's deregulation efforts. President Donald Trump did not attend the "Cut the Red Tape" event due to the attack in Las Vegas, but the meeting went on as planned with the White House barring the press from the room.
The administration has demonstrated repeatedly since Trump took office in January that it aims to roll back safeguards put in place by the Obama administration in a number of areas. The president announced early in his term that he would offset any new regulation by scrapping two existing regulations. According to an analysis by Reuters, federal agencies have so far taken 25 deregulatory steps, affecting infrastructure projects, the environment and workers in a wide variety of sectors.
Regarding the climate, in addition to withdrawing from the Paris agreement on climate change, Trump has rolled back President Barack Obama's Clean Power Plan, scrapped his rules limiting water pollution from coal-fired power plants, and reversed a policy banning national parks from selling bottled water.
The Union of Concerned Scientists released a statement on the need for environmental protections like the one Trump has been eliminating. "These critical safeguards were created based on the best available science and public input, but now they're being quickly and carelessly deleted," said Andrew Rosenberg of the group's Center for Science and Democracy. "They've ignored the evidence and put the interests of industry lobbyists over public health and safety. These changes will put Americans at risk, yet the president and vice president see this as an opportunity to take a victory lap."
Pointing to the recent example of a chemical plant explosion in the aftermath of Hurricane Harvey in Texas, Rosenberg added, "The rush to undo these rules has real, damaging consequences. Communities near chemical facilities will have less information about the risks they face—raising the danger to families and first responders in the case of accidents like the recent Arkema explosion in Houston ... The vice president may tout it as an accomplishment that the administration has derailed so many public health and safety protections. For the rest of us, though—particularly for low-income neighborhoods and communities of color—this is no victory. It's a willful failure by the administration to do its job protecting Americans."
The American Sustainable Business Council was among those pushing back against the familiar Republican argument that deregulating industries is somehow a cost-saving maneuver.
"Over-regulation was not the problem that led to banks creating the mortgage crisis, that in turn resulted in the loss of 200,000 small businesses and 8.7 million jobs throughout the United States," pointed out Richard Eidlin, co-founder of the American Sustainable Business Council. "The Trump administration's deregulation approach based on the arbitrary benchmark of eliminating 'two existing regulations for every one new regulation' is ill-conceived and will not achieve meaningful regulatory reform. Placing focus solely on the costs of compliance instead of the benefits to society contradicts the goals of many of the laws that enable these regulations."
The government watchdog group Public Citizen called Trump's deregulation agenda a "craven attempt at self-enrichment and payback to corporate donors," adding, "in fact, robust regulation and enforcement are essential to economic prosperity."
Reposted with permission from our media associate Common Dreams.
Former Exxon CEO and current U.S. Sec. of State, Rex Tillerson, shakes hands with Saudi Defense Minister, Prince Mohammad bin Salman during Trump's recent visit. Saudi Press Agency via Twitter
By Steve Horn
During his recent trip to Saudi Arabia, President Donald Trump announced an array of economic agreements between the U.S. and the Middle Eastern kingdom, saying it would usher in "jobs, jobs, jobs" for both oil-producing powerhouses.
While the $350 billion, 10-year arms deal garnered most headlines, a lesser-noticed agreement was also signed between ExxonMobil and the state-owned Saudi Basic Industries Corporation (SABIC) to study a proposed co-owned natural gas refinery in the Gulf of Mexico. Under the deal, signed at the Saudi-U.S. CEO Forum, the two companies would "conduct a detailed study of the proposed Gulf Coast Growth Ventures project in Texas and begin planning for front-end engineering and design work" for the 1,300-acre, $10 billion plant set to be located near Corpus Christi, Texas, according to an ExxonMobil press release.
In addition, ExxonMobil's press release for the agreement mentions that Darren Woods, the company's CEO, was in the room for the signing of the pact alongside ExxonMobil Saudi Arabia CEO Philippe Ducom and SABIC executives. Missing from that release: After the forum ended, Woods went to the Al-Yamamah Palace for an agreement-signing ceremony attended by both President Trump and recently retired ExxonMobil CEO and current U.S. Sec. of State Rex Tillerson.
DeSmog discovered they were all present at the palace via the Saudi Press Agency's English-language press Twitter account, which released a series of photos of Woods and Tillerson shaking hands with SABIC CEO Yousef Al-Benyan and Saudi Defense Minister Prince Mohammad bin Salman, respectively. President Trump is seen seated in the background of the photos of both Woods and Tillerson, which were taken in the same room.
As in the ExxonMobil press release, White House and State Department press releases failed to mention that Tillerson and Woods were both present when the deals were signed between the two countries at the Royal Court. Getty Images also published the photo of Woods at the Al-Yamamah Palace, with Trump seated in the background.
Tillerson-ExxonMobil Recusal
Tillerson served as CEO of ExxonMobil for 10 years, heading the "private empire" until President Trump nominated him as U.S. Secretary of State in December 2016. At his January Senate confirmation hearing, Tillerson said he would recuse himself for one year from ExxonMobil-related business which comes before the State Department, and submitted a letter to the same effect on Jan. 3 to the State Department's Office of Legal Counsel.

"For a period of one year after my resignation from ExxonMobil, I will not participate personally and substantially in any particular matter involving specific parties in which I know that ExxonMobil is a party or represents a party, unless I am first authorized to participate, pursuant to 5 C.F.R. § 2635.502(d)," wrote Tillerson in the letter.
The statute of U.S. law laid out by Tillerson in his letter, 5 C.F.R. § 2635.502(d), dictates what steps federal employees should take if they have potential business conflicts or impartiality issues pertaining to U.S. government business.
"Where an employee knows that a particular matter involving specific parties is likely to have a direct and predictable effect on the financial interest of a member of his household, or knows that a person with whom he has a covered relationship is or represents a party to such matter, and where the employee determines that the circumstances would cause a reasonable person with knowledge of the relevant facts to question his impartiality in the matter, the employee should not participate in the matter unless he has informed the agency designee of the appearance problem and received authorization from the agency designee," the law reads.
At his Senate confirmation hearing, Tillerson echoed the remarks made in his recusal letter with regards to State Department business potentially overlapping with that of ExxonMobil.
"If confirmed as secretary of state, I would recuse myself from those issues," Tillerson said at his confirmation hearing. "I've made clear in my disclosures, and I think in answers to questions that have been posed, that obviously there's a statutory recusal period, which I will adhere to, on any matters that might come before the State Department that deal directly and specifically with ExxonMobil."
Saudi-U.S. CEO Forum
Woods, the Exxon CEO who took Tillerson's spot at the top of the company, was in Saudi Arabia at the same time as the Trump administration, apparently both to sign the agreement with SABIC and lead a roundtable at the inaugural Saudi-U.S. CEO Forum on business "Partnership Enablers."

The forum, attended by U.S. Sec. of Commerce Wilbur Ross, "drew the kind of corporate firepower Trump suggested he could harness when he ran for the Oval Office as a Washington outsider/business executive who would reach outside the Beltway and enlist other executives in support of the administration's economic goals," wrote Bloomberg.
"More than 30 CEOs of major U.S. companies were on hand for the summit, at the Four Seasons Hotel in Riyadh. Some later joined Trump and Saudi officials at the Royal Court Palace for a deal-signing ceremony."
"Bizarre Art of the Deal"
Gulf Coast Growth Ventures, known in industry lingo as a "cracker" facility, is set to refine natural gas obtained via hydraulic fracturing ("fracking") from Texas' Eagle Ford Shale and other shale basins into plastics materials. It received billions of dollars in tax subsidies from local government bodies in Texas. When built and fully functioning, Gulf Coast Growth Ventures will be the largest cracker facility on the planet.

Tillerson, as previously reported by DeSmog, maintained close ties between ExxonMobil and Saudi Arabia during his tenure as CEO. The State Department did not respond to a request for comment pertaining to Tillerson's trip to Saudi Arabia and interaction with current Exxon CEO, Darren Woods, but maintained to DeSmog that Tillerson has upheld his ExxonMobil recusal and divestment agreement (in which Tillerson sold away his stock holdings in the company) as Secretary of State.
Tyson Slocum, energy program director at Public Citizen—a Washington, DC-based watchdog organization—has a different take on the matter.
"The president's Saudi trip was a bizarre Art of the Deal-esque foreign policy disaster: a sleazy mix of conflicted government-arranged corporate endorsement deals," Slocum told DeSmog.
"Most troubling of all was Tillerson's presence and role in accommodating Exxon's deal with the House of Saud, thereby violating the former CEO's recusal agreement. Trump and Tillerson's Riyadh embarrassment is just another sad indication of the administration's prioritization of crony corporate access masquerading as a jumbled assembly of foreign policy and economic development."
The White House did not respond to a request for comment.
Reposted with permission from our media associate DeSmogBlog.
The federal government is providing extensive support for fossil fuel production on public lands and waters offshore, through a combination of direct subsidies, enforcement loopholes, lax royalty collection, stagnant lease rates and other advantages to the industry, a report released Wednesday found.
The government is contributing at least $7 billion per year in subsidies to support fossil fuel production on federally held lands and offshore waters alone, and is holding some $35 billion in public liabilities for drilling in public waters of the Gulf of Mexico. These subsidies support increased fossil fuel production on U.S. lands and waters out of step with efforts to meet international climate objectives.
The report, released by Oil Change International in partnership with 350.org, WildEarth Guardians, Center for Biological Diversity, Clean Water Action, Food & Water Watch and Public Citizen, for the first time outlines in detail the subsidies and other public support being provided in the U.S. to the fossil fuel industry for its activities on public lands.
The report, Unequal Exchange: How Taxpayers Shoulder the Burden of Fossil Fuel Development on Federal Lands, presents an accounting of the minimum amounts of direct taxpayer dollars going to support fossil fuels on public lands, not including externalities such as climate and health impacts, which would bring the totals even higher. If those factors are taken into account, for example, mining coal in the Powder River Basin alone would have a net cost to the U.S. public of some $17.8 billion per year as of 2015.
"Rex Tillerson and other members of the Trump administration deny that these subsidies even exist just like they deny climate change. The reason is clear—in both cases, if you admit the truth, the only answer is a managed decline of the fossil fuel industry," said Stephen Kretzmann, executive director of Oil Change International.
"The first step towards that is to stop supporting the industry with our public dollars. These subsidies are a raw deal for American taxpayers, and a disaster for our climate."
Particularly notable is a finding that some royalty and lease rates for fossil fuel development on public lands have remained unchanged since the 1920s.
"As if simply allowing the toxic, climate-killing extraction of fossil fuels on our sensitive public lands isn't shameful enough, that the federal government actually subsidizes this foolish activity with taxpayer money is downright absurd," said Wenonah Hauter, executive director at Food & Water Watch.
"For the sake of climate stability, the transition to a clean energy future must begin immediately. An ideal place to kick-start the transition is with a ban on fossil fuel extraction on our precious public lands, and most certainly, a halt to the underhanded propping-up of this antiquated industry with our precious public dollars."
The report makes a number of key recommendations, starting with a basic determination that the fossil fuel leasing program on public lands should be phased out in line with climate science. Until that become reality, the report finds immediate action to reduce large, unfunded liabilities for U.S. taxpayer money associated with fossil fuel production on public lands should be reduced and royalty and lease rates should be increased to better reflect the full costs to the public of these activities.
"This report makes it clear as day that the Trump agenda is the fossil fuel billionaire agenda," said Jason Kowalski, policy director at 350.org.
"The industry finances corrupt politicians, who in turn help them keep fossil fuels economically viable at a time when the science suggests most oil, gas and coal needs to be kept in the ground. They set out to rig the system and they succeeded. History will judge them harshly."
By Lauren McCauley
Throwing the weight of his office behind the nation's biggest polluters, President Donald Trump on Tuesday signed an executive order directing his administration to dismantle the Obama-era Clean Water Rule.
Surrounded by other foes of environmental regulation, including the newly confirmed U.S. Environmental Protection Agency (EPA) head Scott Pruitt, the president declared the 2015 law, also known as Waters of the United States, "a horrible, horrible rule. Has sort of a nice name, but everything else is bad."
3 #Trump Targets: Here's What's at Stake https://t.co/iPrCeCkNng @maryannehitt @SierraClub @BeyondCoal @bruneski @RobertKennedyJr

— EcoWatch (@EcoWatch)1488035230.0
Passed under former President Barack Obama, the Clean Water Rule extends Clean Water Act protections to streams and wetlands. As The Hill observed Tuesday, Trump's move is seen as "an opening shot by Trump against the EPA, which was a frequent target of criticism from Republicans for alleged overreach under Obama's tenure."

Though implementation of the rule has been on hold due to ongoing litigation, the move drew outrage from environmental groups, who see it as a necessary provision for the protection of clean water.
The White House has not yet released the full text of the order but it reportedly directs the EPA and the Army Corps of Engineers to formally consider rolling back the rule, which Pruitt is sure to oblige given that while serving as Oklahoma attorney general he sued the agency he now heads against implementation of the Clean Water Rule.
"Water is life and Trump's dirty water order puts our environment and millions of American lives at risk so that polluters can profit from the destruction of our waterways," said Marissa Knodel, oceans campaigner with the group Friends of the Earth.
"The Clean Water Rule is grounded in science and the law so that our streams and wetlands can keep us healthy and safe, provide habitat for fish and wildlife and beautiful places to recreate," Knodel added. "In contrast, Trump's dirty water order is dangerous and illegal, based on corporate greed and unlawful environmental pollution."
Decrying the order as "reckless" and "a giveaway to polluters," Trip Van Noppen, president of the environmental legal organization Earthjustice, said that Trump is "putting the drinking water of 117 million people at risk, demonstrating that he puts the interests of corporate polluters above the public's health."
Similarly, Kierán Suckling, executive director of the Center for Biological Diversity, called the order "a gift to Trump's friends who will pollute and destroy some of the last remaining wetlands in the country. It's deeply troubling—but not surprising—to see Trump move so quickly to gut wetlands protections."
Connecting the president's myriad business interests with his desire to rollback environmental regulations, Robert Weissman, president of the consumer advocacy organization Public Citizen, said it is predictable for the nation's "golfer-in-chief...—who happens to own or brand golf courses in Florida (two), New York (three), New Jersey (two), Virginia (outside Washington, DC), California, North Carolina and Pennsylvania—to aid his industry and himself by moving to repeal the Clean Water Rule."
On the flip side, a number of groups pointed out that dismantling the rule will not be a quick or easy process.
"The Obama administration held more than 400 stakeholder meetings and reviewed over 1,200 scientific studies to develop the 408-page technical report that accompanied the rule," Friend of the Earth noted "and the Trump administration will have to justify any changes with science and the law."
Additionally, Van Noppen vowed that Earthjustice "will use the full strength of our nation's bedrock environmental laws ... to ensure this administration does not dismantle the basic mission of the EPA—the protection of our health and the environment."
Reposted with permission from our media associate Common Dreams.
By Katherine Paul and Ronnie Cummins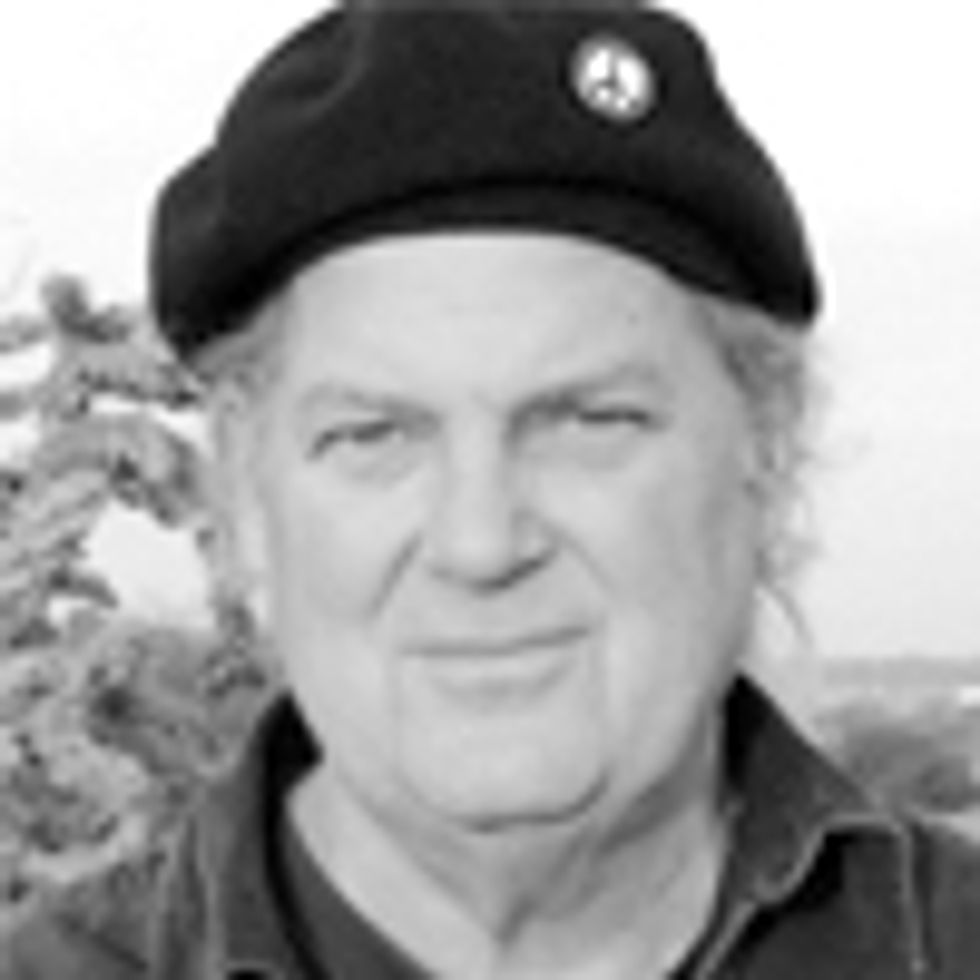 If you think the U.S. government is doing a sub-par job of keeping your food safe, brace yourself. You could soon be eating imported seafood, beef or chicken products that don't meet even basic U.S. food safety standards. Under two new trade agreements, currently in negotiation, the U.S. Food and Drug Administration could be powerless to shut down imports of unsafe food or food ingredients. And if it tries, multinational corporations will be able to sue the U.S. government for the loss of anticipated future profits.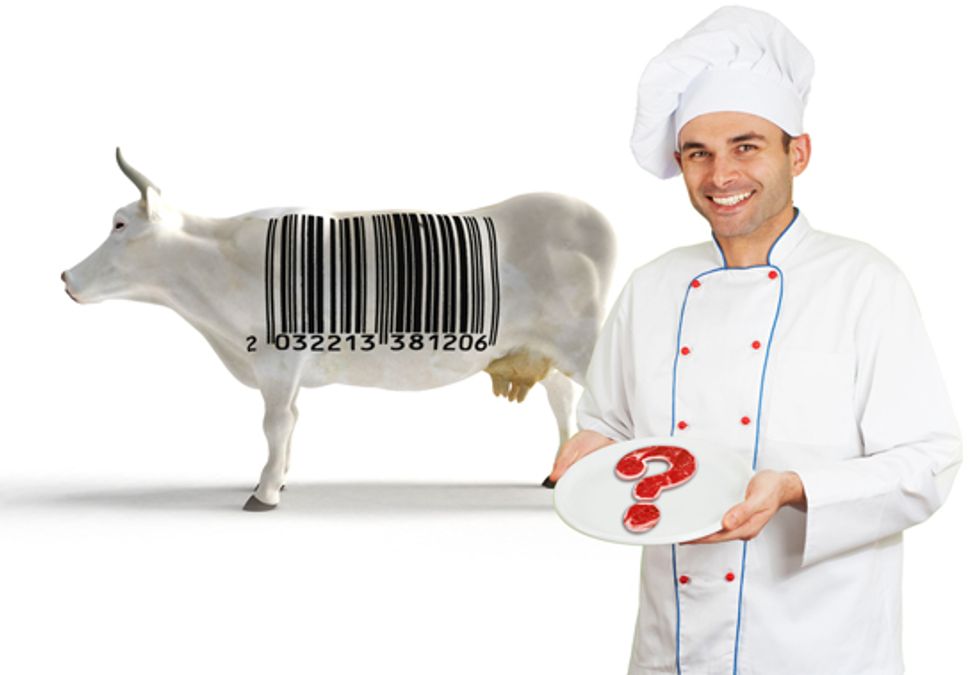 Photo courtesy of Shutterstock
More frightening? Negotiations for both agreements are taking place behind closed doors, with input allowed almost exclusively from the corporations and industry trade groups that stand to benefit the most. And the Obama Administration intends to push the agreements through Congress without so much as giving lawmakers access to draft texts, much less the opportunity for debate.
Designed to grease the wheels of world commerce, the Trans-Atlantic Trade and Investment Partnership (TTIP) and the Trans-Pacific Partnership (TPP) would force the U.S. and other participating countries to "harmonize" food safety standards. That means all countries that sign on to the agreement would be required to abide by the lowest common denominator standards of all participating governments. So for instance, say Vietnam allows higher residues of veterinary antibiotics in seafood than the U.S. allows, and Vietnam and the U.S. both sign on to the TPP. As a trade partner, the U.S. could be forced to lower its standards to allow for imports of seafood from Vietnam—or face a lawsuit by the seafood exporter for depriving the company of future sales of its products in the U.S.
The U.S. has already had a taste of this type of policy under the North American Free Trade Act. In 2005, the Canadian Cattlemen for Fair Trade sued the U.S. the U.S. government for banning imports of beef and live Canadian cattle after a case of mad cow disease was discovered in Canada. In the end, the U.S. prevailed, but not until it had spent millions to defend itself in court. Mexico wasn't so fortunate when three companies (Corn Products International, ADM/Tate & Lyle and Cargill) sued the Mexican government for preventing imports of high fructose corn syrup. Mexico lost all three cases, and was forced to pay out a total of $169.18 million to the three firms.
Among the many gifts to Big Ag contained in the TTIP and TPP include back-door entry for their genetically modified seeds and crops. Countries, including those in the European Union, could find it increasingly difficult to ban, or even require the labeling of, genetically modified organisms (GMOs), if biotech companies determine that those countries' strict policies restrict fair trade and infringe on the companies' "rights" to profit.
The TTIP and the TPP are, individually and combined, two of the largest free trade agreements in world history. According to the Citizens Trade Campaign (CTC), the TPP alone covers 40 percent of the global economy. That percentage will likely grow, because the agreement allows for other countries, besides the 12 currently involved, to "dock on" after the agreement is in place.
Both the TTIP and TPP could have dangerous consequences for food safety in the U.S., and around the world. But they're not limited to food or agriculture policy. Both also contain sweeping policies that could affect everything from the environment and sustainability, to healthcare, Internet freedom and the financial markets. Given the potential of these agreements to shape global policy on so many fronts, it's reasonable to assume that negotiators would actively solicit, and take into careful consideration, input from the affected parties, including consumers, farmers and governments. Instead they've taken the opposite approach. From day one, negotiations for the TTIP and TPP have been shrouded in secrecy. The public and participating governments, including the U.S. Congress, have been shut out of the negotiating process, denied access to everything from early proposals to final draft texts.
Why the secrecy? The Obama Administration wants as little public debate as possible, so it can ram the agreements through Congress using something called "Fast Track." Fast Track, a product of the Nixon presidency, strips Congress of its authority to control the content of a trade deal and hands that authority over to the executive branch. Congress gets a vote, but only after the negotiations have been completed, and the agreements have been signed. No debate. No amendments. Just a fast, forced vote, too late for Congress to have any influence. According to the CTC, two-thirds of Democratic freshmen in the U.S. House of Representatives have expressed serious reservations about the TPP negotiations and the prospect of giving Fast Track authority to the President. And more than 400 organizations representing 15 million Americans have already petitioned Congress to do away with Fast Track in favor of a more democratic approach to trade agreement negotiations. So far those pleas have fallen on deaf ears.
If the public is shut out, and Congress gets no say, who gets a seat at the table? Corporations. That's right. The Obama Administration is trusting corporations like Dow AgroSciences, Cargill and DuPont, and trade groups like the Pork Producers Council and Tobacco Associates, Inc., to write food safety policies. In all, more than 600 corporations have been given access to drafts of various chapters of the TPP. Requests for the same level of access, from members of Congress and from the public, have been denied.
No wonder then that, according to leaked drafts obtained by groups like the CTC, Public Citizen and the Institute for Agriculture and Trade Policy, the TPP contains proposals designed to give transnational corporations "special rights" that go far beyond those possessed by domestic businesses and American citizens, says Arthur Stamoulis, executive director of the CTC. Experts who have reviewed the leaked texts say that TPP negotiators propose allowing transnational corporations to challenge countries' laws, regulations and court decisions, including environmental and food safety laws. Corporations will be allowed to resolve trade disputes in special international tribunals. In other words, they get to do an end run around the countries' domestic judicial systems, effectively wiping out hundreds, if not more, domestic and international food sovereignty laws.
U.S. consumers aren't the only ones who should be up in arms about these trade agreements, the secrecy around their negotiations and the Obama Administration's intent to fast-track them. Under the TTIP and TPP, consumers in countries that have stricter food safety regulations than those in the U.S. will see their standards lowered, too. For instance, Japan prohibits the use of peracetic acid to sterilize vegetables, fruits and meat, while the U.S., Canada and Australia allow it. Japan's health ministry, in anticipation of the TPP, has said the country will add the acid to its approved list. In all, Japan has approved only about 800 food additives, to the more than 3,000 approved in the U.S. Japan's consumers could soon see a sudden reversal of laws enacted to protect their health.
European consumers will also suffer. Europe has long used the precautionary principle to ban ractopamine in meat, chlorine rinses of poultry and the use of rBGH growth hormone in milk production. Under the TTIP, Europe could be forced to allow all three in order to meet the lowest common denominator rule. The precautionary principle removes the burden of proof from policymakers, allowing them to make discretionary decisions in situations where there is the possibility of harm, given the lack of scientific proof to the contrary. But that principle flies out the window under TTIP rules.
The Organic Consumers Association is urging consumers to petition President Obama and U.S. Trade Representative Michael Froman to release the draft texts of the TTIP and TPP, and encourage full and open debate on the policies contained in both agreements. The petition also asks President Obama to end the Fast Track option, and grant Congress the ability to debate and amend the agreements, before voting on them.
With the world's food supply and consumers' health already endangered by chemical-intensive industrial agriculture and climate change, the U.S. and other governments should be looking for ways to promote sustainable food and agriculture policies, not restrict governments' abilities to do so. Instead, the Obama Administration is subverting the principles of democracy in favor of handing a few transnational corporations unprecedented power to put profits above the health and well being of consumers.
Visit EcoWatch's FOOD page for more related news on this topic.

By Emily Saari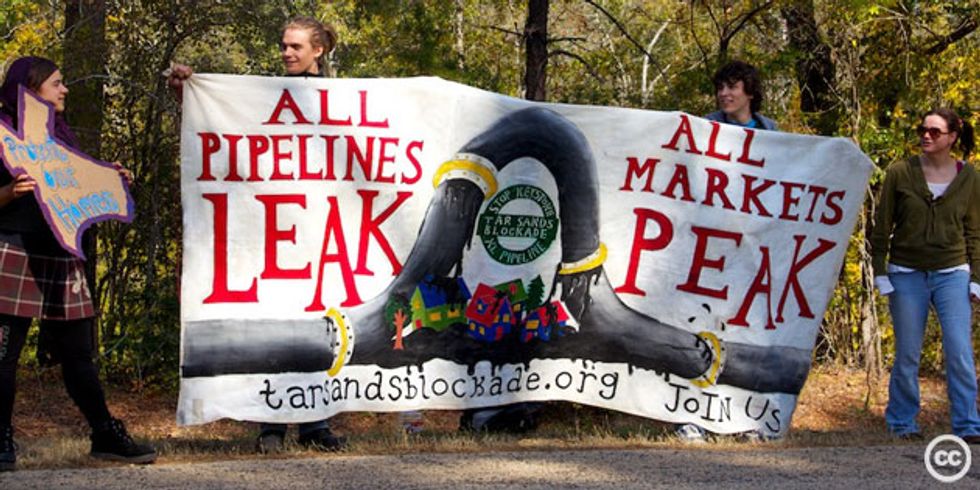 Tar Sands Blockade
. Creative Commons: Elizabeth Brossa, 2012
Pipeline safety is growing more difficult to prove, as oil companies struggle with failing infrastructure and persistent pollution issues from spills that should have been cleaned up long ago. News of pipeline failures are eroding public trust in oil companies to quickly and effectively control toxic spills, much less prevent them in the first place. These events add gravity to President Obama's pending decision to allow Canadian company TransCanada to build a pipeline across the U.S. to carry highly corrosive tar sands oil from Montana to the Gulf of Mexico.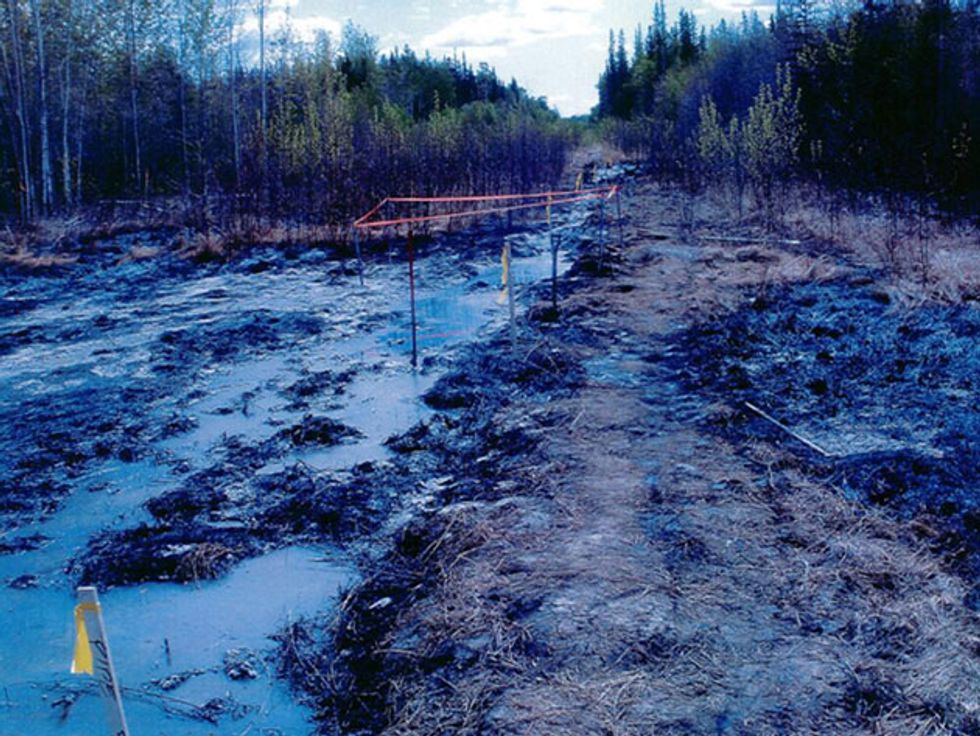 A huge pipeline failure in Zama City, Canada, on June 1, spilled 2.5 million gallons of toxic tar sands wastewater into the environment, in what some are calling the biggest wastewater spill in recent North American history. Alberta's Energy Resources Conservation Board, however, waited 11 days to issue a public statement reporting the spill's occurrence, raising doubts about the adequacy of government regulation and transparency.
Locals believe that the wastewater leak might have originated even earlier than June. Dene Tha' Councilman Sidney Chambaud told The Canadian Press:
There are indications that the spill occurred earlier, during the winter season, but due to ice and snow it wasn't discovered.
The spill occurred near the territory of the Dene Tha' First Nation, where the community lives, farms, fishes and hunts. Yet Houston-based Apache Corp. said in its press release that the spill posed "no risk to the public." This contradicts a statement by Dene Tha' Chief James Ahnassay reporting that the spill "seriously affected harvesting areas."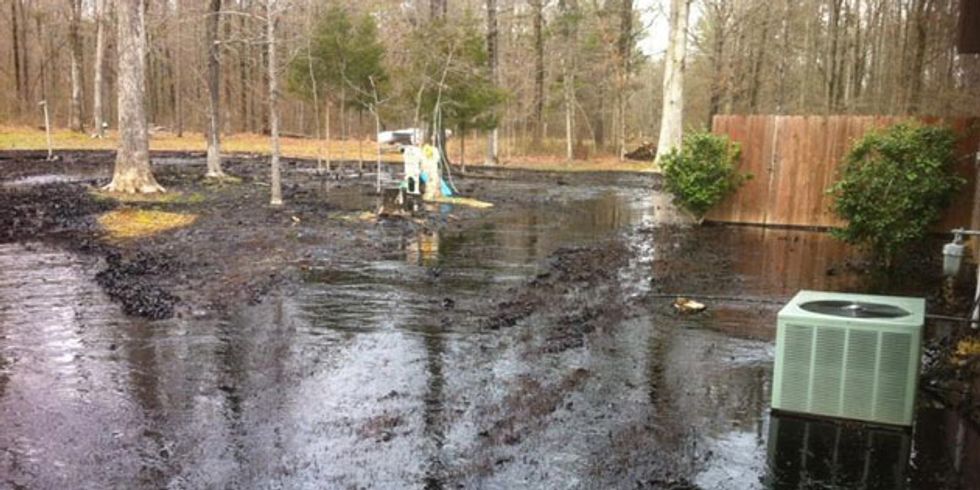 350.org
The ExxonMobil pipeline spill in Arkansas on March 29 sent 84,000 gallons of heavy tar sands oil through a suburban community and continues to pollute waterways and contaminate the neighborhood months later, keeping many of the evacuated residents from returning to their homes.
On June 14, the state of Arkansas and the federal Department of Justice filed suit against ExxonMobil on the grounds that Exxon violated state and federal clean water and air laws, asserting that the company must do more to pay for clean-up costs.
This follows a class-action lawsuit filed by Arkansas residents in April demanding $5 million in damages from Exxon.
Exxon's history of pipeline failures doesn't bode well for future pipelines. Exxon was fined $1.7 million for a spill in 2011 that sent 62,000 gallons of oil into the Yellowstone River. In July 2010, a six-foot break in an Exxon pipeline near the Kalamazoo River in Michigan resulted in the largest on-land oil spill, and one of the costliest, in U.S. history.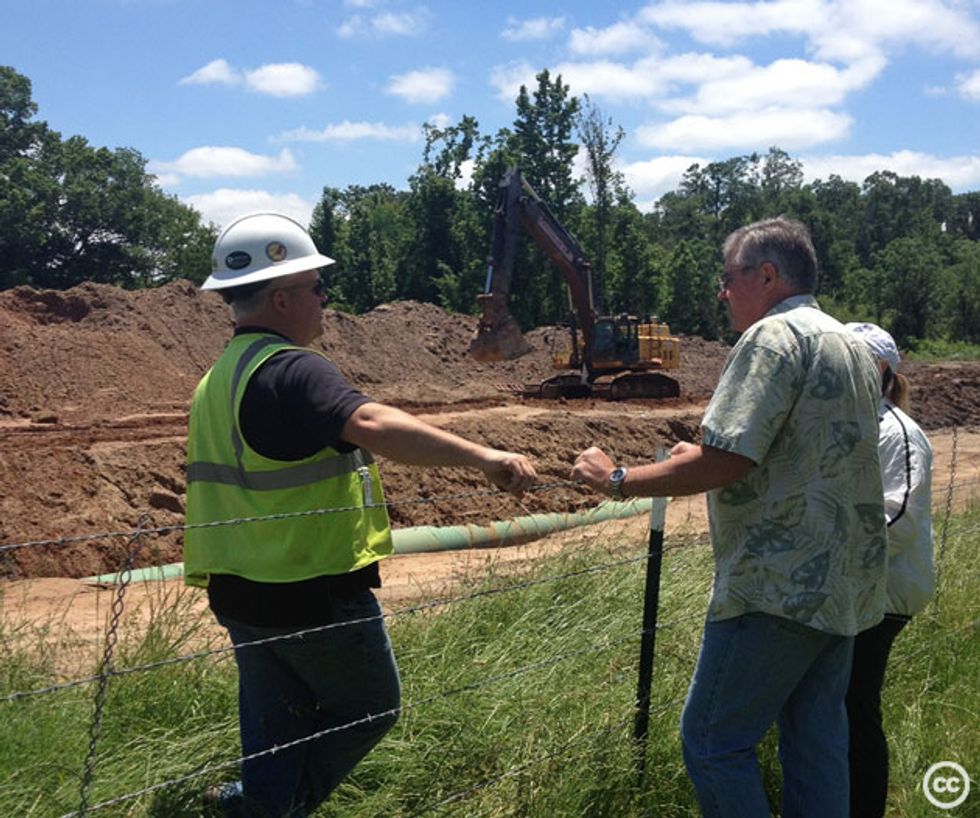 Public Citizen
, 2013
In Texas, newly laid pipes that could one day be part of the Keystone XL are being dug up and replaced for structural damage. Photographs from the sites by grassroots organization Bold Nebraska show pieces of pipe that have been spray-painted with the word "dent" and flags along the pipeline route that say "anomaly" and "weld."
Landowners watching TransCanada retrace its steps to excavate and replace brand new pieces of pipe are increasingly suspicious of the integrity of the pipelines: "that it is not a matter of if, but a matter of when this line will leak."
Michael Bishop, landowner in east Texas whose property is to be dug up once again to replace pieces of Keystone XL pipeline, said:
When the new segments are welded up, how can the public be assured that the work will not be a repeat of the shoddy, prior performance that has brought them back to our properties? If we were concerned about leaking before construction began, how can we have confidence in TransCanada at this point?
Landowners Against TransCanada, an organization formed to provide assistance to landowners in the U.S. to legally fight the TransCanada Keystone XL pipeline, launched a petition telling the Pipeline Hazardous Materials Safety Administration to perform its legal duties to protect human health and the environment, and immediately investigate the pipeline anomalies and stop further construction of the southern segment of the Keystone XL pipeline.
Visit EcoWatch's PIPELINES and KEYSTONE XL pages for more related news on this topic.
——-