This website uses cookies to ensure you get the best experience while browsing it. By clicking 'Got It' you're accepting these terms.
Actors Jane Fonda and Ted Danson are arrested during the "Fire Drill Fridays" climate crisis protest on Oct. 25 in DC. John Lamparski / Getty Images
Thousands of protestors marched in front of Frankfurt's International Motor Show (IAA) on Saturday to show their disgust with the auto industry's role in the climate crisis. The protestors demanded an end to combustion engines and a shift to more environmentally friendly emissions-free vehicles, as Reuters reported.
EcoWatch Daily Newsletter
By Stuart Braun
A year after activist Greta Thunberg first stood in the rain outside the Swedish parliament with her now iconic "Skolstrejk för klimatet" — school strike for the climate — placard, the movement she spawned has set the tone for environmental protest action around the world.
A police officer clears protesters off the sidewalk in front of the White House during a demonstration against the Dakota Access Pipeline on March 10, 2017. Justin Sullivan / Getty Images News
By Joshua Axelrod
A new South Dakota law — written in consultation with the company that owns Keystone XL — could punish people for exercising their right to peaceful protest. Is it a harbinger of things to come?
America was born out of protest. Revolution and rebellion, bred in part by crackdowns on protests, affirmed that a protected right "peaceably to assemble" in support — or protest — of ideas affecting Americans' lives was crucial to our fledgling democracy's survival. And so, the very first amendment added to the newly ratified U.S. Constitution enshrined public protest as a right.
A gendarme (L) sprays tear gas at protesters (R, some hidden) as other gendarmes remove haystacks from the route, during a farmers' protest who attempted to block the stage's route, during the 16th stage of the 105th edition of the Tour de France cycling race, between Carcassonne and Bagneres-de-Luchon, southwestern France, on July 24, 2018. Jeff Pachoud / AFP / Getty Images
By Dan Nosowitz
According to the little explanation in English media we have, the farmers were protesting "to reduce farm subsidies and leave more latitude to member states under the bloc's Common Agriculture Policy (CAP)." The protests are likely tied to an announcement in May that the European Commission proposed to reduce farmer subsidies in its member states, a proposal that was swiftly met with condemnation from the French government.
By Jon Queally
Thirty-nine people were arrested in California on Tuesday after approximately 500 animal rights activists organized by the Direct Action Everywhere (DxE) network staged a non-violent vigil and attempted a rescue operation at an industrial egg facility in the town of Petaluma.
Margot Kidder, the iconic actress who passed away Sunday at age 69, was most famous for playing Lois Lane opposite Christopher Reeve in the Superman films as an intrepid journalist who didn't let her lack of superpowers stop her from fighting for what she believed in. In real life, Kidder was similarly heroic in her commitment to protecting the environment.
Caught live on video, an 18-year old male driver plowed his pickup into a crowd of about 40 Native American protestors in Reno following an angry exchange of words. One woman was hospitalized. Quanah Brighten, executive director of United Native Americans Inc., called it a hate crime.
An 18-year old male driver plowed his pickup into a crowd of about 40 Native American protestors in Reno.
At about 6:40 p.m. Monday, the pickup truck approached the intersection where demonstrators had gathered under the Reno Arch. On video, the truck can be heard revving its engine. Witnesses said they heard racial slurs from the male driver and his 17-year old female companion. Angry words were exchanged. Then, suddenly, the man roared into the crowd. The entire horrific event was broadcast live on Facebook.

Five people were hurt, including Kitty Colbert, 59, of Carson City, Nevada, who was taken to the hospital with injuries that were described as non-life threatening. According to the Reno Police Department, four others were treated on the scene for minor injuries. "He could have killed me," Colbert says on the video.

It could have been far worse. "I heard the driver ask one of the protesters, 'Do you want me to kill your homies?' and that really set everybody off," Wayman told AP on Tuesday. "This is a hate crime," Brightman told the Reno Gazette-Journal.
The driver stopped his vehicle several blocks from the scene and called police. The two occupants of the vehicle have been questioned, but no arrests have been made.
Reno Mayor Hillary Schieve said in a statement Tuesday:
This incident is troublesome and saddens us deeply. I take these matters very seriously, and I believe they must be investigated thoroughly and promptly. Public safety is our highest priority, and I want all Reno residents to know that we are working swiftly and diligently to make sense of the events that took place last night. Please be advised that the Reno Police Department will hold anyone responsible accountable for their actions once the investigation has concluded.
Activists exchange words with occupants of pickup truck moments before it drove into the crowd. Louis Magriel
"They sort of arrived with an antagonistic behavior," said Martin Christian, an eyewitness.
"They were saying derogatory remarks against Native American people," another witness said.
The event had been organized by the American Indian Movement of Northern Nevada in support of the Standing Rock action against the Dakota Access Pipeline and in protest of Columbus Day.
"I respect an individual or group's right to conduct lawful protest, and encourage people to express their First Amendment rights," Mayor Schieve said. The demonstration was one of many held on Monday as support grows for Indigenous Peoples Day to replace Columbus Day.
In the midst of recent national controversy surrounding government surveillance of the public, a recent Freedom of Information Act request to the Nebraska State Patrol has exposed evidence that TransCanada provided training to federal agents and local Nebraska police to suppress nonviolent activists protesting the Keystone XL tar sands pipeline by arresting them on "anti-terrorism statutes." The presentation slides, obtained by grassroots landowner advocacy group Bold Nebraska, target Tar Sands Blockade activists by name.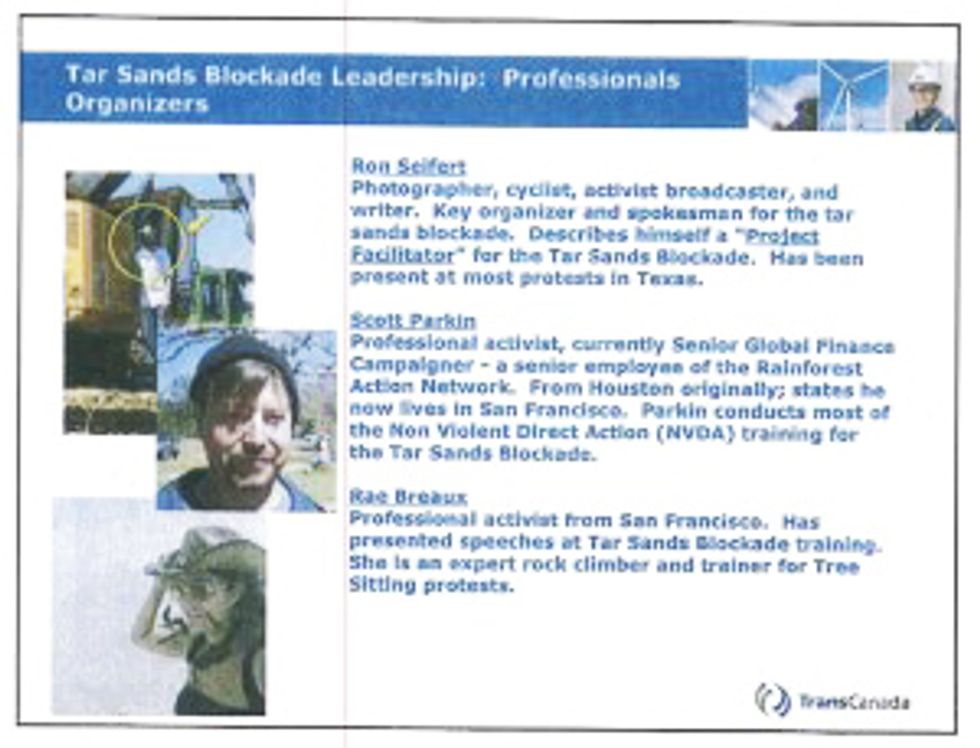 "This is clear evidence of the collusion between TransCanada and the federal government assisting local police to unlawfully monitor and harass political protestors," said Lauren Regan, legal coordinator for Tar Sands Blockade and executive director of the Civil Liberties Defense Center. "These documents expose the truth that the government is giving the nod to unlawful corporate spying. By slinging false allegations against peaceful activists in this presentation, TransCanada puts them at risk of unwarranted prosecution."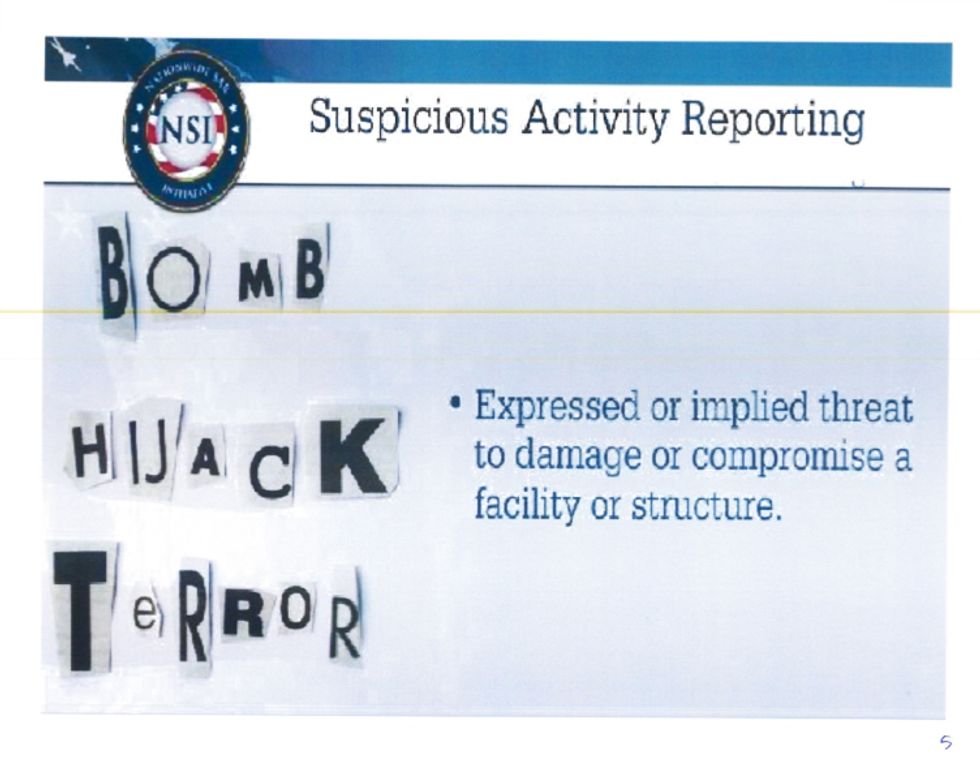 Although TransCanada's presentation to authorities contains information about property destruction, sabotage and booby traps, police in Texas and Oklahoma have never alleged, accused or charged Tar Sands Blockade activists of any such behaviors. Since August 2012, Tar Sands Blockade has carried out dozens of successful nonviolent direct actions to physically halt construction of the Keystone XL pipeline in Texas and Oklahoma. All of these acts, as well as every pipeline protest in Nebraska, have maintained strict commitments to nonviolence.
"Try as TransCanada might to slander Tar Sands Blockade and our growing grassroots movement, we know who the real criminals are," said Ron Seifert, a spokesperson with Tar Sands Blockade who was pictured in the slideshow. "The real criminals are those profiting from this deadly tar sands pipeline by endangering families living along the route and pumping illegal levels of air toxins into fence-line communities."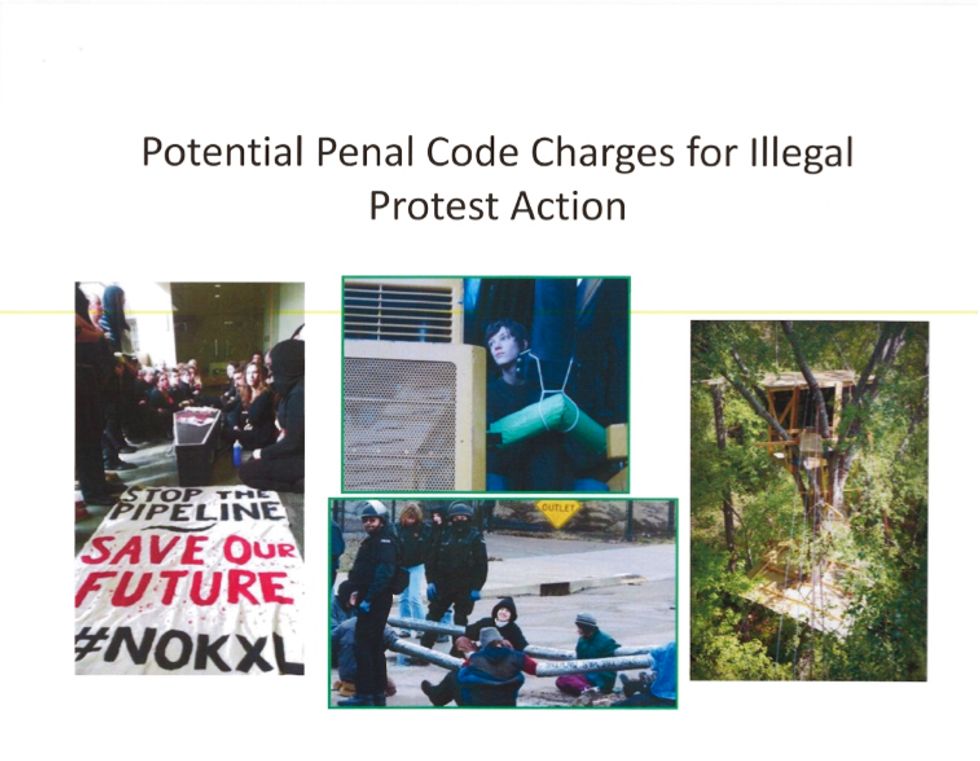 "If anything, this shows the effectiveness of campaigns to stop the Keystone XL pipeline and fossil fuel extraction as a whole," said Scott Parkin, an organizer with Rising Tide North America and a non-violence trainer also pictured in the slideshow. "We've been fighting coal, oil and natural gas for a long time using these time-honored tactics and strategies. We'll continue to use them precisely because they have been so effective in making change throughout American history."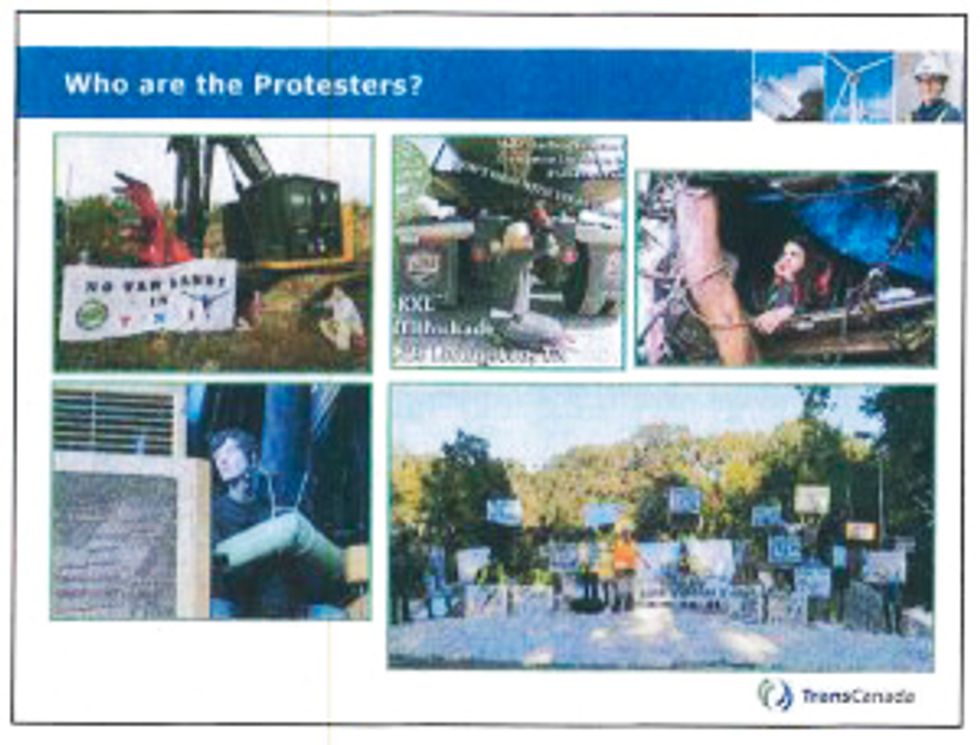 Grassroots resistance to Keystone XL is growing in Texas and Oklahoma where TransCanada is currently digging up freshly laid sections of the pipeline that failed integrity inspections. The East Texas Observer reports that at least 70 "anomalies," including dents and shoddy welds in the pipe, were identified in a 60 mile span, and in some areas these imperfections occur at a rate of three per mile.    
"A discovery like this presentation reveals that TransCanada has no problem lying to authorities and intentionally misleading the public in pursuit of its own private gain," says Seifert. "If TransCanada officials cannot be trusted to tell the truth about the peaceful nature of Keystone XL protestors, why should we believe they've told the truth about the integrity of their pipeline and the real threats it poses to the hundreds of rivers and creeks that it crosses?"
The full slideshows are available at Tar Sands Blockade's website.
Visit EcoWatch's KEYSTONE XL page for more related news on this topic.
——-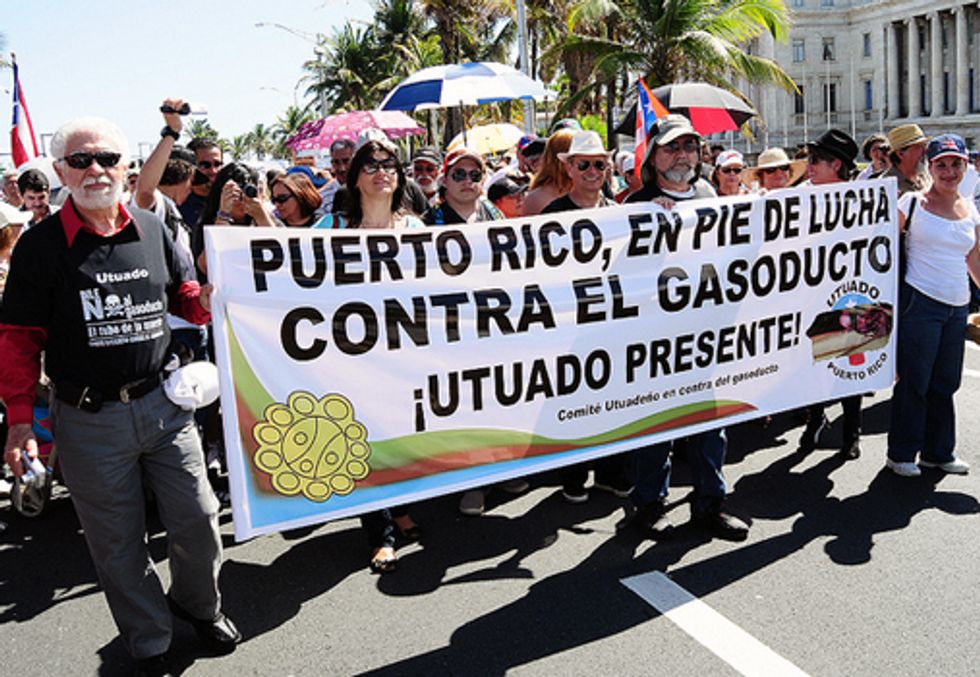 According to Free Speech Radio News, in Puerto Rico, activists are set to march this weekend against the government's plan to build a natural gas pipeline that would intersect the island. The government-run electric agency, called PREPA, or Puerto Rico Electric Power Authority, says the project would lower utility rates for residents and cut carbon emissions. But opponents of the project warn the 92-mile pipeline would cut through environmentally sensitive areas, threaten communities along the way and continue the island's reliance on non-renewable resources.
This weekend in New York, a march is planned in solidarity with the protests taking place in Puerto Rico. Activists say they will meet at 26 Federal Plaza and make their way to the New York District US Army Corps of Engineers. The Corps of Engineers was forced to extend a 30-day comment period after failing to release a Spanish version of a draft environmental assessment in late 2011.
Click here to listen to an interview with Dr. Arturo Massol, a professor of biology at the University of Puerto Rico and spokesperson with Casa Pueblo, one of the organizations leading the protest this weekend.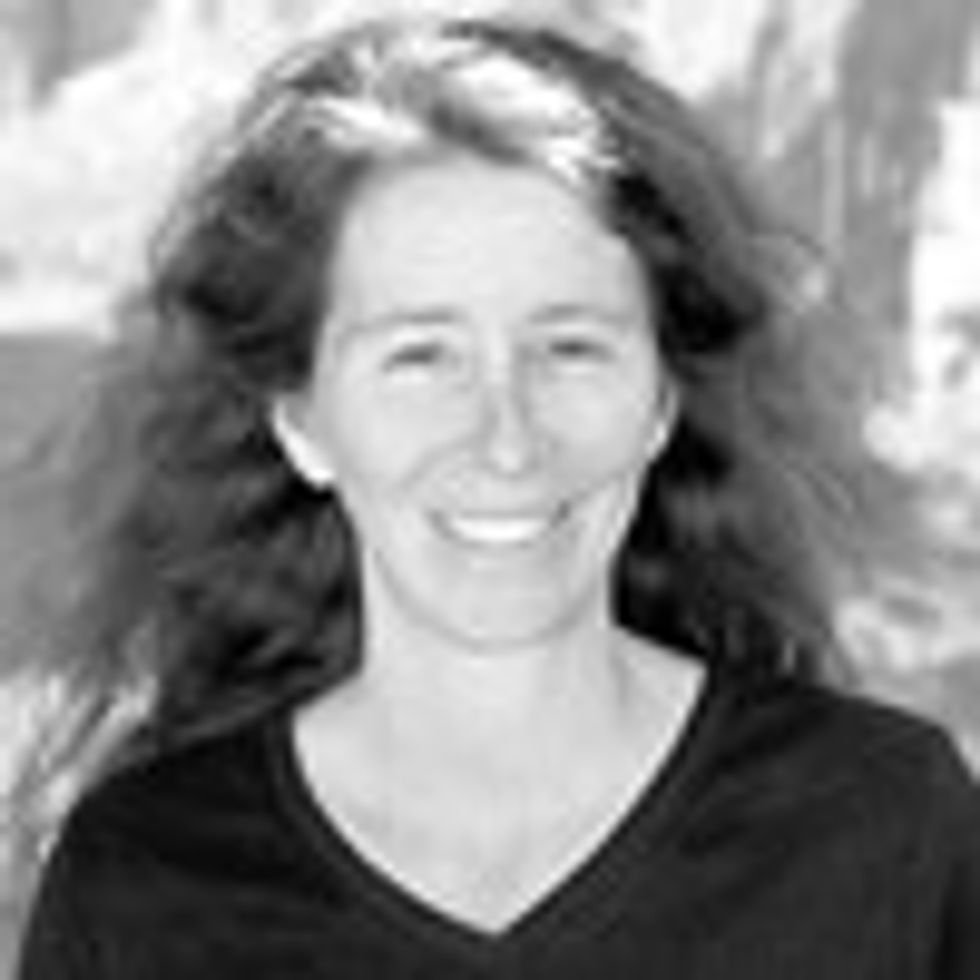 On Jan. 10 at 1 p.m. on the west lawn of the Ohio Statehouse in Columbus, Ohio, concerned citizens from all over the state will gather to ask Gov. John Kasich to impose an indefinite moratorium on Ohio's oil and gas wastewater injection well sites and the natural gas extraction process that has become well known as fracking, until further research and proper regulations are put in place to protect human health and the environment.
This protest is in response to the 11 earthquakes that have hit the Youngstown, Ohio area since March 2011. The most recent earthquake, with a 4.0 magnitude that was felt nearly 200 miles away, shook the community on New Year's Eve. Won-Young Kim, a research professor of seismology geology at Columbia University who is advising the state of Ohio on the Dec. 31 earthquake, said that circumstantial evidence suggests a link between the earthquake and high-pressure well activity. Kim said he believes that the recent earthquake did not occur naturally and may have been caused by high-pressure liquid injection related to oil and gas exploration and production.
Fracking is a method of gas extraction that involves injecting a brew of toxic, heavy metal lubricants, chemicals and sand deep underground to fracture rock formations that release oil and gas. Hydraulic fracturing uses enormous quantities of fresh water, which gas companies take from nearby streams, ponds and rivers, or truck in if there is no immediate water source. Every time a gas well is fracked, four to nine million gallons of water are injected into the ground with a secret brew of chemicals. A single well can be fracked up to 12 times, totaling more than 100 million gallons of freshwater used in the lifetime of a well.
Some of the fracking fluid used in the process of breaking apart the shale remains underground, but a large majority of it comes back to the surface mixed with hazardous chemicals, volatile organic compounds, and even radioactive material that was trapped underground and released in the process. This wastewater is then trucked to a disposal well and pumped back underground. With millions of gallons of hazardous liquid created during this process, a major challenge for the natural gas industry and regulators, has been the disposal of this toxic byproduct of fracking.
It is this toxic wastewater that is being high-pressure injected into many of Ohio's deep wells, as far down as 9,000 feet, and blamed for the recent Youngstown earthquakes. Thanks to Ohio's geology and the Kasich administration, along with other elected officials, Ohio now receives about 1,000 truckloads of frackwater everyday at disposal wells around Ohio. Ohio is home to 177 oil and gas wastewater injection well sites, 10 times more than surrounding states. More than half of the fracking wastewater coming into Ohio is from out of state, including from New York and Pennsylvania.
Concerns on how to dispose of fracking wastewater are only one of the problems associated with natural gas extraction. Fracking has been linked to more than 1,000 incidents of groundwater contamination across the U.S., including cases where people can actually ignite their tap water. There is no doubt that proper regulations on the state and federal levels are lacking.
In New York state, opponents of fracking are asking lawmakers to extend the moratorium that was put into place in 2010, due to concerns that hydraulic fracturing, without proper regulation, could pollute groundwater.
Concerns over the extraction of natural gas are experienced worldwide and impact rural, suburban and urban communities. The number of anti-fracking groups is growing every day. Frustrations are running high as the U.S. continues to lack a sustainable energy policy that puts a cap on carbon and supports investment in renewable energy generation and manufacturing instead of supporting extreme fossil fuel extraction.
On the federal level and in Ohio and many other states, incentives for renewable energy projects and manufacturing need to be put back in place. Three years ago we were making some progress in moving toward a sustainable energy supply. But over the last couple years, states and the federal government have stripped away the incentives that were a first step in leveling the playing field between renewable and nonrenewable energy. Since the fossil fuel industry is so highly subsidized and externalizes much of its costs, the renewable energy industry cannot compete without the help of incentives.
In Ohio, we passed SB 221 in July 2008. It mandates that 25 percent of Ohio's electricity generation come from advanced energy sources by 2025 with 12.5 percent from renewable sources including hydro. Half of the renewable energy generation has to come from within the state. It even contains a 0.5 percent solar carve out that has increased the value of solar renewable energy credits in the state. Coupled with this legislation was the Ohio Advanced Energy Fund grant program that provided a financial incentive to invest in renewable energy projects. However, the legislature failed to renew this grant program in 2010 and the number of projects in our state has greatly declined.
Creating jobs at the expense of human health and the environment is not sustainable. Energy generation is not a job vs. the environment issue. It's a need for a cleaner environment creating jobs—green jobs that will transition our country to relying on cleaner, renewable sources of energy. Investment in renewable energy will create jobs, revitalize our strong manufacturing base and provide long-term solutions to our energy needs without contaminating our drinking water, polluting our air, displacing communities and making people sick.
I know there's no perfect solution or silver bullet that will generate all the world's energy needs, but it is clear that supporting extreme fossil fuel extraction—like fracking, mountaintop removal coal mining, tar sands mining or building pipelines like the proposed Keystone XL that would take the most toxic and corrosive oil from Alberta, Canada and pipe it through the breadbasket of America to ship it overseas—is not the answer. Energy efficiency, investment in distributed generation and grid-feeding renewable energy projects, rebuilding the electric grid, and investment in battery storage and innovative energy technologies is the direction our country needs to take.
The next several months are going to be interesting. As of right now, according to the House Energy & Commerce Committee clock, Obama has 43 days to decide on the Keystone XL pipeline as stated in the payroll tax-cut extension bill passed at the end of last year. Gov. Anthony Cuomo will decide on the fate of New York's moratorium on fracking as early as this week. Ohioans will speak out on Tuesday concerning their fears of continued natural gas extraction and disposal of toxic wastewater in their state. Public comments are being accepted on Obama's proposal to allow drilling in the pristine Arctic Ocean and increased drilling in the Gulf of Mexico before adequate safety standards are in effect. Regulations aimed at limiting harmful power plant pollution that crosses state lines (including sulfur dioxide and nitrogen oxide, which annually would prevent 34,000 premature deaths, 15,000 heart attacks and 400,000 cases of asthma) have been put on hold by a three-judge panel of the U.S. Appeals Court in Washington. Unfortunately, the list goes on.
I've been working in the grassroots environmental movement for more than 23 years.  I've never seen so many people so worried about the health of the planet and concerned for future generations as we continue to consume resources at an unprecedented rate, and allow corporations to run our government and privatize our natural resources. I've also never seen such incredible grassroots leadership and collaboration among environmental organizations as we have today. Like I said, the next several months are going to be really interesting. Be sure to stay-tuned to EcoWatch.org as we keep you up-to-date on all the issues.