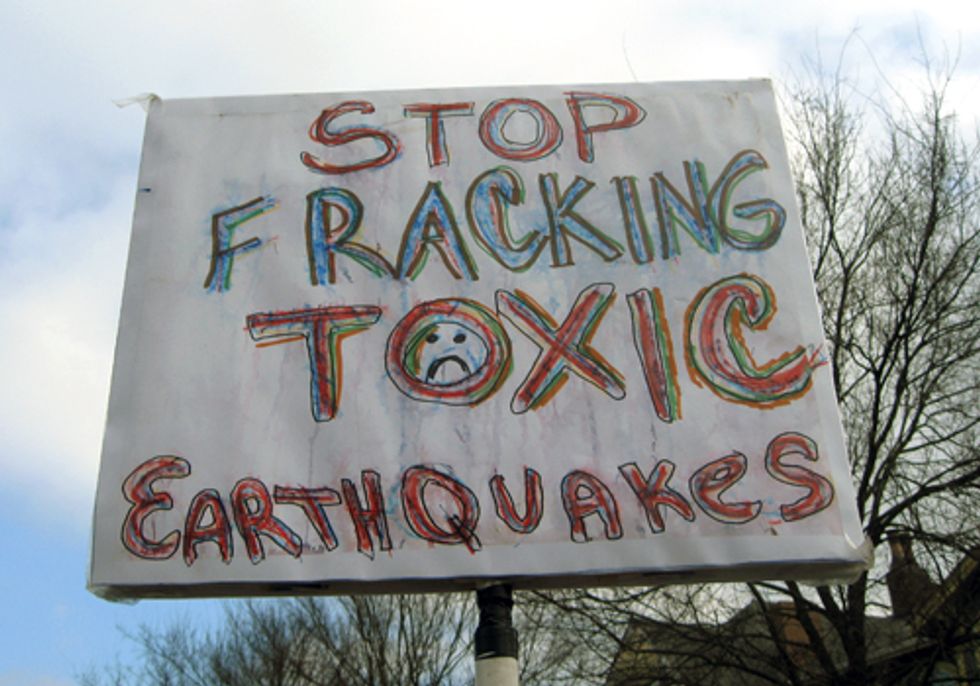 On Feb. 7, Gov. John Kasich (R-OH) delivered his State of the State address from the 1,100-seat Steubenville High School auditorium rather than keeping with tradition and delivering the speech from the Statehouse in the centrally located capital city of Columbus.
For many, it's not difficult to see why. His positions on issues such as education, energy, environment, voting rights and workers' rights have been out of touch with the will of the people.
Located on the West Virginia border—near Kasich's hometown of Mckees Rocks, Pa.—Steubenville is out of the way for most Ohioans. Many citizens see this break from 200 years of tradition as a ploy to evade what would surely be a swarm of protestors.
If the plan was to keep protestors away, it didn't work.
Steubenville is also located near the natural gas-rich shale-drilling fields of eastern Ohio. Fresh on the heels of 11 deep-injection well-related earthquakes in the nearby city of Youngstown, Ohio, in addition to an increasing number of high-profile fracking incidents across the country—most recently involving the contamination of drinking water in Pavilion, Wyo.—fracking is the hottest issue in the state, with Gov. Kasich leading the charge to fully tap into the state's vast resources with little to no safety regulations in place. Currently, Ohio is home to more than 180 injection wells and receives nearly 50 percent of its fracking wastewater from New York, Pennsylvania and other Northeastern states.
Despite overwhelming public support, current Ohio legislation—SB 213 and HB 345—that would impose a moratorium on fracking permits and waste-disposal injection wells until the U.S. Environmental Protection Agency concludes a study to determine whether there's a link between drill sites and contaminated drinking water has been stonewalled in committee.
Adding to environmental and health concerns is the recently reported news that Ohio's oil and gas companies pay taxes to the state based on an honor system, meaning "well owners are required to report the amount of natural gas they 'sever' from the earth and file severance-tax returns each quarter," according to the Youngstown Vindicator's website, Vindy.com.
"You've got to be kidding me," said State Rep. Robert Hagan (D-Youngstown). "This is a real failure of government. It is all too apparent now that the Department of Taxation and the Ohio Department of Natural Resources give the oil and gas industry a free pass to write a tax check to the state based on what they think is fair."
The report, carried out by a coalition of Northeast Ohio journalism programs, cited at least a $3 million discrepancy for 2010 in what was collected by the Ohio Department of Taxation and what was reported by the Ohio Department of Natural Resources and the Ohio Oil and Gas Association.
"As unbelievable as it may seem, the industry tells the state how much gas they've extracted and pays taxes based on that figure," said Josh Fox, director of the Oscar-nominated documentary Gasland. "There's no oversight or monitoring.  In fact, the state lacks the authority to check meters at the wellhead and compare those readings against the figures turned in by producers. The producers pay what they want to pay—no questions asked."
To read Josh Fox's statement from today's rally, click here.
Rally speakers included:
The rally also addressed the following:
Kasich isn't standing up for us and someone needs to be fighting for our future and our communities.
While our citizens continue to struggle, Kasich is giving away the state to his biggest campaign contributors.
Education. Environment. Voting Rights. Workers' Rights. Attack after attack—Kasich and his allies are working for their corporate special interests, continuing to ignore the will of the people.
After the beating Kasich took on Issue 2, he knows the people are against him. So instead of having the State of the State at the Statehouse in Columbus, Kasich is running away to a small venue in hopes that no one will make the effort to travel there.
Citizens from across Ohio are going to come together and protest Kasich's fire-sale of Ohio to his corporate friends. We will show him that the 99 percent won't sit back while he rewards his 1 percent campaign contributors.
The days of rewarding campaign contributors with Ohio's tax dollars are over.
The corporate takeover of Ohio stops here.
To see pictures of today's rally, visit EcoWatch's Facebook page.
To learn more about hydraulic fracturing issues nationally and internationally, visit EcoWatch's Fracking page.
EcoWatch Daily Newsletter