Eating healthy costs a little bit more every day, a
new study
says. But in the long run, a
healthy diet
costs very little compared to the lifetime cost of treating diet-related chronic diseases, said the study's authors.
The study, published this week in the journal 
BMJ Open, 
analyzed diet and price information from 10 countries. It showed that people who eat a very healthy diet—one that is rich in fruits, vegetables, nuts and fish—would spend about $1.50 more per day than those who eat a less healthy diet comprised of processed foods, meats and refined grains. Over a year, that cost difference would represent about $550.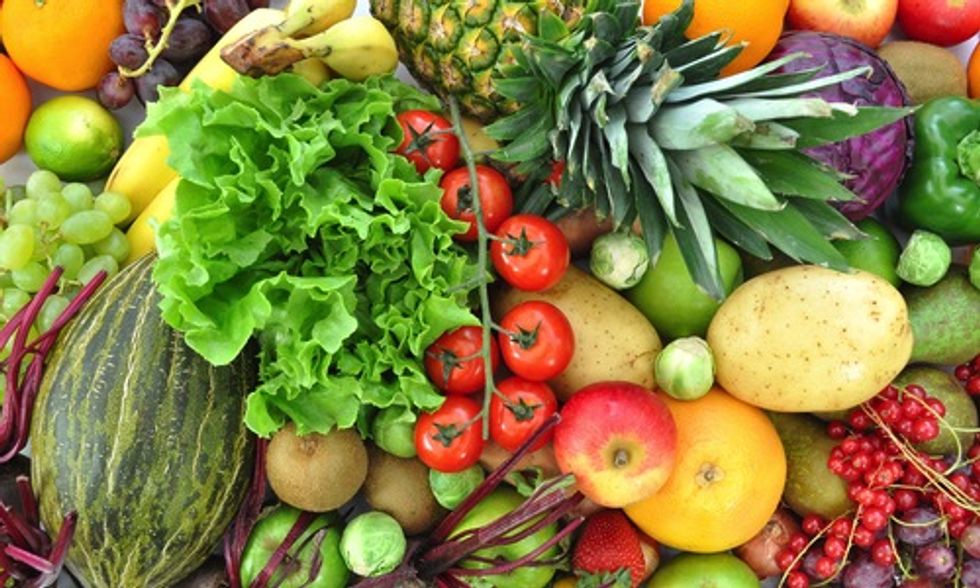 Shutterstock
"This would represent a real burden for some families, and we need policies to help offset these costs," Dr. Dariush Mozaffarian, an associate professor at
Harvard School of Public Health
and senior author of the study, said in a
media release
. "On the other hand, this price difference is very small in comparison to the economic costs of diet-related chronic diseases, which would be dramatically reduced by healthy diets."
The researchers conducted a meta-analysis of 27 existing studies from 10 high-income countries that included price data for individual foods and for healthier versus less healthy diets. They evaluated the differences in prices per serving and per 200 calories for particular types of foods, and prices per day and per 2,000 calories. Both prices per serving and per calorie were assessed because prices can vary depending on the unit of comparison.
The researchers suggested that unhealthy diets may cost less because food policies have focused on the production of inexpensive, high volume commodities, which has led to "a complex network of farming, storage, transportation, processing, manufacturing and marketing capabilities that favor sales of highly processed food products for maximal industry profit."
Creating a similar infrastructure to support production of healthier foods might help increase availability—and reduce the prices—of more healthful diets, the researchers said.
"People often say that healthier foods are more expensive and that such costs strongly limit better diet habits," lead author Mayuree Rao, a junior research fellow in the Department of Epidemiology at Harvard, said in the release. "But until now, the scientific evidence for this idea has not been systematically evaluated, nor have the actual differences in cost been characterized."
Visit EcoWatch's 
FOOD
page for more related news on this topic.

EcoWatch Daily Newsletter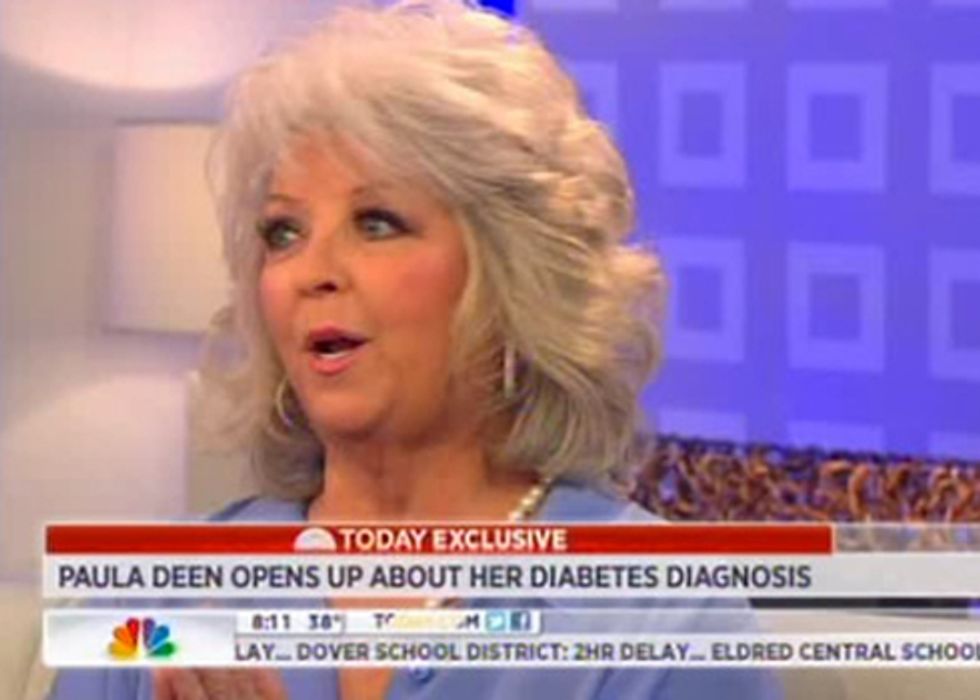 By Kristin Wartman
Paula Deen's public admission that she has Type 2 diabetes and her follow-up announcement that she is also a paid spokesperson for the pharmaceutical company Novo Nordisk, and its diabetes drug, Victoza, has sparked an interesting debate about the deeper issues surrounding our food system—especially the impact it has on the many people diagnosed with diabetes. And according to Deen's comments on the Today show, she implies to her millions of fans, that the primary ways to deal with this largely diet-related disease are through personal responsibility and pharmaceuticals.
Indeed, when Al Roker, asks her if she is going to change the way she eats and the foods she cooks, Deen says, "Honey, I'm your cook, I'm not your doctor. You are going to have to be responsible for yourself." Evading the question, Deen puts the onus back on the individual to decide what foods to eat or not, despite the fact that she promotes unhealthful and processed foods on TV. The one comment she does make about food choice is "moderation," one of the most meaningless and confusing bits of nutrition advice. In fact, this is what the industry giants often use as their defense for harmful, unhealthful foods.
Personal responsibility and consumer choice are solutions heralded by conservatives and liberals alike—the idea being that ultimately good health comes down to what we choose to buy and eat. But it's not that simple.
There are three main issues when it comes to the myth of personal responsibility about food choice and they get at the root of our nation's health crisis—The public's confusion about nutrition, the lack of time and knowledge about real home cooking, and the promotion of quick fixes like drugs, diet foods, and fads in lieu of addressing underlying causes. The Paula Deen diabetes story manages to hit on every single one of these issues.
Americans suffer from nutrition confusion, thanks to an array of conflicting and often inaccurate public health messages, misleading labels and claims on packaging, and a lack of nutrition knowledge by many doctors, dietitians, and other health care providers.
Deen's cooking, and now her public diabetes announcement, only adds to this confusion. During the Today show interview she repeatedly mentions the amount of fat in her recipes, as do many in the media reporting on the story. "For 10 years, wielding slabs of cream cheese and mounds of mayonnaise," a New York Times article begins, "Paula Deen has become television's self-crowned queen of Southern cuisine."
But real, unprocessed cream cheese and mayonnaise are not the problem. The issue that mainstream media has largely overlooked is that Deen uses the processed, packaged versions of these foods, which are full of chemicals, additives and trans-fats. Actual home cooking would require whipping these foods up herself in her kitchen using real ingredients. And that is the real story behind Deen's diabetes diagnosis—Her health problems are largely due to her reliance on packaged, processed foods that are the foundation for many of her recipes.
Even though her cooking show is called Paula's Home Cooking, there's a lot going on in her kitchen that is as far removed from home cooking as you can get. Many of her recipes include "ingredients" like Krispy Kreme doughnuts, biscuit mixes, cans of mushroom soup, and sour-cream-and-onion flavored potato chips. This is processed food cooking, not home cooking.
Heaping the blame on all the "fat" she cooks with only serves to confuse the public further. A New York Daily News article also cites fat as one of the main culprits in Deen's cooking and her diet. But the most recent research indicates that when it comes to diabetes, fat is not the problem. The problem foods are sugar, refined white flour, chemical additives, artificial sweeteners and flavors, trans-fats, and the various other chemicals and additives found in the processed foods that abound in Deen's recipes.
Now Deen is pushing the idea that taking medicine is the real solution to diabetes. On the Today show, she says, "Here's what I want to get across to people, I want them to first start by going to their doctor and asking to be tested for diabetes. Get on a program that works for you. I'm amazed at the people out there that are aware they're diabetic but they're not taking their medicine."
According to Deen, the reason she waited three years to go public with her diagnosis was because she didn't have anything to give her fans. "I could have walked out and said, 'Hey ya'll, I have been diagnosed with Type 2 diabetes.' I had nothing to give to my fellow friends out there. I wanted to bring something to the table when I came forward." So what is she bringing to the table? A sales pitch for a diabetes drug that costs $500 per month and has some seriously troubling side effects, including thyroid cancer, as Tom Philpott reports.
Just think of the kind of influence she could have wielded had she come out with a new cooking show that focused on using fresh, real food ingredients that cut way back on sugar and refined carbohydrates. In fact, if she had done so and eaten this way for the past three years she might have reversed her own diabetes diagnosis, which is entirely possible given the right diet.
But instead, Deen is getting paid to leave that task to a drug company. This isn't her first corporate sponsorship (here she peddles Smithfield ham) and I doubt it will be her last. Diabetic and diet foods can't be far behind in products she'll attach to her name.
Alas, we can't fairly discuss personal responsibility without taking into account the under-regulated advertising industry that pushes cheap, convenient, and processed foods on an overworked and cash-strapped population. Add to this the diminishing knowledge on how to shop for, cook, and prepare foods from scratch and we have a serious problem.
As Paula Deen now joins the 25.8 million other Americans suffering with diabetes, she "brings to the table" the ideas of moderation (an essentially meaningless and confusing bit of nutrition advice), personal responsibility, and the drug Victoza as the solutions. She could do so much more with all the power she wields.
Anthony Bourdain put it squarely when he said of Deen, "If I were on at seven at night and loved by millions of people at every age, I would think twice before telling an already obese nation that it's OK to eat food that is killing us." And this was before her diabetes announcement. Bourdain has also said that Deen is the "worst, most dangerous person to America." He might have a point.
For more information, click here.
—————
Kristin Wartman is a food writer living in Brooklyn. She has a Masters in Literature from UC Santa Cruz and is a Certified Nutrition Educator. She is interested in the intersections of food, health, politics, and culture. You can follow her on Twitter and read more of her writing at kristinwartman.wordpress.com.
boonchai wedmakawand / Moment / Getty Images
Delta-8 THC is a cannabis product that has become a bestseller over the past few months, as many consumers find they can legally purchase it from CBD retailers. Its proponents say that Delta-8 THC will give you a nice little buzz, minus some of the more intense feelings (including paranoia) that are sometimes associated with marijuana.

Delta-8 THC is being marketed as a legal option for consumers who either don't live in a state with legal cannabis, or are a little apprehensive about how traditional psychoactive THC products will affect them. But is it all it's cracked up to be? Let's take a closer look, exploring what Delta-8 THC is, how it differs from other THC products, and whether it's actually legal for use.
<h2>What is Delta-8 THC?</h2><p>To better understand <a href="https://www.nytimes.com/2021/02/27/health/marijuana-hemp-delta-8-thc.html" target="_blank">Delta-8 THC</a>, it helps to cover some basics about THC and cannabis.</p><p>Cannabis plants come chock full of different <a href="https://www.nccih.nih.gov/health/cannabis-marijuana-and-cannabinoids-what-you-need-to-know" rel="noopener noreferrer" target="_blank"><em>cannabinoids</em></a>. These are naturally-occuring chemical compounds that bind with receptors throughout your body. They can offer a wide range of mental, emotional, and physical effects; indeed, the healing and therapeutic properties marijuana or <a data-linked-post="2648563694" href="https://www.ecowatch.com/strongest-cbd-oil-2648563694.html" target="_blank">CBD products</a> offer can be attributed to cannabinoids.</p><p>One of the most common cannabinoids is what's known as Delta-9 THC. Simply put, this is the part of marijuana that gets you "high." It's worth noting that Delta-9 THC remains illegal in many states, except for in the most minute doses, and is still illegal at the federal level. CBD products are made with trace amounts of THC, ensuring that consumers can enjoy positive health effects in a perfectly legal way, without the risk of getting high.</p><p>On a chemical level, <a href="https://www.nytimes.com/2021/02/27/health/marijuana-hemp-delta-8-thc.html" rel="noopener noreferrer" target="_blank">Delta-8 THC</a> is not too different from Delta-9 THC; the distinction comes down to just a few molecules. But those molecules make a big practical impact: Delta-8 THC will give you a buzz, but the psychoactive effects are considerably milder than with Delta-9 THC.</p><p>More specifically, many cannabis enthusiasts report that Delta-8 THC helps them feel good but also leaves them relatively clear-headed; and, it doesn't produce the anxiety or jitteriness that often characterize a Delta-9 THC high.</p><p>Additionally, because of the way the law is written regarding Delta-9 THC, some CBD companies now sell Delta-8 THC products in places where traditional cannabis is still illegal.</p><h2>What's the Difference Between Delta-9 THC and Delta-8 THC?</h2><p>Here are the primary differences to note between Delta-9 and Delta-8 THC:</p><ul class="ee-ul"><li>Delta-9 THC is the primary psychoactive ingredient found in marijuana. In other words, it's the part that gets you high.</li><li>Though some states have found workarounds, Delta-9 THC is still illegal under federal law.</li><li>Delta-8 THC is also found in the cannabis plant, though it's not quite as powerful or as well-known. </li><li>Delta-8 THC is milder in its psychoactive effects. And, it's not <em>technically </em>illegal under current law.</li></ul><p>These are just a few of the key distinctions to keep in mind. Delta-8 THC is popular among consumers who want a smoother high, and don't want to violate federal law.</p><h2>Is Delta-8 THC Legal?</h2><p>We noted that Delta-8 THC is not <em>technically </em>illegal. Here, we need to get into some of the nuanced legal considerations that surround this substance.</p><p>First of all, there are plenty of cannabis companies that actively promote Delta-8 THC as a legal way to get high. Again, that's technically true, but is still a point of debate for some.</p><p>For one thing, it's not explicitly listed as an illegal substance. While federal laws, and some state laws, specifically ban Delta-9 THC, Delta-8 THC is never mentioned. More to the point, though, many proponents will cite the<a href="https://www.usda.gov/farmbill" rel="noopener noreferrer" target="_blank"> 2018 Farm Bill</a>. This law legalized several industrial hemp products on a national level, including CBD.</p><p>The Farm Bill also includes some fairly nuanced positions regarding THC. In summary, the law says that hemp and cannabis-derived products are legal so long as they contain less than 0.3 percent Delta-9 THC.</p><p>With that said, some lawyers contend that Delta-8's heyday may soon come to an end. That's because the Farm Bill clears it only so long as it's derived directly from hemp; most of the Delta-8 THC products sold today aren't made from hemp, but rather from synthetically-altered CBD.</p><p>Some of these issues are a little fuzzy, and <a href="https://www.rollingstone.com/culture/culture-features/delta-8-thc-legal-weed-explained-1113859/" rel="noopener noreferrer" target="_blank">the legal future of Delta-8 THC</a> remains a little uncertain. For now, though, many experts would argue that it is legal to purchase.</p><h2>What Kinds of Delta-8 THC Products Are Available?</h2><p><em>Each product featured here has been independently selected by the writer. If you make a purchase using the links included, we may earn commission.</em></p><p>If you're looking to try Delta-8 THC products, you'll certainly find plenty of different products. Dispensaries and legal cannabis stores currently have a trove of products that use this cannabinoid. Some examples include:</p><ul class="ee-ul"><li>Vape cartridges, tinctures, and capsules.</li><li>Beverages made with Delta-8 THC, including some seltzers.</li><li>Edibles, including Delta-8 THC gummy bears, chocolate bars, and more.</li></ul><p>The cannabis industry has really been running with Delta-8 THC, finding creative ways to bring it to market. And chances are, even more products will be springing up in the weeks and months to come. </p><p>It's very important to note that you should only purchase Delta-8 THC products from reputable brands and established cannabis retailers. We do not recommend purchasing any products that contain Delta-8 THC from gas stations or vape shops. If you are looking for a reputable place to explore these products, here are a few brands that we trust and recommend:</p>
<img class="rm-lazyloadable-image rm-shortcode" type="lazy-image" data-runner-src="https://assets.rebelmouse.io/eyJhbGciOiJIUzI1NiIsInR5cCI6IkpXVCJ9.eyJpbWFnZSI6Imh0dHBzOi8vYXNzZXRzLnJibC5tcy8yNjAzNjAyMy9vcmlnaW4uanBnIiwiZXhwaXJlc19hdCI6MTYzMTMxMjAyNX0.wRpb_E9ZFZFNgkYsYh6cleNbTezo16rUeTmifcP_yCk/img.jpg?width=980" id="60683" width="400" height="400" data-rm-shortcode-id="32630bf41fd6909a232194b540c570eb" data-rm-shortcode-name="rebelmouse-image" />
nuleafnaturals.com
<p><a href="https://nuleafnaturals.com/product/full-spectrum-delta-8-thc-oil-30mg-ml/" target="_blank" rel="noopener noreferrer">NuLeaf Naturals Full Spectrum Delta 8 THC Oil</a> is made from organic hemp and organic virgin hemp seed extract. It's available in a 150 mg bottle and a 450 mg bottle, which both provide 15 mg of Delta 8 THC per serving. This formula is also available in a soft gel.</p>
<img class="rm-lazyloadable-image rm-shortcode" type="lazy-image" data-runner-src="https://assets.rebelmouse.io/eyJhbGciOiJIUzI1NiIsInR5cCI6IkpXVCJ9.eyJpbWFnZSI6Imh0dHBzOi8vYXNzZXRzLnJibC5tcy8yNjAzNjE2Ni9vcmlnaW4uanBnIiwiZXhwaXJlc19hdCI6MTY2OTcwNTgzM30.opm4l5-rSqV1HfvrbVE16EEVZvqxI42xgqnsQfL9p2M/img.jpg?width=980" id="2c749" width="400" height="400" data-rm-shortcode-id="a678e76d8cd5e13bae95d9c3ae664b85" data-rm-shortcode-name="rebelmouse-image" />
botanyfarms.com
<p>The <a href="https://www.botanyfarms.com/product/delta-10-thc-vape-cartridge/?aff=14" target="_blank">Botany Farms Delta-10 THC Vape Cartridge</a> actually contains both Delta-10 and Delta-8 THC.This is designed to provide the desired effects of Delta-8 THC but without the drowsiness. They also offer a vape cartridge with a 1:1 concentration of <a href="https://www.botanyfarms.com/product/delta-10-delta-8-thc-vape-cartridge/?aff=14" target="_blank">Delta-8 THC</a> and Delta-10 THC. Note that while vape products can be used to aid in smoking cessation, we do not recommend vaping or smoking because of the negative health effects they can cause.</p>
<h2>What are the Pros and Cons of Delta-8 THC?</h2><p>As you consider whether Delta-8 THC is worth your time, it may be helpful to weigh the pros against the cons.</p><p><strong>Pros</strong></p><p>Let's start with some of the positives:</p><ul class="ee-ul"><li>Delta-8 THC does have psychoactive effects, but it's a milder effect than with traditional Delta-9 THC.</li><li>Delta-8 THC is currently legal and widely accessible in multiple states.</li><li>There are a wide number of products that use Delta-8 THC.</li></ul><p><strong>Cons</strong></p><p>Now, a few of the downsides.</p><ul class="ee-ul"><li>Delta-8 THC isn't quite as commonplace as other cannabis products, including CBD, and some of the options on the market are expensive.</li><li>While this substance is technically legal, there are plenty of uncertainties over its legal future. It's something you want to keep in mind.</li><li>As a relatively new product, Delta-8 THC products are not regulated by the FDA and there is not independent testing in place to verify that it is safe or pure.</li></ul><p>As with any cannabis product, Delta-8 THC has its pros and cons. As you seek the cannabis product that's best for you, it's largely a matter of personal preference.</p><p>Also note that smoking, vaping, or otherwise imbibing any kind of cannabis-related product can carry some medical risks and negative health consequences. If you have any specific concerns, we recommend consulting with your doctor before you try any Delta-8 THC product.</p><p><em><strong>Josh Hurst </strong></em><em>is a journalist, critic, and essayist. He lives in Knoxville, TN, with his wife and three sons. He covers natural health, nutrition, supplements, and clean energy. His writing has appeared in Health, Shape, and Remedy Review.</em></p>