iStock
By Dawn Undurraga
The more highly processed foods you eat, the higher your risk of cancer.
That's the takeaway from a new study that followed more than 100,000 French adults for eight years. It found that a 10 percent increase in consumption of foods like soda, sugary snack cakes, processed meats and breakfast cereals corresponded with a 10 percent increase in cancer risk.
The study, published last month in the London-based medical journal BMJ, is the first of its kind to link increased cancer risk to all "ultra-processed" foods, not just processed meats. Ultra-processed foods are defined as foods that undergo multiple physical, biological and mechanical processes to be highly palatable, affordable and shelf stable.
According to the U.S. National Cancer Institute, cancer is estimated to affect more than 1.6 million Americans each year, causing nearly 600,000 deaths. Dietary links to cancer have long been established, with about a third of cancer cases estimated to be preventable through more healthful diet and lifestyle choices.
Diets high in fruits, vegetables, whole grains, nuts and legumes are known to reduce the risk of cancer, while those high in processed meats increase cancer risk. Learn about EWG's Cancer Defense Diet here.
According to the study, ultra-processed foods make up a significant part of modern diets, contributing one-fourth to one-half of the calories of an average diet. Ultra-processed are often high in chemical additives and preservatives, and low in fiber, beneficial vitamins and minerals, and cancer-preventative plant compounds called phytonutrients.
In a podcast discussion of the study, the researchers said they really don't know the full impact of ultra-processed products on health. They hypothesized that these foods' low nutritional quality, coupled with the high calorie, sodium and sugar content, could contribute to the increased risk of cancer.
But those factors alone didn't account for the entire cancer burden. The researchers said that other contributing factors could be the prevalence of food additives in ultra-processed foods and the presence of other compounds created during food processing.
See EWG's Dirty Dozen Guide to Food Additives to learn which ones to avoid.
The science on the health effects of ultra-processed foods is just beginning to emerge. In the meantime, EWG's Food Scores can help you to steer clear of ultra-processed foods by revealing the degree of processing for more than 80,000 food products.
From Your Site Articles
Related Articles Around the Web
EcoWatch Daily Newsletter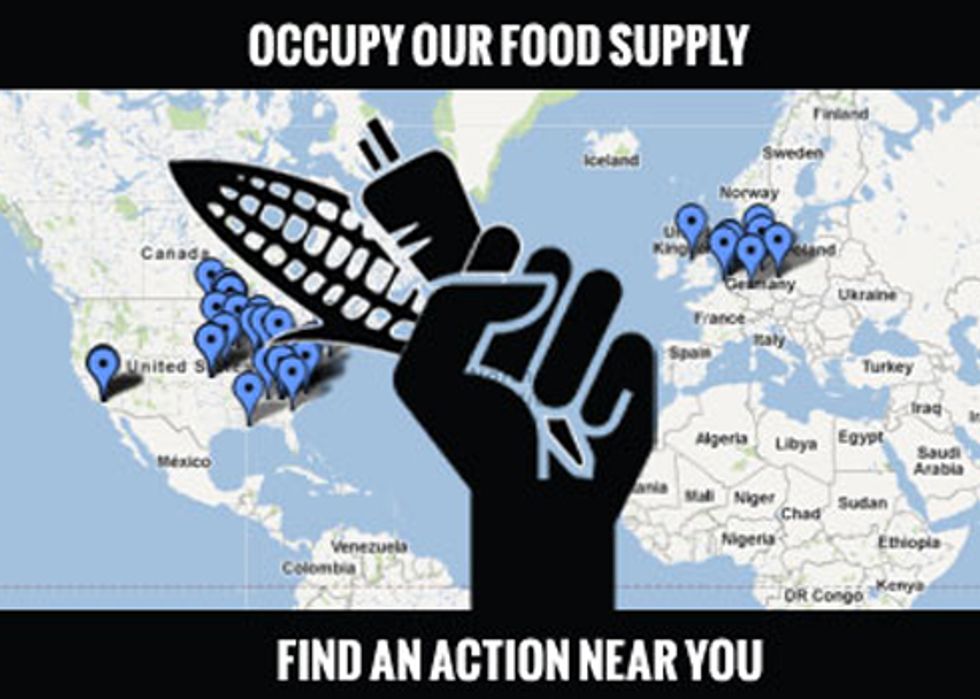 On Feb. 27, an unprecedented alliance of more than 60 Occupy groups and 30 environmental, food and corporate accountability organizations will join together for Occupy our Food Supply, a global day of action resisting the corporate control of food systems.
The call to Occupy our Food Supply, facilitated by Rainforest Action Network, is being echoed by prominent thought leaders, authors, farmers and activists including the Indian environmentalist Vandana Shiva, Food Inc.'s Robert Kenner, music legend Willie Nelson, actor Woody Harrelson, and authors Michael Pollan, Raj Patel, Anna Lappe, Gary Paul Nabhan, and Marion Nestle, among others. (See quotes in release below). The central theme uniting this diverse coalition is a shared sense of urgency to resist the corporate consolidation of food systems and create socially and environmentally just local solutions.
"Nothing is more important than the food we eat and the family farmers who grow it," said Willie Nelson, founder and president of Farm Aid. "Corporate control of our food system has led to the loss of millions of family farmers, destruction of our soil, pollution of our water and health epidemics of obesity and diabetes. We simply cannot afford it. Our food system belongs in the hands of many family farmers, not under the control of a handful of corporations."
From Brazil, Hungary, Ireland, and Argentina to dozens of states in the U.S., thousands of people will be participating in the Feb. 27 global day of action.  Participants will be reclaiming unused bank-owned lots to create community gardens; hosting seed exchanges in front of stock exchanges; labeling products on grocery store shelves that have genetically engineered ingredients; building community alliances to support locally owned grocery stores and resist Walmart megastores; and protesting food giants Monsanto and Cargill.
"Occupy our Food Supply is a day to reclaim our most basic life support system—our food—from corporate control. It is an unprecedented day of solidarity to create local, just solutions that steer our society away from the stranglehold of industrial food giants like Cargill and Monsanto," said Ashley Schaeffer, Rainforest Agribusiness campaigner with Rainforest Action Network (RAN).
Never have so few corporations been responsible for more of our food chain. Of the 40,000 food items in a typical U.S. grocery store, more than half are now brought to us by just 10 corporations. Today, three companies process more than 70 percent of all U.S. beef—Tyson, Cargill and JBS. More than 90 percent of soybean seeds and 80 percent of corn seeds used in the U.S. are sold by just one company—Monsanto. Four companies are responsible for up to 90 percent of the global trade in grain. And one in four food dollars is spent at Walmart.
The overwhelming support for Occupy our Food Supply underscores the unity between farmers, parents, health care professionals, human rights activists, food justice advocates and food lovers around the world who are increasingly viewing their concerns as different manifestations of the same underlying problem—a food system structured for short term profit instead of the long term health of people and the planet.
Supporting groups include—Bay Localize, Berkeley Association for Animal Advocacy, Biosafety Alliance, California Food and Justice Coalition, Chiapas Support Committee, Family Farm Defenders, Food Democracy Now, Food First, National Family Farms Coalition, PAN (Pesticide Action Network), Pesticide Watch, Planting Justice, Organic Consumers Association, Occupy Big Food, Occupy Claremont, Occupy Cargill, Occupy DC, Occupy Delaware, Occupy Denver, Occupy Farms, Occupy for Animal Rights, Occupy Fort Lauderdale, Occupy Food, Occupy Gardens Toronto, Occupy Jacksonville, Occupy Maine, Occupy MN/Seeds of Change, Occupy Monsanto, Occupy Philly (Occupy Vacant Lots), Occupy Portland, OWS-Food Justice, OWS Puppets, OWS Sustainability, Occupy Santa Cruz, Occupy SF Environmental Justice Working Group, and Occupy the Food System- Oakland, among many others.
For the full list of supporters and more information on the events planned for Occupy our Food Supply, click here.
Vandana Shiva, Indian physicist and internationally renowned activist, adds—"Our food system has been hijacked by corporate giants from the seed to the table. Seeds controlled by Monsanto, agribusiness trade controlled by Cargill, processing controlled by Pepsi and Philip Morris, retail controlled by Walmart—is a recipe for Food Dictatorship. We must Occupy the Food system to create Food Democracy."
Raj Patel, activist, academic and author of The Value of Nothing, reflects—"It's hard for us to imagine life without food corporations because they've made our world theirs. Although we think food companies make food for us, in almost every way that matters, we—and our planet—are being transformed to suit food companies. From their marketing to children and exploitation of workers to environmental destruction in search of profit, the food industry represents one of the most profound threats to sustainability we face today."
Occupy Wall Street's Sustainability and Food Justice Committees issued this statement in support of #F27—"On Monday, February 27th, 2012, OWS Food Justice, OWS Sustainability, Oakland Food Justice & the worldwide Occupy Movement invite you to join the Global Day of Action to Occupy the Food Supply. We challenge the corporate food regime that has prioritized profit over health and sustainability. We seek to create healthy local food systems. We stand in Solidarity with Indigenous communities, and communities around the world, that are struggling with hunger, exploitation, and unfair labor practices." 
"On this day, in New York City, community gardeners, activists, labor unions, farmers, food workers, and citizens of the NYC metro area, will gather at Zuccotti Park at noon, for a Seed Exchange, to raise awareness about the corporate control of our food system and celebrate the local food communities in the metro area." 
Marion Nestle, professor and author of What to Eat and Food Politics: How the Food Industry Influences Nutrition and Health, said—"While the food industry digs in to fight public health regulations, the food movement will continue to attract support from those willing to promote a healthier and more sustainable food system. Watch for more young people going into farming and more farmers' markets, farm-to-school programs, school meal initiatives, and grassroots community efforts to implement food programs and legislate local reforms. There is plenty of hope for the future in local efforts to improve school meals, reduce childhood obesity, and make healthier food more available and affordable for all."
Rukaiya Rofiq, director of the human rights organization Yayasan SETARA Jambi in Indonesia, said—"It is encouraging to see Americans connecting the dots between the food choices they make at a grocery store and the serious impacts those choices have here in Southeast Asia. When an additive like palm oil is used to make cheap crackers and cookies it gives companies a green light to expand palm plantations at all costs which is why we see community member homes bulldozed when they fight expansion, Indigenous land rights ignored, and natural rainforests completely decimated. Invisible companies like Cargill, who are profiting off the backs of Indonesians, must be held accountable in the countries they call home." 
Michael Ableman, farmer and founder of the Center for Urban Agriculture in Goleta, California, said—"We are focusing on what we are for, as much as what we are against. We are re-occupying our soils with life and fertility and our communities with good food. We are working to rebuild the real economy, one based on soil and seeds and sunlight and individuals and communities growing together."
For more information, click here.
waterlust.com / @tulasendlesssummer_sierra .
Each product featured here has been independently selected by the writer. If you make a purchase using the links included, we may earn commission.
The bright patterns and recognizable designs of Waterlust's activewear aren't just for show. In fact, they're meant to promote the conversation around sustainability and give back to the ocean science and conservation community.
Each design is paired with a research lab, nonprofit, or education organization that has high intellectual merit and the potential to move the needle in its respective field. For each product sold, Waterlust donates 10% of profits to these conservation partners.
Eye-Catching Designs Made from Recycled Plastic Bottles
waterlust.com / @abamabam
The company sells a range of eco-friendly items like leggings, rash guards, and board shorts that are made using recycled post-consumer plastic bottles. There are currently 16 causes represented by distinct marine-life patterns, from whale shark research and invasive lionfish removal to sockeye salmon monitoring and abalone restoration.

One such organization is Get Inspired, a nonprofit that specializes in ocean restoration and environmental education. Get Inspired founder, marine biologist Nancy Caruso, says supporting on-the-ground efforts is one thing that sets Waterlust apart, like their apparel line that supports Get Inspired abalone restoration programs.
"All of us [conservation partners] are doing something," Caruso said. "We're not putting up exhibits and talking about it — although that is important — we're in the field."
Waterlust not only helps its conservation partners financially so they can continue their important work. It also helps them get the word out about what they're doing, whether that's through social media spotlights, photo and video projects, or the informative note card that comes with each piece of apparel.
"They're doing their part for sure, pushing the information out across all of their channels, and I think that's what makes them so interesting," Caruso said.
And then there are the clothes, which speak for themselves.
Advocate Apparel to Start Conversations About Conservation
waterlust.com / @oceanraysphotography
Waterlust's concept of "advocate apparel" encourages people to see getting dressed every day as an opportunity to not only express their individuality and style, but also to advance the conversation around marine science. By infusing science into clothing, people can visually represent species and ecosystems in need of advocacy — something that, more often than not, leads to a teaching moment.

"When people wear Waterlust gear, it's just a matter of time before somebody asks them about the bright, funky designs," said Waterlust's CEO, Patrick Rynne. "That moment is incredibly special, because it creates an intimate opportunity for the wearer to share what they've learned with another."
The idea for the company came to Rynne when he was a Ph.D. student in marine science.
"I was surrounded by incredible people that were discovering fascinating things but noticed that often their work wasn't reaching the general public in creative and engaging ways," he said. "That seemed like a missed opportunity with big implications."
Waterlust initially focused on conventional media, like film and photography, to promote ocean science, but the team quickly realized engagement on social media didn't translate to action or even knowledge sharing offscreen.
Rynne also saw the "in one ear, out the other" issue in the classroom — if students didn't repeatedly engage with the topics they learned, they'd quickly forget them.
"We decided that if we truly wanted to achieve our goal of bringing science into people's lives and have it stick, it would need to be through a process that is frequently repeated, fun, and functional," Rynne said. "That's when we thought about clothing."
Support Marine Research and Sustainability in Style
To date, Waterlust has sold tens of thousands of pieces of apparel in over 100 countries, and the interactions its products have sparked have had clear implications for furthering science communication.
For Caruso alone, it's led to opportunities to share her abalone restoration methods with communities far and wide.
"It moves my small little world of what I'm doing here in Orange County, California, across the entire globe," she said. "That's one of the beautiful things about our partnership."
Check out all of the different eco-conscious apparel options available from Waterlust to help promote ocean conservation.
Melissa Smith is an avid writer, scuba diver, backpacker, and all-around outdoor enthusiast. She graduated from the University of Florida with degrees in journalism and sustainable studies. Before joining EcoWatch, Melissa worked as the managing editor of Scuba Diving magazine and the communications manager of The Ocean Agency, a non-profit that's featured in the Emmy award-winning documentary Chasing Coral.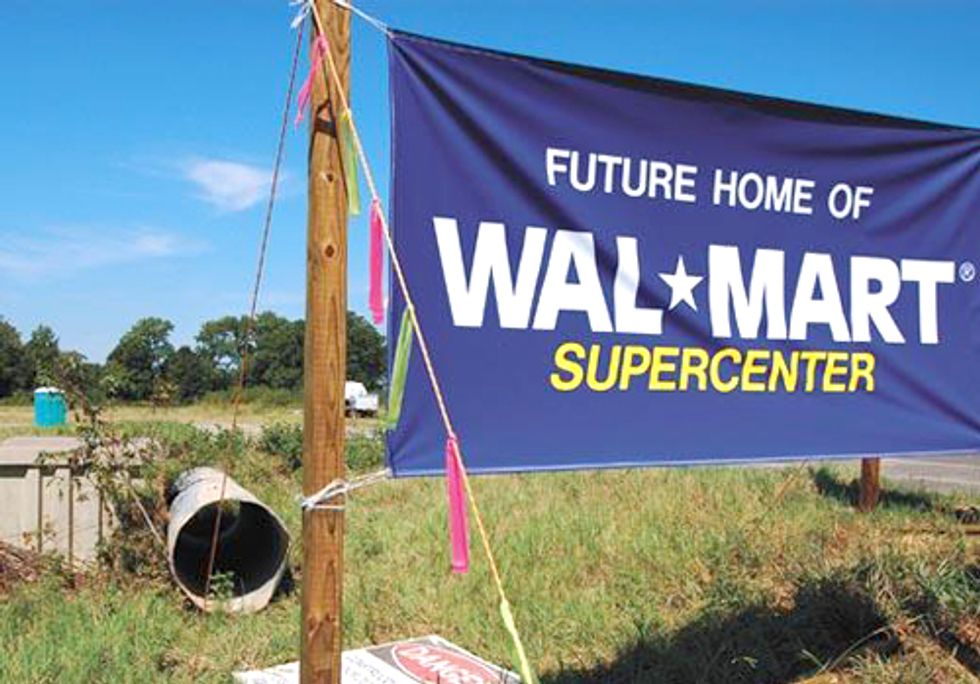 On the steps of New York City Hall on Feb. 23, national, community, food, urban and labor group leaders hosted a press conference to address Walmart's negative impact on the food system. Food & Water Watch Executive Director Wenonah Hauter and Stuart Appelbaum, president of the Retail, Wholesale, and Department Store Union (RWDSU), spoke at the event, which also marked the release of the new Food & Water Watch report, "Why Walmart Can't Fix the Food System," an analysis of the rift between Walmart's marketing claims and the true impact the company has on the food system.
This week, as the largest food retailer in the U.S. released its fourth quarter earnings, community leaders in New York gathered to call attention to the company's business model, which squeezes farmers, workers and processors, and drives food production to become more consolidated and industrialized. While Walmart has been busy promoting itself as the solution to lack of access to healthy food in urban communities, the message from City Hall was loud and clear—Walmart is not the answer and they are not wanted in New York City.
"Plunking down a big-box store in the middle of a community with a lack of access to healthy food will not solve this complicated problem," said Food & Water Watch Executive Director Wenonah Hauter. "Selling fruit and vegetables is one step, but all communities, especially those that are struggling financially, will be better served for the long term by local businesses that put money back into the community by paying livable wages and buying from local and regional suppliers and farmers whenever possible."
"This report shows Walmart has been a source of tremendous harm and devastation to workers, businesses, and communities across the country," said Stuart Appelbaum, president of the Retail, Wholesale and Department Store Union (RWDSU), UFCW. "Walmart is a great destroyer, not the great savior it claims to be. We are working with a large coalition to keep Walmart out of New York City."
"Walmart can't fix the food system, just like it can't get our communities out of poverty," said Matt Ryan, executive director of ALIGN. "It is ultimately the source of the problem, not the solution."
"I don't believe for one second that Walmart cares whether or not I have fresh vegetables; their bottom line is opening more stores and making money," said East New York resident Maria Maisonett.
"Part of the challenge to ending hunger in our communities is creating a sustainable food system that provides affordable, healthy food while also paying a living wage to food producers and other workers in the food system," said Mark Dunlea, executive director of the Hunger Action Network of NYS. Walmart unfortunately is a major factor in the corporate consolidation of our food supply, making it harder for local farmers and communities to make a decent living, while also pushing out other food retailers. Too much of Walmart's publicity about support local and organic foods is a marketing devise rather than supporting a truly local, decentralized, environmentally sound, sustainable food system."
"Brooklyn doesn't need a Walmart to eat more healthy food. It needs local businesses, paying fair wages, and a focus on a stronger sustainable regional supply chain," said Benjamin Solotaire, a volunteer with the Brooklyn Food Coalition.
"It is no surprise that the Food & Water Watch report shows how Wal-Mart is not a solution to food deserts but the actual problem," says Food Chain Workers Alliance organizer Diana Robinson. "Whether it be from factory workers in Bangladesh to warehouse and retail workers in the United States, Wal-Mart has a proven record of committing labor rights violations with its own employees. Because of Wal-Mart's dominance in the retail market, it drives down the prices that it pays its suppliers, which, in turn, drives down wages and working conditions throughout the food supply chain. 20 million people in the U.S. work in the food system, and many of the low-wage food workers live in food deserts because they cannot afford to live in neighborhoods with reasonable access to affordable fresh and healthy food. It's a vicious cycle that needs to be stopped. Wal-Mart's business practice of super low wages and super low prices is not the answer to food desserts."
For more information, click here.
—————
Food & Water Watch works to ensure the food, water and fish we consume is safe, accessible and sustainable. So we can all enjoy and trust in what we eat and drink, we help people take charge of where their food comes from, keep clean, affordable, public tap water flowing freely to our homes, protect the environmental quality of oceans, force government to do its job protecting citizens, and educate about the importance of keeping shared resources under public control.