On MomsRising's weekly tweet chat, called #EcoTipTue, the featured guest this week was Sara Alcid of Reproductive Health Technologies Project. The organization advocates for chemical policy reform so the burden of protection doesn't have to be on pregnant women.
Alcid shared these tips for pregnant women, their partners and caregivers to avoid toxic chemicals during these important months: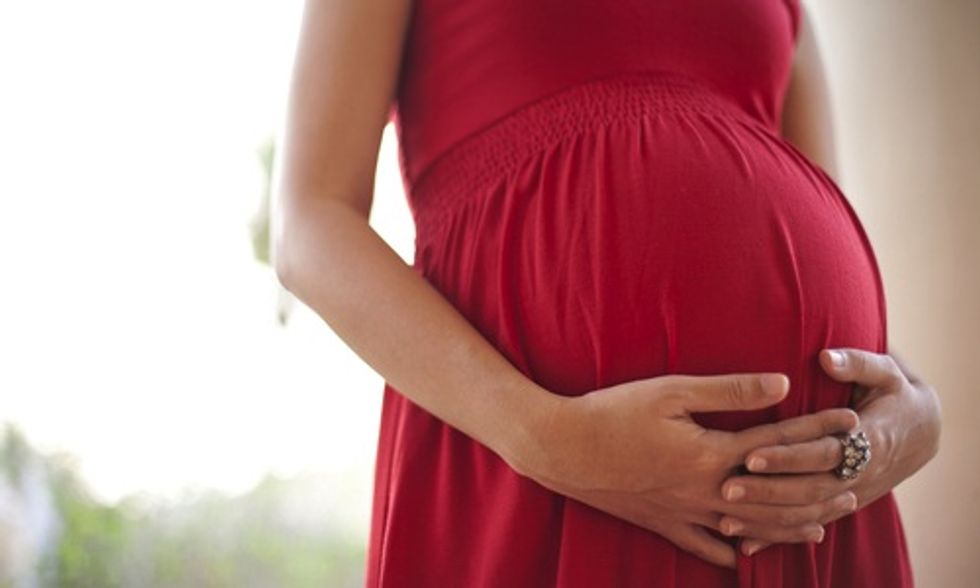 Shutterstock
 1. Start early. Exposure to toxics before pregnancy can impact fetal health. If you plan to have children the time is now to limit your exposure so you can protect your reproductive health options.
2. Eat organic food as much as possible to avoid pesticide residue. If this is not possible, eat only the Clean 15 and avoid the Dirty Dozen.
3. Don't microwave plastic or put it in the dishwasher. Hormone-disrupting chemicals leach out of plastic at elevated temperatures. Endocrine disrupters swamp a developing fetus, with potentially long term implications. They have been linked to reproductive problems, early puberty, cancer and obesity.
4. Avoid using conventional feminine care products. They contain harmful chemicals and the vagina absorbs many more chemicals than other tissue. Find out the most toxic products and ingredients to avoid and reduce use as much as possible. Look for unscented and unbleached products from companies that list all their ingredients.
5. Remove your shoes (and kindly ask your guests to as well) before entering your home to avoid tracking in oils and chemicals from the street. This is an easy, painless step that can reduce exposures.
6. Use fewer personal products (such as cosmetics, lotions, hair and nail products). Many ingredients have been linked to health problems and add to the chemical cocktail of exposure. Personal care products are unregulated. Companies can use whatever chemicals they want in products until they are proved harmful or the public pressure gets too great. That's why we need chemical policy reform! Products need to be proven safe BEFORE they hit the market. For the personal care products you do use, try to make sure they have no synthetic fragrances, parabens, phthalates, or triclosan. Find out how your favorite products rate. Buy and use safer products.
7. Avoid conventional household cleaners that contain toxic ingredients such as drain, toilet and oven cleaners. According to Planned Parenthood, "Some cleaning products can disrupt your hormones, which can change the start of puberty in young teens. If you're a woman, disrupted hormones may make it harder to get pregnant, change your menstrual cycle and increase your risk of miscarriage and breast cancer. If you're a man, disrupted hormones may lower your sperm count and increase your risk of testicular cancer." Many reasons to avoid these toxic cleaners! Find safer ones such as Seventh Generation or make your own. 
To see the rest of the list, visit Moms Rising.
Visit EcoWatch's HEALTH page for more related news on this topic.

EcoWatch Daily Newsletter
The Center for Environmental Health (CEH) today released a new report outlining the health risks to pregnant women and young children from harmful chemicals used in fracking. The report, Toxic and Dirty Secrets: The Truth About Fracking and Your Family's Health, shows how chemicals related to the oil and gas industry when conducting fracking operations can pollute the air and water in communities around fracking sites and pose health risks especially to pregnant women and children, who are most vulnerable to chemical exposures.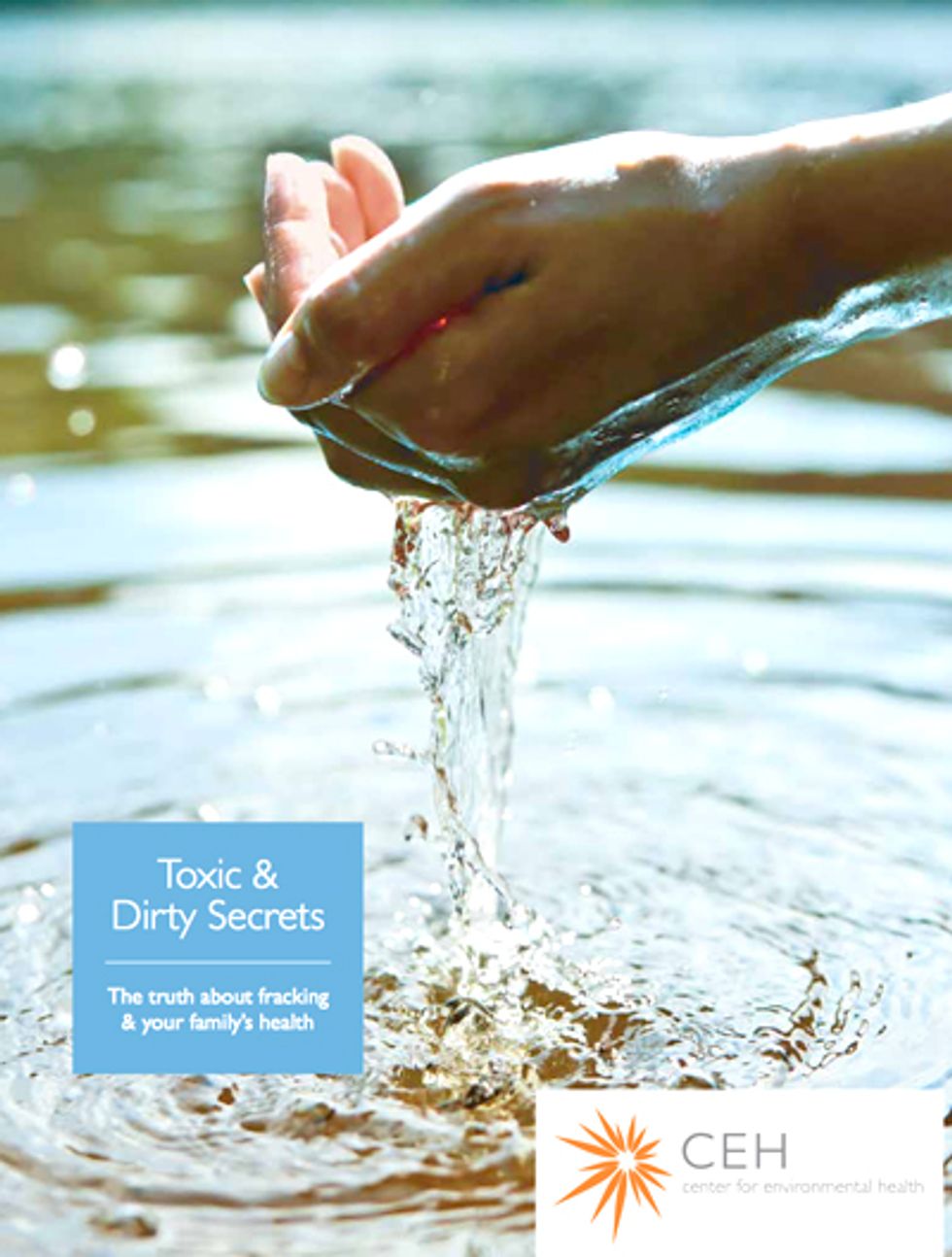 Toxic and Dirty Secrets: The Truth About Fracking and Your Family's Health
by Center for Environmental Health.
"Many harmful chemicals that we have been working so hard to eliminate from consumer products are now being used in mass quantity by fracking operations. In many instances, residents near fracking sites have already suffered from chemical pollution in their air and water," said Ansje Miller of CEH, a co-author of the report. "Current regulations allow companies to hide the fact that they are poisoning us with these chemicals under a claim of 'trade secret.' This is unacceptable, and leads to serious health risks, especially to pregnant women and children."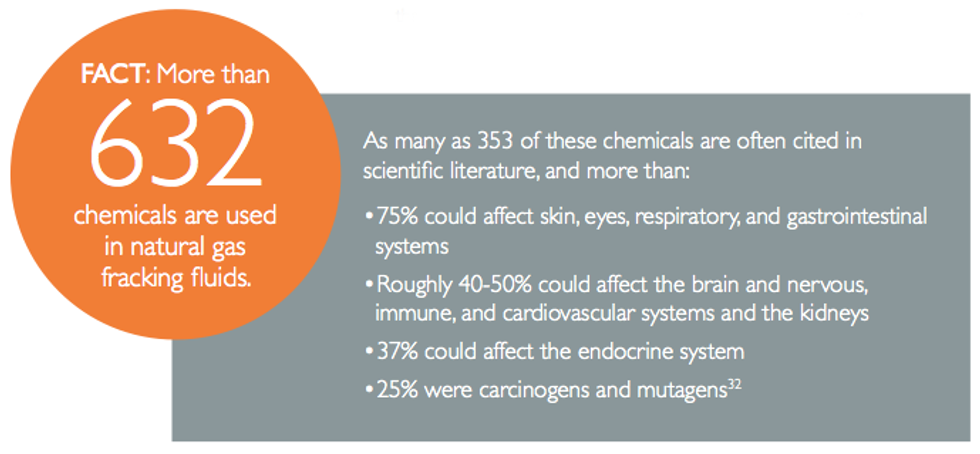 The chemicals used in fracking operations, from extraction to processing, distribution, transport and waste disposal, can pollute surrounding air and water. These harmful chemicals pose serious health risks to surrounding communities, and in particular to pregnant women and children. Just some of the harmful substances commonly used in fracking include methane, BTEX (benzene, toluene, ethylbenzene and xylenes), arsenic, radium, ozone, formaldehyde, radium, radon, nitrogen oxides, methylene chloride and silica sand. These substances are associated with low birth weight, birth defects, respiratory problems, cancer and fertility problems.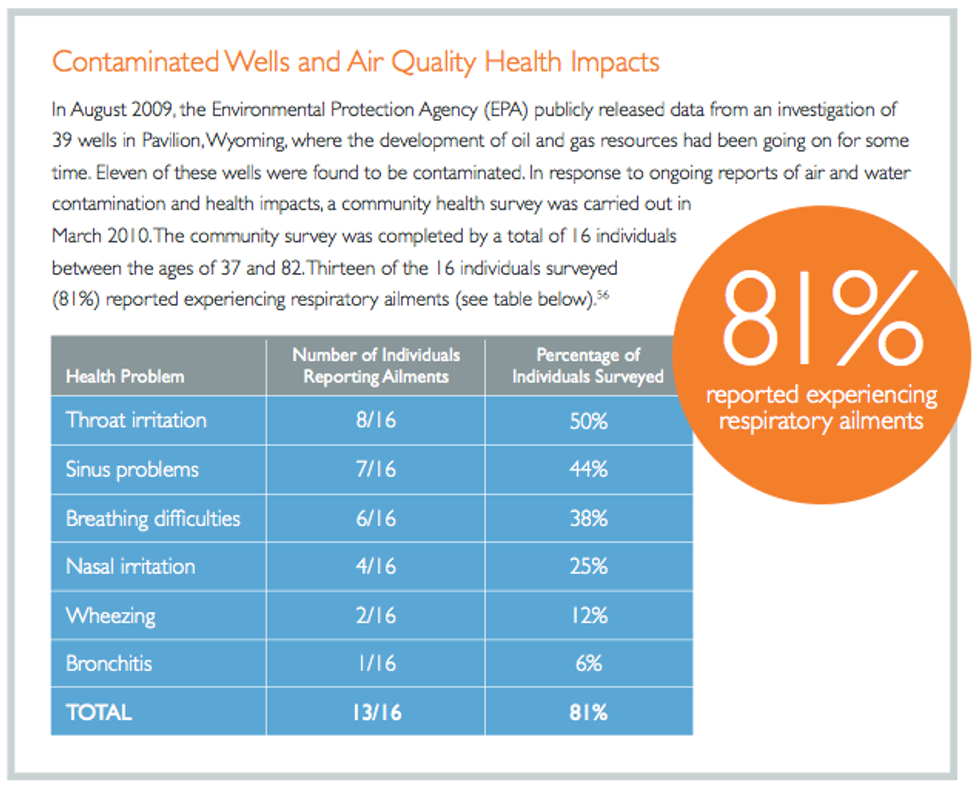 According to New York State Sen. Tony Avella, "More and more individuals are starting to realize that hydrofracking is an extremely dangerous drilling practice and its effects, both known and unknown, are too dangerous to not have a comprehensive and transparent health impact analysis. There have been a variety of illnesses associated with residents living near hydrofracking sites, such as loss of smell, memory problems, headaches, respiratory illness and stillbirths. This is why an impact study remains paramount in determining the effects of hydrofracking prior to even considering allowing fracking in our State. I commend the Center for Environmental Health for releasing this important report which further focuses on health effects on mothers and children as a direct result of hydrofracking. The evidence is simply overwhelming against this dangerous practice. I will therefore continue to advocate for the State of New York to heed these warnings."
Fracking has also been found to alter the social fabric of the communities where it occurs. The process increases road traffic, which increases stress, injuries and fatalities. Fracking also causes industrial noise, which is correlated with hypertension, sleep disturbance, cardiovascular disease, stroke, increased aggression, depression and cognitive impairment. Fracking has also caused social disruption, and has been correlated with increases in sexually transmitted diseases, substance abuse and violent crime.
"Nurses are deeply concerned about the irreparable harm fracking inflicts upon the people and communities in their care," said Kathy Curtis, LPN, Board Member of the Alliance of Nurses for Healthy Environments. "Environmental damage, diseases and disorders and negative social impacts are just part of the problem. What we don't hear much about is another chemical industry dirty little secret: much of the fracked gas will supply cheap energy and feedstock to make yet more toxic chemicals. Further, our communities will be irrevocably contaminated, not to provide inexpensive home heating as has been advertised, but to ship the gas to China."
"Fetuses and children are disproportionately vulnerable to the deleterious effects of exposure to environmental toxicants," said Dr. Sheila Bushkin, MD, MPH. "Although health impacts from industrial chemicals already exist in our population, the magnitude of risk would be greatly increased if High-volume Hydraulic Fracturing (HVHF) is permitted within the state of New York. Exposure to industrial chemicals and to ionizing radiation cause greater injury during development and early life. This may result in greater likelihood of birth defects, cognitive and behavioral development and lifelong disabilities. Likewise, environmental exposures to these substances, place pregnant women at greater risk from complications of gestation, resulting in increased maternal illnesses and mortality. From an ethical point of view, it is the responsibility of the medical community and legislative leaders to protect the health of the people of New York State and future generations. The first step would be to conduct a comprehensive Health Impact Assessment, prior to permitting the onset of HVHF activities within this beautiful state."
Visit EcoWatch's FRACKING page for more related news on this topic.
——–
Sign the petition today, telling President Obama to enact an immediate fracking moratorium:

chandlerphoto / Getty Images
More and more homeowners in Raleigh, NC, have embraced renewable energy like solar power. This popular option allows residents to fuel their homes cleanly and effectively, minimizing their home's environmental footprint while lowering their monthly utility bills. What are the best solar companies in Raleigh, NC? We'll show you the top options, plus provide important information on solar panel systems, federal tax credits, and more.
<p>If you're looking to adopt solar energy in Raleigh, North Carolina, one of the first steps in the process is to find the best renewable energy company. Thankfully, there are a number of excellent solar power providers throughout the area. They can provide the expertise and reliable technology you need to upgrade your home and truly take advantage of solar energy systems.</p><h2>Our picks for the best solar energy companies in Raleigh</h2><p><em>Each product featured here has been independently selected by the writer. If you make a purchase using the links included, we may earn commission.</em></p><ul class="ee-ul"><li><a href="https://www.8msolar.com/" rel="noopener noreferrer" target="_blank">8M Solar</a></li><li><a href="https://www.ncsolarnow.com/" rel="noopener noreferrer" target="_blank">NC Solar Now</a></li><li><a href="https://www.gosunpro.com/" rel="noopener noreferrer" target="_blank">Sunpro Solar</a></li><li><a href="https://blueravensolar.com/" rel="noopener noreferrer" target="_blank">Blue Raven Solar</a></li><li><a href="https://renuenergysolutions.com/" rel="noopener noreferrer" target="_blank">Renu Energy Solutions</a></li><li><a href="https://www.emeraldenergync.com/" rel="noopener noreferrer" target="_blank">Emerald Energy</a></li><li><a href="https://covenantsolar.com/" rel="noopener noreferrer" target="_blank">Covenant Solar Tech</a></li><li><a href="https://yessolarsolutions.com/" rel="noopener noreferrer" target="_blank">Yes Solar Solutions</a></li><li><a href="https://sundollarenergy.com/about-us/" rel="noopener noreferrer" target="_blank">Sun Dollar Energy</a></li><li><a href="https://www.duke-energy.com/home/products/renewable-energy/nc-shared-solar" rel="noopener noreferrer" target="_blank">Duke Energy</a></li></ul><h2>How we chose the best solar companies in Raleigh</h2><p>In order to create a list of the best solar power installers in Raleigh, North Carolina, we compared each company on a number of important categories. Our picks for Raleigh's best solar energy companies are based on the following:</p><ul class="ee-ul"> <li><strong>Coverage area. </strong>Some companies offer wider, more consistent coverage areas than others. We sought to include companies that make solar power readily available to both Raleigh and nearby areas like Durham and Cary.</li><li><strong>Services.</strong> We also ranked Raleigh's local solar providers on how many total services they offer. For instance, how much help do they offer in terms of consultation, solar system design, and installation? </li><li><strong>Installation process. </strong>We also evaluated local solar energy providers on the basis of whether they can install your new solar panels. Do they send an installation team to your home, or do you have to contract with a separate installation company?</li><li><strong>Pricing and financing. </strong>As you look for the best solar company in Raleigh, you'll definitely need to think about your budget. We've tried to evaluate companies on the basis of affordability and flexible financing options.</li><li><strong>Panel efficiency. </strong>Solar panels can vary quite a bit in terms of how much sunlight they absorb, and how efficiently they convert that solar energy to a usable AC stream. We've selected local companies that offer exemplary technology with the highest <a href="https://www.energy.gov/eere/solar/solar-performance-and-efficiency" target="_blank">solar panel energy efficiency</a>.</li><li><strong>Rebates.</strong> Along with flexible financing options, some solar installers make it easy for you to claim clean energy rebates, another useful way to offset your total energy cost.</li><li><strong>Warranty.</strong> When investing in a significant piece of technology, such as a solar panel system, it makes sense to seek some consumer protections. A good warranty can offer ample peace of mind.</li><li><strong>Professional affiliation. </strong>We looked for companies endorsed or certified by leading professional organizations. These include the <a href="https://www.seia.org/about" target="_blank">Solar Energy Industries Association (SEIA)</a>, the <a href="https://www.nabcep.org/about-us/" target="_blank">North American Board of Certified Energy Practitioners (NABCEP)</a>, the Better Business Bureau (BBB), and more. This is one of the easiest ways to evaluate a solar company's reputation.</li></ul><p>With these factors in mind, we're now ready to take a look at a few of the most highly recommended solar power and renewable energy companies in Raleigh, North Carolina.</p><h2>The best solar energy companies in Raleigh, NC</h2><p class="shortcode-media shortcode-media-rebelmouse-image"> <img type="lazy-image" data-runner-src="https://assets.rebelmouse.io/eyJhbGciOiJIUzI1NiIsInR5cCI6IkpXVCJ9.eyJpbWFnZSI6Imh0dHBzOi8vYXNzZXRzLnJibC5tcy8yNTcwMDY2My9vcmlnaW4uanBnIiwiZXhwaXJlc19hdCI6MTY3NTU4Njk2MH0.4uZ3uc3dKy_eV6VkhXe01FTYZygEbPN2vPY52fIj148/img.jpg?width=980" id="6ae05" class="rm-shortcode" data-rm-shortcode-id="c6d86615b9c32f2ec78431ce0441e6c8" data-rm-shortcode-name="rebelmouse-image" data-width="1200" data-height="721"> <small class="image-media media-photo-credit" placeholder="Add Photo Credit...">Blend Images - Done Mason / Getty Images</small></p><h3><a href="https://www.8msolar.com/" target="_blank">8M Solar</a><br></h3><p>Based in Wake Forest, 8M Solar is one of the best-rated clean energy companies in North Carolina. Their services are NABCEP-certified, they are SolarEdge and Tesla certified installers, and they are endorsed by Duke Energy. The owners are directly involved in all aspects of solar panel system design to provide hands-on expertise, and their panels come with generous 25-year warranties.</p><p><strong>Why buy: </strong>Simply put, 8M Solar is one of the best companies to choose if you're looking for a straightforward way to go green and decrease monthly utility costs. The company claims that their rates are, on average, 10 percent lower than their competitors. Formidable expertise, best-in-class technology, robust warranties, and affordable pricing make 8M Solar a top choice.</p><h3><a href="https://www.ncsolarnow.com/" target="_blank">NC Solar Now</a></h3><p>Since 2010, NC Solar Now has been a dependable clean energy partner to homeowners throughout the state. Their company is built around a vision for sustainability and ensuring that all families have access to affordable energy. The company is a member of the NC Sustainable Energy Association (NCSEA), the NC Clean Technology Center (NCCTC), is endorsed by Duke Energy, and was chosen as one of the top 20 solar contractors in the US by <a href="https://www.generalcontractors.org/the-best-commercial-solar-contractors-in-the-us/" target="_blank">General Contractor Magazine.</a></p><p><strong>Why buy:</strong> NC Solar Now is a great all-around option for anyone looking to embrace the promise of clean solar power. They are locally owned and operated, they offer flexible pricing for both residential and commercial properties, and they can help you take advantage of all available solar incentives and rebates.</p><h3><a href="https://www.gosunpro.com/" target="_blank">Sunpro Solar</a></h3><p>Sunpro is a nationally known and NABCEP-certified company. They offer cost-effective pricing and leading rooftop solar technology that allows you to save big bucks on your home utility bills. SunPro takes a lot of pride in having first-class customer service and their team is also available to help you claim clean energy tax incentives.</p><p><strong>Why buy:</strong> Sunpro is one of the most-trusted solar energy installers in the country, and even ranked #5 on Solar Power World's 2020 list of the Top Residential Solar Installers in the U.S. They handle everything from design to installation, and offer 25-year guarantees on labor and equipment.</p><h3><a href="https://blueravensolar.com/" target="_blank">Blue Raven Solar</a></h3><p>Blue Raven Solar is one of the fastest-growing solar companies in the country, operating in a number of states throughout the Southeast and beyond. They're passionate about helping homeowners save money on their electricity bills, and that's allowed them to become a clean energy provider of choice in the Raleigh-Durham area, as well as Asheville, Charlotte, and Greensboro.</p><p><strong>Why buy:</strong> Blue Raven Solar offers a truly comprehensive solar energy service, including surveying, solar panel system design, installation, and more. The company also offers highly competitive pricing and excellent financing options (including $0 down), and has received rave reviews from their customers as one of the most trusted solar energy companies around.</p><h3><a href="https://renuenergysolutions.com/" target="_blank">Renu Energy Solutions</a></h3><p>Based in Charlotte, Renu Energy Solutions provides dependable solar energy services to homeowners throughout the state. Since 2010, this locally-owned and operated company has been one of the Charlotte area's trusted names in solar energy. They offer free solar assessments, along with plenty of assistance finding flexible financing solutions.</p><p><strong>Why buy:</strong> This is another great example of a local business with world-class solar expertise. Choose them for friendly service, competitive pricing, and high-quality tech. Plus, Renu offers manufacturer's warranties of up to 25 years (depending on the specific solar panels you choose).</p><h3><a href="https://www.emeraldenergync.com/" target="_blank">Emerald Energy</a></h3><p>Emerald Energy is a Raleigh-based contracting company best known for offering design, consulting and installation for solar energy solutions. They offer zero money down and no interest financing on systems, and can help you take advantage of the many solar rebates and incentives that are offered in North Carolina.</p><p><strong>Why buy: </strong>For a fully-licensed local contractor with real clean energy bona fides, Emerald Energy is one of the best companies you'll find. Their in-house system design and installation services can help you enjoy cleaner electricity, energy independence, and lowered utility bills.</p><h3><a href="https://covenantsolar.com/" target="_blank">Covenant Solar Tech</a></h3><p>Covenant Solar Tech is locally owned and operated in Raleigh, North Carolina. They deliver a full spectrum of services, including consultation, design, installation, financing, and beyond. For those exploring solar energy options, they offer free solar estimates, and boast some truly outstanding customer reviews.</p><p><strong>Why buy:</strong> Covenant Solar Tech offers expert installation with friendly, personable customer service. They are one of the best local Raleigh companies in the solar energy game. Their solar energy expertise and experience was also recently enhanced by the company's purchase of Sun Dollar Energy.</p><h3><a href="https://yessolarsolutions.com/" target="_blank">Yes Solar Solutions</a></h3><p>Yes Solar Solutions is a terrific clean energy company located in Cary, NC. Their installers proudly service residents of Raleigh and the surrounding area. The company has been around since 2009, and in that time they've helped more than 1,000 homeowners go solar. They are a certified installer for Tesla solar equipment, offer free assessments and various financing options.</p><p><strong>Why buy:</strong> Yes Solar Solutions is NABCEP accredited and has a long history, an impressive track record, and plenty of ways to help you cut energy costs. Reviews of the company attest to their excellent customer service in helping people go solar.</p><h3><a href="https://sundollarenergy.com/about-us/" target="_blank">Sun Dollar Energy powered by Covenant Solar Tech</a></h3><p>Sun Dollar Energy started a family-owned solar power contractor serving homeowners throughout North Carolina. The small solar company with local roots offered a personalized experience for customers. In January 2021, the company was purchased by Covenant Solar Tech, but will still provide the same reliable service under the Sun Dollar Energy name.</p><p><strong>Why buy:</strong> Sun Dollar Energy powered by Covenant Solar Tech is your best bet for a truly homegrown, local solar energy provider. They offer years of experience and their licensed, NABCEP-certified installers helped them become a leading provider in the area, with positive customer reviews for their easy installation process.</p><h3><a href="https://www.duke-energy.com/Our-Company/Environment/Renewable-Energy/Solar-Energy" target="_blank">Duke Energy</a></h3><p>Duke Energy might not be the first name you think of for this list, but they provide a wide range of solar energy solutions across the Raleigh area. Not only does Duke Energy provide solar rebates worth up to $6,000, they also offer services like <a href="https://www.duke-energy.com/home/products/renewable-energy/generate-your-own" target="_blank">net metering</a> that can help offset your electric bill with the energy from your solar energy system.</p><p><strong>Why buy:</strong> Duke Energy has made some admirable commitments to renewable energy in recent years. With programs like NC <a href="https://www.duke-energy.com/home/products/renewable-energy/nc-shared-solar" target="_blank">Shared Solar</a>, the company allows you to support solar energy generation and development each month even if you can't install solar panels on your own home, making solar energy more accessible.</p><h2>What types of solar energy are available in Raleigh, NC?</h2><p class="shortcode-media shortcode-media-rebelmouse-image"> <img type="lazy-image" data-runner-src="https://assets.rebelmouse.io/eyJhbGciOiJIUzI1NiIsInR5cCI6IkpXVCJ9.eyJpbWFnZSI6Imh0dHBzOi8vYXNzZXRzLnJibC5tcy8yNTcwMDY3OC9vcmlnaW4uanBnIiwiZXhwaXJlc19hdCI6MTY1MjEyOTA1MX0.hZ7m-mEyAd_MBxOlVzFtHSuyPbttXtbGtvW1D6wGgh4/img.jpg?width=980" id="f92ca" class="rm-shortcode" data-rm-shortcode-id="659abb8e87ff463fb88bbe715ccafe0d" data-rm-shortcode-name="rebelmouse-image" data-width="1200" data-height="713"> <small class="image-media media-photo-credit" placeholder="Add Photo Credit...">Buena Vista Images / Getty Images</small></p><p>As you consider your options for solar energy in the Raleigh area, it's important to note that different companies provide varied kinds of access to the sun's energy.<br></p><p>For instance, most of the companies on our list are truly solar installers, which means they can help you upgrade your home with solar panels and batteries, allowing you to directly absorb the sun's rays, convert it to electricity, and use that electricity to power your home.</p><p>But a few companies, like Duke Energy, do something a little different: They essentially allow you to choose a plan where you get solar power straight from Duke's solar energy facilities as part of your home's energy, but also use regular electrical power when necessary.</p><p>Make sure you understand these different models as you seek the right solar power provider for your home.</p><h2>How does solar panel installation work?</h2><p>It is also helpful to know more about the process of having solar panels installed on your home.</p><p>Usually, the process begins with an energy audit. A certified installer will arrive at your home, assess your energy needs, and also evaluate how much sun exposure you get. They will then recommend the number of panels that need to be installed on your roof, as well as the ideal locations for those panels.</p><p>Once installed, these solar panels draw energy from the sun and store it in a battery. This solar power is then converted to AC power, using a component known as an inverter, which can then power all your home appliances and devices.</p><p>If you have any specific questions about the installation process, it's usually best to go straight to your installer. Note that while the initial investment in equipment can be steep, that's usually it in terms of overall solar expense: the sun's energy is free, and you won't need to invest in any further fuel sources.</p><h2>Choose the best rooftop solar company in Raleigh</h2><p>There are countless reasons for Raleigh homeowners to embrace clean energy: it's a great way to minimize your environmental impact; it can lower your household energy expenses; and you can take advantage of the many rebates and tax advantages offered in the state.</p><p>As you consider different players within the solar industry, choose wisely, starting with some of the recommendations we've offered here. These are renewable energy companies that have solid reputations and proven track records of solar energy service.</p><p><em><strong>Josh Hurst </strong></em><em>is a journalist, critic, and essayist. He lives in Knoxville, TN, with his wife and three sons. His writing on natural health, nutrition, and supplements has appeared in Health, Shape, and Remedy Review.</em></p>