Yesterday, Spokane Riverkeeper and the Natural Resources Defense Council (NRDC) joined Sierra Club and its partners in filing a complaint against Burlington Northern Santa Fe Railway Company (BNSF) in the U.S District Court for the Eastern District of Washington for violations of the Clean Water Act in the eastern part of the state. An earlier federal lawsuit, filed by the same groups in western Washington for violations in the western part of the state, is also underway.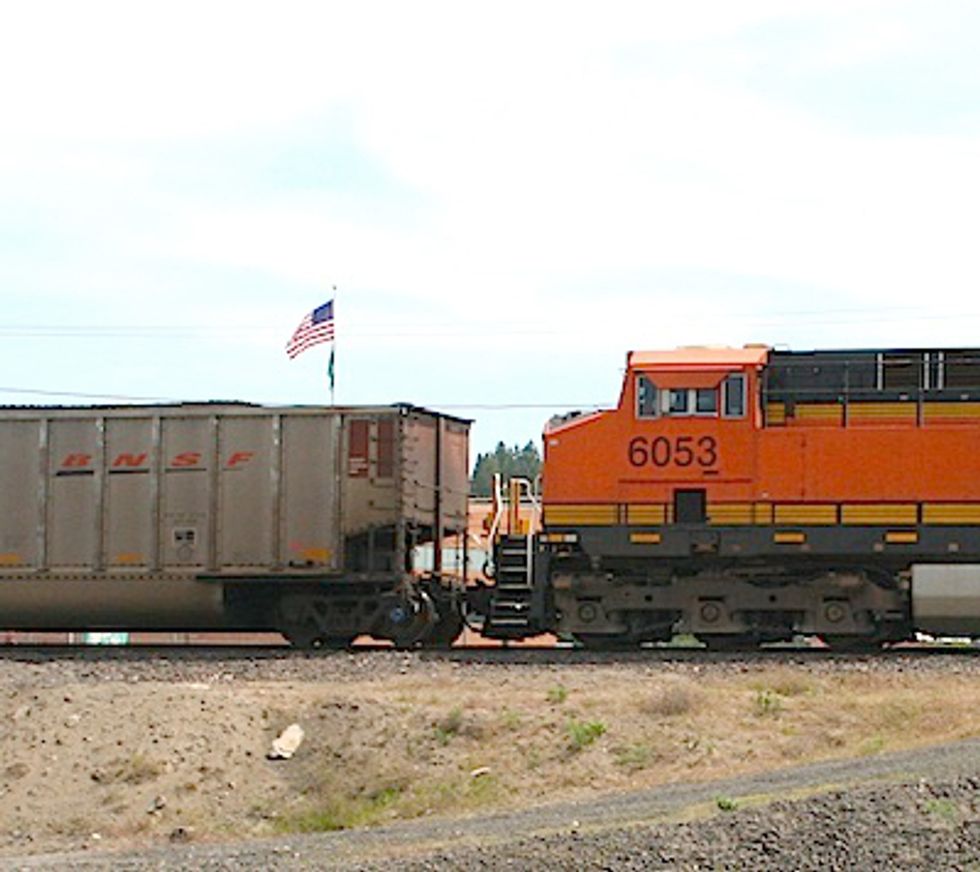 "We have found coal in the Spokane River and its tributary Hangman Creek," said Bart Mihailovich, director of Spokane Riverkeeper. "That is toxic pollution in our waterways, and that is a major concern to Spokane Riverkeeper and all of those who have a right to a swimmable and fishable Spokane River."
"Coal is dangerous for our health and wildlife whether it is dumped into our air or into our water," said Morgan Wyenn, attorney for NRDC. "We're talking about pieces of coal ranging from fine dust to large chunks falling out of these open cars every day, spoiling waters of the Northwest and violating our federal Clean Water Act. BNSF must be held accountable for this preventable pollution."
According to BNSF testimony at hearings before the Surface Transportation Board, each rail car loses an average of 500–3,500 pounds of coal dust. Coal trains are composed of approximately 120 rail cars, resulting in an average of 60,000–420,000 lbs. of coal lost per train each trip. A massive increase in rail traffic and longer trains are expected in the future should new hotly contested coal export terminals be built in Washington and Oregon.
If ports are developed, Spokane would be the choke point for all of the predicted 42 trains heading to and from the three proposed coal export facilities in Washington and Oregon each day. Spokane Riverkeeper believes that finding toxic coal in local waterways along rail communities in the state of Washington demonstrates clearly that environmental impacts from exporting coal exist beyond just the proposed exporting sites.
"The Clean Water Act is in place exactly for issues like this, and it's up to us to hold those accountable who infringe upon our collective right to clean water in this country," added Mihailovich.
As more local residents and elected leaders connect the dots on the broad global and regional implications of moving forward with the Northwest coal export proposals, concerns climb about coal contamination of the region's waters.
"Spokane River is tributary to the Columbia River," said Brett VandenHeuvel, executive director of Columbia Riverkeeper. "What happens to the water in the Spokane damages our water in communities all along the Columbia River."
"With only a handful of coal trains moving through Washington everyday, the alarming rate that we're already finding coal polluting our waters is sending a clear signal of the damage to come," VandenHeuvel concluded.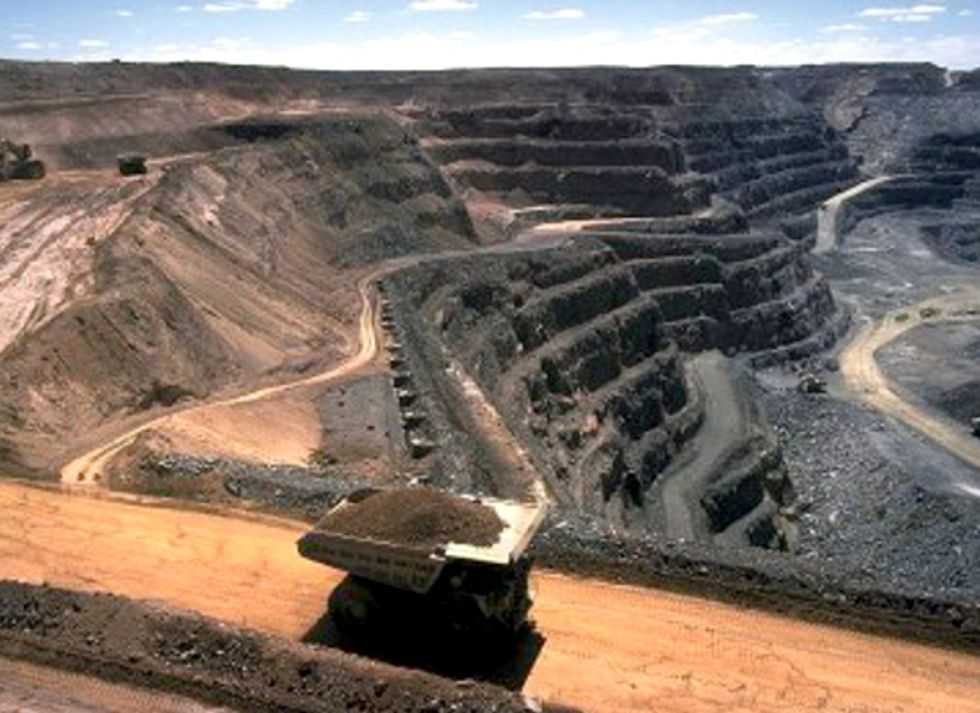 According to BNSF, approximately 90 percent of its annual coal shipments are from coal mines in the Powder River Basin (PRB) located in Wyoming and Montana. PRB coal breaks apart easily and contains mercury, arsenic, uranium and hundreds of other toxins harmful to fish and human health. Additionally, PRB coal dust falls onto train tracks, contributing to track destabilization and dangerous train derailments.
In this filing, the defendant groups have been narrowed to focus on BNSF while the coal industry continues to point fingers about who is responsible for the coal pollution. The original Clean Water Act suit was filed in Washington's Western District on June 5 by The Sierra Club, Puget Soundkeeper, Columbia Riverkeeper, RE Sources for Sustainable Communities and Friends of the Columbia Gorge. With the addition of Spokane Riverkeeper and NRDC, the groups point to a clear pattern of coal dust water pollution in all corners of the state of Washington.
The plaintiffs are represented by the Law Offices of Charles M. Tebbutt, P.C. of Eugene, OR, Andrea Rodgers Harris of Seattle, WA, Jessica Yarnall Loarie of the Sierra Club Law Program, and David Pettit and Morgan Wyenn of the Natural Resources Defense Council.
Visit EcoWatch's COAL and COAL ASH pages for more related news on this topic.
——–
A Pacific Northwest coal project is threatening the global environment on a scale greater than the Keystone Pipeline, but most people have never heard of it. Momenta, a documentary collaboration between Plus M Productions and Protect Our Winters, shares the story of the people living along the coal export trail and the project's global environmental implications.
 
Since American demand for coal is declining, the American coal industry has turned its attention to rapidly expanding Asian markets. The plan is to extract 140 million pounds of coal per year from the Powder River Basin and ship it overseas via deep-water ports in Washington and Oregon.
 
"The closest way from Montana to Asia is through our backyards and through our ports here in the Northwest," says Power Past Coal Campaign Director Beth Doglio. "If all of the proposals on the table right now get built, the impacts to climate change and greenhouse gas emissions would actually be significantly more than those of the Keystone Pipeline."
Each day, more than 50 mile-and-a-half-long trains, laden with Powder River coal, will travel from Wyoming and Montana through hundreds of small towns to ports in the Pacific Northwest, leaving arsenic and mercury laden coal dust in their wake. The near-constant stream of escaping coal dust imposes toxic environmental pollutants and a myriad of health risks to pass-through communities.
And those are the domestic impacts. On a global scale, environmental experts warn that the amount of carbon emissions produced by burning the Powder River coal deposit would result in cataclysmic and irreversible impacts on global climate.
About the Documentary
The outcome of the coal project is uncertain and the documentary follows its progress. Of six ports proposed, three have been defeated. But the fight against three additional ports remains in Washington and Oregon.
 
"Our documentary has a moving target. New coal ports can be proposed at any time," says Director Andy Miller. "We truly don't know what the outcome will be, but we knew we wanted to raise awareness and activate communities to stop proposed coal exports in the Pacific Northwest. There are better ways to produce energy. And now is the time to transition."
 
The documentary features interviews with prominent experts and environmental activists, including Bill McKibben, the nation's leading environmentalist, and Jeremy Jones, professional snowboarder, activist and founder of Protect our Winters.
 
Through thoughtful interviewing and breathtaking cinematography, the documentary unveils the coal project's devastating potential.
 
Plus M Productions and Protect our Winters contributed the initial funding for the Momenta trailer. However, they're looking to the community to raise the remaining funds for the full-length documentary through their Kickstarter campaign.
Visit EcoWatch's COAL page for more related news on this topic.
——–
Click here to tell Congress to Expedite Renewable Energy

EcoWatch Daily Newsletter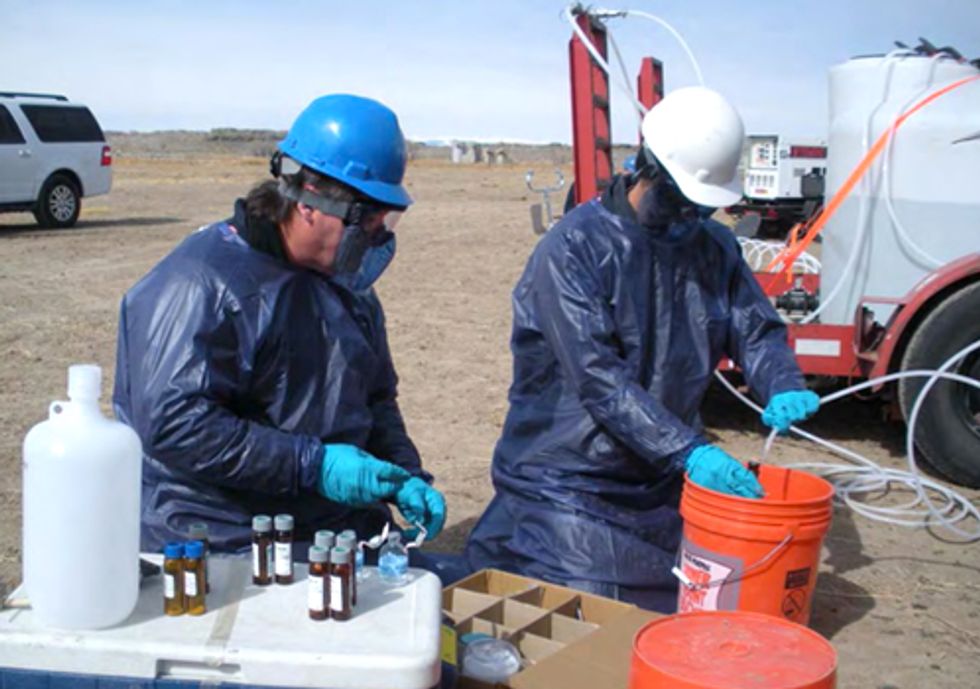 On Jan. 17, Pavillion Area Concerned Citizens (PACC) denounced attacks from the oil and gas industry and the state of Wyoming in a letter to the U.S. Environmental Protection Agency (EPA) regarding its investigation of contaminated drinking water wells in Pavillion, Wy. EPA test results show that hazardous chemicals, commonly used in oil and gas development, contaminated the wells. 
Powder River Basin Resource Council (PRBRC) and Earthworks' Oil and Gas Accountability Project applauded PACC for its letter and launched a national sign on letter campaign urging the EPA to continue with its rigorous investigation and to identify the cause of the contamination.
In December 2011, the U.S. EPA released the draft report of its scientific investigation into the connection between oil and gas development and contamination of drinking water wells. After initial testing in August 2010, the Agency for Toxic Substances and Disease Registry (ATSDR) urged residents not to drink their water or use it for cooking. If the U.S. EPA's draft is finalized with its current conclusions, it will definitively refute the oil and gas industry's claim that hydraulic fracturing has never contaminated drinking water wells.
"Pavillion residents made continual requests for help from the state of Wyoming and industry before seeking assistance from EPA to address the contamination issues. For over 10 years the state refused to help us. That's when we went to the EPA. Now it appears the state is joining the industry in fighting this study tooth and nail," said John Fenton, Powder River Basin Resource Council board member and chair of Pavillion Area Concerned Citizens.
EnCana Oil & Gas USA, which owns and operates more than 200 gas wells in the Pavillion area, denies that drilling is to blame for the contamination, stating that many of the toxins "occur naturally." On Jan. 6, EnCana sent a letter demanding that the U.S. EPA suspend the public comment period on the report claiming that the agency didn't give the company copies of all the data it used to compile the report. Also last week, the Petroleum Association of Wyoming and Wyoming Water Development Commission accused the EPA of not following its own water-testing protocols by holding several water well samples two days too long before conducting tests.
 
PACC, PRBRC and Earthworks' Oil & Gas Accountability Project have long fought to require the regulation of fracking and full and public disclosure of the chemicals used in drilling operations.
"These accusations are a political ploy to cover-up the results and bring a halt to the study," said Gwen Lachelt, director of Earthworks' OGAP. "We've seen this time and again with industry shirking responsibility and the government turning its back on the people who bear the impact of energy development in our country," Lachelt stated.
"The EPA is conducting a scientifically sound investigation of the contamination in the Pavillion area," said Wilma Subra, chemist, president of Subra Company, and board member of the State Review of Oil & Natural Gas Environmental Regulations (STRONGER). "Holding the samples for a longer time did not compromise the results. If anything, longer hold times make the results less likely to indicate contamination," Subra stated.
 
"The American public needs to see this for what it is, a planned assault to undermine the Pavillion study and smear the EPA," said Deb Thomas with Powder River Basin Resource Council. "EnCana did get one thing right. The state of Wyoming should hold their own testing events to the same standards they're demanding from EPA. The state's test results should publicly release all critical information, including all the report-related raw data. That would allow all parties and citizens to understand what regulated and non-regulated chemicals are being found in our drinking water and aquifers."
The area under investigation just east of Pavillion is home to about 160 residents in the middle of the Wind River Indian Reservation, 150 miles east of Grand Teton National Park. Residents share their farming operations with more than 200 oil and gas wells that surround their homes. Toxic chemicals were found in nearly 9 out of every 10 wells sampled. In monitor wells drilled by the U.S. EPA, benzene, a cancer-causing chemical, was found at 50 times the limit safe for human health along with numerous other toxic chemicals including 2-BE, a chemical used in fracking operations. Through the years contamination has been suspected, EnCana supplied and halted drinking water service to residents. In 2011, EnCana tried to sell its entire Pavillion/Muddy Ridge gas field to Legacy Oil & Gas out of Midland, Texas. Legacy backed out of the sale in late November.
For more information, click here.