This website uses cookies to ensure you get the best experience while browsing it. By clicking 'Got It' you're accepting these terms.
Congress should address the humane treatment of birds at slaughter, but its failure to do so does not absolve the US Department of Agriculture of its responsibility to act.
Dzīvnieku brīvība
/ Flickr / CC BY-NC 2.0

Tawatchai Prakobkit / EyeEm / Getty Images
Sanderson Farms announced Friday that it will stop unnecessarily administering two medically important antibiotics—the only two it reports using—in its chickens by March 1, 2019. The company will use the two antibiotics only when treating ailing animals or to control diseases in flocks with some sick birds. "This is a welcome change of heart and good news for people's health," said David Wallinga, senior health officer at NRDC. "To inspire consumer confidence, however, these new pledges will need to be independently verified."
EcoWatch Daily Newsletter
Tyson Foods, the nation's largest chicken producer, has taken "full responsibility" for accidentally releasing an acidic chemical used in chicken feed into the city of Monett, Missouri's wastewater treatment system that resulted in the deaths of more than 100,000 fish.
The poultry giant unit pleaded guilty on Wednesday in federal court in Springfield, Missouri on two criminal charges of violating the Clean Water Act that stemmed from discharges at its slaughter and processing facility in Monett, Missouri, the U.S. Department of Justice (DOJ) said.
Today, the U.S. Department of Agriculture (USDA) released the final rule on a new inspection system for poultry products. The system will transfer a majority of poultry inspections from government inspectors to self-policing by the companies themselves.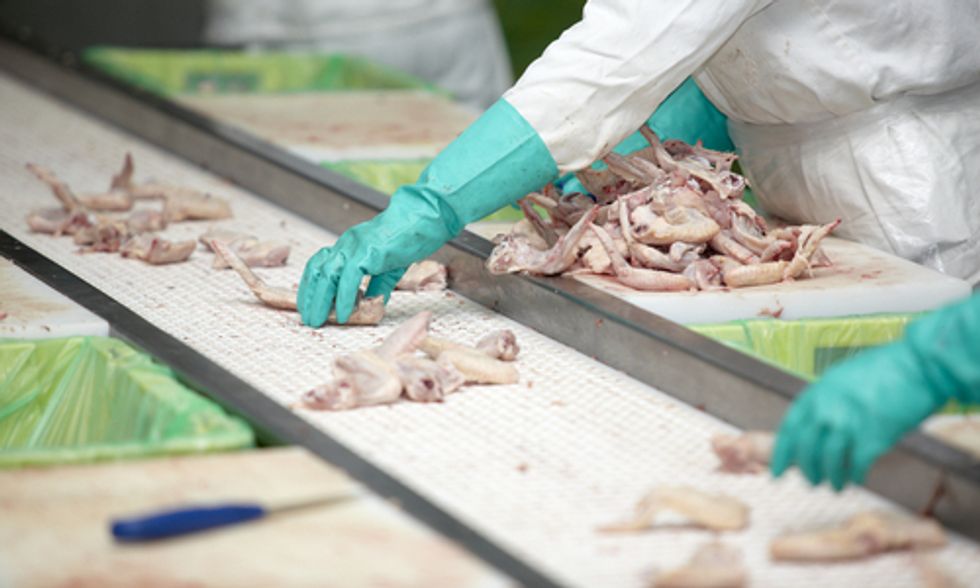 Poultry processing plant. Photo courtesy of Shutterstock
While Agriculture Secretary Tom Vilsack said the new system "places our trained inspectors where they can better ensure food is being processed safely," Food & Water Watch Executive Director Wenonah Hauter counters that "the one USDA inspector left on the slaughter line under this new rule will still have to inspect 2.33 birds every second–an impossible task that leaves consumers at risk."
The new regulations were first proposed in January 2012 but delayed after receiving strong opposition from animal welfare groups, consumer organizations and worker safety advocates. In 2013 the Government Accountability Office released a scathing analysis, questioning whether USDA had sufficient data to make such radical changes.
USDA received more than 175,000 public comments, mostly opposed to the proposal. There have also been petitions and several congressional letters sent to USDA and the White House urging the withdrawal of the rule.
"The fast turnaround on this rule does a disservice to consumers and workers in poultry plants," said Hauter. "Rather than making the contents of a revised rule public and creating a new comment period, the USDA and the White House are making a dramatic change to how poultry is inspected based on incomplete data and limited public review."
Groups express concern that the deregulation of poultry processing will lead to the dismantling of the meat inspection system as we know.
You Might Also Like
Playing Chicken With Our Health
Salmonella Outbreaks Could Worsen with Decreased Poultry Inspections
Court Rules Rampant Misuse of Antibiotics on Factory Farms Can Continue
The  U.S. Department of Agriculture (USDA) unveiled a new plan Wednesday to reduce the number of salmonella outbreaks linked to meat and poultry.
Included is a controversial rollout of a pilot program that would speed up poultry processing lines and replace some USDA inspectors with plant employees. The proposal would increase line speeds in poultry plants to 175 chickens per minute from 140 and 55 turkeys per minute from 45.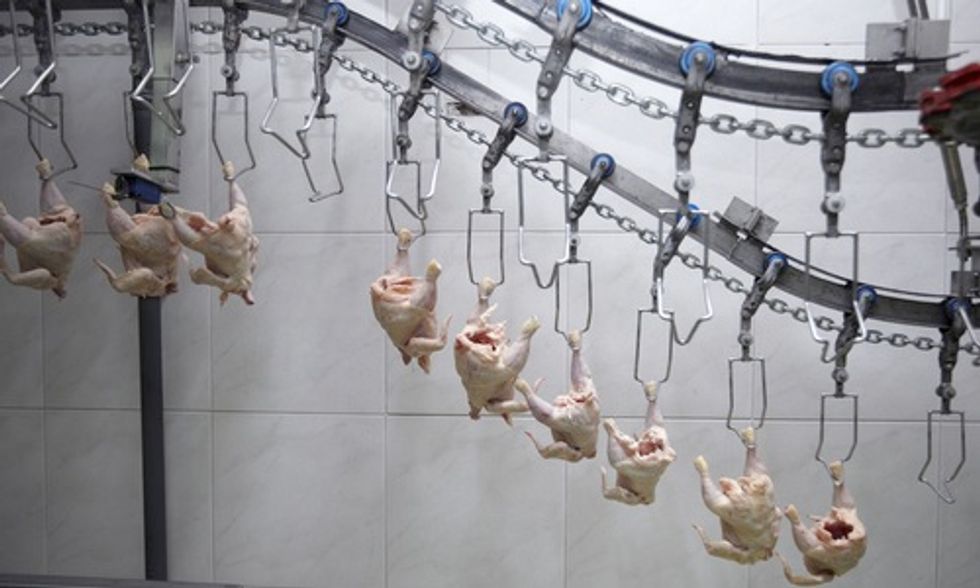 Shutterstock
The USDA said the new plan would focus inspectors more greatly on food safety, a change that could potentially reduce 5,000 illnesses a year. An estimated 1.3 million Americans are sickened by the bacteria each year. The USDA aims to reduce salmonella illnesses by 20,000 cases a year.
The effort comes weeks after Foster Farms chicken was found to have sickened at least 389 people nationwide with a virulent strain of salmonella found to be resistant to some antibiotics.
"Far too many Americans are sickened by salmonella every year. The aggressive and comprehensive steps detailed in the Salmonella Action Plan will protect consumers by making meat and poultry products safer," Undersecretary for Food Safety Elisabeth Hagen said in a prepared statement.
Food safety and worker advocates have criticized the increase as dangerous for both employees and consumers. A recent Washington Post investigation found nearly 1 million chickens and turkeys were unintentionally boiled alive because of fast-moving factory lines.
"This flawed proposed rule cannot serve as the foundation of any serious plan to reduce salmonella rates in meat and poultry products," Wenonah Hauter, director of Food & Water Watch, said in a media release.
"To really tackle the salmonella problem, USDA should not be trying to cut government inspection of poultry products. Instead, the Obama administration needs to get the legal authority from Congress to hold companies accountable for putting contaminated food into commerce, not deregulate inspection."
Salmonella doesn't trigger an automatic recall, as with E. coli outbreaks, because it's not considered an adulterant. Health officials have been pushing the USDA to change that, arguing that more dangerous strains of salmonella resistant to antibiotics have emerged in recent years.
But unless the USDA deems salmonella an adulterant, it's often up to producers to issue a recall.
The U.S. Food Safety and Inspection Service has received hundreds of thousands of comments from consumers opposed to replacing some USDA inspectors with plant employees and worker safety advocates have raised serious concerns that poultry plant workers will suffer increased rates of injuries trying to keep up with increased line speeds, Hauter said.
Visit EcoWatch's FOOD page for more related news on this topic.