This website uses cookies to ensure you get the best experience while browsing it. By clicking 'Got It' you're accepting these terms.


The best of EcoWatch, right in your inbox. Sign up for our email newsletter!
A field of crops grows in Brawley, California. Florence Low / California Department of Water Resources
By Tara Lohan
Despite the warning signs — climate change, biodiversity loss, depleted soils and a shrinking supply of cheap energy — we continue to push along with an economy fueled by perpetual growth on a finite planet.
Inti St Clair / Getty Images
By Richard Heinberg
Driving is dangerous. In fact, it's about the riskiest activity most of us engage in routinely. It requires one's full attention—and even then, things can sometimes go horribly awry. The brakes fail. Weather turns roads to ice. A driver in the oncoming lane falls asleep. Tragedy ensues. But if we're asleep at the wheel, the likelihood of calamity skyrockets. That's why distracted driving is legally discouraged: no cell phones, no reading newspapers or books, no hanky-panky with the front-seat passenger. If you're caught, there's a hefty fine.
EcoWatch Daily Newsletter
Not since the Civil War has an American presidential Inauguration Day been so fraught with fear and dread (on Feb. 23, 1861, Abraham Lincoln traveled to his inauguration under military guard, arriving in Washington, DC, in disguise). The incoming president is the most unpopular of any to assume office since modern polling began. In a single news cycle this past week he managed to alienate allies throughout an entire continent (Europe) during a brief break in a string of petulant tweets intended to persuade his own nation that Saturday Night Live is "not funny ... really bad television!"
Much has been made of the new president's personality and psyche—his narcissism, his germophobia, his irritability, his minimal sleeping habits and his reported inability to laugh (though he does smile). In my view, the most revealing personal characteristic of president #45 may be his complete disconnection from the natural world. Here is an individual who grew up in a city, who sees land only in terms of profit potential, who proudly covers the tortured ground with high-rise buildings, who lives in a penthouse and who walks outdoors only on golf courses. One could make some similar comments about many of his recent predecessors (certainly not Teddy Roosevelt), but in this instance the tendency reaches an extreme.
How can a person so isolated from natural phenomena hope to understand the vulnerability of our planet's climate, water, air and innumerable species to the actions of people (one hastens to add—people much like himself)? How can he appreciate that civilization itself is an organism with a constant need for "food" (not just grain and meat, but energy, minerals and water as well), that is organized by way of hierarchically ordered and interlinked cycles and that is subject to natural limits and ultimately to death?

One could argue that all hubris is tied to human beings' illusion of dominance over nature. Our long withdrawal from wildness surely started with language, which gave us the ability to name and categorize and thus to psychically control and distance ourselves from what we named; it erupted into alienation with the advent of agriculture, cities and most recently fossil fuels. But we never stopped depending on the fabric of life in which we have always been entwined. Even as we unravel the ecosphere's delicate fibers, we draw upon eons of accumulated soil nutrients and minerals, fresh water and biodiversity.
Life implies death—one's own mortality above all. Everything has limits. Wisdom resides in the understanding that we are subject to forces we cannot control and that we must respect and accommodate ourselves to those forces. If we want to have language, farming, cities and energy, then we must make a deliberate cultural effort to maintain an attitude of individual and collective humility. In practical terms, that means keeping the size of our global population low enough so that it can be supported long-term without eroding natural systems, managing consumption so that resources are not depleted and non-biodegradable wastes do not accumulate and maintaining checks on wealth inequality.
How many Earths does it take? Productive global hectares (gha) per capita required for the current world population. Global Footprint Network
Obviously, we haven't been doing these things very well, especially in recent decades. The power of fossil fuels fed our collective megalomania. Like people in previous civilizations, we went out on a limb—but modern energy and technology enabled us to go much further than any humans had before. Still, as all civilizations do, ours has reached the point of diminishing returns, of over-reach. Before us lies the senescence and death of a way of living and of seeing the world. Perhaps the new president's qualities of character are emblematic of these final stages of cultural disintegration.

In the days to come, there will be plenty of opportunities for resistance, protest and, one hopes, celebration. Inauguration Day 2017 is a turning point; for me, it seems a perfect occasion for a walk in the woods.
By Post Carbon Institute
Post Carbon Institute has released two reports authored by Earth scientist J. David Hughes assessing the U.S. Energy Information Administration's (EIA) most recent projections for domestic tight ("shale") oil and shale gas production.
The reports 2016 Tight Oil Reality Check and 2016 Shale Gas Reality Check evaluate the EIA's increasingly optimistic projections in light of actual production data (through June 2016) and the agency's own previous estimates. The reports raise critical questions about the veracity and volatility of the EIA's estimates, questions that are especially important as the Trump Administration sets its domestic energy policy.
"The EIA kindly provided the play level projections that make up its Annual Energy Outlook reference case forecasts," said Earth scientist and the reports' author J. David Hughes. "This allowed a comparison to the administration's previous projections and my own forecasts, which were based on an analysis of well productivity by subarea within each play and other fundamentals such as the number of available drilling locations and decline rates. I was also able to assess the EIA's most recent projections in light of actual production data from the field. Simply put, when looked at on a play-level, the EIA's forecasts are highly unlikely to be realized."

The Annual Energy Outlook (AEO) published yearly by the U.S. Energy Information Administration is taken by media, policymakers, investors and general public at face value. Yet the EIA's projections for future energy prices and production are very often wrong (like when it revised its own estimate for the Monterey shale downward by 96 percent after just three years) and tend to show a consistent optimism bias.
For example, AEO 2016 has increased estimates of tight oil production through 2040 by 19 percent over AEO 2015 and 31 percent over AEO 2014, while its estimates for shale gas production have been increased by 31 percent over AEO 2015 and 43 percent over AEO 2014. This despite the fact that U.S. tight oil production is already down 13 percent (as of June 2016) from its peak in March 2015 and shale gas production has declined 5 percent from its peak in early 2016. The EIA does not provide an explanation for why it is so optimistic about future production, especially considering that AEO 2016 anticipates lower drilling rates than in 2014 through 2040, when it projects 31 percent higher oil and gas production, and only modest increases in prices. It also does not account for the year-over-year volatility in its estimates of various plays. For example, Marcellus shale gas production estimates through 2040 are now 76 percent higher than they were in 2014 (accounting for 147 percent of the unproved, technically recoverable resource in the play), while Eagle Ford production has been reduced by 36 percent in that same period of time.
"Forty years ago, the EIA was uniquely granted independence from the rest of the federal government in order to ensure that its data collection and analysis would not be politicized. But with that independence comes great responsibility," said Asher Miller, executive director of Post Carbon Institute. "Particularly with an incoming presidential administration that is, by all signs, strongly in favor of expanding fossil fuel production, the American people need to be certain that U.S. energy policy is based on realistic, independently-sourced and transparent analysis rather than wishful thinking."
Key Takeaway/Conclusions

The EIA has raised its estimates in 2016 for how much tight oil and shale gas will be produced through 2040 by 19 percent and 31 percent, respectively, over the previous year's projections, despite the fact that production of both has declined by 13 percent and 5 percent, respectively, from peak production levels.
The EIA projects tight oil and shale gas production will grow 88 percent from 2014 levels to all-time highs by 2040, while drilling rates remain below 2014 levels through 2040, with only a modest increase in oil price.
The AEO forecasts continue to be volatile and trend toward very high, unsubstantiated optimism bias. Tight oil AEO projections of recovery by 2040 in certain plays have been adjusted significantly between AEO 2016 and AEO 2014—ranging from +414 percent (Bone Spring) and +137 percent (Bakken) to -42 percent (Austin Chalk), while shale gas forecasts range between +237 percent (Bakken) to -36 percent (Eagle Ford). The EIA offers no explanation for this volatility.
The EIA assumes that tight oil and shale gas production will grow strongly beginning in 2017, that U.S. oil and gas production will reach 2015 highs by 2019 and that production will grow a further 31 percent by 2040—all while also assuming that drilling rates (which are currently 37 percent below peak levels of 2014) will remain below 2014 levels through 2040. This seems highly improbable, considering that all major tight oil plays have peaked except in the Permian Basin and that all major shale gas plays have peaked.
The EIA assumes that the major shale gas plays (which account for 75 percent of total projected 2013-2040 production) will recover 132 percent of their "unproved technically recoverable resources" by 2040 but provide no explanation as to why or how they believe this to be possible.
Questions for the EIA:
AEO 2016 projects tight oil and shale gas production to grow 88 percent from 2014 levels to all-time highs by 2040. Given that drilling rates are projected to remain below 2014 levels through 2040, with only a modest increase in oil price, what justifies the unprecedented growth?
Considering that AEO 2015 and AEO 2016 are just 12 months apart, there is a lot of change in projected production profiles for individual plays and total production between the two. What is the reason for the substantial variation in these projections?
The EIA published a more in-depth assessment of the Eagle Ford shale play in 2014 and has subsequently downgraded its projection for tight oil and shale gas production through 2040 by 15 percent and 36 percent, respectively. Has the EIA conducted similar assessments of other plays?
Is the EIA's optimism based on the assumption of ever increasing technological improvements, considering that they will not necessarily increase the ultimate recovery of a play? At a constant drilling rate, better technology will allow each well to tap more of the reservoir while reducing the number of drilling locations, and exhaust a play more quickly at a lower cost.
If NEMS is truly a robust system for forecasting, why is there so much difference at the play level between AEO 2015 and AEO 2016 when play fundamentals have changed little?
How can overall tight oil production increase by 19 percent in AEO 2016 compared to AEO 2015 while assuming oil prices are the same or lower over the 2015-2040 period
How can overall shale gas production increase by 31 percent in AEO 2016 compared to AEO 2015 while assuming gas prices are 20 percent lower over the 2015-2040 period?
Tight Oil Play-Specific Questions:
Why does Bakken production rise 128 percent from current levels, recover more than twice as much oil by 2040 as the latest USGS mean estimate of technically recoverable resources and exit 2040 at production levels more than double current levels?
How can a decades old play like the Austin Chalk increase production 21-fold over current levels, compared to the modest forecast in AEO 2015, and recover twice as much oil by 2040 as it has recovered since the 1940s?
Shale Gas Play-Specific Questions:
Why does Marcellus shale gas production rise 48 percent from current levels, recover 47 percent more gas than the EIA's estimate of "unproved technically recoverable resources" and exit 2040 at near all-time high production levels?
How can the Haynesville grow 223 percent from current levels and exit 2040 at all-time high production levels after recovering 28 percent more gas than the EIA's estimate of unproved resources?
How can an old play like the Barnett be resurrected and exit 2040 at near all-time high production levels after recovering 145 percent more unproved resources than the EIA estimates exist?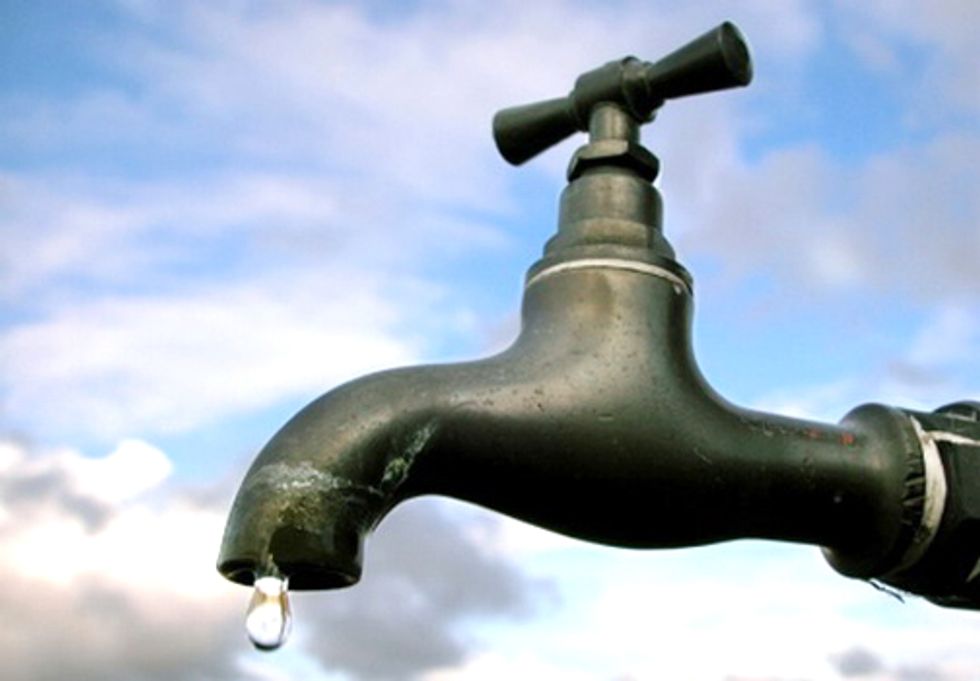 By Sandra Postel
As the human population has climbed past seven billion, and the consumption per person of everything from burgers to blue jeans has risen inexorably, the finiteness of Earth's freshwater is becoming ever more apparent.
It takes water to make everything, and the explosion of demand for all manner of products is draining rivers, shrinking lakes and depleting aquifers.
Consider this—on average it takes 2,700 liters (713 gallons) to make a cotton shirt and 9,800 liters (2600 gallons) to make a pair of blue jeans. The cotton crops growing in farmers' fields consume most of that water. A smaller share is used in the factories that churn out the clothes.
On any given day we're likely wearing more than 15,000 liters (~4,000 gallons) worth of water. And if we slip on a pair of leather loafers, well, add another 8,000 liters (~2,100 gallons). It takes a lot of water to grow the grain to feed the cow whose skin is turned into shoes.
Such figures might not matter if there was abundant water whenever and wherever we needed it—or if water had a substitute. But water is limited, and there's no substitute for it. We need water to quench our thirst, to grow our food, to cool electric power plants, and to make cars, computers and all those cotton shirts.
And that's why the size of humanity's water footprint—and of yours and mine—matters.
In a study published this week in the Proceedings of the National Academy of Sciences, researchers Arjen Hoekstra and Mesfin Mekonnen of the University of Twente in the Netherlands, have made the most detailed estimate to date of the scale and patterns of humanity's water consumption.
This is a tricky and complicated task. Using a high level of spatial resolution, the researchers tabulated all the water from both rainfall and irrigation that's consumed in making goods and services for the global population. To complete the picture, they added in the volume of water needed to assimilate the pollution generated along the way. They calculated the annual average global footprint for 1996-2005, the most recent ten-year period for which the necessary data were available.
The result is a large number—9,087 billion cubic meters (2,400 trillion gallons) per year. That's a volume equivalent to the annual flow of five hundred Colorado Rivers.
Agriculture accounts for a whopping 92 percent of that global water footprint. Not only are crops naturally thirsty, we're feeding more than a third of the global grain harvest to livestock to satisfy our desires for meat and other animal products. Added up, the average beef burger takes 2,400 liters (634 gallons) of water to make.
In fact diets heavy in meat largely explain why the average water footprint for the U.S. is twice the global average. U.S. consumers eat 4.5 times more meat than the global average.
One of the most interesting findings of Hoekstra and Mekonnen is that one-fifth of humanity's water footprint travels across national borders in the form of "virtual water"—the water embedded in products that are traded between countries. For Egypt, Israel, Iran, Jordan, Saudi Arabia and other water-scarce nations, the ability to externalize their water consumption by importing wheat and other thirsty grains allows them to save their scarce water for industrial production and other higher-value uses.
Yet some water-stressed countries export a great deal of virtual water to other countries. For example, according to U.S. Department of Agriculture statistics, the Central Asian nations of the Aral Sea basin export 96 percent of the cotton they produce. Large-scale cotton production in this region over the last half century has caused the Aral Sea, once the world's fourth largest lake, to lose 80 percent of its water. Much of the lake bed is now a salty wasteland.
The U.S., blessed with a vast area of highly productive rain-fed cropland, is the world's biggest exporter of virtual water, sending millions of tons of grain to countries around the world. Its biggest virtual water imports come from China's Yangtze basin, which produces a wide variety of goods for the U.S. market.
So what is a growing population to do to live within water's limits and keep rivers flowing?
The short answer—consumers can alter their diets and buying habits to shrink their water footprints, and producers can use water more efficiently in making their products.
As corporations grow concerned about the risks water scarcity poses to their bottom lines, many are taking a careful look at their supply chains with an eye toward conserving water. Unilever, for instance, has helped Tanzanian tea farmers shift to drip irrigation so its Lipton tea bags have a lower water footprint. Patagonia, retailer of outdoor apparel, has gone a step further. Its eye-opening "Don't Buy this Jacket" advertisement and its Common Threads Initiative to motivate companies and consumers to reduce, repair, reuse, recycle and re-imagine our world are helping to motivate water stewardship.
There are dozens more examples of organizations offering practical ways to shrink the size of our water footprints—from Meatless Mondays to the Alliance for Water Efficiency.
The movement to live prosperously while reducing our impact on the planet's precious waters is beginning. The pace at which it unfolds is up to us.
For more information, click here.
—————
Sandra Postel is director of the Global Water Policy Project and lead water expert for National Geographic's Freshwater Initiative. She is the author of several acclaimed books, including the award-winning Last Oasis, a Pew Scholar in Conservation and the Environment, and one of the "Scientific American 50."